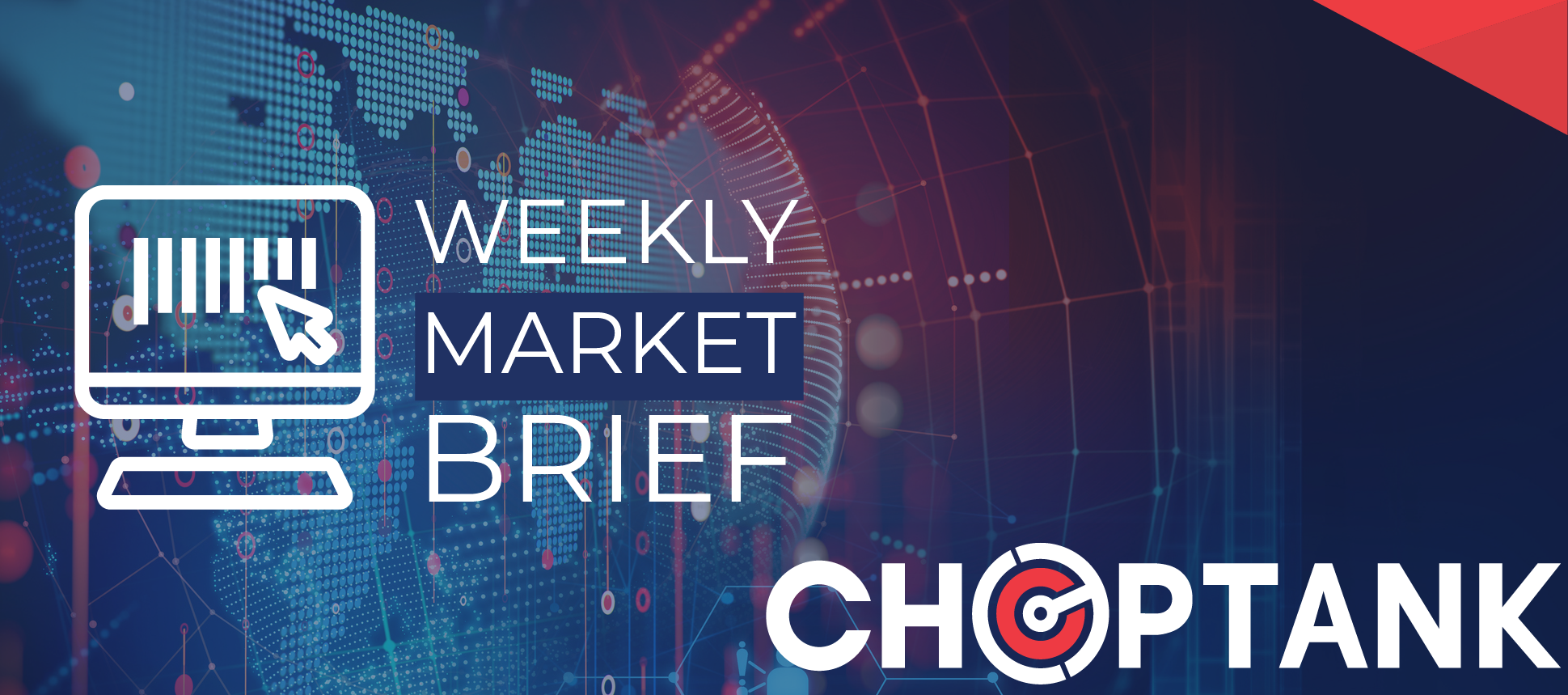 Wrapping up the Year
Bring it on, 2021!
Dec. 22, 2020
In less than two weeks, we begin a new year and bid farewell to a disruptive 2020. The virus has changed our lives, and already, we have become nostalgic for the pre-pandemic world. We search for headlines that mention when and how we expect to get back to "normal." Everything is different. The way we gather (or don't) for holidays, weddings, birthdays and entertainment. The way we work. The way we consume, and yes, the way shippers schedule and move their freight. (Read our upcoming Year in Review & Outlook next week.)
In terms of the supply chain, we are part of history in the making. Technology is evolving at an extraordinary pace, accelerated by the pandemic. AI, robotics, automation and predictive analytics are propelling the industry into a new, exciting future—one with boundless opportunities for advancement.
Customers' needs are evolving too. They expect more visibility and more efficiency, and want all stages of the supply chain to be universally connected. Hold on, we are working on it!
No matter what 2021 brings, the fact is we took a crash course in the unexpected this year. We certainly are more prepared than we were at this time in 2019. So ... bring it on, 2021!
Happy Holidays to All!
Weekly market updates help you identify areas where freight capacity is tight as well as areas that are loose and easier to cover. This helps you better understand the market and provides a basis for your pricing.
This week in the contract market
Volumes are trending downward on the contract market as the year comes to a close, falling off after Thanksgiving's customary highs. The chart below shows the outbound tender volume index over the last 30 days for van (in blue) and reefer (in green). This is normal considering drivers, receivers and shippers are beginning to head home and take vacation time at year's end. Rates remain high as the freight moving now is mostly timely with short windows for delivery. (Graph courtesy of Freightwaves/Sonar)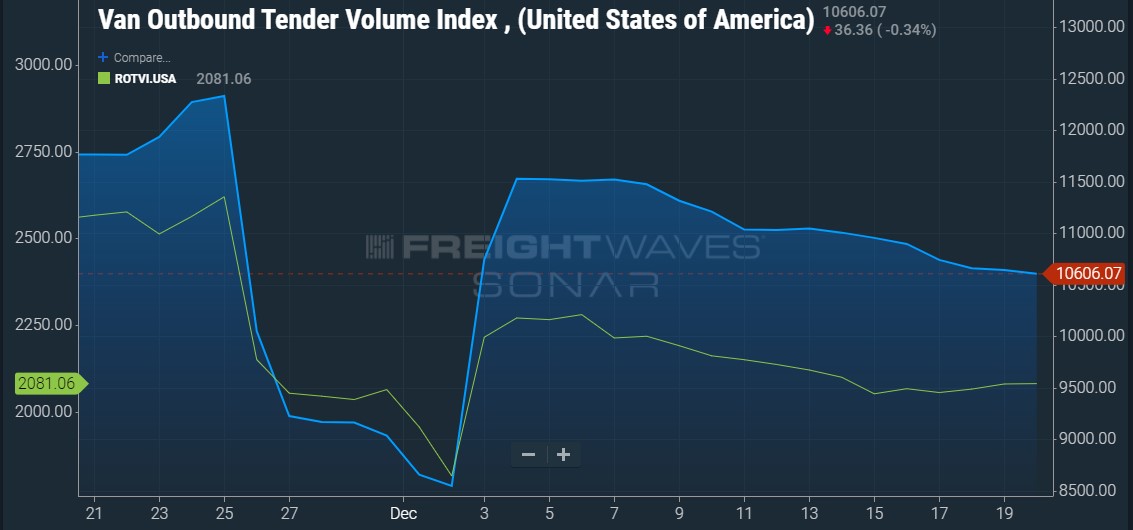 Rejection rates in the contract market are shown in the chart below over the last six months for reefer (in blue) and van (in red). You can see the loosening of capacity mid-December, but then jumping back up right before the Christmas holiday. (Graph courtesy of Freightwaves/Sonar)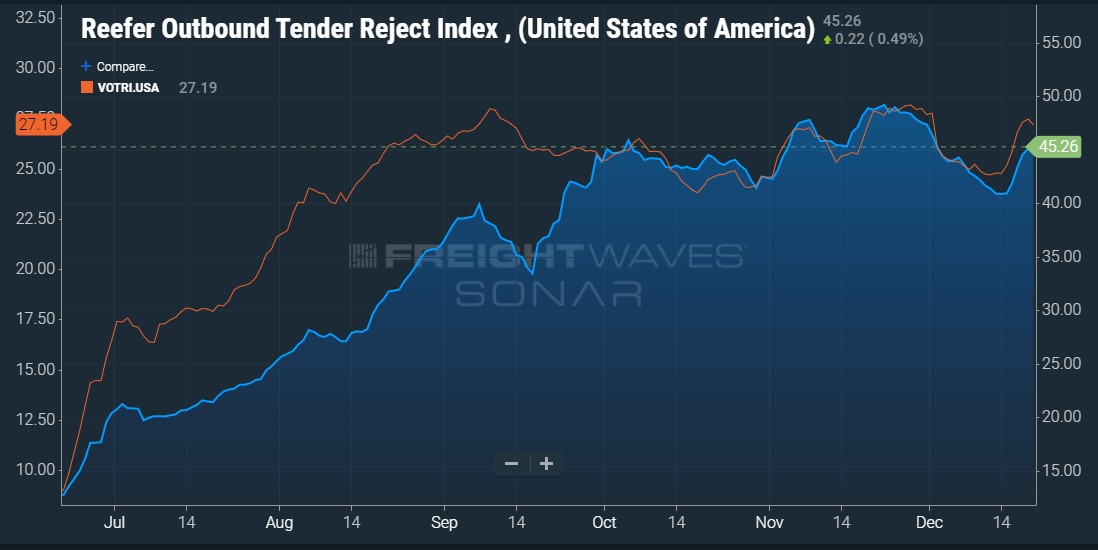 Who's Got the Power?
The DHL Pricing Power Index dropped another five points last week to 75 as capacity has loosened over the last several weeks post-Thanksgiving holiday. The favorable position carriers have held in negotiations for months now is still high, but beginning to show signs of weakening. It will be interesting to see what the market brings after the first of the year. Will we continue to see the bullish market continue?
The pricing power index is a weekly gauge put out by DHL that indicates who has more sway in negotiations when it comes to pricing and freight rates. The farther the needle leans to the left of the gauge, the more power the shipper has in negotiation. The farther to the right, the carrier has the upper hand.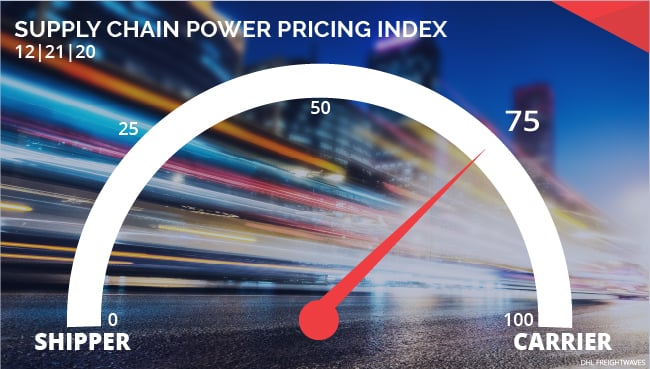 Where the Market is Changing Most
The two graphs below indicate markets that are seeing the strongest increase in volumes and headhaul activity.
NEW! Do you want this information for your specific markets? Just request it here and we will email you the information every Tuesday. (Graphs courtesy of Freightwaves/Sonar)
Strongest Increases in Volume
Below are the markets that are showing the highest increases in volumes. Duluth, Minnesota takes the prize for a 56.63% increase over the previous week, followed by Eau Claire, Wisconsin at 42.94% and Hutchinson, Kansas at 23.55%. (Graph courtesy of Freightwaves/Sonar)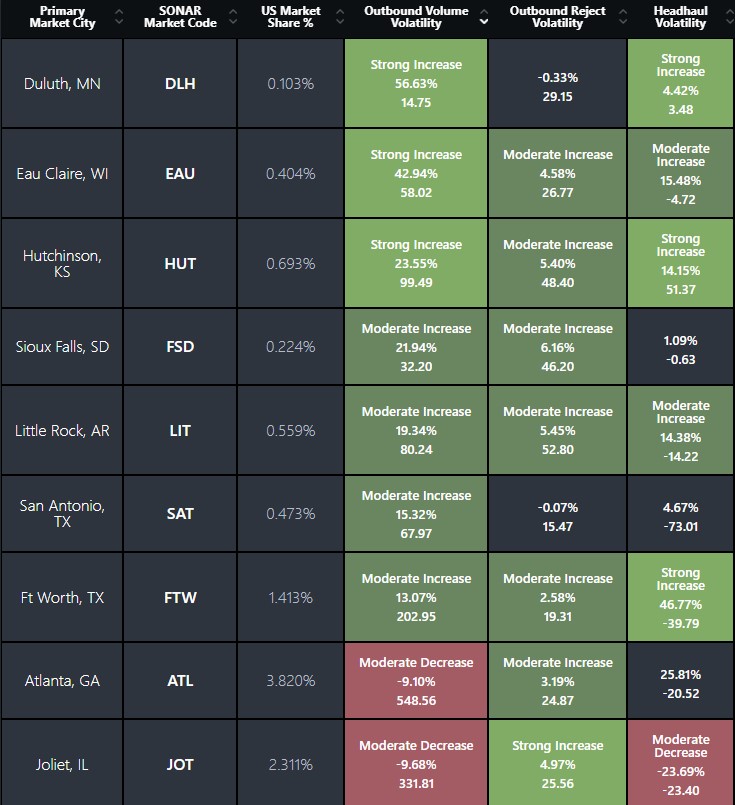 Strongest Increases in Rejection Rates
The graph below shows the markets with the strongest increase in rejection rates. Interestingly you won't see Ontario or Los Angeles on this graph as capacity in those two areas (which has been extremely tight for weeks) is, for the moment, loosening. Fayetteville, Arkansas, Amarillo, Texas and Joplin, Missouri, however, are seeing some very strong increases. (Graph courtesy of Freightwaves/Sonar)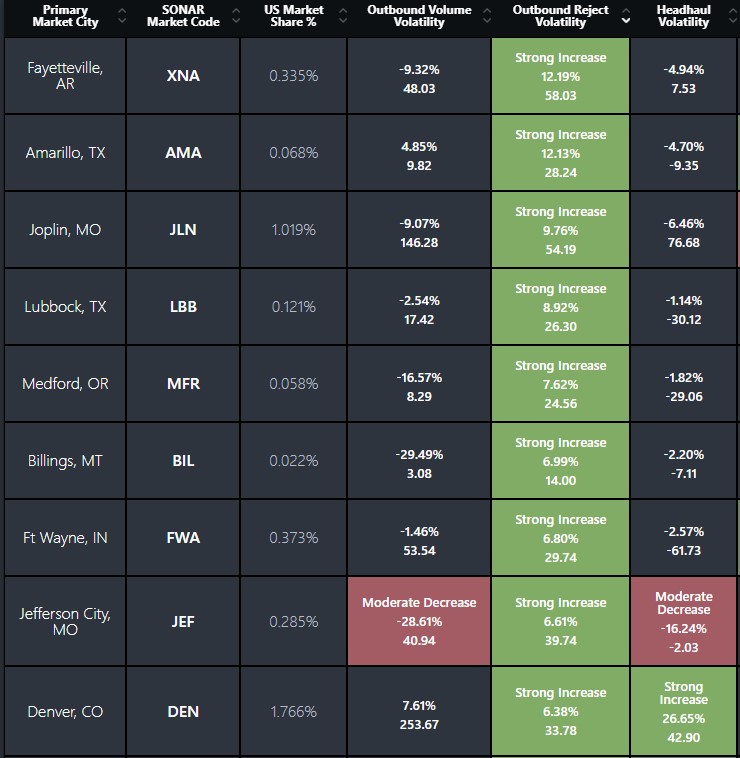 Spot Market Rates & Volume
(Below stats from Dec 14 - Dec 20) Load posts are back up this week on the spot market by just over 8%. Rates increased slightly as a national average but many high-traffic lanes saw rate decreases.
Overall Spot load posts are down 8.1% w/w, but down -13.2% m/m
Dry van: Load-to-truck ratio is up 10.1% w/w, up 3.8% m/m and up 98.6% from 2019.
Dry Van Spot Rates: Rates are up 0.7% w/w, up 1.7% m/m, and up 33.3% y/y
Reefer: Load-to-Truck ratio is up 25.4% w/w, up 8.0% m/m, and up 86.6% y/y.
Reefer Spot Rates: Rates are up 0.6% w/w, up 4.4% m/m, and up 23.4% y/y.
Fuel prices have risen by 1.3% w//w. (Information courtesy of DAT Trendlines)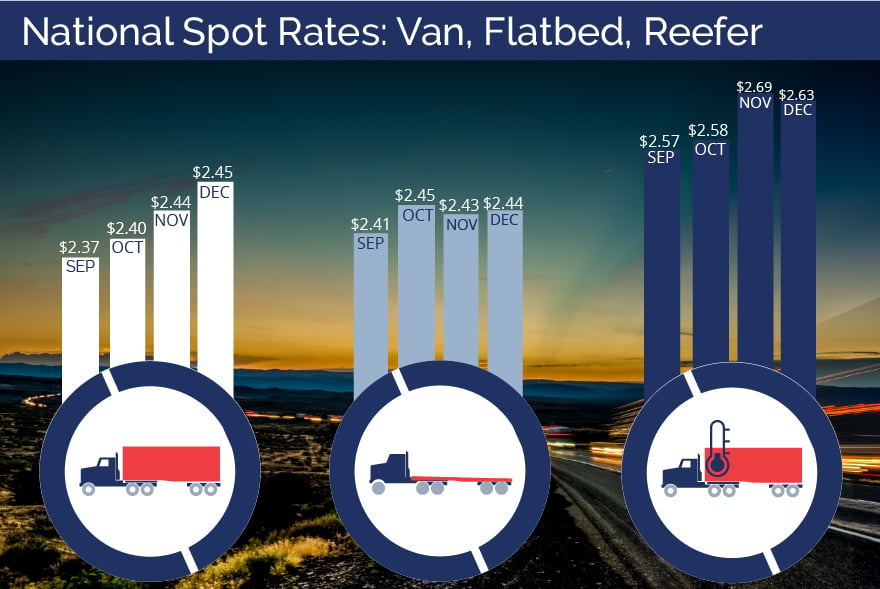 LA Ports & Rail Volume High, Trucking Volume Low
The chart below illustrates how much volume the port of Los Angeles is experiencing. Even though customs maritime imports (green line) and rail (blue line) are seeing elevated activity, trucking volumes in Los Angeles are down in mid-December. This could be a foreshadowing of things to come in this area for the trucking market. After the first of the year all that volume has to move! (Graph courtesy of Freightwaves/Sonar)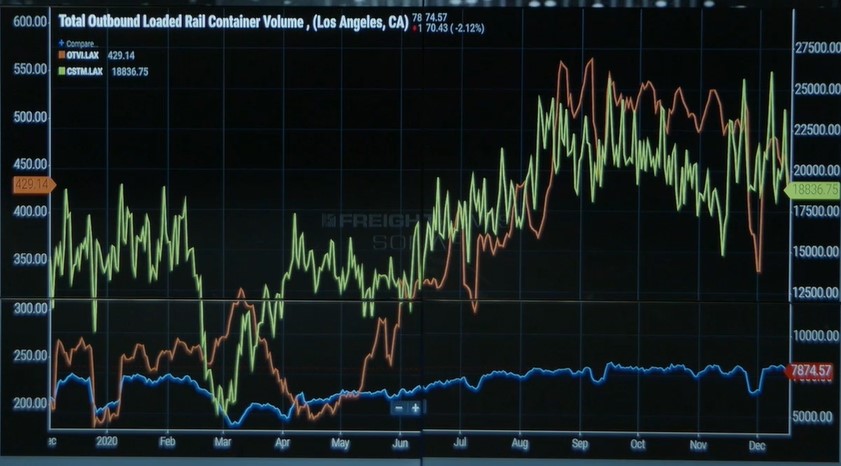 Capacity This Week
The maps below show capacity across the United States. The dark red and pink areas (hot spots!) indicate areas that capacity is tightening. The top map displays dry van capacity and the bottom map, reefer. Rates in the darker red areas typically will be higher than in blue areas.
Van capacity has tightened in parts of Texas, such as Laredo and Houston. Moving east we see tightened capacity in Arkansas, Missouri, Indiana and Ohio. Mid-Atlantic states like Maryland, Delaware, Pennsylvania and Southern Florida are also experiencing some capacity restraints.
Reefer capacity shortages are more widespread throughout the country with areas in the West such as Idaho, Colorado, Wyoming, South Dakota and Nebraska seeing tight capacity. The East Coast shares areas of constraint with van freight such as Southern Florida, Maryland, Delaware and Eastern Pennsylvania. You can expect rates in these hot spots will be higher.
(Maps courtesy of DAT Market Conditions)