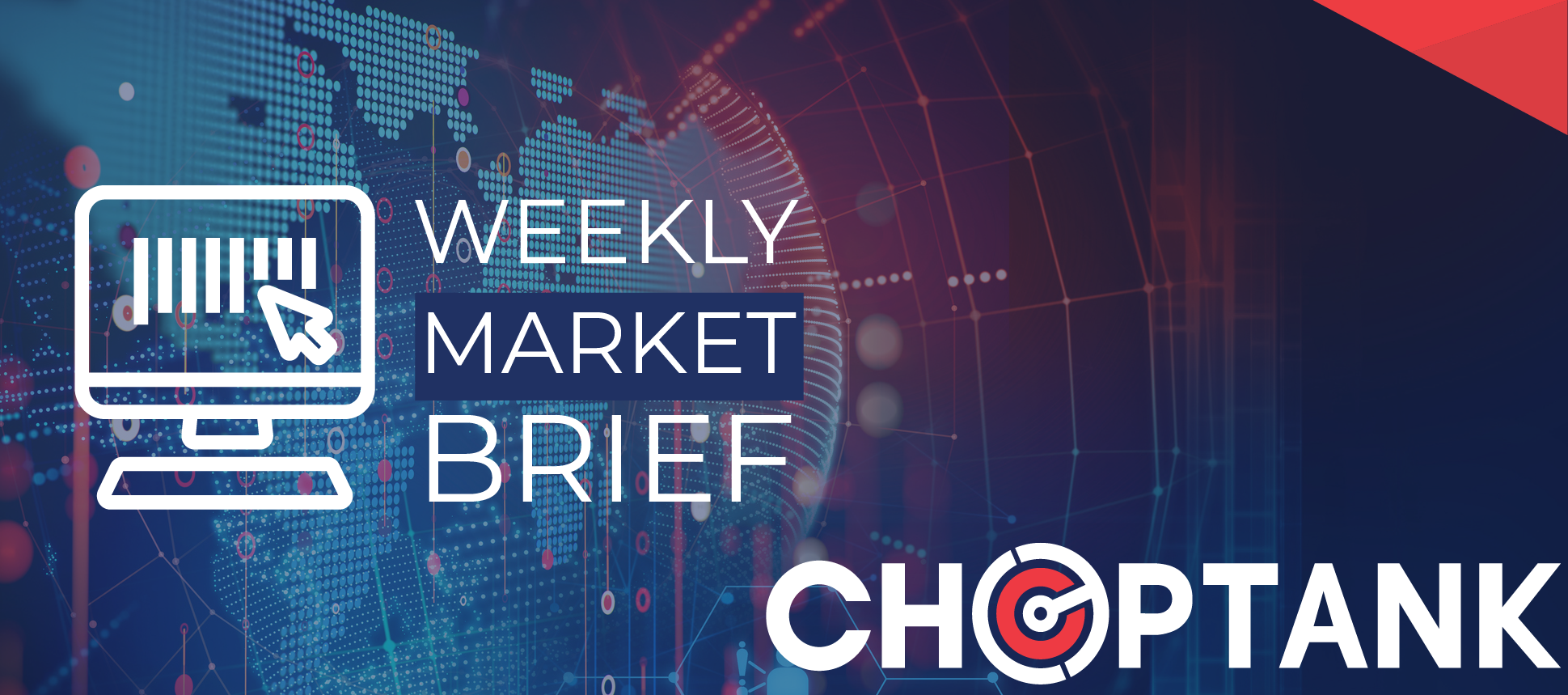 Volumes Rebound after Holiday as Consumer Sentiment Remains High
Dec. 8, 2020
There are only three more weeks before Christmas and it is hard to predict what will happen after the holidays in regards to volume, capacity and rates. We are already seeing volumes snap back after Thanksgiving and they are expected to remain strong through Christmas.
The market has been out of balance for the majority of 2020. While spot market volumes are up substantially, overall volume is down year-over-year. According to DAT, for the first time in just over seven months we are seeing some indications of easing rates for all equipment types.
This year's economy has been bolstered by positive consumer sentiment and spending, not manufacturing. On Black Friday, the biggest shopping day of the year, in-store traffic was down 52% from last year, but online spending saw exponential increases during both Black Friday and Cyber Monday.
When people aren't spending money on service-related industries such as restaurants and hotels, they spend it online. This behavior has kept warehouses busy and goods flowing through the economy. But what is going to happen moving forward?
We may not have too much to worry about if the ocean freight hovering just off the ports are any indicator of things to come. East and West Coast port activity (and truckload capacity) is expected with OCEAN Alliance's announcement that vessel capacity will be increasing by 13% from China to the West Coast. On the East Coast, Maersk, MSC and Zim have announced that there will be an increase of 17% from China to East Coast ports through the end of December. (Graph courtesy of Freightwaves/Sonar)
Weekly market updates help you identify areas where freight capacity is tight as well as areas that are loose and easier to cover. This helps you better understand the market and provides a basis for your pricing.

Consumer Spending Perseveres
The chart below from Bank of America illustrates the continued confidence of consumer spending, although there was a dip of 1.0% for total card spending last week (year-over-year). Some analysts say the extended shopping period in 2020 has spread out the timeframe to purchase gifts and may have an impact on slowing year-end sales. Not surprisingly, brick and mortar stores experienced a 14% drop year-over-year. (Graph courtesy of Bank of America)
Job Market Delivers Good News
A bit of good news on the jobless claims front. For the first time since the beginning of the pandemic, jobless claims have fallen below March 14th levels! At 712,000 we are far below the projected 780,000 analysts were expecting. Jobless claims will most likely continue to fall when the November report is released by the Department of Labor, according to Freightwaves. (Graph courtesy of CNBC and the U.S. Dept. of Labor)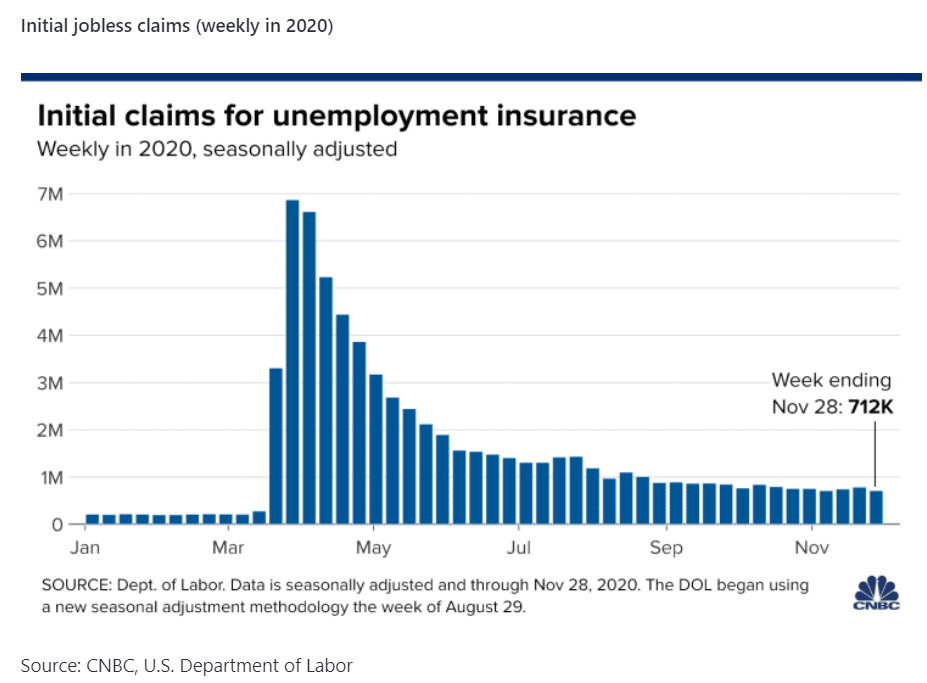 Who's Got the Power?
The DHL Pricing Power Index gauge this week remains at 85 which indicates that carriers remain in an extremely favorable position for negotiations.
The pricing power index is a weekly gauge put out by DHL that indicates who has more sway in negotiations when it comes to pricing and freight rates. The farther the needle leans to the left of the gauge, the more power the shipper has in negotiation. The farther to the right, the carrier has the upper hand.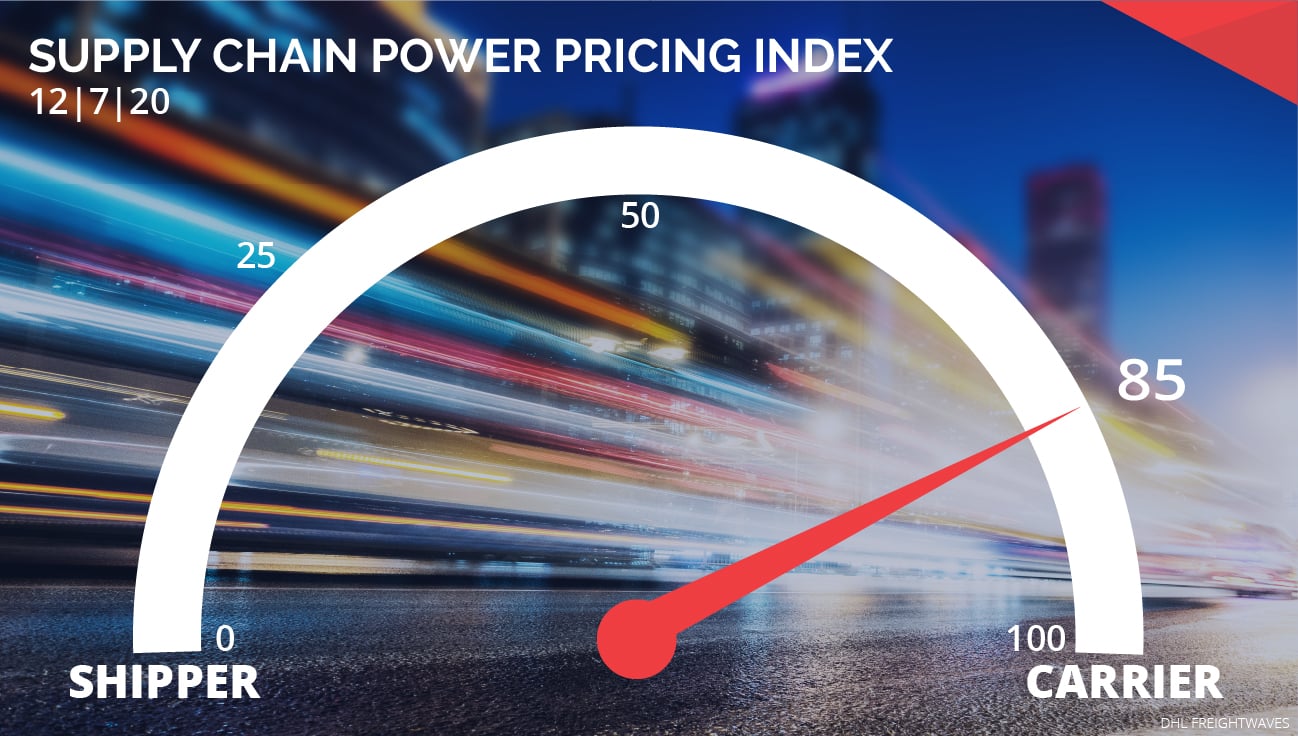 Where Rates & Capacity are Changing Most
The graph below displays the eight largest freight markets and their increases and declines in outbound volume, rejection rates and headhaul indices as a percent change from the week prior. As indicated by the chart, volumes have decreased in all eight because of the holiday. (Graph courtesy of Freightwaves/Sonar)
NEW! Do you want this information for your specific markets? Just request it here and we will email you the information every Tuesday.

Strongest increases in rejections
The graph below is sorted by the markets with the strongest increase in rejection rates. You can see that Rapid City, Erie, and Alexandria are experiencing the strongest increase in tight capacity, followed by San Antonio, McAllen and Laredo markets. (Graph courtesy of Freightwaves/Sonar)

Spot Market Rates & Volume
(Below stats from Nov 30- Dec 6) Volume on the spot market is up again after the Thanksgiving holiday and reefer rates have come down slightly (2.3%) this week. This could be an indication that supply is starting to catch up with demand.
Overall Spot load posts are up 92.8% w/w, but down -13.2% m/m
Dry van: Load-to-truck ratio is up 57.2% w/w, up 3.8% m/m and up 98.6% from 2019.
Dry Van Spot Rates: Rates are up 1.7% w/w, up 1.8% m/m, and up 33.4% y/y
Reefer: Load-to-Truck ratio is up 44.0% w/w, up 8.0% m/m, and up 86.6% y/y.
Reefer Spot Rates: Rates are down -2.3% w/w, up 4.4% m/m, and up 23.4% y/y.
Fuel prices have risen by 1.6% w//w. (Information courtesy of DAT Trendlines)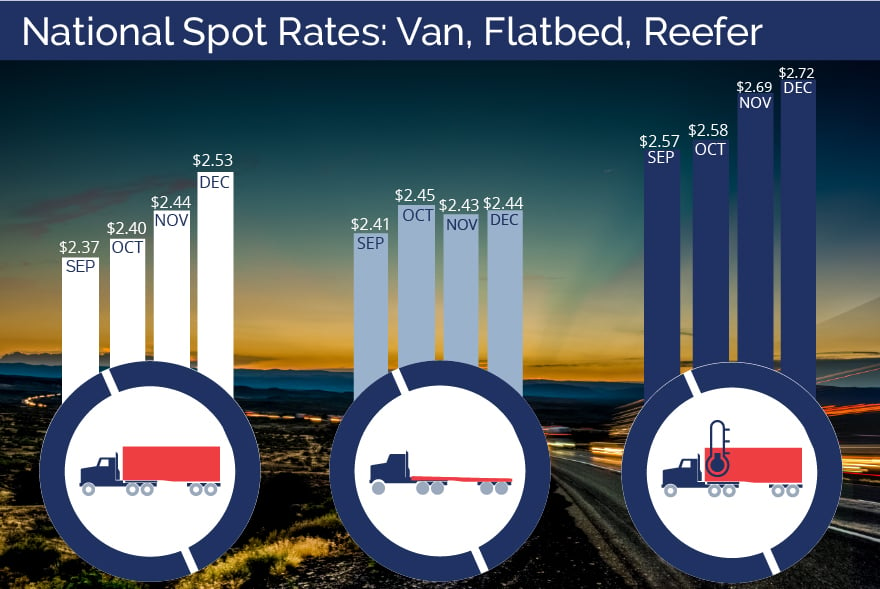 National Outbound Volumes & Rejection Rates
The graph below shows the national outbound freight volumes for the last thirty days. This year is shown in blue versus the last two years which are in green and orange. The dip in volume is typical for the Thanksgiving holiday.
The national average outbound tender rejection index indicates that one out of every four loads are still being rejected, with reefer freight being even more affected than van. The graph covers that last six months of activity on the contract market.
(Graph courtesy of Freightwaves/Sonar)


Capacity This Week
The maps below show capacity across the United States. The dark red and pink areas (hot spots!) indicate areas that capacity is tightening. The top map displays dry van capacity and the bottom map, reefer. Rates in the darker red areas typically will be higher than in blue areas.
Van capacity has loosened in many areas compared to last week, especially on the West Coast, but is still extremely tight in a couple of Texas markets, some southern states, Pennsylvania and New Jersey.
Reefer capacity shortages have also diminished some since last week, with some hot spots scattered across the country, as shown in dark red across the bottom map.
(Maps courtesy of DAT Market Conditions)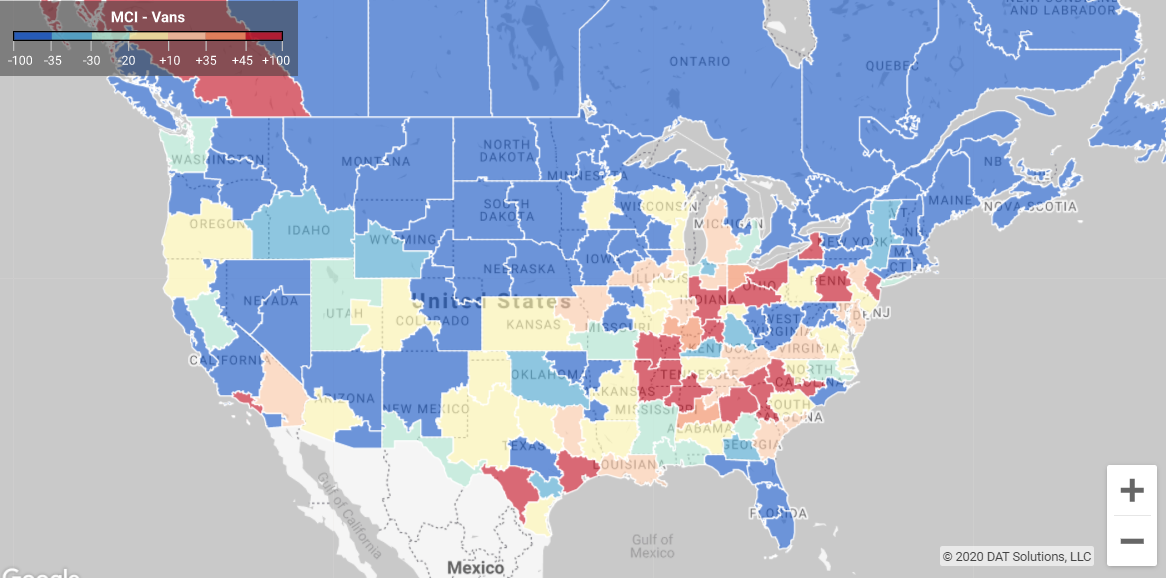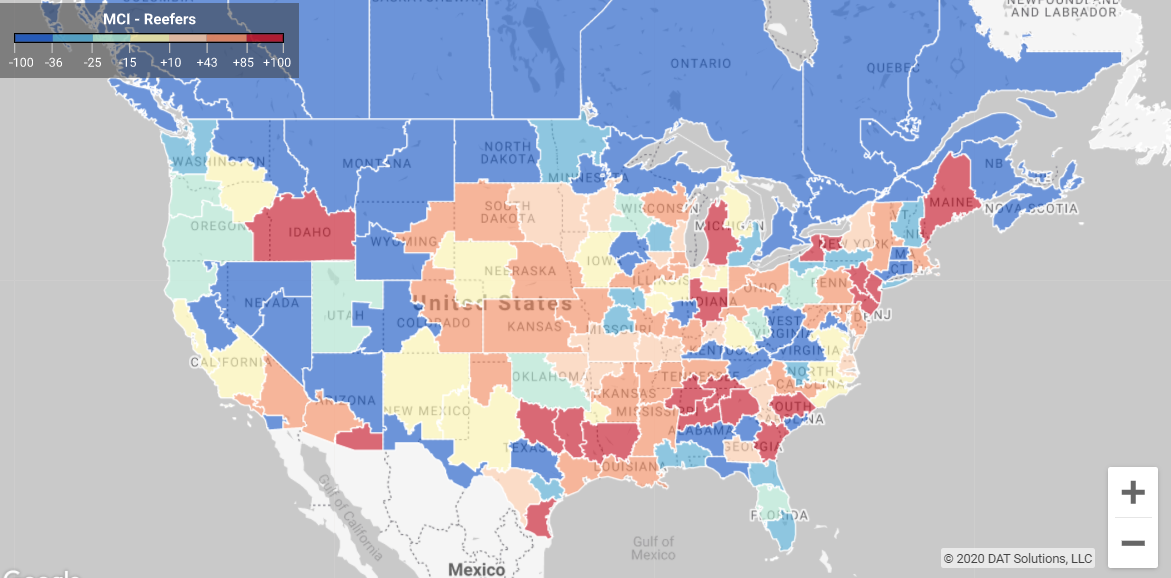 Have a Question? Ask one of our Experts
Do you have specific questions about the freight market in your area? Don't hesitate to ask us. Your sales representative or a member of our professional logistics team is ready to help, so give us a call! 800.568.2240.