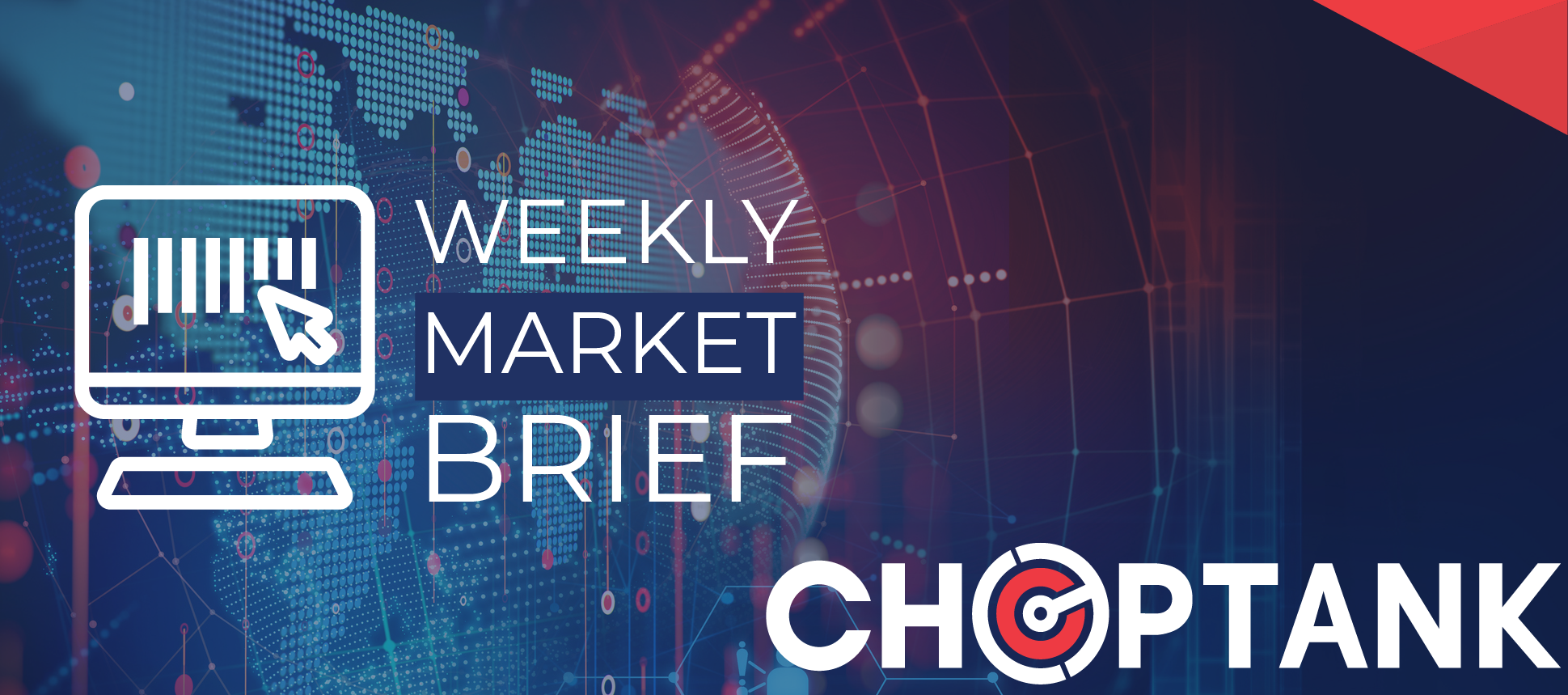 Volumes Dip but Rates Increase?
Yes, it's True
Dec. 1, 2020
The push to get last-minute freight out the door before Thanksgiving caused overall rates to go up slightly, even though volumes were down.
Freight volumes and outbound tender rejections typically take a swan dive once a holiday hits and this Thanksgiving was no exception. But don't let that holiday dip in volume fool you. Freight that didn't make it out the door before turkey day is now on loading docks ready to roll out this week. The same above-average volume we saw before Thanksgiving is likely to continue with a new push for Christmas and other holiday freight until the end of the year.
One indicator is the business-to-business new orders data (Nondefense Capital Goods excluding Aircraft) that has implications for sustained freight volumes moving forward, as illustrated below. With a rise of new orders, there will be more production and manufacturing in the pipeline that soon will lead to another tightening of capacity. (Graph courtesy of Freightwaves/Sonar)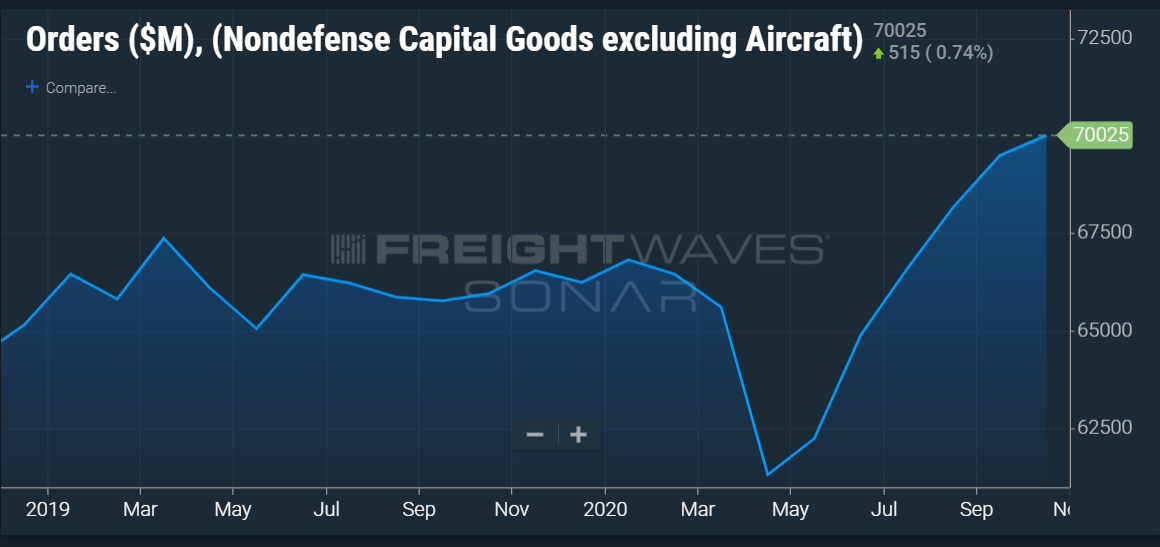 Pandemic Ramifications
A by-product of the pandemic seems to be a sudden and large exodus of people "getting out of Dodge" and moving out of the cities. This week's Freightwaves Now report on the economy said that there is a spike in activity in the housing market. Interest rates are low and demand is high as people are moving to rural areas because of Covid-19. As a result, it is keeping the flatbed market busy with construction, renovations and new home sales (along with Christmas tree shipping). The chart below shows the flatbed outbound tender rejection index this year (blue) versus last year (orange). (Graph courtesy of Freightwaves/Sonar)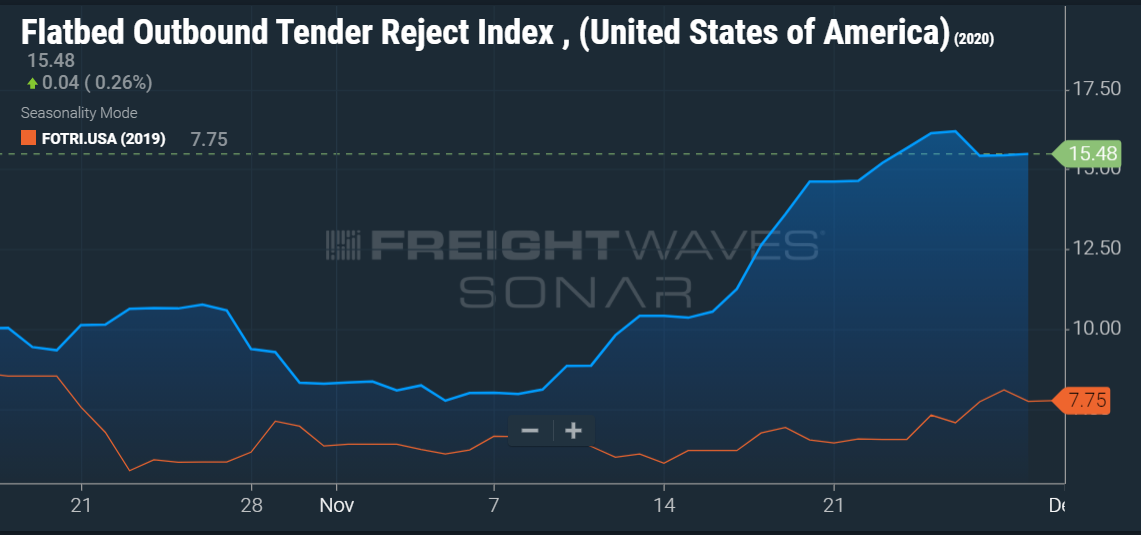 Weekly market updates help you identify areas where freight capacity is tight as well as areas that are loose and easier to cover. This helps you better understand the market and provides a basis for your pricing.
Job Market
As increases in virus cases escalate, more businesses are having to close and people are losing their jobs. It is evident from the jobless claims chart below that since early November, claims are once again on the rise. (Graph courtesy of Freightwaves/Sonar)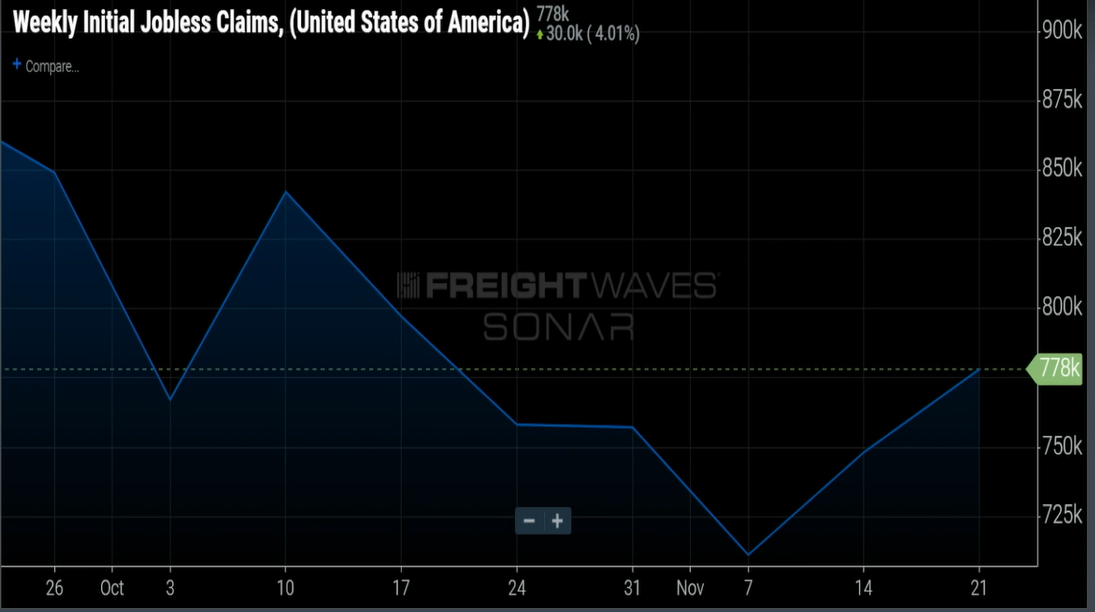 Who's Got the Power?
Due to the holiday, there is no DHL Pricing Power Index gauge this week, however, last week it rose to 85 which indicated that carriers were, and still are, in an extremely favorable position for negotiations, most likely until year end.
The pricing power index is a weekly gauge put out by DHL that indicates who has more sway in negotiations when it comes to pricing and freight rates. The farther the needle leans to the left of the gauge, the more power the shipper has in negotiation. The farther to the right, the carrier has the upper hand.

"Our advanced analytics is changing how we make decisions, from who to call first to how we think about the future." - Director of Data Science & Analytics, Choptank Transport
Where Rates & Capacity are Changing Most
The graph below displays the seven largest freight markets and their increases and declines in outbound volume, rejection rates and headhaul indices as a percent change from the week prior. As indicated by the chart, there were strong decreases in volumes in every major market on this list from the Thanksgiving holiday. Lead times increased as well. (Graph courtesy of Freightwaves/Sonar)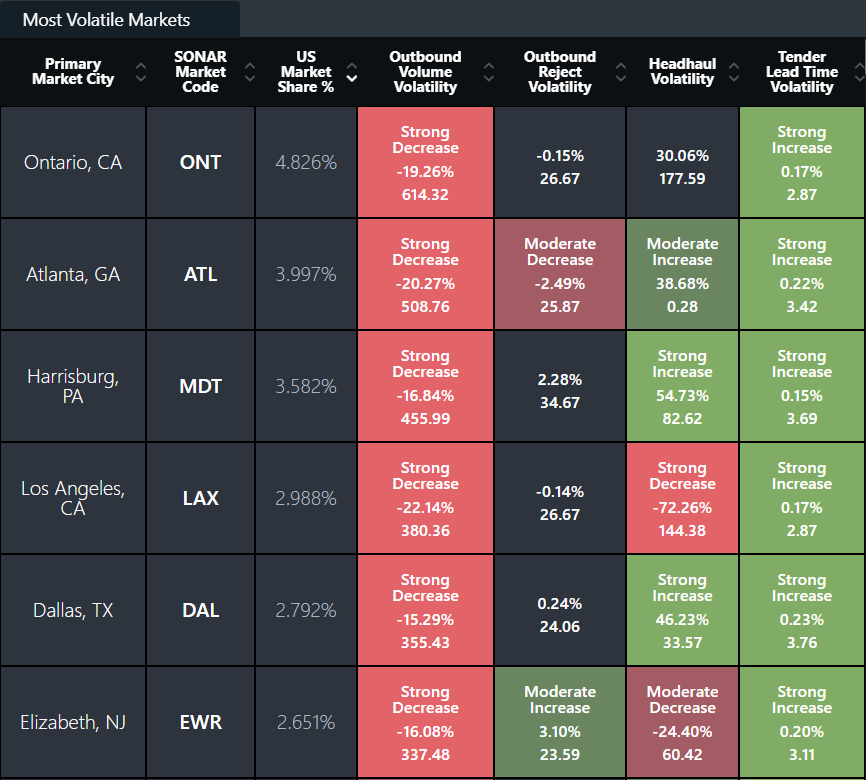 Strongest increases in rejections
The graph below is sorted by the markets with the strongest increase in rejection rates. You can see that Amarillo, Lubbock, Medford, Minneapolis and Missoula are experiencing the tightest capacity. (Graph courtesy of Freightwaves/Sonar)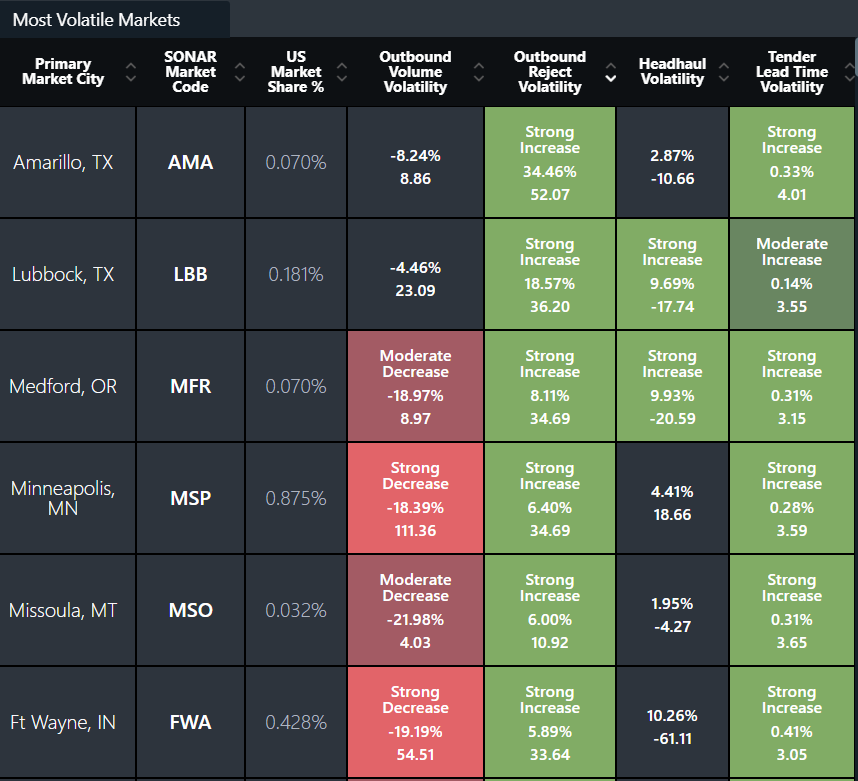 Spot Market Rates & Volume
(Below stats from Nov 23- 29.) Volume on the spot market is down but rates continue to climb, mainly due to the push right before Thanksgiving.
Overall Spot load posts are down - 43.2% w/w, but down -5.9% m/m
Dry van: Load-to-truck ratio is down -16.0% w/w, down -20.5% m/m and up 156.3% from 2019.
Dry Van Spot Rates: Rates are up 3.5% w/w, up 1.1% m/m, and up 33.0% y/y
Reefer: Load-to-Truck ratio is down -35.3% w/w, down -10.2% m/m, and up 155.3% y/y.
Reefer Spot Rates: Rates are up by 2.7% w/w, up 0.5% m/m, and up 22.2% y/y.
Fuel prices have risen slightly by 0.9% w//w. (Information courtesy of DAT Trendlines)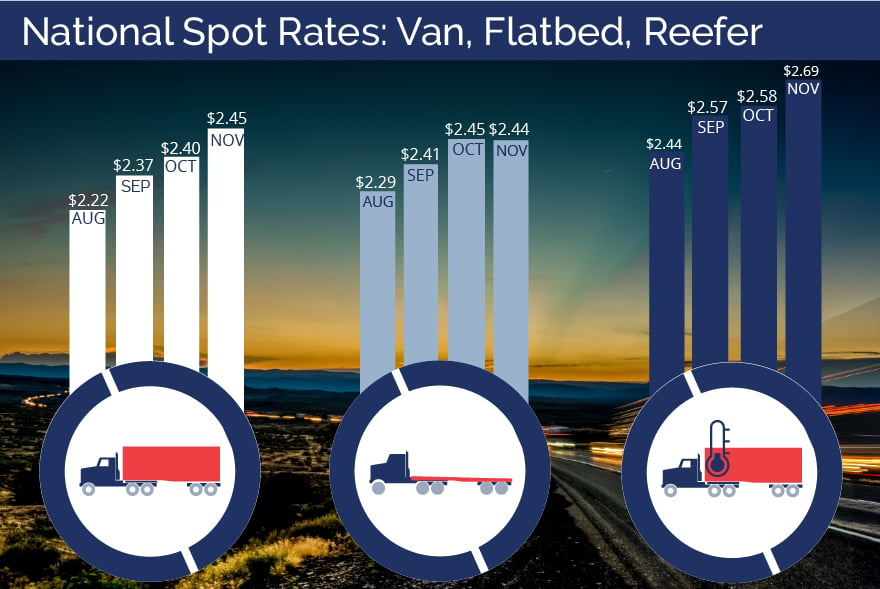 National Outbound Volumes & Rejection Rates
The graph below shows national outbound freight volumes for van (white line) versus reefer (orange line). As you can see there was a definite push of goods on the days leading up to Thanksgiving day and then a steep decline on the holiday itself. It will be interesting to see this week how quickly and steeply it rebounds.
The national average for outbound tender rejections slipped over the holiday from its all-time high of 49.17 to 47.52 yesterday, but that is still exceptionally high compared to anything we've seen prior. The highest reefer rejection rates go to Salt Lake City while areas like Twin Falls, Little Rock, Savannah, and Omaha are seeing over 65% of all reefer loads being rejected.
(Graph courtesy of Freightwaves/Sonar)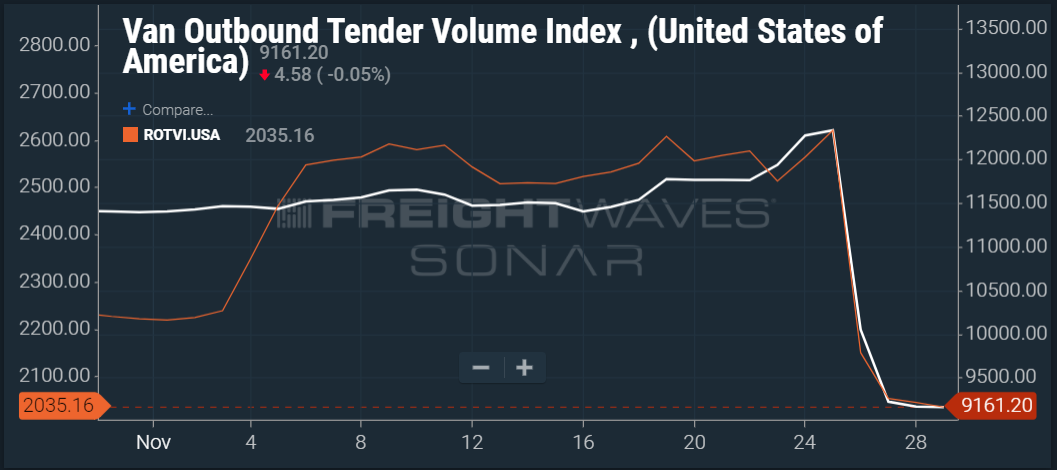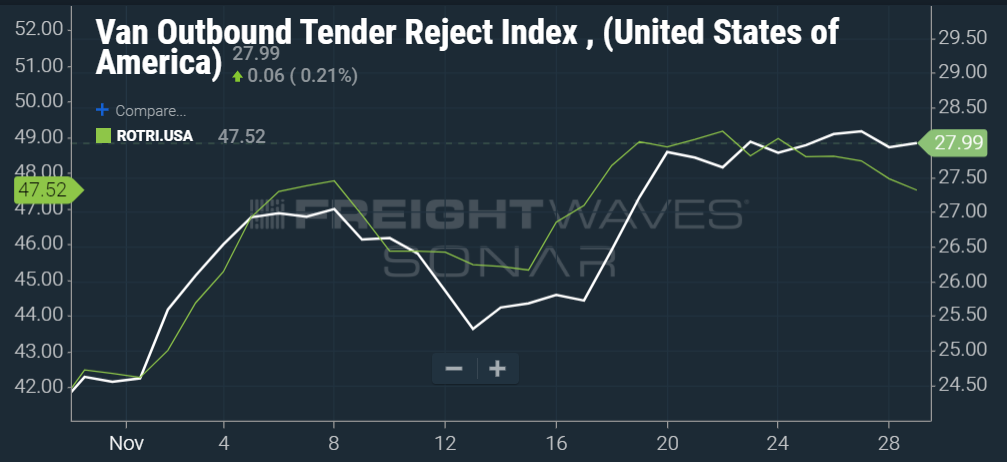 Capacity This Week
The maps below show capacity across the United States. The dark red and pink areas (hot spots!) indicate areas that capacity is tightening. The top map displays dry van capacity and the bottom map, reefer. Rates in the darker red areas typically will be higher than in blue areas.
Van capacity is extremely tight in Oregon and Northern California with heavy Christmas tree shipping. Here is an interesting note from DAT's blog regarding Christmas trees this year.
Tree growers will literally have some stiff competition this year. According to IHS Markit's PIERS data, 20' container import volumes of artificial Christmas trees from China for the period July to October are up 80% y/y. - DAT BLOG
Areas of the South, Mid-West and Southern California. Reefer capacity shortages are more dispersed, as shown in dark red across the bottom map.
(Maps courtesy of DAT Market Conditions)