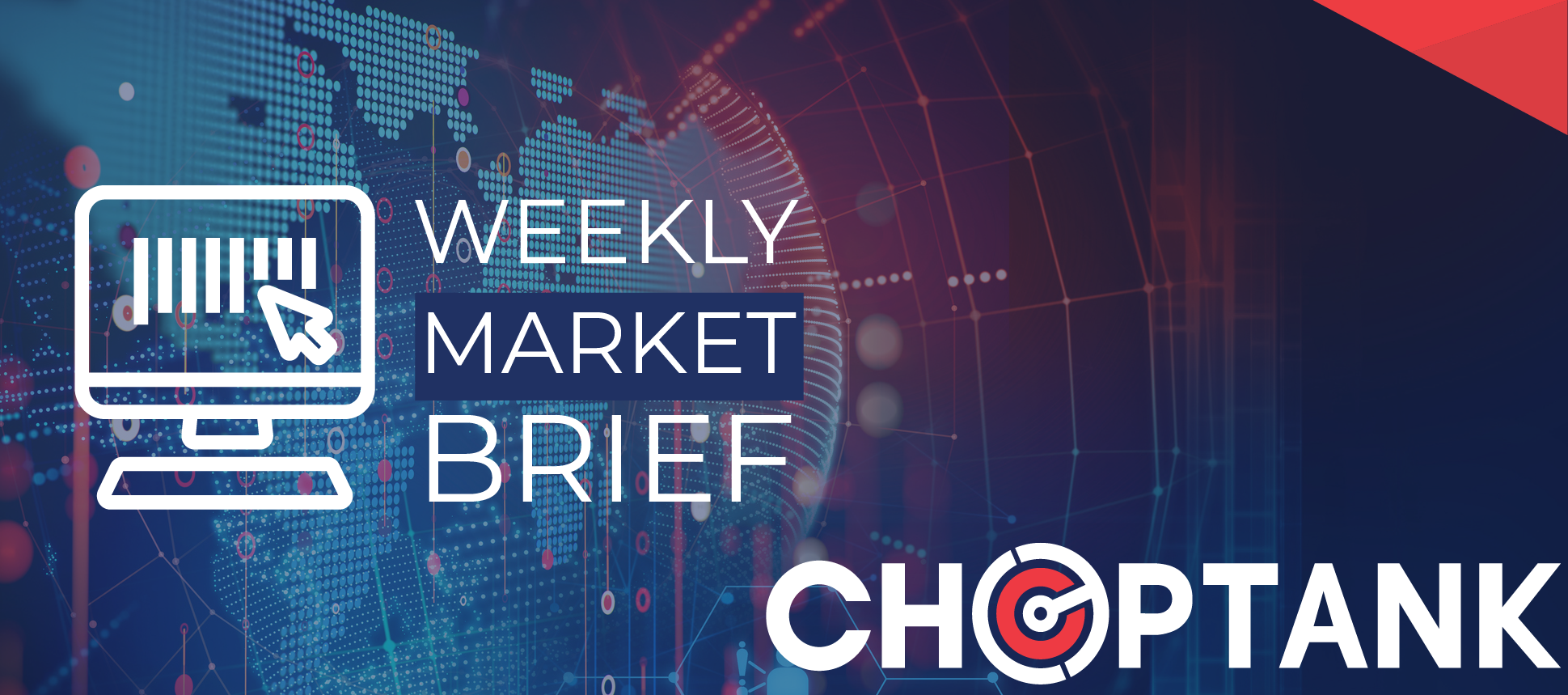 Now more than ever, you should
PAY ATTENTION TO THE MARKET
Nov. 24, 2020
Happy Thanksgiving week! Freight volumes and rejection rates are making history this week with record high numbers. Spot rates are also at an all-time high and are expected to rise over the next few weeks. Truckers are trying to head home for the holidays and capacity is tight. Now is the time to watch for those few lanes where capacity may be temporarily loose and take advantage of rates in those areas when you can.
If you ship reefer freight, almost half of all reefer shipments will be rejected this week. The outbound tender rejection index (OTRI) for reefers is 49.17. Some markets, such as Fargo, Little Rock, Omaha, Columbia, and Jacksonville have reefer rejection rates over 70%. There are pockets, however, such as Pittsburgh where reefer rejections are remarkably low--as low as 3.25 right now. This is when knowing the market will allow you to take advantage of spot rates in certain areas.
Thanksgiving week is traditionally when we see volumes intensify, but this year's hyperactive market has surpassed anything we could have predicted. The sudden and significant rise in COVID-19 cases has Americans running to the stores and returning to panic-buying behaviors we saw in March. In addition, the ports are clogged with freight to support the unusually active durable goods buying bonanza brought on by the holidays. This flurry of freight activity has pushed the national average tender lead time to 4.01 days.
A recent Bloomberg article featured an interview with Weston LeBar, CEO of Harbor Trucking in Long Beach, California. "Try to pour 10 gallons of water into a five-gallon bucket," LaBar said, "and you're going to have a hard time." LeBar is talking about the port congestion, but the metaphor also rings true for the enormous amount of freight moving across the United States as compared with the number of trucks to move it.
To complicate matters even more, we are on the eve the largest vaccine distribution event the world has ever seen. Even though the majority of the vaccine doses will be moved on trucks smaller than 53-foot reefers, it will still affect cold-chain shippers by removing the safety net that smaller equipment types provide when larger equipment isn't available. Reefer shippers need to prepare.
Weekly market updates help you identify areas where freight capacity is tight as well as areas that are loose and easier to cover. This helps you better understand the market and provides a basis for your pricing.
Who's Got the Power?
The DHL Pricing Power Index rose to 85 and continues to keep carriers in an extremely favorable position for negotiations, most likely until year end.
The pricing power index is a weekly gauge put out by DHL that indicates who has more sway in negotiations when it comes to pricing and freight rates. The farther the needle leans to the left of the gauge, the more power the shipper has in negotiation. The farther to the right, the carrier has the upper hand.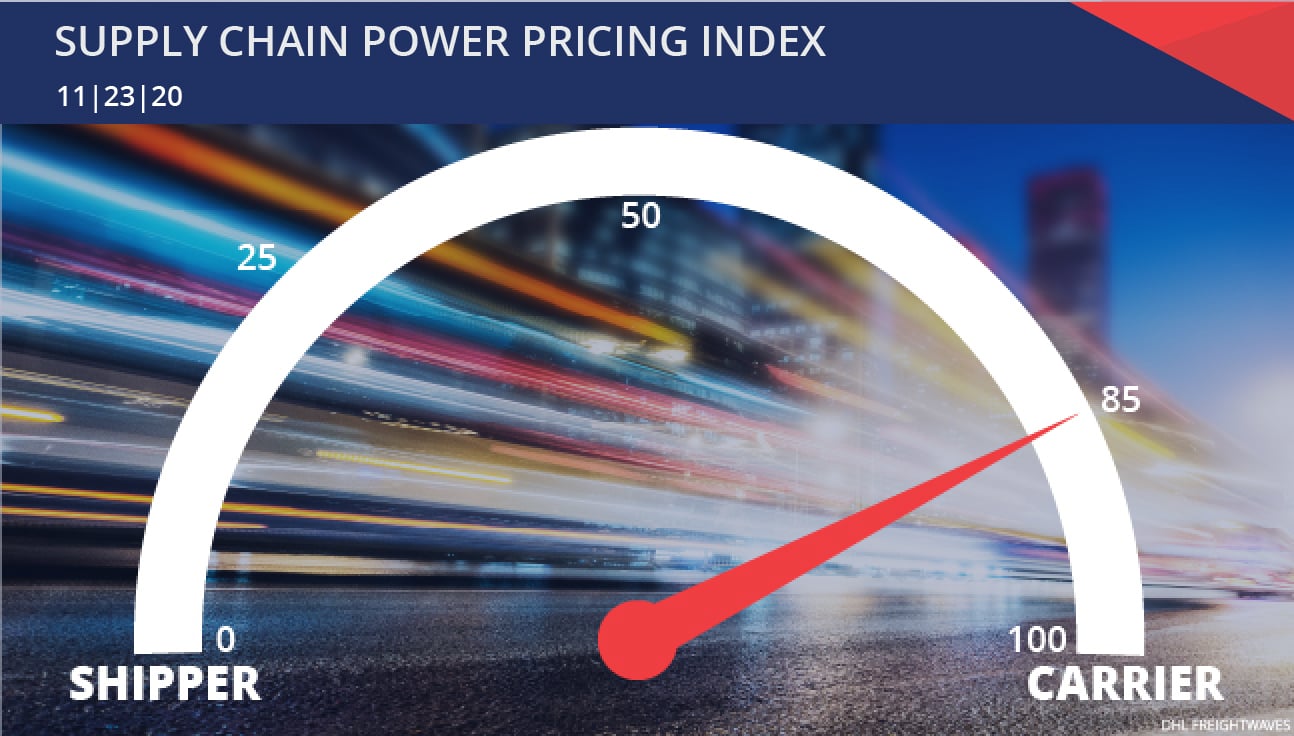 "Our advanced analytics is changing how we make decisions, from who to call first to how we think about the future." - Director of Data Science & Analytics, Choptank Transport
Where Rates & Capacity are Changing Most
The graph below displays the seven largest freight markets and their increases and declines in outbound volume, rejection rates and headhaul indices as a percent change from the week prior.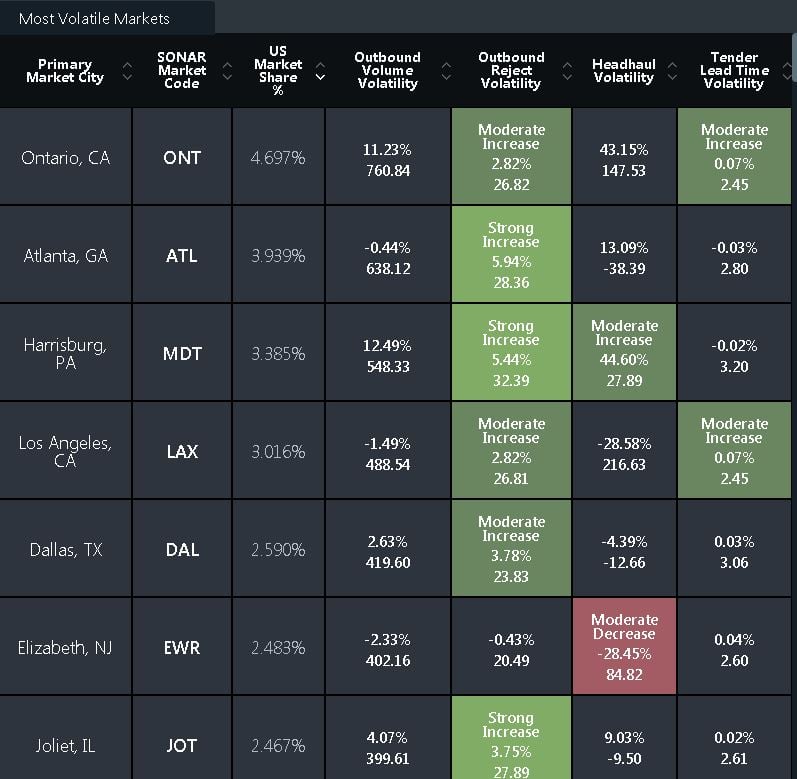 Largest Volume Gains
The markets with the largest volume gains this past week (not shown on either of the graphs) were Grand Junction, Bismarck, Fargo, Tucson, Macon and Spokane.
Spot Market Rates & Volume
(Below stats from Nov 16 - Nov 22.) Demand sees a dip this week on the spot market but has little effect on rates so far.
Overall Spot load posts are up 2.1% w/w, but down -5.9% m/m
Dry van: Load-to-truck ratio is up 6.9% w/w, down -20.5% m/m and up 156.3% from 2019.
Dry Van Spot Rates: Rates are up 1.9% w/w, up 1.1% m/m, and up 32.9% y/y
Reefer: Load-to-Truck ratio is down -1.0% w/w, down -10.2% m/m, and up 155.3% y/y.
Reefer Spot Rates: Rates are up by 4.2% w/w, up 0.6% m/m, and up 22.2% y/y.
Fuel prices have risen slightly by 2.5% w//w.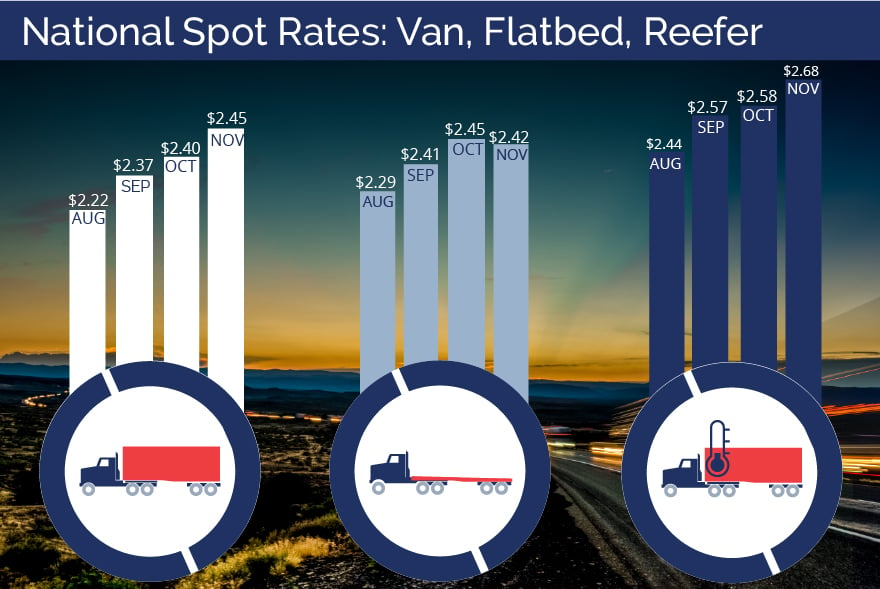 Rejection Rates by Mode
In the graph below reefer rejection rates (in orange) far overshadow the other two modes, registering just below 50%. Van rejections (in blue) are about half that of reefer, holding somewhat steady at the 27.64 mark. Flatbed rejections jumped last week as the housing market gained momentum due to low interest rates and affordable mortgages.
(Graph courtesy of Freightwaves/Sonar)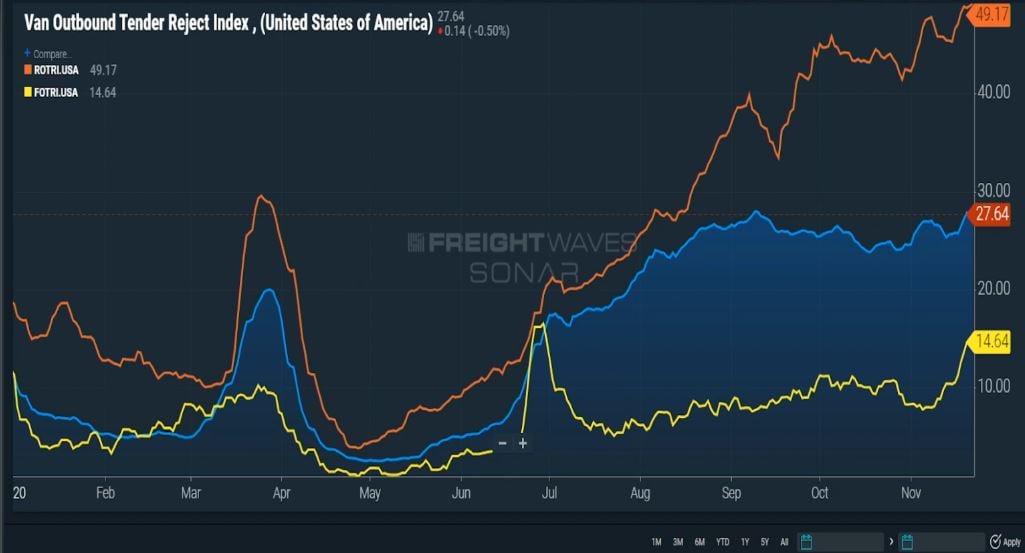 National Outbound Volumes & Rejection Rates
The graph below shows national freight volumes for 2017, 2018, 2019 and 2020. The huge increase this year compared to the last several years is incredible.
Outbound tender rejection rates shown in the bottom graph are also displayed for the last four years and include all modes at 28.20. Rejection rates in April and July of 2018 were as close as it got to rivaling this holiday season's remarkable rejection index.
Looking more specifically at rejection rates by van and reefer, reefer rejections are at an all-time high of 49.17 and van rejections, 27.64. (Graph courtesy of Freightwaves/Sonar)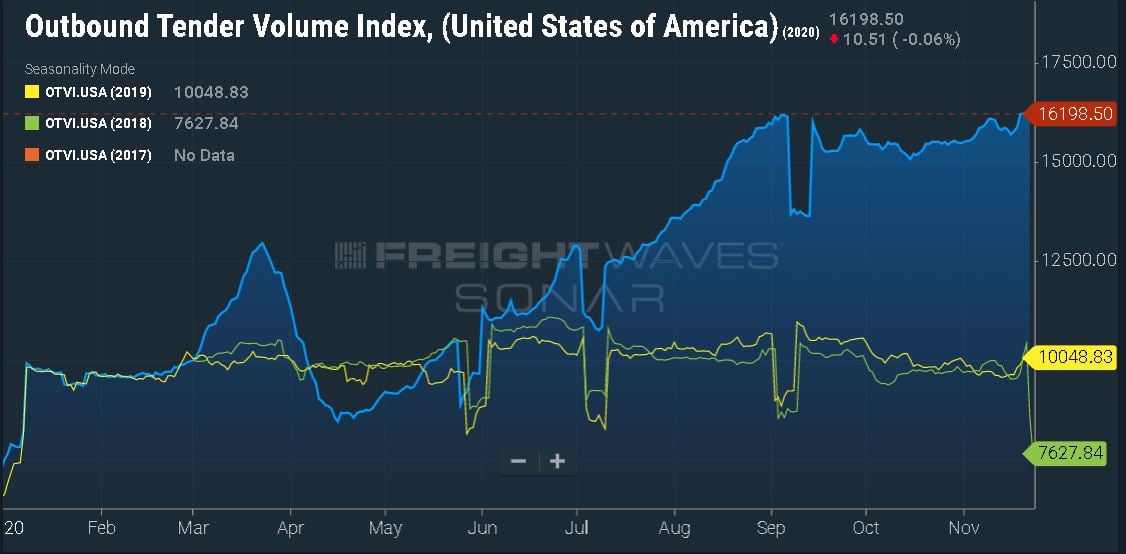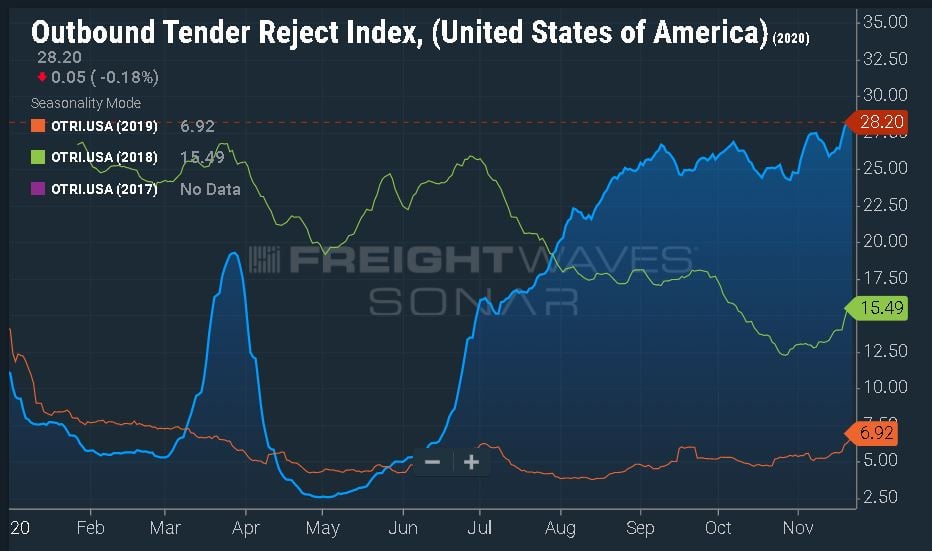 Capacity This Week
The maps below show capacity across the United States. The dark red and pink areas (hot spots!) indicate areas that capacity is tightening. The top map displays dry van capacity and the bottom map, reefer. Rates in the darker red areas typically will be higher than in blue areas.
Van capacity is extremely tight in areas around the South, Mid-West and Southern California. Reefer capacity shortages are more widespread, as shown in dark red across the bottom map.
(Maps courtesy of DAT Market Conditions)