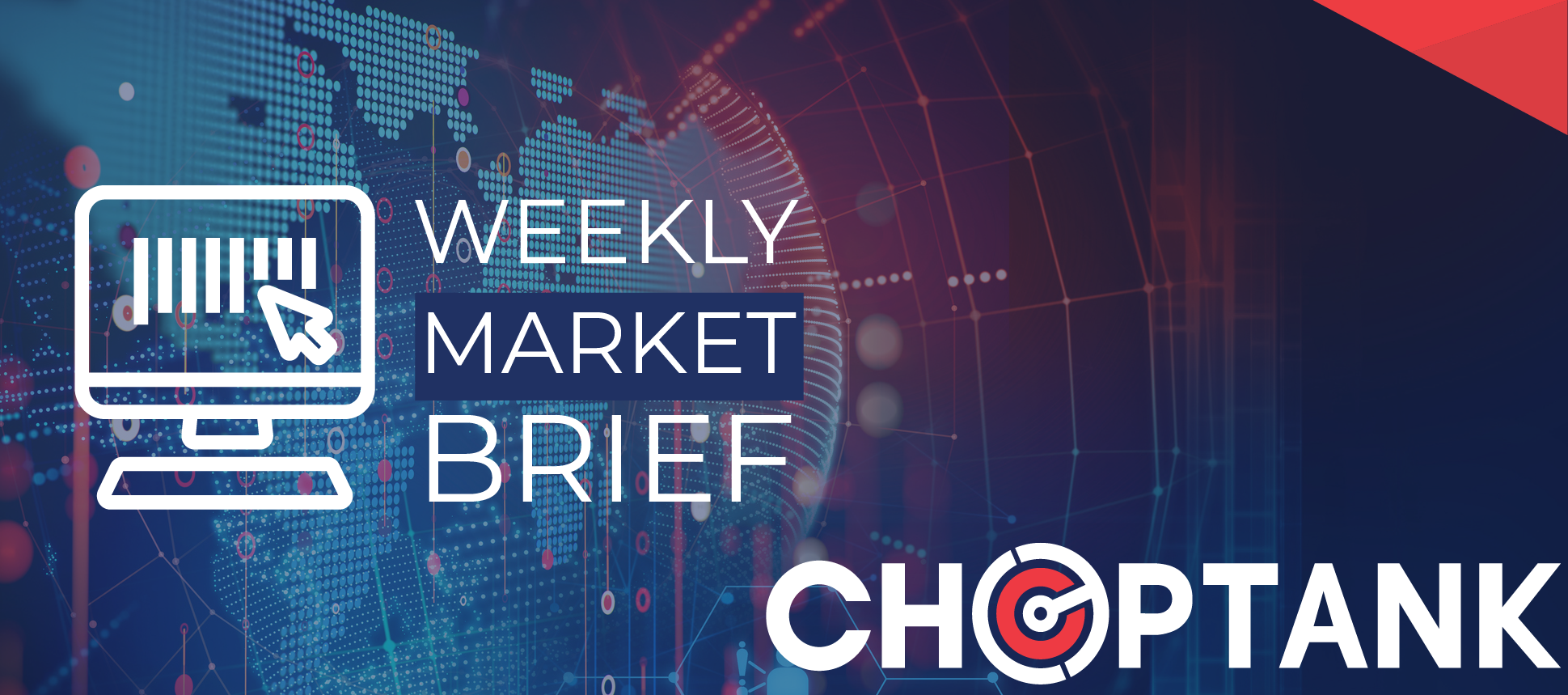 Spot Demand Falls but Carriers Still Control
Rates & Vaccines Appear Near
Nov 17, 2020
It makes no difference if you are watching the contract or spot market, volumes and rates this peak season have been on an upward trajectory and regardless of a dip last week in volumes, experts anticipate a strong finish to the year. This past week van capacity in the contract market has tightened on the East coast, but there are areas where rejection rates dropped slightly in the Midwest and Southwest. Reefer rejection rates, on the other hand, have hit some remarkable high numbers. Yesterday, 79.26% of all reefer freight moving from Kansas City to Little Rock was being rejected.
As volumes remain high, the e-commerce market takes on a large portion of the responsibility. An interesting story by Harriet Torry in the Wall Street Journal reveals just how much growth there has been in this sector. The article, "Pandemic Speeds Americans' Embrace of Digital Commerce," suggests that the boost in e-commerce sales from the pandemic would have probably taken, under normal conditions, a full decade to reach its current state. There is no questions that its impact on the supply chain has been remarkable.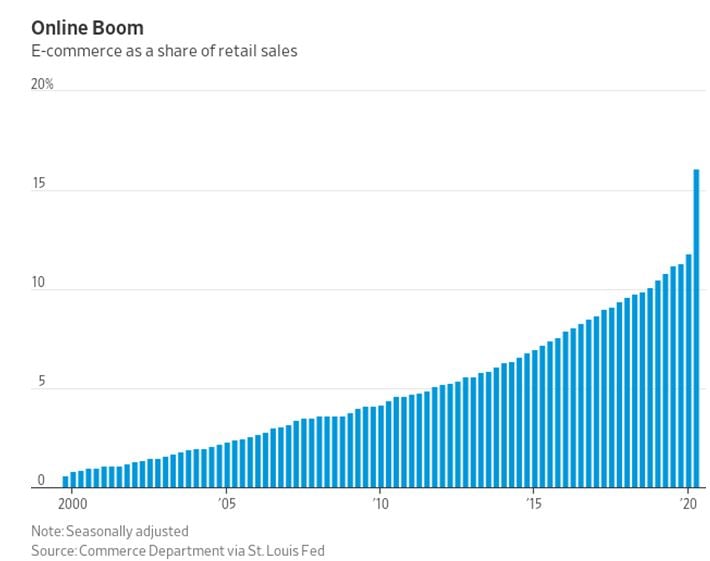 The Latest News on the Vaccine
In the race for an effective vaccine, progress is being made and there is speculation that one will be available by the end of the year. Supplychain Dive reports that Moderna announced yesterday that their COVID-19 vaccine is 94.5% effective at preventing the virus compared to a placebo. The company also claims to be a step ahead of the pharmaceutical giant, Pfizer, whose recent vaccine study indicated a 90% effective rate just last week.
Moderna also has an advantage because their vaccine can be transported between 2-8 degrees Celsius; the temperature of a standard refrigerator. Pfizer's needs to be kept on dry ice, which makes its logistics a little more difficult.
Weekly market updates help you identify areas where freight capacity is tight as well as areas that are loose and easier to cover. This helps you better understand the market and provides a basis for your pricing.
Who's Got the Power?
Now holding steady at 80, the DHL Pricing Power Index continues to keep carriers in an extremely favorable position for negotiations, most likely until year end. We may, however, see a slight fluctuation after this week's dip in spot market volumes ... stay tuned for next week's report!
The pricing power index is a weekly gauge put out by DHL that indicates who has more sway in negotiations when it comes to pricing and freight rates. The farther the needle leans to the left of the gauge, the more power the shipper has in negotiation. The farther to the right, the carrier has the upper hand.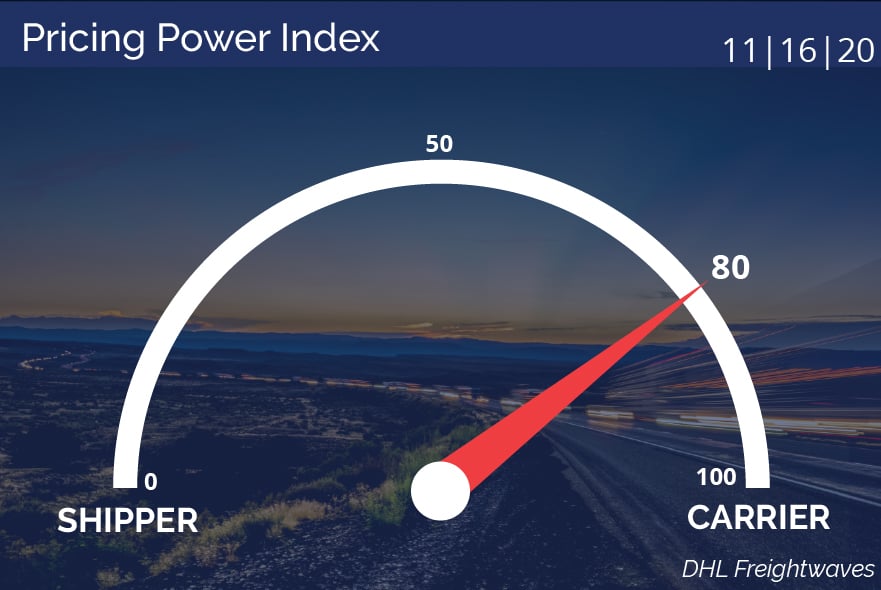 "Our advanced analytics is changing how we make decisions, from who to call first to how we think about the future." - Director of Data Science & Analytics, Choptank Transport
Where Rates & Capacity are Changing Most
The markets with the largest gains this past week in volume were Miami, Houston, and Atlanta. The markets with the largest declines in volume were Cleveland, Indianapolis, and Los Angeles.
The graph below displays several mid-sized markets and their increases and declines in outbound volume, rejection rates and headhaul indices as a percent change from the week prior. Here are some more examples of areas with moderate increases in outbound tender rejections. Joplin, MO (6.69%, Tulsa, OK (6.40%), Bristol, NH (7.73%), Missoula, MT (1.84%)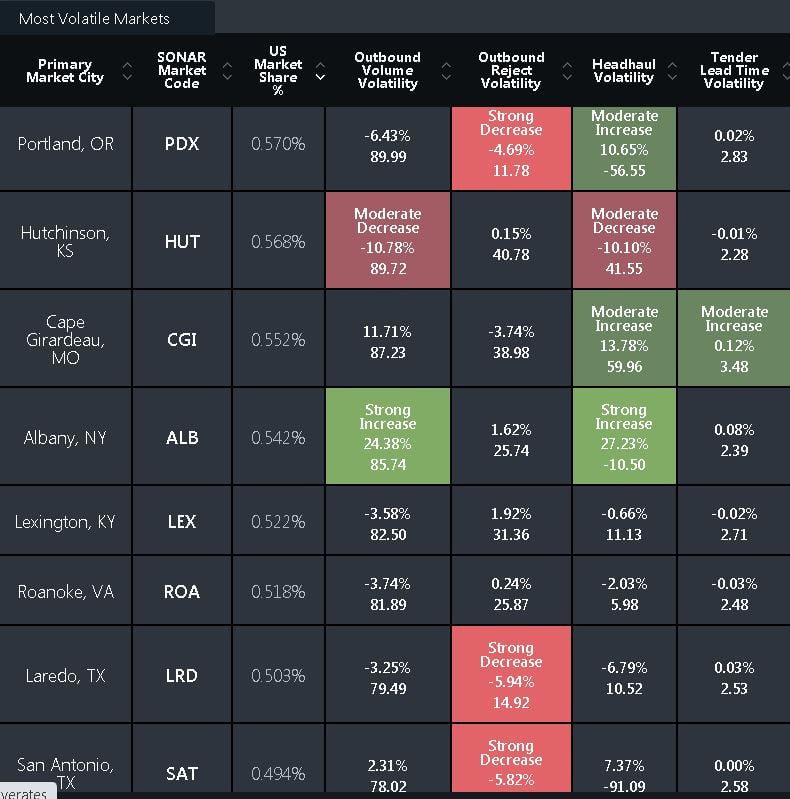 Spot Market Rates & Volume
(Below stats from Nov 9 - Nov 15.) Demand sees a dip this week on the spot market but has little effect on rates so far.
Overall Spot load posts are down -8.1% w/w, but down -5.9% m/m
Dry van: Load-to-truck ratio is down -19.2% w/w, down -20.5% m/m and up 156.3% from 2019.
Dry Van Spot Rates: Rates are up 1.1% w/w, up 1.1% m/m, and up 33.0% y/y
Reefer: Load-to-Truck ratio is down -16.5% w/w, down -10.2% m/m, and up 155.3% y/y.
Reefer Spot Rates: Rates are up by 3.6% w/w, up 0.5% m/m, and up 22.2% y/y.
Fuel prices have risen slightly by 0.5% w//w.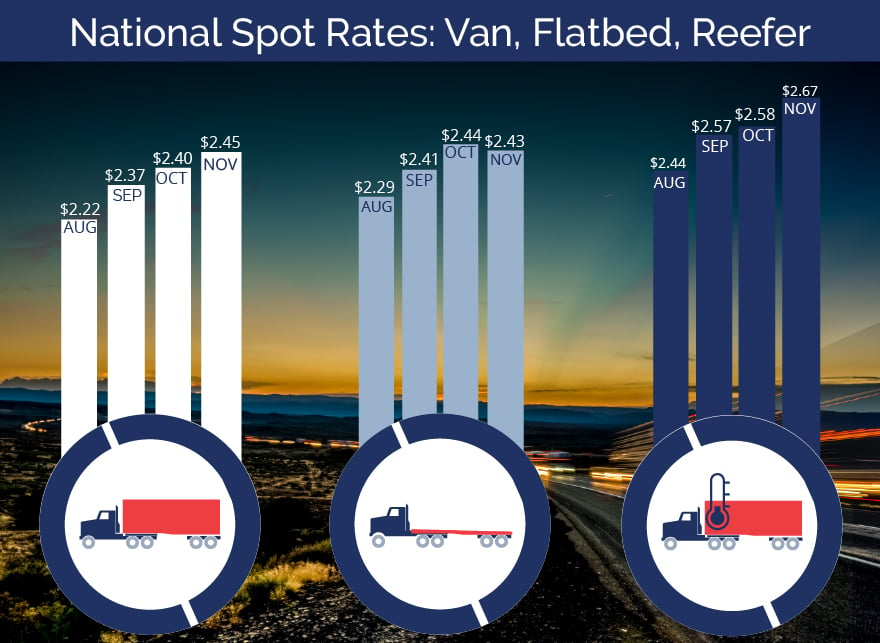 Spot Rates in Relation to Outbound Tender Rejection Index
New Graph! As you can see from the graph below, Truckstop's spot rates closely follow the trends in rejection rates. The blue line displays the national overall outbound tender rejection index for all modes. The green line shows the average rate per mile for reefer on the spot market and the orange line indicates the average rate per mile for van spots.
(Graph courtesy of Freightwaves/Sonar)

National Outbound Volumes & Rejection Rates
The top graph below shows national freight volumes for the last three months for van (in blue) and reefer (in green). It is interesting to note that although there is less reefer volume than van, it does seem to be catching up.
The outbound tender rejection rates shown in the bottom graph show the last six months of activity. One out of every four van shipments are still being rejected. Reefer rejections (in green) are closing in at almost half of all loads being rejected at 45.28, a compromise between two weeks ago at 47.78 and the week before last at 42.27.
(Graph courtesy of Freightwaves/Sonar)



Capacity This Week
This week, you'll need to put on your shades to look at the reefer map (it is so lit up with red) compared to its dry van counterpart. Reefer capacity is tight throughout the country with close to half of all temp-controlled freight being rejected. Van shortages are relegated to Nevada, California and Oregon on the West Coast, a small area around the Houston market, and some southern states.
Dark red and pink areas (hot spots!) on the maps below show where capacity is tightening. The top map displays reefer capacity and the bottom map, van. Rates in the darker red areas will be higher than in blue areas.
(Maps courtesy of DAT Market Conditions)