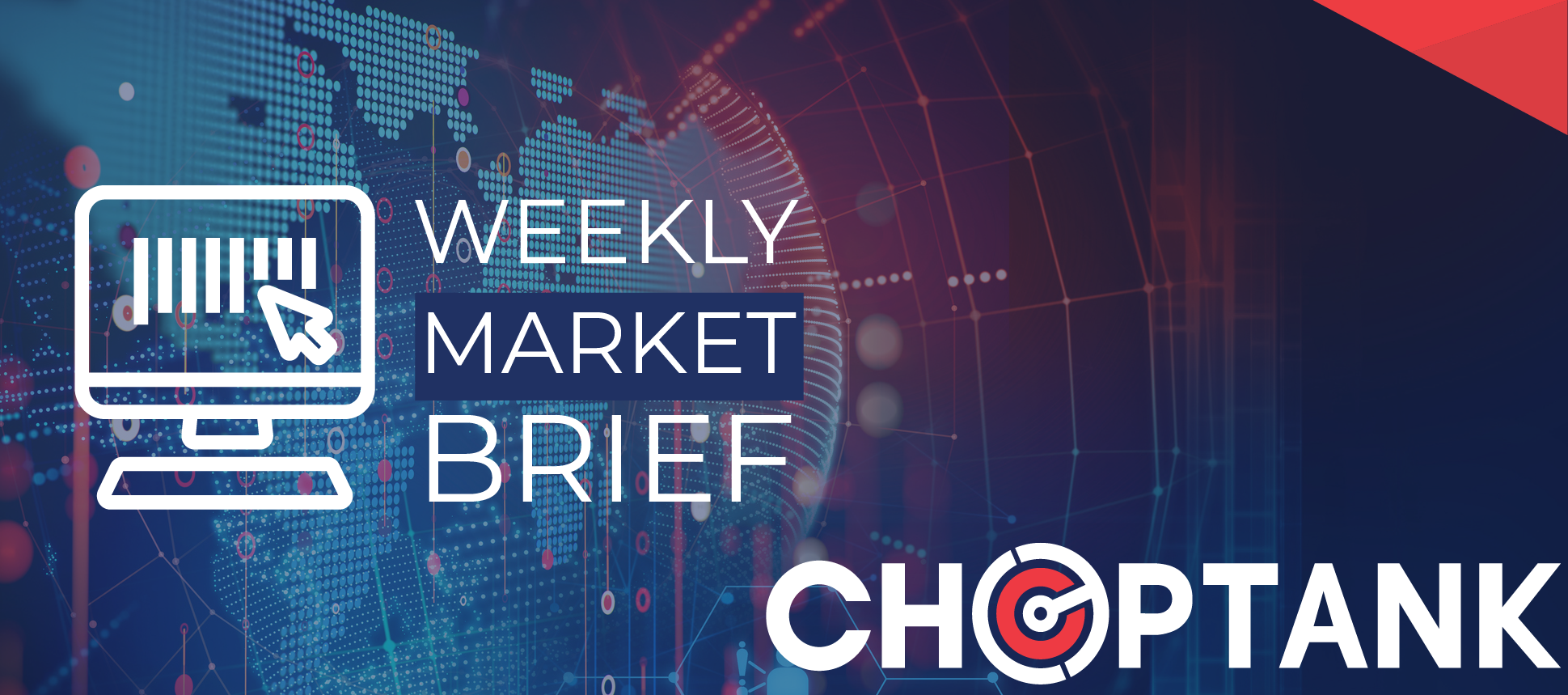 Up Up Up - Volume, Spending, Rejection Rates, and Consumer Confidence
Nov 10, 2020
Here we are, now officially in peak season for the holidays. Since the onset of the pandemic, consumers have learned that shipping lead-times are not what they used to be pre-COVID-19, even with Amazon Prime. Add in a projected $190 billion from e-commerce holiday sales alone, and things could get seriously dicey.
Q2 = 71% increase in e-commerce sales year-over-year
Q3 = 55% increase in e-commerce sales year-over-year
To avoid colossal shipping mayhem, some retailers are offering month-long Black Friday and Cyber Monday sales in hopes that consumers will knock out their gift-buying habits early.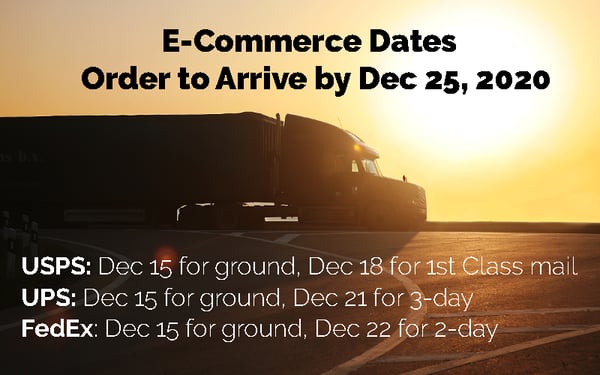 In the contract market, last week we hit the highest ever (national average) reefer rejection rate index of 47.64% with some areas like Milwaukee experiencing a staggering 64.41% of all loads being rejected. West Coast port rejection rates are also trending back upward.
On the pandemic front, there is exhilaration among the developers of a viable COVID-19 vaccine, announced by Pfizer-BioNTech. Initial findings suggest it may be 90% effective but it is not known if that pertains to only mild cases or also to those that are more severe. There are rumblings of others soon to follow. This is all encouraging news for the economy, but the next challenge will be the distribution of such a vaccine.
Weekly market updates help you identify areas where freight capacity is tight as well as areas that are loose and easier to cover. This helps you better understand the market and provides a basis for your pricing.
Consumer Spending & Jobless Claims
A recent monthly report confirms consumer confidence is high with an increase in retail spending of 11% year-over-year. Online electronic sales are the real standout at an increase of 79% year-over-year. Some segments of the economy such as restaurant and bar spending, however, are seeing a slight downturn with the recent surge in COVID-19 cases.
The really good news is that there were fewer jobless claims last week than any time since the start of the pandemic in mid-March. Unemployment is down 7.9% but it is still more than twice what it was before the pandemic. At least we are trending in the right direction.
Who's Got the Power?
No longer holding steady at 75, the DHL Pricing Power Index rose to 80, putting carriers in an even more favorable position for negotiations, most likely until year end.
The pricing power index is a weekly gauge put out by DHL that indicates who has more sway in negotiations when it comes to pricing and freight rates. The farther the needle leans to the left of the gauge, the more power the shipper has in negotiation. The farther to the right, the carrier has the upper hand.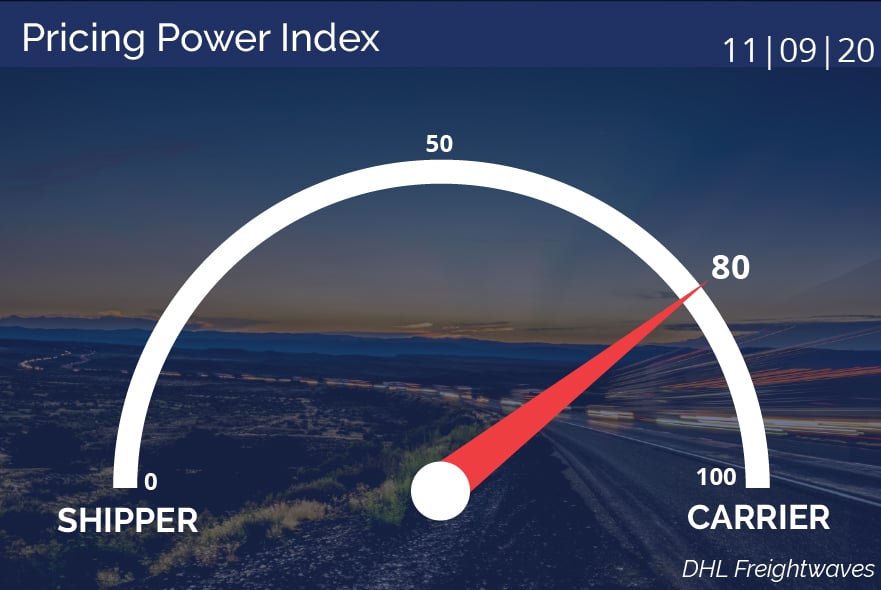 Market Volatility- Where rates & capacity are changing the most
The graph below shows the top nine freight markets and their volatility. This week we are seeing increases in volume and rejection rates, which is not surprising at this time of year.
Strong to Moderate Increases in Volume: Lubbock, TX - Tucson, AZ - McAllen, TX - Bowling Green, KY - Pendleton, OR - Ontario, CA

Strong Increases in Outbound Rejections: Elizabeth, NJ - Joliet, IL - Columbus, OH - Chicago, IL - Milwaukee, Wi - St Louis, MO - Seattle, WA - Greenville, SC - Rock Island, IL - Pittsburgh, PA - Omaha, NE - Montgomery, AL - Rockford and Bloomington, IL - Reno, NV - San Diego, CA and more.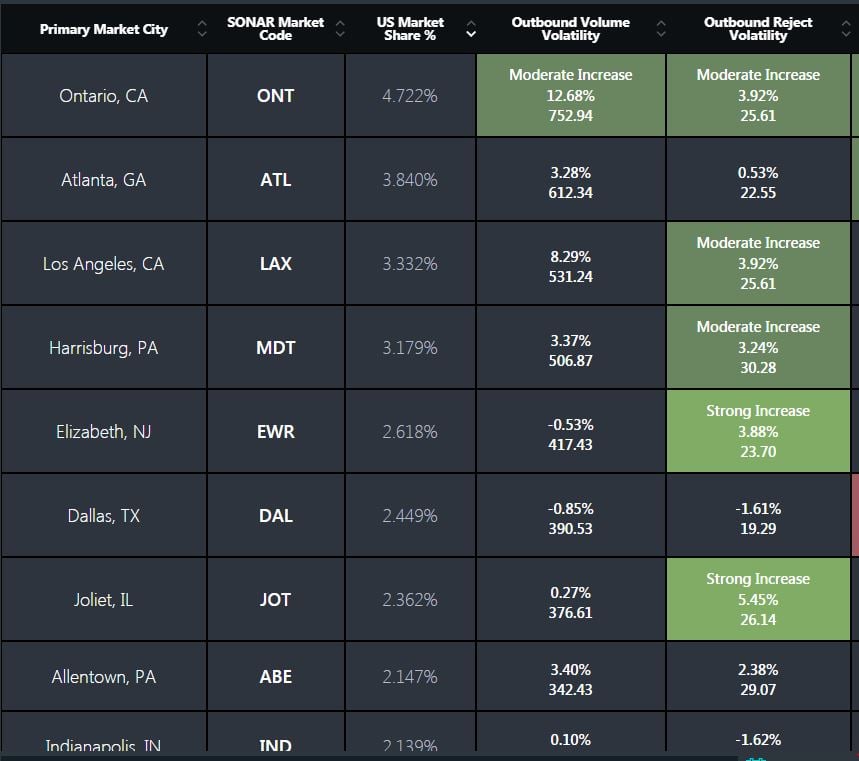 Spot Market Rates & Volume
It is hard to believe that spot rates could go any higher but both van and reefer rates have done just that this week compared to last week. Record high rates will most likely continue until the end of the year with heavy volumes seeing no signs of decline. (Below stats from Nov 2 - Nov 8.) The only outlier were flatbed rates that took a slight dip.
Overall Spot load posts are up 3.5% w/w, but down -5.9% m/m
Dry van: Load-to-truck ratio is up 13.6% w/w, down -20.5% m/m and up 156.3% from 2019.
Dry Van Spot Rates: Rates are up 2.7% w/w, up 1.1% m/m, and up 33.0% y/y
Reefer: Load-to-Truck ratio is up 24.3% w/w, down -10.2% m/m, and up 155.3% y/y.
Reefer Spot Rates: Rates are up by 3.2% w/w, up 0.5% m/m, and up 22.2% y/y.
Fuel prices have decreased slightly at -0.5% w//w.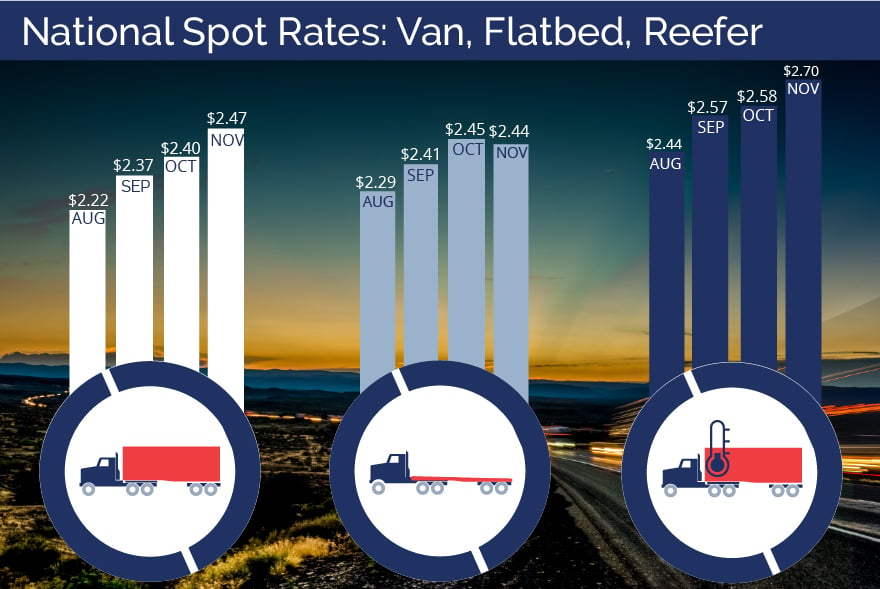 National Outbound Volumes & Rejection Rates
The top graph below shows national freight volumes for 2020. Although that latter part of October seemed to be flattening, you can see the uptick we are currently experiencing due to the beginning of peak season.
The outbound tender rejection rates shown in the graph below for the entirety of 2020 are extremely high for reefer freight. Reefer rejections (in blue) are again trending upward at 47.78 from 42.27 last week, whereas van rejections in yellow, are elevated to 27.04 from just below 25 last week.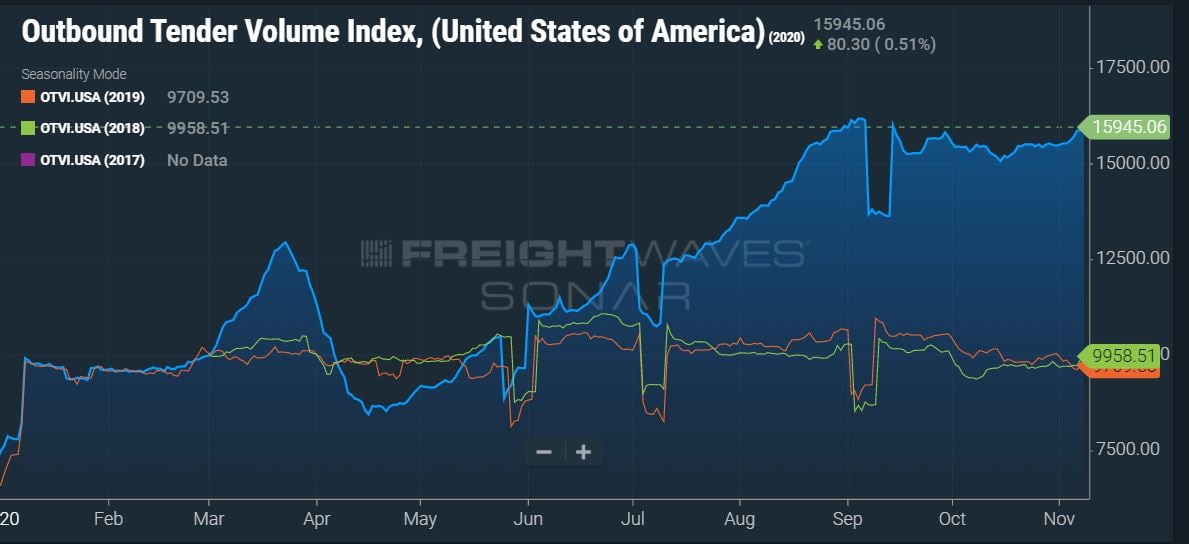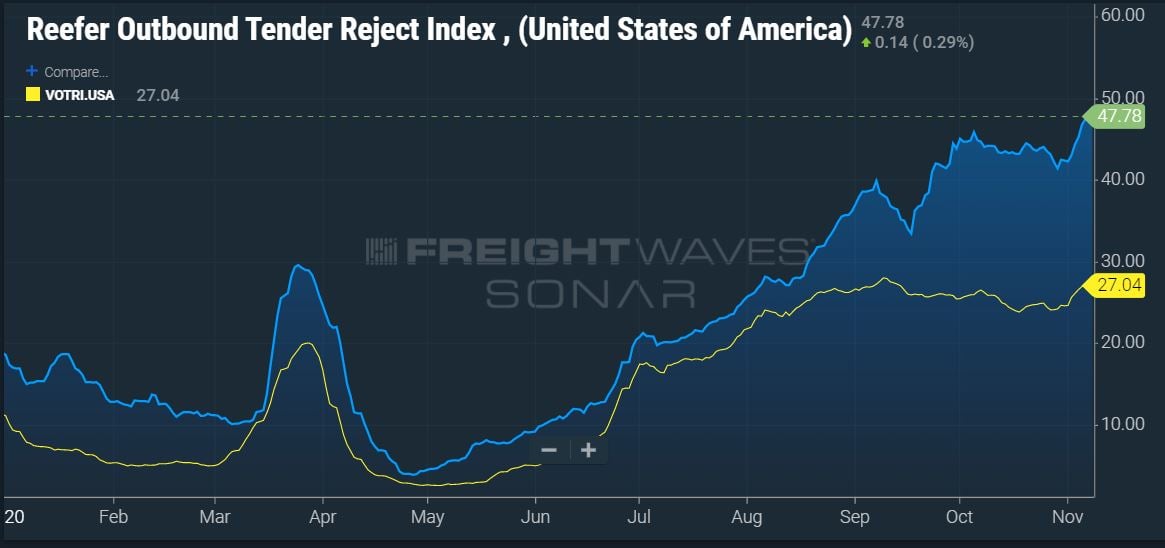 Capacity This Week
Dark red and pink areas (hot spots!) on the maps below show where capacity is tightening. The top map displays reefer capacity and the bottom map, van. Rates in the darker red areas will be higher than in blue areas.
Tight reefer markets include Idaho, Oregon, Washington state and Southern California on the West Coast. In the middle of the country, reefer constraints are seen in Texas, Arkansas, Kansas, Nebraska and South Dakota. The Mid-West and East Coast have their fair share of tight reefer markets as well.
The bottom map clearly shows that dry van capacity is less severe but, especially in the middle of the country but is tight in areas of Southern California, parts of Texas and Louisiana, Indiana, Ohio, Virginia and Pennsylvania.
(Maps courtesy of DAT Market Conditions)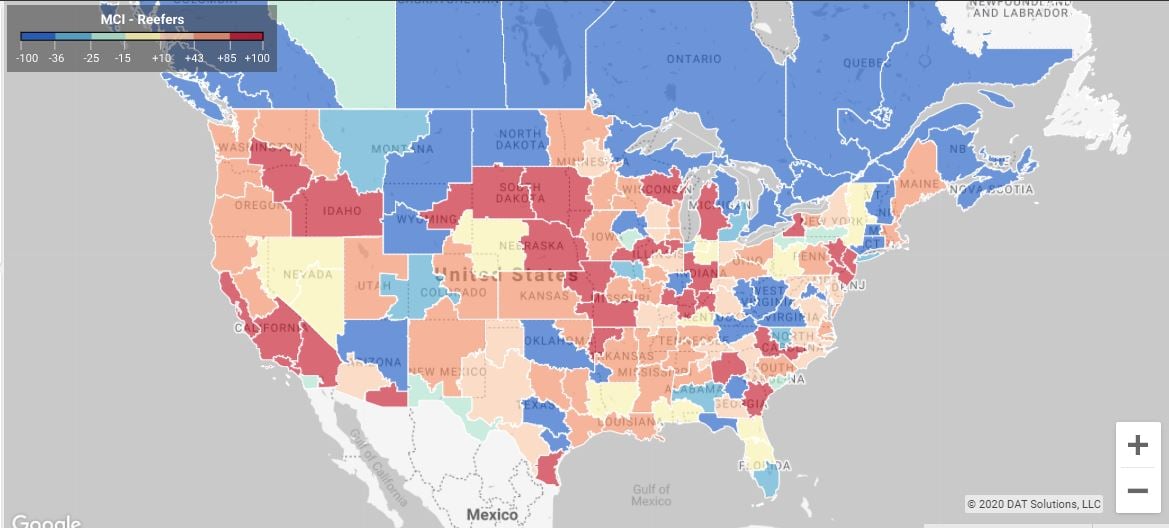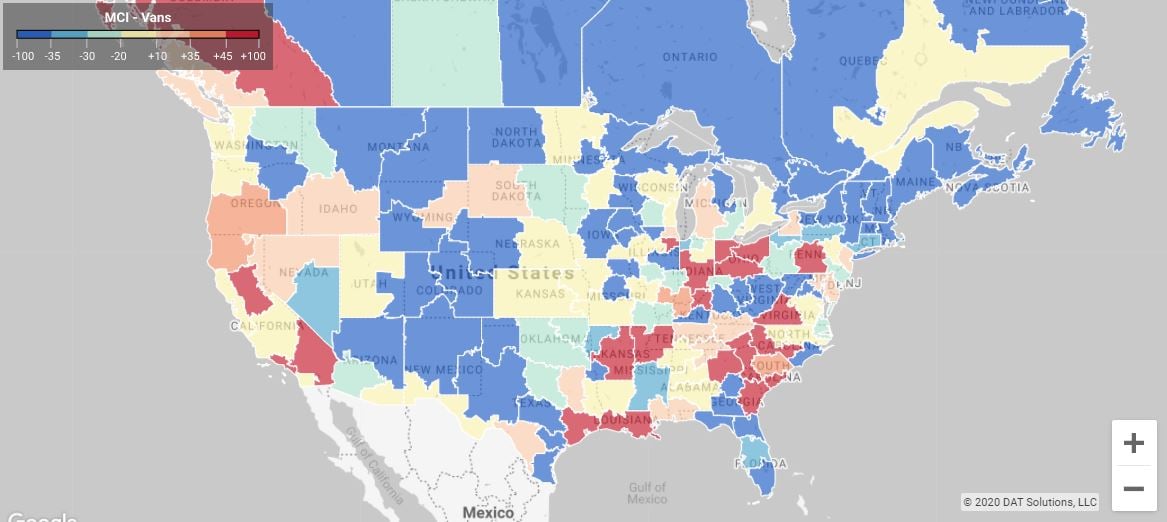 Have a Question? Ask one of our Experts
Do you have specific questions about the freight market in your area? Don't hesitate to ask us. Your sales representative or a member of our professional logistics team is ready to help, so give us a call! 800.568.2240.