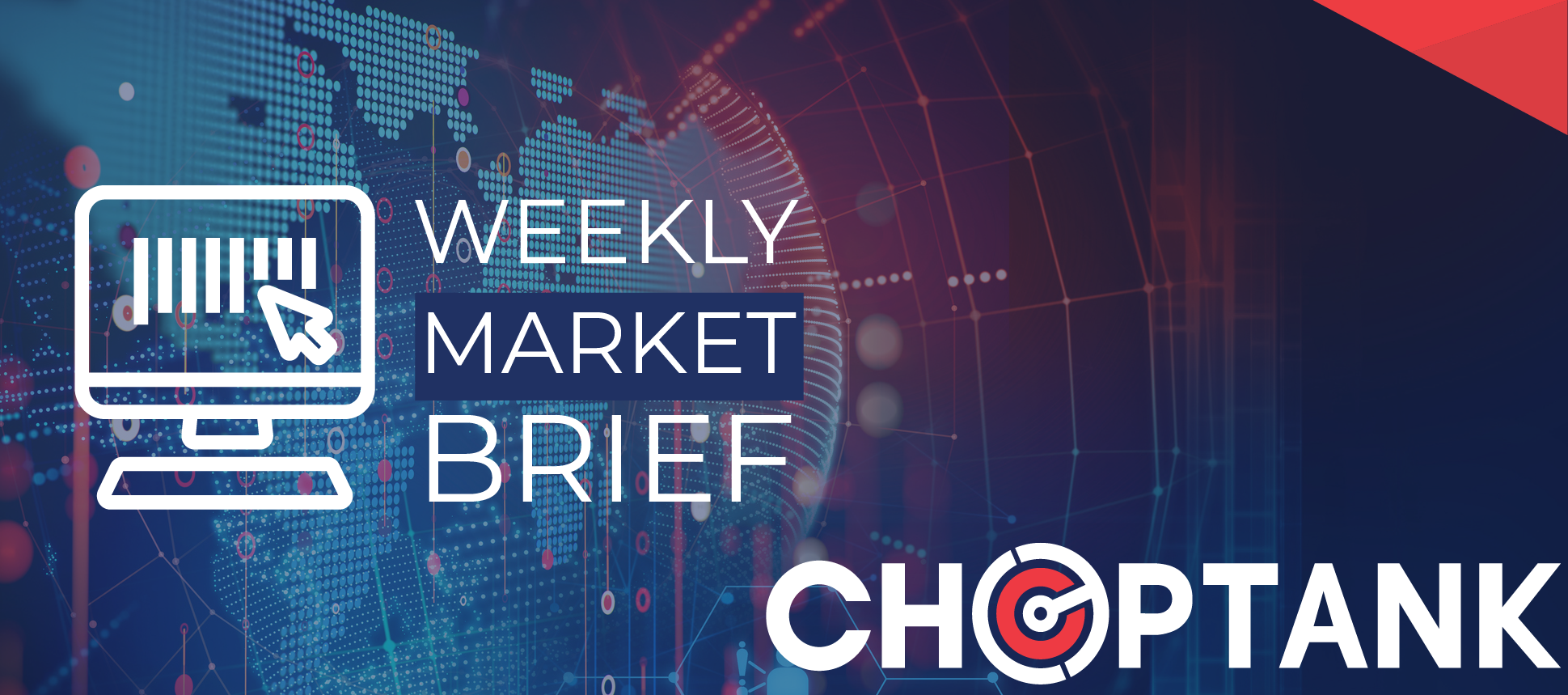 Capacity Loosens, but for how Long?
October 27, 2020
Shippers have become accustomed to tight capacity and higher rates over the last few months. Many have changed their strategy from trying to get costs down to simply securing capacity. There is no denying it has been tough on everyone's bottom line, but this week there is some good news to share.
The market seems to be loosening with rejection rates in many parts of the country after a short and slight downward trend over the last two weeks. Only 50 of the 135 freight markets experienced tightening last week. Even so, spot capacity is still difficult to find in some areas, so keep your eyes on the market for the lanes you run most frequently.
Replenishment freight is making its way through customs at the ports, so heavy demand is expected to regain steam in early November as the holiday season heats up.
Thanksgiving is in a few weeks and Turkeys are flying out of poultry producing areas such as Little Rock, Arkansas, which showed up as one of the busiest reefer markets in the country last week, along with pumpkins and pumpkins pies coming out of Illinois.
What About Pumpkin Spice Lattes?
Weekly market updates help you identify areas where freight capacity is tight as well as areas that are loose and easier to cover. This helps you better understand the market and provides a basis for your pricing.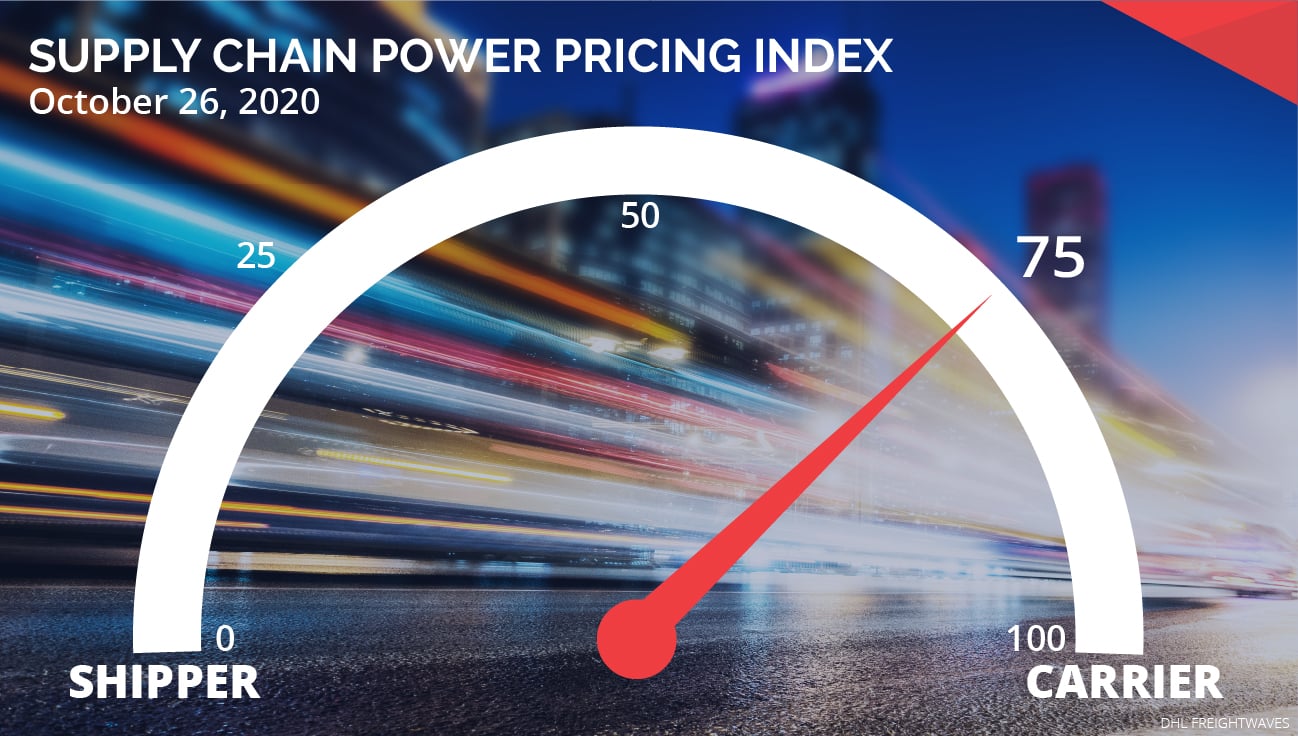 Who's Got the Power?
Another good sign for shippers... the DHL pricing power index has been stuck between 80 and 85 in carrier's favor for weeks. This week a continued loosening of capacity finally broke the monotany and has the index sliding back toward center at 75. Strong market conditions are expected to come back, however, and will keep carriers in a very favorable position for negotiations until year end.
The pricing power index is a weekly gauge put out by DHL that indicates who has more sway in negotiations when it comes to pricing and freight rates. The farther the needle leans to the left of the gauge, the more power the shipper has in negotiation. The farther to the right, the carrier has the upper hand.
Warehouse Inventories & Capacity
Below is a graph that shows the current warehousing conditions as reported via the Logistics Manager's Index. You can see that warehouse availability is low (blue line) at 43.14 and inventories are fairly high (purple line) at 61.39. With more goods still being processed and clearing customs at the ports, this situation could get worse if consumer buying habits are disrupted by a new serge in COVID cases. (Graph courtesy of Freightwaves/SONAR)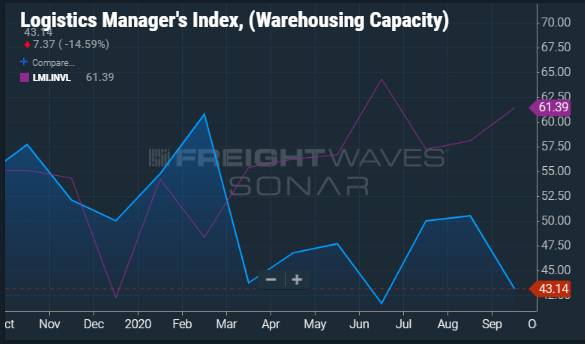 Market Volatility - Where rates & capacity are changing the most
The graph below shows the top eight freight markets by market share and their volatility. There are also some smaller markets showing volatility this week.
Strong Decreases in Headhaul: Columbus, OH - Minneapolis, MN -
Hartford, CT - Oklahoma City, OK - Shreveport, LA - Ft. Wayne, IN
Strong Increases in Rejection Rates: Milwaukee, WI - New Orleans, LA - Winchester, VA - Louisville, KY - Roanoke, VA - Lexington, KY - Albany, NY - Madison, WI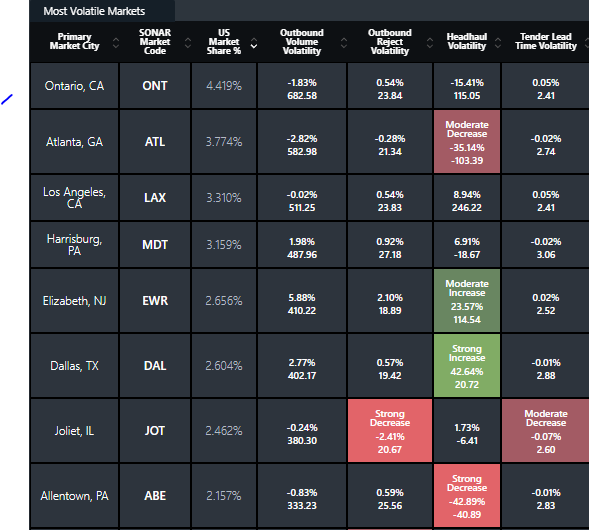 Unemployment & Housing Markets
Another bit of good news ... jobless claims are still trending downward and are below 800,000 for the first time since mid-March. As you can see from the graph below, we unfortunately still have a long way to go before we hit pre-COVID levels, or even the 2016 (purple line) unemployment rate.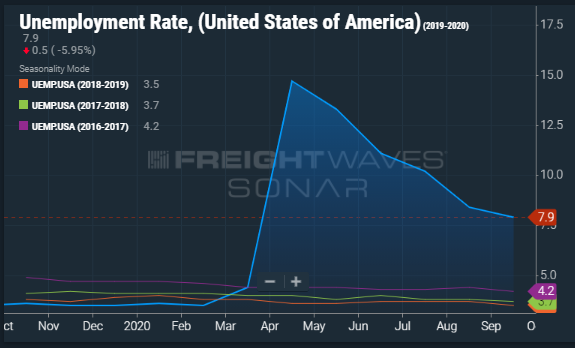 Spot Market Rates & Volume
The current trend shows capacity has loosened a little for dry van and reefer freight with load posts down across the board. This is the fourth week in a row following a 4.6% drop in total loads posts. Rates have plateaued. (Below stats from October 19-25)
Overall Spot load posts are down -4.6% w/w, but still up +11.4% m/m
Dry van: Load-to-truck ratio is down -6.6% w/w, up 2.6% m/m and up 126.2.% from 2019.
Dry Van Spot Rates: Rates are up 1.2% w/w, up 6.9% m/m, and up 28.7% y/y
Reefer: Load-to-Truck ratio is down -7.1% w/w, up 3.9% m/m, and up 116.3% y/y.
Reefer Spot Rates: Rates are up by 0.4% w/w, up 5.4% m/m, and up 18.9% y/y.
Fuel prices have decreased slightly at -0.3%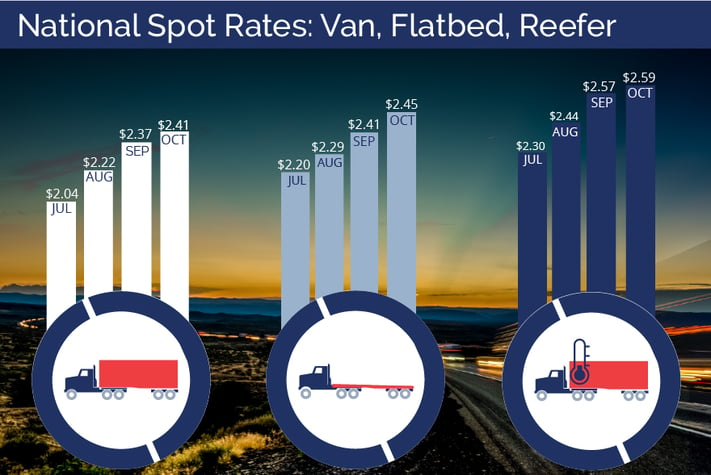 National Outbound Volumes & Tender Rejections
The graph below shows van volumes far outweigh those of reefer freight and both strongly exceed last year's numbers. It appears that the two equipment types are finding some stabilization in market conditions for now, but it could be just a temporary flatlining before the busiest holiday season on record.
The outbound tender rejection rates for reefers is still extremely high at 44.05% whereas vans are slightly below 25%.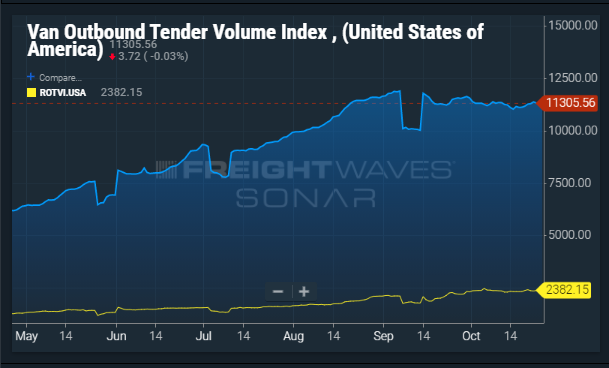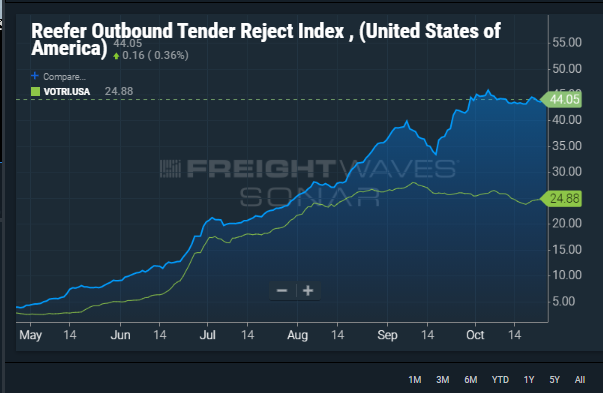 Capacity This Week
Dark red and pink areas (hot spots!) on the maps below show where capacity is tightening. The top map displays reefer capacity and the bottom map, van. As you can see by the large amount of blue and light blue on the van map, capacity has loosened in some of the major markets throughout the U.S. As a result, rates in the darker red areas will be higher than in blue areas.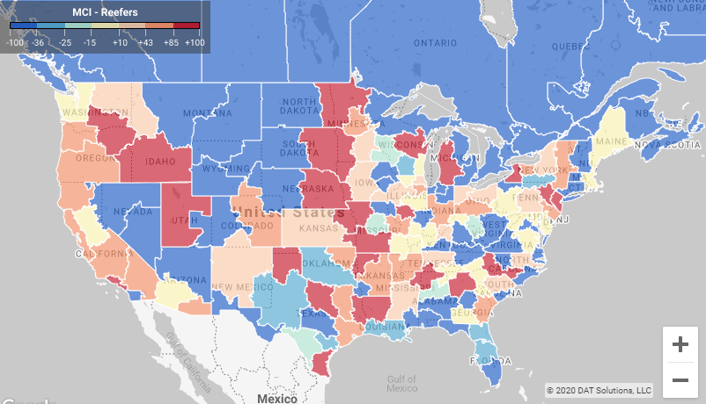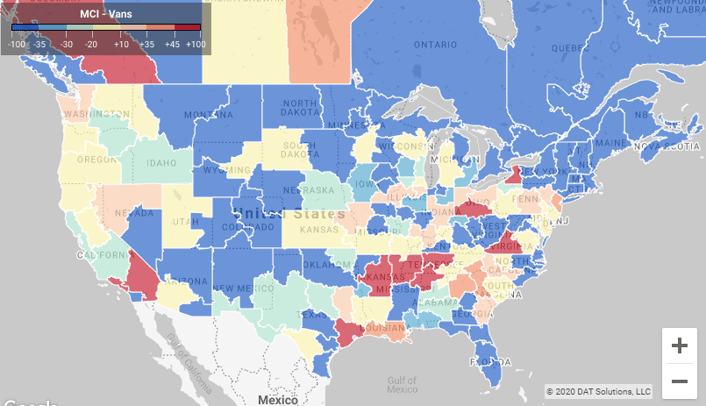 Tight reefer markets include Idaho, the Dakotas, Nebraska, Michigan and New Jersey, to name a few. The bottom map clearly shows that dry van capacity is especially tight in areas of Southern California, parts of Texas, the Ohio Valley and Virginia.
(Maps courtesy of DAT Market Conditions)
Have a Question? Ask one of our Experts
Do you have specific questions about the freight market in your area? Don't hesitate to ask us. Your sales representative or a member of our professional logistics team is ready to help, so give us a call! 800.568.2240