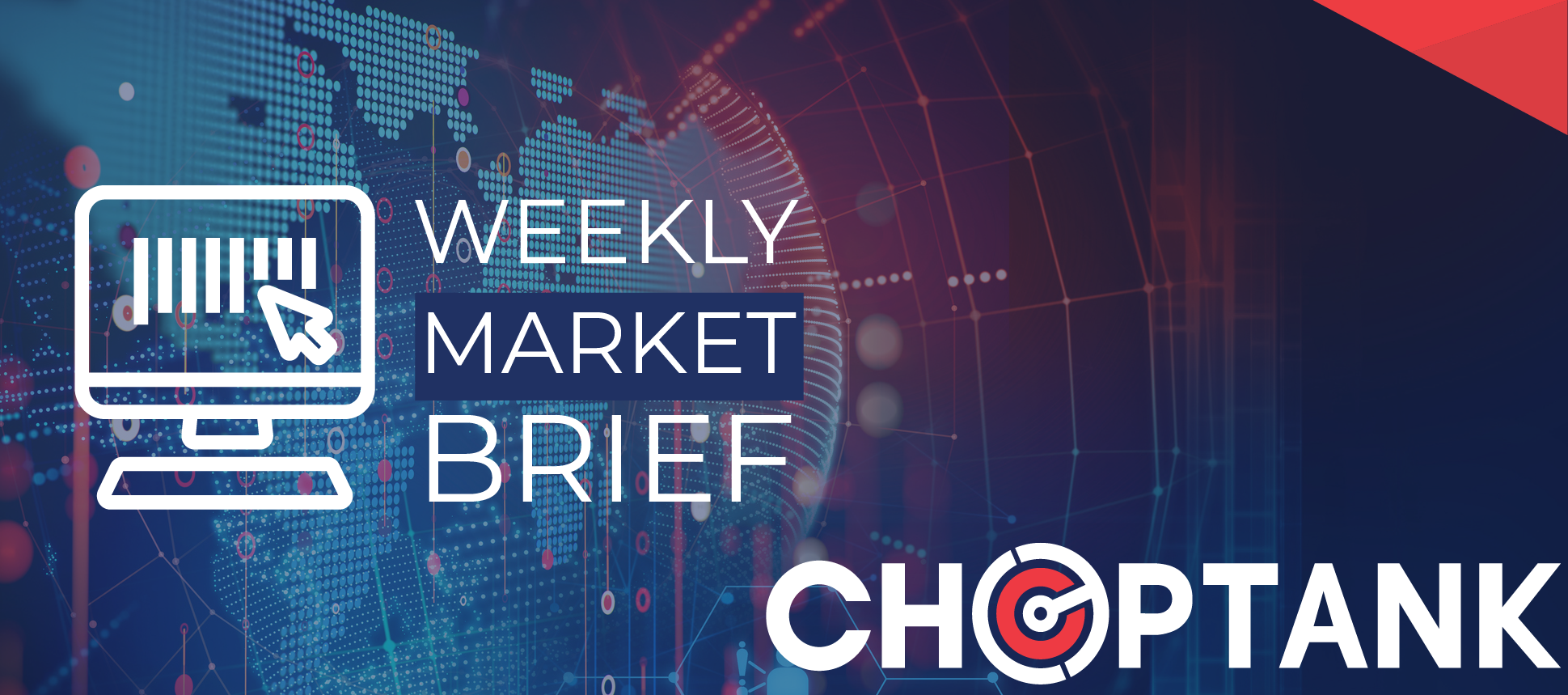 An Uneven Freight Market Shows Signs of Flattening
October 20, 2020
Over the last several months we have witnessed outbound tender volumes that are extremely high compared to last year and outbound tender rejection rates equally astounding. Why then, are overall U.S. freight volumes down 3% year-over-year?
Some segments of the market that account for a large percentage of America's freight have been hit hard by the pandemic, like industrial and manufacturing. Others, like retail and consumer packaged goods, have increased by 10% year-over-year. Even within the retail and consumer goods markets freight volume is uneven on specific lanes. This imbalance is important to watch and will help us predict what the market will do in the future. Right now, it is the fast-moving consumer items and a decline in truck driver employment that are keeping capacity tight.
Warehouses are fully stocked for the holidays after a heavy influx of imports over the last few months. Analysts expect the season to arrive earlier and last longer this year with retail giants like Walmart, Target and Amazon offering pre-holiday online incentives. Consumer confidence is good and retail spending is up 8% year-over-year (excluding auto), according to Bank of America's consumer data report.
Weekly market updates help you identify areas where freight capacity is tight as well as areas that are loose and easier to cover. This helps you better understand the market and provides a basis for your pricing.
How are Consumers Spending Their Money?
Below is a snapshot of what people are spending money on in the first week of October, as compared to last year, according to Bank of America credit card data. Consumer spending is related to truck volumes and can be an indication of a growing or waning freight market.
Of note, restaurant and bar spending has made a huge turn around and is only down 7% year-over-year. Brick and mortar (B&M) spending too has made a surpising comeback at just 4% behind last year at this time.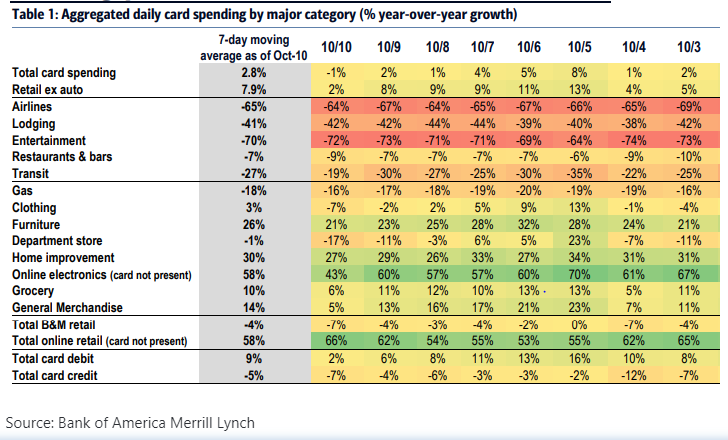 Rates
Nationally rates are up 26.5% compared to last year, but are down from 1.5% over the last several weeks. The traditional peak season begins the first week of November and rates are expected to remain higher than normal with capacity very tight in certain areas.
National Outbound Lead Times
Below is a graph showing outbound tender lead times for both reefer and van truckload freight in the United States. The lead time for reefers has slightly decreased to 3.887 days from last week's 4.057 days. The van lead time has stayed relatively the same at 2.52 days versus 2.57. Shippers should give as much lead time as possible to get the best rates. (Graph courtesy of Freightwaves/SONAR)


"Our advanced analytics is changing how we make decisions, from who to call first to how we think about the future." - Director of Data Science & Analytics, Choptank Transport
Spot Market Rates & Volume
Rates only dipped slightly last week for van and reefer as demand inches downward, although rates stayed the same for flatbed freight. Remember it was just two weeks ago when we saw continued increases in both loads posted and rates. Overall the current trend seems to be a flattening. (Below stats from October 12-18)
Overall Spot load posts are down -2.8% w/w, but still up +11.4% m/m
Dry van: Load-to-truck ratio is flat 0.0% w/w, up 2.6% m/m and up 126.2% from 2019.
Dry Van Spot Rates: Rates are up 1.5% w/w, up 6.9% m/m, and up 28.7% y/y
Reefer: Load-to-Truck ratio is down -4% w/w, up 3.9% m/m, and up 116.3% y/y.
Reefer Spot Rates: Rates are up by 0.6% w/w, up 5.4% m/m, and up 19.0% y/y.
Fuel prices have increased slightly at 0.3%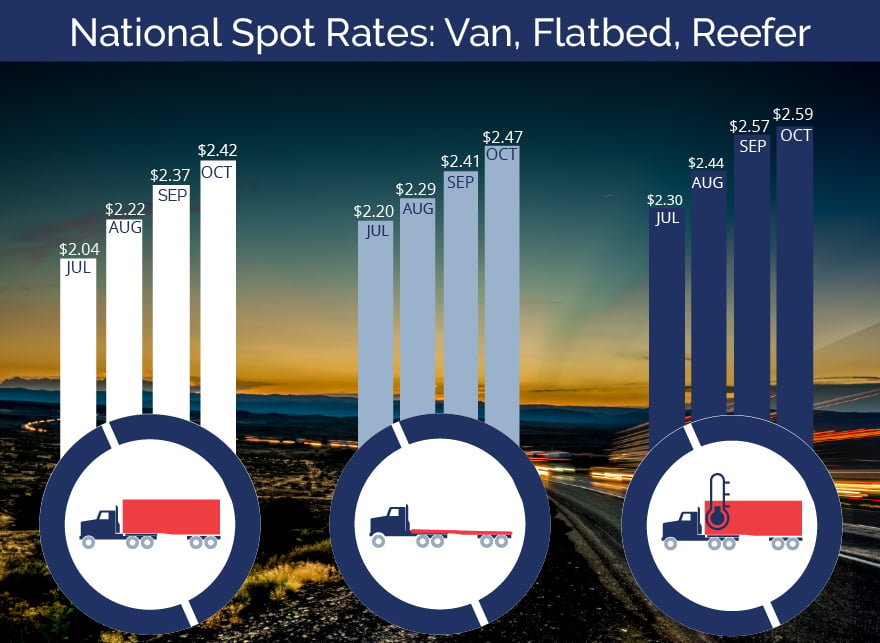 Examples of Market Volatility
Below are several markets listed with varying degrees of volatility for outbound volume and rejection rates as of yesterday.
Strong Decreases in Volume and Rejections
Here are some markets where we noted some strong decreases in rejection rates yesterday.
Harrisburg, PA: down -13.84% in volume, -6.79% in rejections
Hartford, CT : down -12.83% in rejections
San Francisco: down -17.77% in volume, -1.81% in rejections
Pittsburgh, PA: down -9.79 in volume, -5.01% in rejections
Louisville, KY: down -17.38% in volume, down -8.70% in rejections
Buffalo, NY: down -15.10% in volume, down -7.53% in rejections
Boston, MA: down -19.59% in volume, down -15.68% in rejections
(Charts below courtesy of Freightwaves Sonar)
National Outbound Tender Rejections & Volumes
As we enter the fourth quarter, national rejection rates were down 5% last week from the week before, showing some market stabilization. A few of the major markets are showing less volatility and slowing down, but the pace of decline is not that great and capacity remains tight.
Last week marked the sixth week in a row and the longest time frame that the OTRI index has remained above 25% in its three-year history. But, van and reefer rejection rates are both showing a slight downward slide in these larger markets. Conversely, while rejections are cooling off in major hubs, some of the smaller markets are experiencing higher rejection rates.
National OTRI for VANS = 24%
National OTRI for REEFERS = 43%
The graph below shows a slight decrease in volume over the last few weeks (blue), winding up at 15223 versus 15424 last week. 2019 data is shown in orange and 2018 in green. The bottom graph shows the outbound tender reject indices over the last six months. It also has decreased from 26.26 to this week at 24.42.


Capacity This Week
Dark red and pink areas (hot spots!) on the map show where capacity is tightening. As you can see from the map below, capacity has loosened in some of the major markets throughout the U.S. Rates in the darker red areas will be higher than in blue areas of the map where capacity is looser.
Tight reefer markets include the Southwest, Idaho and New Jersey, to name a few. The bottom map clearly shows that dry van capacity is especially tight in areas of Southern California, New Mexico, and eastern Wisconsin.
Midwest shipping is gaining strength and there is high demand in western New York for apples and cabbage. Idaho is still shipping potatoes and Washington is seeing an increase in nursery stock shipments. .
Note: Top Map is reefer capacity, bottom map is dry van.
(Maps courtesy of DAT Market Conditions)