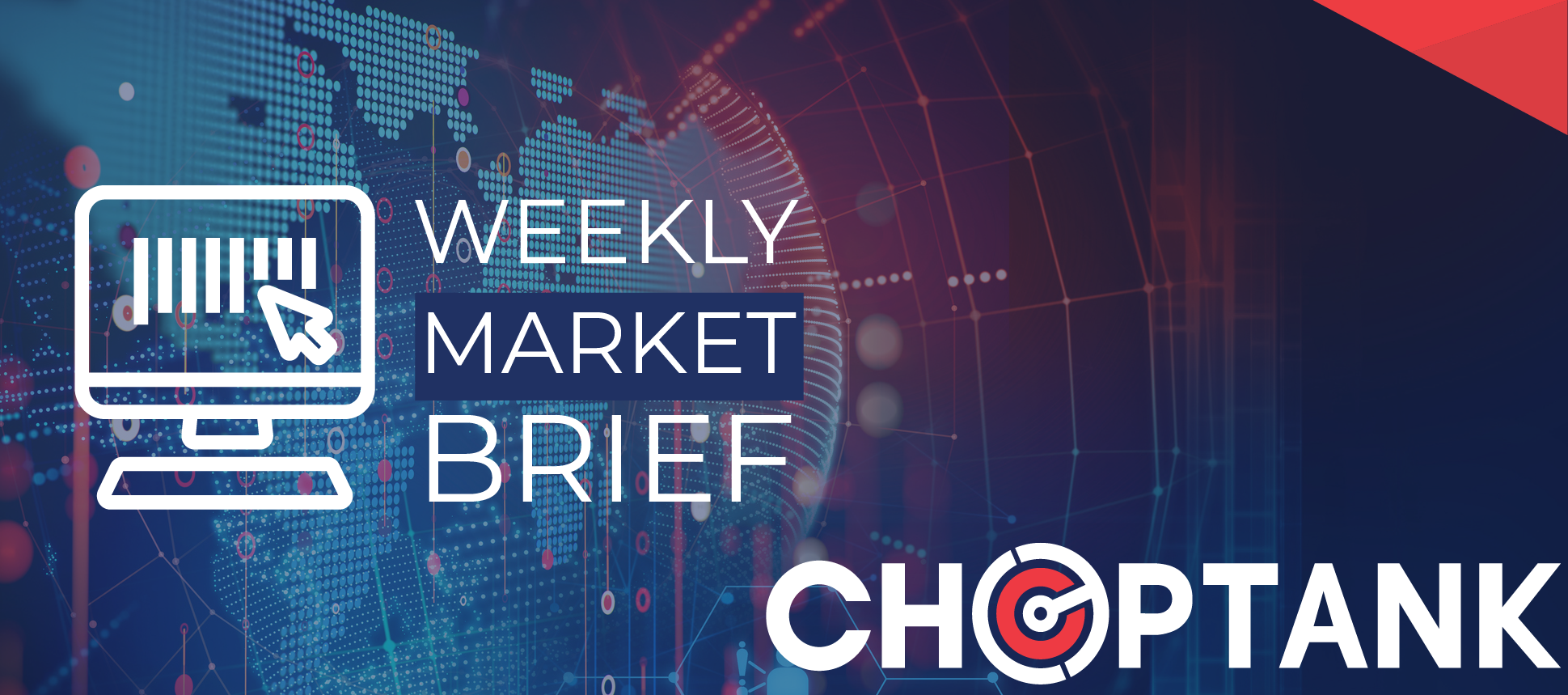 Watch for Opportunities in the Market

& Extend Lead Times -

October 13, 2020

Last week's market brief talked about the strong freight market and what that means for shippers. As a follow up, the Choptank blog last Friday offered some expert advice on how to deal with the current issues surrounding rising rates and short capacity. If you missed it, you can read it here.

This week's outbound tender volumes remain elevated while outbound tender lead times stretch out to 4.06 days for reefer freight and 2.57 days for dry van. (See chart below - blue line is reefer and orange is van.) Shippers should try to extend their lead times as much as possible. Also, keep an eye on the market in the areas where you ship. Look for changes in rejection rates that may provide an opportunity to get better rates. If you don't have access to this information, check with your Choptank sales representative for assistance.

Looking at the port index, retail trade is up 41.8% from the prior week, as well as durable goods at +23%, distribution services at +8.3%, and manufacturing up 13%. These are all indicators that the economy is doing well and strengthening. We see no downturn in the foreseeable freight market so the expectation is that volumes will remain high and capacity under pressure.

On the employment front, the service sector saw its first gain in seven months. That means more hospitality and restaurant jobs are being created from relaxed COVID-19 restrictions in many areas. This bodes well for e-commerce sales leading up to the holidays which will trickle down to a continued strain on capacity.

Weekly market updates help you identify areas where freight capacity is tight as well as areas that are loose and easier to cover. This helps you better understand the market and provides a basis for your pricing.
Reefer & Van Outbound Tender Lead Times
The graph below shows reefer lead times in blue and van in orange over the last 60 days.


"Our advanced analytics is changing how we make decisions, from who to call first to how we think about the future." - Director of Data Science & Analytics, Choptank Transport
Spot Market Rates & Volume
Rates only increased slightly last week even though the demand for trucks decreased, unlike the week before where we saw an increase in both loads posted and rates. (Below stats from October 5-11)
Overall Spot load posts are down -10.3% w/w, but still up +11.4% m/m
Dry van: Load-to-truck ratio is down -23.2% w/w, up 2.8% m/m and down -6.2% from 2019.
Dry Van Spot Rates: Rates are up 1.4% w/w, up 6.9% m/m, and up 28.7% y/y
Reefer: Load-to-Truck ratio is down -18% w/w, up 3.9% m/m, and up 116.3% y/y.
Reefer Spot Rates: Rates are up by 0.9% w/w, up 5.4% m/m, and up 19.0% y/y.
Fuel prices have declined slightly at -0.3%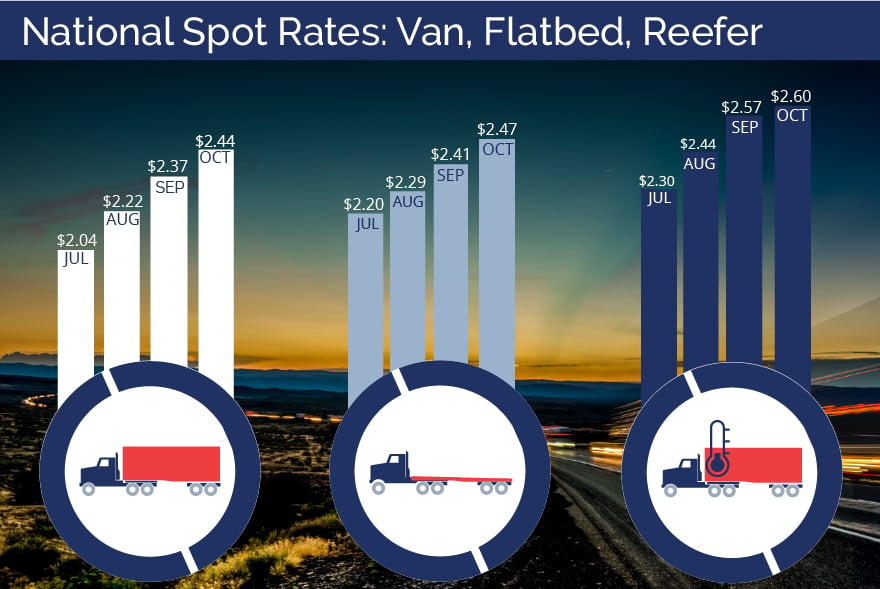 Examples of Market Volatility
The chart below shows a snapshot of several markets with varying degrees of volatility for outbound volume, rejection rates, headhaul and lead time.
(Chart below courtesy of Freightwaves Sonar)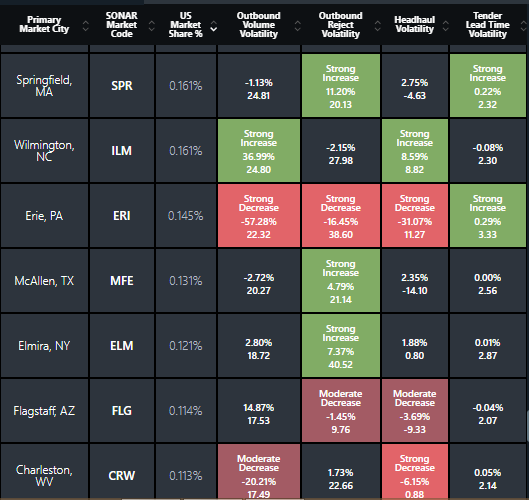 Strong Decrease in Rejection Rates in these Areas
Here are some markets where we noted some strong decreases in rejection rates yesterday.
Dallas, TX - 4.03% strong decrease in rejection rates
Joliet, IL - 2.06% strong decrease in rejections rates
Minneapolis, MN - 6.55% strong decrease in rejection rates
Winchester, VA - 4.52% strong decrease in rejection rates
Richmond, VA - 8.59% strong decrease in rejection rates
Shreveport, LA - 8.71% strong decrease in rejection rates
Jackson, MS -11.94% strong decrease in rejection rates
Outbound Tender Volume and Rejection Indices
The top graph shows a striking increase in volume over six months in the United States (blue) compared to 2019 (orange) and 2018 (green). The bottom graph shows the outbound tender reject indices YTD for the last three years. We all remember when rejections soared in 2018... looks like we are back to similar conditions. (Charts below courtesy of Freightwaves Sonar)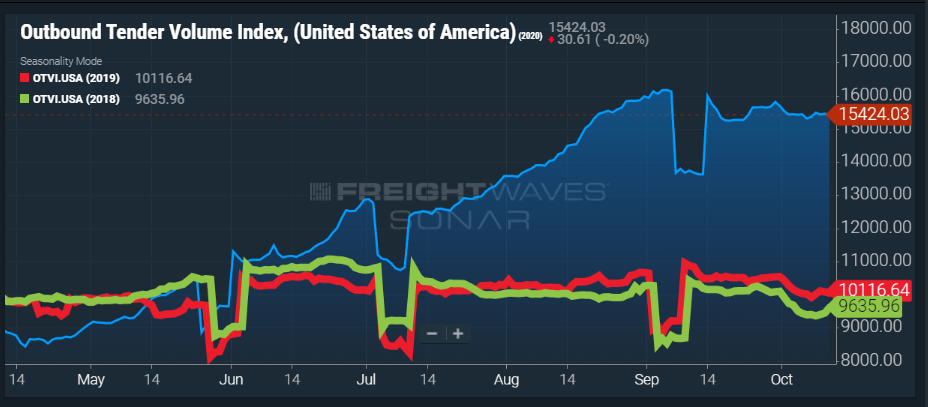 Capacity This Week
Dark red and pink areas (hot spots!) on the map show where capacity is tightening. As you can see from the map below, yesterday tight reefer markets were still prevalent in many states throughout the U.S. Rates in these areas will be higher than in blue areas of the map where capacity is loose. Tight reefer markets include Idaho, New Mexico, Minnesota, Wisconsin, Michigan, Texas, Pennsylvania and New Jersey, to name a few.
The bottom map clearly shows that dry van capacity is especially tight in areas of Ohio, Arkansas, Virginia, Wisconsin, Illinois, Pennsylvania, the Carolinas and Southern California.
Note: Top Map is reefer capacity, bottom map is dry van.
(Maps courtesy of DAT Market Conditions)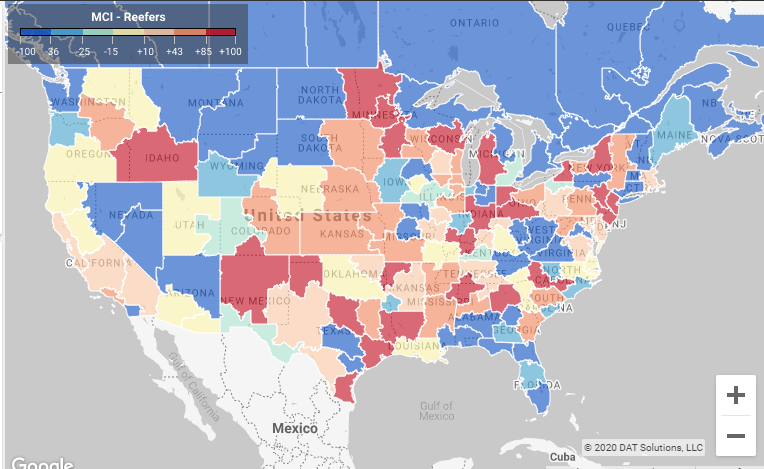 Who's Got the Power?
The needle moves back up once again favoring the carriers at the 85 mark, meaning rates are even higher than last week. Strong market conditions continue to put carriers in a very strong position for negotiations.
The pricing power index is a weekly gauge put out by DHL that indicates who has more sway in negotiations when it comes to pricing and freight rates. The farther the needle leans to the left of the gauge, the more power the shipper has in negotiation. The farther to the right, the carrier has the upper hand.