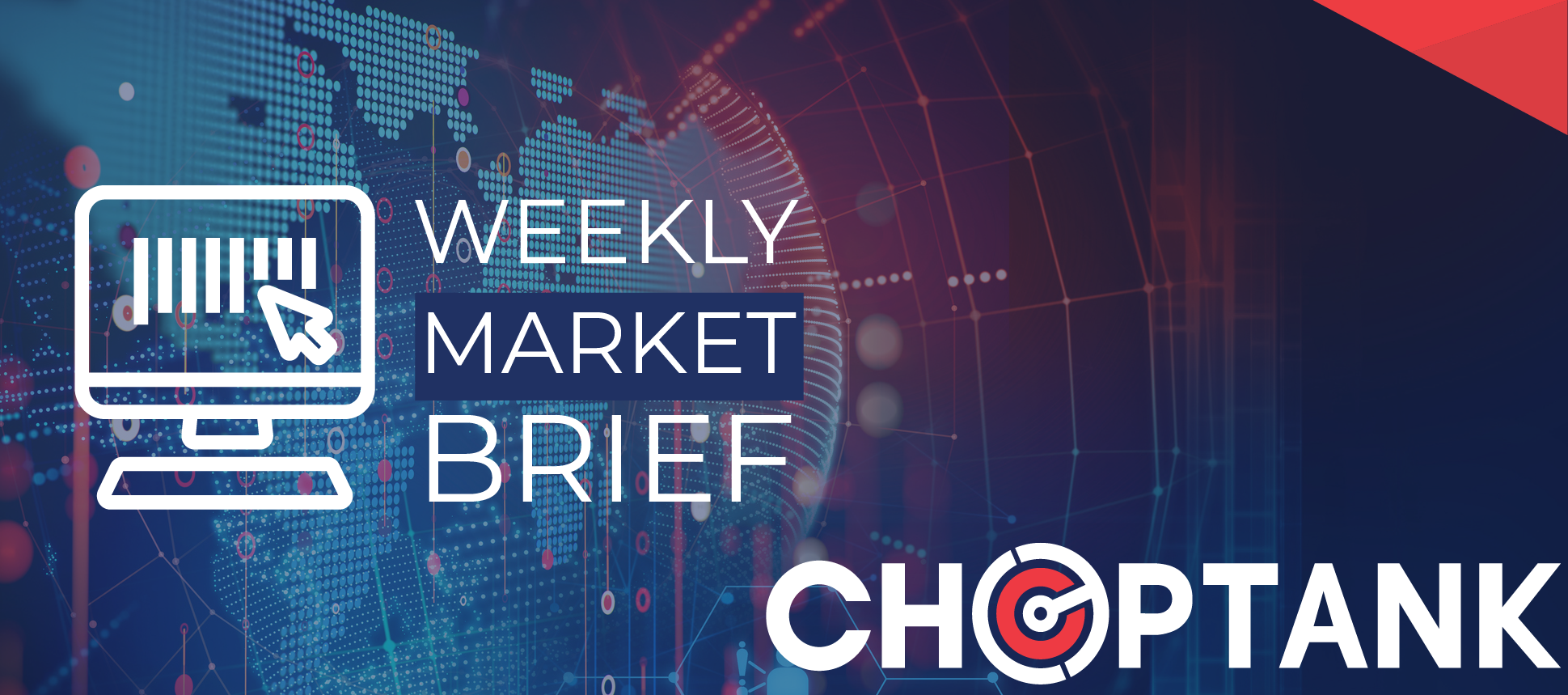 A Strong Freight Market and What it Means for Shippers - October 6, 2020
A "strong" freight market means the industry is experiencing extremely high shipping volumes. Normally that is a sign of a burgeoning economy and should be good news for shippers, however, there is a thorn in the side of the current situation--the same thorn that bedeviled the industry in 2018. I am talking about the growing capacity shortage. Demand has far outgrown the truck supply and contract and spot rates are out of wack. (Read our upcoming blog on Thursday with some first-hand advice from our seasoned logistics professionals.)
These heavy volumes are predicted to continue throughout the fourth quarter, but there are no guarantees. The expectation that consumer sentiment will remain positive may be influenced by American's perception of the pandemic and how well they think it is under control. Another factor could be unemployment, which appears to be recovering, but if it starts to climb again with new winter Covid closures, that could translate into less consumer spending and less demand for goods. (See chart below.)
Weekly market updates help you identify areas where freight capacity is tight as well as areas that are loose and easier to cover. This helps you better understand the market and provides a basis for your pricing.

Spot Market Rates & Volume
The end of last week rejection rates for reefer freight were especially high across the Midwest, stretching from Arkansas to North Dakota. Indianapolis reefer rejection rates were topping over 50% and Salt Lake City experienced its tightest reefer capacity of the year.
This week van rates hit an all-time high, beating out June of 2018 when rats topped at $2.32 in September.
Overall Spot load posts are up +5.0% w/w, but still up +11.4% m/m
Dry van: Load-to-truck ratio is up 4.6% w/w, up 2.6% m/m and 126.2% from 2019.
Dry Van Spot Rates: Rates are up 3.2% w/w, up 7.2% m/m, and up 29.1% y/y
Reefer: Load-to-Truck ratio is up 16.8% w/w, up 3.9% m/m, and up 116.3% y/y.
Reefer Spot Rates: Rates are up by 1.8% w/w, up 5.5% m/m, and up 19.2% y/y.
Fuel prices have declined slightly at -0.4%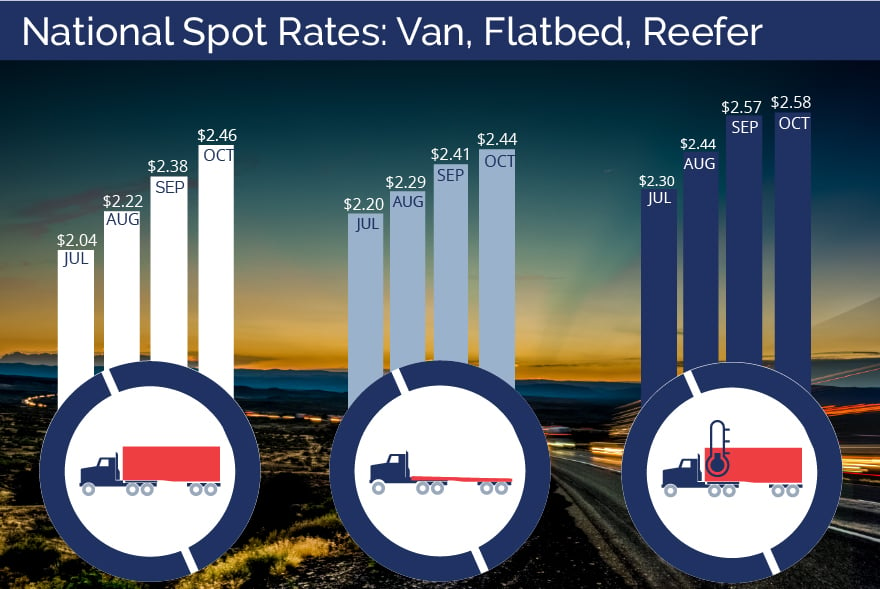 Top Eight Markets - Volume & Rejection Rate Change
(Chart courtesy of Freightwaves Sonar)

Strong Decrease in Rejection Rates in these Areas
Rejection rates are not increasing everywhere. Here are some smaller markets where we are seeing strong decreases in rejection rates.
New Orleans, LA - 5.29% strong decrease in rejection rates
Green Bay, WI - 6.55% strong decrease in rejections rates
Buffalo, NY - 5.25% strong decrease in rejection rates
Chatanooga, TN - 3.53% decrease in rejection rates
Syracuse, NY - 5.54% strong decrease in rejection rates
Ft. Wayne, IN - 7.56% strong decrease in rejection rates
(Chart courtesy of Freightwaves Sonar)


Capacity This Week
Dark red and pink areas (hot spots!) on the map show where capacity is tightening. As you can see from the map below, yesterday tight reefer markets were still prevalent in many states throughout the U.S. Rates in these areas will be higher than in blue areas of the map where capacity is loose.
The bottom map clearly shows that dry van capacity is especially tight along some of the border states and in the eastern half of the country, driving rates to an all-time high.
Note: Top Map is reefer capacity, bottom map is dry van.
(Maps courtesy of DAT Market Conditions)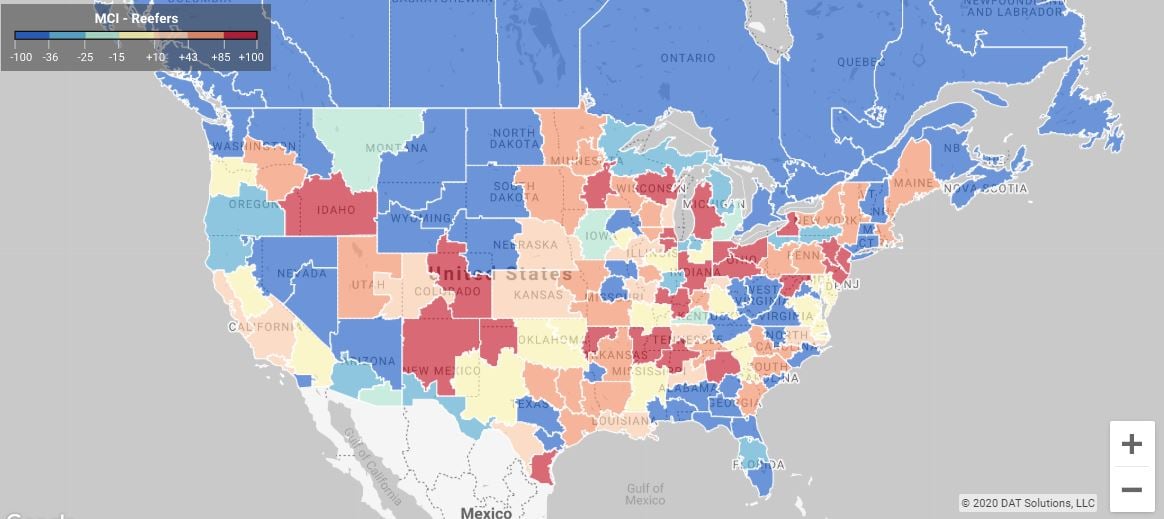 Who's Got the Power?
After weeks of being stuck at 85, last week the DHL Power Pricing index needle moved back to 80 where it is temporarily hovering. This continues to put carriers in a very strong position for negotiations and rates are expected to remain higher than normal.
The pricing power index is a weekly gauge of who has more sway in negotiations when it comes to pricing and freight rates. The farther the needle leans to the left of the gauge, the more power the shipper has in negotiation. The farther to the right, the carrier has the upper hand.
Have a Question? Ask one of our Experts
Do you have specific questions about the freight market in your area? Don't hesitate to ask us. Your sales representative or one of our professional logistics team is ready to help, so give us a call! 800.568.2240, option #2.