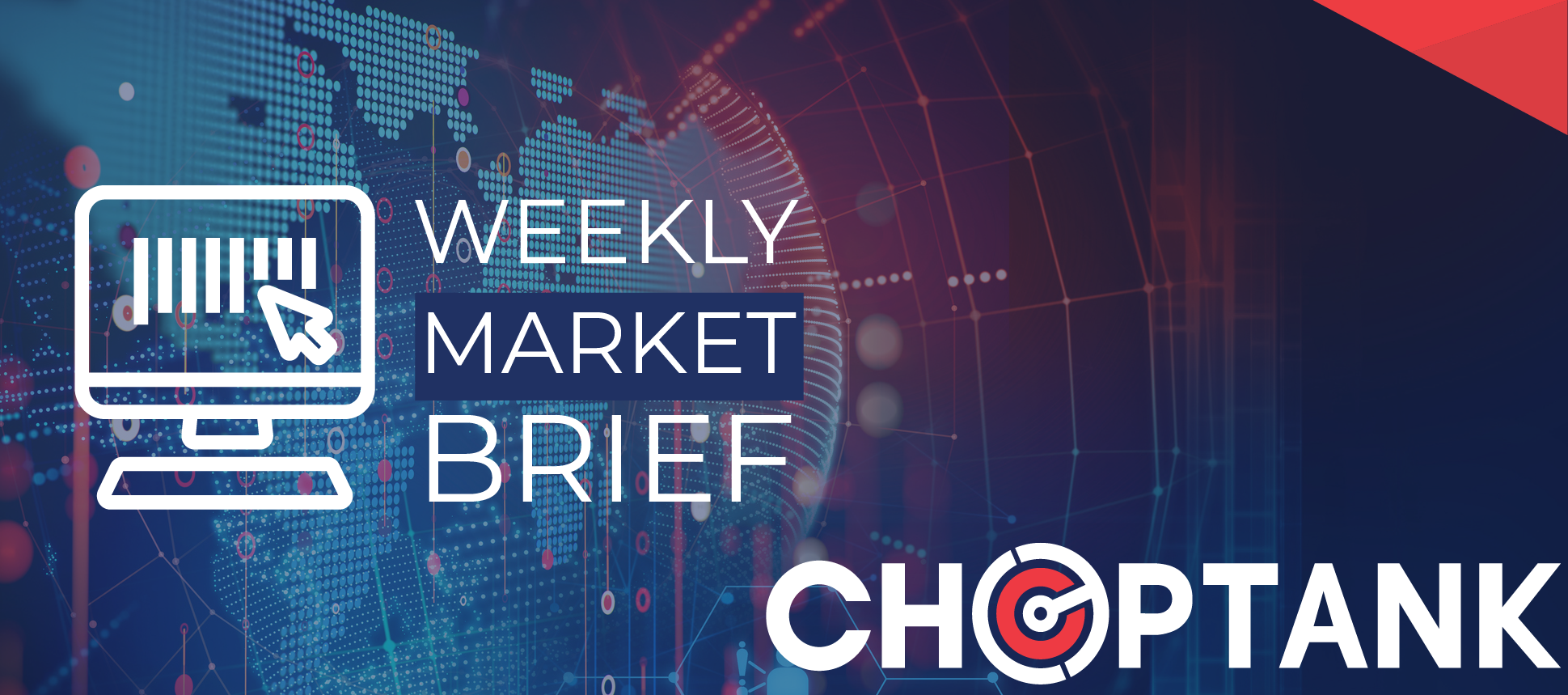 Tight Reefer Capacity Throughout the Country - Sept 29, 2020
October is a pivotal month to watch since it can be an indicator of a strengthening or weakening market for the fourth quarter. In 2018, October volumes were subtly higher at the end of the month than in the beginning, however in 2019, volumes lost steam throughout the month, ending a bit lower than the month started. As crazily unpredictable as this year has been with disruptions caused by COVID-19, major changes in consumer's buying habits, and multiple weather and fire events, it is unclear what "peak" season will look like.
Most notable, of course, is the persistent increase in volume over the last two years. Late September 2020 volumes are rising again as shown in the Outbound Tender Volume Index chart below, as are the Outbound Tender Rejections. (See the tight reefer capacity map at the bottom of this email.) It will be interesting to see if the market follows historical trends and levels off in early October before ramping back up into the last two months of the year.
Weekly market updates help you identify areas where freight capacity is tight as well as areas that are loose and easier to cover. This helps you better understand the market and provides a basis for your pricing.
Spot Market Rates & Volume
According to DAT, load posts on the spot market are leveling off but the rates are still inching up. Flatbed rates are surging at +6.1% over last week, +9.6% over last month and +165.1% year over year. The graphic below shows a weekly view of the month-to-date national average spot rates from DAT from Septembr 21 through September 27, 2020.
Overall Spot load posts are up +0.2% w/w, but still up +9.8% m/m
Dry van: Load-to-truck ratio is up 1.7% w/w, up 20.8% m/m and 135.4% from 2019.
Dry Van Spot Rates: Rates are up 2.4% w/w, up 8.9% m/m, and up 22.1% y/y
Reefer: Load-to-Truck ratio is down 1.9% w/w, up 26.4% m/m, and up 108.3% y/y.
Reefer Spot Rates: Rates are up by 0.4% w/w, up 6.0% m/m, and up 13.8% y/y.
Fuel prices have declined slightly at 0.7%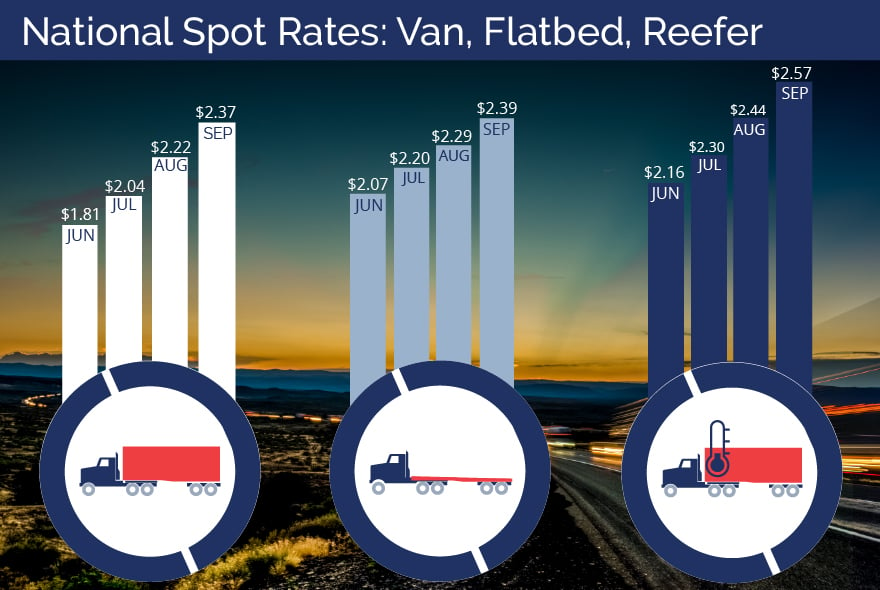 Who's Got the Power?
The needle has moved! After weeks of being stuck at 85, due to a dip in tender rejections last week, the DHL Power Pricing index needle moved back to 80... for the time being that is.
That still puts the carriers in a very strong position for negotiations and rates are expected to remain higher than normal, although there are some pockets of the country where capacity is fluctuating.
The pricing power index is a weekly gauge of who has more sway in negotiations when it comes to pricing and freight rates. The farther the needle leans to the left of the gauge, the more power the shipper has in negotiation. The farther to the right, the carrier has the upper hand.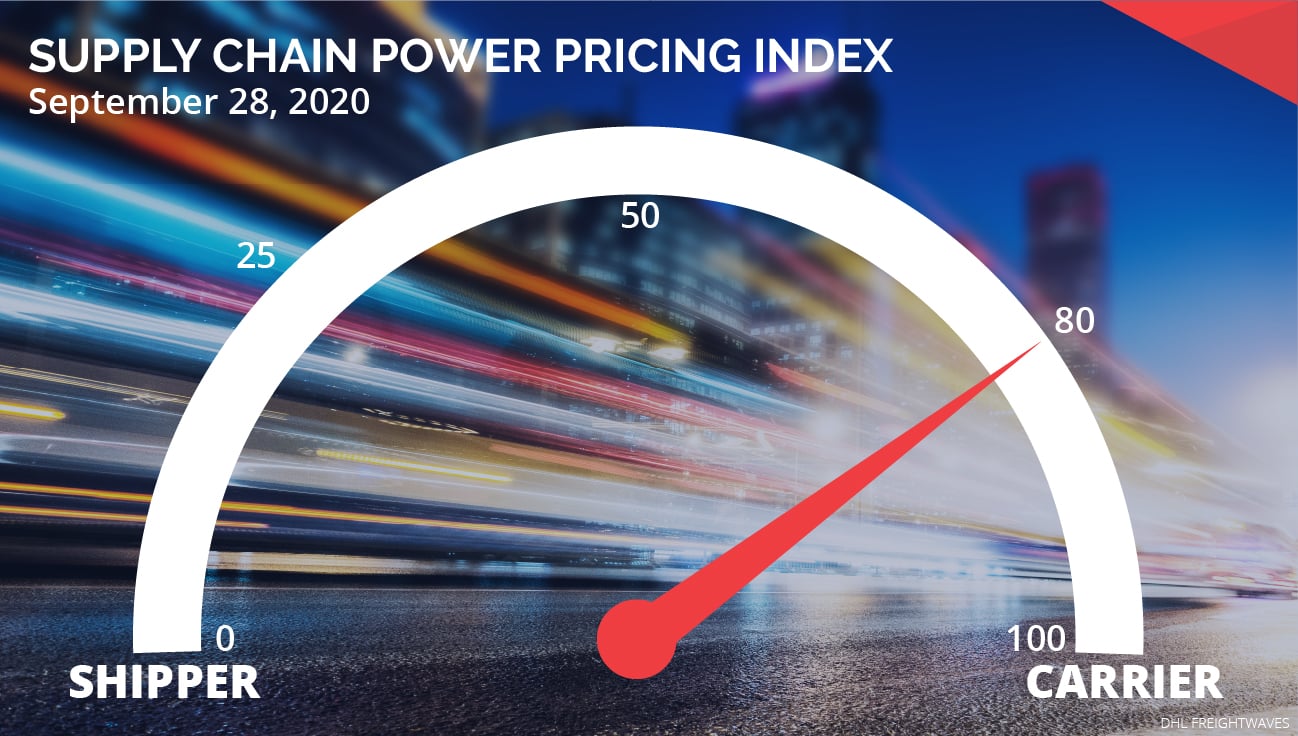 Contract Market - Outbound Tender Volume & Rejection Rates
The graphs below show activity for outbound tender volumes and outbound tender rejections from April through the end of the year. The OTVI graph on top has a blue line showing 2020 volumes and an orange line showing 2019. The green line shows 2018 activity. The OTRI graph shows the typical dip over the Labor Day weekend, then a return, but then again a brief dip last week, It is trending back up this week, to a quarter of all contract shipments being rejected. The data is compiled from the heaviest shippers in the contract market.
Markets with largest increases in rejections:
Indianapolis, IN
Ontario, CA
Memphis, TN
Markets with strongest decreases in rejections:
Dallas, TX

Richmond, VA
(Graphs below courtesy of Sonar/Freightwaves)

Capacity This Week
Dark red and pink areas (hot spots!) on the map show where capacity is tightening. As you can see from the map below, tight reefer markets are peppered throughout the United States like a good bowl of New England clam chowder. Rates in these areas will be higher than in blue areas of the map where capacity is loose.
Note: Top Map is reefer capacity, bottom map is dry van.
(Maps courtesy of DAT Market Conditions)