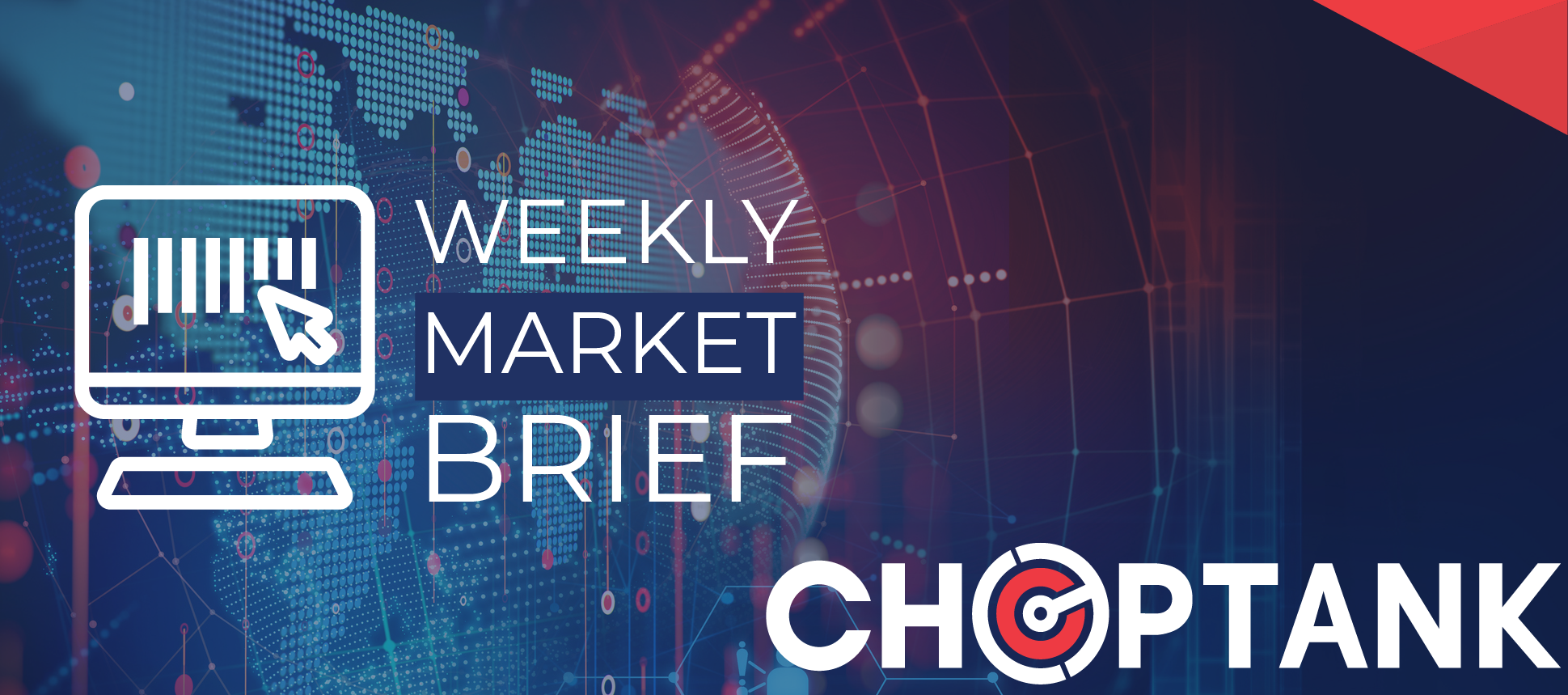 Weekly Market Brief
September 2, 2020
The Outbound Tender Rejection Index (OTRI) is holding steady at unprecedented high levels, affecting just about everyone in the industry. Shippers who have relied on contract rates are now finding that their 'secured' carriers are heading for greener pastures on the spot market where carrier rates are more favorable.
Since May, 2020, the OTRI has surpassed even 2018 numbers when the bull market was in full swing, driving rates higher and further choking capacity.
Choptank's latest integration with Blue Yonder is helping combat some of this tight market. Choptank now can offer a dynamic price discovery solution to its pipeline of customers, providing an even larger carrier base for its shippers.
And just a reminder, even when capacity isn't an issue shippers should consider booking their freight early with the upcoming International Road Check event, September 9-11, 2020. It is less than two weeks away.
Weekly market updates help you identify areas where freight capacity is tight as well as areas that are loose and easier to cover. This helps you better understand the market and provides a basis for your pricing.
---
Spot Market Rates & Volume
The graphic below shows a weekly view of the month-to-date national average spot rates from DAT from August 24 through August 30, 2020.
Overall Spot load posts are up +10.5% w/w , but up 14.6% m/m
Dry van: Load-to-truck ratio is up 10.4% w/w, up 25% m/m and 110.3% from 2019.
Dry Van Spot Rates: Rates are up 4.3% w/w, up 12.3% m/m, and up 10.4% y/y
Reefer: Load-to-Truck ratio is up 19.9% w/w, up 34.8% m/m, and up 102.1% y/y.
Reefer Spot Rates: Rates are up by 2.4% w/w, up 6.7% m/m, and up 5.1% y/y.
Fuel prices have not changed.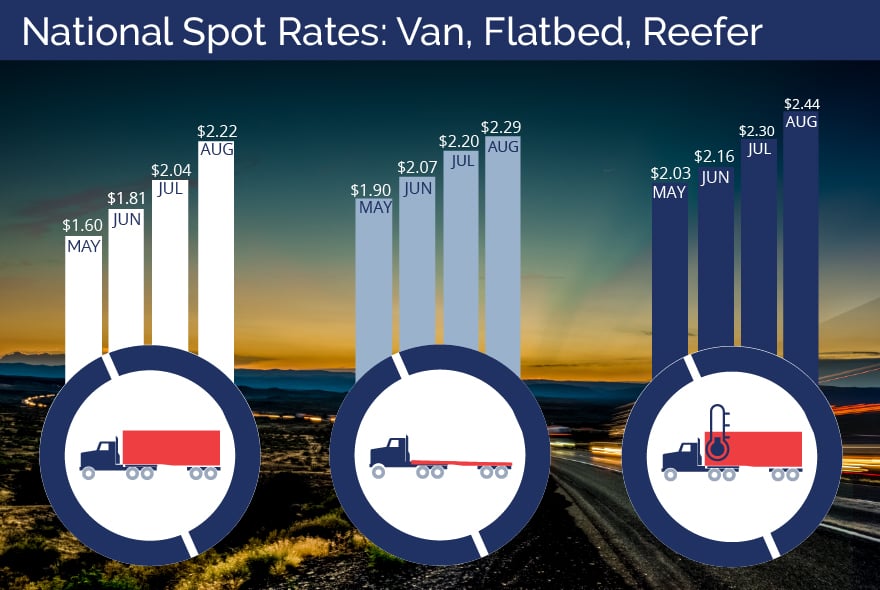 Who's Got the Power?
The pricing power index is holding steady at 85 points; the same as last week. Carriers remain in a very strong position for negotiations and rates are expected to remain higher than normal.
The pricing power index is a weekly gauge of who has more sway in negotiations when it comes to pricing and freight rates. The farther the needle leans to the left of the gauge, the more power the shipper has in negotiation. The farther to the right, the carrier has the upper hand.

Contract Market - Outbound Tender Volume & Rejection Rates
Volumes once again hit a record high last week. Like a steady rail car lineup, we have experienced week over week over week increases. The OTVI jumped up another 3.3% registering at 15,830 and reports show that one in every four loads on the contract market is being rejected.
Markets with largest volume gains:
Miami (17.90%)
Cleveland (12.98%)
Elizabeth, New Jersey (9.69%)
Markets with largest volume declines:
Laredo, Texas (-15.10%)
Ontario, California (-11.91%)
Savannah, Georgia (-8.43%)
Outbound tender rejections continue to dog shippers by being stubbornly elevated, increasing another 1% last week. According to rumblings at Freightwaves, when the market hits these industry ceilings, contract freight often finds itself back on the negotiation table resulting in higher rates, but with fewer rejections. The freight market always seems to find a way to realign itself... eventually.
The graphs below show activity for outbound tender volumes and outbound rejection rates year-to-date in the United States. The data is compiled from the heaviest shippers in the contract market.
(Graphs below courtesy of Sonar/Freightwaves)


Capacity This Week
Dark red areas (hot spots!) on the map show where capacity is tightening. Rates in these areas will be higher than in blue areas of the map where capacity is loose. As an example, reefer freight was experiencing its heaviest volumes on Monday in Oregon, Northern California, Michigan and Wisconsin. Dry van capacity on Monday was tight in areas of New Mexico and Texas borders, Kansas, Virginia and parts of Illinois.
Note: Top Map is reefer capacity, bottom map is dry van. (Maps courtesy of DAT Market Conditions)