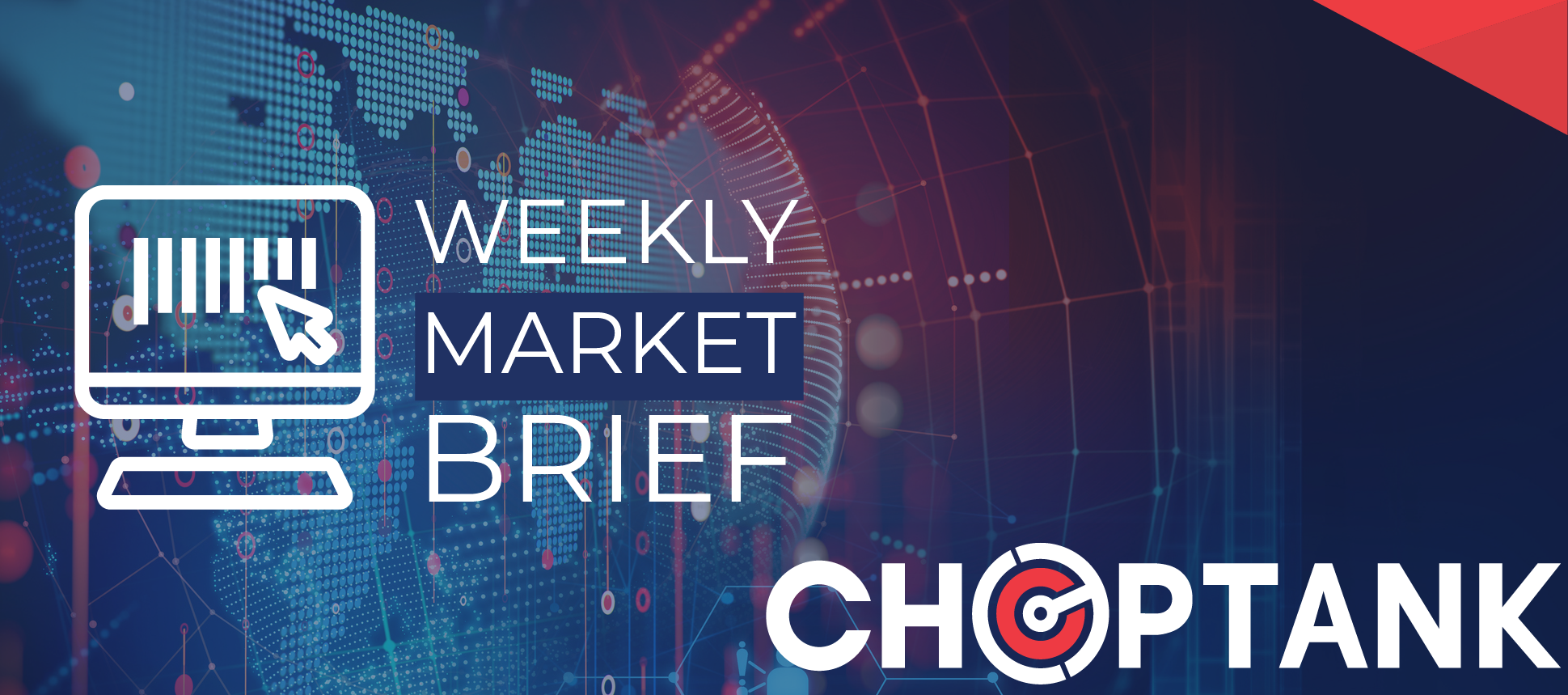 Storms and Roadchecks
August 25, 2020
Weather conditions looming off the coast of the United States may be a factor affecting the market this week. Marco was a bust, thank goodness, reaching a Category 1 hurricane status before hitting landfall, but then quickly dissipating into little more than some heavy rainfall and manageable wind conditions. Tropical Storm Laura, on the other hand, is only a few days behind Marco and is showing signs of being a bigger threat. Predicted to be a Category 2 hurricane, it is expected to make landfall somewhere along the Texas-Louisiana coastline by Wednesday. If there is a lot of damage from the storm, it has the potential to pull capacity from the market for recovery and rebuilding efforts.
Another possible strain on capacity could be the upcoming International Road Check, September 9-11, 2020. Even though it is a couple of weeks away, shippers should book their freight early. Carriers can be difficult to procure during the three-day, around-the-clock inspections.
There are possible signs of the freight market beginning to stabilize. A dip in the outbound rejection rate index could be a hint of things to come even though volumes continue to rise, but not as much as in past weeks.
Weekly market updates help you identify areas where freight capacity is tight as well as areas that are loose and easier to cover. This helps you better understand the market and provides a basis for your pricing.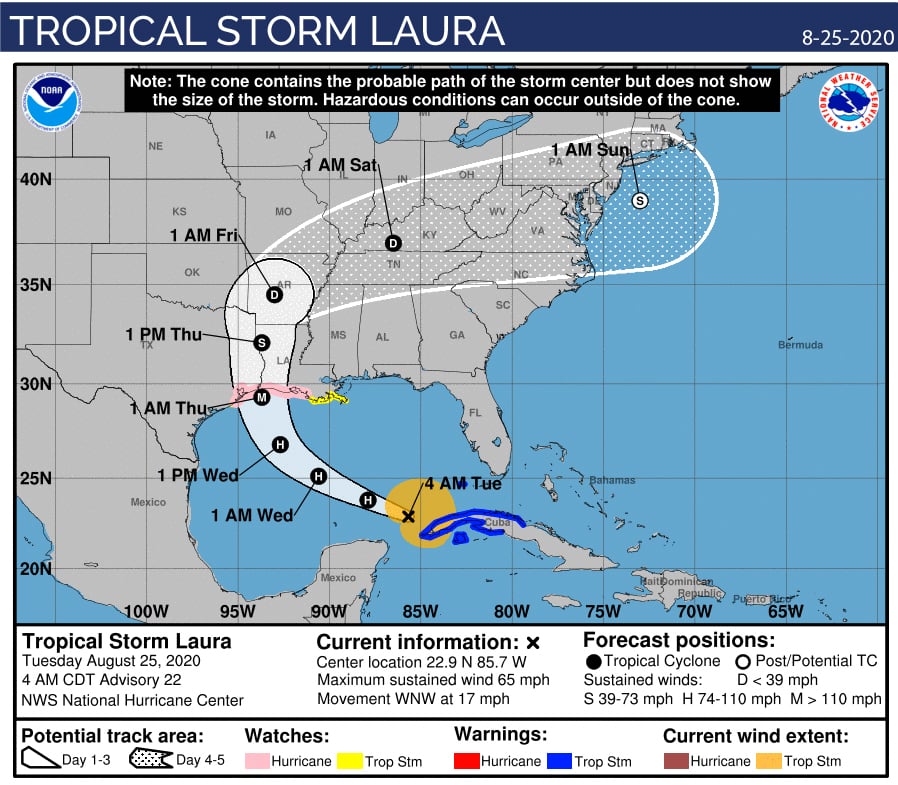 Spot Market Rates & Volume
On spot market reefer rates, DAT forecasting models estimate we may see up to a four cent increase according to their two-week overview of the outbound tender rejection index. Load posts, however, have shown a slight downturn, possibly indicating that we have hit the peak of produce season. As we have witnessed during this tumultuous freight year, just because capacity loosens, rates don't always follow suit.
The average rejection rate is currently 30% for reefer freight although there are areas like Jacksonville, Florida and Savannah, Georgia where rejection rates fell. Other areas, such as Portland, Spokane and St. Cloud showed an increase in rejection rates. Buffalo, NY also is seeing spikes in tight capacity and high rejection rates.
The graphic below shows a weekly view of the month-to-date national average spot rates from DAT from August 17 through August 23, 2020.
Overall Spot load posts are up +9.0% w/w , but up 14.6% m/m
Dry van: Load-to-truck ratio is up 2.4% w/w, up 25% m/m and 110.3% from 2019.
Dry Van Spot Rates: Rates are up 2.6% w/w, up 12.2% m/m, and up 10.3% y/y
Reefer: Load-to-Truck ratio is up 7.9% w/w, up 34.8% m/m, and up 102.1% y/y.
Reefer Spot Rates: Rates are up by 2.0% w/w, up 6.7% m/m, and up 5.1% y/y.
Fuel prices have had no change.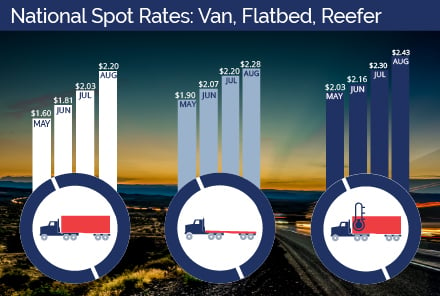 Who's Got the Power?
It is hard to believe the needle has pushed another 5 points in favor of the carriers for negotiating power on the DHL Power Pricing Index, despite seeing a brief decline in rejection rates last week. Apparently that was just a blip on the radar screen of much larger forces at work. The pricing power index is a weekly gauge of who has more sway in negotiations when it comes to pricing and freight rates. The farther the needle leans to the left of the gauge, the more power the shipper has in negotiation. The farther to the right, the carrier has the upper hand.
Carriers remain in a very strong position for negotiations and rates will remain on the high side for at least a few more weeks.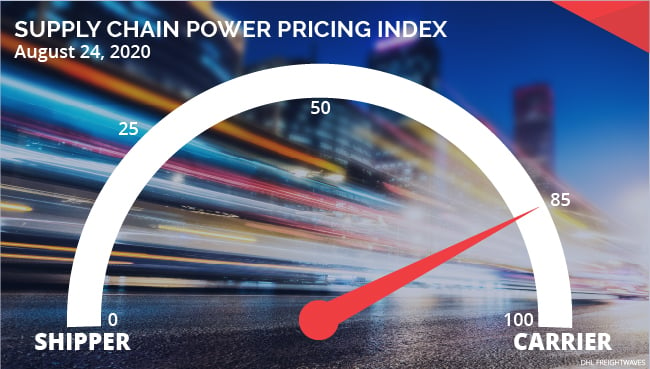 Outbound Tender Volume & Rejection Rates
The graphs below show the last month's activity for outbound tender volumes and outbound rejection rates in the United States. The data is compiled from the heaviest shippers in the contract market.
Volumes continue to escalate, but look as if the are increasing at a slightly slower rate. As a result, we still are experiencing compressed capacity in many areas of the country which continues to make carrier pricing higher than usual.
Outbound tender rejections saw a brief dip recently but are staying above 24 going into the week.
(Graphs below courtesy of Sonar/Freightwaves)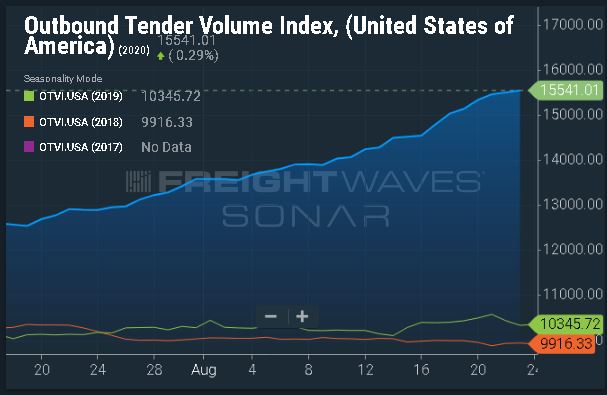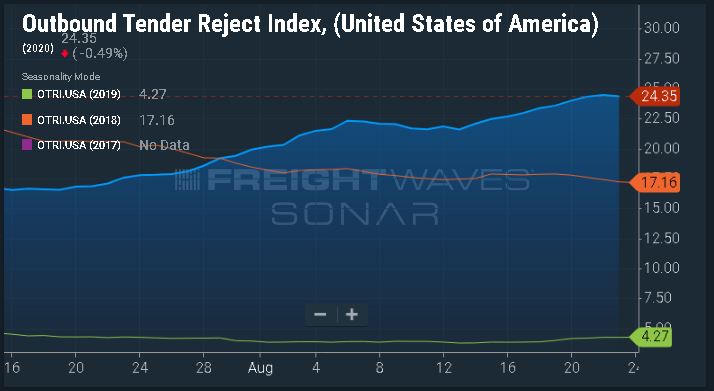 Capacity This Week
Dark red areas (hot spots!) on the map show where capacity is tightening. Rates in these areas will be higher than in blue areas of the map where capacity is loose. As an example, reefer freight was experiencing its heaviest volumes on Monday out of Idaho. Dry van capacity on Monday was tight in areas of Kansas, Texas border areas, and Pennsylvania to name a few.
Note: Top Map is reefer capacity, bottom map is dry van. (Maps courtesy of DAT Market Conditions)