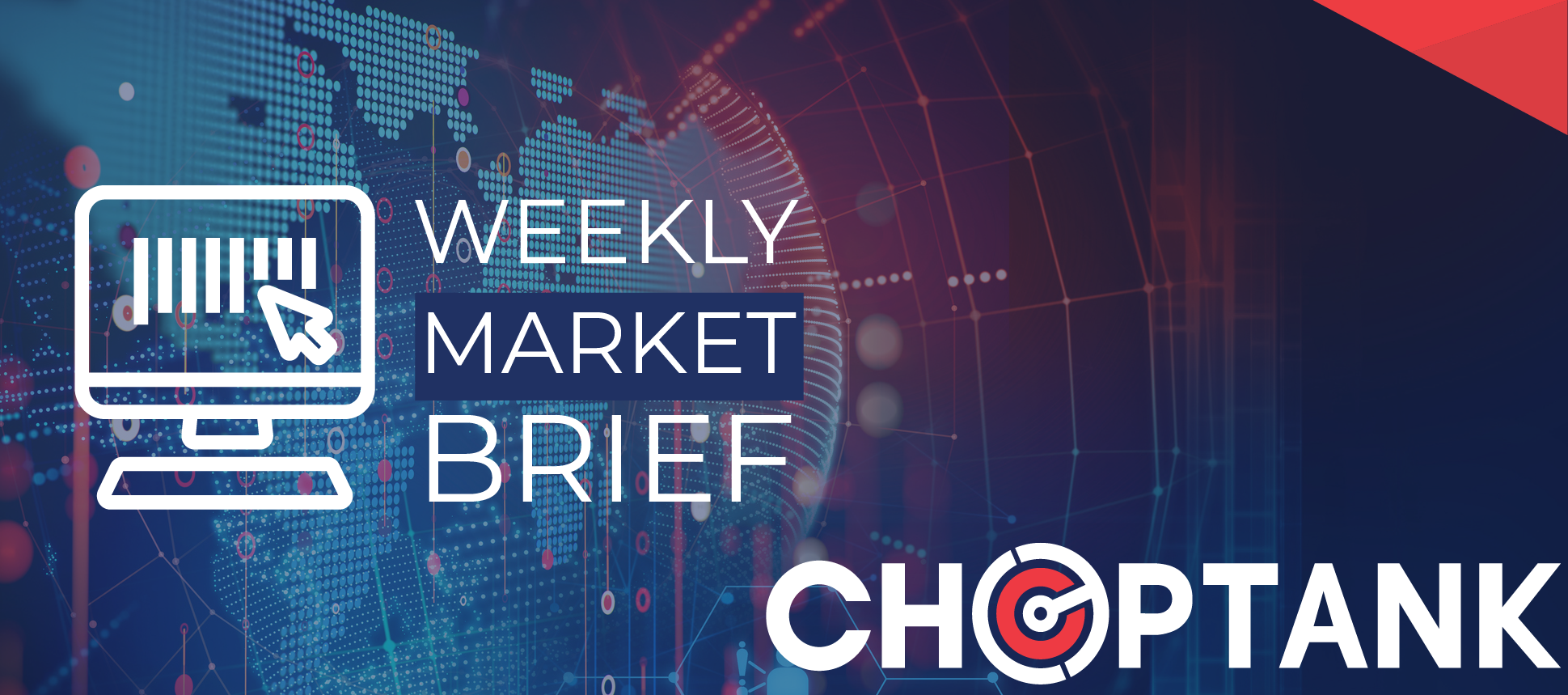 Weekly Market Brief
August 18, 2020
In early July one industry headline stated, "Current Volume Level is Likely Unsustainable," but as we now know, it has been more than just sustainable. Freight volumes are still on an upward trajectory and surprising the experts week over week. As a result, capacity is under pressure and carrier pricing has been steadily rising. Volumes have surpassed both 2019 and 2018 at this time of year by between 20% - 25%.
According to data from Freightwaves, one in every five loads is being rejected, so don't be surprised this week if you continue to experience limited truck availability. With the holidays soon approaching, the typical slowdown this time of year may never happen.
Weekly market updates help you identify areas where freight capacity is tight as well as areas that are loose and easier to cover. This helps you better understand the market and provides a basis for your pricing.
Spot Market Rates & Volume
Below is a graph showing a weekly view of the month-to-date national average spot rates from DAT.
Overall Spot load posts (Aug 10-Aug 16) are slightly down from last week at -2.6%, but up 14% from last month.
Dry van: Load-to-truck ratio is down -3.7% from last week, but up 25% from last month and up 110.3% from 2019.
Dry Van Spot Rates: Rates are up 2.6% from last week, up 12.2% from last month, and up 10.3% year over year
Reefer: Load-to-Truck ratio is down -4.5% from last week, up 34.8% from last month, and up 102.1% year over year.
Reefer Spot Rates: Rates are up by 0.4% from last week, up 6.7% from last month, and up 5.1% year over year.
Fuel prices have risen 0.2% from last week.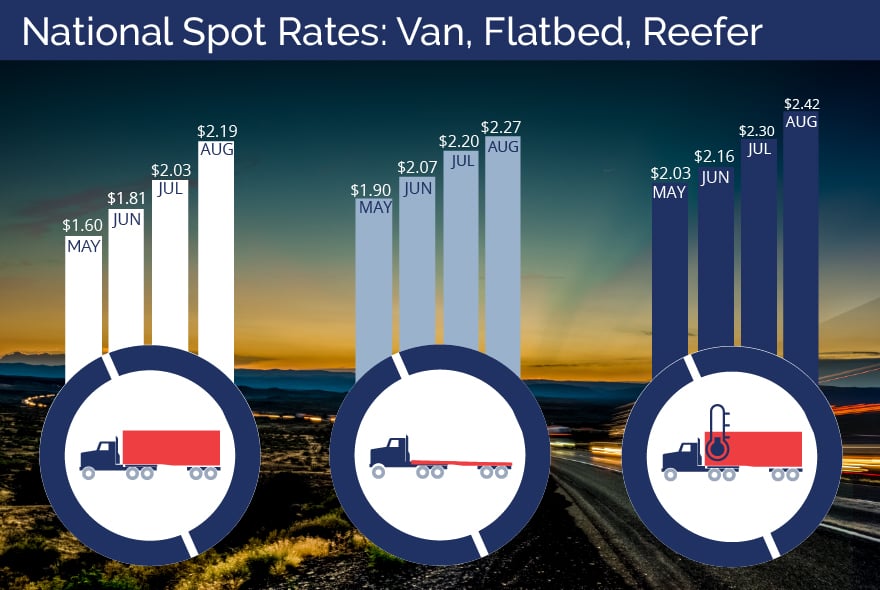 Who's Got the Power?
The pricing power index is a weekly gauge of who has more sway in negotiations when it comes to pricing and freight rates. The farther the needle leans to the left of the gauge, the more power the shipper has in negotiation. The farther to the right, the carrier has the upper hand. There is no change in the Pricing Power Index again this week despite a slight dip of several days last week in rejection rates, which are now back at levels high above March during the pandemic panic-buying phase.
Carriers remain in a very strong position for negotiations and rates will be high for at least the rest of the month, and possibly longer.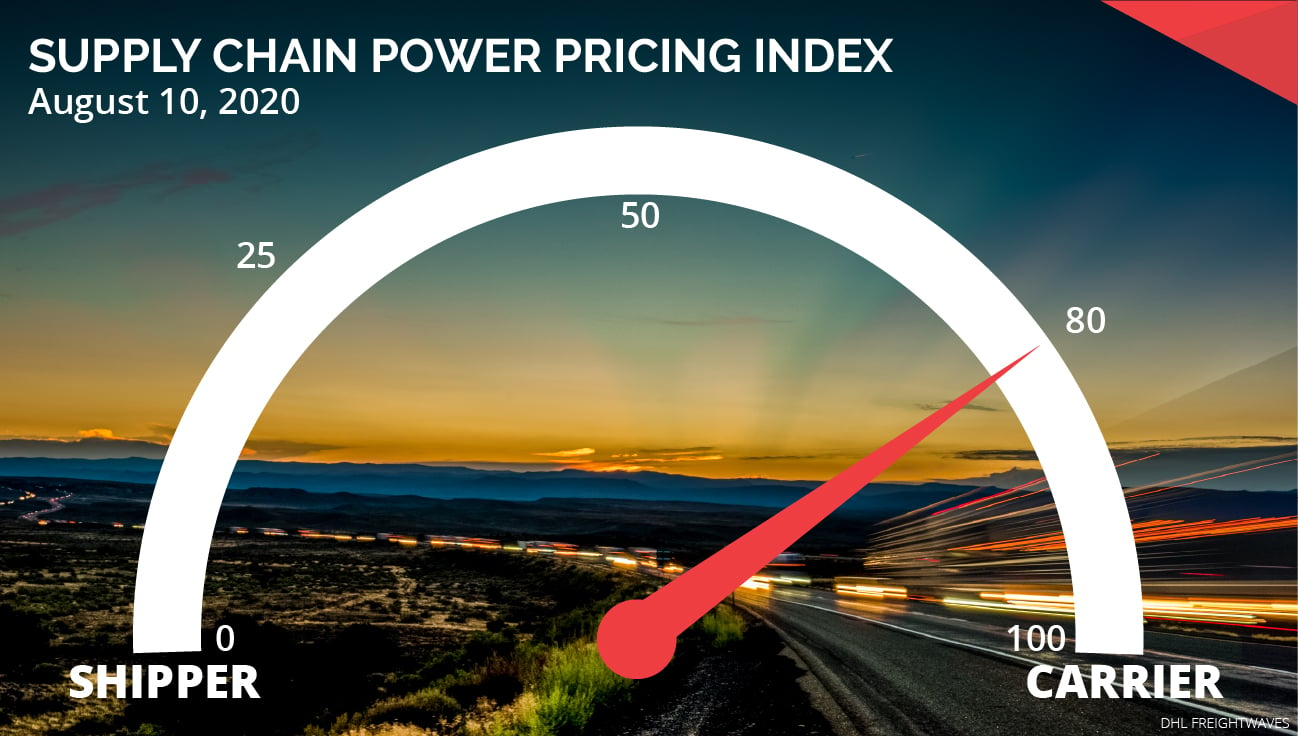 Outbound Tender Volume & Rejection Rates
The graphs below show how extreme the current market conditions have become over the course of the last twelve months for outbound tender volumes and outbound rejection rates in the United States. The data is compiled from the heaviest shippers in the contract market.
Volumes continue to escalate, defying the seasonal ups and downs we normally see this time of year. As a result, we are experiencing compressed capacity which seems to grow concomitantly tighter and tighter.
Outbound tender rejections saw a brief dip last week for four or five days, but went right back up to record-high levels on Monday, staying above 22 going into the week. This temporary hiccup was too fleeting to affect rates.
(Graphs below courtesy of Sonar/Freightwaves)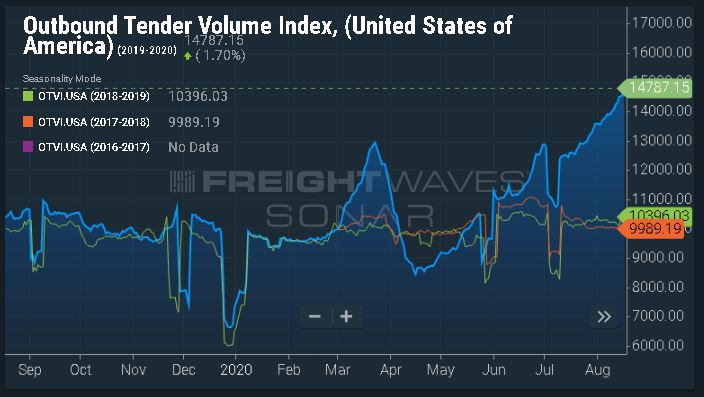 Capacity This Week
Dark red areas (hot spots!) on the map show where capacity is tightening. Rates in these areas will be higher than in blue areas of the map where capacity is loose. As an example, reefer freight was experiencing its heaviest volumes on Monday out of Texas, Michigan and Tennessee areas, to name a few. Dry van capacity on Monday was tight in areas of Kansas, Oklahoma, Utah and Quebec.
Note: Top Map is reefer capacity, bottom map is dry van. (Maps courtesy of DAT Market Conditions)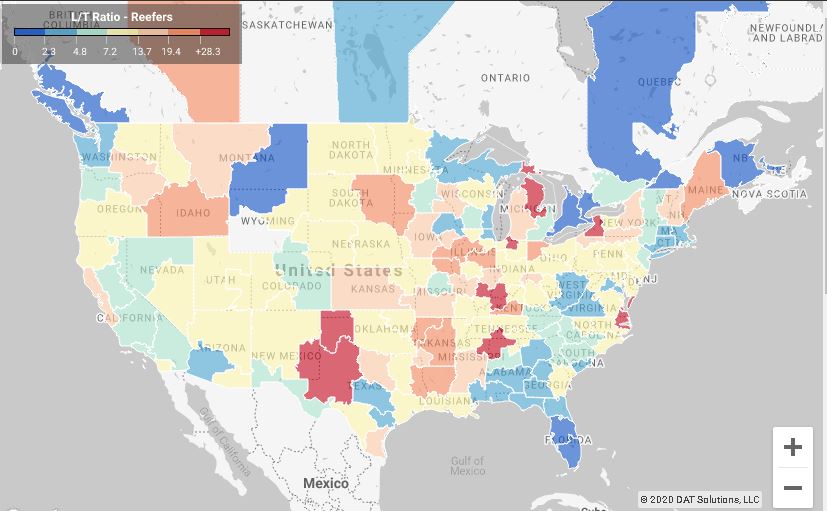 Have a Question? Ask one of our Experts
Do you have specific questions about the freight market in your area? Don't hesitate to ask us. Your sales representative or one of our professional logistics team is ready to help, so give us a call! 800.568.2240, option #2.