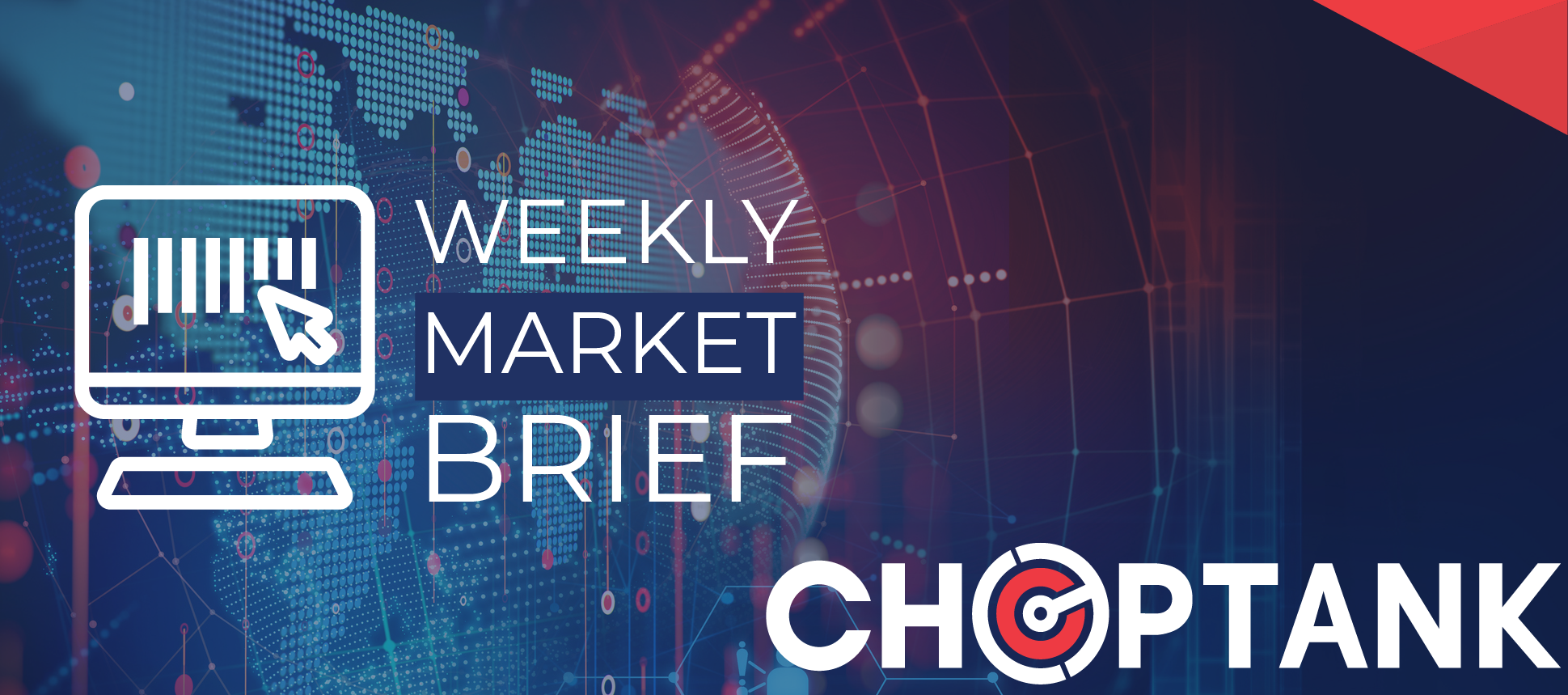 Weekly Market Brief
August 11, 2020
The hurricane didn't cause as much damage relative to others in the past, but it did not help an already volatile market as rates are still increasing and capacity is still very scarce. Each week the volume and tender rejects seems to find new heights. The numbers also show that seasonality is out the window as we continue to venture into unknown market territory.
Weekly market updates help you identify areas where freight capacity is tight as well as areas that are loose and easier to cover. This helps you better understand the market and provides a basis for your pricing.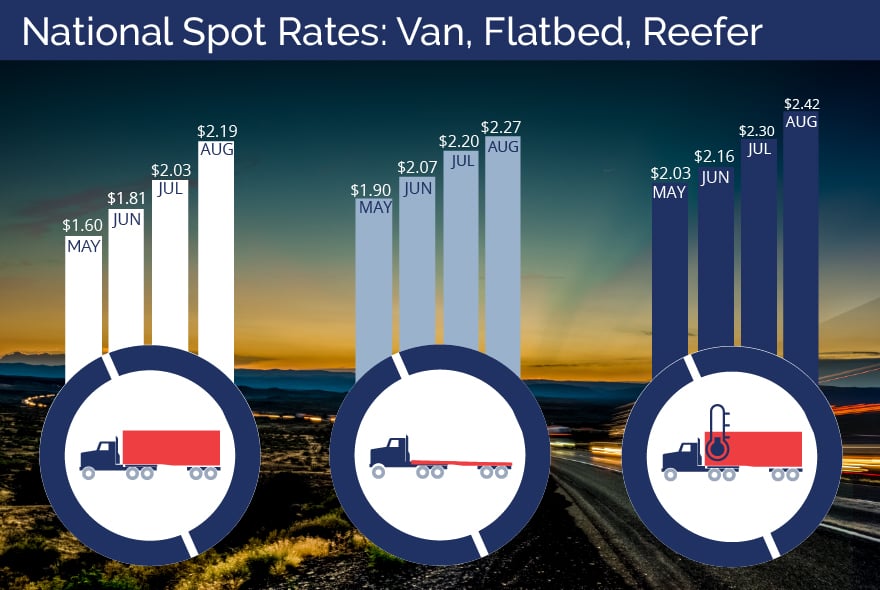 ---
Spot Market Rates & Volume
Below is a graph showing a weekly view of the month-to-date national average spot rates from DAT.
Overall Spot load posts (Aug 3-Aug 9) are up 0.5% from last week, up 14.6% from last month, and up 75.6% year over year.
Dry van: Load-to-truck ratio is up 25% from last month and up 110.3% from 2019.
Dry Van Spot Rates: Rates are up 4.8% from last week, up 12.2% from last month, and up 10.3% year over year
Reefer: Load-to-Truck ratio is down 3.3% from last week, up 34.8% from last month, and up 102.1% year over year.
Reefer Spot Rates: Rates are up by 2.9% from last week, up 6.5% from last month, and up 4.3% year over year.
Fuel prices have dropped 0.1% from last week.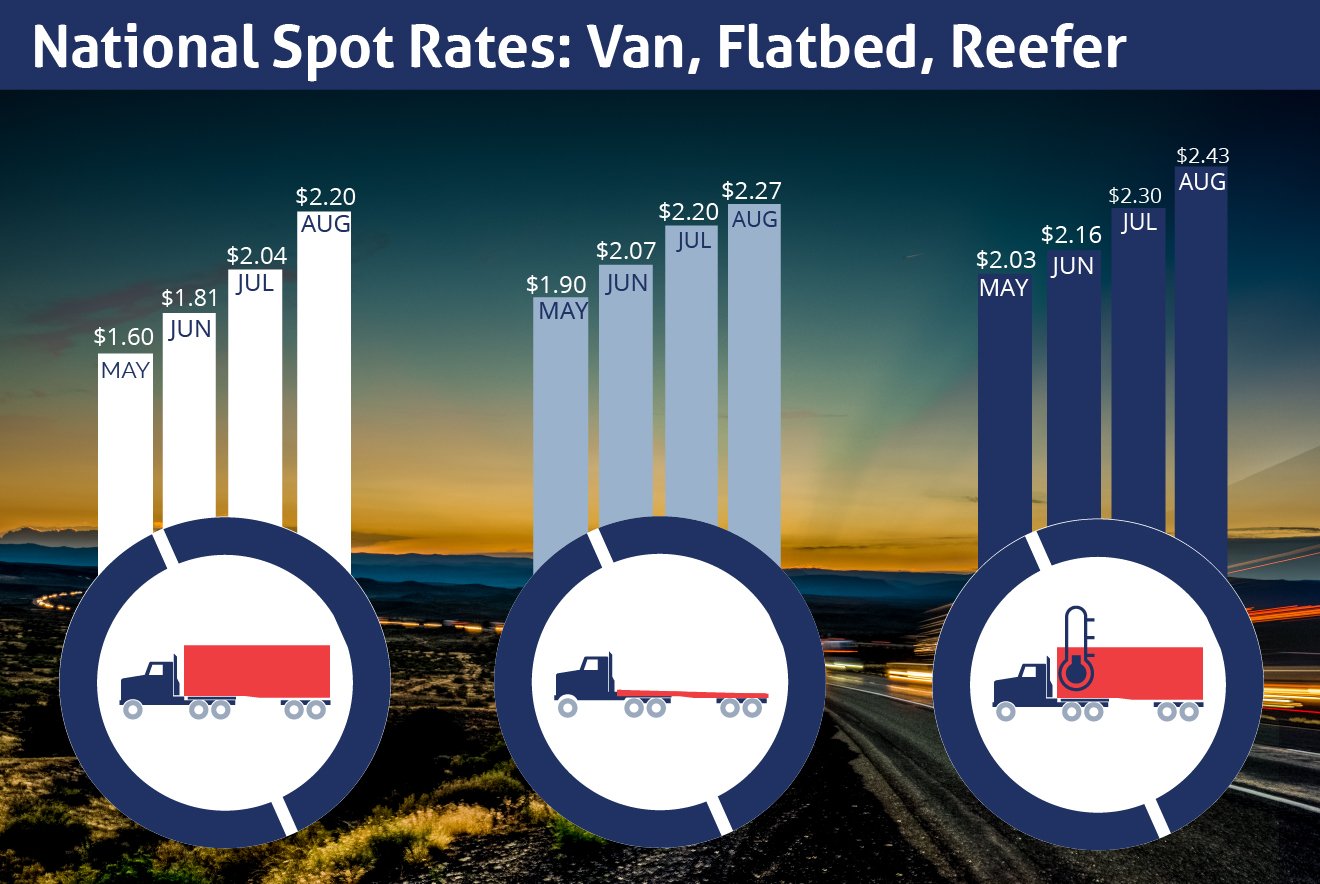 The pricing power index is a weekly gauge of who has more sway in negotiations when it comes to pricing and freight rates. The farther the needle leans to the left of the gauge, the more power the shipper has in negotiation. The farther to the right, the carrier has the upper hand. There is no change in the Pricing Power Index this week despite a continuation of the trends we've seen over the past few weeks: astounding volumes, carriers rejecting contracted freight at a high clip and rates continuing to trudge upward. DAT spot rates are now above 2018 levels.
Load volumes continue to soar this week. The Outbound Tender Volume Index (OTVI) continues to surge upward and hit another all-time high last Thursday at 13,739. This freight level is remarkable for a few reasons. First, there are no signs of any sort of typical seasonality this year; secondly, other parts of the economy have stalled and unemployment remains extremely high; lastly, OTVI has crossed into uncharted territory by climbing higher than the March panic-buying spree.
The yearly comparisons are stunning — up 33% over 2019 and 34% above the 2018 value. The pace of reefer volumes picked up again after a down week last week and is up a little over 3% this week.
Bottom line, is that carriers remain in a very strong position for negotiations and rates will be high for, at least, a while longer.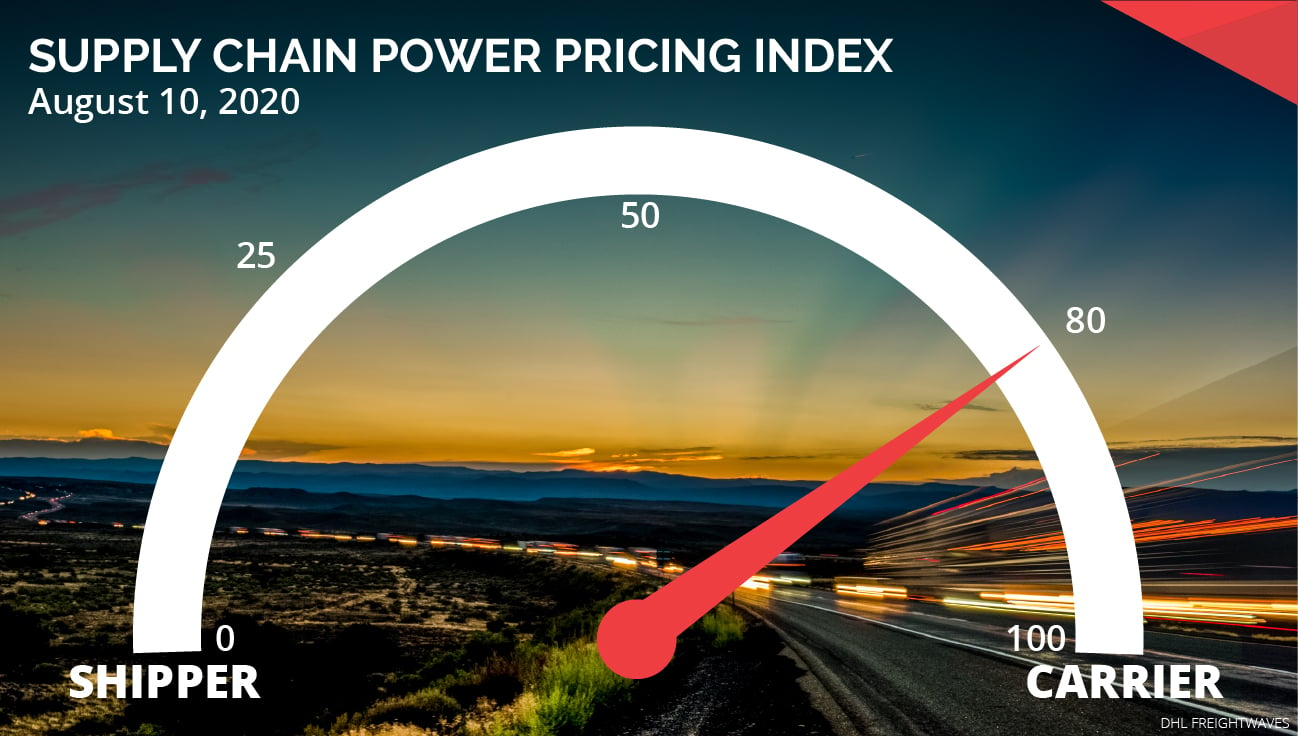 Outbound Tender Volume & Rejection Rates
The graphs below shows the last six months of outbound tender volume and outbound rejection rates for the United States. The data is compiled from the heaviest shippers in the contract market. There continues to be more freight than is typical this time of year with much of the contract freight spilling into the spot markets as contract rates are rejected en masse. We have now surpassed the heaviest volume surges in March when we experience the panic-buying at the onset of the pandemic. Outbound tender rejections are at a record high for the year staying above 22 going into this week and volume hovering near 14k.
(Graphs below courtesy of Sonar/Freightwaves)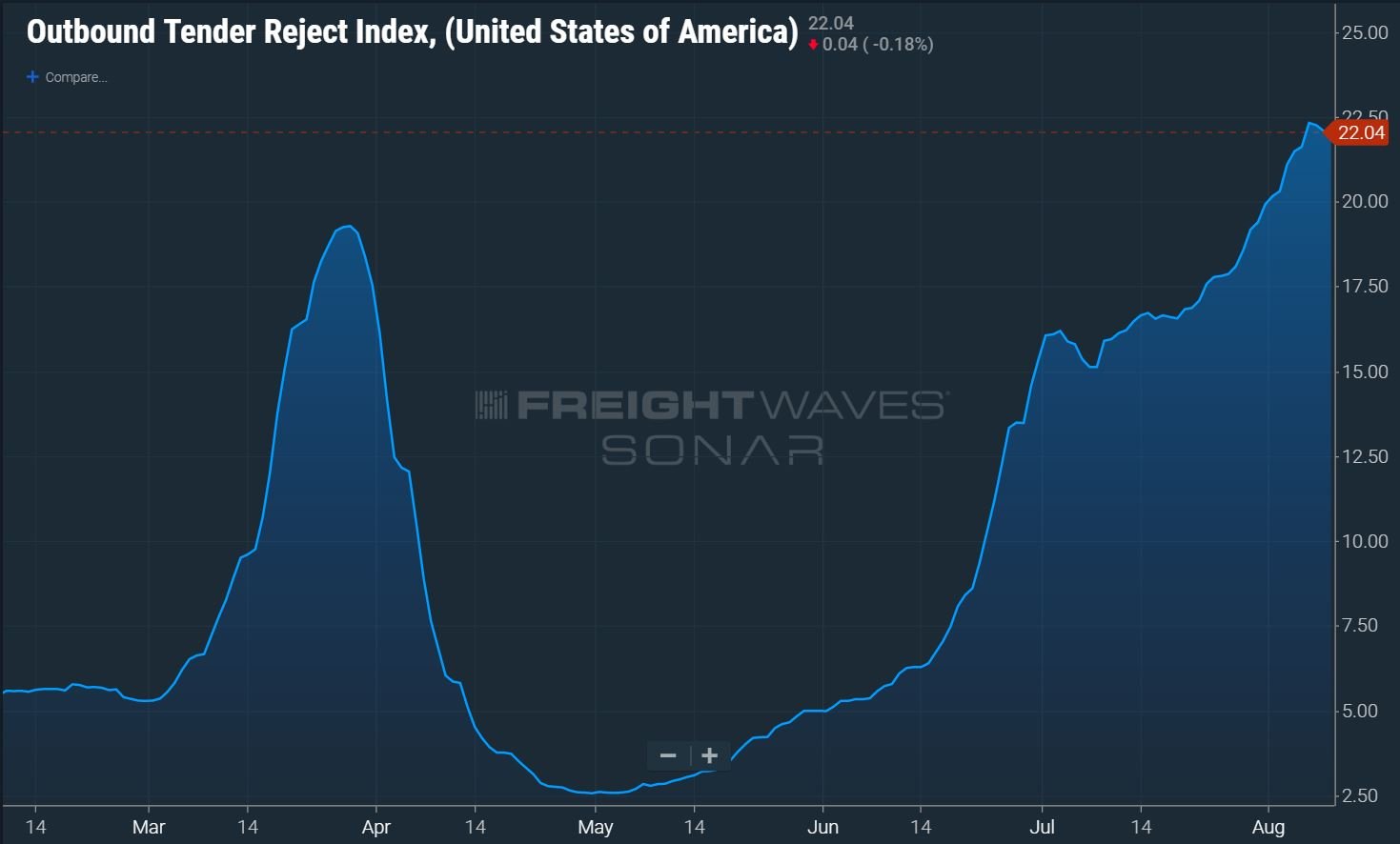 Capacity This Week
Dark red areas (hot spots!) on the map show where capacity is tightening. Rates in these areas will be higher than in blue areas of the map where capacity is loose. As an example, reefer freight is experiencing heavy volume in the North East . Also areas of Southern California, Texas and the Midwest are showing tight capacity. Dry van rejection rates jumped over 35% in the following markets: Memphis, Joplin and New Orleans. We are seeing a spike of over 50% in rejection rates in Augusta, Maine as heavy volumes continue in Southern California, Atlanta and Harrisburg, PA. Expect tight capacity in these areas this week.
Note: Top Map is reefer capacity, bottom map is dry van. (Maps courtesy of DAT Market Conditions)