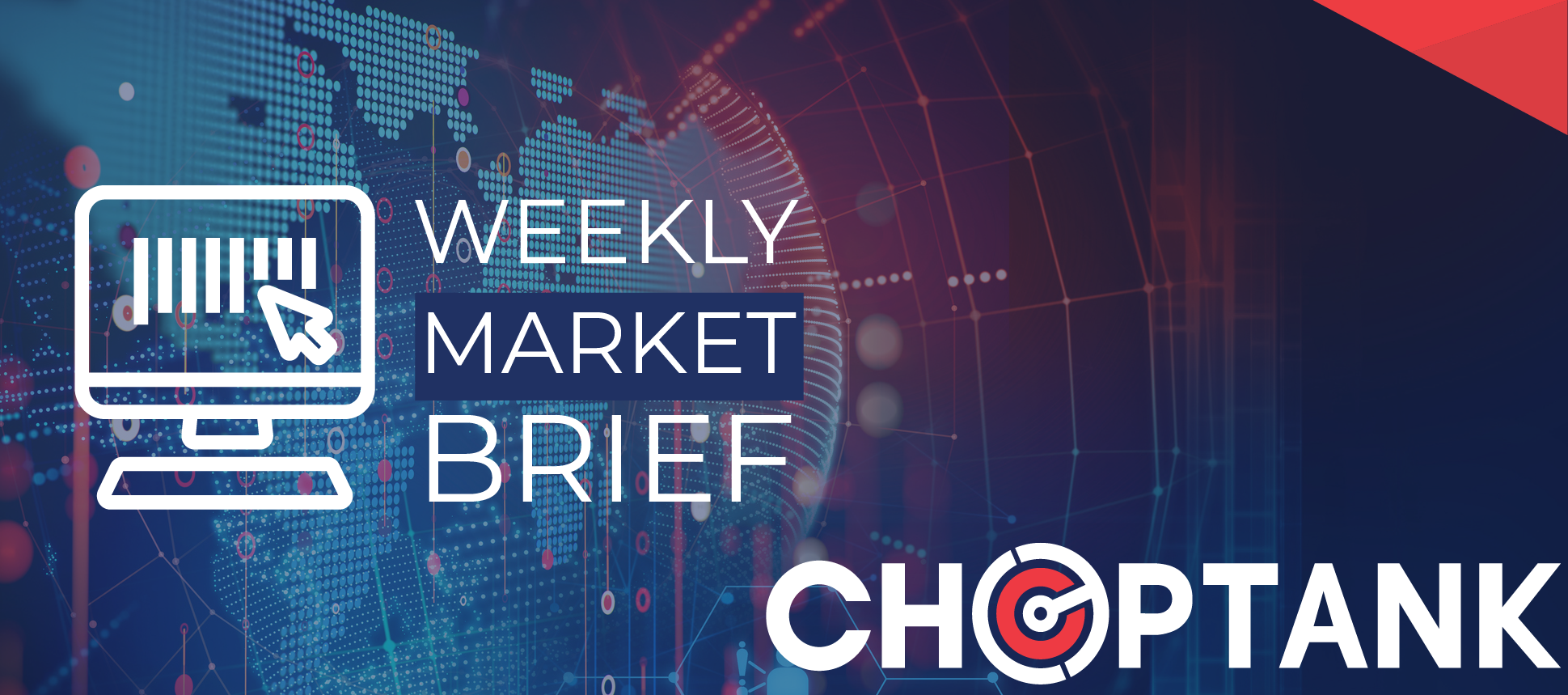 Weekly Market Brief
August 4, 2020
The big news this week is twofold. First is the arrival of tropical storm Isaias, (a name only The Weather Channel announcers can pronounce) which is now officially a hurricane. Some of the heaviest freight volume this week is along the East Coast corridor, directly in the storm's path, so expect possible delays and disruptions due to high winds, excessive rainfall and flash flooding.
Also of note this week is the amount of freight volume in the market. Capacity is tightening with outbound tender rejection rates hitting an all-time high for 2020. Talk about a volatile market! Just five months ago in March we saw historically low truck rates and now, rates are hitting historical highs (see the DHL Power Pricing Index below). The third quarter is traditionally a time of slow down in the market, but this year we have seen a long and steady rise.
Weekly market updates help you identify areas where freight capacity is tight as well as areas that are loose and easier to cover. This helps you better understand the market and provides a basis for your pricing.
Spot Market Rates & Volume
Below is a graph showing a weekly view of the month-to-date national average spot rates from DAT.
Overall Spot load posts (July 27-Aug 2) are up 8.6% from last week, up 14.6% from last month, and up 75.6% year over year.
Dry van: Load-to-truck ratio is up 110.3% from 2019.
Dry Van Spot Rates: Rates are up 4% from last week, up 12.4% from last month, and up 10.5% year over year
Reefer: Load-to-Truck ratio is up 28.9% from last week, up 34.8% from last month, and up 102.1% year over year.
Reefer Spot Rates: Rates are up by 2.2% from last week, up 6.7% from last month, and up 5.1% year over year.
Fuel prices have dropped 0.4%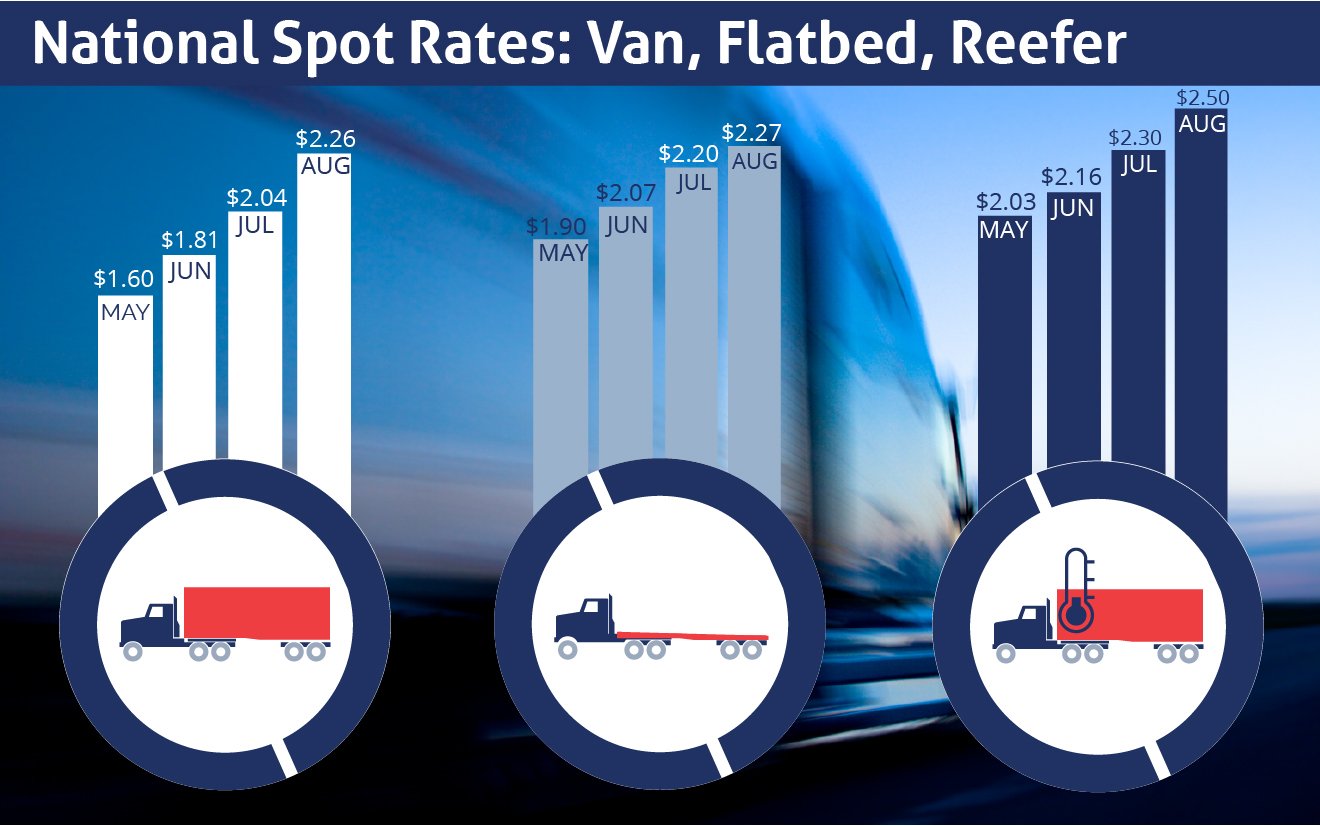 Who's Got the Power?
The pricing power index is a weekly gauge of who has more sway in negotiations when it comes to pricing and freight rates. The farther the needle leans to the left of the gauge, the more power the shipper has in negotiation. The farther to the right, the carrier has the upper hand. The image below shows the most recent pricing power gauge from August 3, 2020 and as you can see, it has increased another 5 points from last week. In March of this year, it was in the 15-20 range!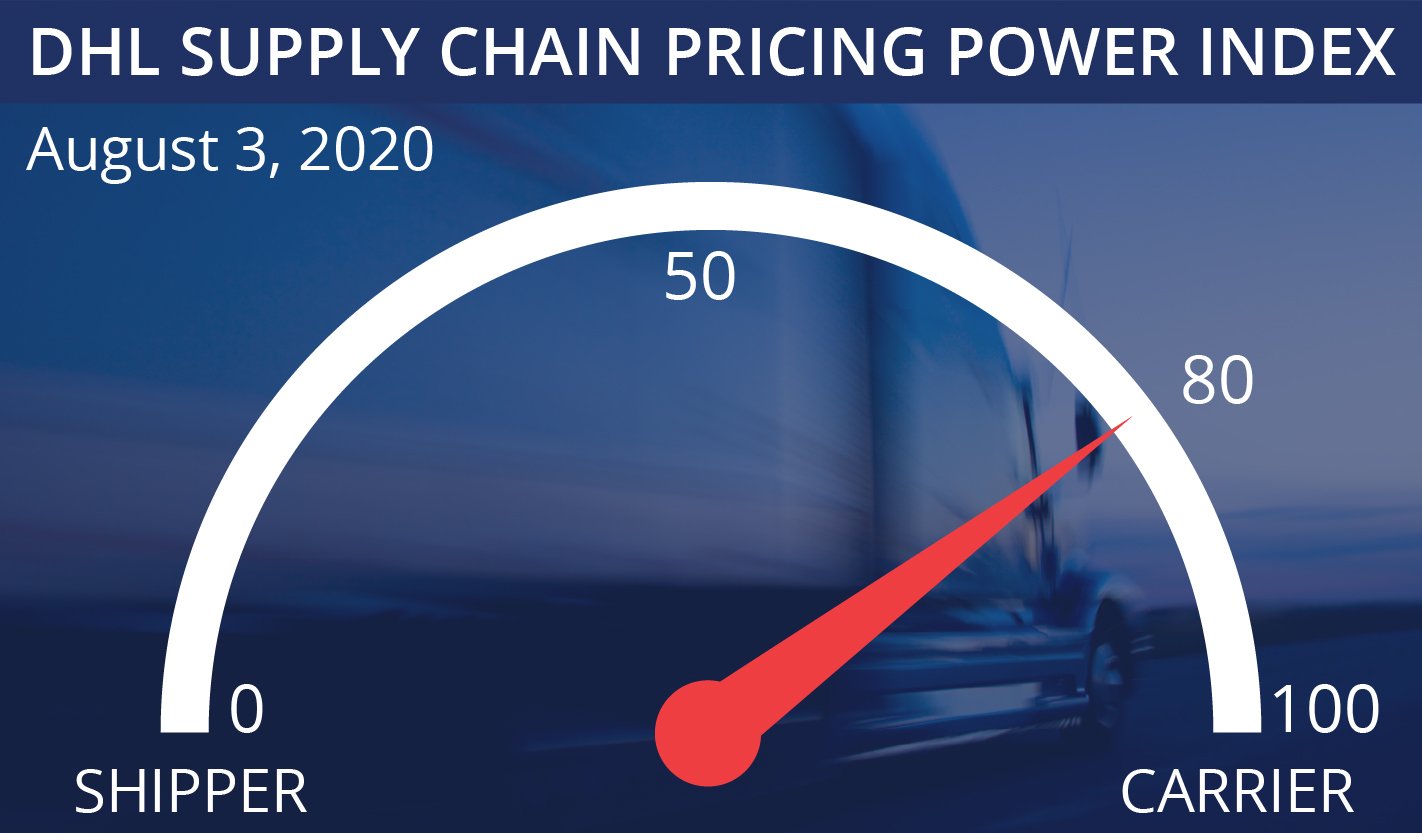 Outbound Tender Volume & Rejection Rates
The graphs below shows the last six months of outbound tender volume and the last year of outbound rejection rates for the United States. The data is compiled from the heaviest shippers in the contract market.The blue line indicates 2020, the green 2019, and the orange 2018. There continues to be more freight than usual this time of year with much of the contract freight spilling into the spot markets. We have now surpassed the heaviest volume surges in March when we experienced the panic-buying at the onset of the pandemic. Outbound tender rejections are at a record high for the year at 20.31 versus two weeks ago at 16.56.
(Graphs below courtesy of Sonar/Freightwaves)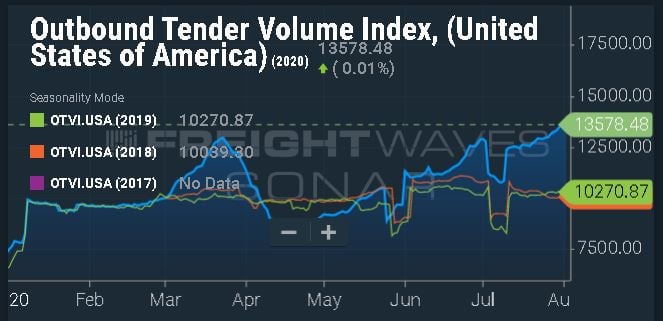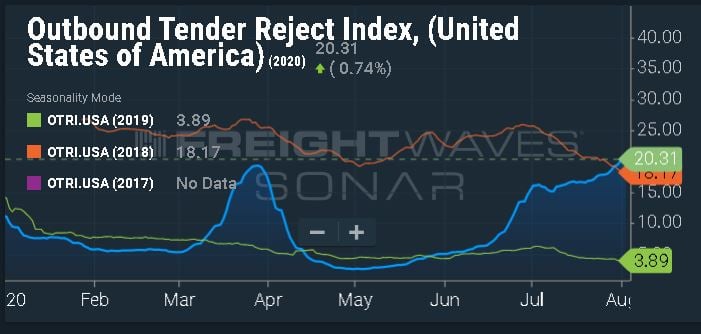 Capacity This Week
Dark red areas (hot spots!) on the map show where capacity is tightening. Rates in these areas will be higher than in blue areas of the map where capacity is loose. As an example, reefer freight is experiencing heavy volume along the East Coast. Also areas of Southern California, Texas and the Midwest are showing tight capacity. The dry van market is also seeing capacity restraints in Southern California from the ports. Expect to pay more for freight coming out of Columbus, Ohio where there is a major hub for air cargo distribution right now, putting upward pressure on rates in those areas.
Note: Top Map is reefer capacity, bottom map is dry van. (Maps courtesy of DAT Market Conditions)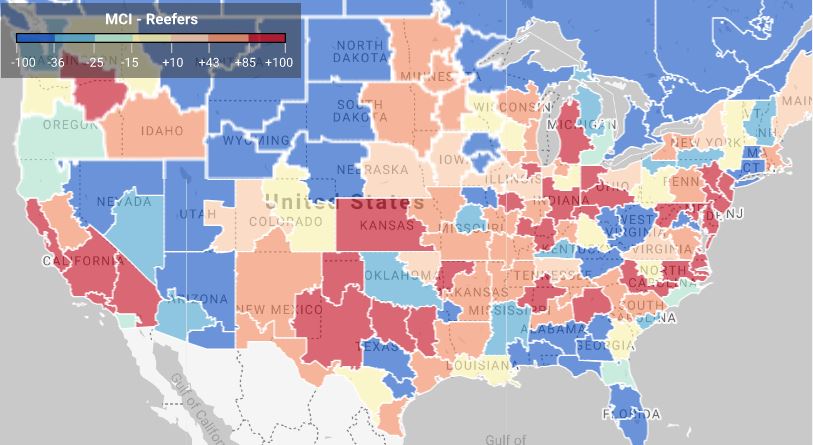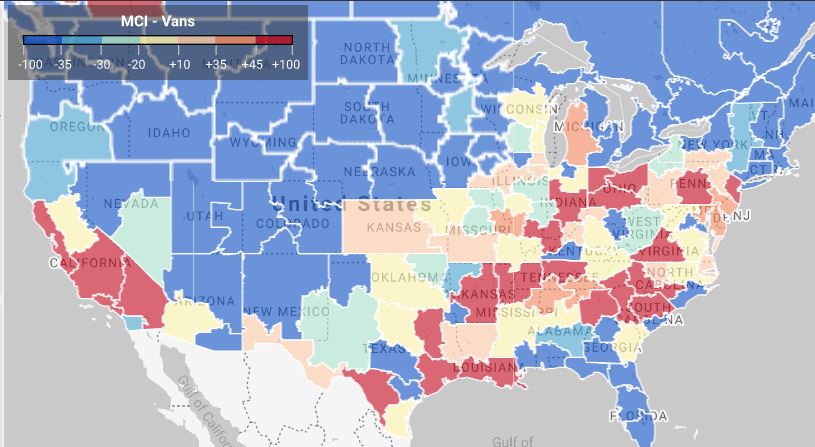 Produce Market Updates
The Mid-Atlantic states are hot with produce while Southern California continues to experience tight capacity.
East Coast: Virginia, and Maryland's Eastern Shore are in full swing right now, showing heavy volumes. Hurricane Isaias is bound to have an impact on travel today with winds up to 70 mph in some areas.
Midwest: Indiana melons going strong!
California: Rates are still spiking, much higher than usual volume this time of year due to port activity. Any produce coming out of this area will cost more to ship because of tightened capacity.
Texas: Short lead times and high rates coming out of Texas right now.
New Mexico: Onions still shipping strong out of New Mexico with an expected shift to Utah after that.
Book ahead and save!