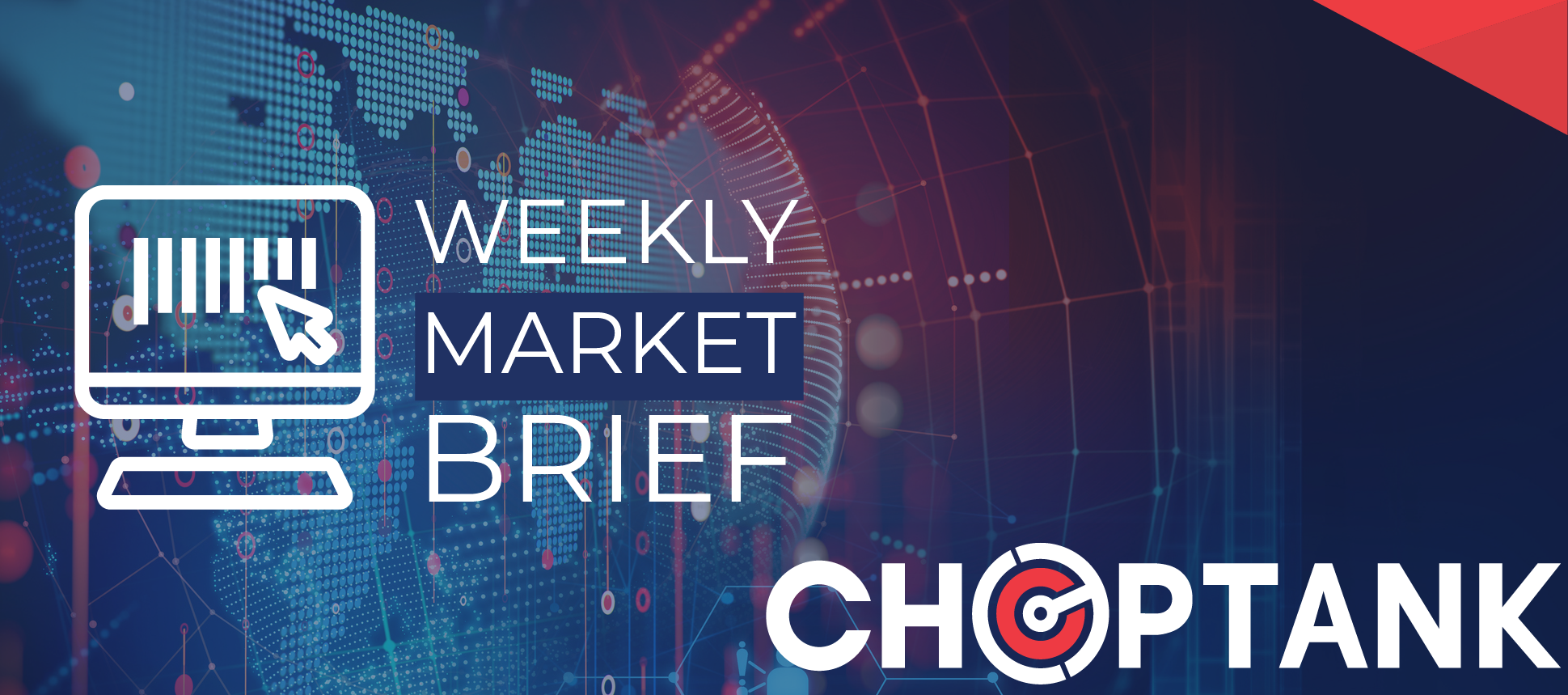 What a Week!

January 26, 2021
The Choptank Weekly Market Brief is offered exclusively to Choptank Transport customers to provide accurate, timely and relevant freight market information. The contents of this brief is collected from reputable sources including DAT, Freightwaves/Sonar, Truckstop.com, Department of Labor, Department of Transportation, and other sources as cited throughout the brief.
What a week, indeed! With the nation's inauguration behind us, a sudden COVID-19 outbreak at the ports, and a rapidly changing freight market, it has been anything but your conventional January week in the supply chain.
The Chinese New Year is fast approaching. It is three weeks later this year than last. Beginning February 11-17, 2021 it is a time when millions of city dwellers leave their factory jobs (which shut down) to visit their families and celebrate the holiday in rural China. It is one of the world's largest human migrations. Most Americans are unacquainted with the event, but those in the freight market are keenly aware of the impact it has on the supply chain. After last year's shortages, retailers have ordered early to avoid the problems experienced early in the pandemic. This surge of spring and summer inventory is expected to feed the supply chain well into Q2.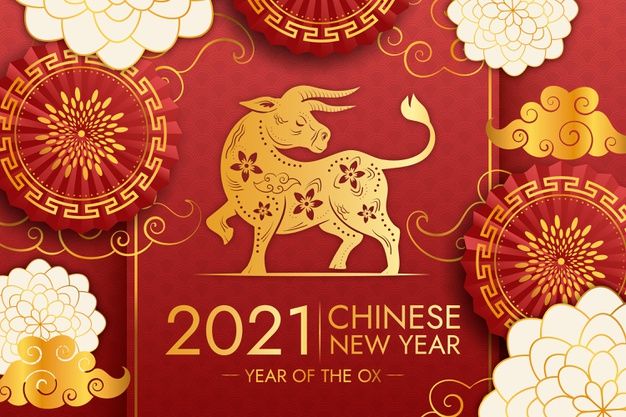 In the meantime, at home rejection rates continued to fall last week down 21.93% from the prior week's 22.59%, and down from their record high in December of 28%, creating a sense of a softening market. Although this decline is notable, rejections are still up significantly over the last several years.
Volumes too are up 20% y/y and capacity is still tight. Trucks are still hard to source in many high-volume areas and many of the lanes that experienced declining rejections right after the holidays saw spikes again this past week.

In the Contract Market
The charts below show the outbound tender volume index and the outbound tender rejections. (Source: Freightwaves/Sonar)
Outbound Tender Volumes
In the chart below the blue line indicates the outbound tender volume for both van and reefer. The red line displays only reefer volumes and the green line, only van volumes.
The second chart shows the last 30 days compared to the last 3 years and it is clear that volumes are still relatively elevated in contrast to historical data.
(Source: Freightwaves Sonar)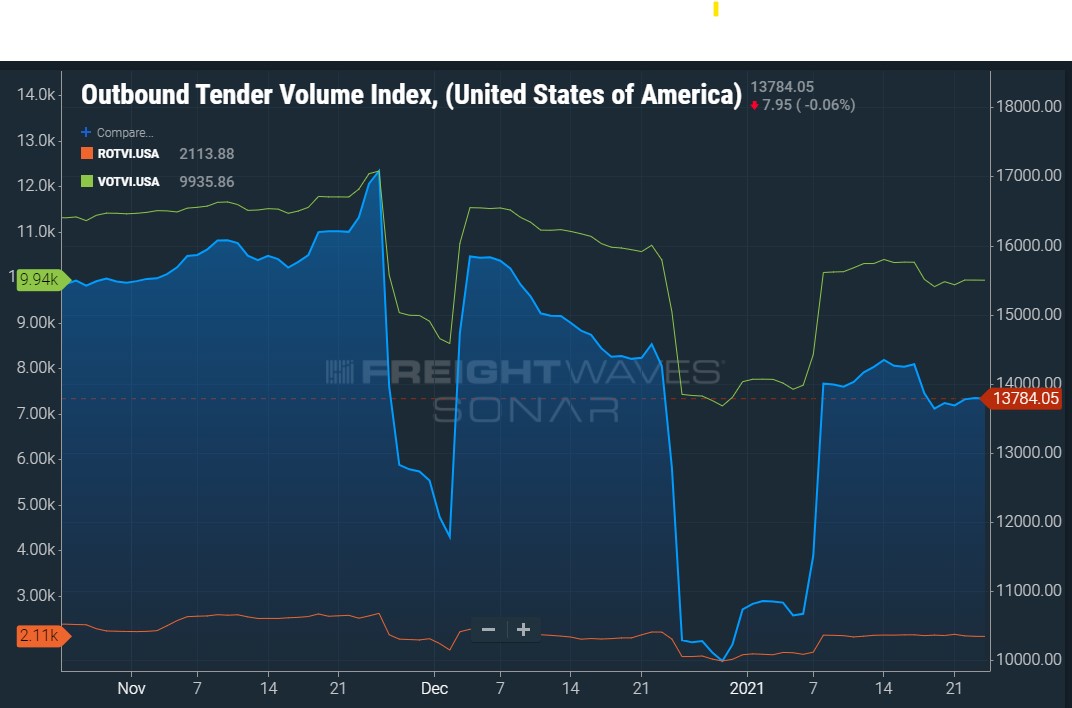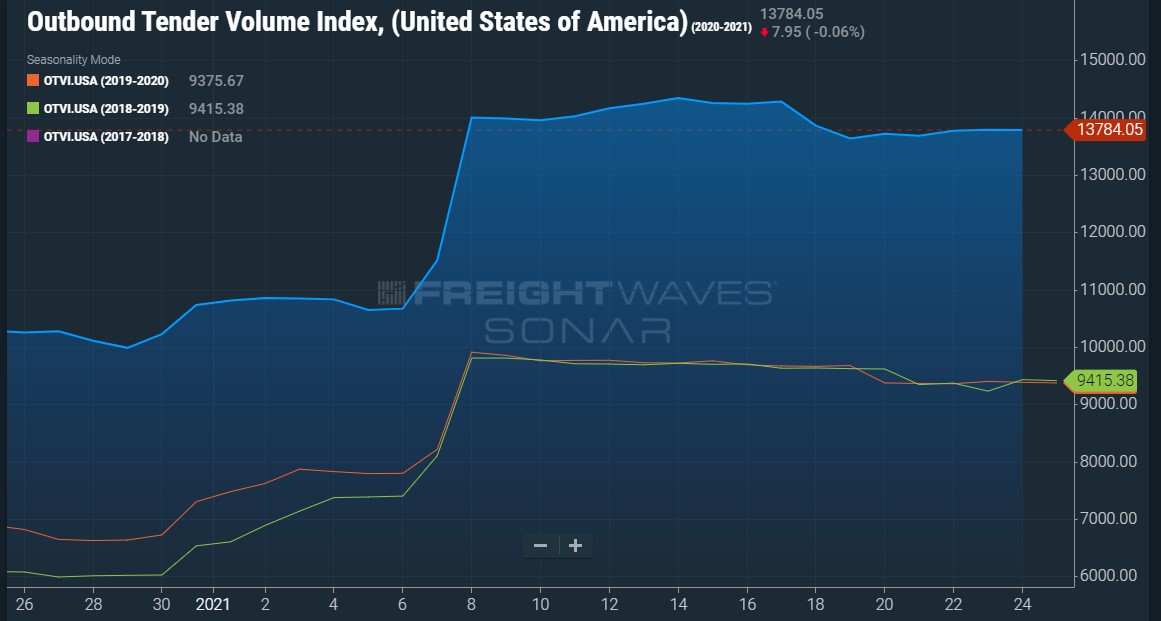 "Our advanced analytics is changing how we make decisions, from who to call first to how we think about the future." - Director of Data Science & Analytics, Choptank Transport
Outbound Tender Rejections
Reefer outbound tender rejections slipped slightly again on a national level from 41.60% to 41.05% this past week as volumes declined, but there were pockets in the Pacific Northwest and a few other areas where rejections and spot rates increased for temperature-controlled freight. Shippers out of the Milwaukee area, for example, are experiencing tight capacity and increased rates with rejections close to 60% (top chart). Overall outbound tender volume for dry van and reefer as mentioned in the beginning of this report are down to 21% and are shown in the bottom chart below.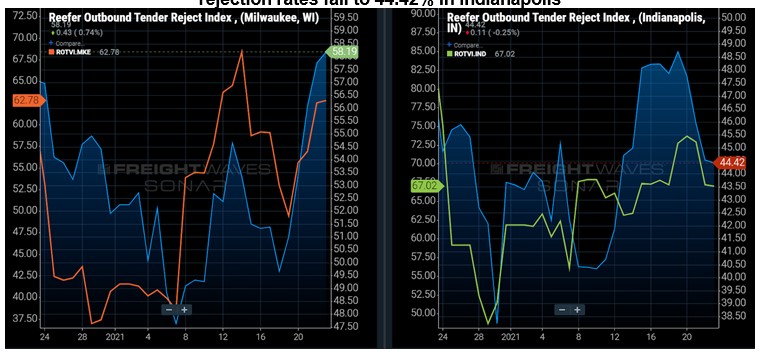 Who's Got the Power?
The DHL Pricing Power Index gauge dipped once again this week, sliding another 5% moving the negotiating power closer to the midway mark between carrier's and shipper's favor.
The pricing power index is a weekly gauge put out by DHL that indicates who has more sway in negotiations when it comes to pricing and freight rates. The farther the needle leans to the left of the gauge, the more power the shipper has in negotiation. The farther to the right, the carrier has the upper hand. (Source: Freightwaves)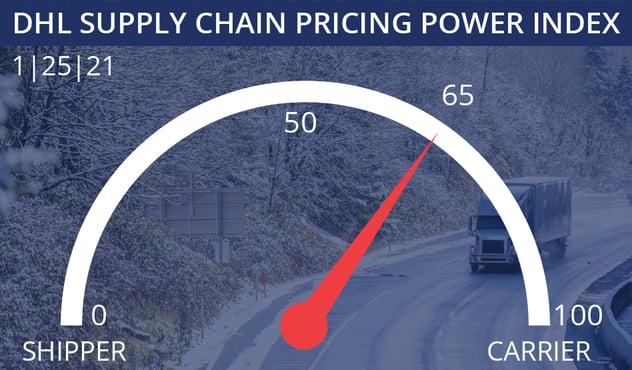 Where the Market is Changing Most
The two tables below indicate markets that are seeing the strongest market volatility regarding increases in outbound volumes and increases in outbound rejection rates.
8 Markets with Strongest Increases in Volumes
Below are the markets that are showing the strongest percent increases in outbound volumes. Last week Rapid City, SD took the lead 185.71% increase in outbound volume, but this week the increases are far less drastic, with Fayetteville, AR taking the lead at 43.97% followed by Pendleton, OR at 20.05%. (Source: Freightwaves/Sonar)
(Source: Freightwaves/Sonar)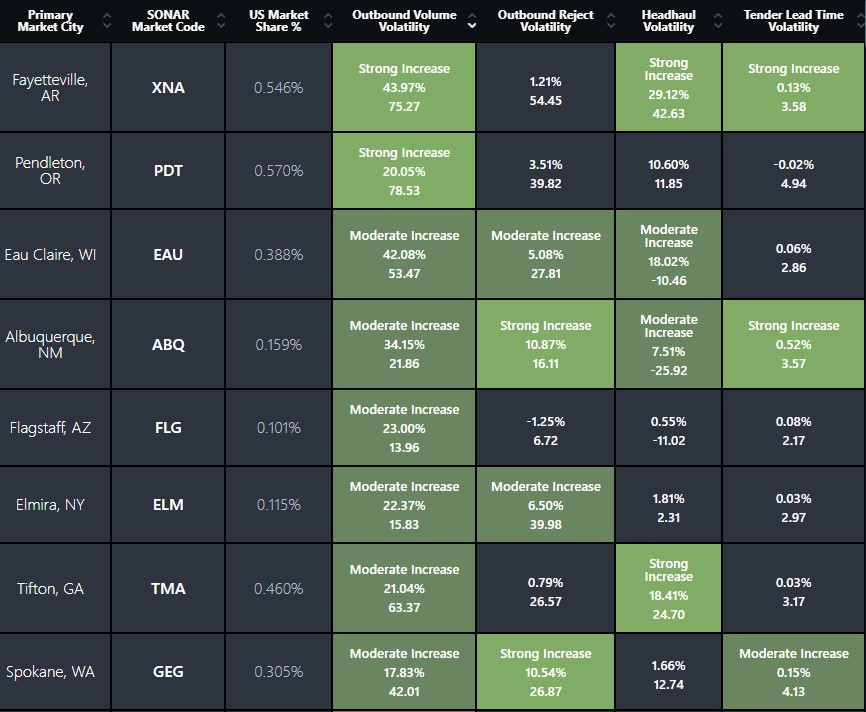 8 Markets with Strongest Increases in Rejections
The graph below shows the markets with the strongest increase in outbound rejection rates. If you are shipping freight out of Amarillo, Texas, you will notice it is difficult finding trucks this week, followed by Missoula, Montana where the uptick in rejections is at 13.78%.(Source: Freightwaves/Sonar)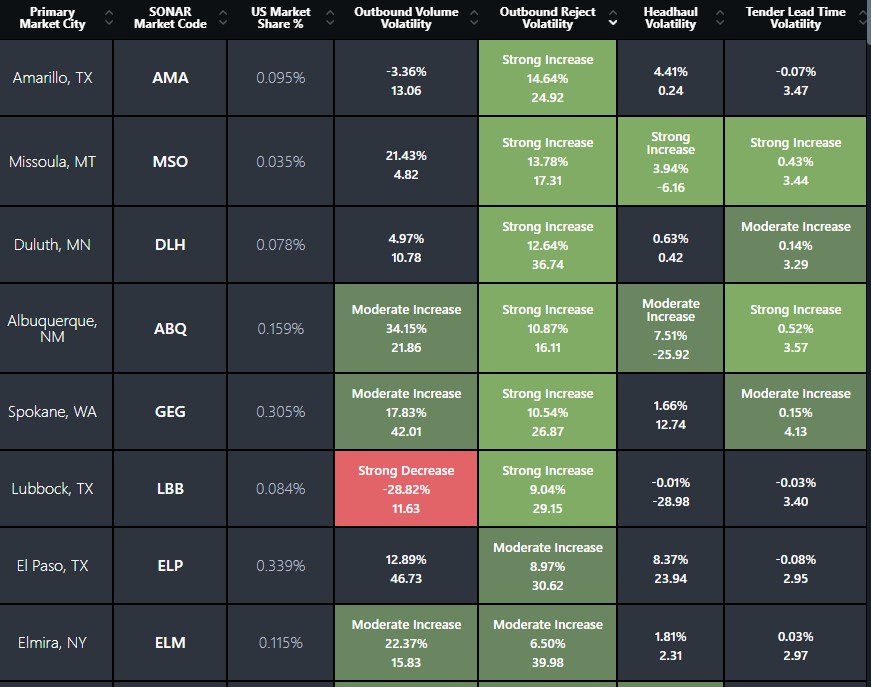 Spot Volumes & Rates Take a Dip
(Below stats from Jan 18 - Jan 24) Load posts continued to decrease last week by 3.5%, showing signs of a softening market. Rates for all modes are lower this week than last. Reefer spot rates, for example, are down another 2.4% from the previous week.
Overall Spot load posts fell 3.5% w/w, up +8.1% m/m and up 69.4% y/y
Dry van: Load-to-truck ratio went down -11.7% w/w, up 7.7% m/m and up 46.7% from 2019.
Dry Van Spot Rates: Rates are down -2.1% w/w, up 0.7% m/m, and up 26.4% y/y
Reefer: Load-to-Truck ratio is down -9.8% w/w, down -9.4% m/m, and up 22.9% y/y.
Reefer Spot Rates: Rates are down -2.4% w/w, down -0.7% m/m, and up 16.2% y/y.
Fuel prices have risen by 1.0% w//w.
(Source: DAT Trendlines)
(Source: DAT Trendlines)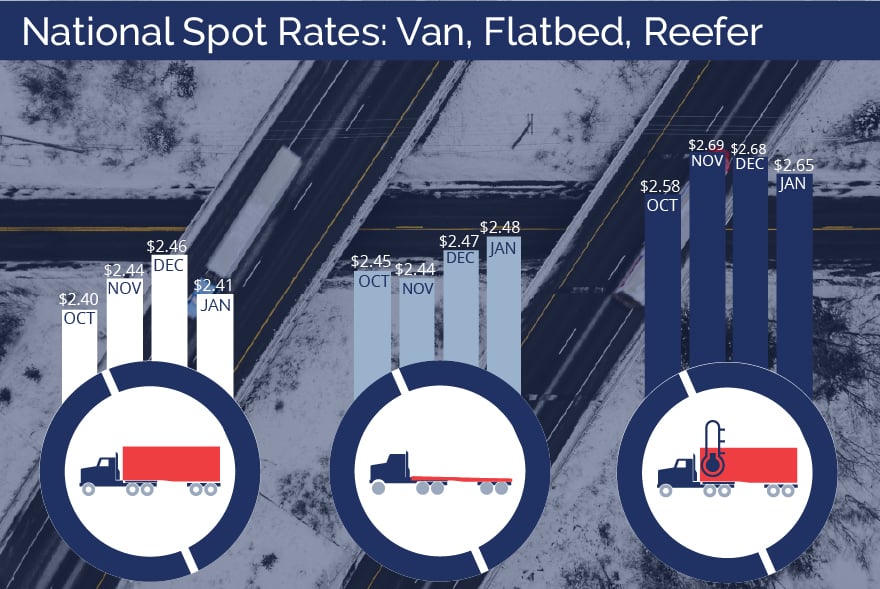 Market Conditions This Week
The maps below shows capacity across the United States. The dark red and pink areas (hot spots!) indicate capacity is tightening. The top map displays dry van capacity and the bottom map, reefer. Rates in the darker red areas typically will be higher than in blue areas.
Van capacity is still loose in the western half of the country with the exception of Arizona and southern Texas. Hot spots for constraints are currently relegated to the usual suspects around areas like the Ohio Valley, western Virginia, Atlanta and a few mid-Atlantic states.
Reefer capacity shortages are still affecting Idaho due to potato shipping as well as South Dakota, Nebraska, Iowa, Texas, Arkansas, Wisconsin, Michigan, as well as some mid-Atlantic and Northeast states. (Source: DAT Market Conditions)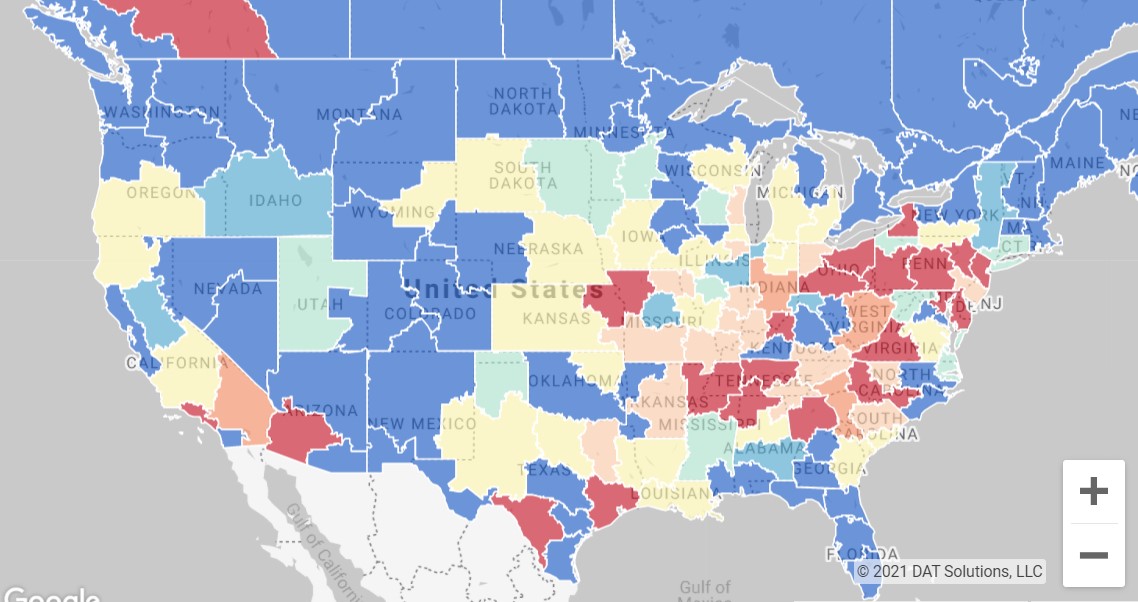 ---
Ways to Save on Increasing Costs
You may be able to save costs this bid season by consolidating shipments, tendering consistent freight and utilizing distribution centers to shorten some lengths of haul. Read last week's blog for other cost saving measures.
Have a Question? Ask one of our Experts
Do you have specific questions about the freight market in your area? Don't hesitate to ask us. Your sales representative or a member of our professional logistics team is ready to help, so give us a call! 800.568.2240.