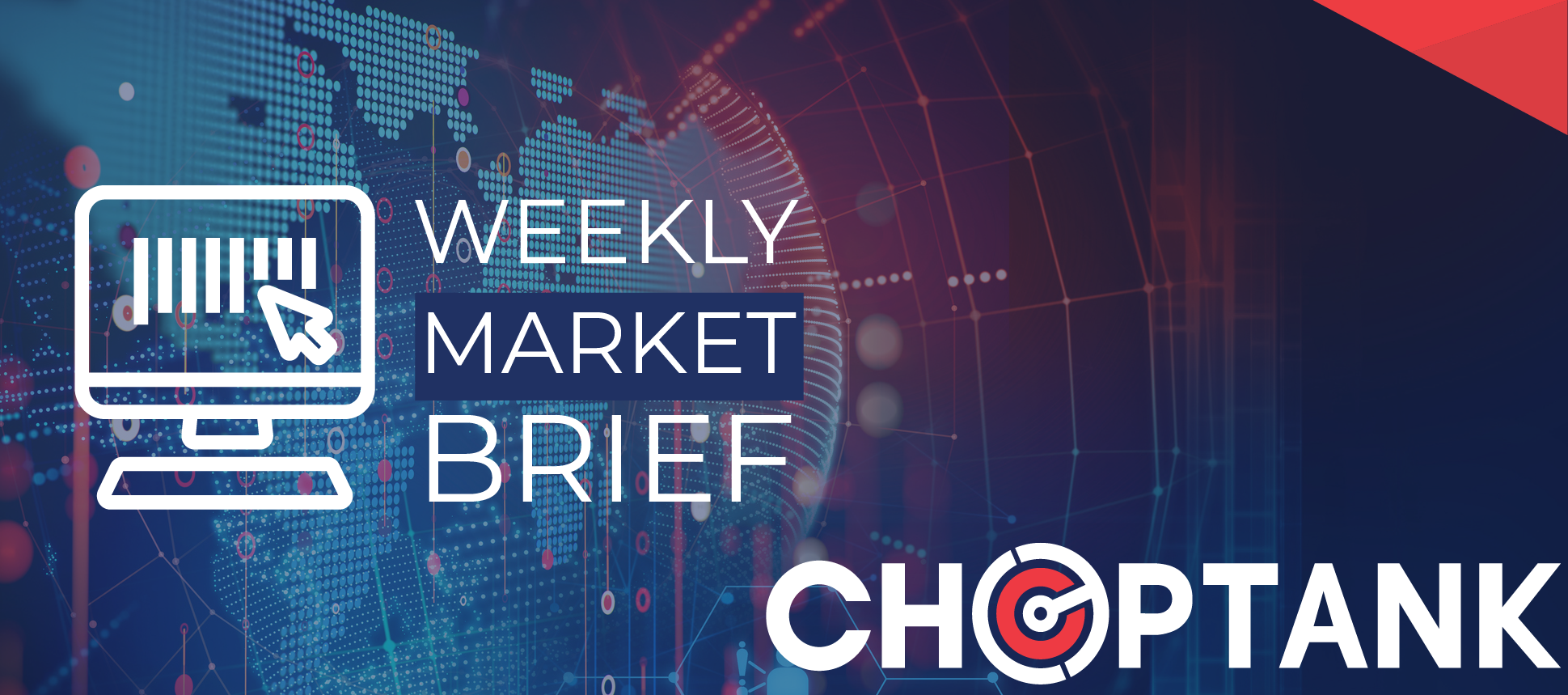 Freight Bid Season is Here: How is it Trending?

January 19, 2021
The Choptank Weekly Market Brief is offered exclusively to Choptank Transport customers to provide accurate, timely and relevant freight market information. The contents of this brief is collected from reputable sources including DAT, Freightwaves/Sonar, Truckstop.com, Department of Labor, Department of Transportation, and other sources as cited throughout the brief.
Freightwaves predicted in late 2020 that truckload freight rates for shippers would go up as much as 10% this year. Well, the contract bid season is upon us and rates are increasing to catch up with the spot market, which is putting downward pressure on the spot rates.
Rejection rates are taking a breather and have flattened out at 22.59%, creating a loosening of capacity compared with rejections just a few weeks ago. According to Freightwaves, this is more related to contract re-bids and not due to additional equipment being added to the market or any sharp decline in volumes. All in all, we are still expecting a strong market this year.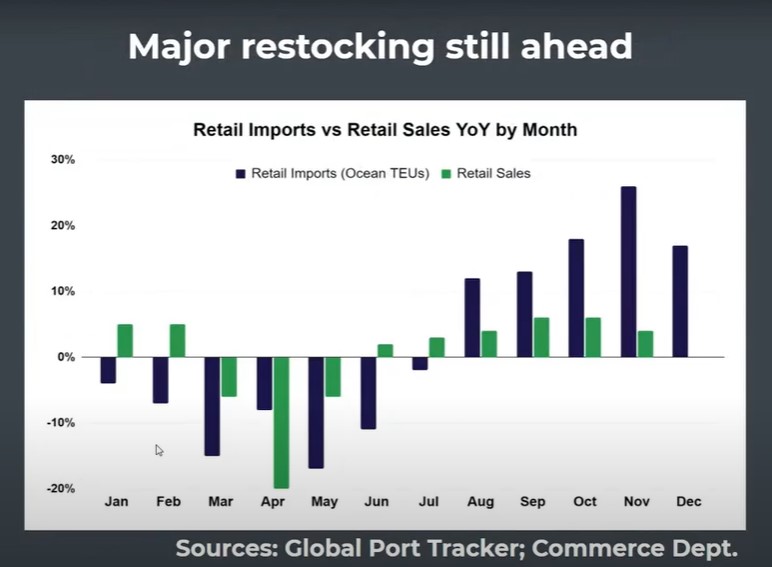 Warehouse Restocking
There is still plenty of freight coming in from the ports carrying much-needed replenishment stock. The chart above shows retail imports versus retail sales. Imports at the end of the year were up 1.5% y/y whereas retail sales were up 4.1% by the end of November. Regardless of which way demand goes in the next few months, the log jam of imports will continue to put capacity in a tight situation moving forward, which is the forecast for Q1. The chart below shows the hyperactivity of the retail market, with final retail spend by year. Who would have thought there was ever a pandemic?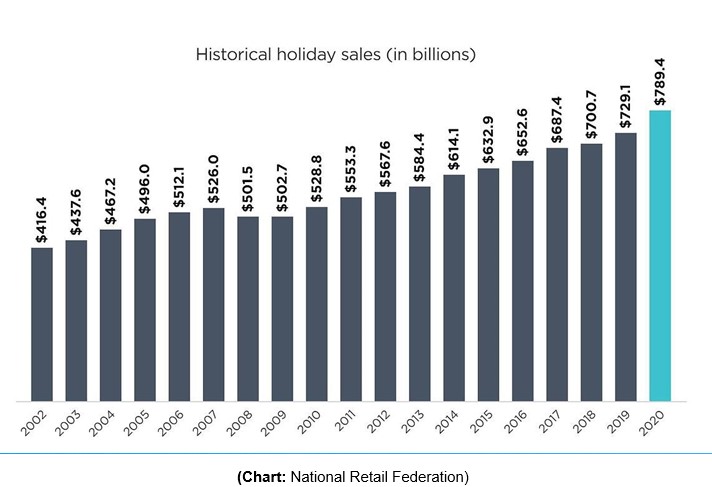 The Economy
Americans are still showing confidence in their buying habits. Stimulus money has certainly helped. The top chart below shows Bank of America data that tracked households which received stimulus money versus those that did not, and their correlating card spend. The bottom chart shows what people are spending their stimulus money on this year versus last year. The clear winner so far this year has been apparel, which is good news for a downtrodden clothing sector.
An industrial recovery is still expected as the Purchasing Manager's Index (PMI) is at its highest point in two and a half years. According to https://tradingeconomics.com
"The ISM Manufacturing PMI for the US jumped to 60.7 in December of 2020 from 57.5 in November, well above forecasts of 56.6. The reading pointed to the 7th straight month of rising manufacturing activity and the strongest growth rate since August of 2018."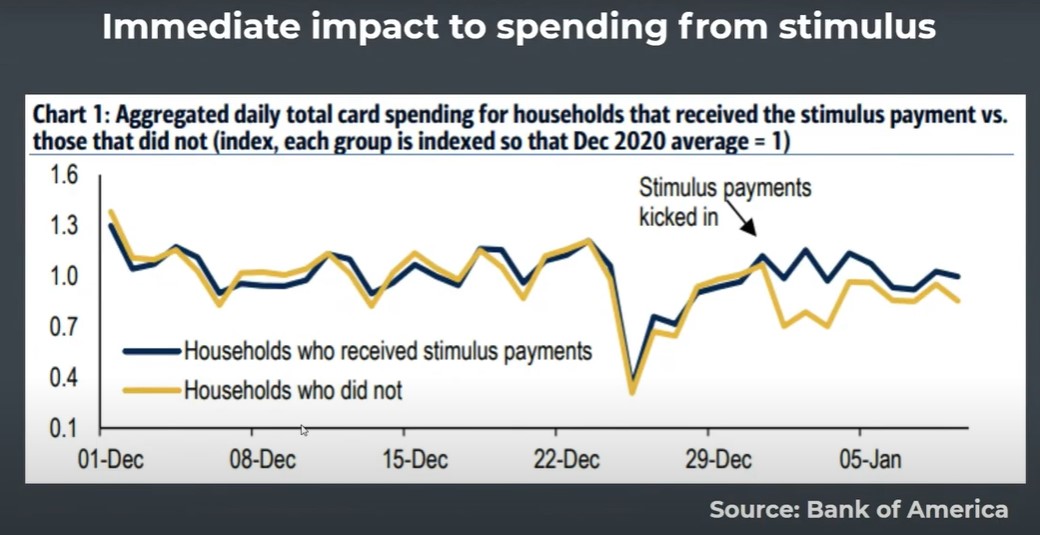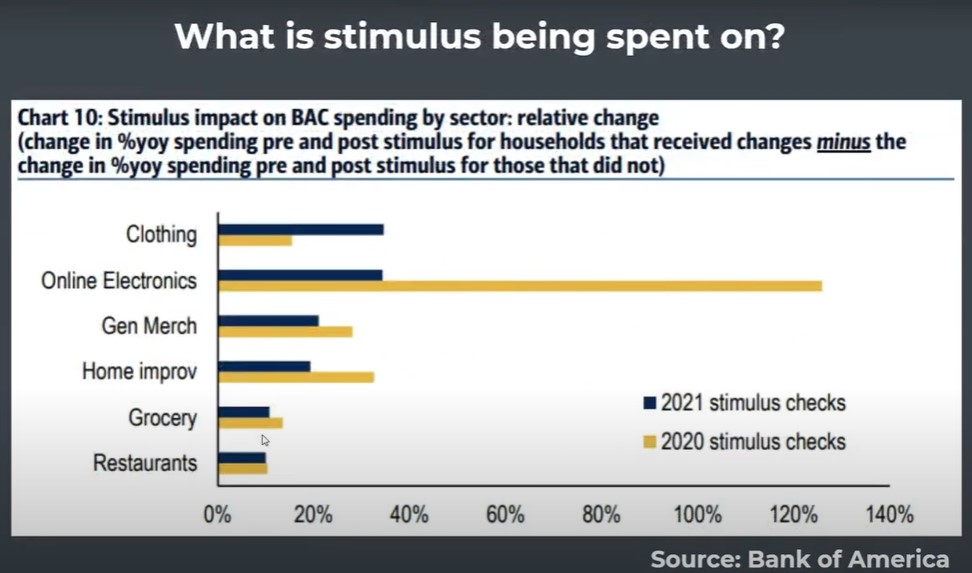 In the Contract Market
The charts below show the outbound tender volume index and the outbound tender rejections. (Source: Freightwaves/Sonar)
Outbound Tender Volumes
Strong volumes continue into the the third week of 2021. The chart below shows how outbound tender lead times have dropped off to 2.836 days as a result of loosened capacity. The chart below that shows volumes in the last month compared to 2018, 2019 and 2020 on the contract market. (Source: Freightwaves Sonar)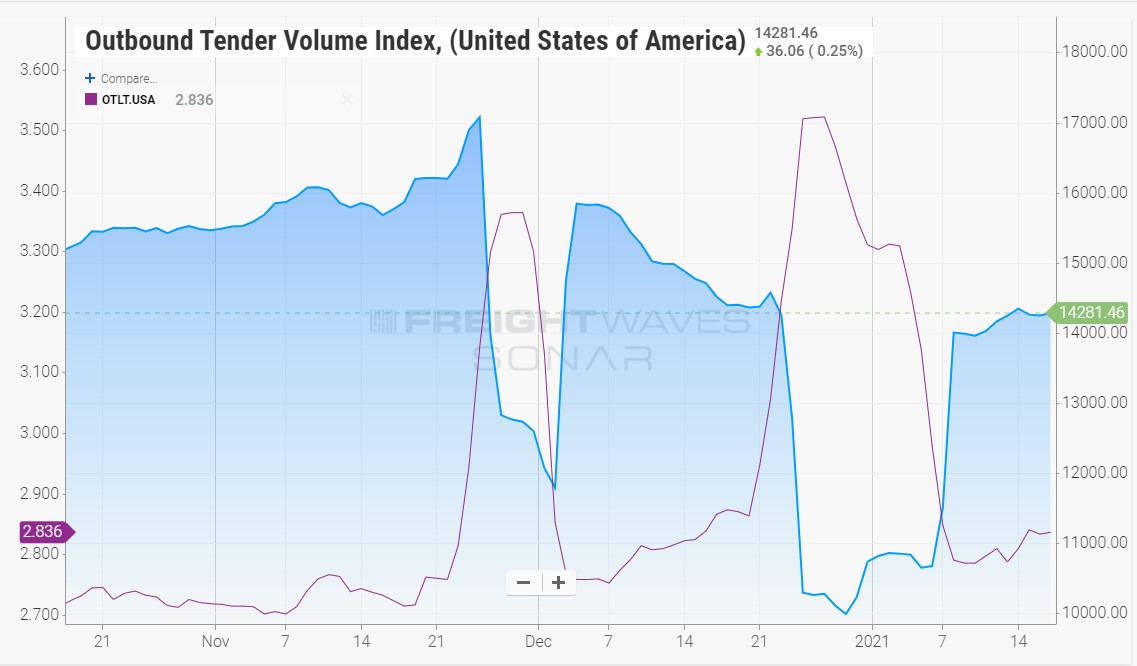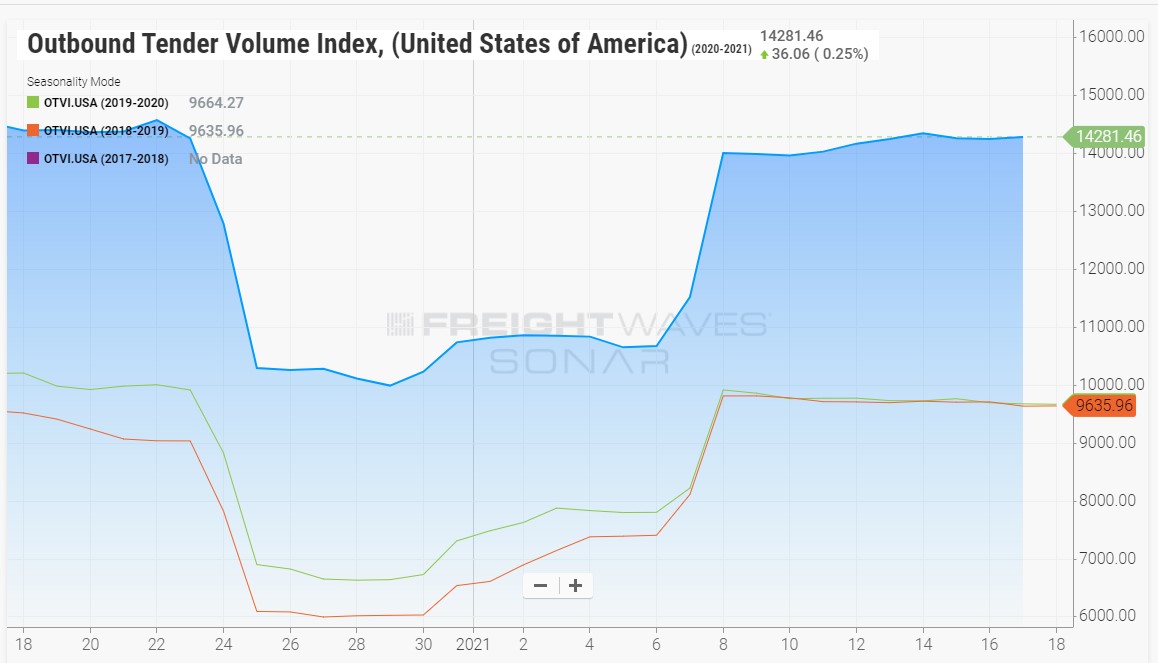 Outbound Tender Rejections
Rejection rates have experienced a gradual decline since late December but seem to be leveling off. They are still elevated at 22.59% comparatively speaking (note the yellow and green lines showing 2019 and 2018 data where they sat at below 8.50%.)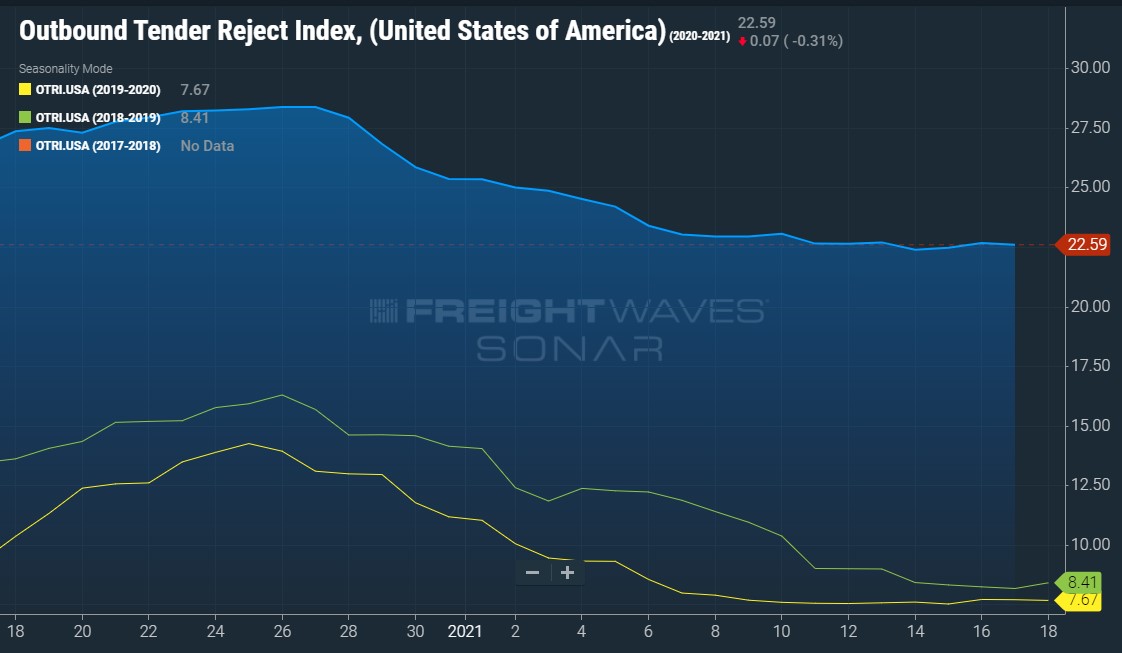 "Our advanced analytics is changing how we make decisions, from who to call first to how we think about the future." - Director of Data Science & Analytics, Choptank Transport
Who's Got the Power?
The DHL Pricing Power Index gauge this week is staying at 70 this week, still keeping the negotiation power in the carrier's favor. Remember, in December it peaked at 85.
The pricing power index is a weekly gauge put out by DHL that indicates who has more sway in negotiations when it comes to pricing and freight rates. The farther the needle leans to the left of the gauge, the more power the shipper has in negotiation. The farther to the right, the carrier has the upper hand. (Source: Freightwaves)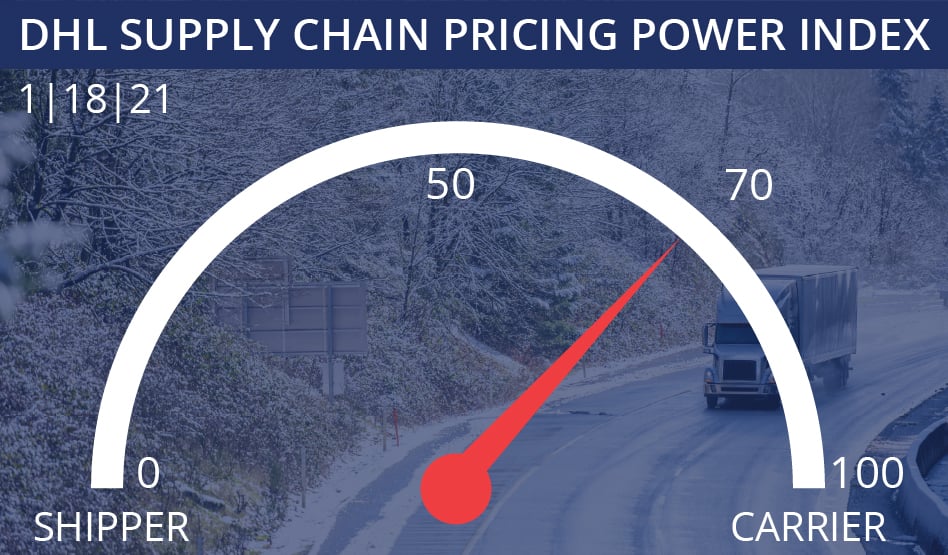 Where the Market is Changing Most
The two graphs below indicate markets that are seeing the strongest market volatility regarding increases in outbound volumes and increases in outbound rejection rates.
6 Markets with Strongest Increases in Volumes
Below are the markets that are showing the strongest percent increases in outbound volumes. Last week Bismarck, ND, Erie, PA and Rockford, IL were in the hotspots, but this week Rapid City, SD takes the lead by far with a 185.71% increase in outbound volume, followed by Dubuque, IA and Reno, NV. (Source: Freightwaves/Sonar)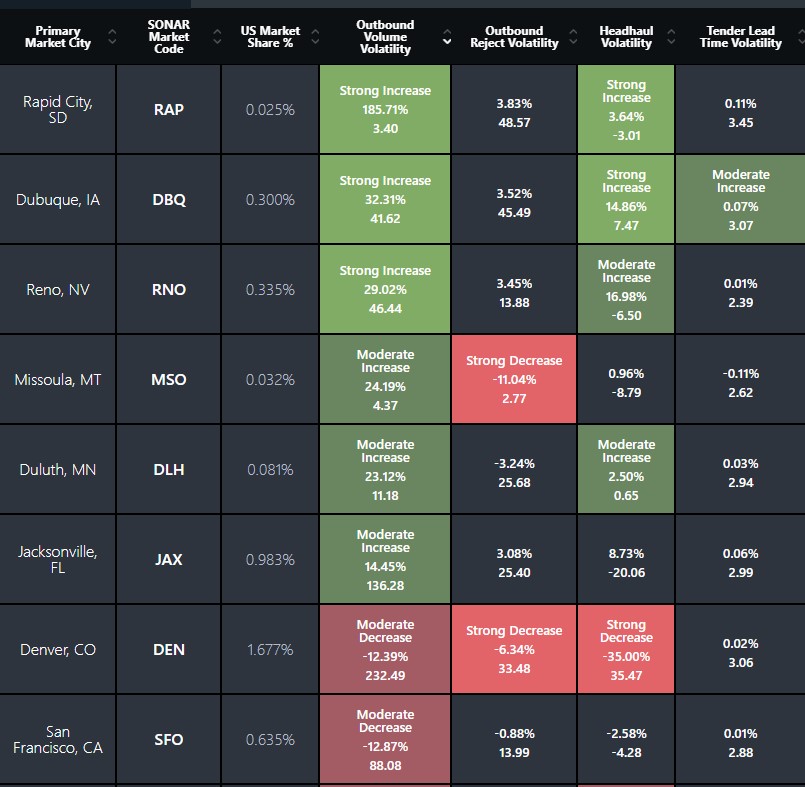 6 Markets with Strongest Increases in Rejection Rates
The graph below shows the markets with the strongest increase in outbound rejection rates. Capacity has had the most change in N. Platte, NE and Alexandria, VA with some moderate increases in Cedar Rapids, Salt Lake City and Billings, to name a few. (Source: Freightwaves/Sonar)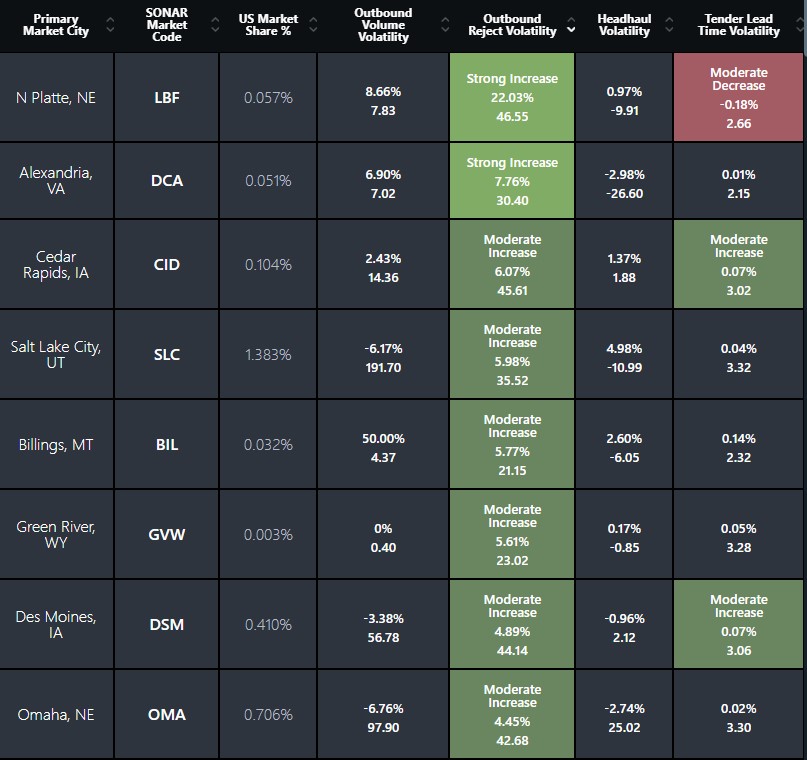 Spot Volumes & Rates Take a Dip
(Below stats from Jan 11 - Jan 17) Load posts decreased 17.6% last week, showing signs of a softening market. Capacity has loosened as a result and is driving rates lower in many areas. Reefer spot rates, for example, are down another 2.7% from the previous week.
Overall Spot load posts fell 17.6% w/w, up +8.1% m/m and up 69.4% y/y
Dry van: Load-to-truck ratio went down -44.7% w/w, up 7.7% m/m and up 46.7% from 2019.
Dry Van Spot Rates: Rates are down -1.9% w/w, up 0.7% m/m, and up 26.4% y/y
Reefer: Load-to-Truck ratio is down -46.8% w/w, down -9.4% m/m, and up 22.9% y/y.
Reefer Spot Rates: Rates are down -2.7% w/w, down -0.7% m/m, and up 16.1% y/y.
Fuel prices have risen by 1.1% w//w.
(Source: DAT Trendlines)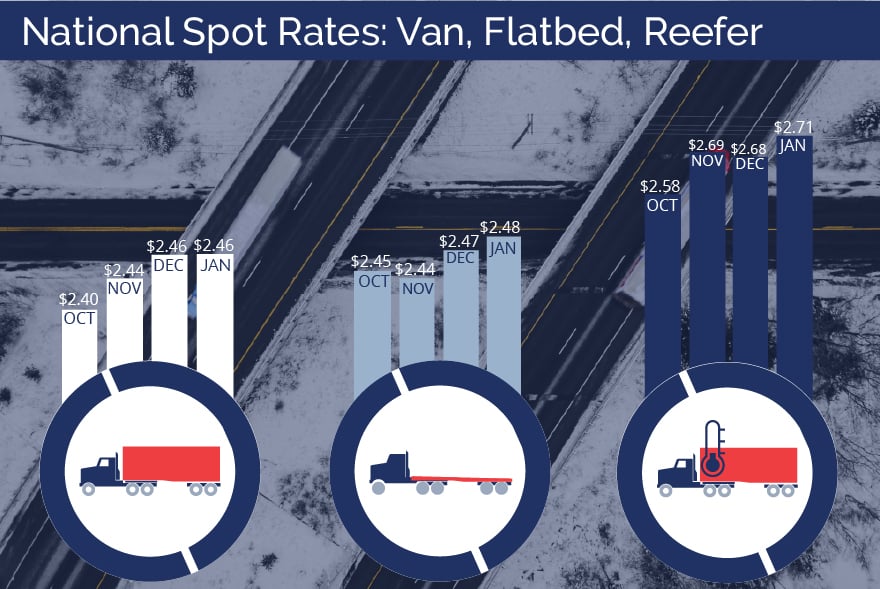 Market Conditions This Week
The maps below shows capacity across the United States. The dark red and pink areas (hot spots!) indicate capacity is tightening. The top map displays dry van capacity and the bottom map, reefer. Rates in the darker red areas typically will be higher than in blue areas.
Van capacity is still loose in the western half of the country. Hot spots for constraints are currently relegated to areas of Kansas, Arkansas and Texas, as well as Indiana, the Ohio Valley, the Carolinas and a few mid-Atlantic states.
Reefer capacity shortages are still affecting Idaho due to potato shipping as well as South Dakota, Colorado, Texas, Arkansas, Wisconsin, Michigan, Tennessee, Indiana and some mid-Atlantic states. (Source: DAT Market Conditions)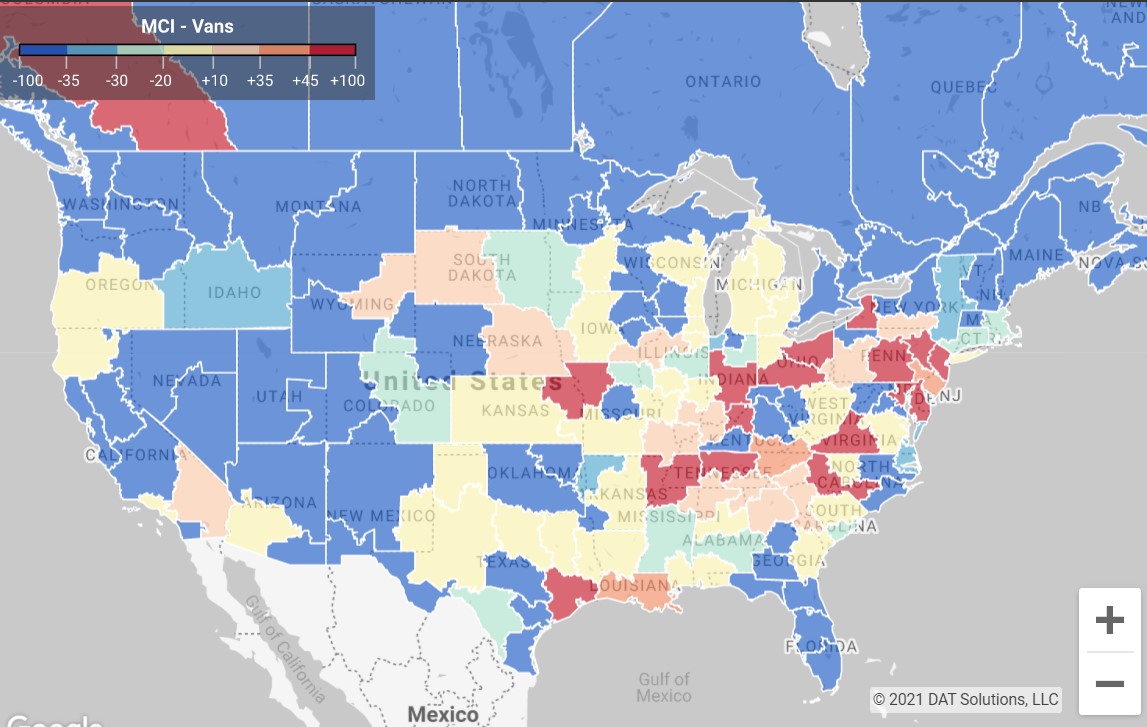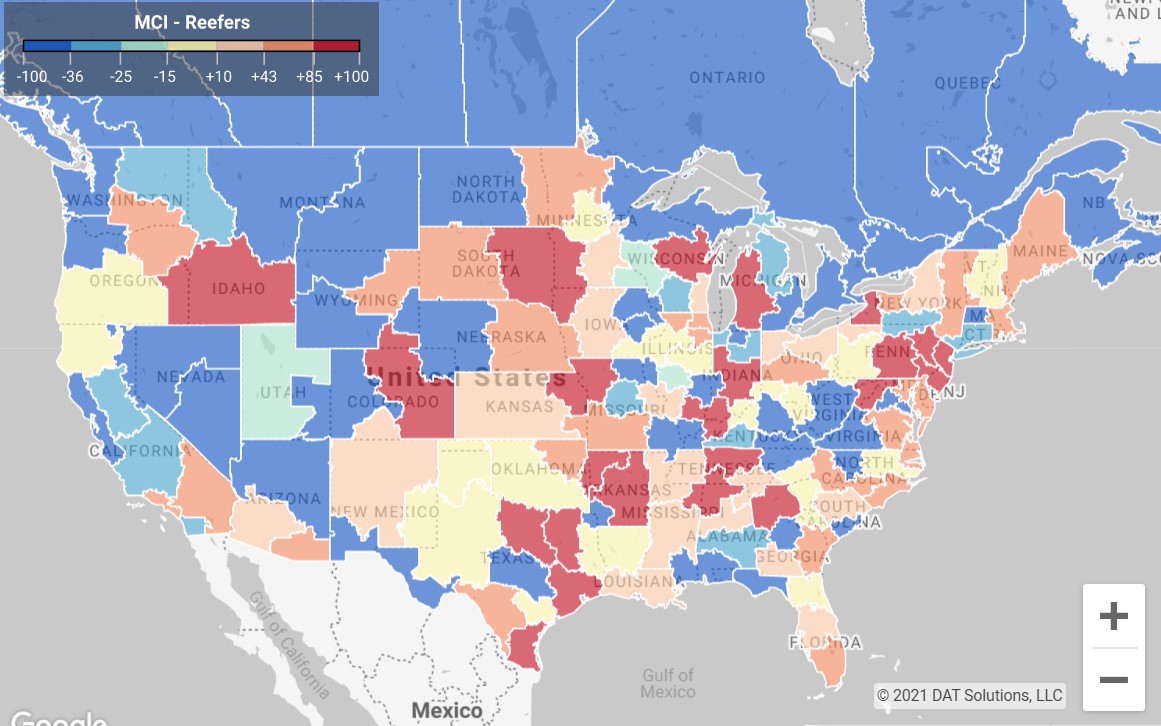 ---
Ways to Save on Increasing Costs
You may be able to save costs this bid season by consolidating shipments, tendering consistent freight and utilizing distribution centers to shorten some lengths of haul. Read last week's blog for other cost saving measures.
Have a Question? Ask one of our Experts
Do you have specific questions about the freight market in your area? Don't hesitate to ask us. Your sales representative or a member of our professional logistics team is ready to help, so give us a call! 800.568.2240.