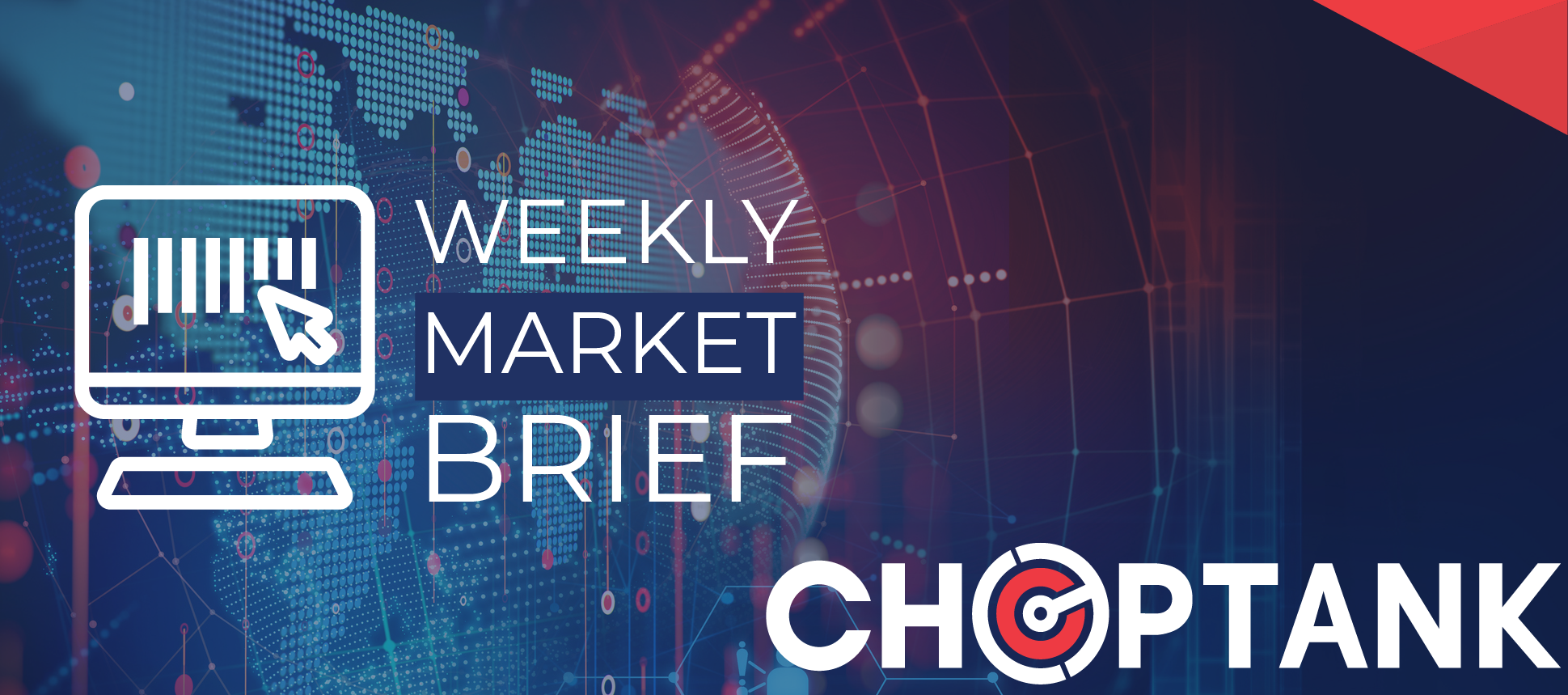 Outlook Positive for 2021, Say Experts

January 12, 2021
The Choptank Weekly Market Brief is offered exclusively to Choptank Transport customers to provide accurate, timely and relevant freight market information. The contents of this brief is collected from reputable sources including DAT, Freightwaves/Sonar, Truckstop.com, Department of Labor, Department of Transportation, and other sources as cited throughout the brief.
Can we all just breathe a sigh of relief at the passing of 2020? Is the uncertainty of the market behind us? Not quite yet—but according to industry experts, the first half of 2021 is looking good.
And it isn't just wishful thinking. There are reasons backing the forecast:
The consumer-supported economy of last year is expected to continue in 2021 as the pandemic continues to play a major roll in American's affinity for buying "durable goods."
The industrial sector is beginning to show signs of a recovery boom too.
Stimulus package one, two and possibly three are slated for this year and will boost consumer confidence even more.
A rebound in aerospace and auto production is anticipated.
New Class 8 truck orders were at 47,034 units in November and early reports for

December have orders over 50,000, according to ACT Research, a sign of a strong market moving forward.
Warehouse inventory levels are low and still need replenishment.
Regarding new truck orders, the numbers are a good sign that fleet owners and owner-operators are feeling optimistic going into the new year. The problem remains, however, who will be in the driver's seat? Also, shippers probably won't feel the benefits of this additional equipment on the road until the second half of 2021. The chart below shows the number of Class 8 truck orders in green versus truck driver employment in the blue. (Source: Freightwaves/Sonar)
New Truck Orders
It is evident that truck orders took a dive in March of 2020, but the upward trajectory since then is encouraging. (Source: Freightwaves/Sonar)

Manufacturing
Transport Topics reports that manufacturing took off in December. So much so that it outpaced the last two Decembers with the strongest combination of new orders and production since 2011. (Source: Institute for Supply Management)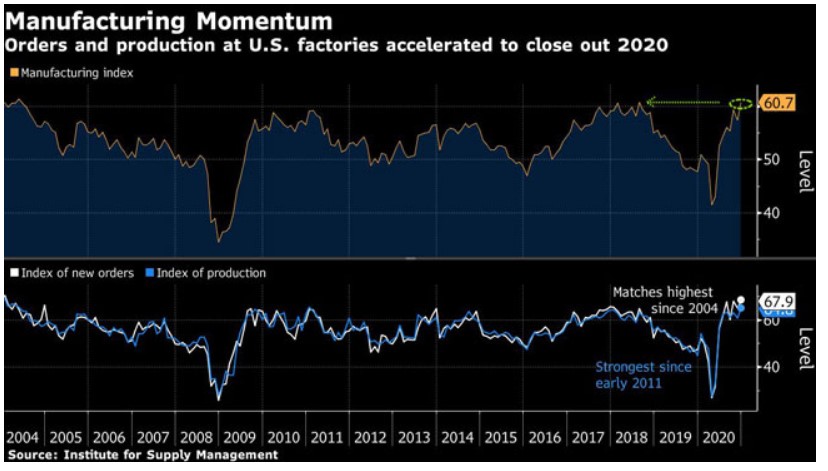 In the Contract Market
The charts below show the outbound tender volume index and the outbound tender rejections for the last 30 days. (Source: Freightwaves/Sonar)
Outbound Tender Volumes
You can see that volumes rose quickly after the first week in January, back up to levels that significantly exceeded the previous two years at this same time, a strong indication that the bull market of late 2020 is likely to stick around for the new year.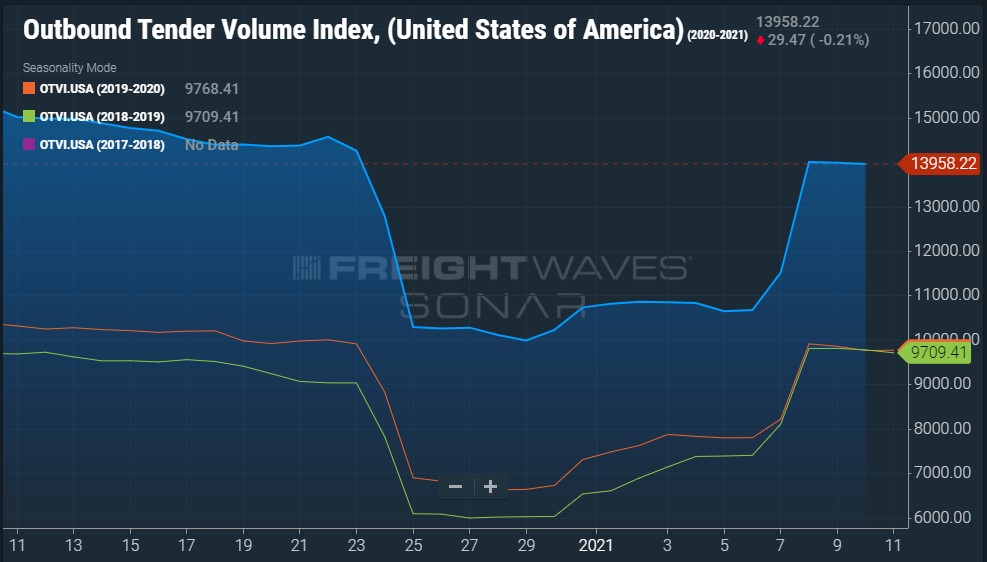 Outbound Tender Rejections
Unlike the rapid increase in volumes after the holidays, rejection rates have experienced a slow, more predictable seasonal downturn, although still extremely high at 23.04% comparatively speaking (note the green and purple lines showing 2019 and 2018 data). At the risk of sounding like a broken record, almost one out of every four loads continues to be rejected.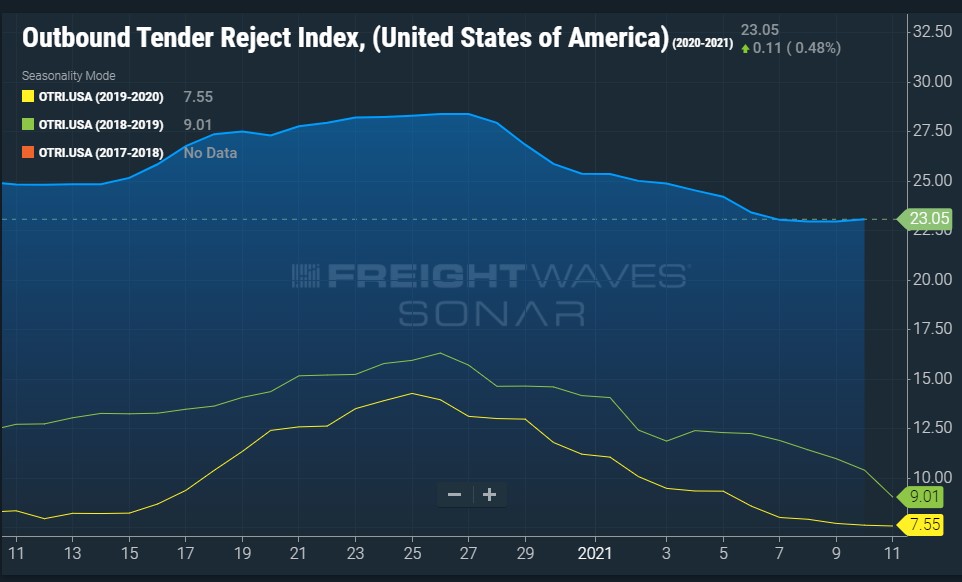 "Our advanced analytics is changing how we make decisions, from who to call first to how we think about the future." - Director of Data Science & Analytics, Choptank Transport
Who's Got the Power?
The DHL Pricing Power Index gauge this week is back down to 70 after peaking in December at 85. The lower number indicates that carriers have lost some power in the negotiating ring and capacity has loosened a bit. This is the lowest it has been since November 2020.
The pricing power index is a weekly gauge put out by DHL that indicates who has more sway in negotiations when it comes to pricing and freight rates. The farther the needle leans to the left of the gauge, the more power the shipper has in negotiation. The farther to the right, the carrier has the upper hand. (Source: Freightwaves)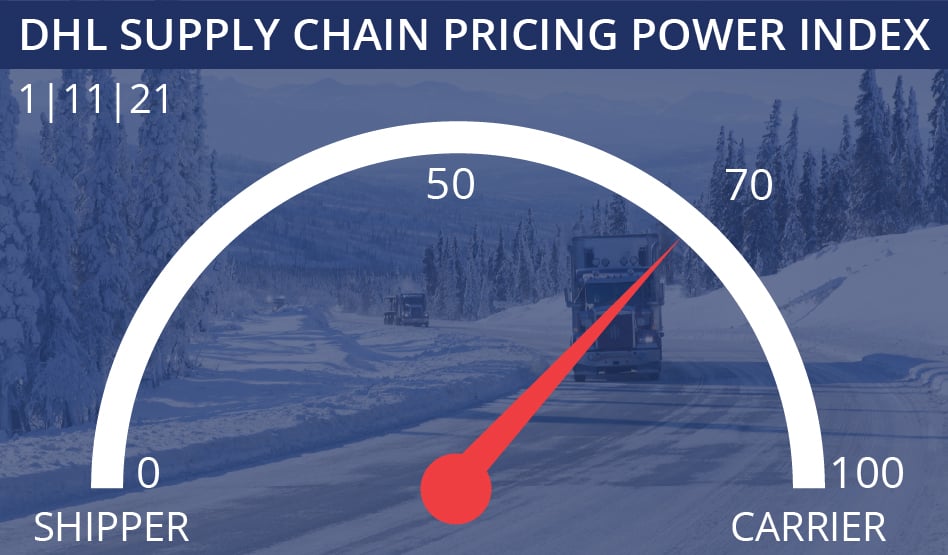 Where the Market is Changing Most
The two graphs below indicate markets that are seeing the strongest market volatility regarding increases in volumes and increases in rejection rates.
6 Markets with Strongest Increases in Volumes
Below are the markets that are showing the strongest percent increases in volumes. Bismarck, ND with a 136.36% increase is at the top of the list with Erie, PA close behind at 120.74%. Rockford, IL and Amarillo, TX are just below the 100% mark. (Source: Freightwaves/Sonar)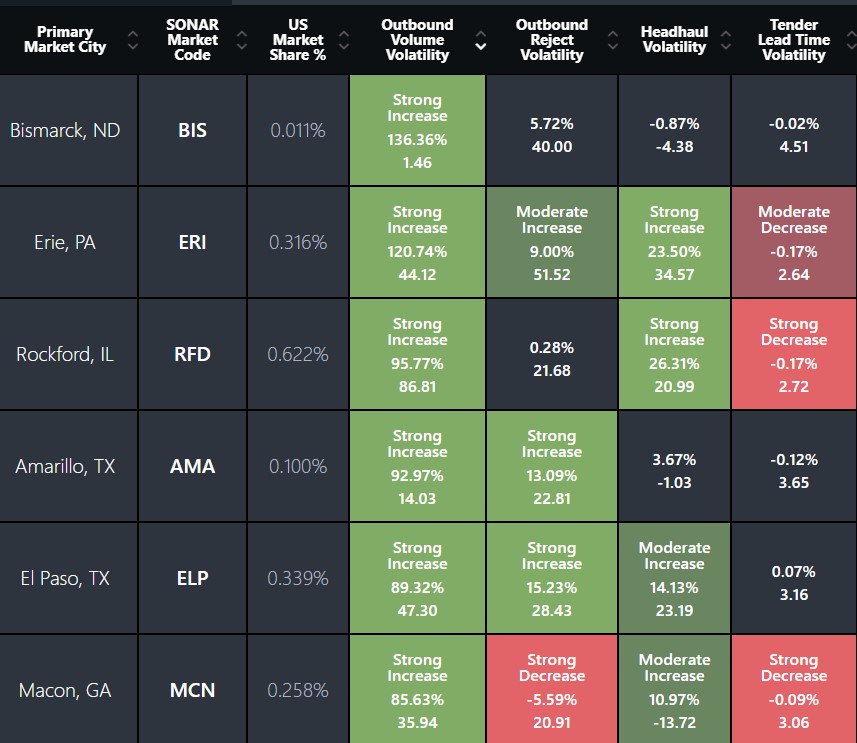 6 Markets with Strongest Increases in Rejection Rates
The graph below shows the markets with the strongest increase in rejection rates. It is getting harder to find capacity in Rapid City, SD, El Paso and Amarillo, TX. Denver too has seen a strong increase in rejection rates (12.39% increase) resulting in a total of 40.39% of all loads out of Denver being rejected. (Source: Freightwaves/Sonar)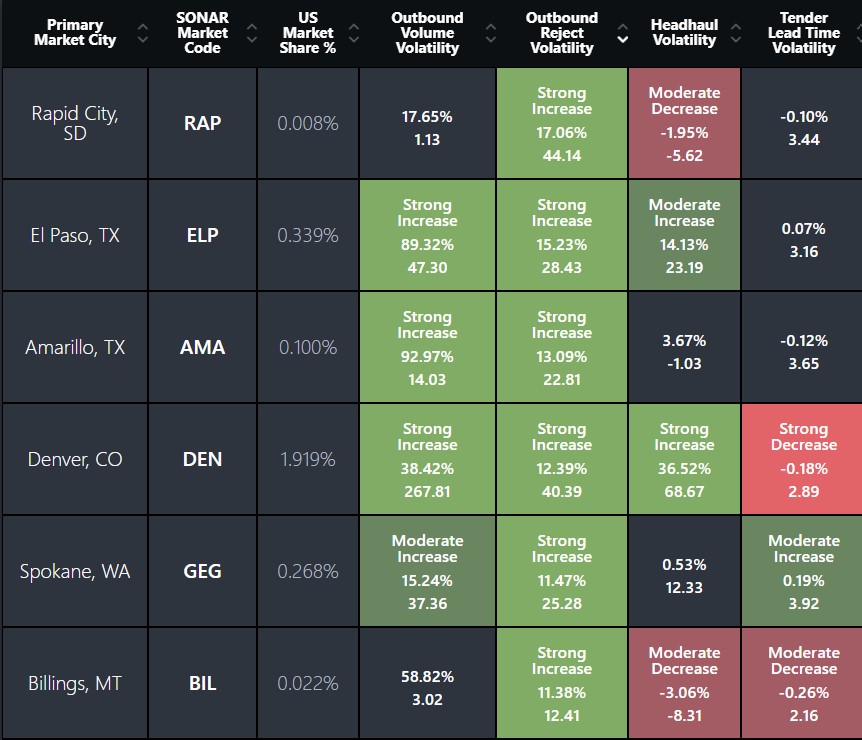 The Spot Market: Rates & Volume
(Below stats from Jan 4 - Jan 10) Load posts increased 46.5% last week indicating a robust "back to business" market. Drivers are back on the road and capacity isn't as tight as it was pre-Christmas, driving rates lower in many areas. Reefer spot rates, for example, are down 2.7% from the previous week.
Overall Spot load posts went up +46.5% w/w, up +8.1% m/m and up 69.4% y/y
Dry van: Load-to-truck ratio went down -6.7% w/w, up 7.7% m/m and up 46.7% from 2019.
Dry Van Spot Rates: Rates are down -0.9% w/w, up 0.8% m/m, and up 26.5% y/y
Reefer: Load-to-Truck ratio is down -21.4% w/w, down -9.4% m/m, and up 22.9% y/y.
Reefer Spot Rates: Rates are down -2.7% w/w, down -0.7% m/m, and up 16.1% y/y.
Fuel prices have risen by 0.2% w//w.
(Source: DAT Trendlines)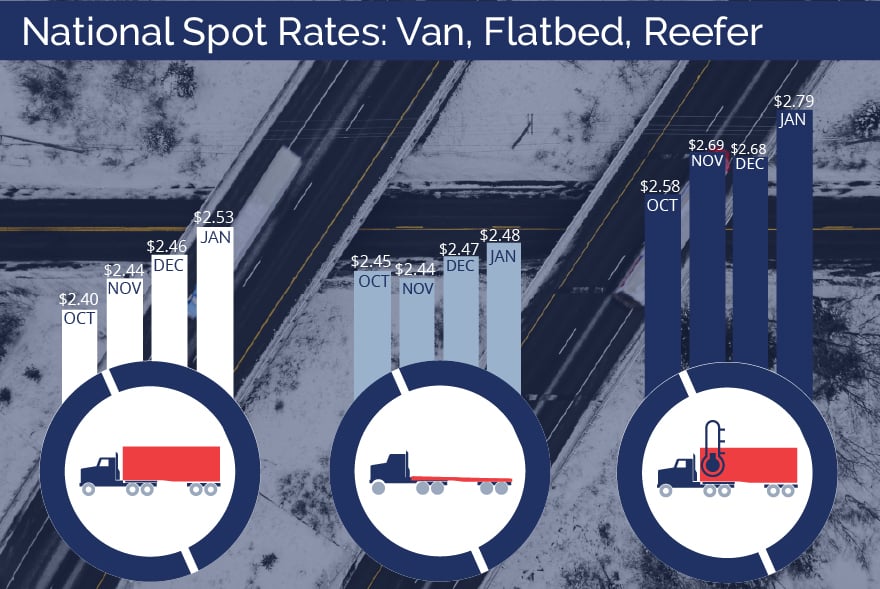 Market Conditions This Week
The maps below shows capacity across the United States. The dark red and pink areas (hot spots!) indicate capacity is tightening. The top map displays dry van capacity and the bottom map, reefer. Rates in the darker red areas typically will be higher than in blue areas.
Van capacity has loosened in the western half of the country. Hot spots for constraints are currently relegated to areas of the mid-West, Gulf Coast states, some mid-Atlantic and Ohio Valley states, as well as some areas of Wisconsin and Illinois. Arkansas, Tennessee and the Carolinas are also experiencing some tight capacity.
Reefer capacity shortages are affecting Idaho due to potato shipping and eastern halves of the Dakotas, Kansas, Arkansas, eastern Texas and Louisiana, some mid-Atlantic states and Maine. (Source: DAT Market Conditions)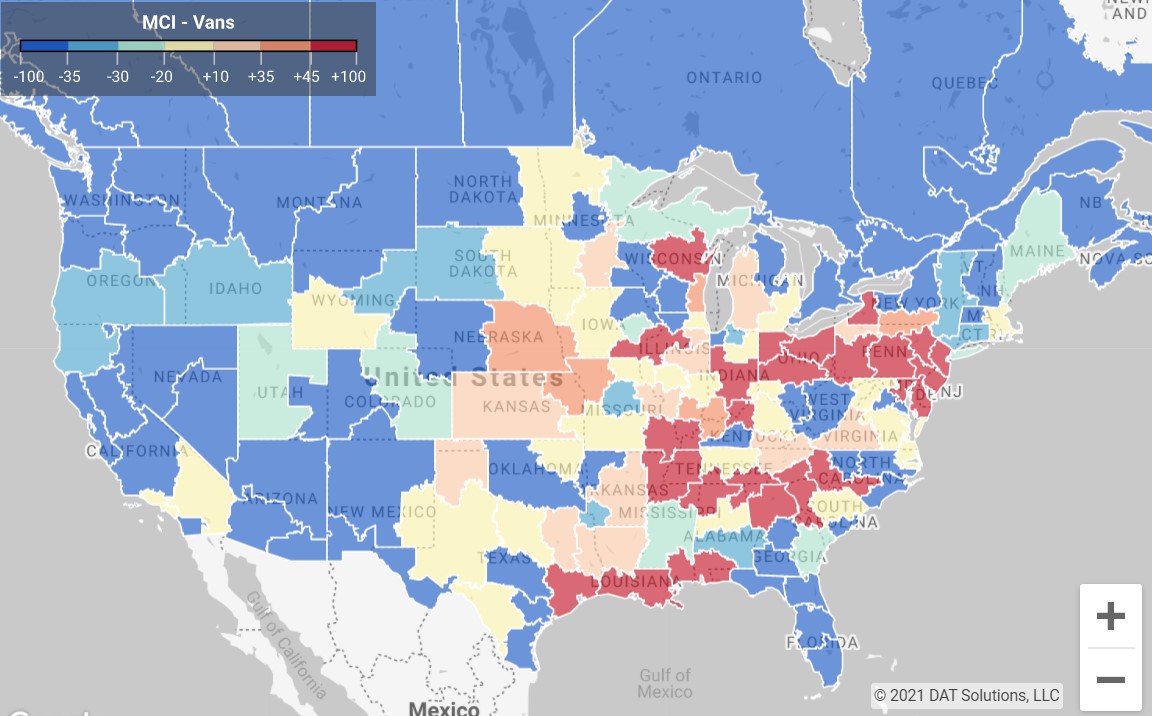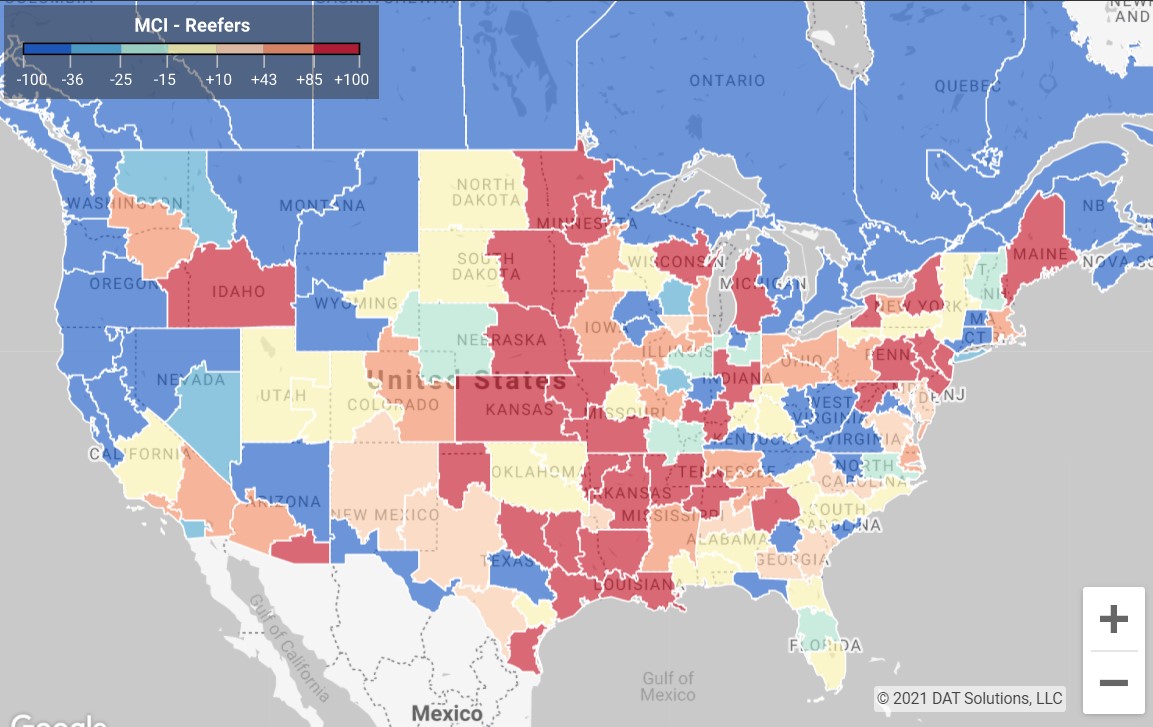 Have a Question? Ask one of our Experts
Do you have specific questions about the freight market in your area? Don't hesitate to ask us. Your sales representative or a member of our professional logistics team is ready to help, so give us a call! 800.568.2240. You can respond to this email by contacting marketing@choptanktransport.com.