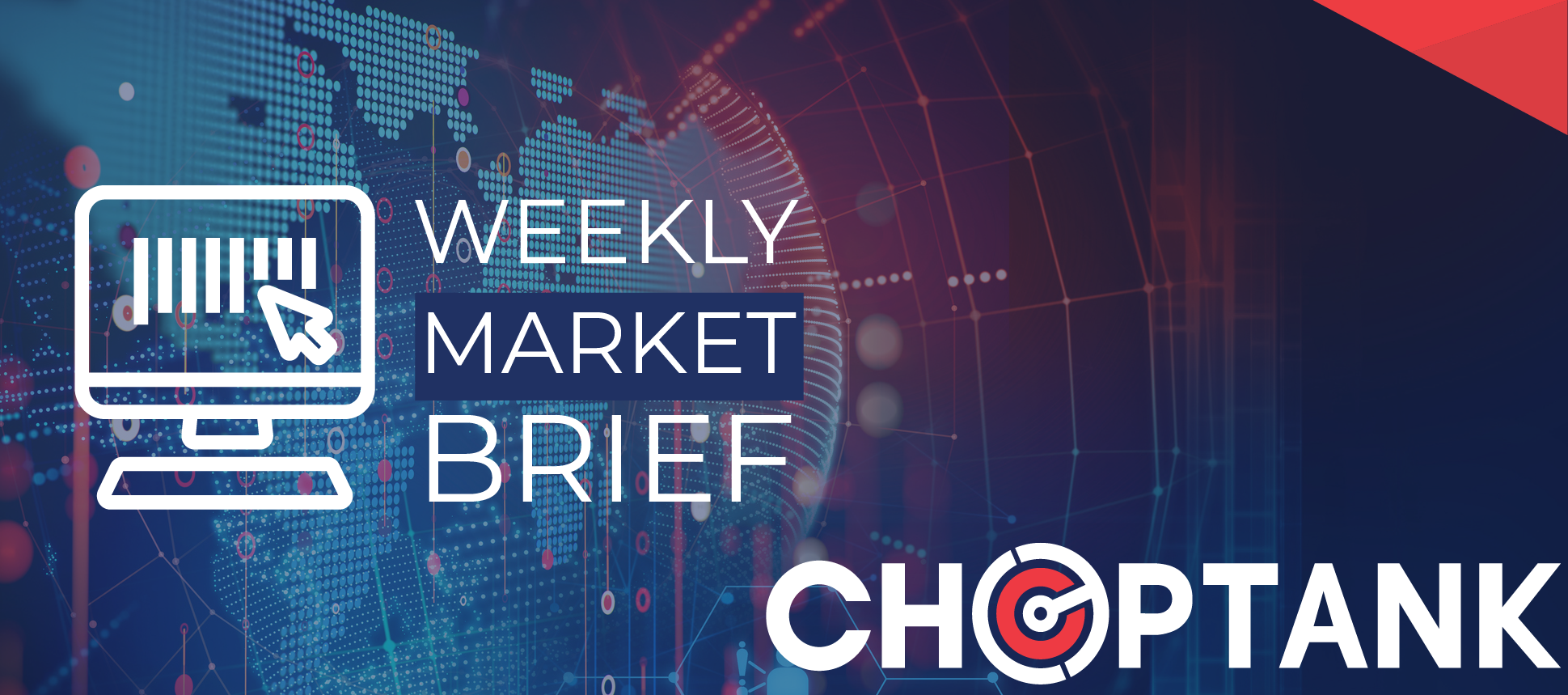 Week One of 2021



January 5, 2021
Looking at the data for the first week of January is like waiting at the end of a drumroll before a big announcement. Will post-holiday volumes return strong this week or just how will the freight market set sail in 2021?
There are several strong indications that a healthy and robust first quarter will be on tap, the first sign being that retail inventory levels were super low coming out of Q3. (see "Total Retailers Inventory-to-Sales Ratio" chart below from Bank of America's Surface Transportation Update Q4 2020.)
Weekly market updates help you identify areas where freight capacity is tight as well as areas that are loose and easier to cover. This helps you better understand the market and provides a basis for your pricing.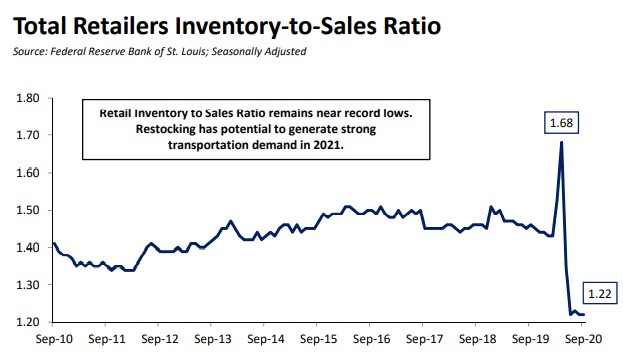 The heavy imports from both the east and west coasts are another early indication that trucking will stay busy well into the new year. The busiest port in the U.S., Port of Los Angeles, cited a 22% increase in volume in November compared with the same time time last year. The Port of Long Beach saw an even greater increase of 30.6% during that time frame.
A note of concern at the ports. Too much focus on processing imports may be creating a problem with choked U.S. exports. (see blue line on "Import and Export Volumes" chart below from Bank of America's Surface Transportation Update Q4 2020.)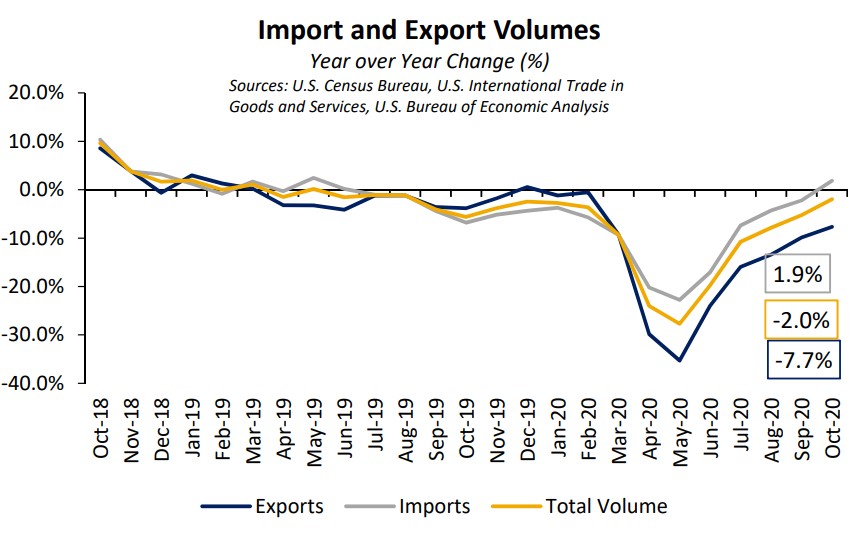 Consumer Confidence and Spending
Consumer confidence has been up and down this year, affected by many factors including the election and surges in COVID-19 cases, as the chart below indicates. (Chart from The Conference Board/Bloomberg).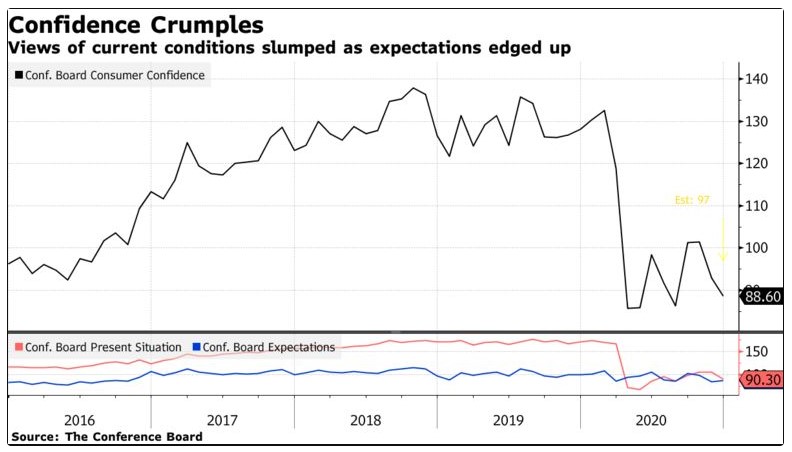 "The big picture" chart illustrates how consumers were spending money during the second week of December compared to last year at the same time. As you can see it was not on airlines, restaurants or hotels, but on electronics, furniture and home improvements.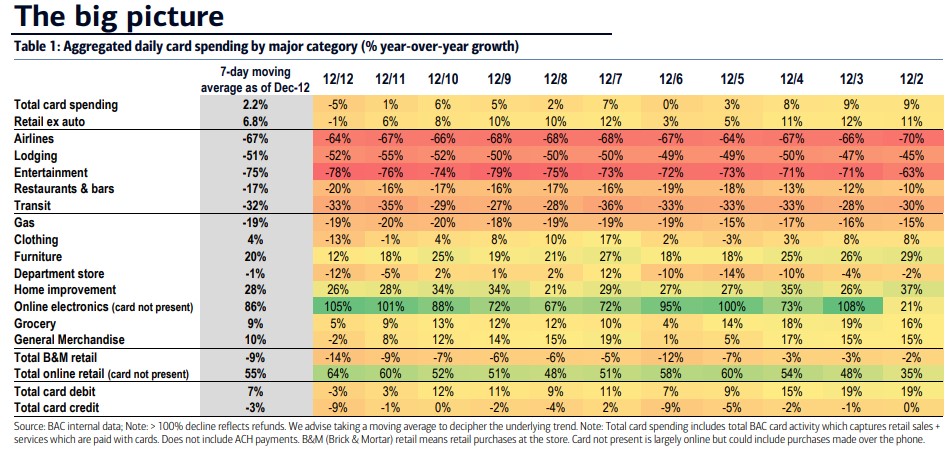 The growing divergence between brick and mortar store shopping and online shopping is clear in Chart 5, especially once the pandemic hit in March of 2020. (Both bottom charts courtesy of Bank of America Global Research data.)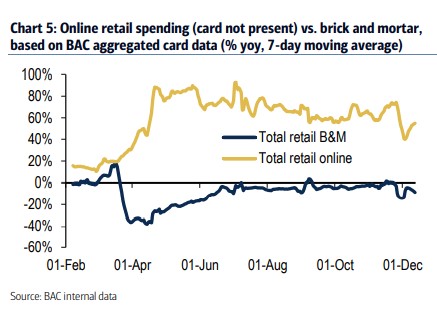 This week in the contract market
The charts below show the outbound tender rejection rates for both reefer (in orange) and dry van (in blue), but the top chart displays only the last 30 days. From the data curve, it would appear that rejections have experienced a huge decline, suggesting a softening of the market and loosening of capacity. Unfortunately, if you look at the chart below it, the same information is shown over the course of the whole year, and it is evident that rejections are still extremely elevated overall.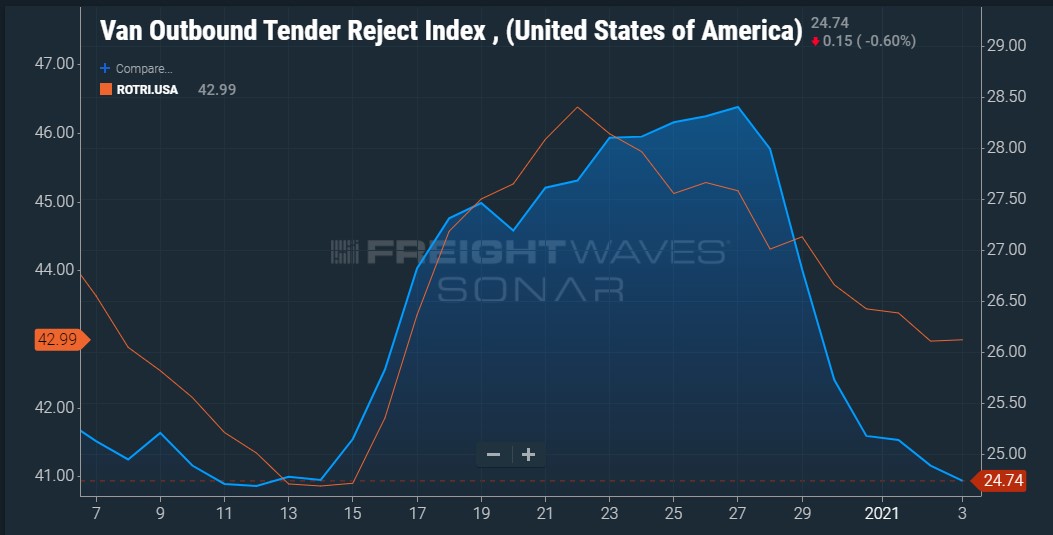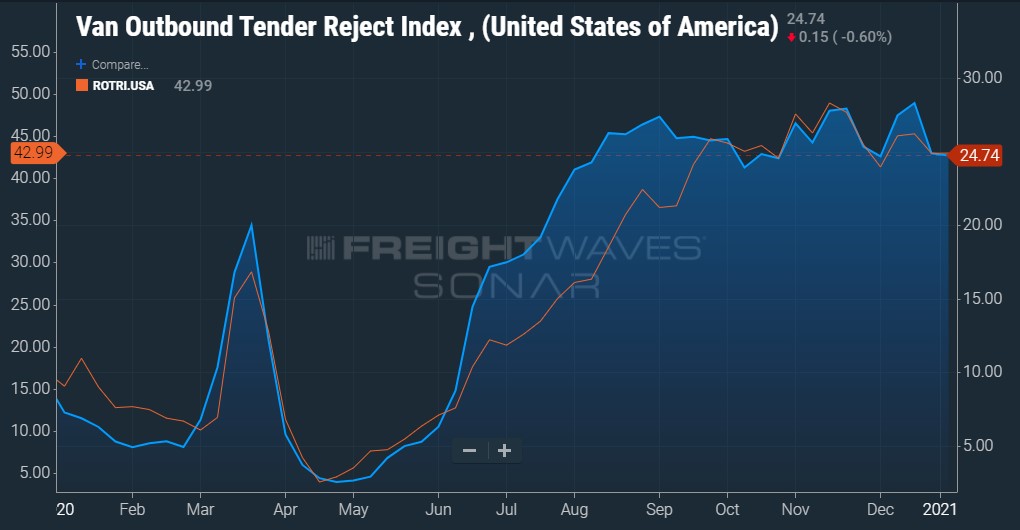 Outbound Tender Volumes
The end of the year dip in the volume chart below reflects the entire week of slowed activity between Christmas and New Years instead of a single day or long weekend troughs you see with other holidays like Labor Day and Thanksgiving. The market is following the seasonal trends of the past two years, albeit at much higher level than in 2018 and 2019.
The top van markets right now by volume are southern California, Atlanta, Columbus, western Michigan and Harrisburg areas. The top reefer markets by volume are currently Ontario, Salt Lake City, Indianapolis, Joliet, Twin Falls, central Florida and Atlanta.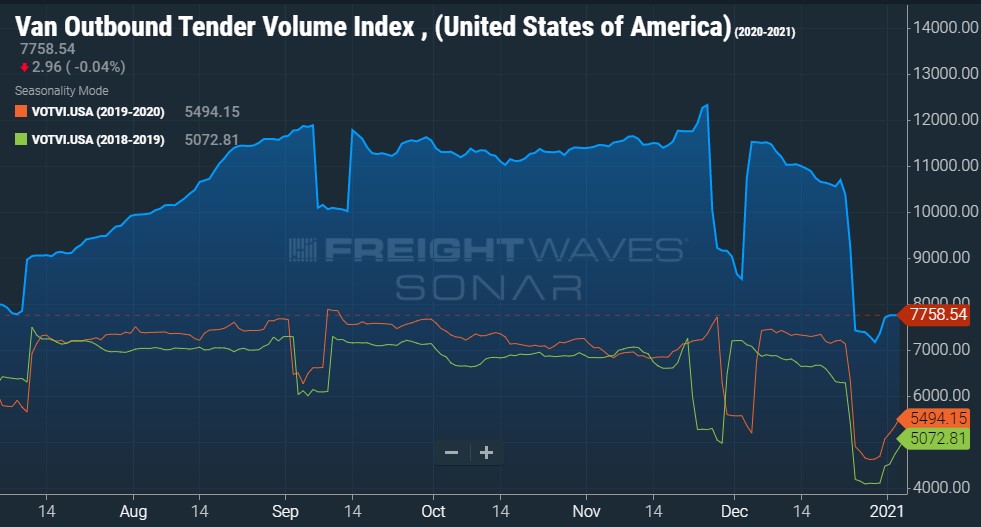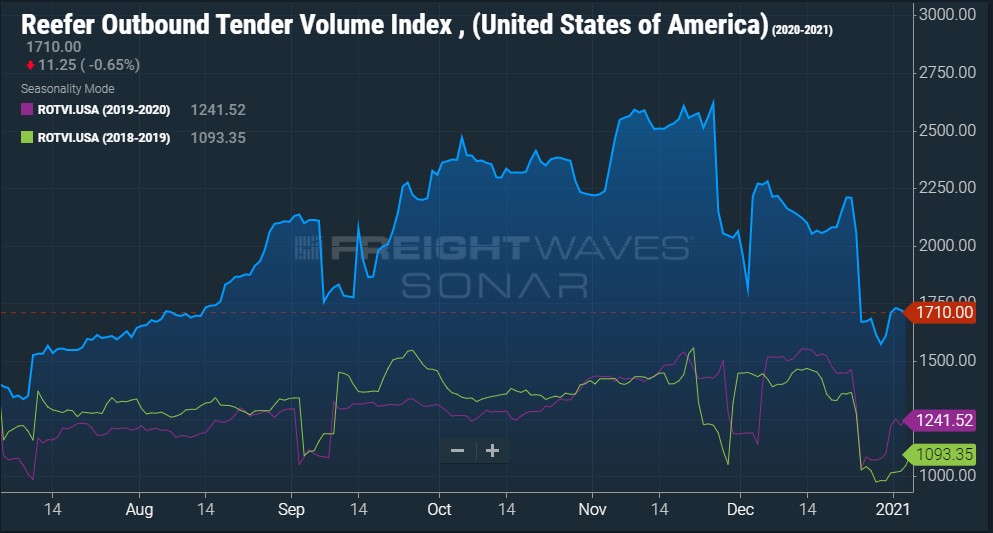 Where the Market is Changing Most
The two graphs below indicate markets that are seeing the strongest increase in volumes and rejection rates.
Strongest Increases in Freight Volume
Below are the markets that are showing the strongest percent increases in volumes. Rapid City, SD take the prize with a 240% increase followed by Charleston, WV and Detroit, MI. Texarkana, Bowling Green, Charleston and Jefferson City are close behind. (Graph courtesy of Freightwaves/Sonar)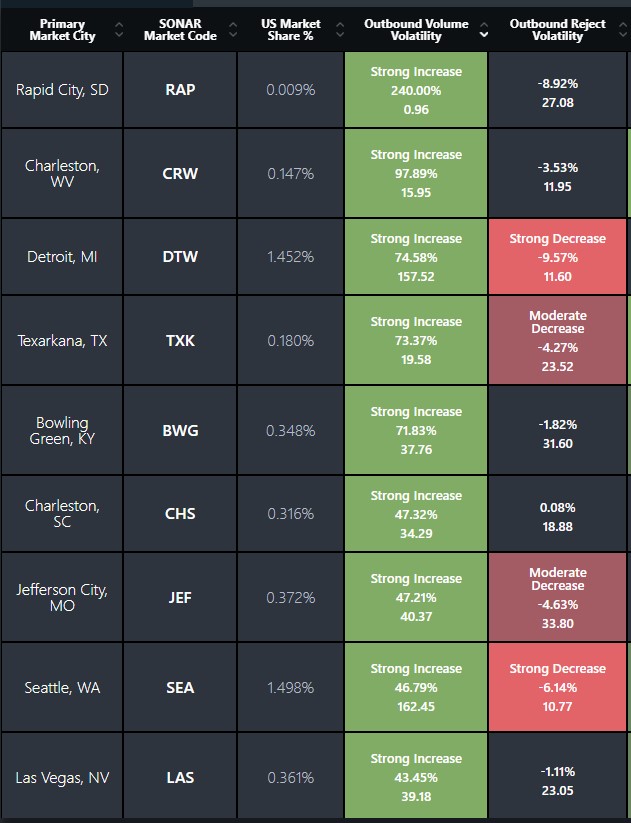 Strongest Increases in Freight Rejection Rates
The graph below shows the markets with the strongest increase in rejection rates. Mobile, AL. has the strongest increase in rejections at 9.36% while Duluth, MN., Lexington, KY. and Omaha, NE. follow in the 4-5% range. Denver, although not in the top spot for strong increases in reefer rejection rates, still remains above the national average. Baltimore, on the other hand, is getting a break on reefer rejection rates (and spot rates) from a decline in activity after the Christmas holiday from 35.70% to 17.45%. (Graph courtesy of Freightwaves/Sonar)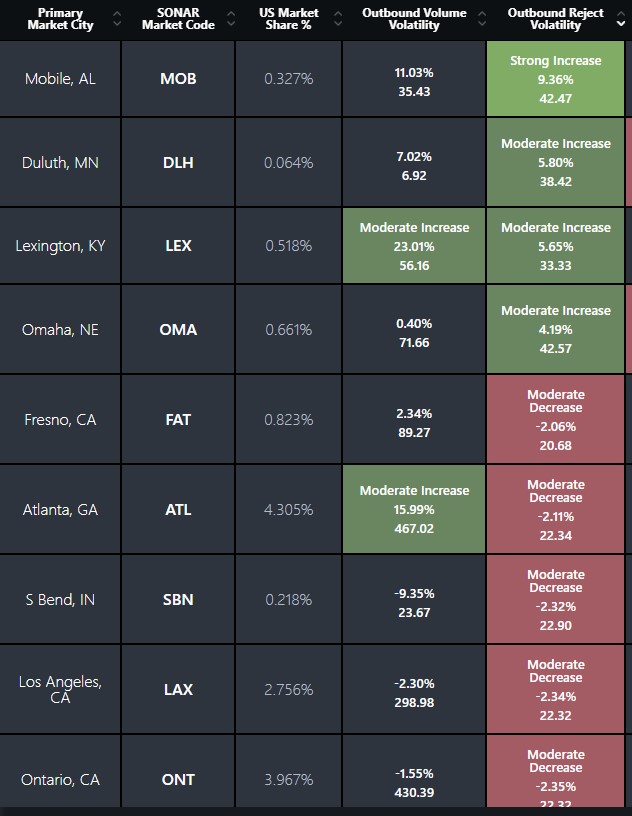 Spot Market Rates & Volume
(Below stats from Dec 28 - Jan 3) Load posts increase by 21.3% in the final week of 2020 as shippers tried to get as much freight out before year-end on the spot market. Rates on reefer shipments soared to an average of $2.93 mile!
Overall Spot load posts went up 21.3% w/w, up 8.1% m/m and up 69.4% y/y
Dry Van: Load-to-truck ratio went up 51.0% w/w, up 7.7% m/m and up 46.7% from 2019.
Dry Van Spot Rates: Rates are up 3.0% w/w, up 1.0% m/m, and up 26.8% y/y
Reefer: Load-to-Truck ratio is up 59.1% w/w, up 9.4% m/m, and up 22.9% y/y.
Reefer Spot Rates: Rates are up 3.3% w/w, down -0.6% m/m, and up 16.2% y/y.
Fuel prices have risen by 2.3% w//w.
(Information courtesy of DAT Trendlines)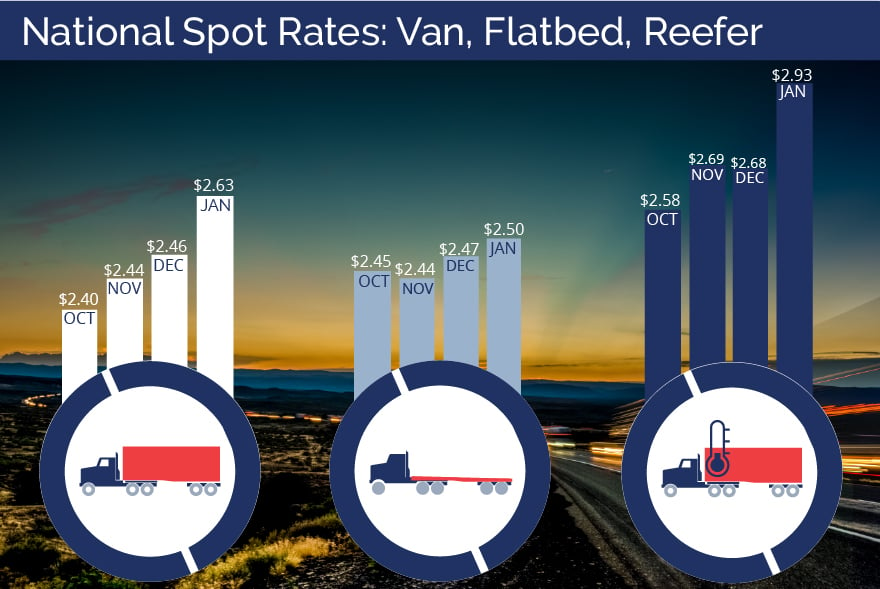 Market Conditions This Week
The maps below shows capacity across the United States. The dark red and pink areas (hot spots!) indicate capacity is tightening. The top map displays dry van capacity and the bottom map, reefer. Rates in the darker red areas typically will be higher than in blue areas.
Van capacity has tightened across the Eastern half of the country, affecting areas like Tennessee, Alabama and the Carolinas as well as Pennsylvania and the Ohio Valley.
Reefer capacity shortages, as usual, are more widespread throughout the country, affecting states from southern California, Texas, Idaho, Washington and Oregon to central and eastern cities as well. You can expect rates to be higher in these areas.
(Maps courtesy of DAT Market Conditions)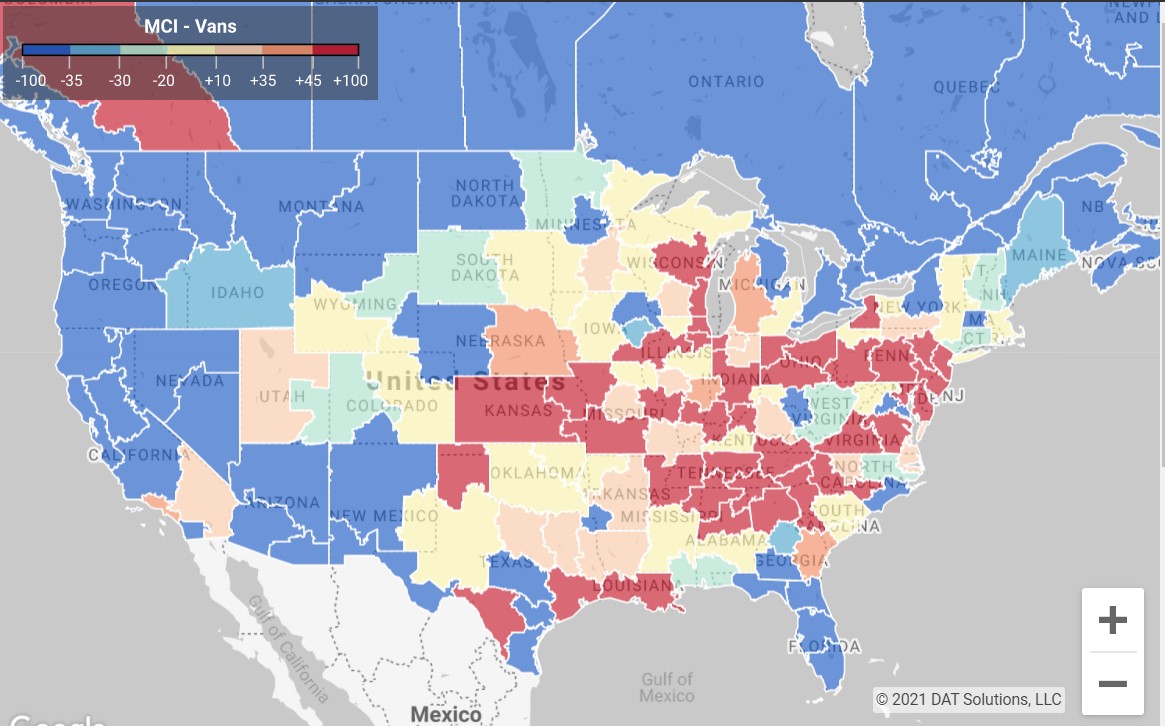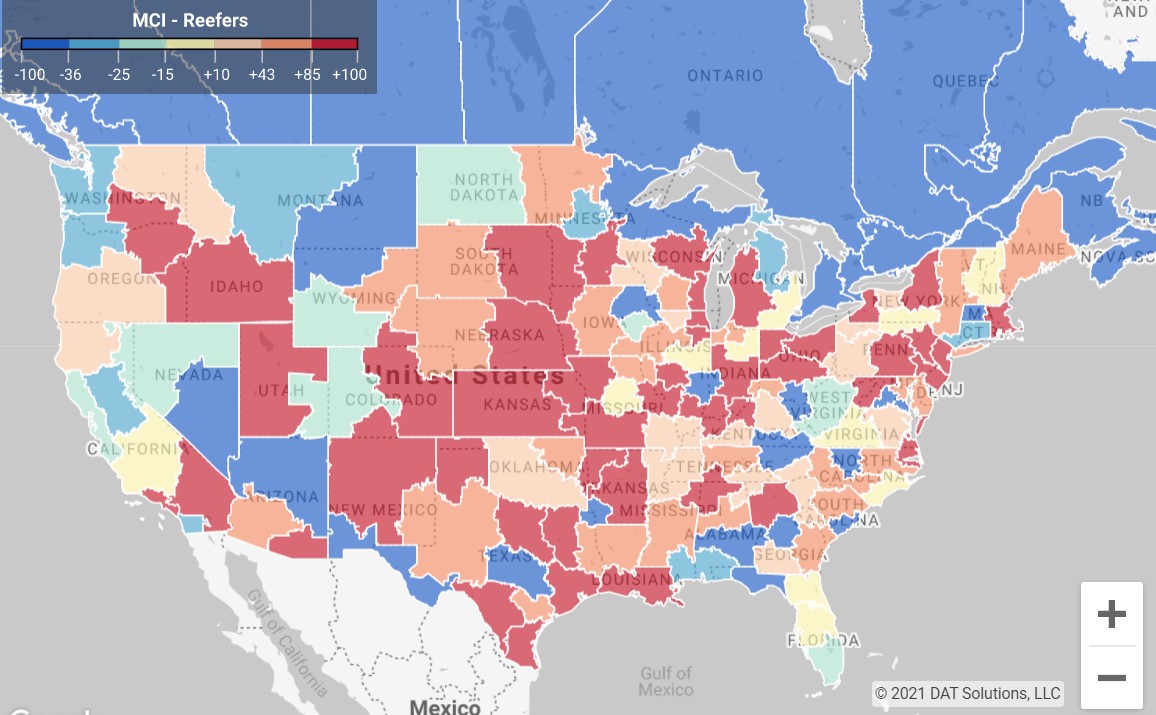 Have a Question? Ask one of our Experts
Do you have specific questions about the freight market in your area? Don't hesitate to ask us. Your sales representative or a member of our professional logistics team is ready to help, so give us a call! 800.568.2240.
__________


---