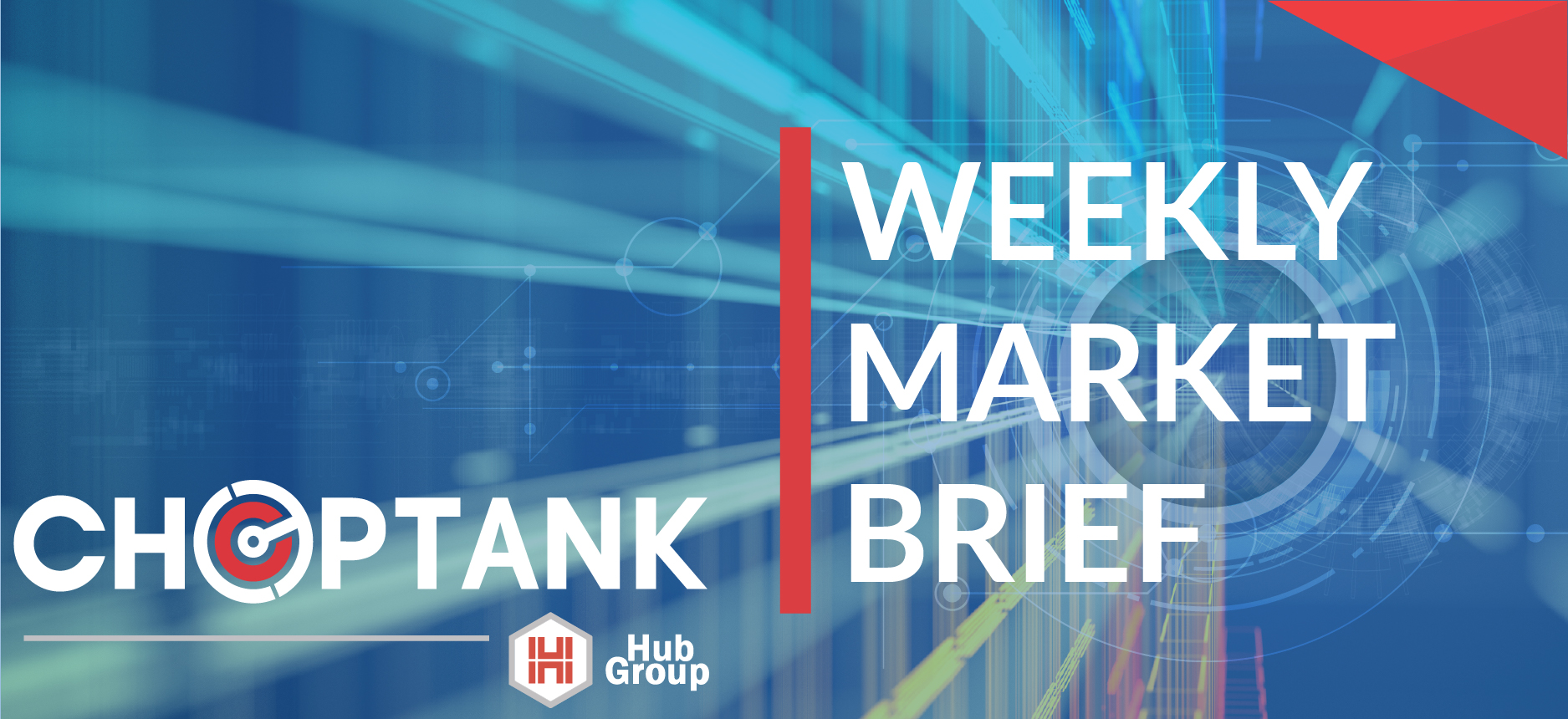 Will Christmas Inventory Backlog = New Year's Surplus?
December 7, 2021
The Choptank Weekly Market Brief is offered exclusively to Choptank Transport customers to provide accurate, timely, and relevant freight market information. The contents of this brief are collected from reputable sources including DAT, Freightwaves/Sonar, Truckstop.com, the Department of Labor, the Department of Transportation, and other sources as cited throughout the brief.
December is typically a time when people reflect on the good and the bad of the previous year. Christmas is only three weeks away and, with containers still sitting on vessels at sea, companies are re-evaluating their supply chains more than ever. For large companies that want to avoid a repeat of this year's Q4 constraints, the idea of taking control of their own supply chains seems to be gaining in popularity.
We have heard about companies such as Target, Walmart, and Home Depot chartering their own vessels to ensure delivery of goods in time for the holidays. This month, some brand-name manufacturers have decided that buying their own logistics company will ensure future capacity. In November, American Eagle Outfitters purchased Quiet Logistics and on November 22, Ashley Furniture announced that it had acquired certain assets from Wilson Logistics.
Others think that putting younger drivers behind the wheel of tractor-trailers in 2022 will alleviate the supply chain woes that defined the industry this year, but it is a hotly debated topic due to safety concerns. Non-military drivers under the age of 21 have not been allowed to drive across state lines in a semi-truck, but the new infrastructure bill could soon change that. Read more about teen drivers.
With some inventory stuck on vessels or at ports that may never make it to stores before the new year, it begs the question...will there be a glut of unwanted inventory after the first of the year?
Today's Chuckle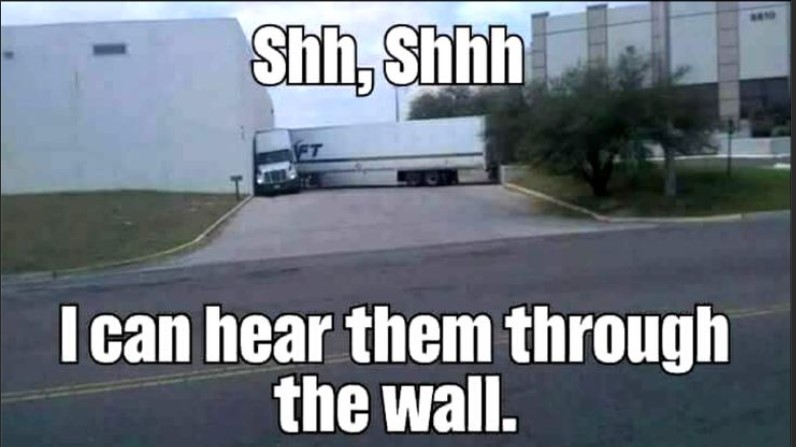 Source: (1205) Pinterest
---
This week's video
In a Clogged Supply Chain,
How Does Amazon Do 2-Day Delivery?
Inside an Amazon warehouse, efficiency on steroids
Source: NBC Nightly News
Number of the Week
63%
Inflation has hit your morning breakfast. The Financial Times breakfast indicator, based on futures prices for coffee, milk, sugar, wheat, oats, and orange juice, has shot up 63% since 2019.
________________________________
Did You Know?
For every extra $1 billion in e-commerce sales in the U.S, 1.2 million square feet of warehouse space will be needed, according to a report by the real estate investment trust Prologis. (Read the story.)
What's Up in the Truckload Spot Market?
November 29 - December 5, 2021: According to DAT Trendlines, "Spot rates for all three equipment [types] remain higher than where they were before Thanksgiving. DAT is still seeing around 25% of total freight volume moving on the spot market, which is keeping spot rates 46% higher than the average rate during the four pre-pandemic years."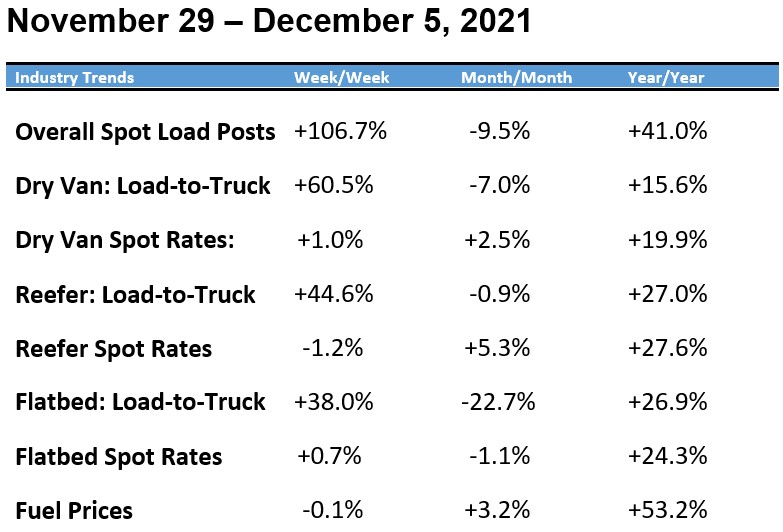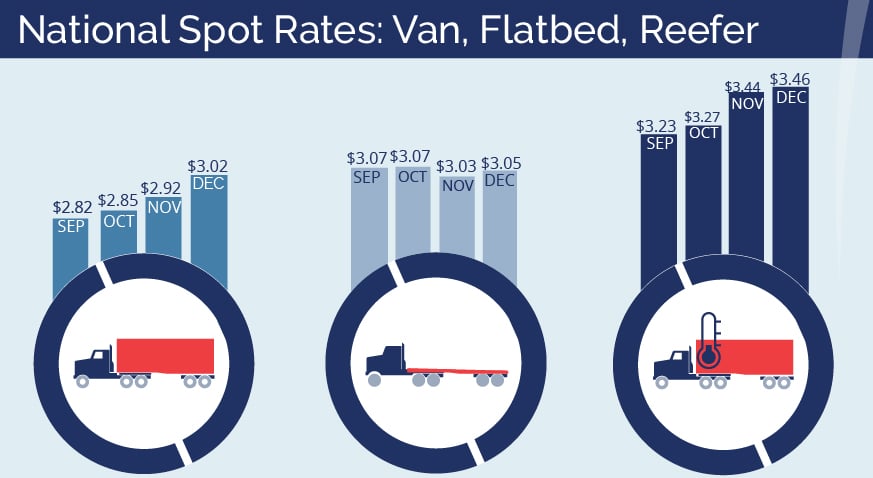 Markets with the largest daily increase in tender REJECTIONS. (Source: Freightwaves)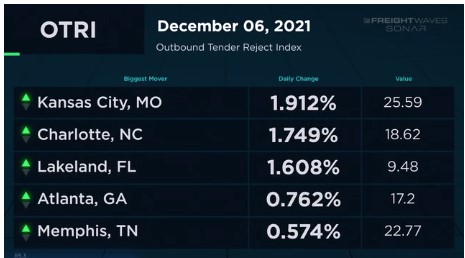 Markets with the largest daily increase in tender VOLUMES. (Source: Freightwaves)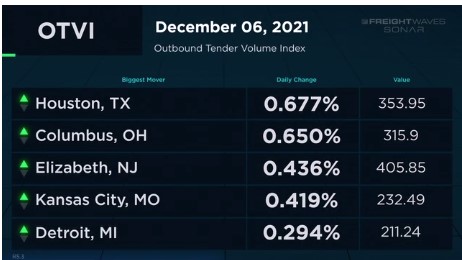 Van Outbound Tender Volumes
According to Freightwaves, the data shows capacity getting tighter for refrigerated freight in the Midwest and Pacific Northwest this coming week. The Northwest is experiencing rate increases on the spot market heading into Christmas as the market gets tighter there as well. Southern California's capacity is tight, but trucks are available; just expect to pay elevated prices.
It is normal this time of year for volumes to uptick right after the Thanksgiving holiday, but this year they actually dipped lower than they were in 2020 (Note on the chart below how the blue line in late November-early December dipped below the yellow during the holiday break). They are now climbing back up, as expected. Will they reach all the way back up to 2020 levels this week?
The chart below shows national outbound tender volumes, blue = 2021, yellow = 2020, green = 2019.
(Chart: Freightwaves/Sonar)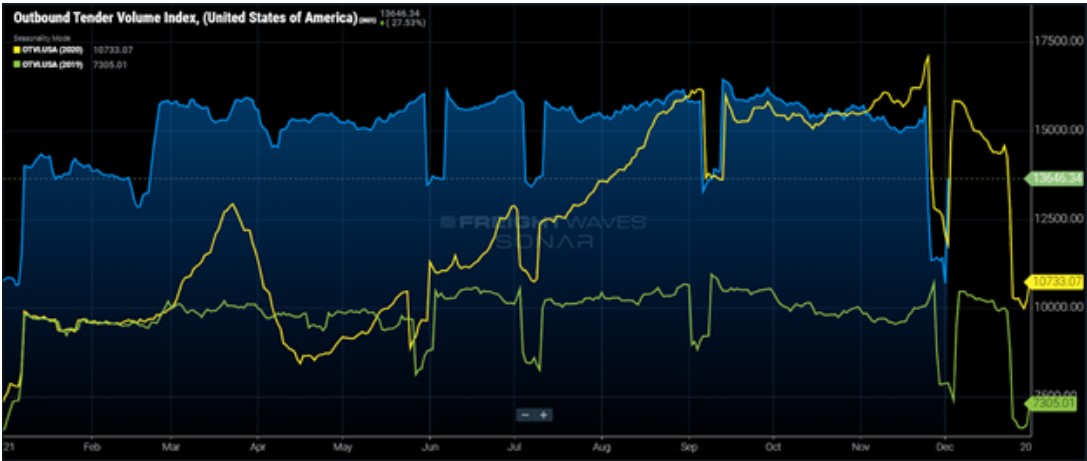 National Outbound Tender Rejections
Shippers can expect rejection rates to be either flat or slightly elevated next week, according to Freightwaves analysts. Rejections currently are hovering around the 20% mark, at 19.68, and have remained between 20%-25% all year.
The dip in rejection rates compared with last year (7%) can be attributed to the rise in contract rates. Carriers who accept higher contract rates are less likely to reject freight.
Demand remains strong, and it is normal for rejections to increase slightly at this time of year. Shippers who make sure they keep their lead times in the 3-day neighborhood will have less trouble if tight capacity suddenly spikes.
The chart below (Freightwaves/Sonar) shows the outbound tender rejection index in blue YTD, compared with the rate per mile data in green.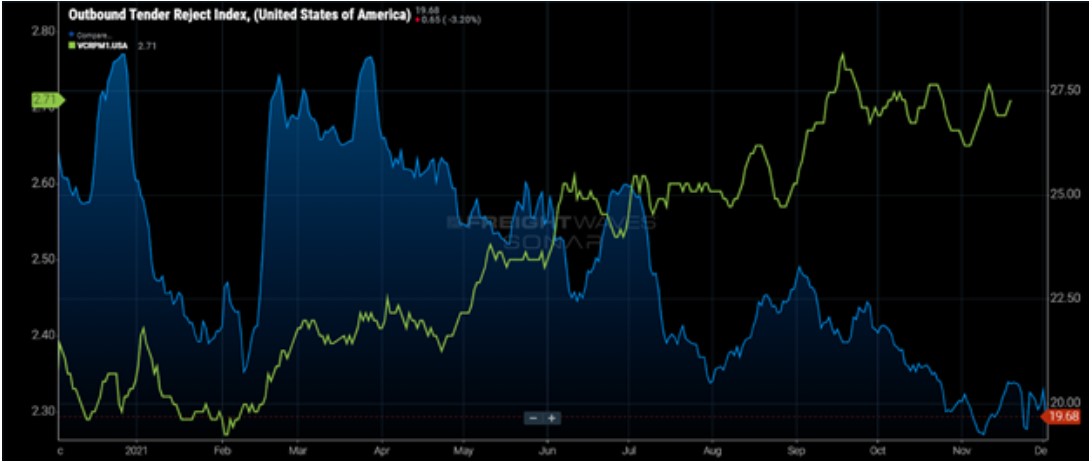 Rail/Intermodal
Intermodal contract rates are up 14% on a quarter-to-date basis from last year, according to Freightwave's SONAR data, rising 6% from this year's previous quarter.


Freightwaves' Daily Watch reports, "Hub Group CEO Dave Yeager shared his views on domestic intermodal pricing in 2022 on a recent industry webinar. He said that intermodal shippers that last repriced their contracts in early 2021 should expect about a 20% rate increase. In addition, he noted that shippers that last repriced their intermodal contracts relatively late in 2021 should still expect to see a double-digit contract rate increase next year."
The chart below (Freightwaves/Sonar) shows intermodal rates averaging $1.82 per mile from the past quarter where the average base rate was at $1.71, both not including fuel surcharges.

Ports/Ocean Freight
Vessel traffic leaving China for the United States has been falling since the end of September as shown in the Freightwaves/Sonar chart below. Backups at ports in the U.S., however, have not only continued but are expected to rise over the next two weeks as shippers desperately try to get inventory on the road and in stores.
Transport Topics reported the vessel count as of November 30 at 49 ships, a marked improvement from earlier numbers. But now, the count is back up to a staggering 96 container carriers, Bloomberg reported on December 4, 2021.
Forecasts show that a 15-20% dip is expected in daily TEU volumes departing from China on their way to the U.S. The red line in the chart below is Freightwaves IOTIY, an acronym for the percent change from 1 year ago in the outbound ocean TEUs volume index of freight moving from China to the U.S.
Economic News
Last week's update, as reported by Baltimore-Washington Financial Advisors:
(December 3, 2021)
Employment rose by only 210,000 in November, well short of this year's monthly average of 555,000.

According to the IHS Markit US Manufacturing Purchasing Managers' Index™, production rose in November, but at the second-slowest rate since September 2020.

The IHS Markit U.S. Services PMI Business Activity Index registered a subdued 58.0 in November, down from 58.7 in October. (ISM manufacturing index shows 61.10. See chart below.)

For the week ended November 27, there were 222,000 new claims for unemployment insurance, an increase of 28,000 from the previous week's level.
Source: BWFA

Source: YChart
Employment News
For two consecutive months, more than 500,000 positions have been added to the labor market by U.S. employers accompanied by an unemployment rate lower than 4.5%.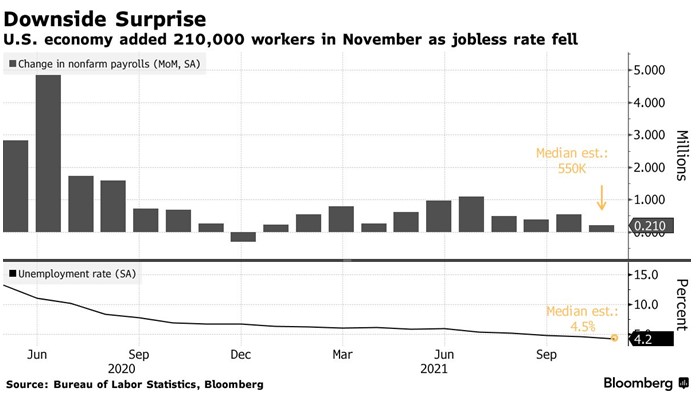 Market Conditions
This morning's market conditions are shown below for the previous day for van, reefer, and flatbed. Areas in red exhibit areas of extremely tight capacity.
Van Capacity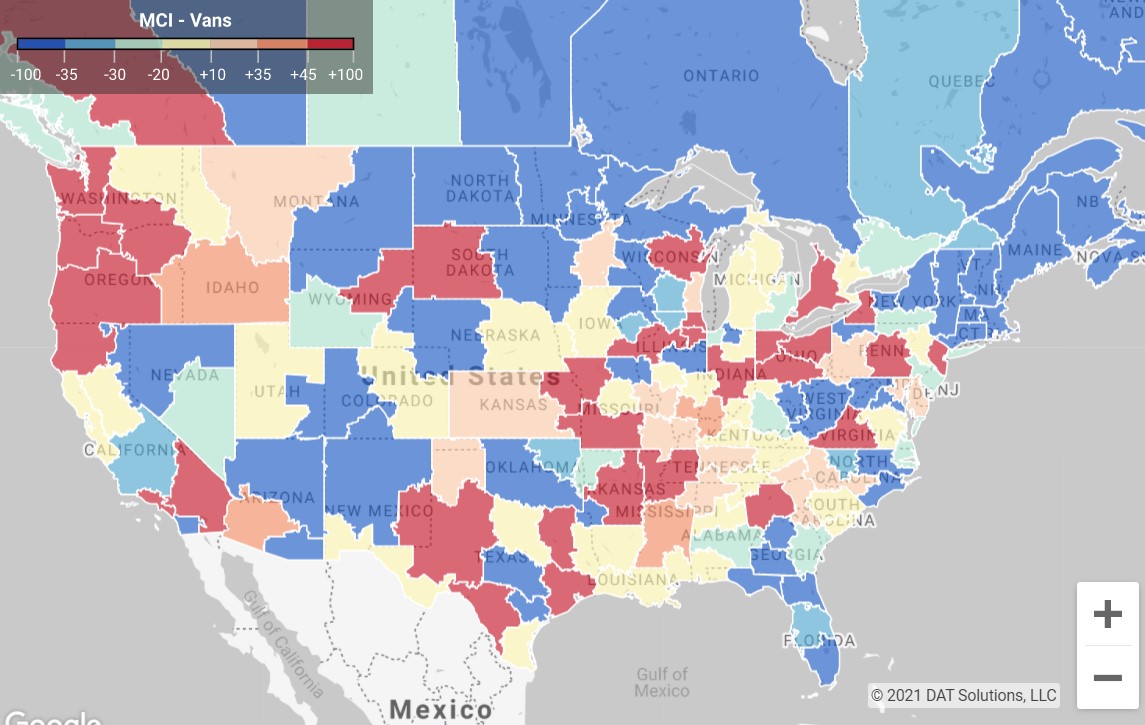 Reefer Capacity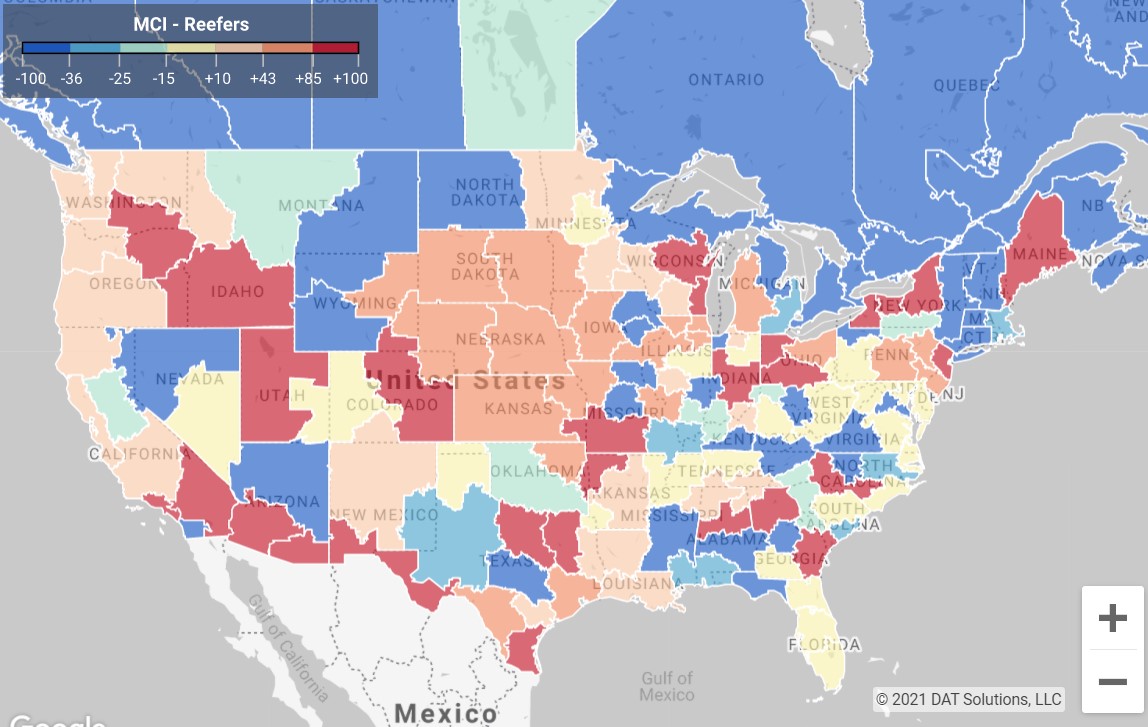 Flatbed Capacity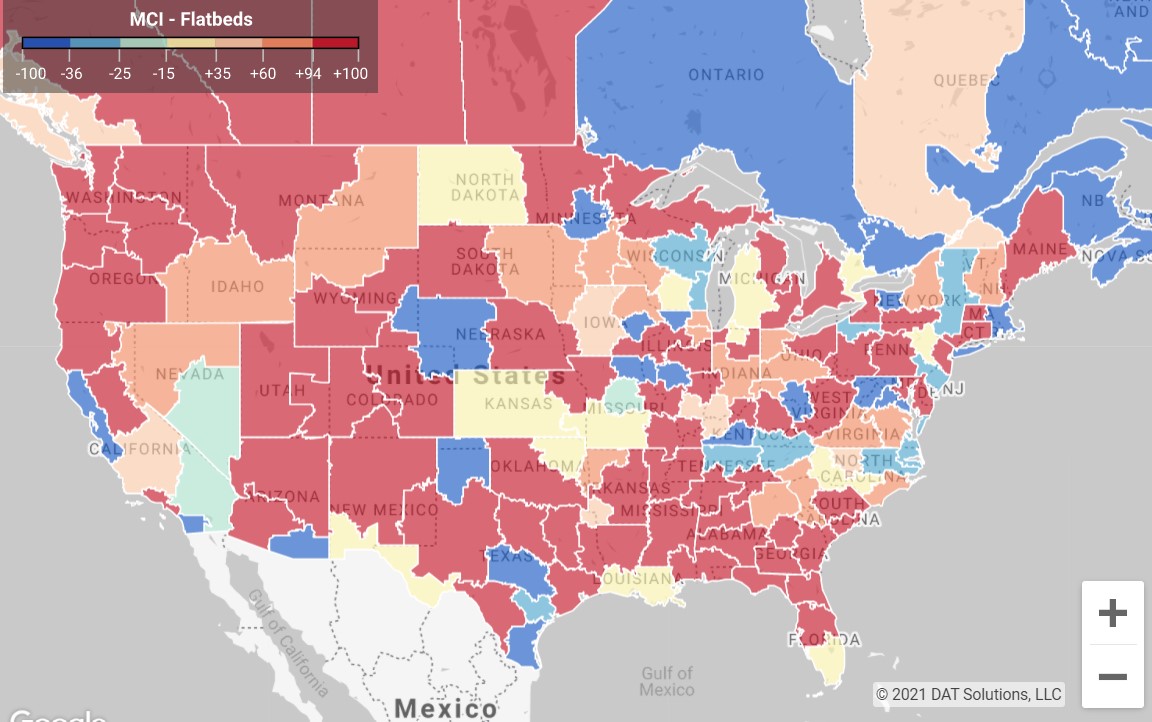 Shippers rely on the relationships they have with their 3PLs to ensure a smooth continuation of service whenever capacity gets tight. We hope you will continue to count on Choptank for all your freight needs, whether it be dry van, reefer, truckload, LTL, intermodal or cross-border shipping.
We would love to hear from you
What do you think about the Choptank Transport Market Brief? Do you find it helpful? Is there additional information you would like us to include or is there information you don't find relevant? Send comments to: marketing@choptanktransport.com
Have a Question? Ask one of our Experts
Your sales representative or a member of our professional logistics team is ready to help, so give us a call! 800.568.2240. If this information was forwarded to you and you would like to receive it, sign up here.