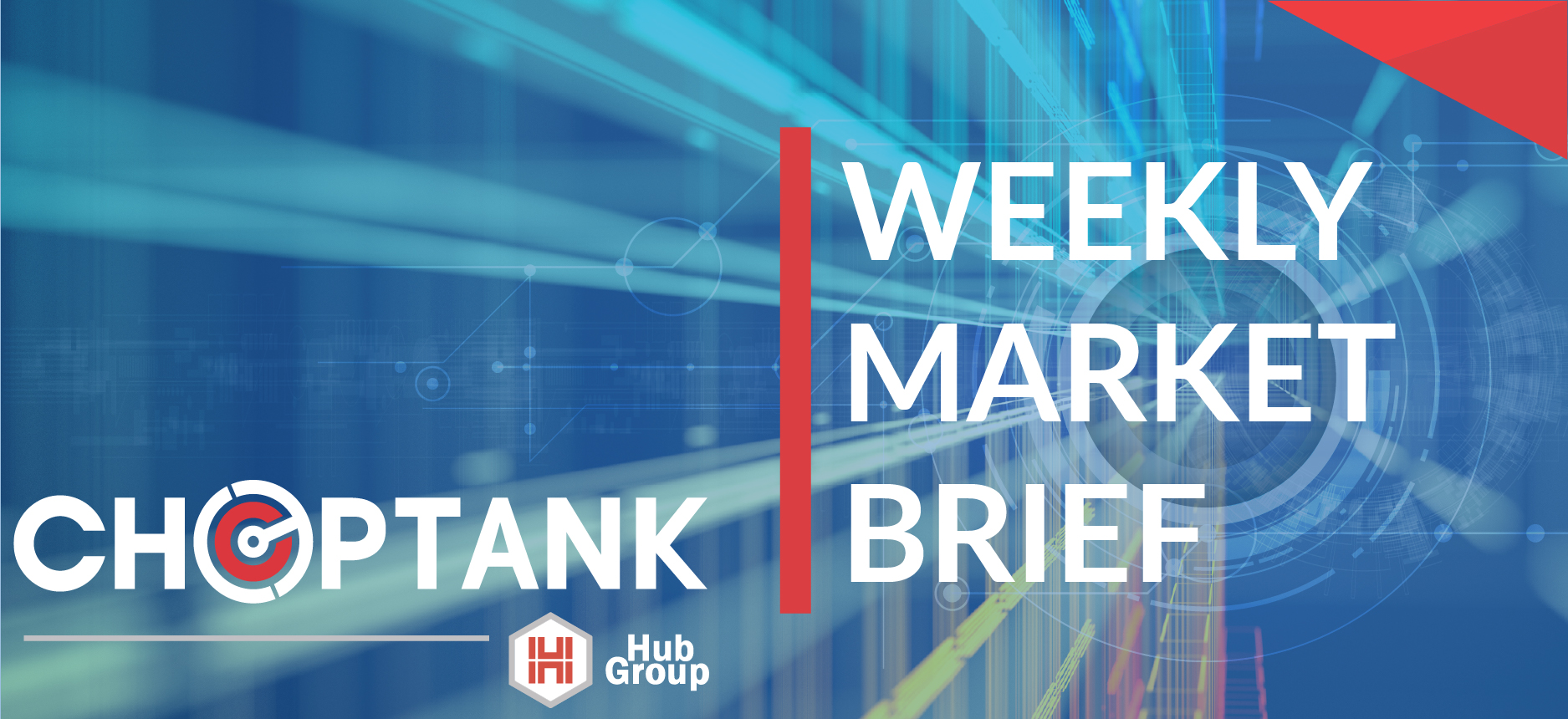 2021 Review and Outlook
December 21, 2021
The Choptank Weekly Market Brief is offered exclusively to Choptank Transport customers to provide accurate, timely, and relevant freight market information. The contents of this brief are collected from reputable sources including DAT, Freightwaves/Sonar, Truckstop.com, the Department of Labor, the Department of Transportation, and other sources as cited throughout the brief.
Good morning, and Happy Holidays!
Just a quick note. There will be no market brief on Dec 28th, 2021.
As much as we would like to stick a fork in it and say "done," it doesn't seem like the pandemic is through with us humans just yet. December 2021 is a little reminiscent of Bill Murray waking up on repeat in the movie Groundhog Day. Here We Go Again headlines abound in the news.
As we come to the close of another year, the air is filled with a sense of that excitement and optimism that is unique to the holidays. In challenging times, such a momentary mood is a breath of fresh air, replacing the uncertainty and concern we have felt over the past 21 months by a world turned upside down by the pandemic.
A lot of good things happened this year. Logistics technologies saw continued advances such as route optimization, cloud-based TMSes, electric trucks, and warehouse automation, to name a few innovations. Vaccines were approved and administered, people began gathering at events again, restaurants filled up, and the world felt a little more normal – sort of.
But there were plenty of not-so-good things as well that defined 2021, like staring at empty store shelves, freaking out after paying the latest grocery bill, or trying to make a doctor's appointment when the Great Resignation has depleted most office staff.
For the supply chain, the industry has never been more robust, even despite its many challenges. It was a tough year for the ports, truck capacity was tight for most of the year, and shipping costs skyrocketed, but as Kelly Clarkson belts it out, "What doesn't kill you makes you stronger." The pandemic certainly put a spotlight on the vulnerabilities in our industry, but ultimately, it has had its benefits. It made the world re-evaluate, re-imagine, and reconfigure the way businesses handle their logistics. As we navigate the last week before Christmas, we should keep these things in mind.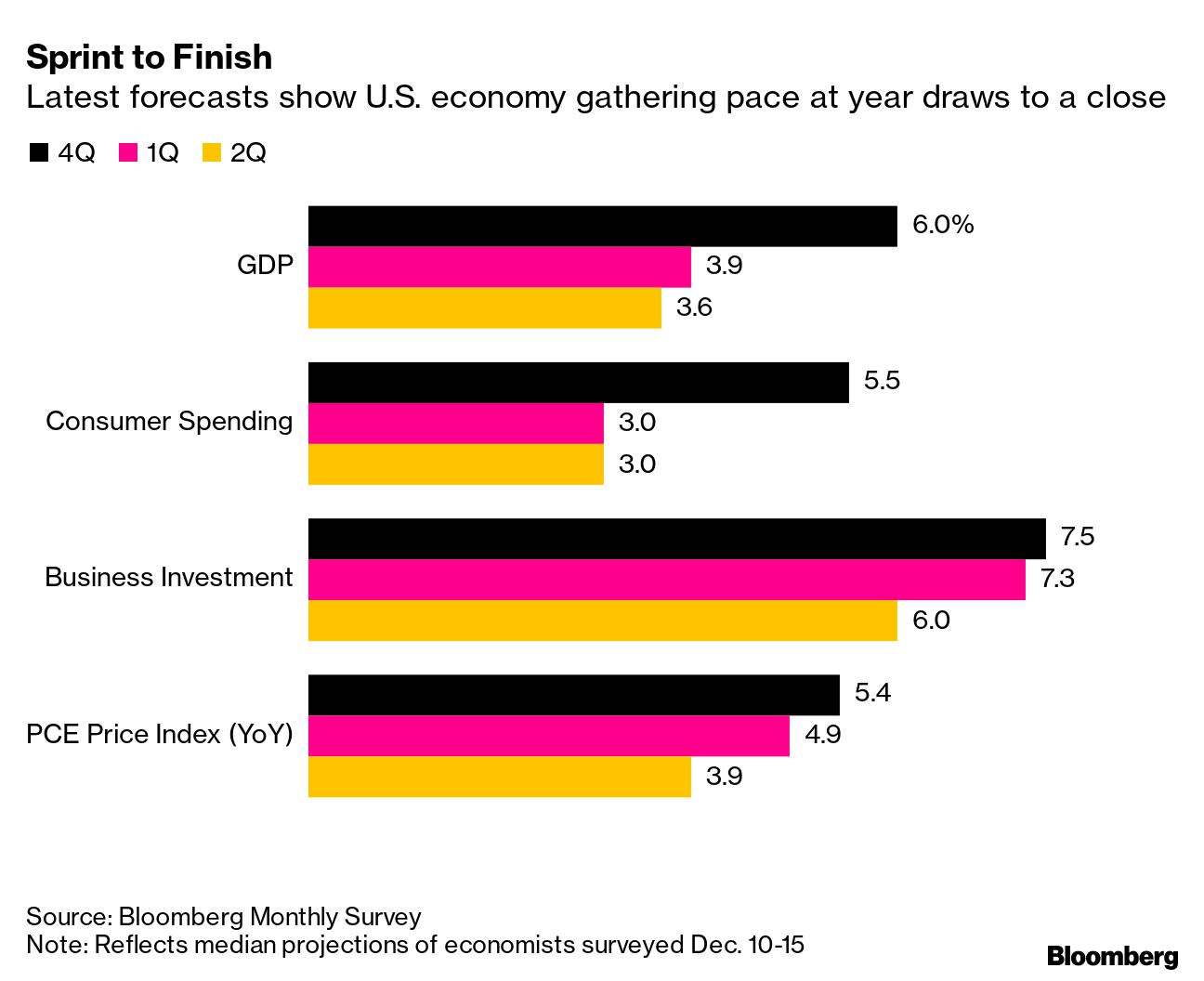 See the photo montage capturing the essence of the
supply chain this past year.
This week's video
Will We See More of Tesla's
Electric Semi Trucks in 2022?
Recent video footage of a Tesla electric truck in action.
Source: Twitter @teslaownersSV
THE YEAR IN REVIEW
Shippers Took Matters into Their Own Hands
Who would have ever guessed that retailers would wind up hiring their own vessels to get their goods delivered to market on time? In 2021, some did just that. No one would have ever imagined that a single TEU 20-foot container from China to the U.S. would cost as much as $20K to ship.
As trucking rates soared, transportation managers had to adjust their processes to try to mitigate the rapid increases in costs. An article in Supply Chain Dive pointed out, "Many revamped contracts to guarantee space, while others doubled down on their private fleets."
COVID-19
2020 was the year we watched the pandemic spread across the world, showing us how vulnerable we all are and how modern transportation so quickly connects the entire globe. For the supply chain, it set into motion a series of events that created 2021's port congestion, inventory shortages, and escalating shipping costs. Americans are still trying to process what happened over the past two years.
2021 was the year we watched the battle between man and virus through the use of vaccinations. Whenever we thought we were winning the war, nature wielded another variant wilier than the one before. The world's transportation networks have never been more challenged with each surge of the pandemic. Is this number four?
Unprecedented Events in the Supply Chain
There were other events that affected the supply chain this year, causing more disruptions and delays. No one will ever forget the news coverage of the Ever Given, the mega-ship that got stuck sailing sideways through the Suez Canal. Not only did running aground delay the thousands of containers on board the vessel, but it also clogged the passage of dozens of other ships.
Another blow to the supply chain happened in July when Union Pacific decided to stop container rail traffic from West Coast ports to Chicago due to the massive amount of freight coming out of the ports. The idea was to allow existing freight to move through the system before adding more to the backlog.
And then there were the Yantian & Ningbo port closures brought on by various outbreaks of the virus, delaying ships from departures and creating more backups at the destination ports when things ramped back up and arrivals happened all at once on the West Coast. Vietnam also has suffered from spikes in COVID-19, which affected many of our favorite store brands.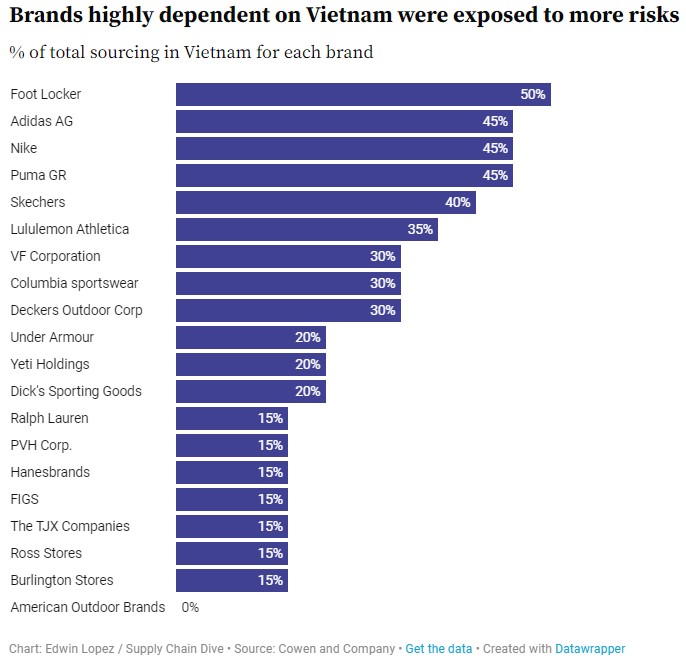 Nature versus the Supply Chain
There were twice as many wildfires in California this year compared with last year, which was already a record-setting number from previous years. Western wildfires interrupted major transportation routes not just in California, but Oregon, Colorado, Washington, and Nevada.
And then there was the rogue deep freeze in Texas. With almost 4 million Texans suddenly without power for days, capacity to this area was suddenly needed for food and supplies, which took trucks away from their regularly scheduled routes. Luckily this was only a short-term disruption, but a disruption, nonetheless. Add to that the category 4 Hurricane Ida in August that hit Louisiana, and the recent devastating tornado outbreak in Kentucky that recently killed 78 people and swept away two babies in a bathtub (who both survived).
Government Matters and the Supply Chain
So, if we are talking about The Good, the Bad, and the Ugly of 2021, we can't talk about the Good without mentioning the $1.2 trillion infrastructure bill that just passed. The bill includes $550 billion in new spending on highways, bridges, and other transportation-related improvements that will make the roads safer for our carriers and our shippers' freight.
And speaking of the Good, the acquisition of Choptank Transport by Hub Group is right there at the top of the list. Both Choptank and Hub Group customers will see a tremendous benefit from the acquisition as it continues to be a powerhouse of premier supply chain solutions, second to none in the industry.
THE YEAR AHEAD
Making predictions for the year ahead is hard to do when there are so many variables in play. The good news is the economy is still remarkably healthy. Even with the headwinds created by supply shortages and inflation, people continue to spend money. Supply chain gurus believe that the ports will remain busy well into 2022 as processing the backlog of freight continues.
Restocking also will remain a key factor in fueling the freight market in 2022. What little progress has been made in replenishment prior to the holidays most likely will be depleted again after the Christmas rush, a further indication of a strong freight market in the coming year. According to a report from Federal Reserve Economic Data in September, the inventory-to-sales ratio was 1.09 versus 1.44 at the end of 2019.
Automation and technology are making great strides in the industry, and it will only get better in 2022. Already robotics has played an integral part in speeding up the manufacturing process and delivery of goods by pick-and-pack automation and advanced delivery capabilities. The chart below shows how robots are being used in the supply chain.

Source: Eleks.com
The wild card could be the spread of the recent Omicron variant or other possible new COVD strains. If the numbers of infected and hospitalized people continue to grow and disrupt factory production and port closures in Asia, we will undoubtedly feel the fallout here in the U.S. If we find ourselves in another lockdown situation, it also may mean a new wave of panic-buying and surge spending, perpetuating the increases in freight volume.
What's Up in the Truckload Spot Market?
December 6 - December 12, 2021: Spot market price fluctuations have calmed down after last week's elevated numbers due to the prior week's Thanksgiving holiday. Overall volumes are declining, as is normal for this time of year, while rates are holding steady.
This Week's Chuckle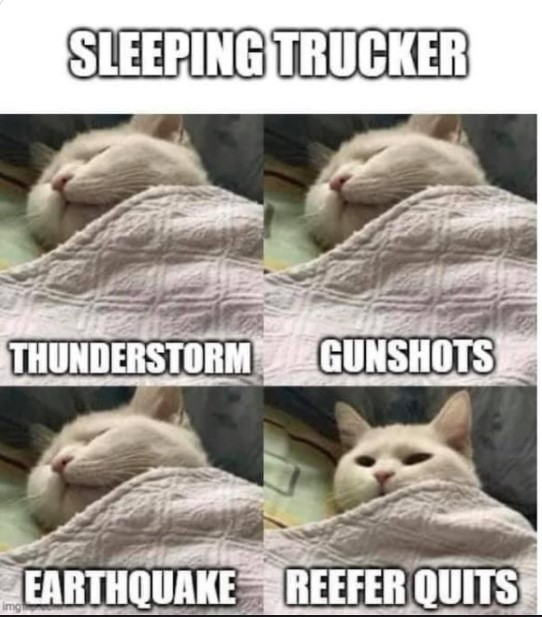 What's Up in the Truckload Spot Market?
December 13 - December 19, 2021: After two consecutive weeks of increases, the spot market fell slightly last week, but that is a small consolation when looking at prices compared with last year. DAT reported this week, " Spot rates for dry van, reefer, and flatbed carriers are still on average 14% or $0.35/mile higher than the same week in 2020."
Chart Below: Source is DAT Trendlines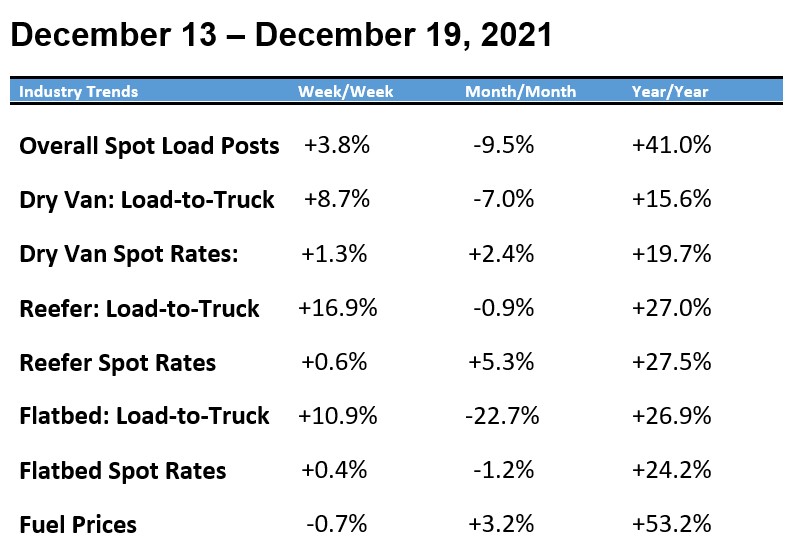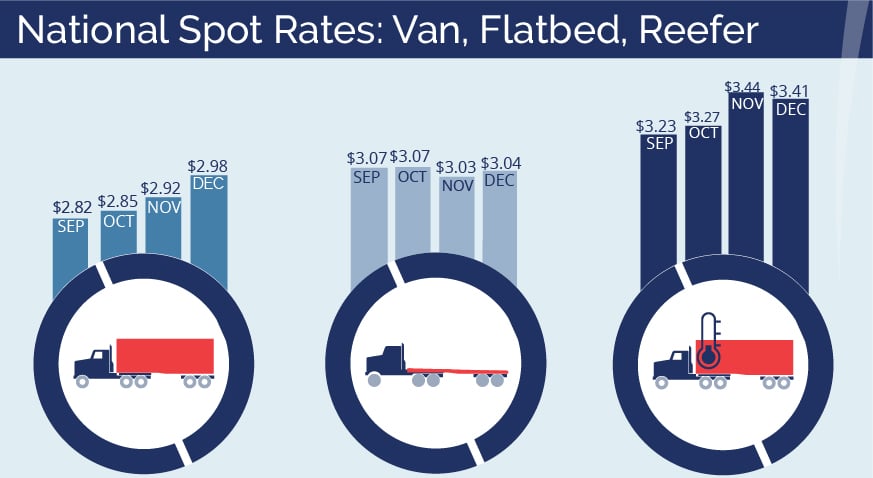 Markets with the largest daily increase in tender REJECTIONS. (Source: Freightwaves)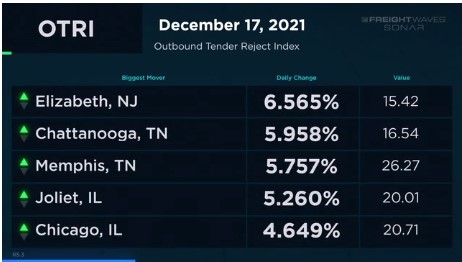 Markets with the largest daily increase in tender VOLUMES. (Source: Freightwaves)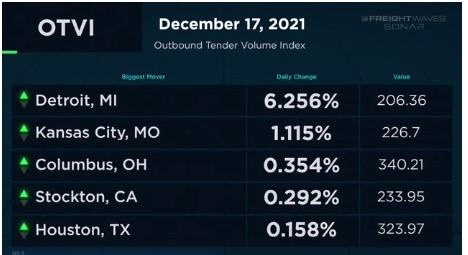 V
2021 National Outbound Tender Volumes
The national outbound tender volume index dropped this past week by 2.26% week-over-week. According to Freightwaves data, "Accepted volumes are currently up over 6% year-over-year, but fell by 3% week-over-week due to the drop in OTVI and rebound in OTRI."
Chart Below: Freightwaves/Sonar (Blue line represents 2021 volume and the orange line represents 2019-2020, and the green line shows 2018-2019 volumes.)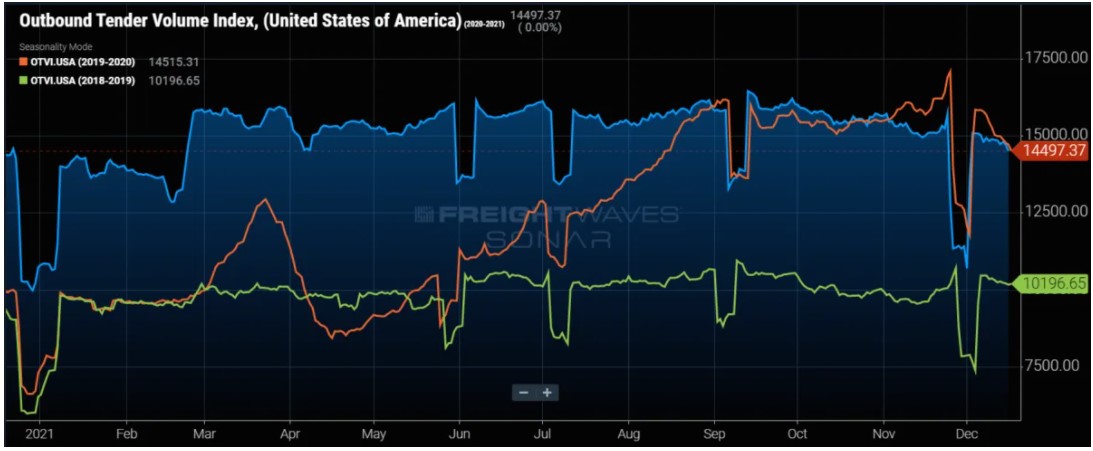 National Outbound Tender Rejections
The national outbound tender rejection rate is back up to 20% with 85 out of the 135 top freight markets seeing an increase in rejections this past week. All three modes saw increases with dry van seeing the largest week-over-week increase since September. Securing capacity for reefer and flatbed also still remains difficult.
Chart Below: Freightwaves/Sonar (The blue line represents 2021 rejections, the green line represents 2019-2020 rejections and the orange line shows 2018-2019 rejections.)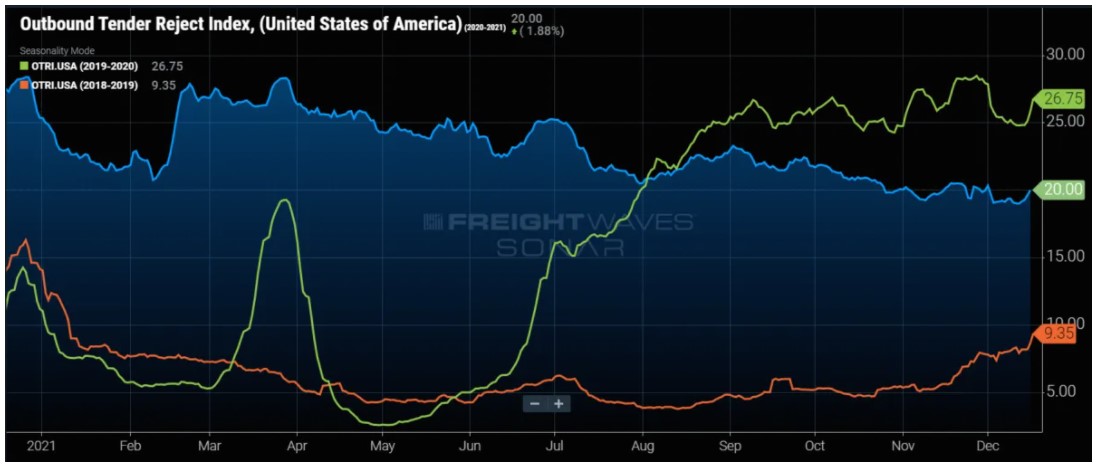 Rail/Intermodal News
In a report released mid-month by the Association of American Railroads ...
For the week ending December 11, 2021, total U.S. weekly rail traffic was 513,366 carloads and intermodal units, down 6 percent compared with the same week last year.
Total carloads for the week ending December 11 were 239,029 carloads, up 0.3 percent compared with the same week in 2020, while U.S. weekly intermodal volume was 274,337 containers and trailers, down 10.9 percent compared to 2020.
Five of the 10 carload commodity groups posted an increase compared with the same week in 2020. They included nonmetallic minerals, up 2,982 carloads, to 31,052; coal, up 2,979 carloads, to 66,762; and chemicals, up 2,706 carloads, to 35,297. Commodity groups that posted decreases compared with the same week in 2020 included motor vehicles and parts, down 3,660 carloads, to 13,953; grain, down 3,508 carloads, to 24,876; and miscellaneous carloads, down 516 carloads, to 9,459.
For the first 49 weeks of 2021, U.S. railroads reported a cumulative volume of 11,368,512 carloads, up 6.8 percent from the same point last year; and 13,464,361 intermodal units, up 5.6 percent from last year. Total combined U.S. traffic for the first 49 weeks of 2021 was 24,832,873 carloads and intermodal units, an increase of 6.1 percent compared to last year.
Ports/Ocean Freight
As ports across the world continue to struggle, it is no secret that end-to-end transit times for cargo have increased exponentially over the past few years, as the chart shows below. The question remains, has the situation gotten any better with government intervention and the scrutiny of so many nations watching our progress (or lack of progress)? The irony is that even though there are fewer containers sitting at ports, there are more ships waiting at sea than ever before.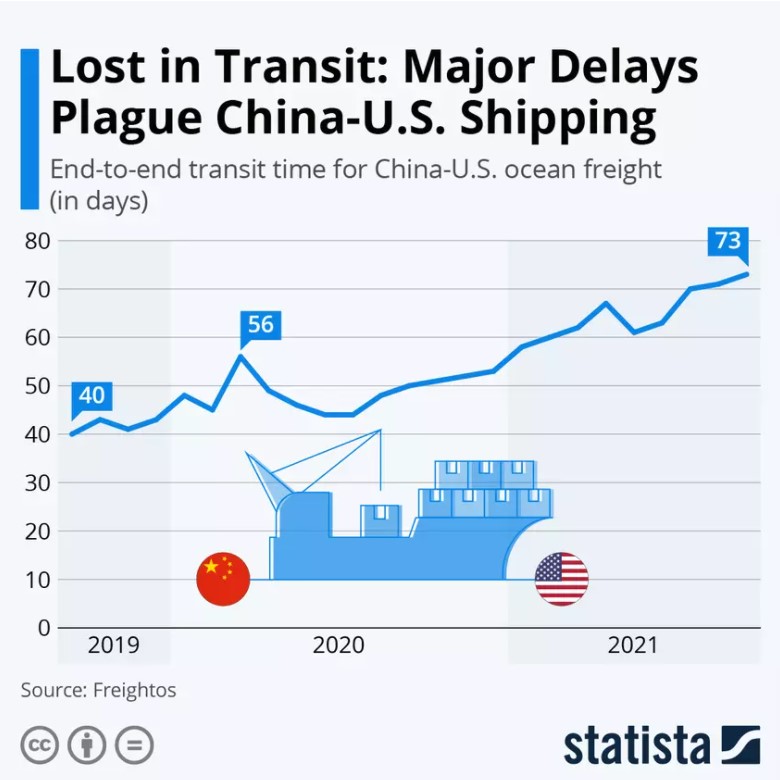 Economic News
Weekly market update as of December 17, 2021
The stock market took a hit last week, but other indexes were encouraging. As reported by Baltimore-Washington Financial Advisors:
Producer prices advanced 0.8% in November after climbing 0.6% in each of the previous three months. Producer prices have risen 9.6% over the past 12 months ended in November, the largest 12-month increase in the history of the index (November 2010).
Import prices increased 0.7% last month following a 1.5% increase in October. Prices for U.S. exports rose 1.0% in November after a 1.6% advance in October.
The Federal Reserve decided to keep the target range for the federal funds rate at 0%-0.25%. Inflation has exceeded 2% for some time, but the Committee expects it will be appropriate to maintain this target range until labor market conditions have reached levels consistent with the Committee's assessments of maximum employment. In light of inflation developments and further improvement in the labor market, the Committee will reduce the monthly pace of its net asset purchases by $20 billion for Treasury securities and $10 billion for agency mortgage-backed securities. Published projections showed that Fed officials believe economic conditions will call for three rate increases in 2022.
The number of building permits for new residential construction rose 3.6% in November. Overall, the number of building permits issued for residential construction is 0.9% above the November 2020 rate. Housing starts surged 11.8% last month, along with single-family housing starts (11.3%). Housing completions rose 4.1% in November from the previous month and were 3.1% above the November 2020 pace. Single-family home completions were essentially unchanged.
Industrial production rose 0.5% in November after rising 1.7% in October. Capacity utilization for the industrial sector improved 0.3 percentage points to 76.8% but was still 2.8 percentage points below its long-run (1972-2020) average.
Source: BWFA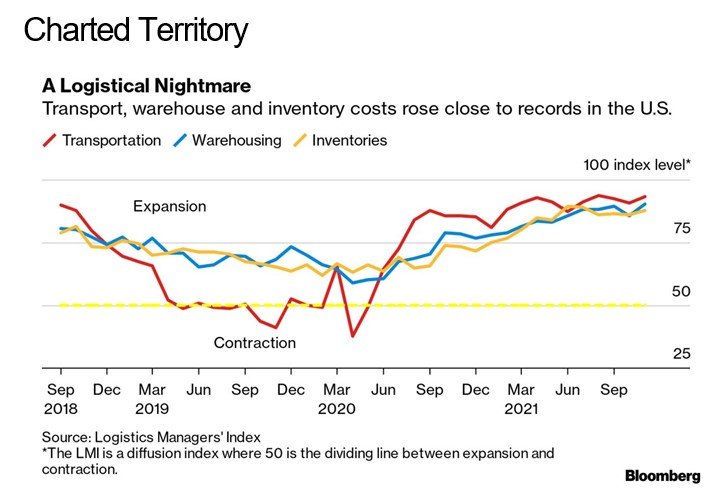 Retail Sales
Some analysts were disappointed with .3% growth of the index in the recently released November numbers, but retail sales saw double-digit growth for the year. (The chart below shows retail sales in blue compared with outbound tender volume in green.)
Source: Freightwaves/Sonar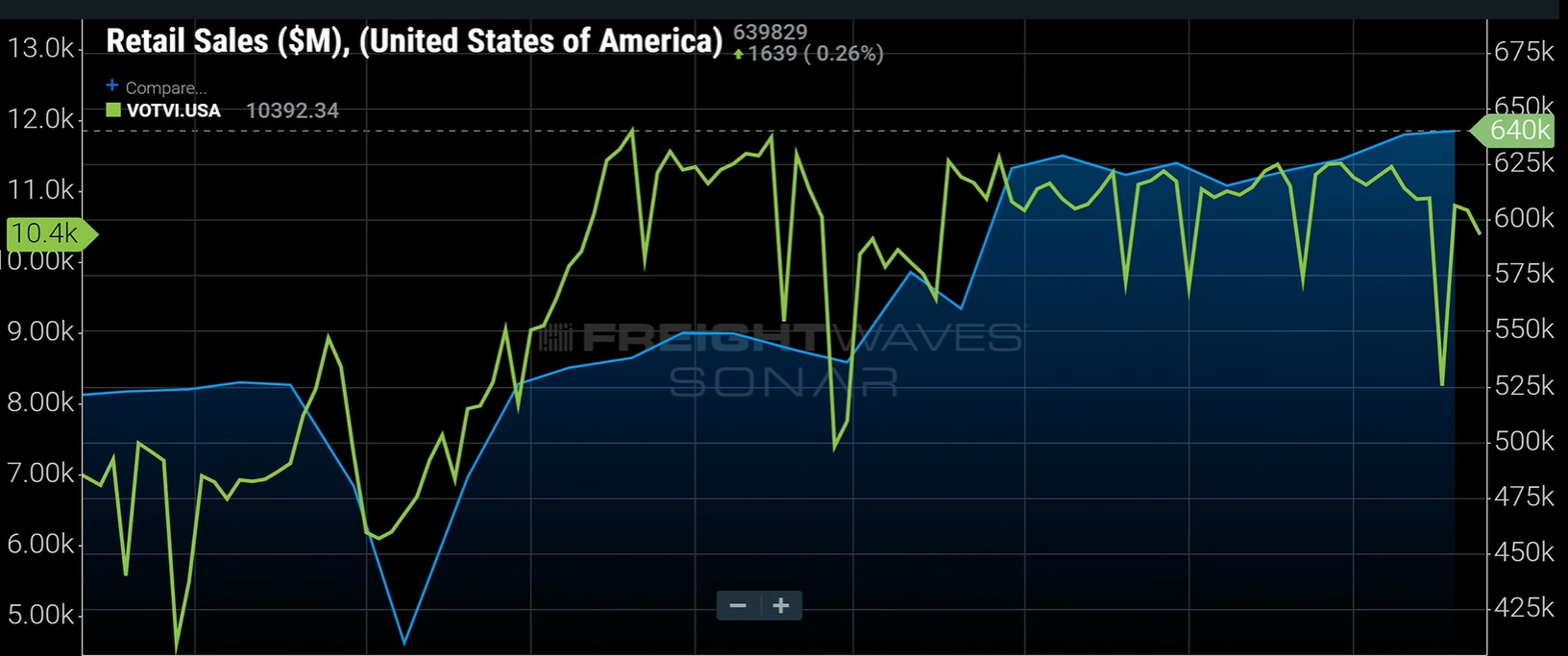 Manufacturing
The chart below shows orders in blue compared with flatbed outbound tender rejection rates. As you can see, there are a healthy amount of orders in the pipeline moving into next year.
Source: Freightwaves/Sonar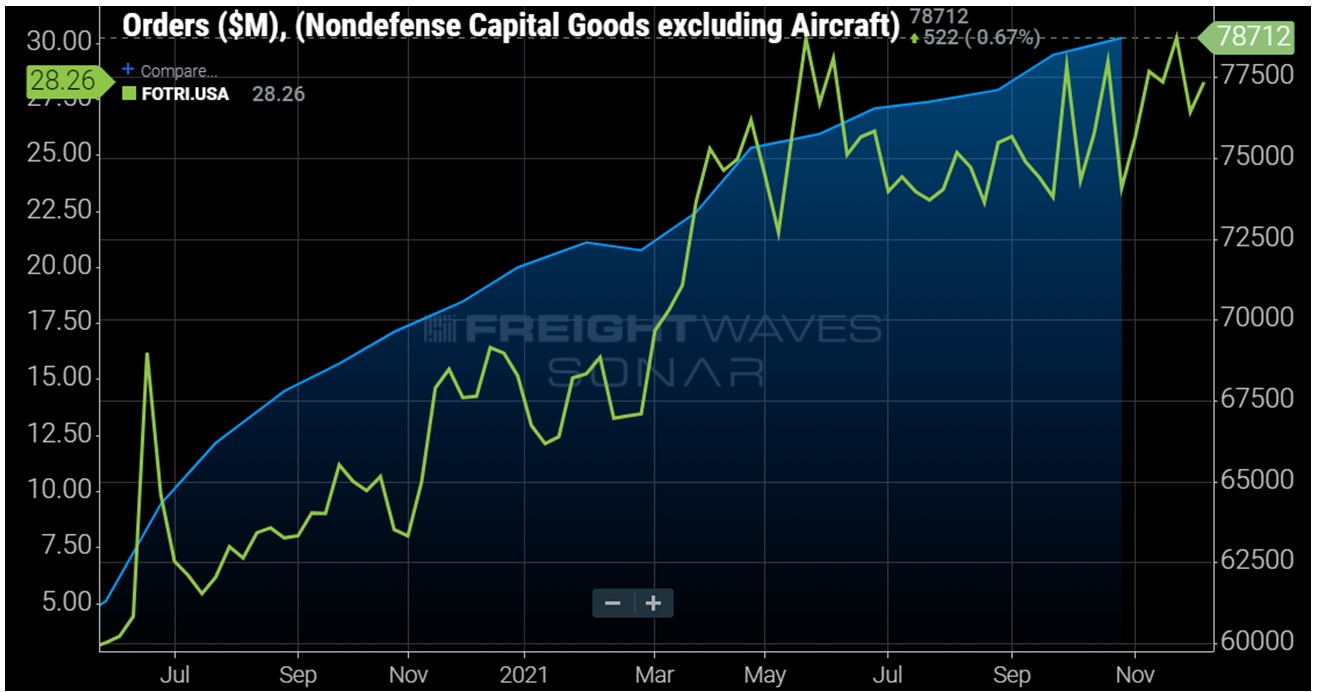 Market Conditions
This morning's market conditions are shown below for the previous day for van, reefer, and flatbed. Areas in red exhibit areas of extremely tight capacity.
Van Capacity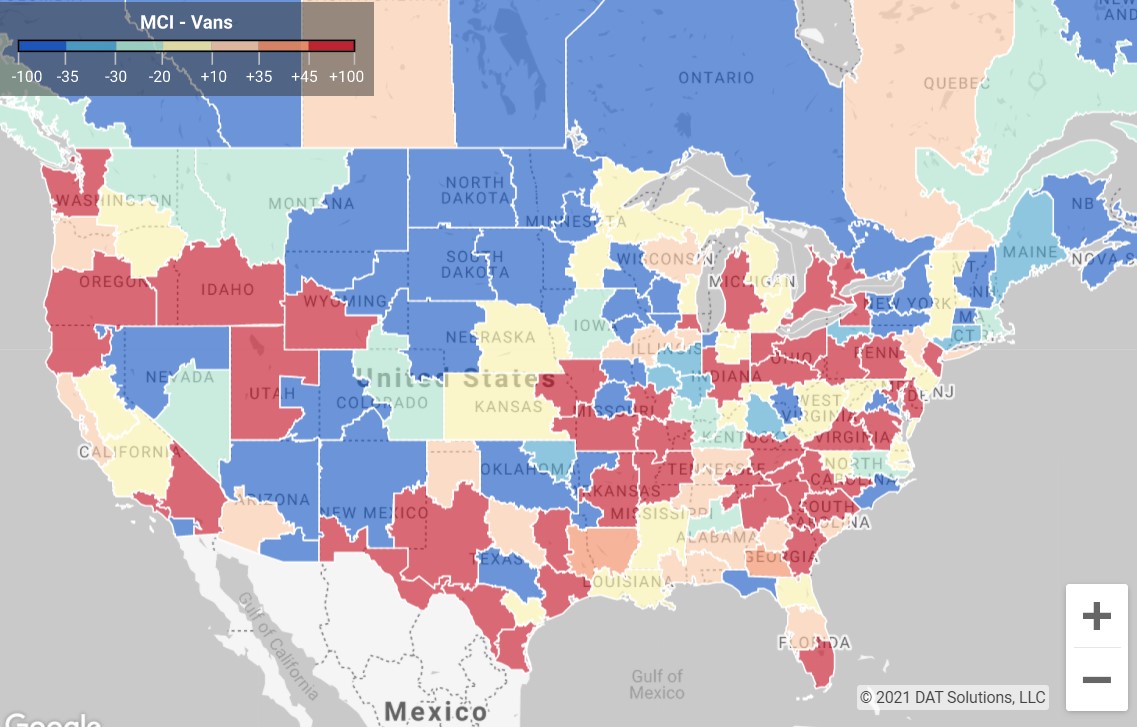 Reefer Capacity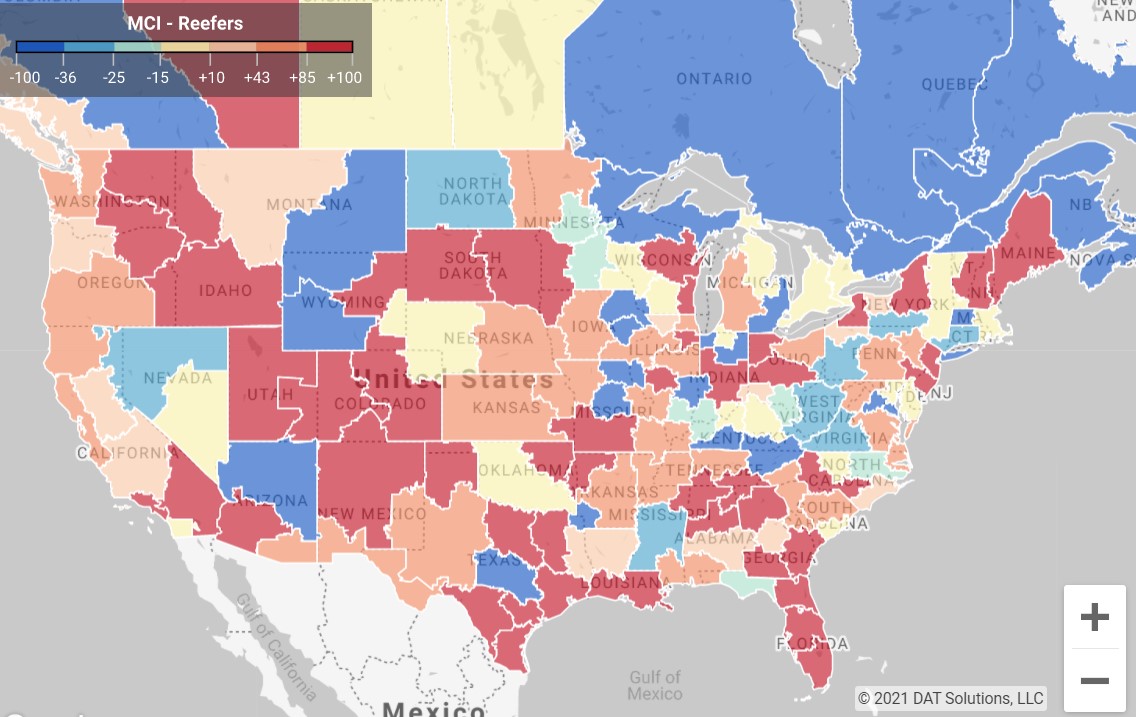 Flatbed Capacity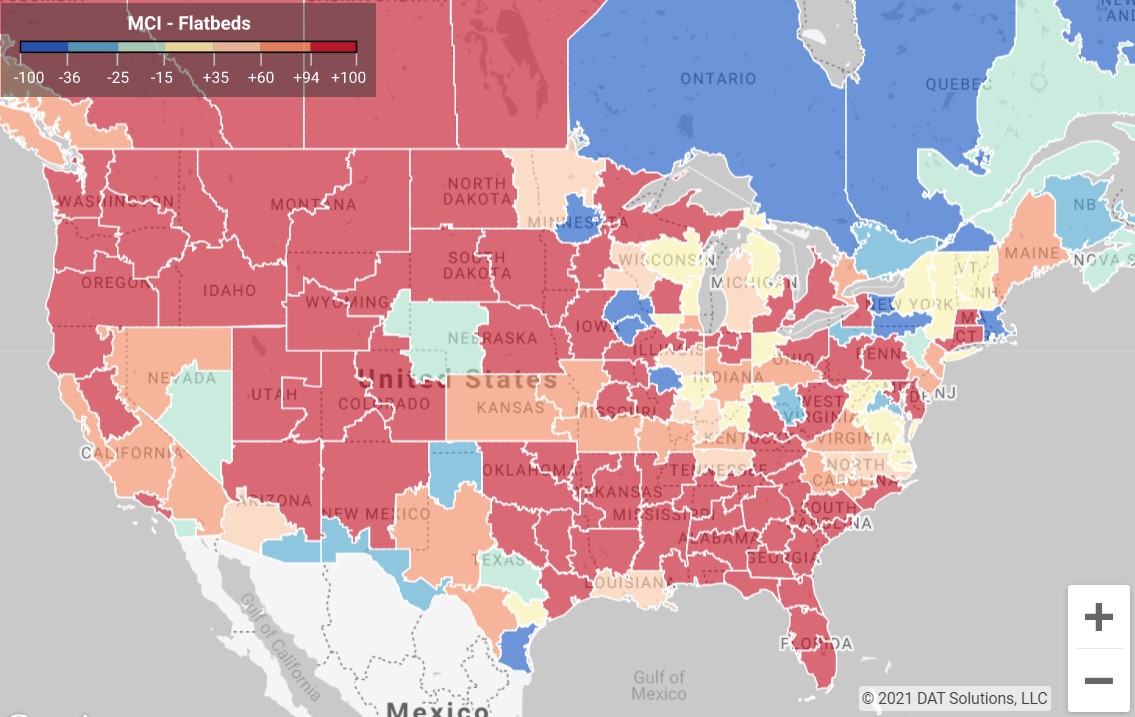 ---
Shippers rely on the relationships they have with their 3PLs to ensure a smooth continuation of service whenever capacity gets tight. We hope you will continue to count on Choptank for all your freight needs, whether it be dry van, reefer, truckload, LTL, intermodal or cross-border shipping.
We would love to hear from you
What do you think about the Choptank Transport Market Brief? Do you find it helpful? Is there additional information you would like us to include or is there information you don't find relevant? Send comments to: marketing@choptanktransport.com
Have a Question? Ask one of our Experts
Your sales representative or a member of our professional logistics team is ready to help, so give us a call! 800.568.2240. If this information was forwarded to you and you would like to receive it, sign up here.