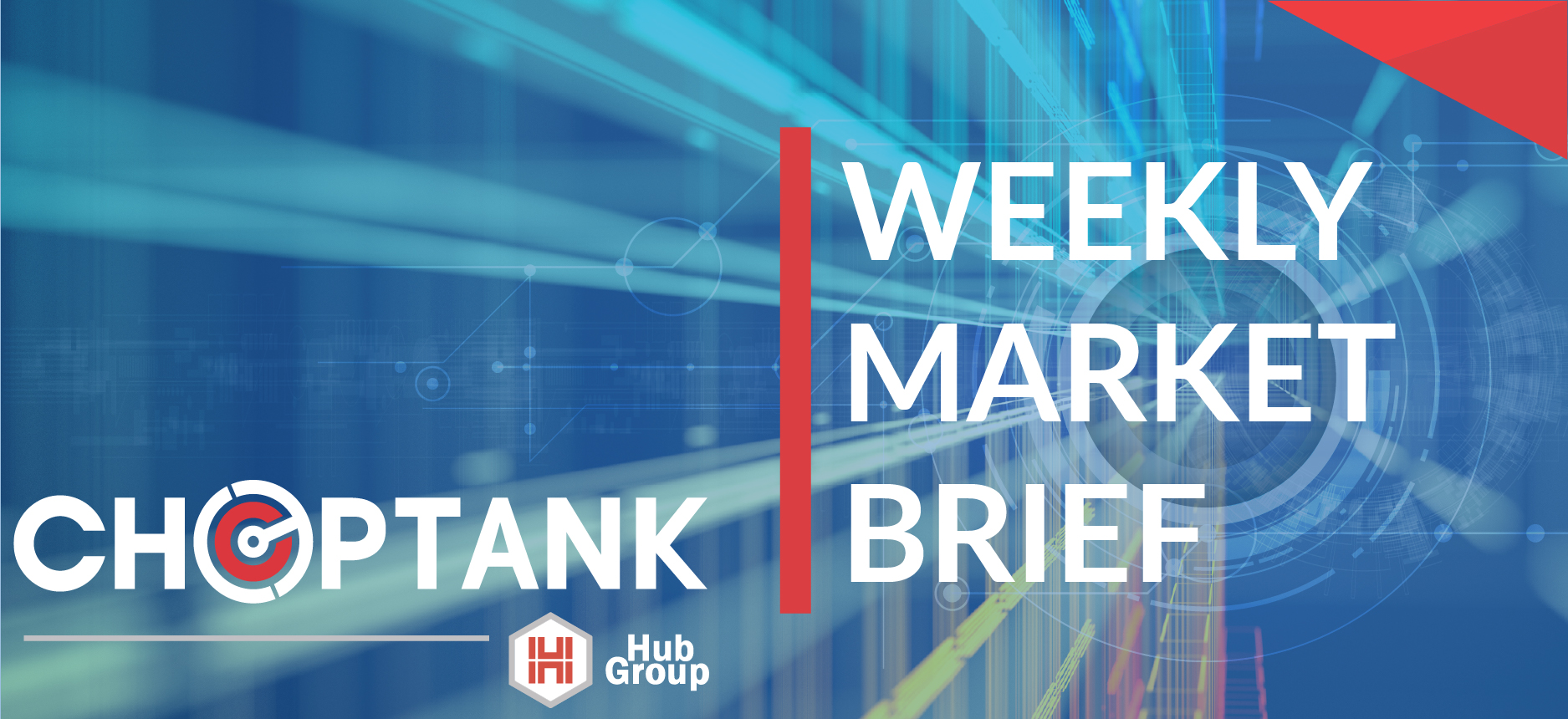 Cross-Border Freight in the Cross-Hairs
December 14, 2021
The Choptank Weekly Market Brief is offered exclusively to Choptank Transport customers to provide accurate, timely, and relevant freight market information. The contents of this brief are collected from reputable sources including DAT, Freightwaves/Sonar, Truckstop.com, the Department of Labor, the Department of Transportation, and other sources as cited throughout the brief.
If you haven't already heard about it in the news, shipping in and out of Canada (and Mexico) is about to become a whole new ball game--that is, if the new proposed government mandate requiring drivers to show proof of vaccination takes effect in January as predicted.
If passed, the mandate will go into effect on January 22, 2022, in the U.S. and January 15 in Canada. Last week, the U.S. Senate voted 52 to 48 to repeal the bill, but that is expected to change once it is put in front of the House of Representatives.
Why is this mandate a cause for concern? Drivers who are not vaccinated and have no plans to become so could make the driver shortage (which already existed before the pandemic) even worse. It is estimated by Truckinghr.com that in Q2 the shortage of drivers in Canada is close to 18,000. According to the Canadian Trucking Alliance, the mandate could affect 22,000 more drivers.
On this side of the border, in a survey conducted of 1,200 truck drivers, 55% of U.S. drivers had received vaccination, while 36% said they were not going to get it, and 9% were planning to get it but had not yet done so.
If the mandate goes into law, not only can shippers expect their freight to cost more, but it will be one more headwind against an already constrained supply chain across the U.S. Just when we all were hoping things would begin to normalize, cross-border freight woes could be one of the first big headaches of the new year.
Let us know what you think about the mandate.
This week's video
Truck Drivers ARE the Santa Claus We Look to This Year
Number of the Week
51%
________________________________
What's Up in the Truckload Spot Market?
December 6 - December 12, 2021: Spot market price fluctuations have calmed down after last week's elevated numbers due to the prior week's Thanksgiving holiday. Overall volumes are declining, as is normal for this time of year, while rates are holding steady.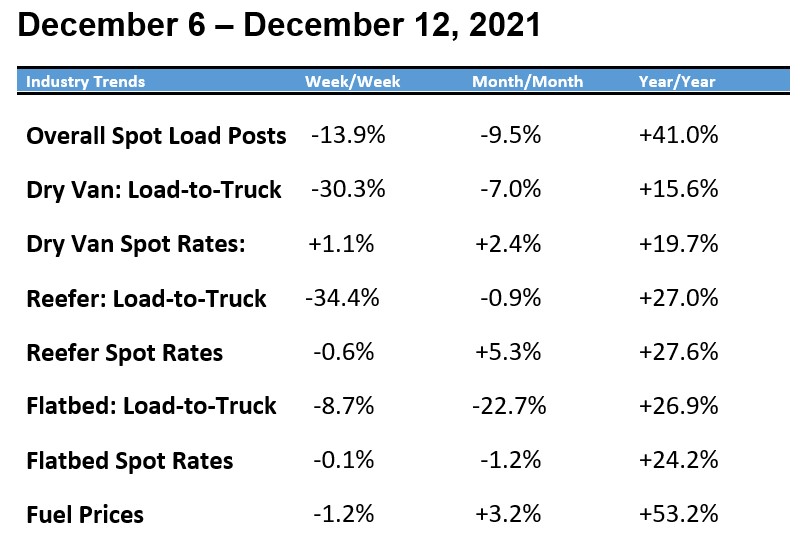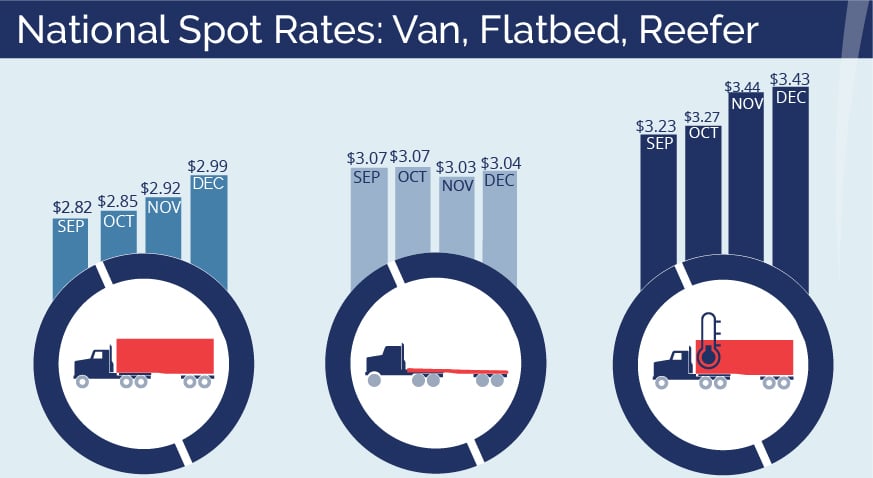 Markets with the largest daily increase in tender REJECTIONS. (Source: Freightwaves)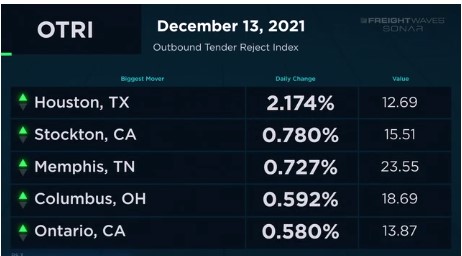 Markets with the largest daily increase in tender VOLUMES. (Source: Freightwaves)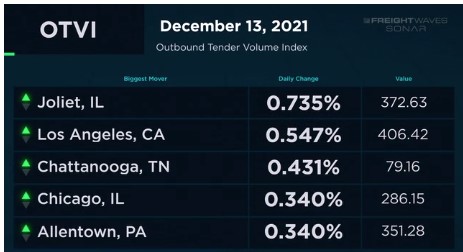 Van Outbound Tender Lead Time
There has been a 10% increase in lead times since the end of 2019. The average lead time now is almost reaching the three-day mark--and that's not taking into account that we're right before a holiday. It is expected that lead times will go higher with each passing day through Christmas. Anything unplanned and scheduled after this week will be much more expensive to ship.
Chart Below: Freightwaves/Sonar (Blue line is the current year, the purple line is 2020, and the green line shows 2019 data.)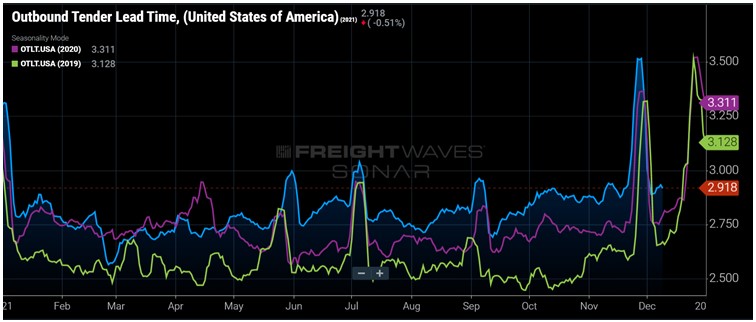 National Outbound Tender Volumes vs. Rejections
Not much has changed since last week in regards to freight capacity. Volumes are starting to slow down slightly as we approach the holiday. The ports of Long Beach and Los Angeles saw volumes trend downward, which affects nationwide capacity. The dip is typical at this time of year, according to the historical record. Rejection rates are still hovering just above 19% and volumes, although down at 14,832.30, are still quite elevated compared with past years.
Chart Below: Freightwaves/Sonar (Blue line represents volume and green line represents tender rejections.)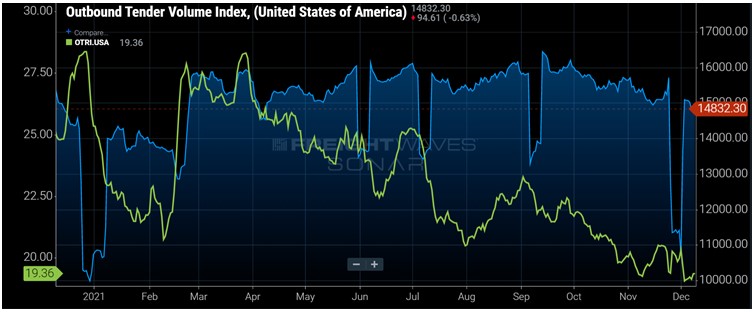 Rail/Intermodal
Things are changing on the domestic intermodal front, especially with transit from Los Angeles to Atlanta and Chicago. Freightwaves looks at significant changes in the market, and these two lanes stood out on the spot market for 53' containers. There was more than a 30% decrease in both lanes from the week before (31.9% and 33.5%). This is probably a sign that the port congestion out of California is loosening up. Shippers who would not have considered shipping intermodal several months ago, when intermodal rates were higher than truckload, can now look at rail as a viable, cost-saving option.
U.S. rail carload and intermodal volumes deliver mixed results.
Chart Below: Freightwaves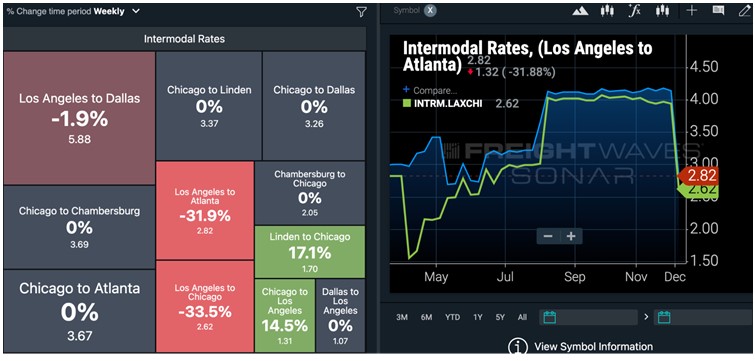 Data on rail dwell times is an indication of congestion causing delays. This information can help shippers better understand where there are issues with service and slowdowns in efficiency. You can see an increase between 2018 and 2019, and then a severe spike around March of 2020. This year, surprisingly, has remained fairly steady. Read the story.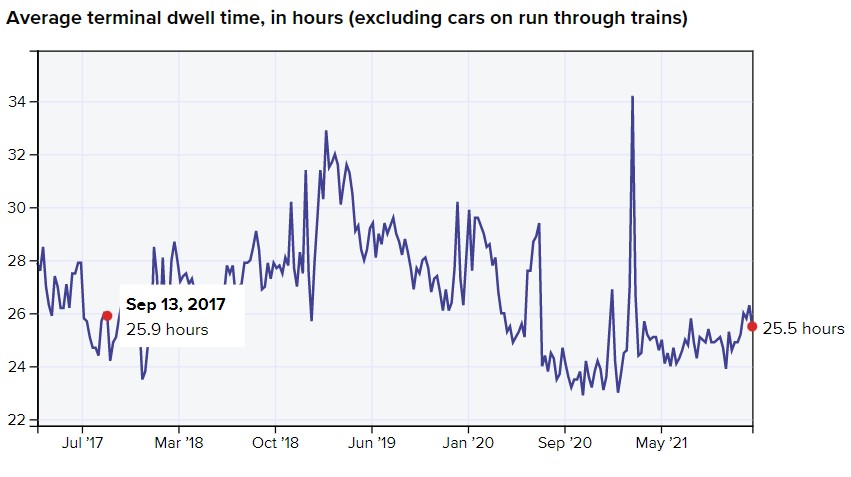 Ports/Ocean Freight
Whether or not the volume coming into the ports of LA/LB are getting better or worse depends on whom you ask these days. There has been confusion about how the long line of ships waiting at berth or out at sea is counted.
As reports came in late November that seemed to indicate some improvement in the logjam, it turned out that the count was being tallied differently, and many ships were "merely hiding from the queue, loitering in the Pacific out of reach of the official count. The actual midweek bottleneck [last week] stood at 96 ships," according to Bloomberg.
And in a separate account, "Recent environmental mandates have made for some tricky spatial accounting around the U.S. hub of Los Angeles/Long Beach, where almost a quarter of its waiting vessels are drifting off the coast of Mexico. More than 20 vessels destined for those two ports were south of the border Friday."
Port volumes at end of 2021 showing record-setting pace.
Chart Below: American Shipper. The chart illustrates the difference between the number of vessels waiting offshore under the old and the new queuing system at the Ports of LA/LB, based on data from Marine Exchange of Southern California

Container Rates are Falling
The cost of shipping containers across the ocean from China to the U.S. has fallen a bit, although last week there was a blip of an increase (2.3%) in 40' container rates. Overall, however, they are down 11% from September and 30% from their height earlier this year, according to Freightos.
Chart Below: Bloomberg
Economic News
Not only are the discounts not as deep or ubiquitous as past holiday seasons, everything is costing a whole lot more.
Last week's update, as reported by Baltimore-Washington Financial Advisors:
(December 13, 2021)
Inflationary pressures are showing no signs of moderating following the latest Consumer Price Index report. Prices rose 0.8% in November after advancing 0.9% in October. Over the last 12 months, the CPI has risen 6.8%, the largest 12-month increase since the period ended June 1982.

The international trade in goods and services deficit was $67.1 billion in October, down $14.3 billion, or 17.6%, from $81.4 billion in September.

November, the second month of fiscal year 2022, saw the budget deficit grow to $191.3 billion. The October deficit was $165.1 billion.

The number of job openings increased in October, according to the latest Job Openings and Labor Turnover Summary.

For the week ended December 4, there were 184,000 new claims for unemployment insurance, a decrease of 43,000 from the previous week's level, this is the lowest level for initial claims since September 6, 1969, when it was 182,000.
Source: BWFA

Despite inflation and supply chain woes, the data shows Americans are determined to keep spending for Christmas in 2021, especially after such a confining year in 2020.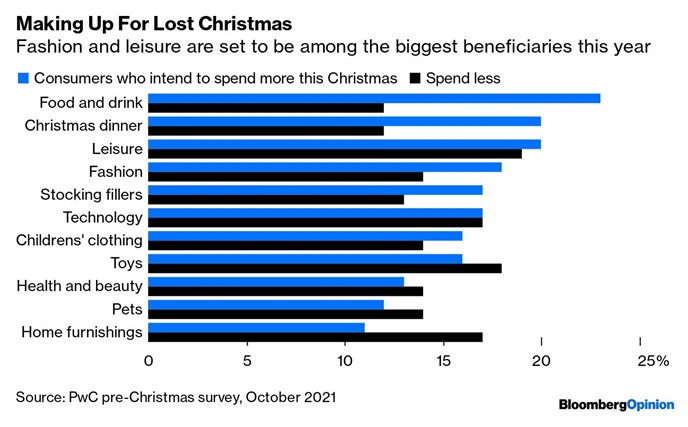 Market Conditions
This morning's market conditions are shown below for the previous day for van, reefer, and flatbed. Areas in red exhibit areas of extremely tight capacity.
Van Capacity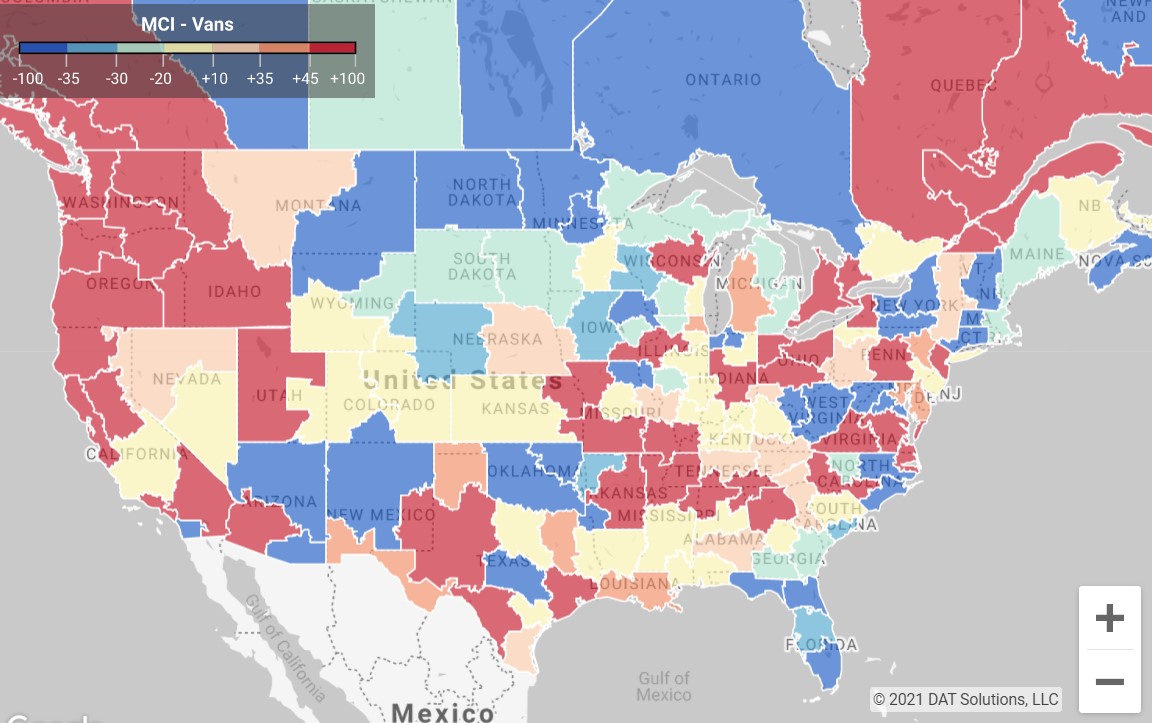 Reefer Capacity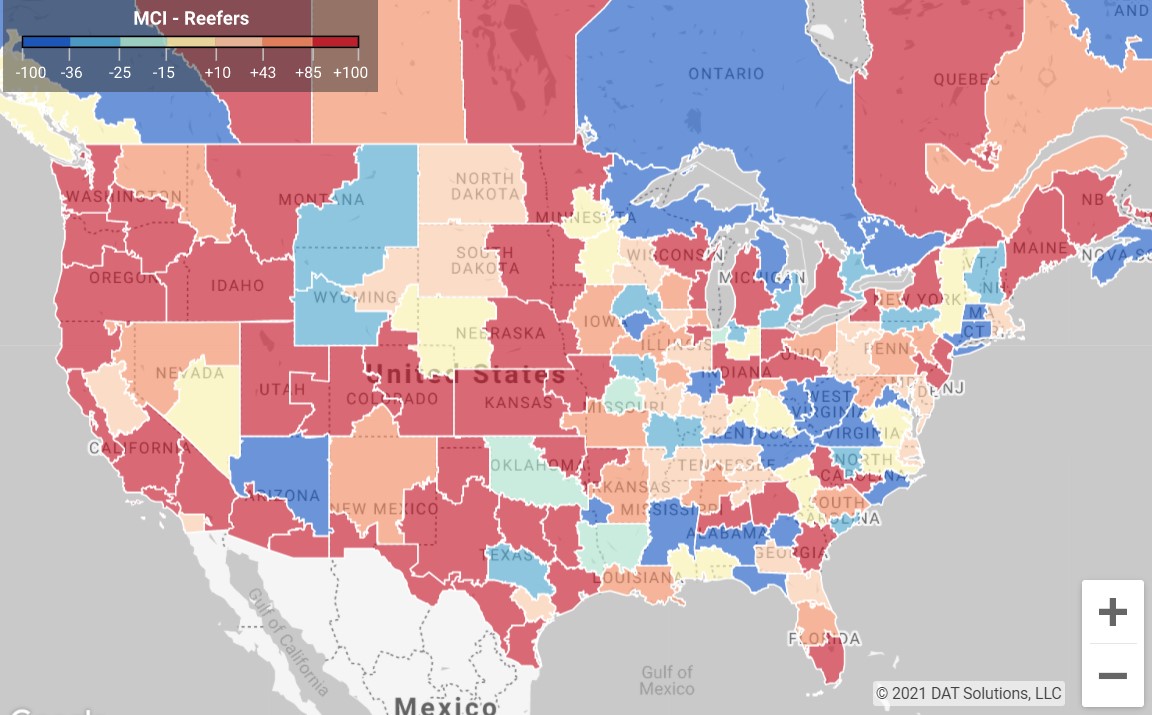 Flatbed Capacity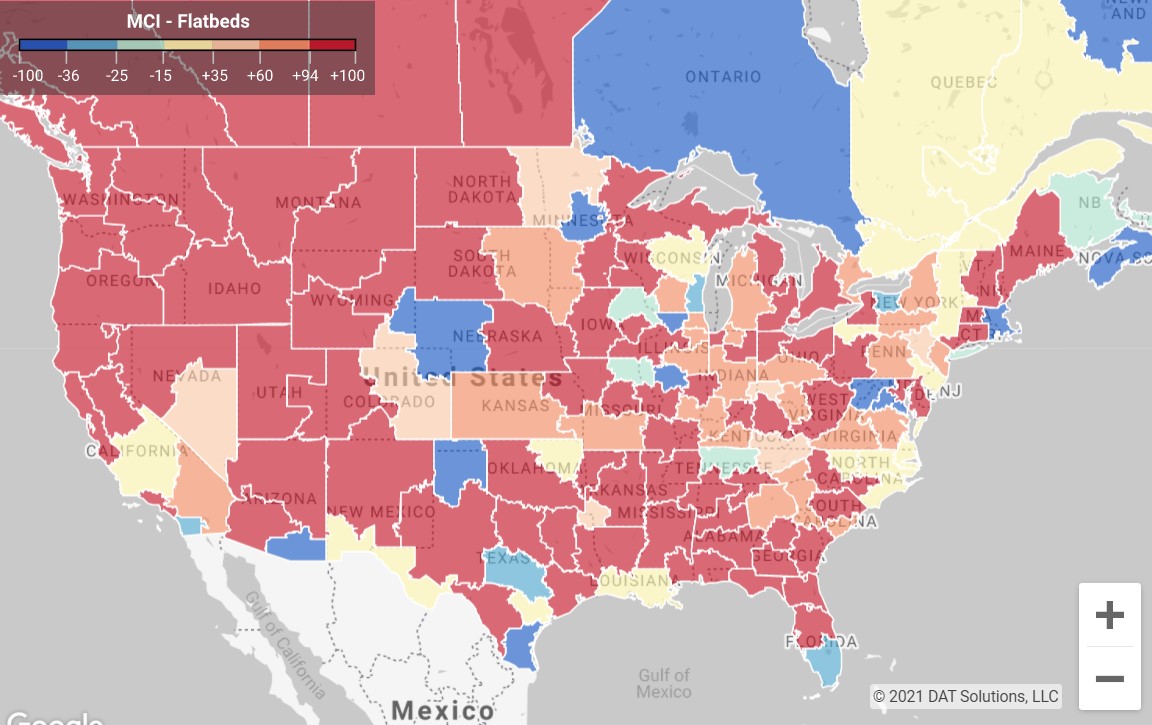 Shippers rely on the relationships they have with their 3PLs to ensure a smooth continuation of service whenever capacity gets tight. We hope you will continue to count on Choptank for all your freight needs, whether it be dry van, reefer, truckload, LTL, intermodal or cross-border shipping.
We would love to hear from you
What do you think about the Choptank Transport Market Brief? Do you find it helpful? Is there additional information you would like us to include or is there information you don't find relevant? Send comments to: marketing@choptanktransport.com
Have a Question? Ask one of our Experts
Your sales representative or a member of our professional logistics team is ready to help, so give us a call! 800.568.2240. If this information was forwarded to you and you would like to receive it, sign up here.