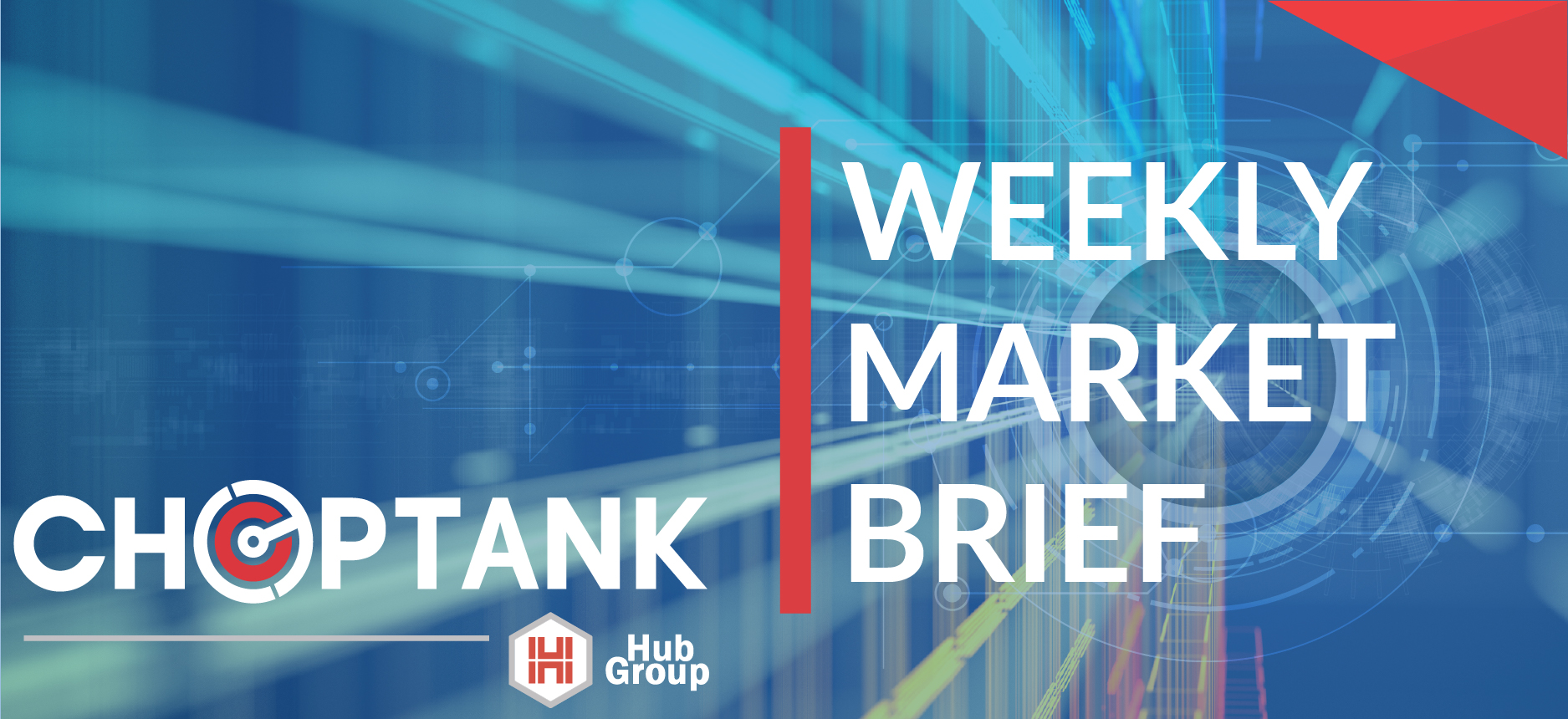 46 Days and Counting ...
Your Outlook for the Week Ahead
November 9, 2021
The Choptank Weekly Market Brief is offered exclusively to Choptank Transport customers to provide accurate, timely, and relevant freight market information. The contents of this brief are collected from reputable sources including DAT, Freightwaves/Sonar, Truckstop.com, the Department of Labor, the Department of Transportation, and other sources as cited throughout the brief.
We have all been in the annoying situation where you get caught in a grocery checkout line that is barely moving. You assess the other lines and notice one that is much shorter, so you grab your cart and without trying to look too eager, you run – no, walk fast – to the shorter checkout. This can be risky because others are noticing the same shorter line and can scoot in before you, making you lose your place in the first line and, in turn, leaving you with an even longer wait than if you had just stayed put.
So goes the situation at the U.S. ports. With 77 ships waiting at Los Angeles/Long Beach, other ports are beckoning vessels to sail their way, where the lines are much, much shorter. But if all switch lines at the same time, they may find themselves in ports with less capacity along with others who have made the bold move. Ultimately, this could be disastrous.
It is all about the race to get products in stores before Christmas, and as of today, we have 46 days to do so. Oakland, California, Florida, and Texas (see this week's video) are among some of the locations asking vessels to change horses near the finish line, and sail to their ports to ease the congestion to have a better chance at getting freight inland before Christmas.
And speaking of the holidays, supply chain constraints may also affect your Thanksgiving dinner this year. According to an article from DAT (see linked articles at the bottom of this market brief), you may find it hard to purchase some of these items.
Whipped toppings
Liquid gravy
Frozen pie and pastry shells
Refrigerated pies
Bakery pies
SO WHAT IS BEING DONE?
On the trucking side of the supply-chain equation, there is a hard push by U.S. Representative Brian Mast, a Republican from Florida, to allow 18- to 20-year-olds to drive big rigs intrastate, as an emergency measure at ports. This could greatly improve the immediate need for drivers, although there are critics of this plan due to the potential consequences of inexperienced, younger drivers.
And as reported in a recent Bloomberg article, "Texas Expands Truck-Driver Testing to 6 Days a Week on Nationwide Shortage," it is evident that states are trying to ease the strain of supply chain entanglements in as many ways as possible.
Below is a chart that shows why truck drivers are leaving the industry, as well as what the predicted number of new drivers needed will be in ten years: U.S. May Need Another 1 Million Truck Drivers Over Next Decade - Bloomberg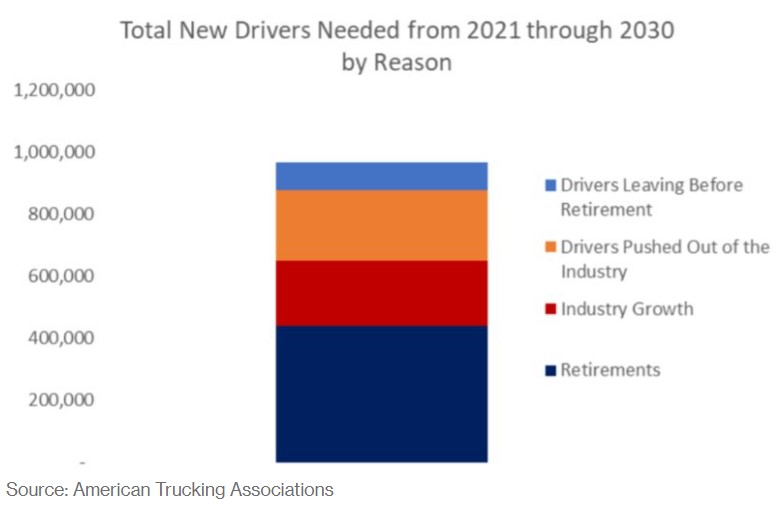 __________
This week's video
Texas Governor Abbott is Calling
All Container Ships
stuck in the backlog at California Ports to come to Texas. Wait times at Long Beach/Los Angeles are now more than 14 days to unload.
Number of the Week
58,900
The number of containers that have been sitting at the LA/LB ports too long and are now subject to fines as of November 1. (See last week's market brief.)
Did you know?
A used three-year-old truck now costs over $95,000, an increase of 67% year-over-year!
What's Up in the Spot Market?
November 1 - 7, 2021: Overall load posts fell back down week-over-week on the spot market with reefer loads down 2.2% after topping the chart at 18% above last week. Van load-to-truck ratios also were down 21.5% after increasing by 17.2% last week, and flatbed load-to-truck ratios dipped 15.9% week-over-week. Spot rates were up week-over-week for all three equipment types, but reefer rates saw the biggest increase.


Markets with the largest daily increase in tender REJECTIONS. (Source: Freightwaves)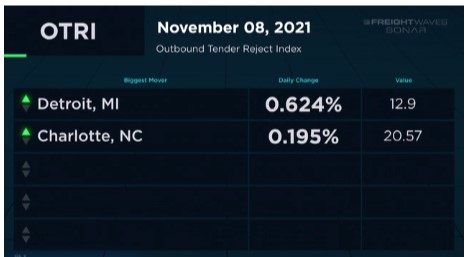 Markets with the largest daily increase in tender VOLUMES. (Source: Freightwaves)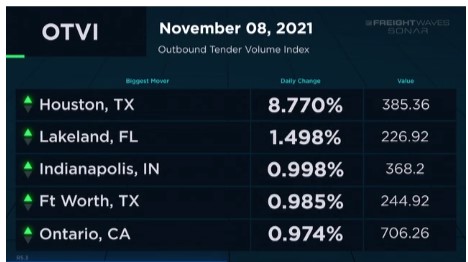 Van Outbound Tender Volumes
The national outbound tender volume index shows we are almost exactly where we were a year ago at this same time. For the first time this year, with the exception of a brief Labor Day dip, we saw volumes BELOW 2020 data, but only by 1.35%. They still remain 60% above volumes in 2019.
It will be interesting to watch how volumes progress over the next few weeks, and especially between now and the New Year.
The chart below shows the outbound tender volume index YTD in blue, compared with 2020 in green and 2019 in orange. (Chart: Freightwaves/Sonar)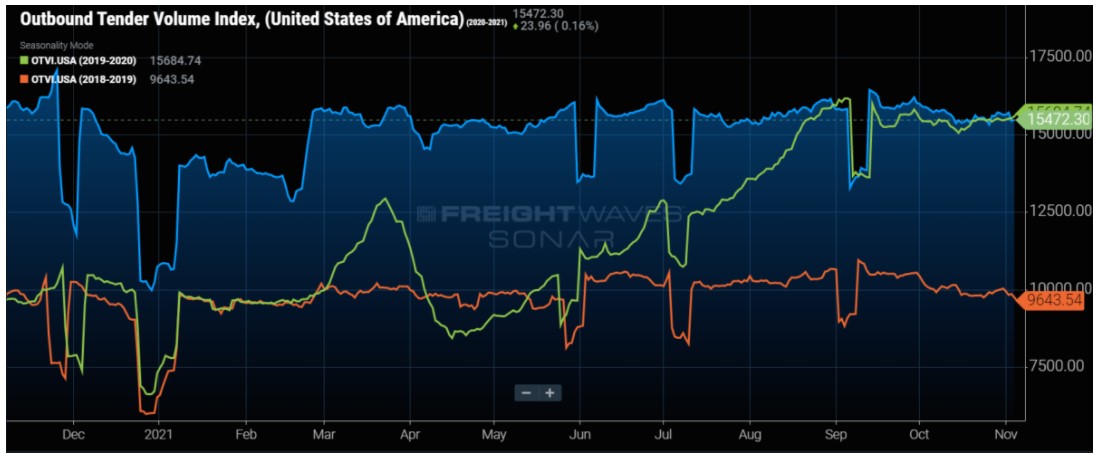 National Outbound Tender Rejections
The national outbound tender rejection index fell last week to 19.8%, its lowest point since August 2020. This week saw little change, with rejections at 19.9%. Looking at the big picture, almost 20 percent of all freight is being rejected, which means capacity is still extremely tight across the United States.

According to a DAT blog, "refrigerated truck capacity is as tight as it's ever been. Shippers are paying record-high prices to move loads this season — even over $6.00/mile on some lanes!"
The chart below shows YTD national rejection rates compared with 2020 in purple and 2019 in green. (Chart: Freightwaves/Sonar)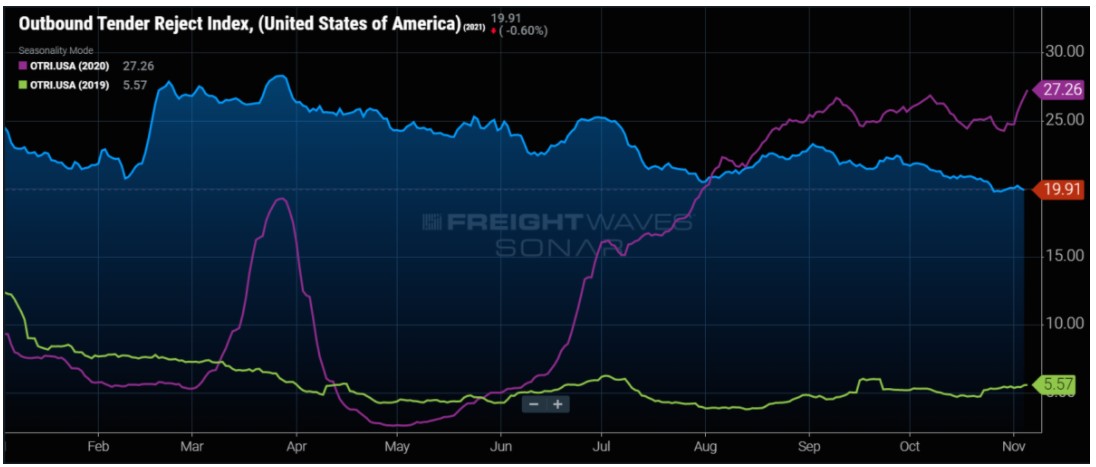 Who's Got the Power?
The DHL pricing power index remains at 70, indicating that negotiations are still in favor of carriers versus shippers.
The pricing power index is a weekly gauge put out by DHL that indicates who has more sway in negotiations when it comes to pricing and freight rates. (Source: Freightwaves)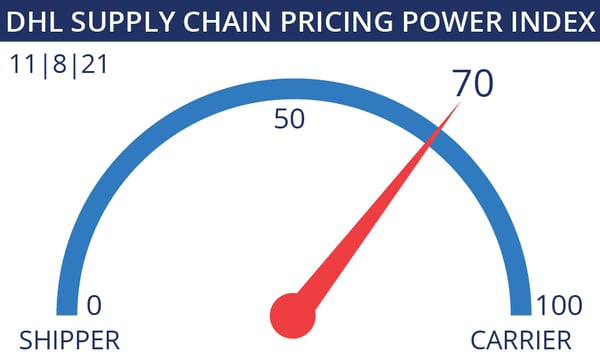 Economy
The colossal amount of freight that continues to flow into the U.S. from China is not going to subside just because Christmas has come and gone. Experts agree that the high-volume conditions we are experiencing now will continue well into 2022.
The National Retail Federation's forecast for this holiday season predicts that between November 1 and December 31, sales will reach between $843.4 billion to $859 billion. This is an increase of 8.5% - 10.5% from 2020 (and does not include automobile dealers, gasoline stations, and restaurants). The previous record was last year at $777.3 billion, an annual gain of 8.2% the previous year.
Looking at the charts below of U.S. durable and nondurable consumption, it is clear that in the past decade (including before the pandemic), more people have been purchasing more stuff. (Definition of durable goods: items that are manufactured to last three years or longer, such as furniture, books, and electronics. Definition of nondurable goods: items that don't last long, like food, cosmetics, and pharmaceuticals.)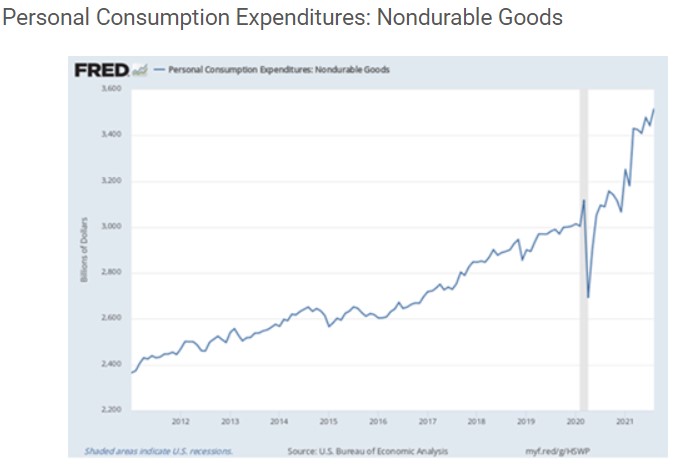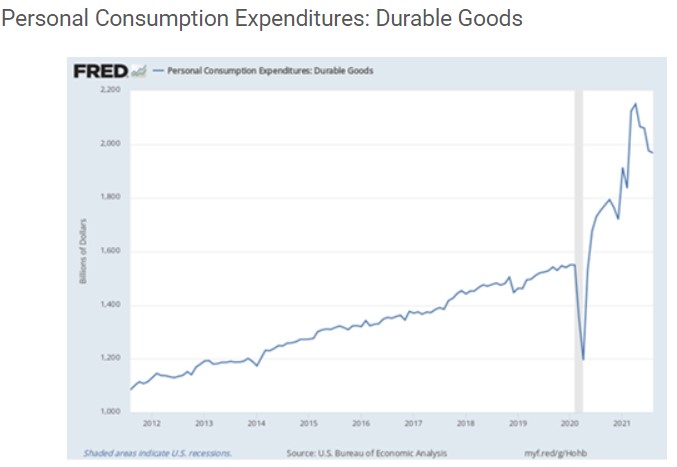 Employment
The U.S. added 530,000 jobs in October which was the largest gain in three months, while the jobless rate fell to 4.6%, according to The Wall Street Journal. Nearly 200,000 of the jobs went to women in the workforce. Compared with pre-pandemic numbers, this is still four million fewer jobs than before COVID hit the country.
Warehousing and storage added 20,200 jobs. Truck transportation jobs increased by 7,900 from the previous month, according to the Bureau of Labor Statistics, coming in as the second-highest increase in five months.
Jobless claims dropped to 269,000 in the week ending October 30. This is the lowest they have been since March 14, 2020.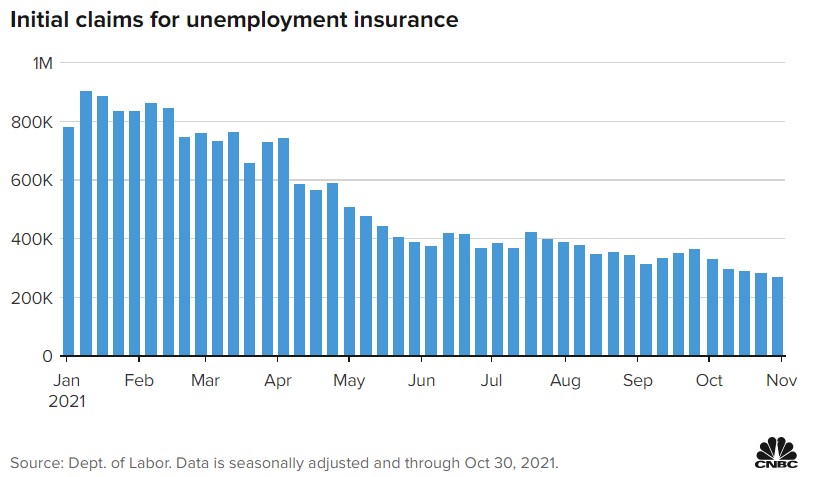 Market Conditions
This morning's market conditions are shown below for the previous day for van, reefer and flatbed. Areas in red exhibit areas of extremely tight capacity.
Van Capacity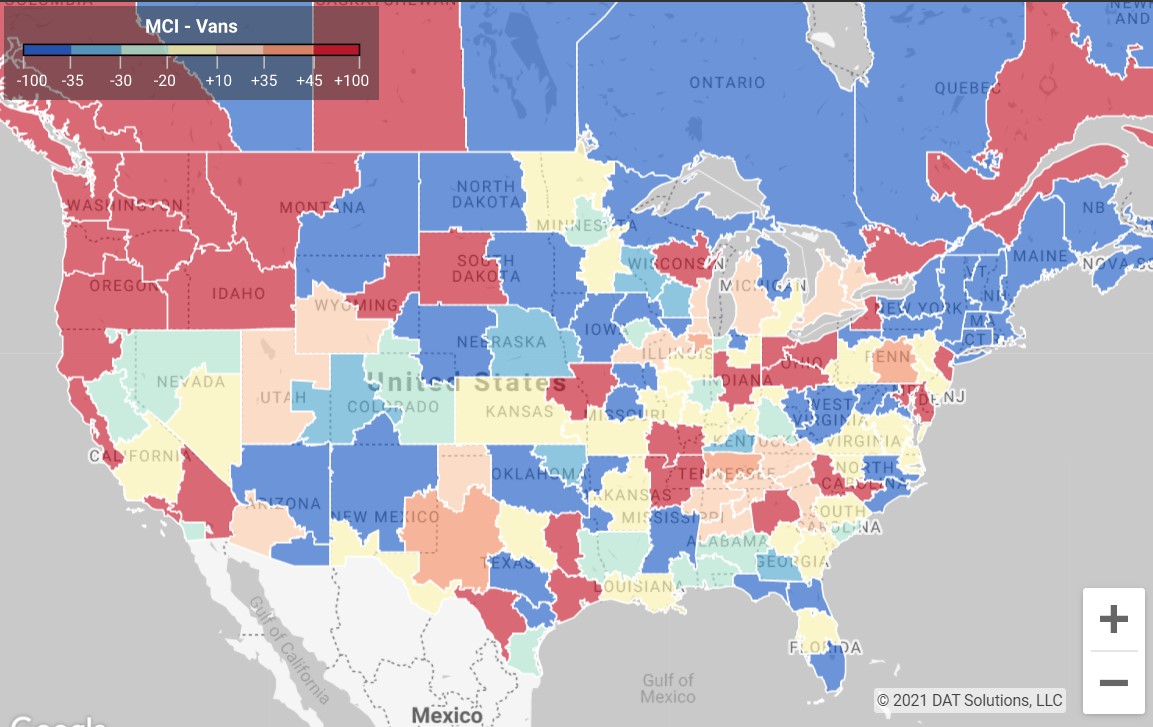 Reefer Capacity
Flatbed Capacity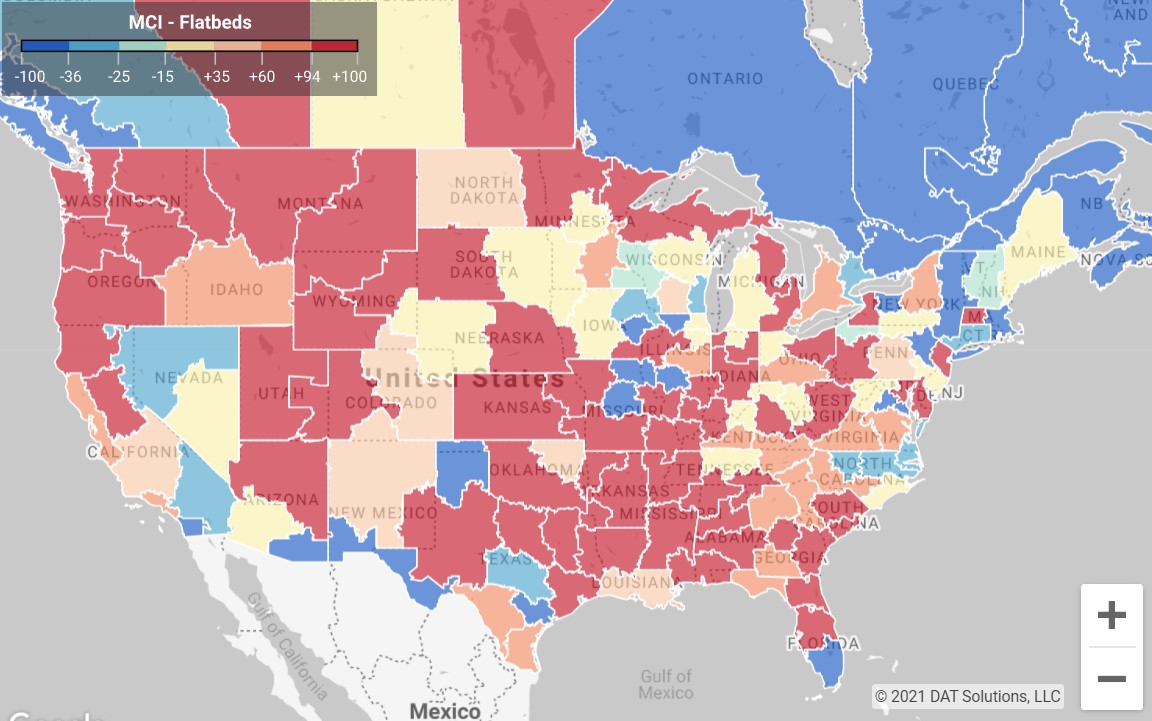 Shippers rely on the relationships they have with their 3PLs to ensure a smooth continuation of service whenever capacity gets tight. We hope you will continue to count on Choptank for all your freight needs, whether it be dry van, reefer, truckload, LTL, intermodal or cross-border shipping.
We would love to hear from you
What do you think about the Choptank Transport Market Brief? Do you find it helpful? Is there additional information you would like us to include or is there information you don't find relevant? Send comments to: marketing@choptanktransport.com
Have a Question? Ask one of our Experts
Your sales representative or a member of our professional logistics team is ready to help, so give us a call! 800.568.2240. If this information was forwarded to you and you would like to receive it, sign up here.