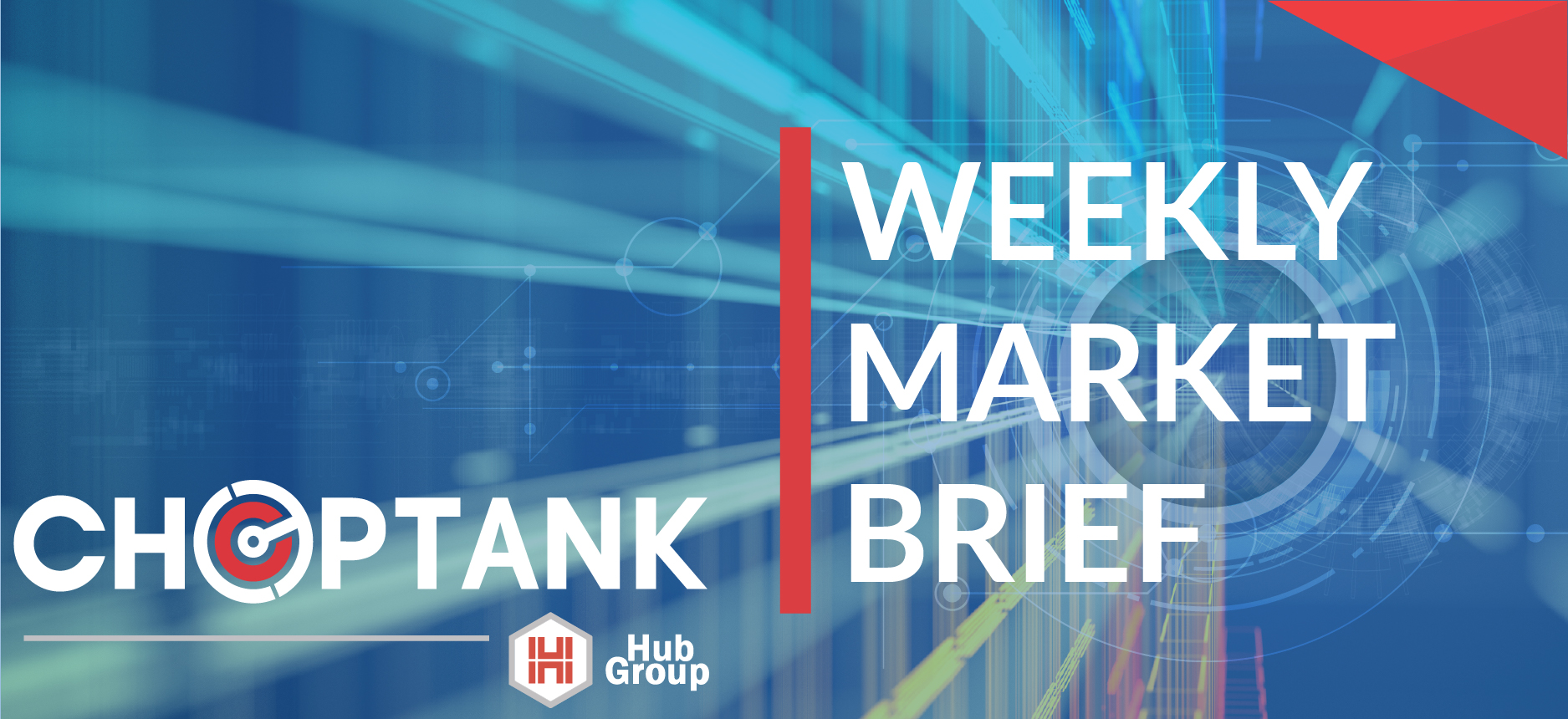 Was Black Friday a Bust?
November 30, 2021
The Choptank Weekly Market Brief is offered exclusively to Choptank Transport customers to provide accurate, timely, and relevant freight market information. The contents of this brief are collected from reputable sources including DAT, Freightwaves/Sonar, Truckstop.com, the Department of Labor, the Department of Transportation, and other sources as cited throughout the brief.
Maybe it is premature to call this year's Black Friday a bust, but it certainly was not the traditional shop-til-you-drop day that we have all become accustomed to. Early reports indicate that there was substantial foot traffic in brick-and-mortar stores, but the deals just were not there. And sometimes, neither was the merchandise. There were tales of people waiting in line for hours only to find out what they were waiting for was not available--not because it was sold out, but because it hadn't even been in stock. (On a container ship somewhere?)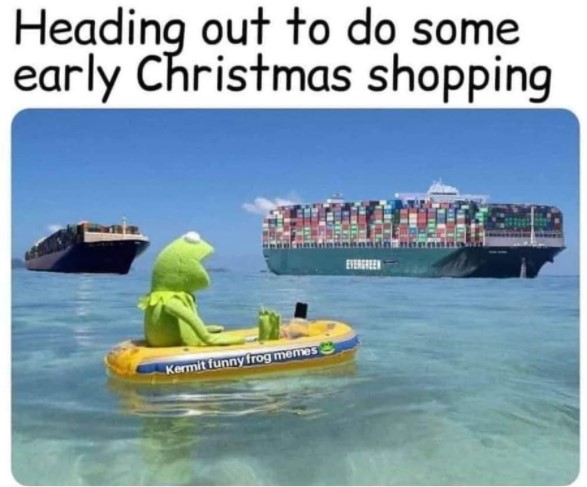 Source: Facebook Younggren Shoes
E-commerce sales were also lackluster on Black Friday, but yesterday's Cyber Monday numbers (not yet published) may prove different. Black Friday's online sales were reported to reach $8.9 billion, which is a little less than last year, and lower than was expected this year. According to Bloomberg, "Cyber Monday sales are forecast to be between $10.2 billion and $11.3 billion."
What few sales were to be found were hardly discounts at all. Having said all this, early data indicates there was a 48% gain from last year's sales. That figure falls behind 2019 stats by 28%. Remember, last year at this time people were not eager to mall-mingle.
According to a story in supplychainbrain.com, "Black Friday Spending Fell for the First Time Ever." There are several reasons for this. Shopping habits appear to be more spread out this year, and it is no wonder. News of the tangled supply chain reached everyday households months ago, scaring the bejeebers out of people with the notion that there may be no holiday unless you buy early.
This week's video
Want a job at McSupplyChain?
More from the wild and wacky world of TikTok
Source: TikTok @kylascan
Number of the Week
$206 billion
The amount, according to ModernShipper, that U.S. consumers
will spend on e-commerce packages this year, up from
$188 billion reported by Adobe Analytics in 2020.
________________________________
Did You Know?
Black Friday is not the busiest shopping turnout of the year.
It is actually the two days before Christmas, according to Good Housekeeping.
What's Up in the Truckload Spot Market?
November 22-28, 2021: Spot load posts fell sharply due to the Thanksgiving holiday, making it a short week. The freight that did move saw increased rates for all modes just prior to Thursday.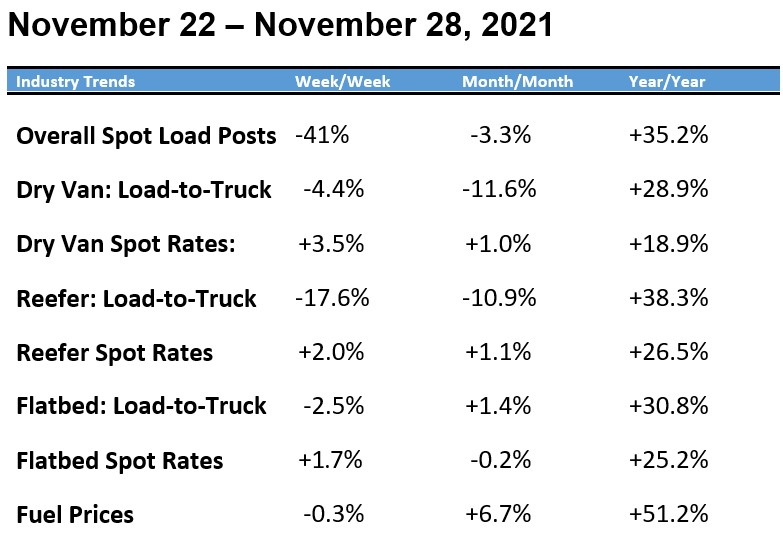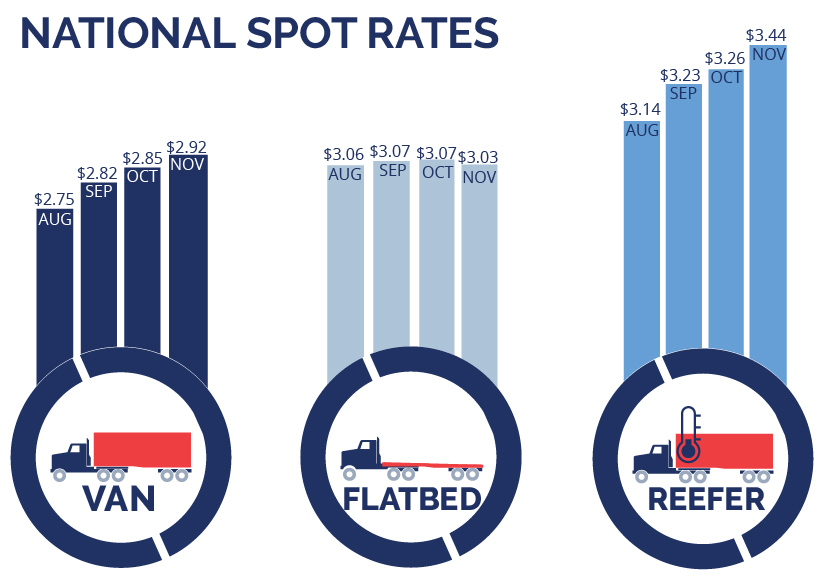 DAY BEFORE THANKSGIVING - Markets with the largest daily increase in tender REJECTIONS. (Source: Freightwaves)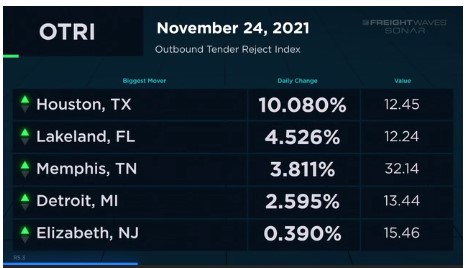 DAY BEFORE THANKSGIVING - Markets with the largest daily increase in tender VOLUMES. (Source: Freightwaves)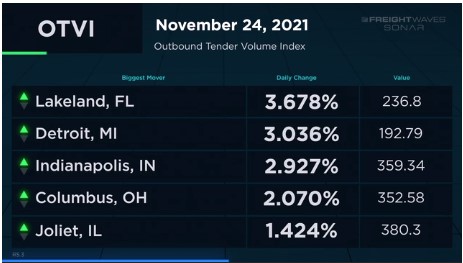 Van Outbound Tender Volumes
The trend lines on the outbound tender volume chart always look shocking during a holiday weekend with a drastic dip of activity, but looking at previous years' trends is usually quite reassuring. In fact, if you look at the day before Thanksgiving (right before the drop), you can see it was at its highest level in a month.
Since September, tender volumes have mirrored the data of 2020, but in early November we saw a divergence. This could be from supply chain snarls right before the holiday. Whatever the reason, volumes are currently 8% below last year, on a year-over-year basis.
Looking ahead, volumes most likely will continue their elevated status as inventory levels remain low and backlogs still exist. Two key factors that will play pivotal roles in the next year are consumer sentiment, which is a bellwether of inflation, and whatever impact the latest COVID variant brings not only to the United States but to the world.
The chart below shows national outbound tender volumes, YTD in blue, compared with 2019-2020 in green, and 2018-2019 in orange.
(Chart: Freightwaves/Sonar)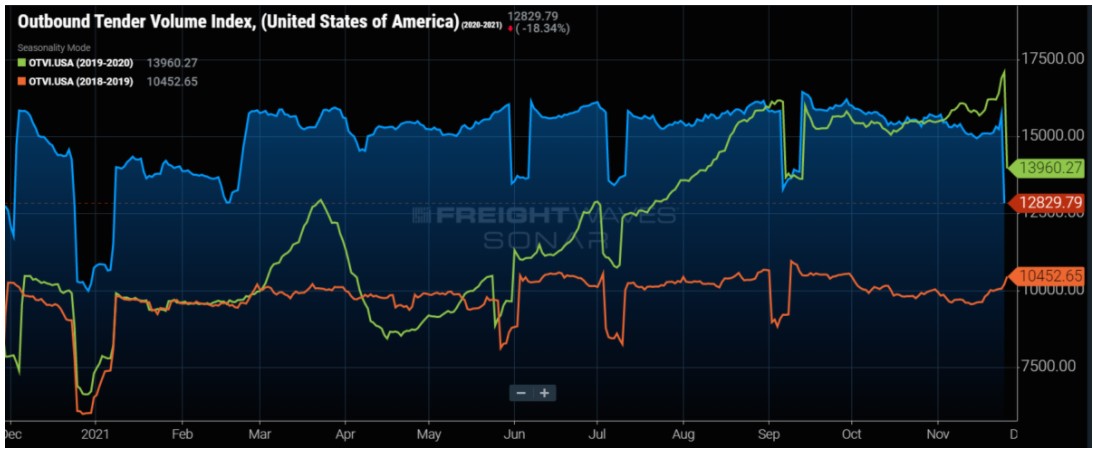 National Outbound Tender Rejections
The national outbound tender rejection index rose to 20.51 (see last week's market report) earlier this month, but then sharply declined, moving into the holiday. Tender rejections typically rise right before a holiday as drivers exit the road to spend time with family. Analysts at Freightwaves suggest that longer lead times may have been responsible for the sudden drop in rejections.
With drivers back on the road this week, expect rejections to fall even more and open up some additional, much-needed capacity.
Two large markets have seen a welcome loosening of available equipment. "Over the past week, rejection rates in both Ontario and Los Angeles have fallen by over 450 bps. Rejection rates in the markets are down to 15.5%, more than 1,250 bps lower than they were a year ago." - Freightwaves
The chart below shows the outbound tender rejection index in blue YTD, purple (2019-2020), green (2018-2019).

(Chart: Freightwaves/Sonar)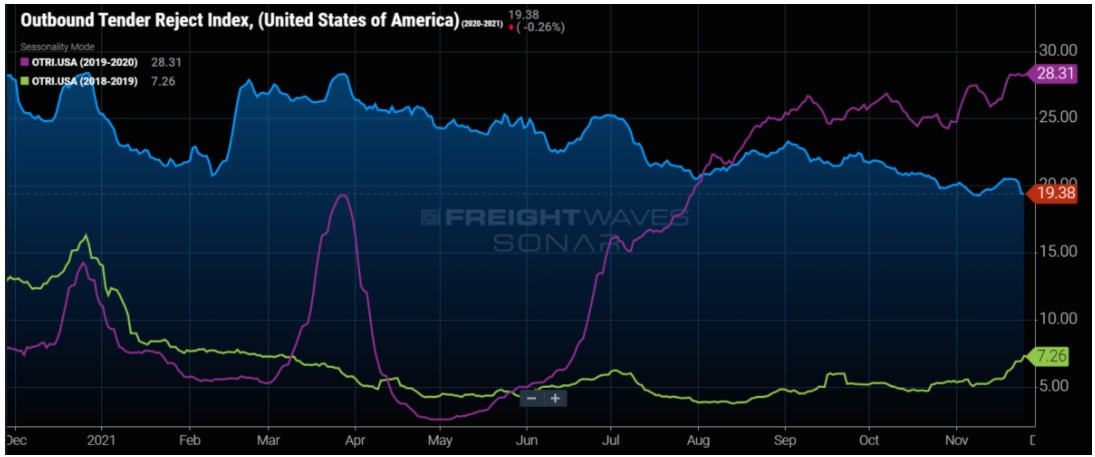 Outbound Tender Rejections by Mode of Service:
The chart below shows outbound tender rejection rates by mode. Reefer rejections (in orange) took a sudden dip last week leading up to the Thanksgiving holiday.
(Chart: Freightwaves/Sonar): Blue line shows van rejections, green line shows flatbed rejections, orange line shows reefer rejections.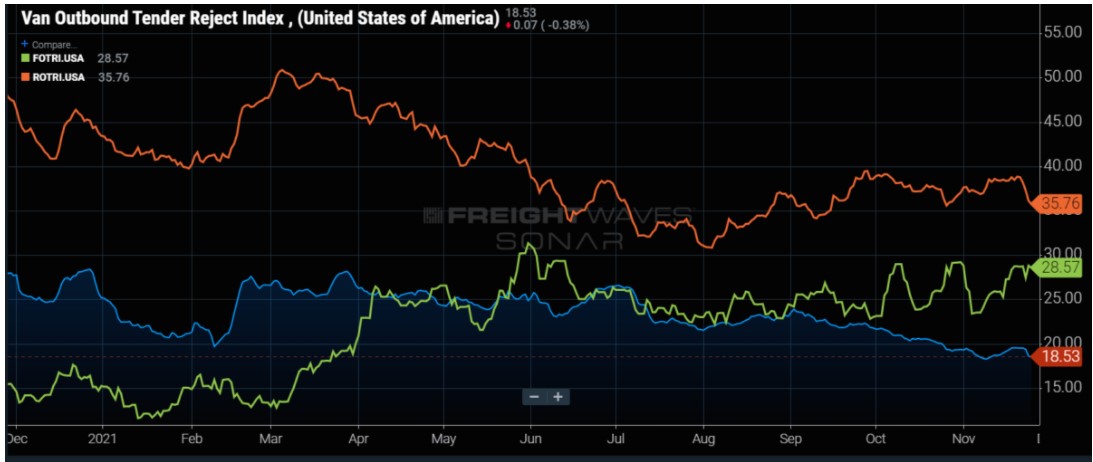 Ports/Rail/Intermodal
Retailers whose freight is coming through the Port of Savannah have a new strategy when it comes to alleviating the logjams. They have recently announced a program called the South Atlantic Supply Chain Relief Program. The idea is to reclaim space at off-port properties. They began testing last week at the Dillion Yard and Statesboro locations, installing all the equipment needed to run an efficient facility with added capacity.
According to the article in American Shipper, "Four or five more pop-up container facilities are scheduled to open around Georgia by mid-December and the port authority is talking with freight railroad CSX about an auxiliary storage site in Rocky Mount, North Carolina."
The West Coast ports have been the poster child for the pandemic-driven supply chain snarl, but the East Coast port and rail systems have also experienced overcrowding as volumes rose over the past two years.


Economic News
Last week's update, as reported by Baltimore-Washington Financial Advisors:
Gross domestic product increased at an annual rate of 2.1% in the third quarter of 2021, according to the second estimate released by the Bureau of Economic Analysis (BEA). GDP expanded at an annualized rate of 6.7% in the second quarter.
According to the latest data from the BEA, prices consumers spend on goods and services rose 0.6% in October and is up 5.0% over the past 12 months.
New orders for long-lasting durable goods fell for the second consecutive month in October, dropping 0.5%, following a 0.4% dip in September.
The trade deficit for goods (excluding services) was $82.9 billion in October, down $14.1 billion, or 14.6%, from the September figure.
According to the latest survey from the National Association of Realtors®, sales of existing homes rose 0.8% in October, following a 7.0% jump in September. Nevertheless, existing home sales were 5.8% lower than the October 2020 total. Housing inventory dipped 0.8% in October, representing a 2.4-month supply at the current sales pace. Sales of existing single-family homes climbed 1.3% last month but were down 5.8% from October 2020.
Sales of new single-family homes also rose in October, increasing 0.4% over the September rate. New home sales were 23.1% below the October 2020 pace.
Source: BWFA
Market Conditions
This morning's market conditions are shown below for the previous day for van, reefer, and flatbed. Areas in red exhibit areas of extremely tight capacity.
Van Capacity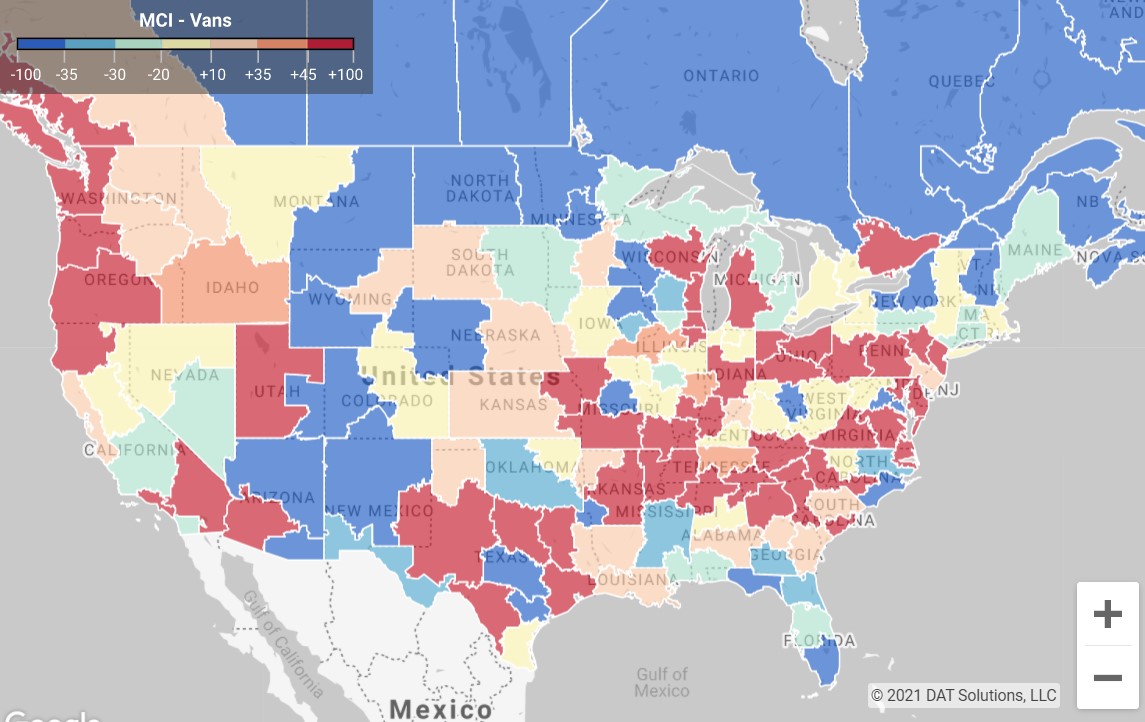 Reefer Capacity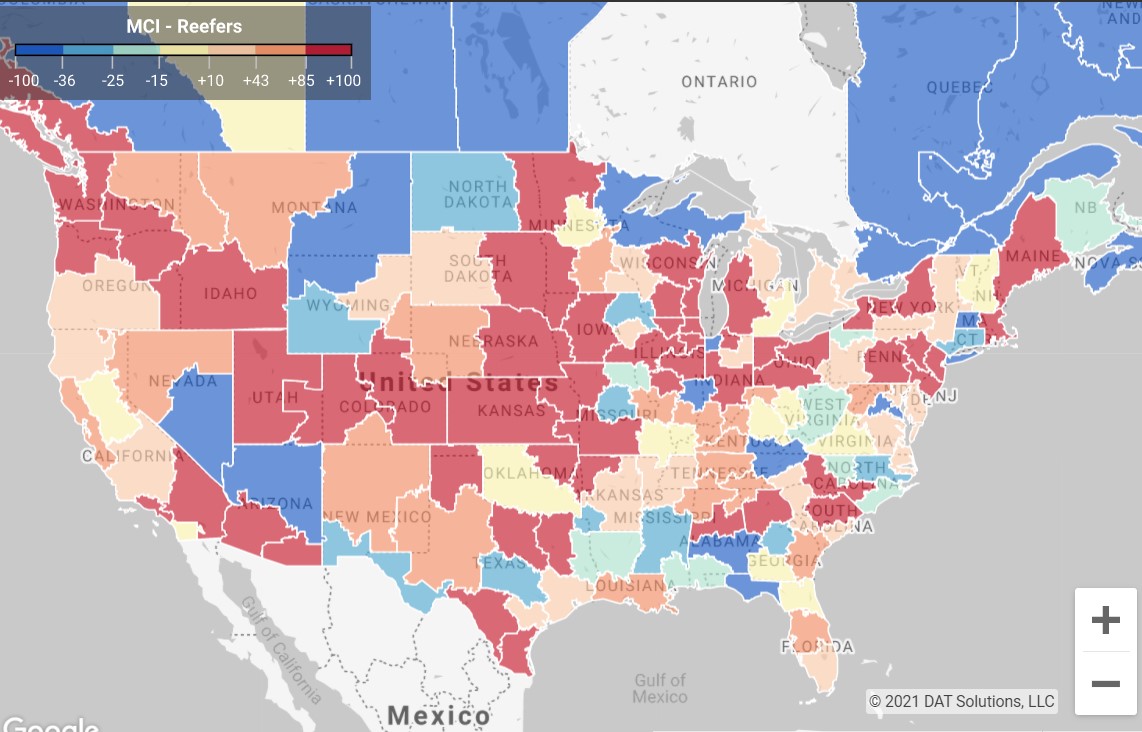 Flatbed Capacity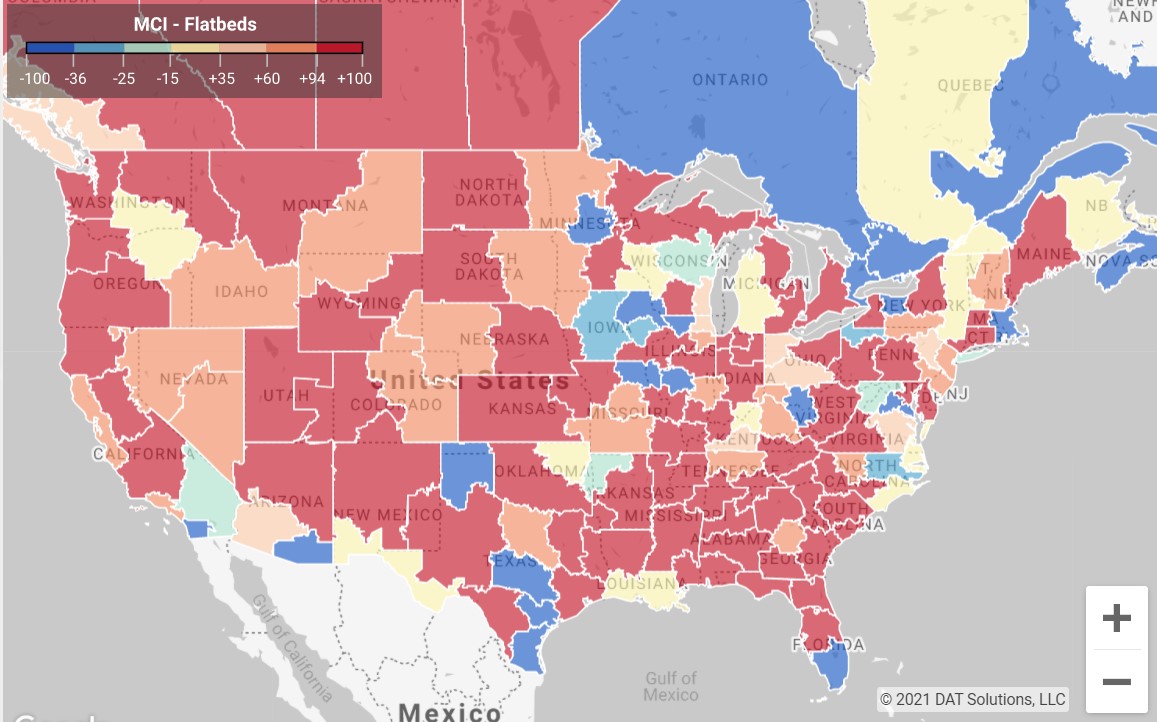 Shippers rely on the relationships they have with their 3PLs to ensure a smooth continuation of service whenever capacity gets tight. We hope you will continue to count on Choptank for all your freight needs, whether it be dry van, reefer, truckload, LTL, intermodal or cross-border shipping.
We would love to hear from you
What do you think about the Choptank Transport Market Brief? Do you find it helpful? Is there additional information you would like us to include or is there information you don't find relevant? Send comments to: marketing@choptanktransport.com
Have a Question? Ask one of our Experts
Your sales representative or a member of our professional logistics team is ready to help, so give us a call! 800.568.2240. If this information was forwarded to you and you would like to receive it, sign up here.