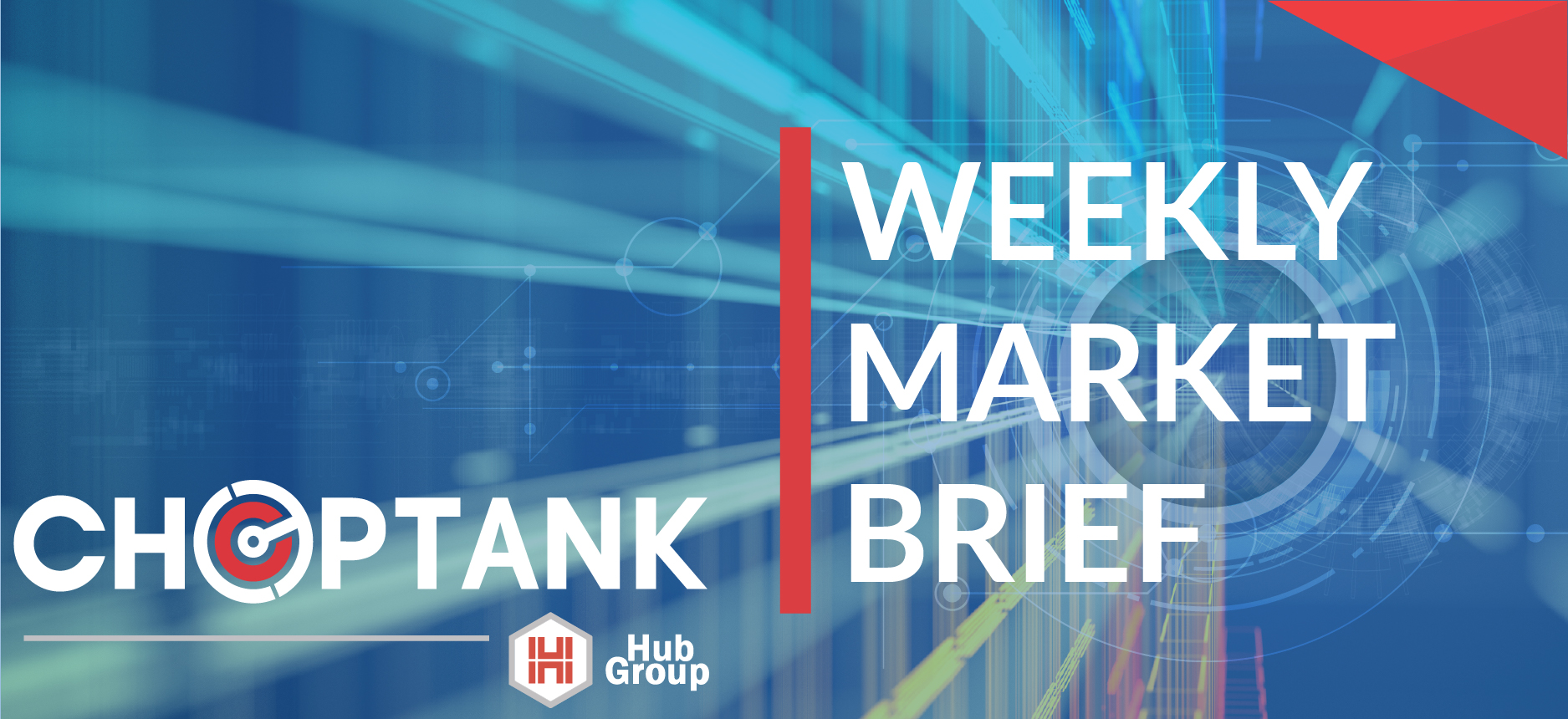 Crunch Time - and Things To Be Thankful For
Your Outlook for the Week Ahead
November 23, 2021
The Choptank Weekly Market Brief is offered exclusively to Choptank Transport customers to provide accurate, timely, and relevant freight market information. The contents of this brief are collected from reputable sources including DAT, Freightwaves/Sonar, Truckstop.com, the Department of Labor, the Department of Transportation, and other sources as cited throughout the brief.
Thanksgiving week is here, and it is no surprise that shippers are feeling the last-minute crunch to get things out the door. Out of all the shipping modes, reefer freight has been affected the most, with rejection rates up from 30% back in August to 38% this week in the refrigerated market. Oddly, the spot market saw a $0.03 per mile (including fuel and other accessorials) drop last week, but relative to last year at this time, they are still 16% higher.
Even with the frenzy of the holiday, we have a lot to be thankful for in our industry. We are living in a time of rapid change and transition. Every week we are learning how to do something better, faster and more accurately with the help of technology.
Can you imagine, for example, trying to navigate the current freight market without the advancements in data science? This is especially true in light of the imbalanced market we have experienced since COVID. Relying on historical data is not the option it once was. In this rapidly advancing industry, we need to have our finger on the pulse of emerging trends as fast as they happen, and thankfully, technology is allowing us to do just that. (See how ORBIT TI can streamline your business.)
From all of us at Choptank Transport/Hub Group, we wish you a happy and healthy Thanksgiving holiday!
This week's video
Too Funny! Leave it to TikTok to Be Creative
with Jobs in the Supply Chain
Number of the Week
20%-30%
The cost increase in artificial tree prices this year. Both real and
artificial trees are expected to cost more this season.
________________________________
Did You Know?
In the United States, there are more than 5 million people employed in
transportation and warehousing, according to the Bureau of Labor Statistics.
What's Up in the Truckload Spot Market?
November 15-21, 2021: Spot rates rose rapidly last week leading up to the Thanksgiving holiday. Trees shipping out of Portland, Oregon and Charlotte quickly tightened capacity in those markets. According to DAT, " In the Pacific Northwest, reefer spot rates for loads from Portland to Los Angeles averaged $4.27/mile last week, representing an increase of $1.00/mile in the last month and $1.80/mile higher than this time last year. Farther south, Los Angeles to Las Vegas reefer spot rates broke the $7.00/mile mark ahead of Thanksgiving, averaging $7.07/mile."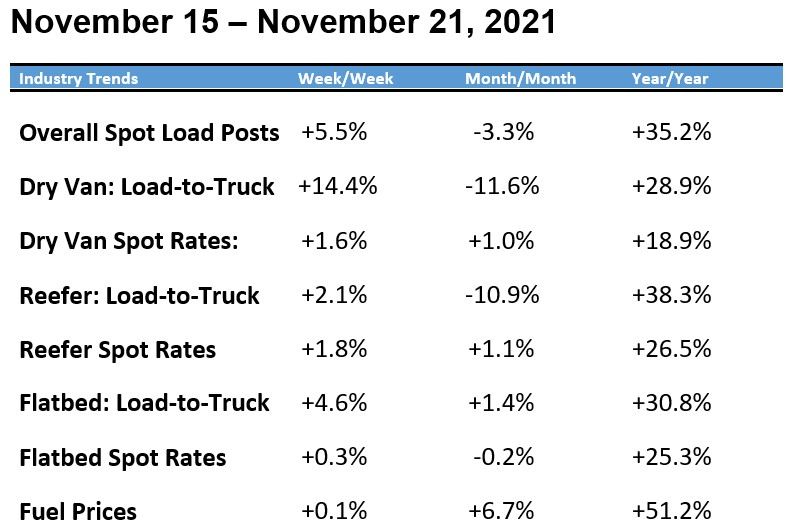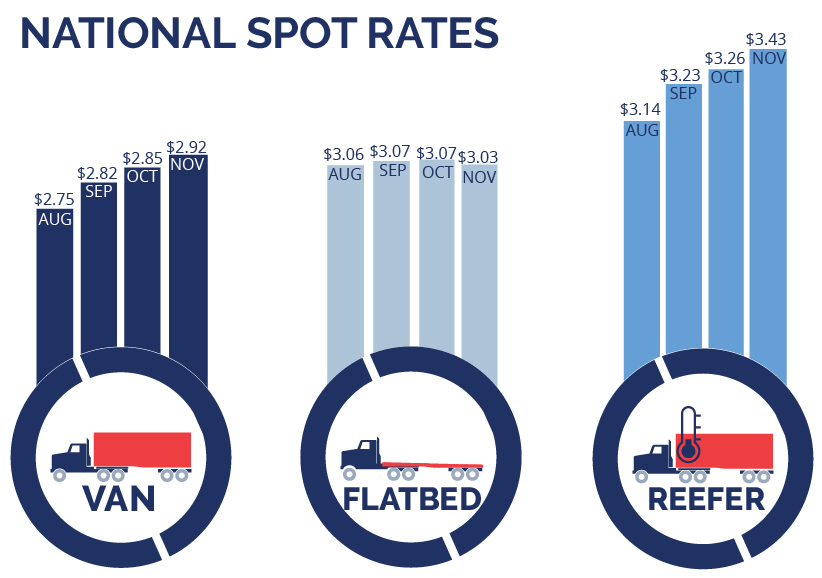 Markets with the largest daily increase in tender REJECTIONS. (Source: Freightwaves)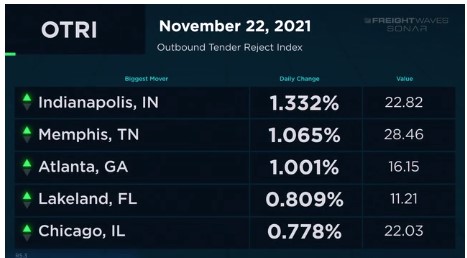 Markets with the largest daily increase in tender VOLUMES. (Source: Freightwaves)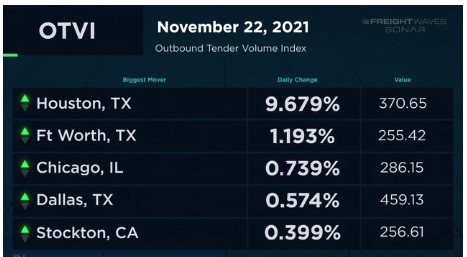 Van Outbound Tender Volumes
Tender volumes have climbed by 1% over the past week. This barely takes them back over the 15,000 mark. Still, this remains extremely high compared with 2019 data. It is, however, a bit of a dip compared with two months ago, in mid-September, when volumes were in the 16,200 range.
Just over half (70 out of 135) of the markets tracked by Freightwaves saw an increase in volumes over the past week, although the largest ones did not.
The chart below shows YTD in blue, compared with 2019-2020 in orange and 2018-2019 in green. (Chart: Freightwaves/Sonar)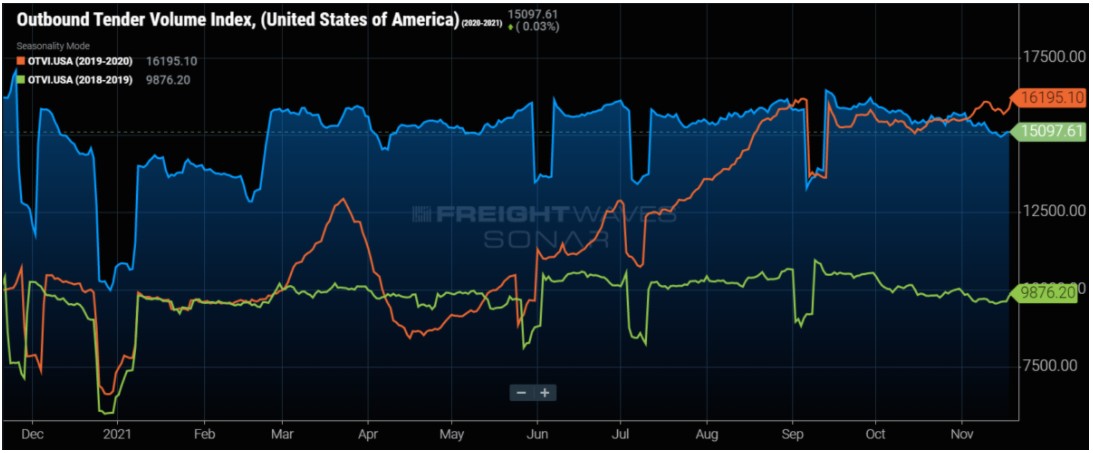 National Outbound Tender Rejections
The national outbound tender rejection index has gone from 19.25 on November 9 to 20.51 this week. As mentioned earlier in this report, reefer freight is struggling with the lion's share of those rejections. Capacity is still tight across the board and will only get tighter over the next day or two.
To put it into perspective, 88 of the 135 markets followed by Freightwaves saw an increase in rejection rates this past week.
The chart below shows the outbound tender rejection index in blue for the last several weeks compared with volumes in purple. (Chart: Freightwaves/Sonar)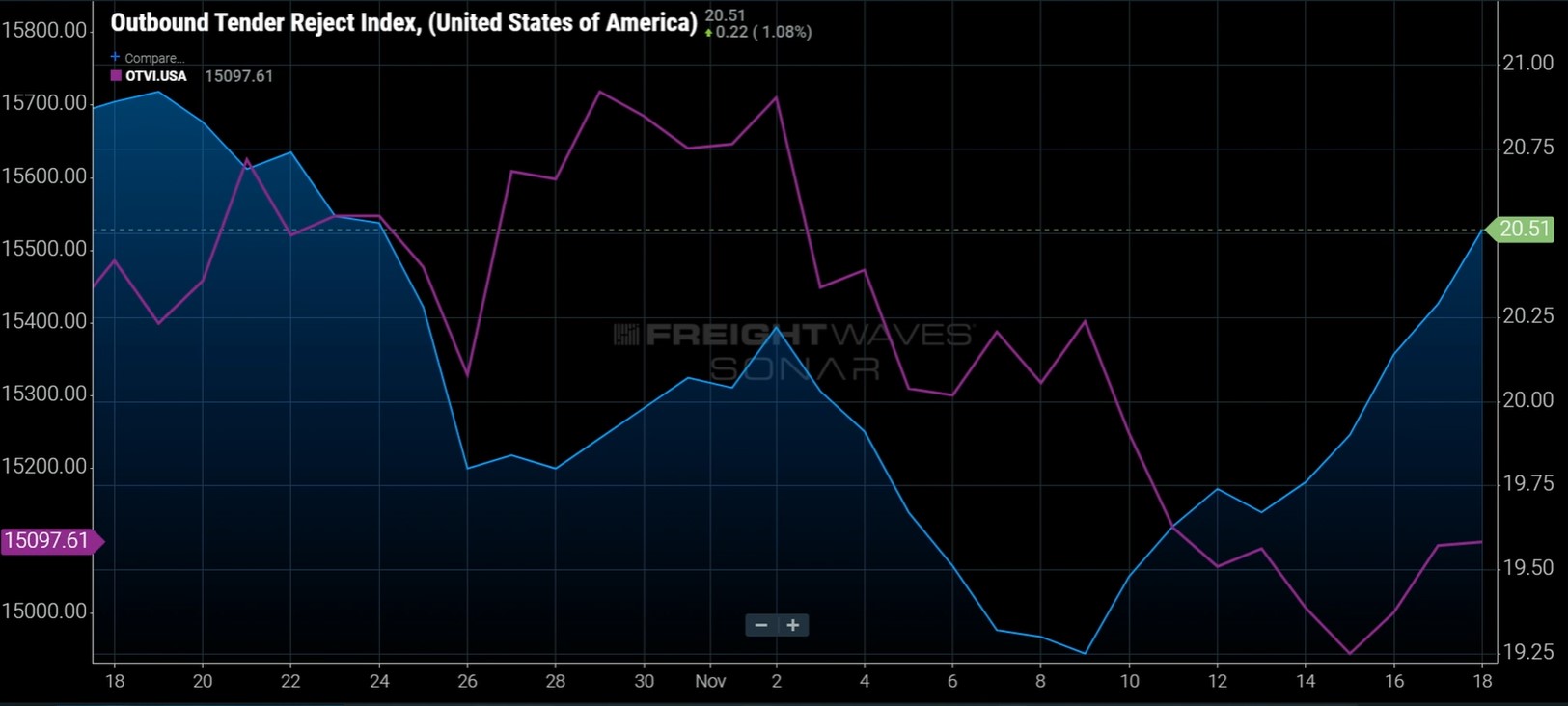 Outbound Tender Rejections by Mode of Service:
The chart below shows outbound tender rejection rates by mode. As you can see by the Sonar chart below, reefer freight is being rejected at a much higher rate than dry van or flatbed.
(Chart: Freightwaves/Sonar): Blue line shows reefer rejections, green line shows dry van, and the orange line shows flatbed rejections.

Who's Got the Power?
The DHL pricing power index remains at 70, indicating that negotiations are still in favor of carriers versus shippers.
The pricing power index is a weekly gauge put out by DHL that indicates who has more sway in negotiations when it comes to pricing and freight rates. (Source: Freightwaves)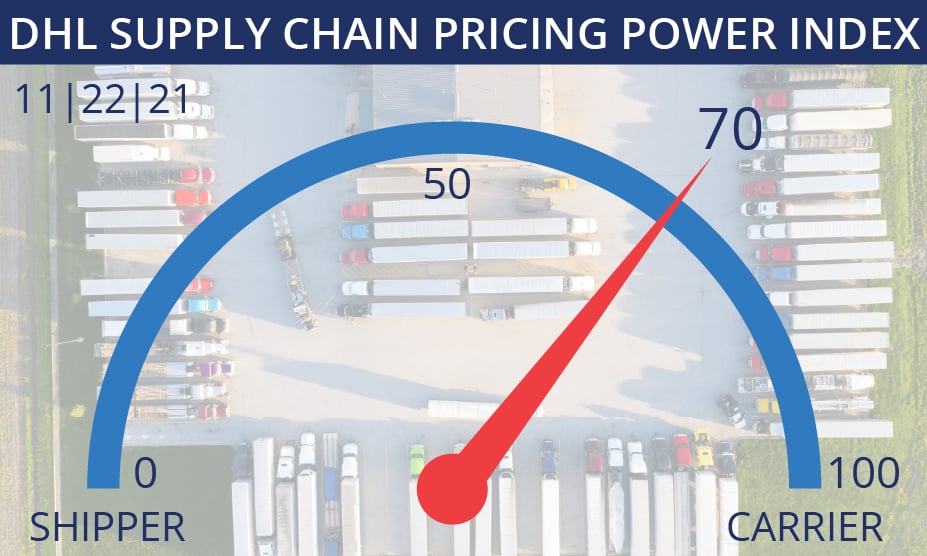 Rail/Intermodal
The domestic rail situation saw continued improvement this past week. Intermodal volumes rose 2.2% from October 2021 to November 2021. That is after an 8% increase from the two prior months. It is probably safe to say the fluidity is returning to the domestic rail market. On the contract side, however, pricing rose 14% year-over-year in October, according to Freightwaves.
(Chart: Freightwaves/Sonar)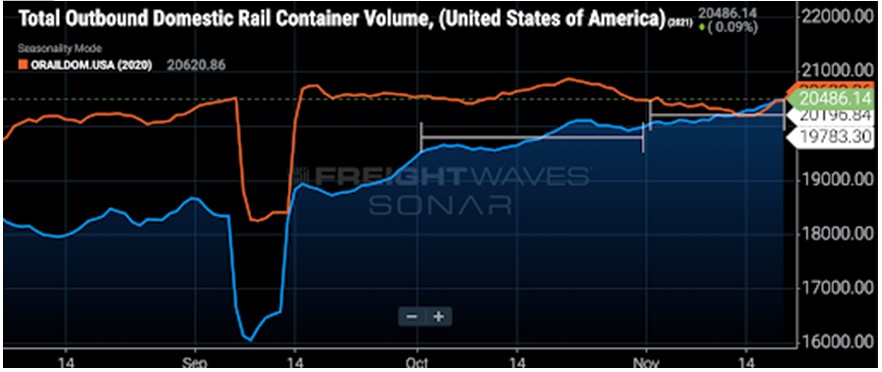 After experiencing a series of natural disasters from damaging floods and devastating landslides in British Columbia, rail service to the Port of Vancouver had to shut down for repairs. Luckily, CN and Canadian Pacific opened back up this week. It is a good thing, because they are seeing one of their busiest times with record volumes of bulk and container freight at the port. There are 47 vessels currently waiting at anchor.
This is not the first time this year that the port saw delays due to Mother Nature. This past summer produced wildfires that interrupted rail service for both CN and Canadian Pacific.
(Chart: Freightwaves/Sonar)

Ports
According to an article in Freightwaves, the time it takes from arrival at the Ports of Los Angeles/Long Beach to the unloading at berth has risen from 16.9 to 19 days. "Hurry up and wait" has been the underlying theme at U.S. ports for some time now.
Analysts say the congestion is easing at the ports, with only 71 ships at anchor on November 19 off the Ports of Los Angeles/Long Beach, down from 86 just a few days prior.
The upcoming Chinese New Year holiday in February 2022 will shut down factories for a week, which will slow down exports and hopefully give the supply chain a chance to catch up.
Graphic below: Flexport - Current state of freight forwarding and logistics - YouTube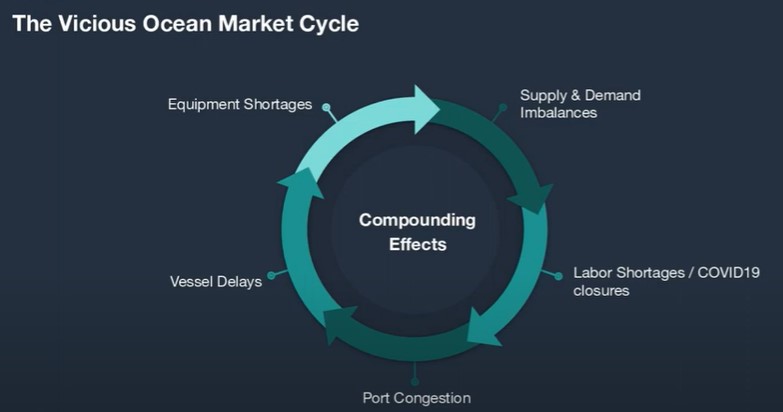 Economy
Consumer optimism seems to be unwavering. For the third month in a row, retail sales continue to rise. Americans just can't stop spending, and this is despite the fastest rise in inflation in 30 years.
Retail spending overshot forecasting with a 1.7% gain in October, the highest increase in seven months. There were strong gains in both retail stores and online shopping.
The chart below comes from FTR, showing that trucking fleets are enjoying a strong market. (See the story link at bottom of this market report.)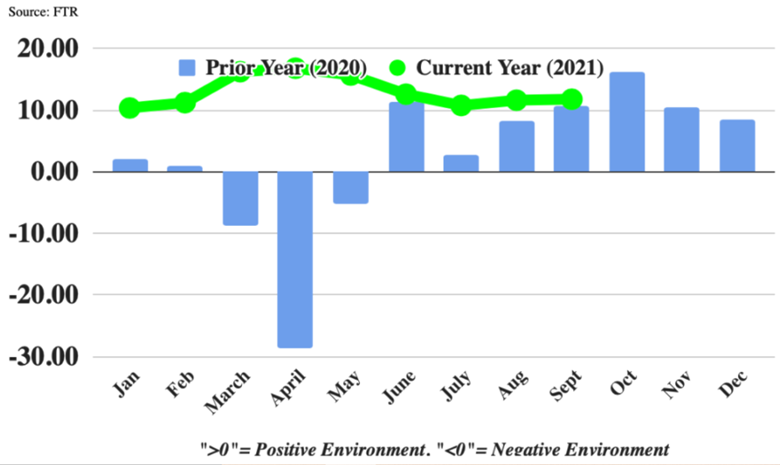 Retail Sales Growth
The top chart below shows the phenomenal growth of total retail sales (both in store and e-commerce) in blue, compared with van outbound tender volumes. The chart underneath it shows only e-commerce growth, which also has been remarkably strong.
Charts below: Freightwaves/Sonar


Initial Jobless Claims
The numbers came in for mid-November jobless claims at 268,000, a bit shy of the expected 260,000. in 2019, jobless claims were at teh 218,000 mark. According to Trading Economics, anything in the "200K-250K range is viewed as consistent with healthy labour market conditions."
Market Conditions
This morning's market conditions are shown below for the previous day for van, reefer, and flatbed. Areas in red exhibit areas of extremely tight capacity.
Van Capacity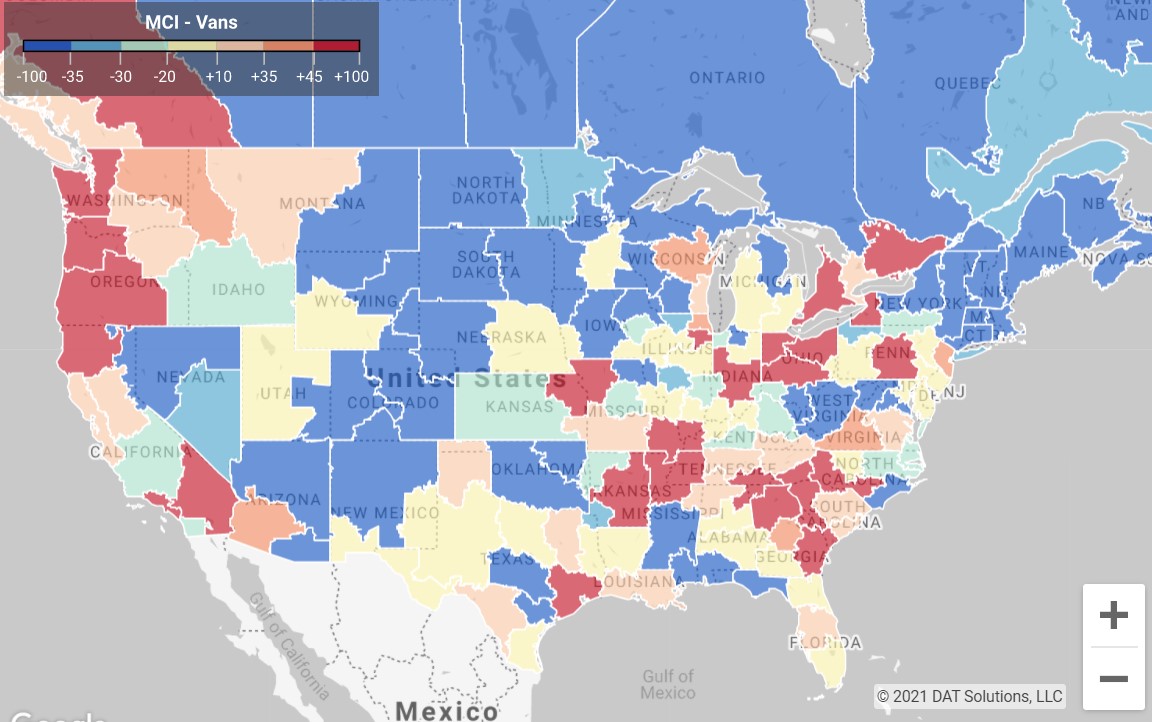 Reefer Capacity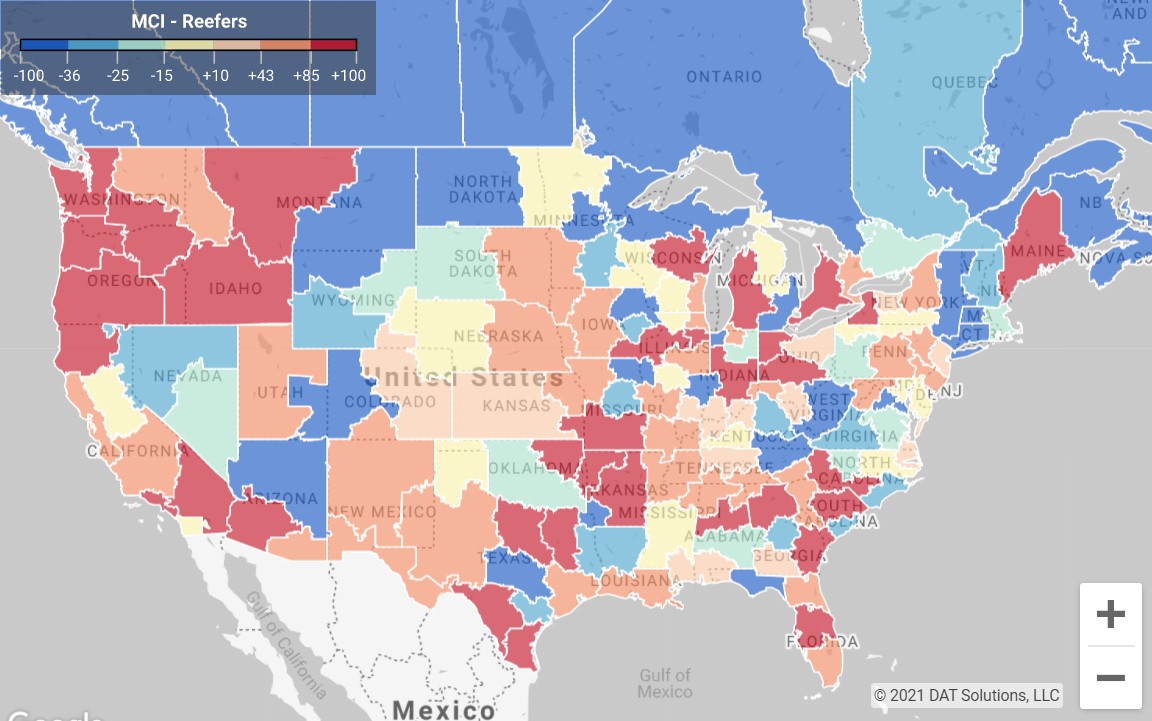 Flatbed Capacity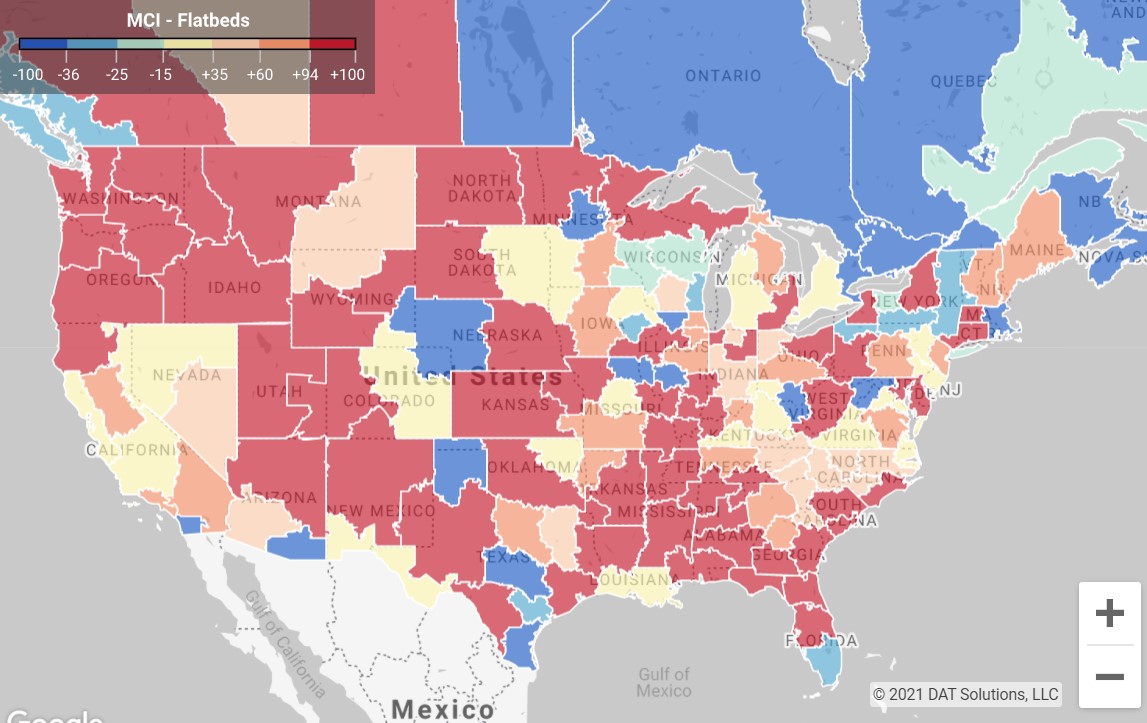 Shippers rely on the relationships they have with their 3PLs to ensure a smooth continuation of service whenever capacity gets tight. We hope you will continue to count on Choptank for all your freight needs, whether it be dry van, reefer, truckload, LTL, intermodal or cross-border shipping.
We would love to hear from you
What do you think about the Choptank Transport Market Brief? Do you find it helpful? Is there additional information you would like us to include or is there information you don't find relevant? Send comments to: marketing@choptanktransport.com
Have a Question? Ask one of our Experts
Your sales representative or a member of our professional logistics team is ready to help, so give us a call! 800.568.2240. If this information was forwarded to you and you would like to receive it, sign up here.