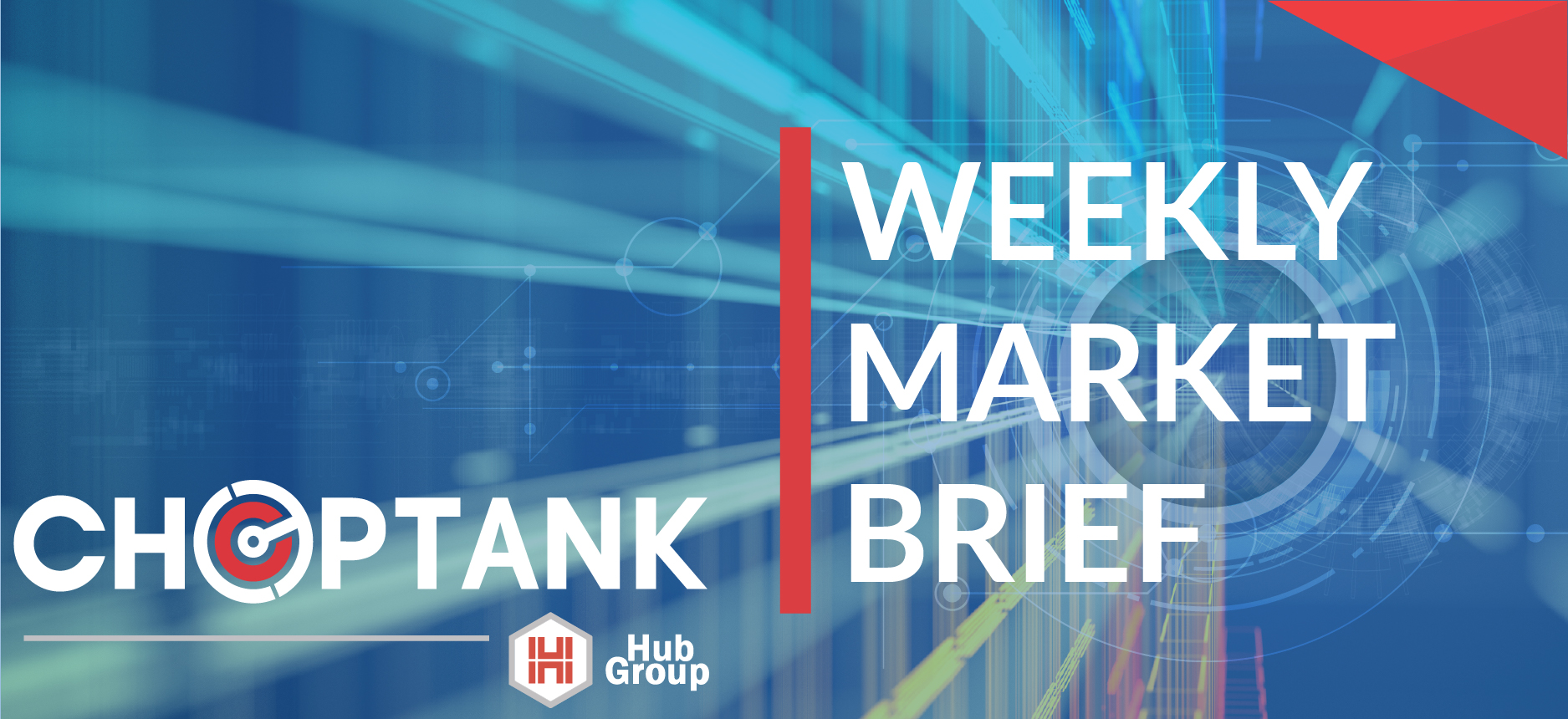 Progress at the Ports
Your Outlook for the Week Ahead
November 2, 2021
The Choptank Weekly Market Brief is offered exclusively to Choptank Transport customers to provide accurate, timely, and relevant freight market information. The contents of this brief are collected from reputable sources including DAT, Freightwaves/Sonar, Truckstop.com, the Department of Labor, the Department of Transportation, and other sources as cited throughout the brief.
We are in the midst of a battle. It is the global supply chain versus the Ports of Los Angeles and Long Beach (LA/LB). It is history in the making and will no doubt bring about substantial changes to the way we move our goods from one place on the planet to another. But those changes are not happening fast enough.
The Ports of LA/LB are not equipped to handle the amount of freight they have today. No port is. Prior to the pandemic, 17 ships at berth was the norm. Today there have been as many as 100 vessels waiting at one time. Volumes are at historic levels, and the problems created by the extended influx of massive imports are monumental. In recent weeks, however, we have been able to find a few ways to keep things moving.
Extending the ports hours to provide 24/7 operations was the first big move. This solution has been criticized by some as ineffective due to shortages of labor during night and weekend hours. Granted, it may not be the panacea we have all been looking for, but it is at least progress (watch our weekly video).
Rail to the Rescue: Another recent move by the Port of Long Beach is currently underway. The inland port project is an initiative with the state of Utah to put containers on rails instead of trucks to help alleviate some of the congestion. Containers will be loaded onto Union Pacific (NYSE: UNP) rail lines destined for Salt Lake City's Union Pacific intermodal facility. From there they will go on to other destinations by either rail or truck, as arranged by the port.
"Converting road into rail cargo has many benefits and is part of our ongoing drive to reduce impacts associated with cargo movement," said Jack Hedge, executive director of the Utah Inland Port Authority," in a recent interview in American Shipper.
BNSF Railway and Union Pacific are also looking at ways to improve the bottlenecks. The Journal of Commerce reports, "The western US railroads are offering refunds to customers who bring containers into their Los Angeles metro intermodal terminals on the weekends, a move to incentivize off-peak business."
Just last week, the ports of LA/LB announced they may begin charging fines for containers that have been sitting too long to encourage the faster movement of goods. This strategy, however, may get complicated as the ports also try to prioritize freight (so that shipments of artificial Christmas trees, for example, take precedence over shipments of outdoor patio furniture). The extra fees will likely be a hot topic for debate in the coming weeks.
More rail news: Hub Group CEO: No end in sight for strong demand, tight capacity - FreightWaves
---
Wow! Those are some hefty fines.
It was announced last week by the Ports of LA/LB that fines of $100 per container, per day,
may be put into place as of November 1, 2021.
Read more about it here.
__________
This week's video
More Ocean Incidents with Elevated Vessel Traffic
Off the Canadian coast, the Zim Kingson lost 40 containers overboard this past weekend, in addition to catching on fire and spreading toxic fumes. Read more about it here or watch the video below.
Number of the Week
$800M
Looking for a set of tools for your husband this Christmas? They might be hard to find. Stanley Black & Decker has $800 million of in-transit inventory tied up in the supply chain, up from $300 million at the start of the Covid pandemic.
Insights from a Choptank Transport Expert
Topic: This week's market
"Trucks are getting booked quickly. Given today's market conditions, speed and accuracy of communication are as important as they've ever been. Fast, accurate, and transparent communication (internally and externally) help all parties succeed, giving the end-user the results they want."
- Brian Thompson, Sales Manager (Dallas), Choptank Transport
What's Up in the Spot Market?
October 18 - October 24, 2021: Overall spot loads declined last week by 8.7% with dry van load-to-truck ratios down 3.5% and reefer load-to-truck ratios down 7.5%. On a month-over-month basis, load posts are down 15%. Spot rates were slightly up for van and reefer this past week, but down for flatbed.
Source: DAT Solutions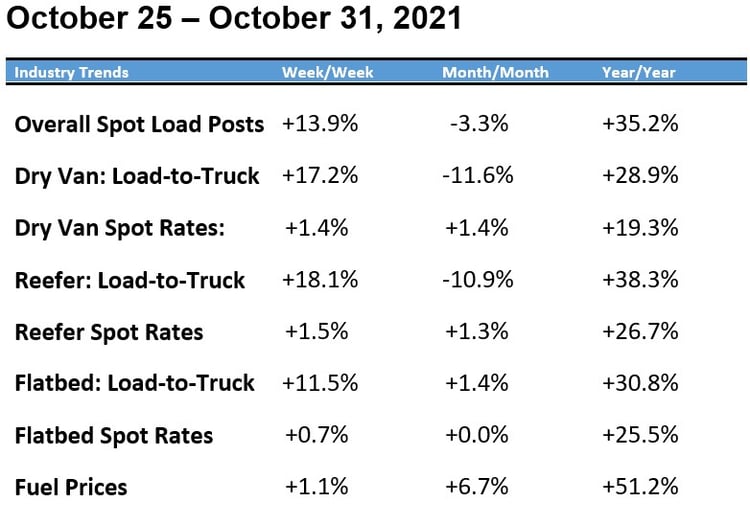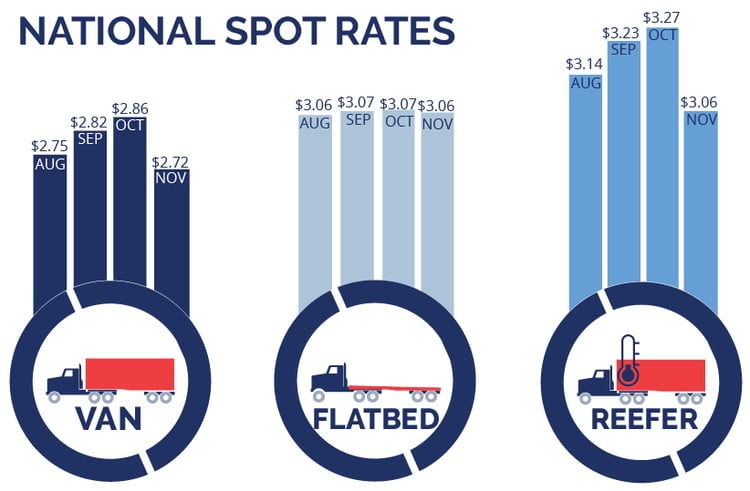 Contract Market for Truckload Freight
In the last 12 months, dry van contract rates have risen by 20%. With bid season approaching for the coming year, it is important to review and compare rates in regard to inflation and recent market data, such as the chart below.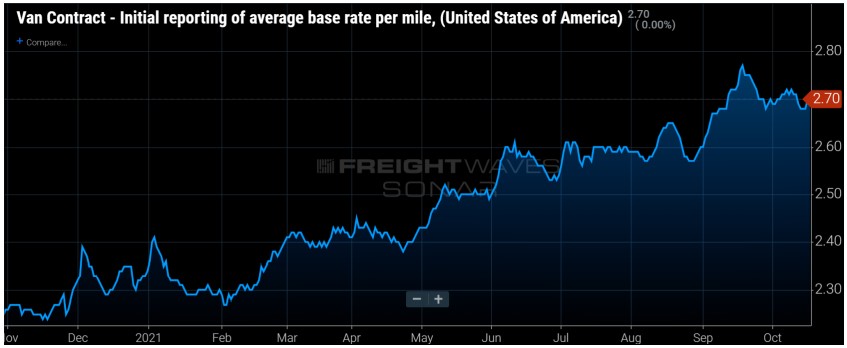 BIGGEST CHANGES IN THE MARKET


(Freightwaves/Sonar)
Contract Market for Truckload Freight
In the last 12 months, dry van contract rates have risen by 20%. With bid season approaching for the coming year, it is important to review and compare rates in regard to inflation and recent market data, such as the chart below.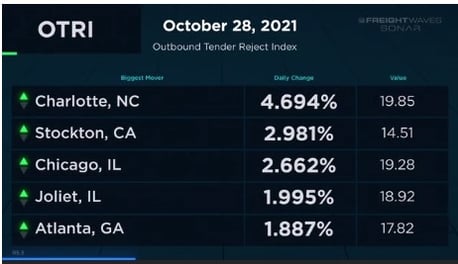 Markets with the largest daily increase in tender VOLUMES. (Source: Freightwaves)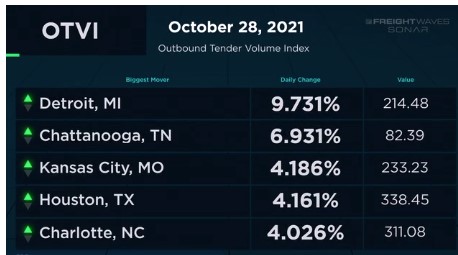 Van Outbound Tender Volumes
It has been another week in which volumes seem to be mirroring those of last year. We saw a slight decline at the beginning of October, but that seems to have leveled off, only declining two-tenths of a percent overall last week.
Sixty-nine out of the 135 largest markets had higher volumes this past week compared with the prior week. Interestingly, volumes in previously busy markets, such as Elizabeth, New Jersey, (which serves the Port of New York/New Jersey) fell by 9.7% week-over-week.
The chart below shows YTD in blue, compared with 2020 in green and 2019 in orange. (Chart: Freightwaves/Sonar)

National Outbound Tender Rejections
The national outbound tender rejection index fell to its lowest point since August 2020 to 19.8%. With rejections earlier in the year over 25% this is good news; however, it probably will turn around in the next few weeks as the holidays grow nearer.
Forty-five out of the 135 largest markets saw rejection rates increase over the past week. According to Freightwaves/Passport, "...some executives have called for another round of double-digit rate increases in 2022 to aid in driving better compliance." Reefer rejection rates, which are typically much higher than the national rates, have escalated to 36.77%.
The chart below shows YTD national rejection rates compared with 2020 in purple and 2019 in green. (Chart: Freightwaves/Sonar)

Who's Got the Power?
The DHL pricing power index is at 70, indicating that negotiations are still in favor of carriers versus shippers.
The pricing power index is a weekly gauge put out by DHL that indicates who has more sway in negotiations when it comes to pricing and freight rates. (Source: Freightwaves)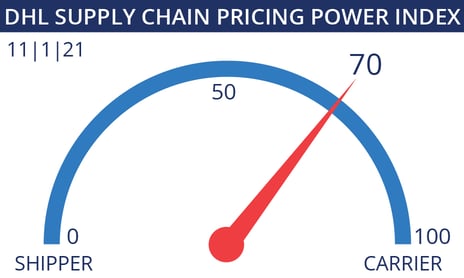 Rail/Intermodal
Did you know?: "Loading 100 intermodal rail cars is equivalent to taking 300 trucks off the road. Rail is four times more fuel-efficient than truck and lowers greenhouse gas emissions by 75%, according to an analysis by the Association of American Railroads." - American Shipper
Domestic daily intermodal volumes rose by 8% in October compared with August to September averages, an indication that rail networks are improving.
Charts below: Freightwaves/Sonar.

Economic News
There are supply chain disruptions, a workforce deficit, and concerns over rising inflation. What else can we worry about?
A lot of things are concerning these days. The good news is that initial jobless claims tumbled once again this week, down from 291,000 to 281,000, which is another new pandemic low. But, according to The Wall Street Journal, "The labor-force participation rate—the share of adults holding or actively seeking jobs—was 63.4% in January 2020, before plummeting with the arrival of the pandemic, and has only recovered to 61.6%."
Economic growth slowed to a 2% annual rate in Q3 while orders for durable goods slipped by 0.4% in September – the first dip since springtime. Supply shortages are a factor in the U.S. economy's growth. (See Bloomberg chart below). In addition, consumer sentiment fell slightly in October, from 72.8 in September to 71.7 in October. (Chart below: Collisionweek.com)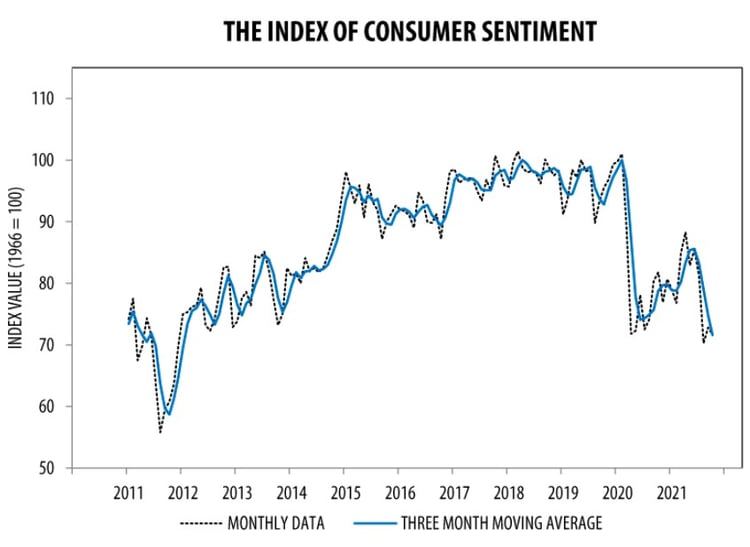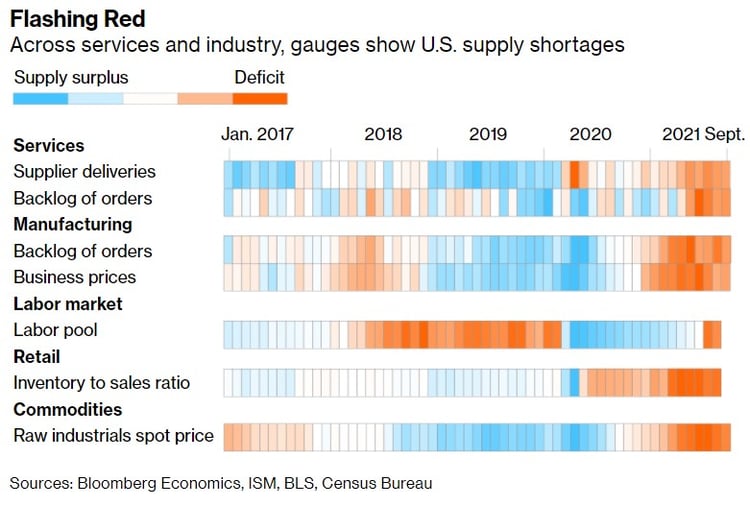 Market Conditions
This morning's market conditions are shown below for the previous day for van, reefer and flatbed. Areas in red exhibit areas of extremely tight capacity.
Van Capacity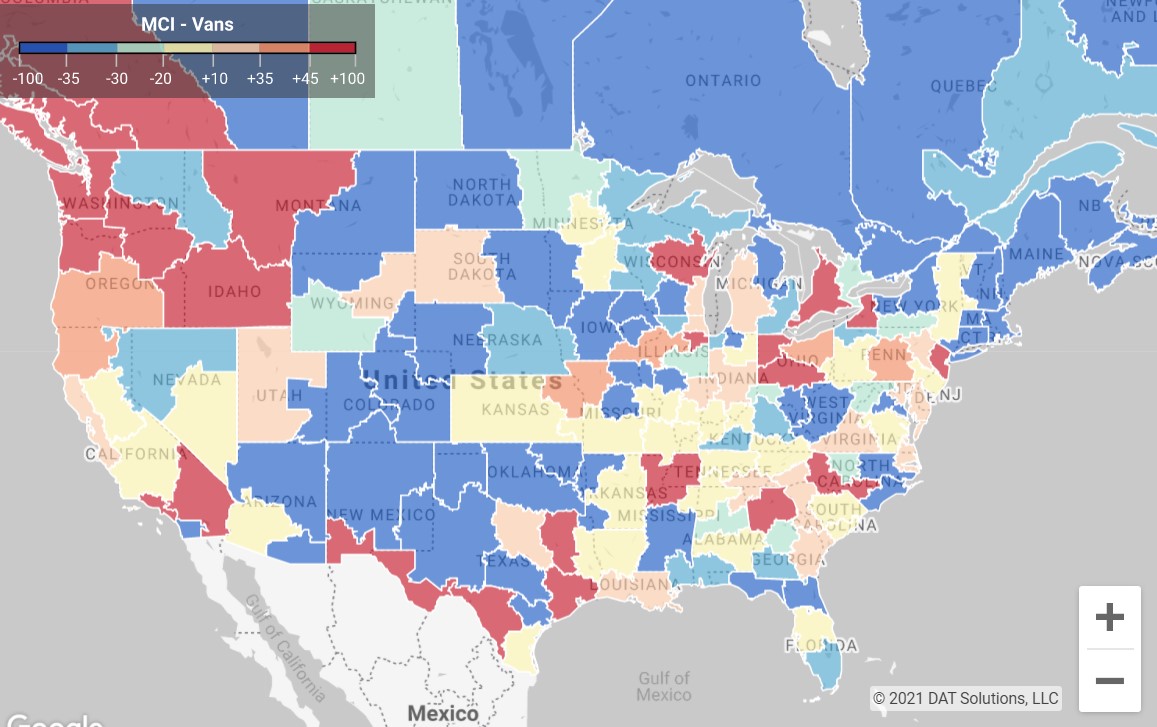 Reefer Capacity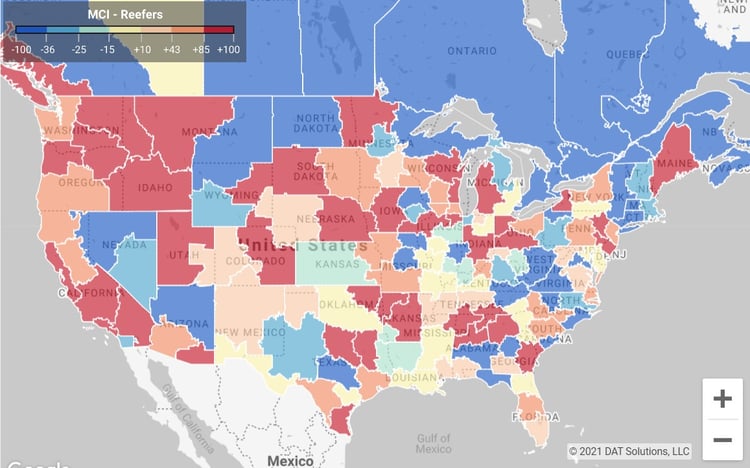 Flatbed Capacity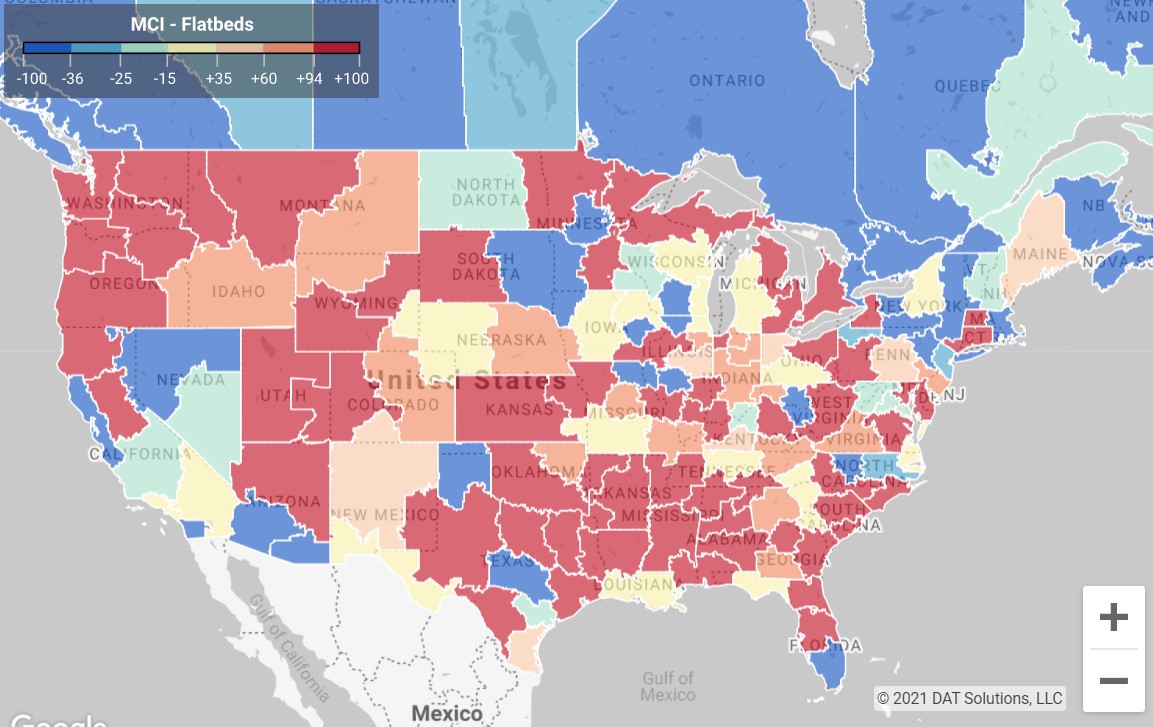 Shippers rely on the relationships they have with their 3PLs to ensure a smooth continuation of service whenever capacity gets tight. We hope you will continue to count on Choptank for all your freight needs, whether it be dry van, reefer, truckload, LTL, intermodal or cross-border shipping.
We would love to hear from you
What do you think about the Choptank Transport Market Brief? Do you find it helpful? Is there additional information you would like us to include or is there information you don't find relevant? Send comments to: marketing@choptanktransport.com
Have a Question? Ask one of our Experts
Your sales representative or a member of our professional logistics team is ready to help, so give us a call! 800.568.2240. If this information was forwarded to you and you would like to receive it, sign up here.