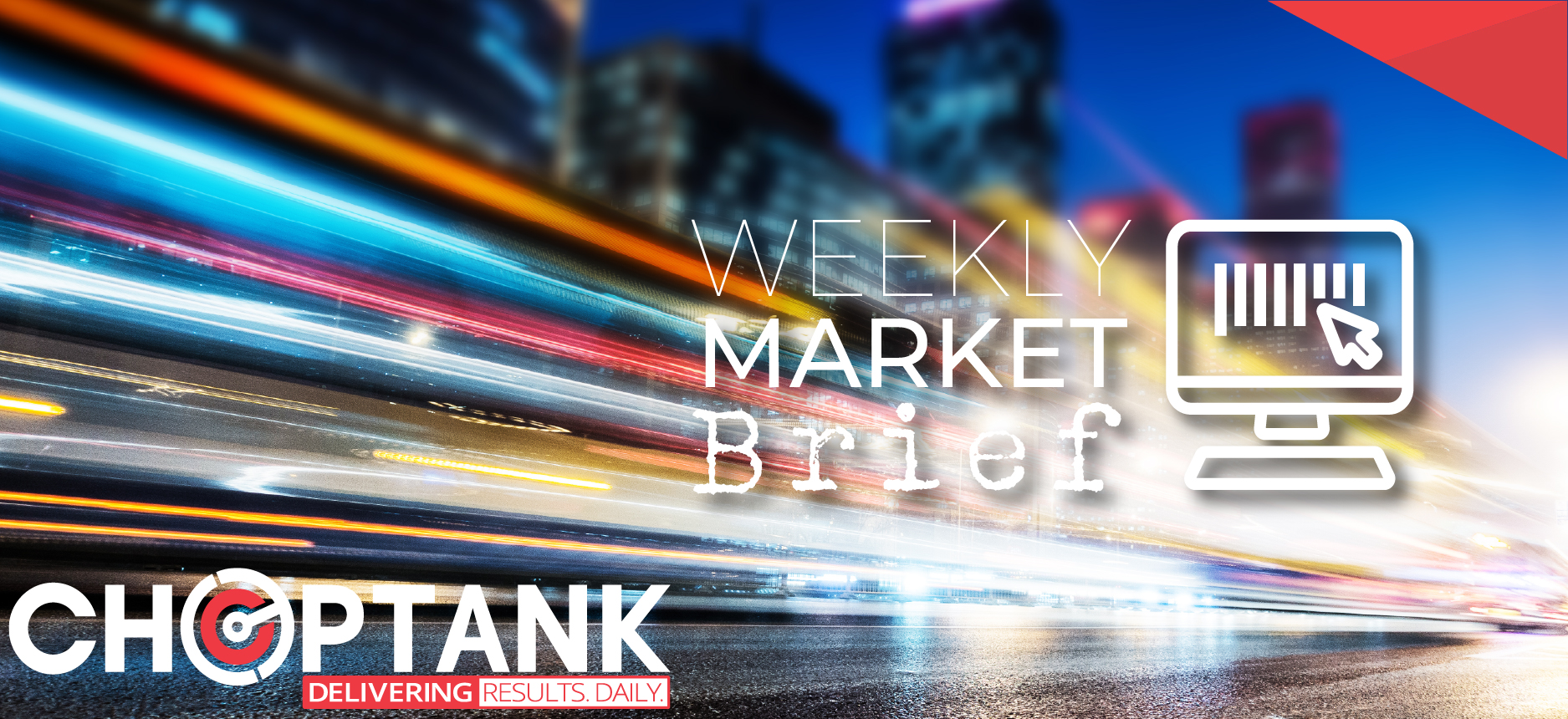 What About Some Positive News for a Change?
Your Outlook for the Week Ahead
October 26, 2021
The Choptank Weekly Market Brief is offered exclusively to Choptank Transport customers to provide accurate, timely, and relevant freight market information. The contents of this brief are collected from reputable sources including DAT, Freightwaves/Sonar, Truckstop.com, the Department of Labor, the Department of Transportation, and other sources as cited throughout the brief. I
It seems that every week there is another alarming news story relating to the pandemic. Yes, U.S. ports are congested beyond what we have ever seen before. Inflation is showing signs of being less transitory and more permanent in nature, and shadow inflation is a real thing that is happening right under our noses. But there is good news, too, that does not get as much attention as the headline-grabbing stories that paint a much darker future.
The latest initial jobless claims report came in at 290K, the lowest since March 14, 2020. And job openings? They reached a record high this summer. Another piece of good news is that your house is most likely worth more than it has ever been. U.S. home sales jumped 7% in September and interest rates remain low.
Zillow expects home values to grow 13.6% between September 2021 and September 2022, and to end 2021 up 19.5% from December 2020.
Existing home sales are expected to total 6.04 million in 2021, up 7% from 2020.
This is good news for a large segment of the population making their first-ever home purchase. Retail sales also grew by an unexpected 0.7% in September from the previous month.
---
This week's video
Good News Regarding Retail Sales
(Source: KPMG, LLC.) Video is 1:12 in length.
__________
This week's video #2
More Ocean Incidents with Elevated Vessel Traffic
Off the Canadian coast, the Zim Kingson lost 40 containers overboard this past weekend, in addition to catching on fire and spreading toxic fumes. Read more about it here or watch the video below.
Num

ber of the Wee

k

53.8%
Elkhart, Indiana, is known as the RV capital of the United States. It is also the number one emerging housing market, according to the WSJ/Realtor.com Emerging Housing Markets Index Fall 2021. The COVID-19 pandemic spurred more RV demand, as households wanted to travel while keeping their distance from others. Wholesale RV shipments in the first eight months of 2021 rose 53.8% from the same period in 2020, according to the RV Industry Association.
Insights from a Choptank Transport Expert
Topic: This week's market - intermodal and dry LTL
"Intermodal rates are expected to remain somewhat steady this week, although capacity is still tough, but workable if shippers are willing to be flexible. The tightest capacity is out of California and the Pacific Northwest for intermodal reefer. Some of our carriers' general rate increases are going into effect November 1, 2021, for dry LTL, with more expected to follow. Also, shippers should keep in mind that capacity always tightens toward the end of the month."
- Robin Tull, Senior Manager of Specialized Logistics, Choptank Transport
What's Up in the Spot Market?
October 18 - October 24, 2021: Overall spot loads declined last week by 8.7% with dry van load-to-truck ratios down 3.5% and reefer load-to-truck ratios down 7.5%. On a month-over-month basis, load posts are down 15%. Spot rates were slightly up for van and reefer this past week, but down for flatbed.
Source: DAT Solutions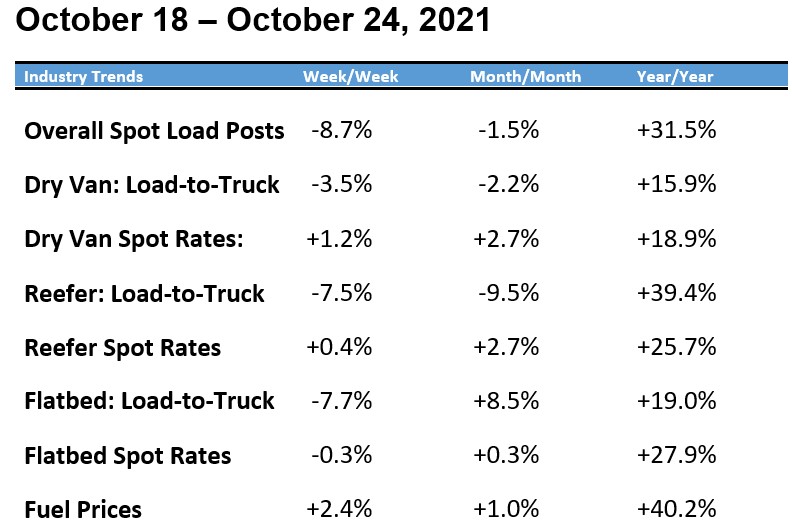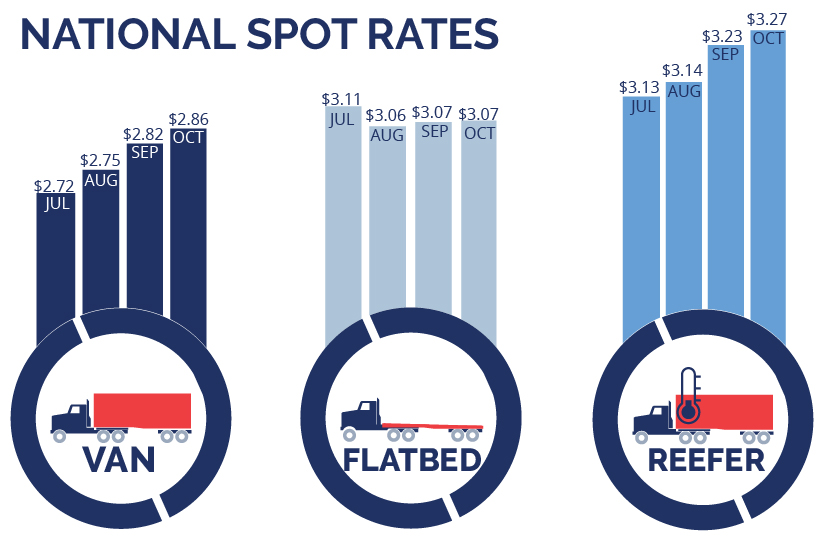 BIGGEST CHANGES IN THE MARKET


(Freightwaves/Sonar)
Markets with the largest daily increase in tender rejections. For shippers, these markets may be suddenly more difficult to find capacity.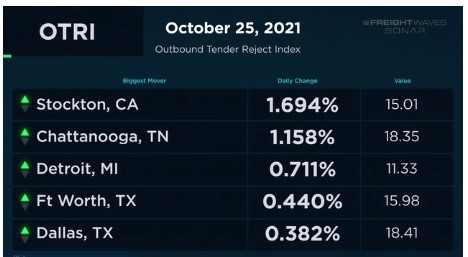 Markets with the largest daily increase in tender volumes. For shippers, these markets should be less difficult to find capacity.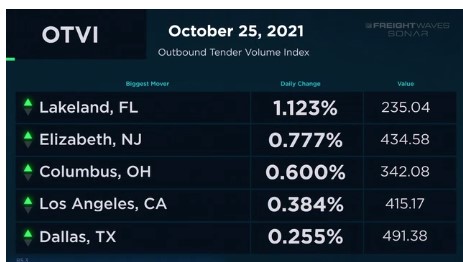 Van Outbound Tender Volumes
It looks like we are neck-and-neck with 2020 volumes although slightly higher, but mimicking the same pattern. Since seasonality seems to be playing a part in the index right now, it is expected that volumes will remain steady without any sudden surges, at least until Black Friday.
(Chart: Freightwaves/Sonar)
National Outbound Tender Rejections
Dry van rejection rates continue to hover just over the 20% market, at 20.22%, which is very high compared with pre-pandemic rejection rates, but low compared with rejection rates from the last six months. Reefer rejections, as usual, are higher at 37.57%.
Charts below: On the left, outbound tender rejections for vans compared with outbound tender volumes. The chart on the right shows reefer outbound tender rejections versus reefer outbound tender volumes.
(Chart: Freightwaves/Sonar)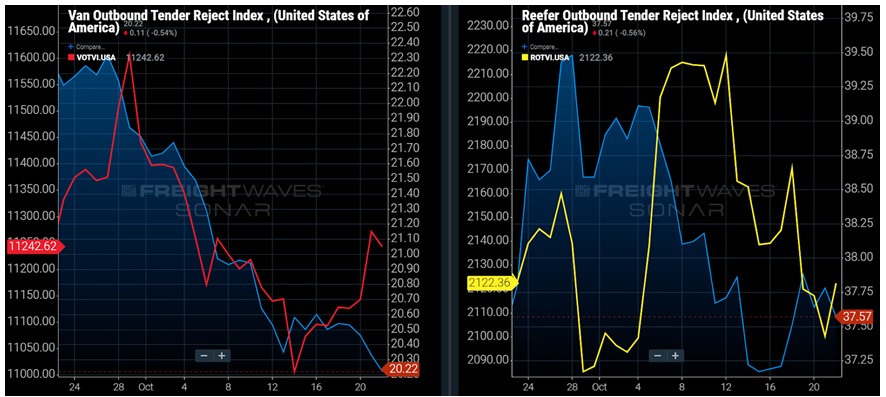 Who's Got the Power?
The DHL pricing power index has not changed since October 1, indicating that negotiations are still in favor of carriers versus shippers.
The pricing power index is a weekly gauge put out by DHL that indicates who has more sway in negotiations when it comes to pricing and freight rates. (Source: Freightwaves)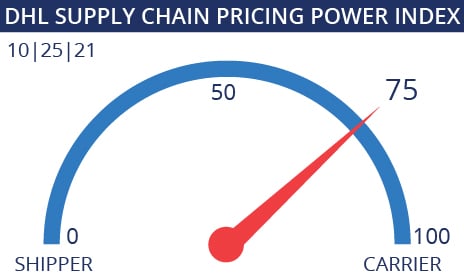 Rail/Intermodal
October is typically the time of year when intermodal volumes hit their peak. This year, however, looks different for domestic intermodal. Overall intermodal volumes are expected to rise over the next few months instead of flattening or declining as freight continues to make its way through the constraints that have plagued the sector for months.
3 Charts below: Freightwaves/Sonar.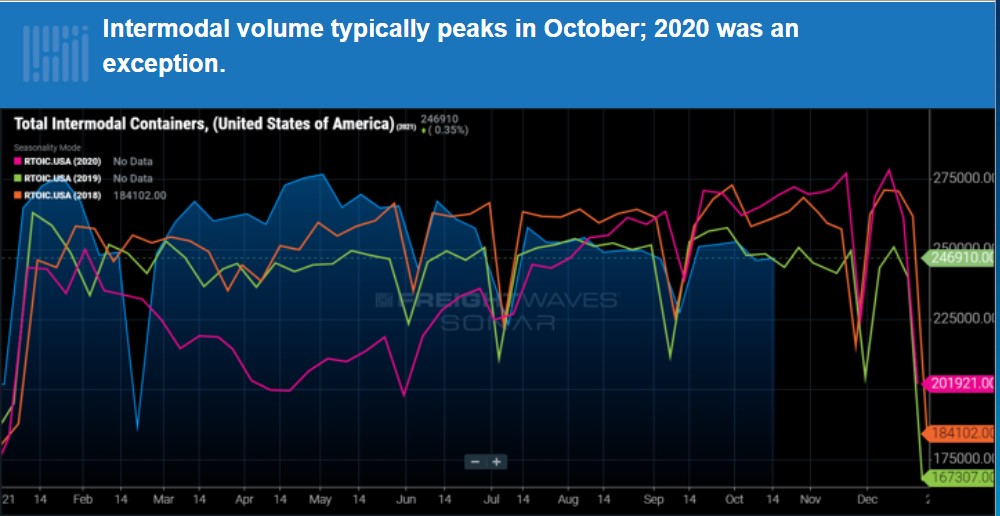 What are the differences between domestic intermodal and international intermodal trends right now? Since mid-September, domestic rail volumes are starting to close the gap between this year and last in the chart below. (The blue line shows 2021 data and the orange line shows 2020 data.)
The terms "international intermodal" and "domestic intermodal" refer to whether the containers being moved are international equipment or domestic equipment and, in turn, which party owns the equipment, not whether the goods were actually manufactured overseas.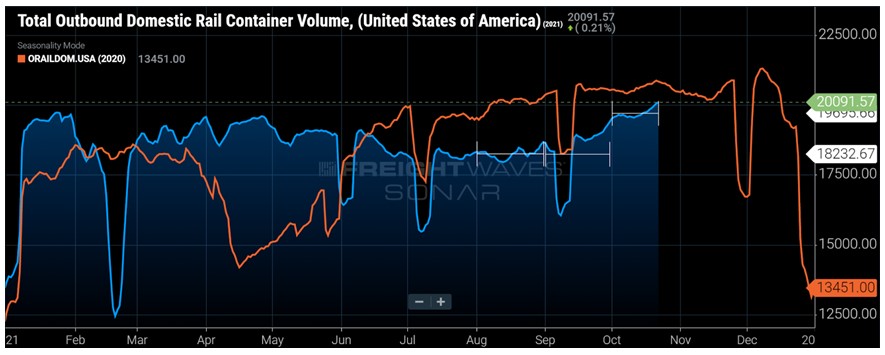 The chart below shows domestic rail container volume compared with international rail container volume.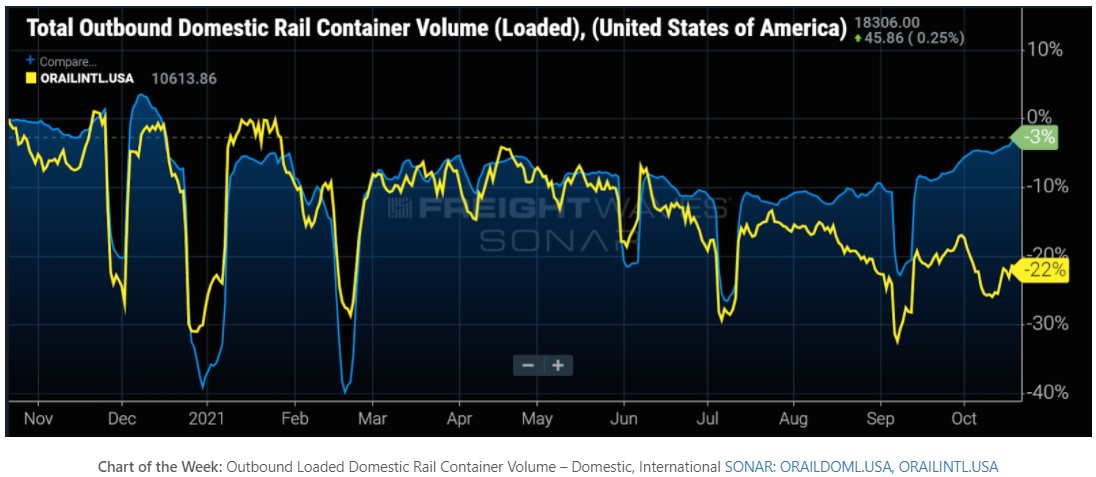 Ocean Freight
As recently as this past Friday, there were 79 container vessels waiting to unload at California ports. Changes are being implemented in the City of Long Beach (not to be confused with the Port of Long Beach) to alleviate the congestion. Most recently, effective for 90 days, warehouses and container yards are now able to place up to four containers in a stack instead of the two normally allowed. Some companies can stack up to five containers with certain safety approvals.
It is estimated that demand in the container market will hit its peak in the next two to three weeks as delays continue in every sector, including at drayage, warehousing, and transloading facilities.
Henry Byers at Freightwaves notes, "On the demand side, containerized ocean volumes already departed from China to the U.S. peaked during the latter half of September, and in the next 14 days volumes will drop off about 7% to 10% y/y."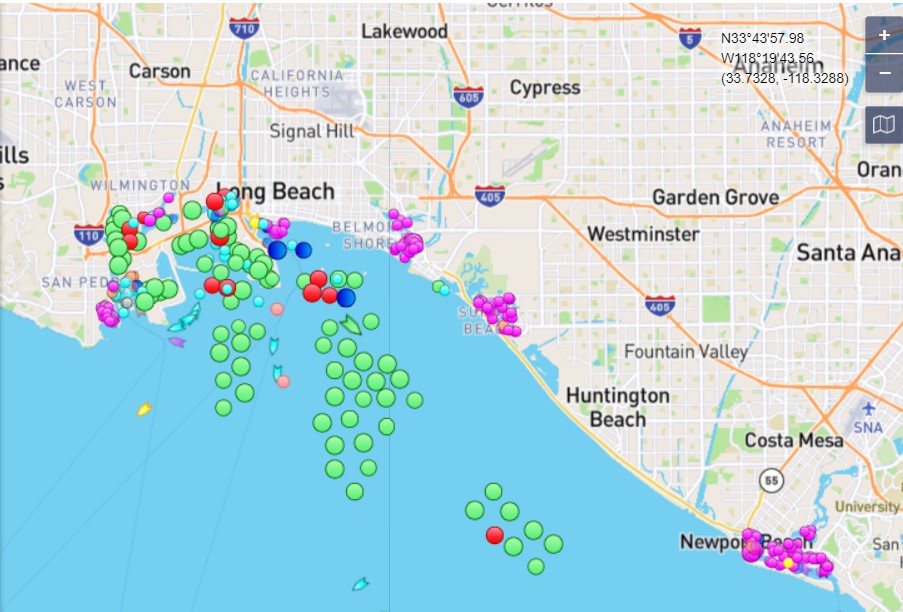 Map: marinetraffic.com
Economic News
Last week we reported that initial jobless claims were down to under 300,000. The current level of initial jobless claims is 290,000, which is down from 296,000 last week and down from 833,000 one year ago. This is a change of -2.03% from last week and -65.19% from one year ago. But good news aside, a recent article in CNNBusiness said that half of all American companies say they are short on skilled workers.
Looking at industrial production, the numbers took a dip over the past several weeks by 1.3%, which was expected due to a lack of raw materials, supply chain delays, and labor shortages. One of the worst-hit sectors was the automobile industry. Industrial production declined 7% because of chip shortages.
Despite the waning numbers in the industrial production data, orders are still on the rise as shown by the blue line below, compared with flatbed outbound tender rejections which seem to follow the same trajectory.
(Chart: Freightwaves/Sonar)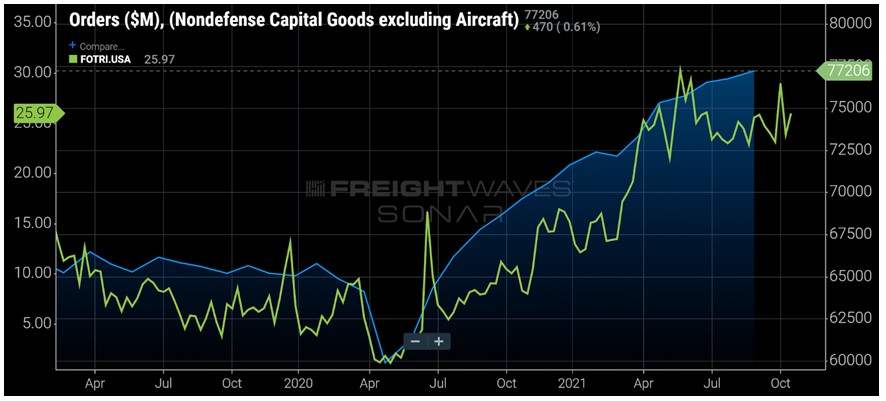 Market Conditions
This morning's market conditions are shown below for the previous day for van, reefer and flatbed. Areas in red exhibit areas of extremely tight capacity.
Van Capacity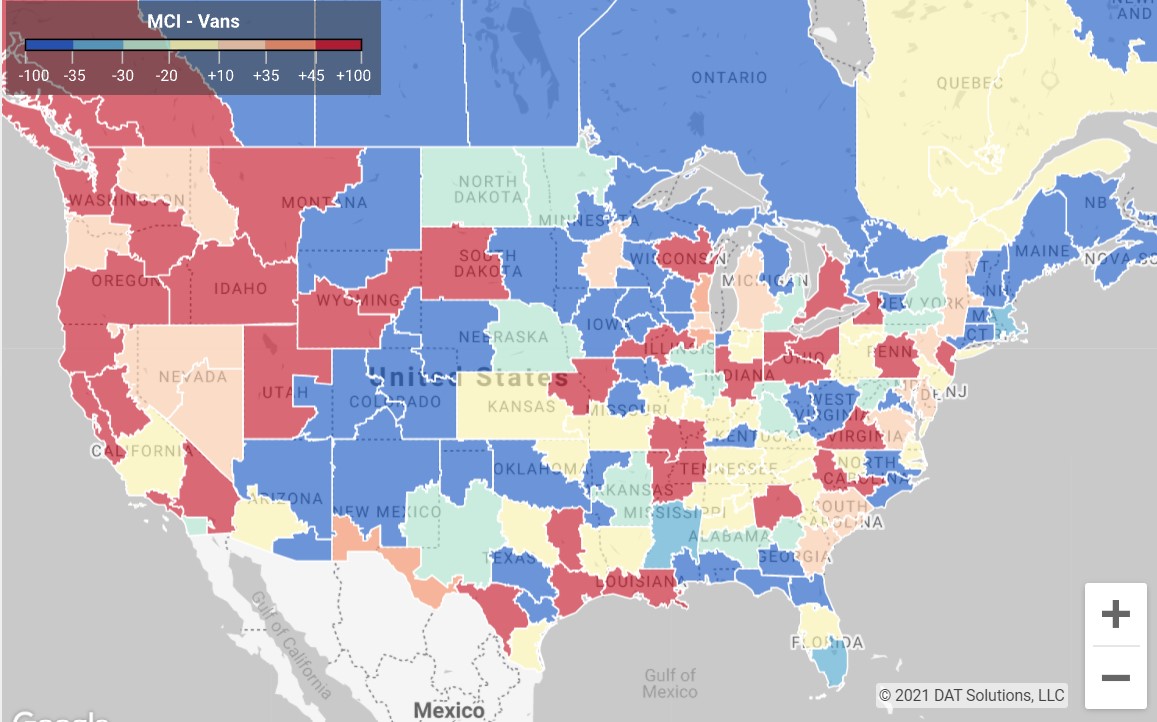 Reefer Capacity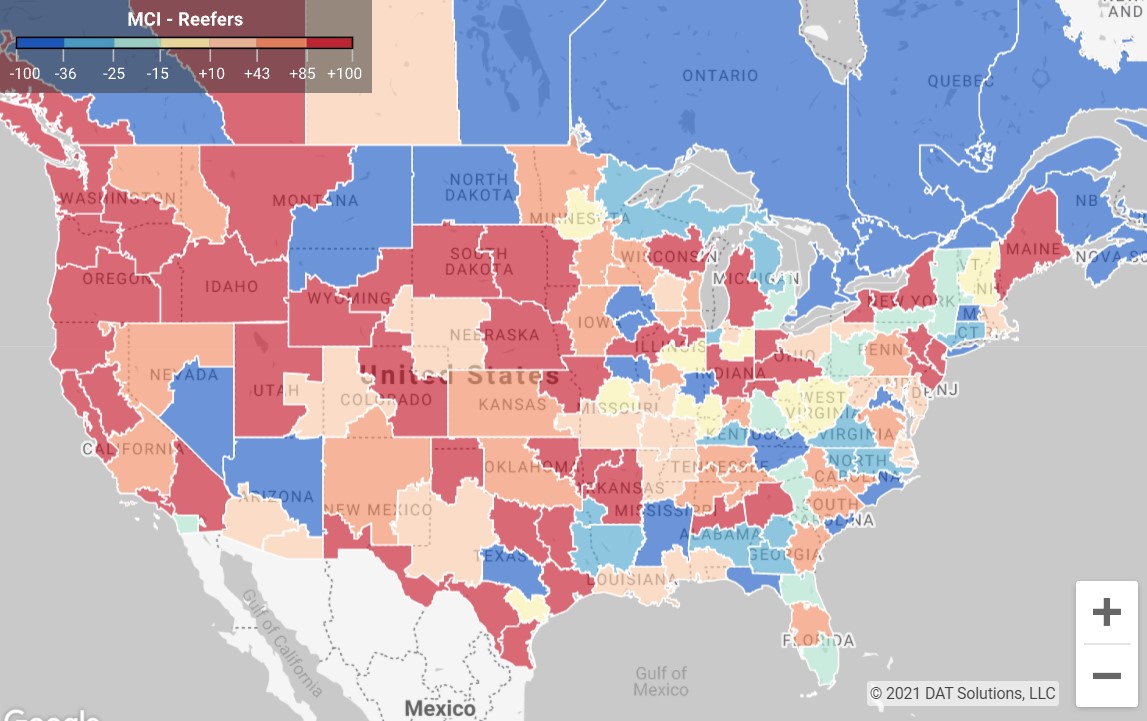 Flatbed Capacity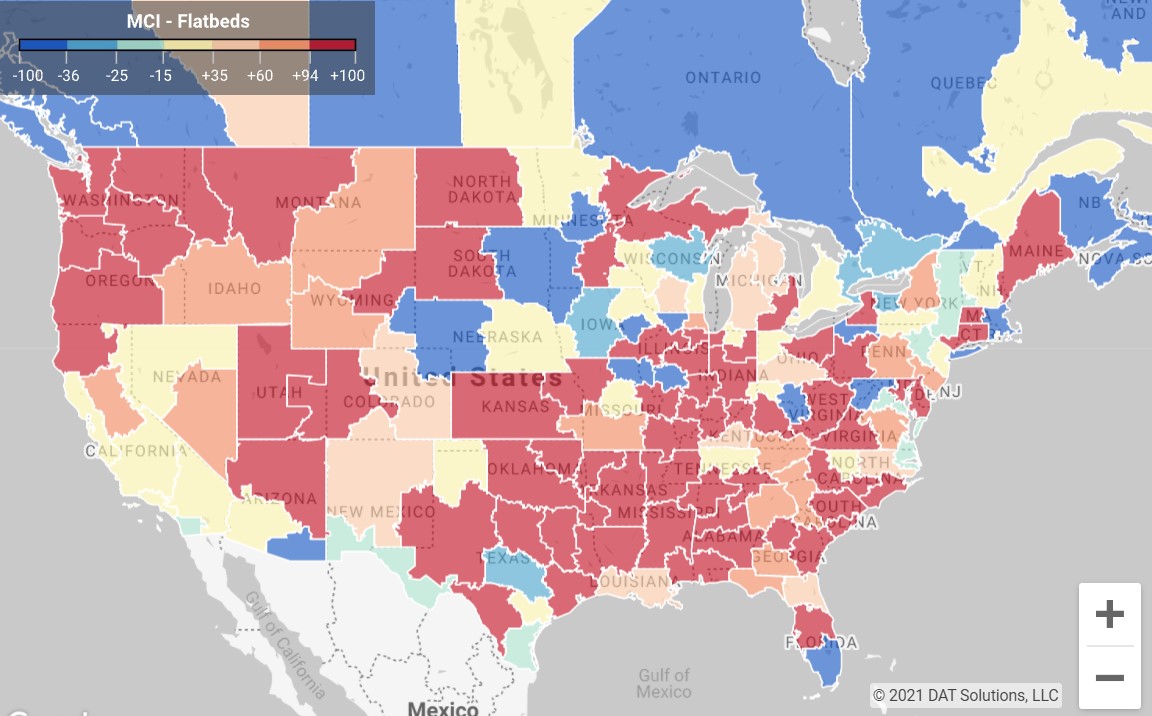 Shippers rely on the relationships they have with their 3PLs to ensure a smooth continuation of service whenever capacity gets tight. We hope you will continue to count on Choptank for all your freight needs, whether it be dry van, reefer, truckload, LTL, intermodal or cross-border shipping.
We would love to hear from you
What do you think about the Choptank Transport Market Brief? Do you find it helpful? Is there additional information you would like us to include or is there information you don't find relevant? Send comments to: marketing@choptanktransport.com
Have a Question? Ask one of our Experts
Your sales representative or a member of our professional logistics team is ready to help, so give us a call! 800.568.2240. If this information was forwarded to you and you would like to receive it, sign up here.