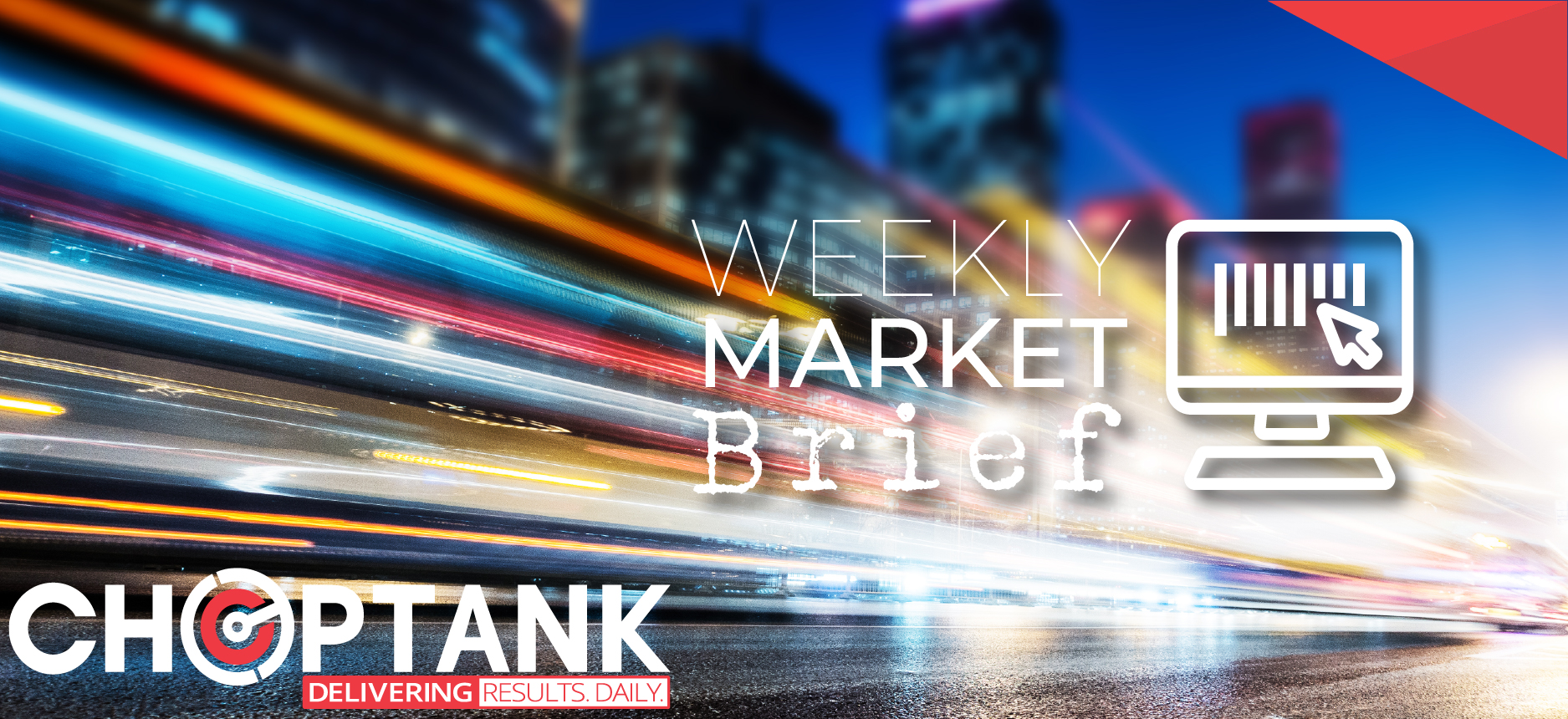 Will 24/7 Port Operations Be the Answer to the Logjam?
Your Outlook for the Week Ahead
October 19, 2021
The Choptank Weekly Market Brief is offered exclusively to Choptank Transport customers to provide accurate, timely, and relevant freight market information. The contents of this brief are collected from reputable sources including DAT, Freightwaves/Sonar, Truckstop.com, the Department of Labor, the Department of Transportation, and other sources as cited throughout the brief. I
Just how bad is the port situation? The Marine Exchange of Southern California posted on Twitter: "Ship report 10/14: 139 total ships in port LA/LB includes 83 at anchor or holding areas & 56 at berths. Of the 139, 91 are container ships including 64 at anchor or in holding areas & 27 at berth. 32 vessels in holding areas; 28 container ships, 4 tankers.
President Biden met with key players regarding the port congestion dilemma this past week to encourage 24/7 operations at the ports of Long Beach and Los Angeles. In addition to port leaders, other stakeholders were part of the discussion, such as teamsters, longshoremen, and business executives from Walmart, UPS, FedEx, Home Depot and Target. The intentions behind lengthening the hours of operations are well-meaning, but will the plan be effective in time to make a difference for Christmas merchandise?
Some critics say these measures are too little, too late, and do not believe that simply extending hours will be enough to alleviate the situation before the holidays. Longer hours, they argue, will not begin to address the more fundamental, underlying problems in the supply chain such as a shortage of chassis, congested rail yards, and the biggest predicament of all... the shortage of labor, especially truck drivers.
There are 67 days until Christmas, 40 days to Hanukkah, and 68 days to Kwanzaa. Let us hope that these supply chain experts can work together to improve the movement of containers in Southern California and ports around the country.
Related Story: Port Congestion Prompts Hapag and CMA CGM to Drop Savannah Port Calls (maritime-executive.com)
---
This week's video
'CBS This Morning' Gives Best Explanation of

Supply Chain Woes
___________
__________
---
This week's video #2
New James Bond Movie Uses Port Backdrop for Jawdropping Action
Number of the Week

304,000 Truck Loads
There are approximately 70 anchored vessels off the California coast right now, carrying 224,000 truckload or intermodal loads. Already at the terminals, waiting to be processed is 200,000 (+/-)TEUs, which is equal to another 80,000 53' loads. Altogether, the ports are trying to process 304,000 loads of freight right now. (Source: CH Robinson North American Freight Market Insights)
ABC News Reports
...10.8 million containers are projected to pass through the port of Los Angeles this year. This is an astounding 17% increase from 2020.
---
Insights from a CHOPTANK EXPERT
Topic: This Week's Market
"The weather is starting to make an impact on freight movement in certain parts of the country this week. High winds in Northern California, Oregon, and upper Nevada are causing delays for high-profile vehicles. Also, a large storm is expected in the Pacific Northwest starting today with the possibility of 3-9 inches of snow in Idaho, Wyoming, Montana and parts of the Washington/Oregon/Colorado area. Keep an eye on inbound and outbound rates here."
- Sonny Hopkins, Associate Director of Sales, Choptank Transport
What's Up in the Spot Market?
October 11 - October 17, 2021:
Load-to-truck ratios are down the past week for all three equipment types. Spot rates, on the other hand, have increased slightly for all three equipment types, namely flatbed, dry van and reefer freight.
Source: DAT Solutions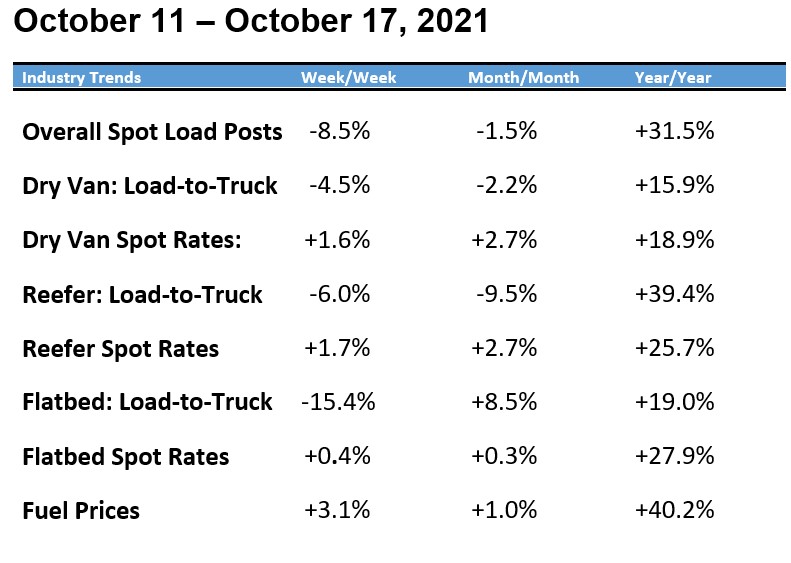 BIGGEST CHANGES IN THE MARKET


(Freightwaves/Sonar)
Markets with the largest daily increase in tender rejections. For shippers, these markets may be suddenly more difficult to find capacity.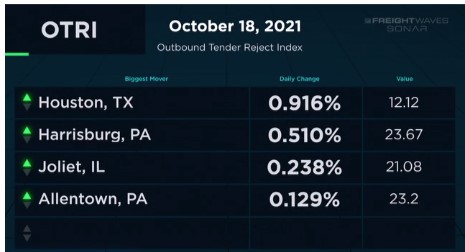 Markets with the largest daily increase in tender volumes. For shippers, these markets should be less difficult to find capacity.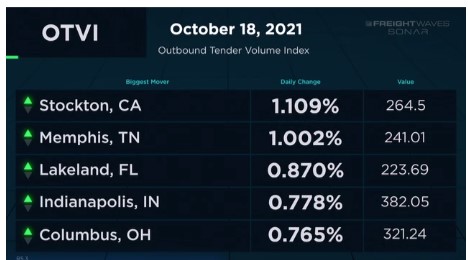 Van Outbound Tender Volumes
Looking at the national outbound tender volume index (Freightwaves/Sonar chart) below may be cause for sudden concern, or is it? At first glance, it looks like freight volumes are falling off the chart. But don't worry, read on ...
(Chart: Freightwaves/Sonar)

Looking below at a full year of data from 2020 (in green) compared with data YTD (in blue), you can see that the segment shown in the chart above provides a misleading picture of the market. The short segment above takes into account the seasonality of the market right before the Christmas frenzy begins. We are still experiencing a very robust freight market, well above last year's numbers at this time. (Chart: Freightwaves/Sonar)

National Outbound Tender Rejections
Just as the outbound tender volume index mimics the seasonality of the previous year, the national outbound tender rejection index below is acting similarly, although at a much lower rate compared with 2021.
(Chart: Freightwaves/Sonar) The blue line shows 2021 data, orange is 2020 data.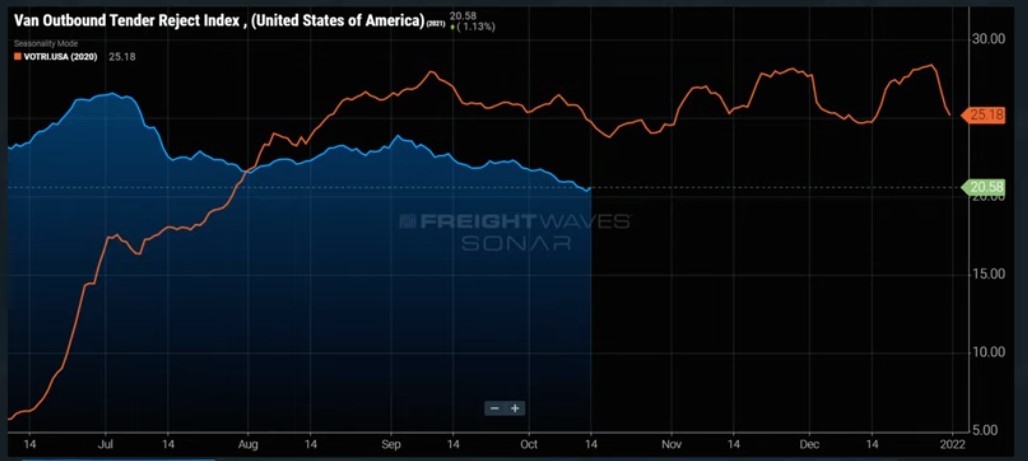 Looking at historical data can help keep things in perspective. Below is the national outbound tender rejection index for this year in blue, 2020 in pink, and 2019 in green. Even though rejection rates are down over the last few weeks, they are significantly higher than in 2019.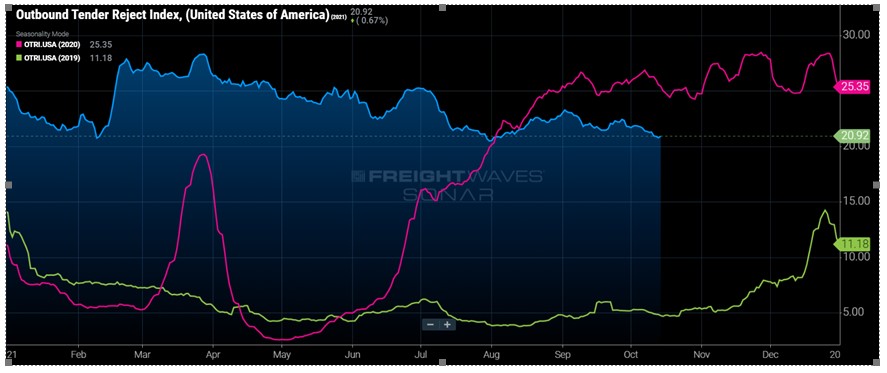 Ocean/Maritime
It is taking ocean vessels three times longer to get unloaded than it did in the pre-pandemic era. Transit time from China to the U.S. in November of 2019 was at 41 days. Today it takes 75 days to make the same journey.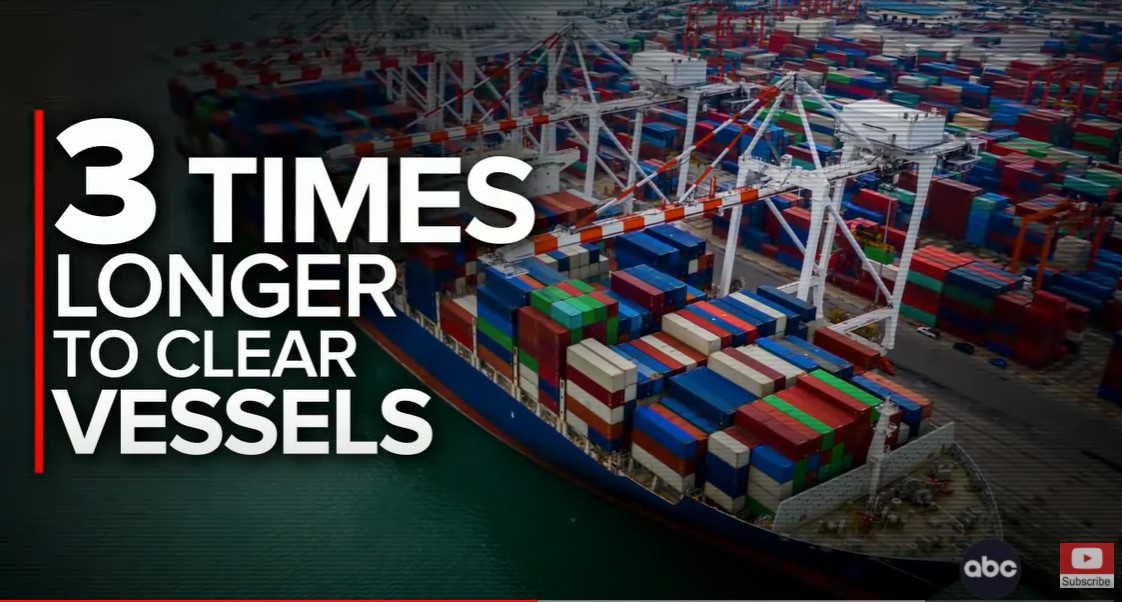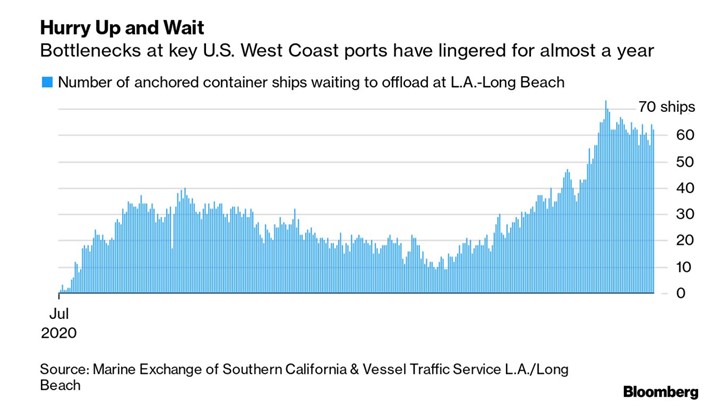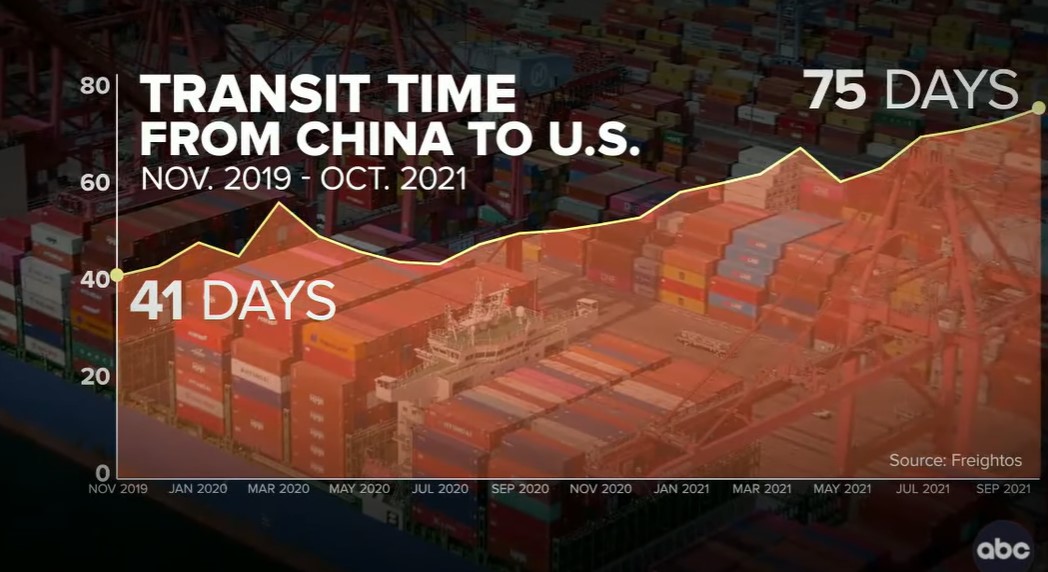 Graphic source: ABC News
Economic News
The unemployment rate in the United States is at its lowest point since March 2020. At the end of September, American unemployment fell under 5% with a new rate of 4.8%, which was under the anticipated 5.1% that industry analysts expected.
However, according to Trading Economics, "... the jobless rate remained well above the pre-crisis level of about 3.5 percent due to ongoing labor shortages but is seen declining further in the coming months as companies fill widespread vacancies and as more workers are expected to go back into the labor force."


Graphic source: ABC News
Inflation is causing the prices of everyday goods to noticeably increase. It is the highest since 2008. Automobiles, for example, are 8.8% higher, electronics are 12.7% higher, gas is 42.1% higher, and food (something we all feel every day in the shopping cart) is 4.6% higher. Even furniture is 11.2% higher. Transportation costs have a lot to do with these higher prices. A shipping container in October of 2019 cost $1,318 whereas today, it costs shippers $16,004.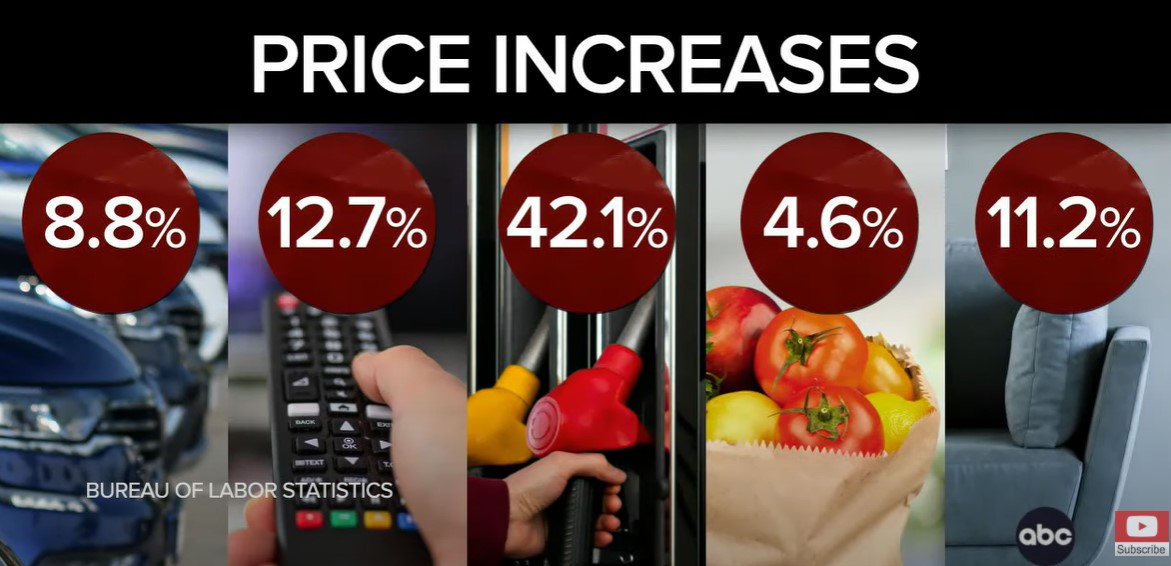 Graphic source: ABC News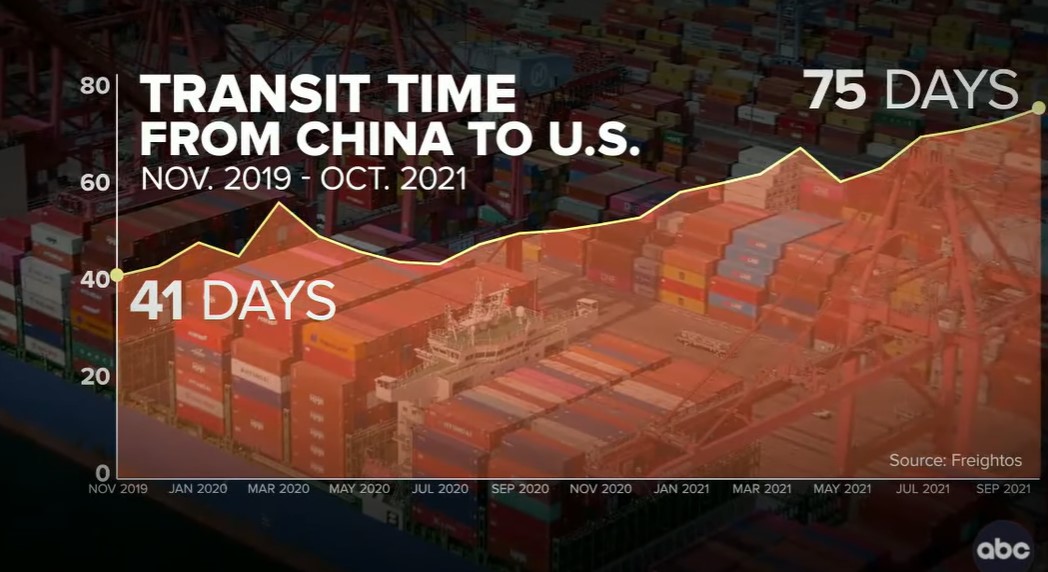 Graphic source: ABC News
Shippers rely on the relationships they have with their 3PLs to ensure a smooth continuation of service whenever capacity gets tight. We hope you will continue to count on Choptank for all your freight needs, whether it be dry van, reefer, truckload, LTL, intermodal or cross-border shipping.
We would love to hear from you
What do you think about the Choptank Transport Market Brief? Do you find it helpful? Is there additional information you would like us to include or is there information you don't find relevant? Send comments to: marketing@choptanktransport.com
Have a Question? Ask one of our Experts
Your sales representative or a member of our professional logistics team is ready to help, so give us a call! 800.568.2240. If this information was forwarded to you and you would like to receive it, sign up here.