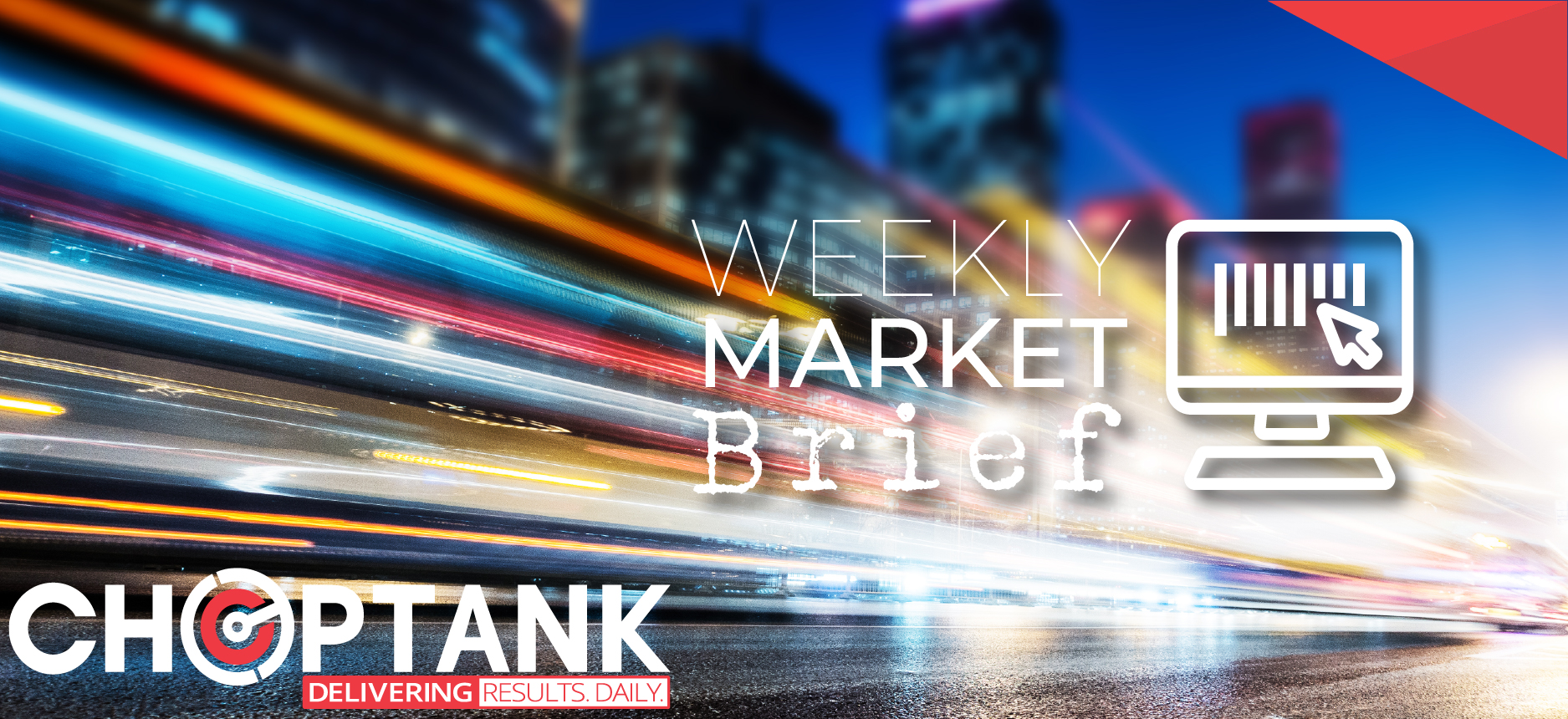 Post-Holiday Cargo May Push Sales into January/February
Your Outlook For The Week Ahead



October 12,
2021
The Choptank Weekly Market Brief is offered exclusively to Choptank Transport customers to provide accurate, timely, and relevant freight market information. The contents of this brief are collected from reputable sources including DAT, Freightwaves/Sonar, Truckstop.com, the Department of Labor, the Department of Transportation, and other sources as cited throughout the brief. I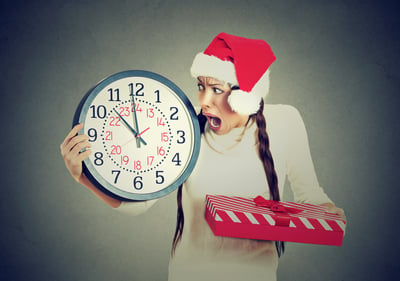 Christmas is the Super Bowl of the supply chain, and we are all wondering if the industry is going to be able to handle the challenge and make it to the end zone.
Both Amazon and Target are pushing holiday shoppers' buttons early this season to encourage consumers to make purchases now and not wait until Black Friday for those big deals. This past Monday, Amazon began offering deep discounts, rivaling those found only post-Thanksgiving day. Target also announced that they are kicking off "deals days" October 10-12, luring buyers into the holiday spirit.
A survey conducted by ParcelLab revealed that 50% of American consumers plan to have their holiday shopping done before Cyber Monday. Breaking it down even further, a separate survey conducted by YouGov, showed that 5% of those surveyed already had completed their shopping. Twelve percent indicated that they expected to be done gift buying by Halloween, and 33% by Cyber Monday.
If you have not done any shopping yet, don't be surprised if the shelves do not have what you are looking for when you are ready to purchase. That "perfect gift" may be out of stock as soon as it hits the store's inventory. Everyone has been saying it: Shop early, do not wait.
One has to wonder, with all the backlogs at the ports, what is going to happen to the freight that doesn't get delivered in time? Will we have massive fire sales in January and February, a time when consumerism historically takes a break? Who knows? Post-Christmas shopping sales may turn into an even bigger January-February tradition.
---
This week's video
This video is a fascinating glimpse into life on board a container ship. (The entire video is 9 minutes long, but this clip is only 3 minutes.) To view the entire video, click here.
___________
_________________
Number of the Week

$210 Billion
The amount of money the global automotive industry is estimated to lose in 2021 due to the chip shortage. It currently takes 21.7 weeks from the time a semiconductor is ordered until it is delivered.
(Source: Bloomberg Business)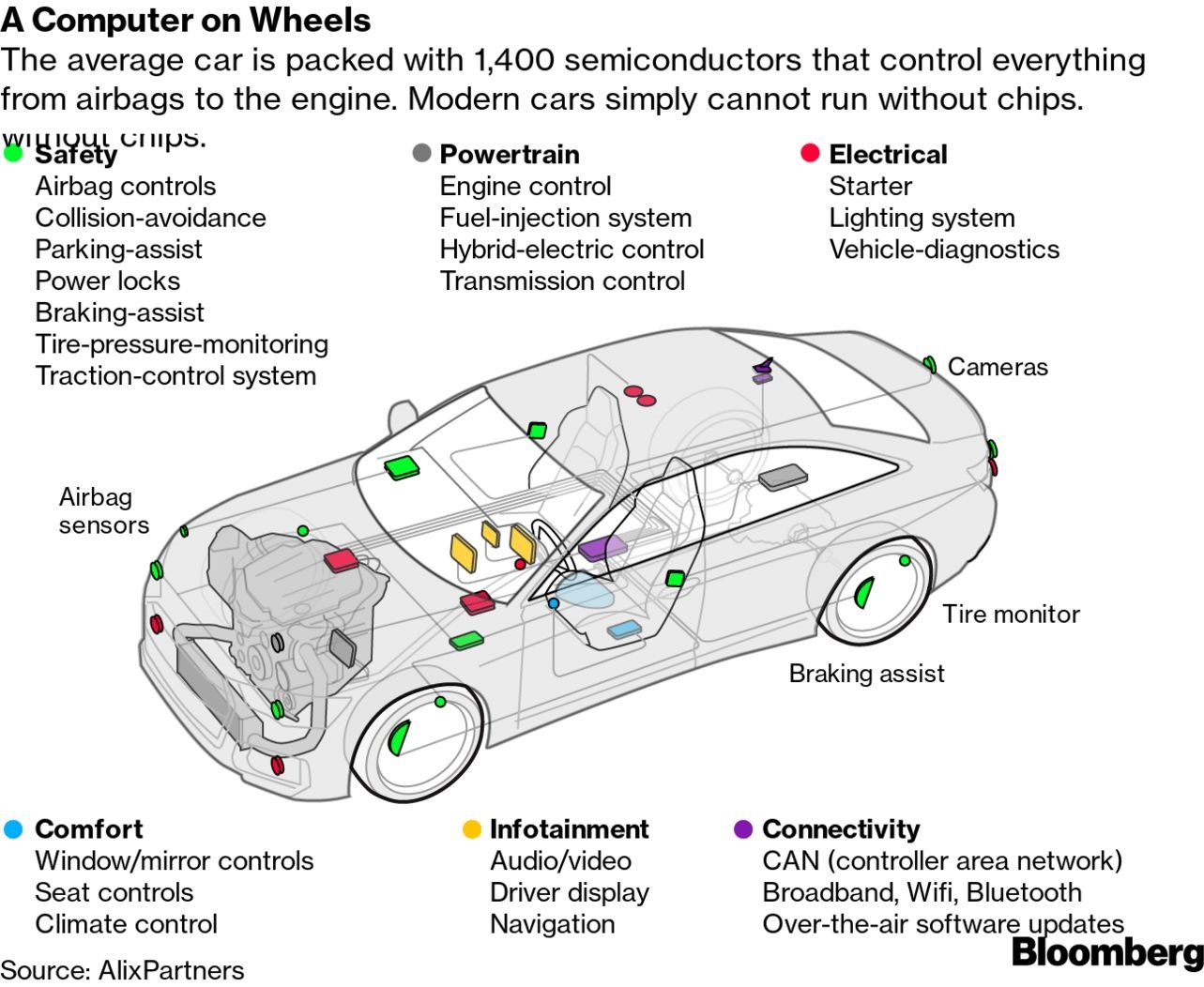 ---
Insights from a CHOPTANK EXPERT
Topic: This Week's Market
"Shippers who secure short-term rate commitments versus relying on day-of spot markets may find the benefit of stable pricing to their advantage."
- Lloyd Thomas, Director of Sales, Choptank Transport
What's Up in the Spot Market?
October 4 - October 10, 2021: According to DAT, "The first strong snowstorm of the season in the Rockies hasn't been enough to dampen demand for temperature-controlled equipment. Reefer spot rates ended last week at an all-time high of $3.22/mile inclusive of fuel. That's more than $1.00/mile higher for the first week of October compared to the average of the 10 years prior."
Source: DAT Solutions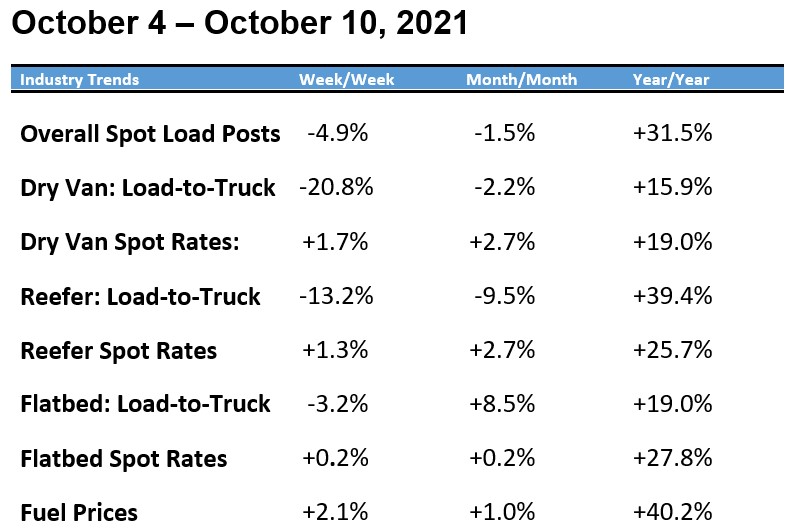 BIGGEST CHANGES IN THE MARKET


(Freightwaves/Sonar)
Markets with the largest daily increase in tender rejections. For shippers, these markets may be suddenly more difficult to find capacity.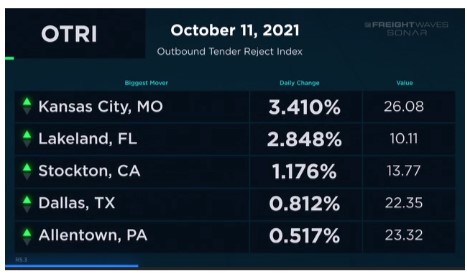 Markets with the largest daily increase in tender volumes. For shippers, these markets should be less difficult to find capacity.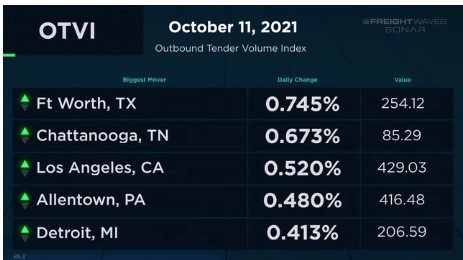 Van Outbound Tender Volumes
Retail sales have a direct correlation to dry van outbound tender volumes. The freight coming into the ports of Los Angeles and Long Beach are creating peak volumes for dry van shipping, as shown in the chart below.
The blue line shows retail sales in millions of dollars and the green line shows the van outbound tender volume index.
(Chart: Freightwaves/Sonar)


The Freightwaves chart below shows a leveling off of volumes that are typical for this time of year, as is evident by looking at the past two years (the purple line is 2019-2020, and the green line, 2018-2019). 81 of the 135 markets saw volumes slightly decrease last week.

National Outbound Tender Rejections
Last week rejections were down only slightly, with the national average for outbound tender rejections remaining above 20%. Dry Van rejections went from 21.78 the prior week to 20.93 this past week. Reefer rejections during the same time frame went from 39.02 to 38.12. If rejection rates follow historic patterns, they should decline a bit more for the middle to end of October. Capacity is still very tight in most markets.
(Chart: Freightwaves/Sonar) The chart below shows the outbound tender rejection index in blue compared with the outbound tender volume index shown in green. Even though the rejection index looks low, it is far above what it was just prior to the pandemic.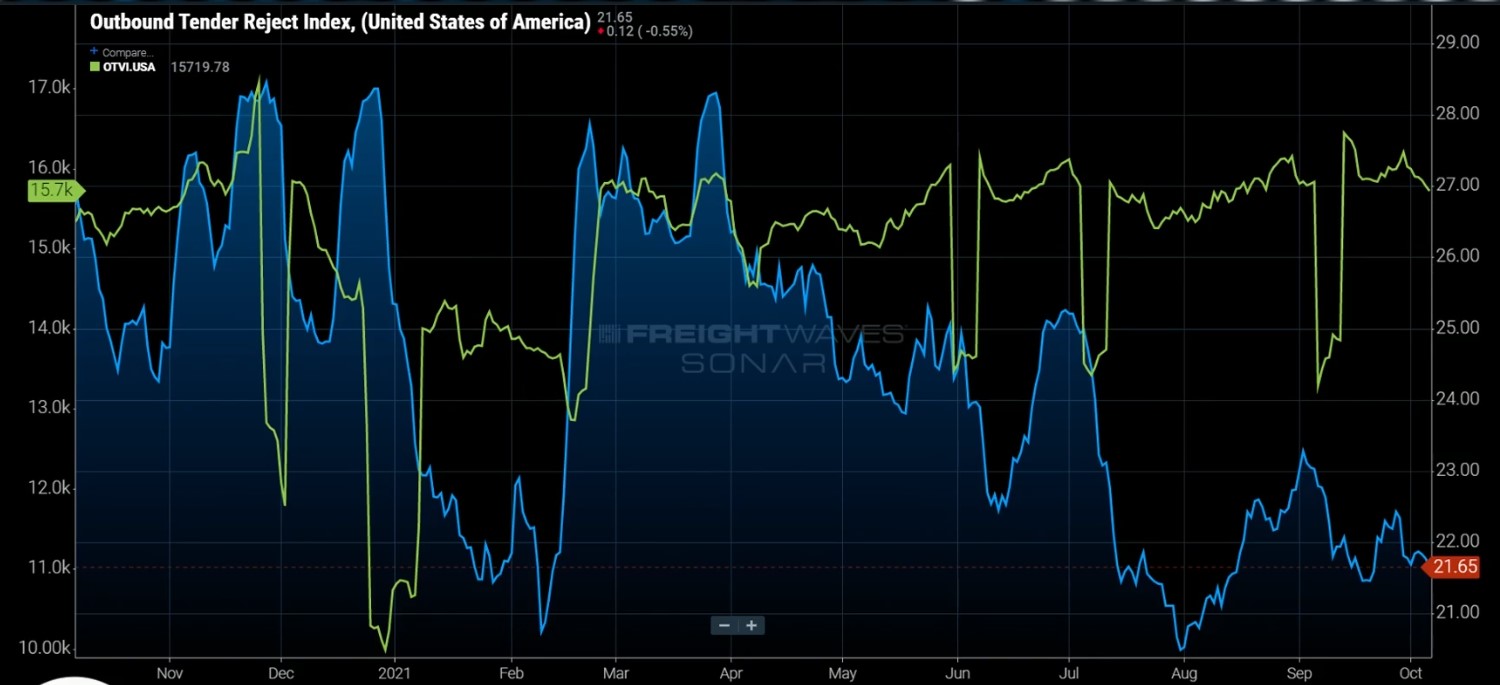 Outbound tender rejections are shown from 2018 in green, 2019 in yellow, and 2020 in blue. (Source: Freightwaves/Sonar.)

Who's Got the Power?
The DHL pricing power index remains at 75 as of October 1, indicating that negotiations are still in favor of carriers versus shippers.
The pricing power index is a weekly gauge put out by DHL that indicates who has more sway in negotiations when it comes to pricing and freight rates. (Source: Freightwaves)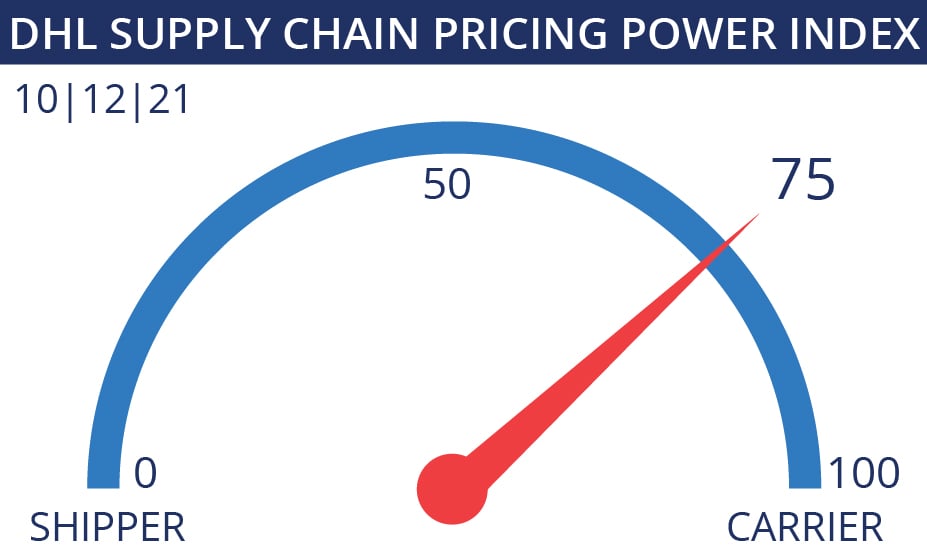 Ocean/Maritime
Out-of-sight ocean rates seem to have suddenly stopped escalating and are even sliding downward, at least a little. The energy crisis in China combined with Golden Week (October 1 - 7) seemed to have put the kibosh on escalating container rates and have temporarily affected freight demand out of the region.
This week's Freightwaves Passport Research indicates "The Shanghai to New York assessment fell to $15,110/FEU, a 5% drop w/w. The shorter Shanghai to Los Angeles assessment decreased 8% w/w, now residing at $11,173/FEU." The rates are still extremely high but are showing some signs of softening.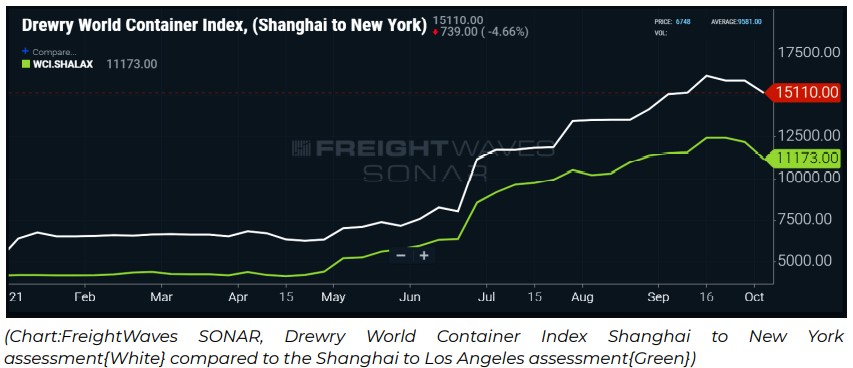 Rail/Intermodal News
Domestic and international intermodal are both facing rate increases with domestic intermodal contract rates up 13% year-over-year. There is some indication that domestic intermodal is becoming less congested. International intermodal volumes are still struggling due to the many headwinds keeping rail from being what it used to be; a cost-effective and efficient alternative to over-the-road shipping.
Charts below: Freightwaves/Sonar. The chart below shows the 11 busiest DOMESTIC intermodal lanes and their spot rates. From Freightwaves Passport, "Intermodal spot rates are clearly not competitive with truckload in the Los Angeles to Dallas lane. The fact that there are widespread y/y increases in intermodal spot rates makes it likely that contract rates will rise further in the coming year."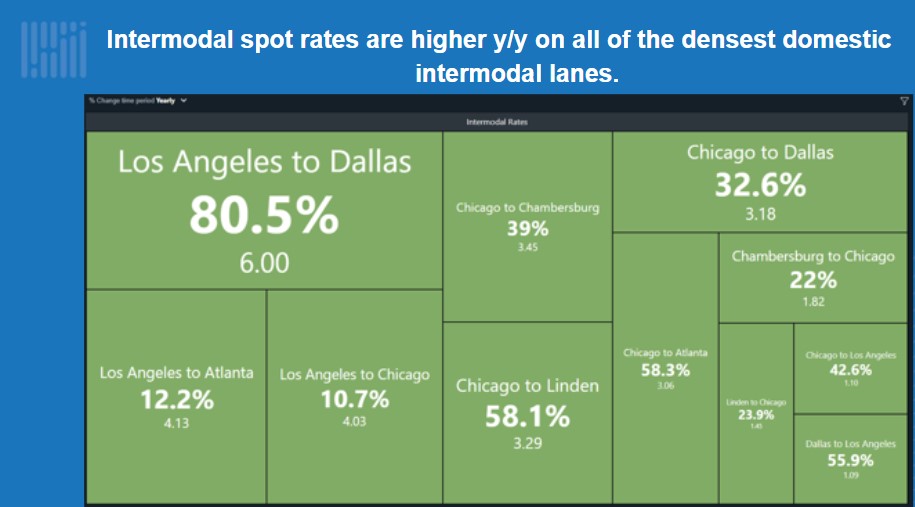 The chart below shows the downturn in international rail container volume as the ports remain severely congested with a lack of equipment, long dwell times, and a shortage of labor.

Economic News
The latest transportation industry employment reports indicate that rail jobs are down, but warehousing and storage jobs are way up at the end of August, the latter rising to 1,480,700 jobs compared with 1,448,000 at the end of July. Truck jobs rose by 2,500 jobs, climbing to 1,502,900 jobs. LTL jobs only increased by 700 jobs from July to August.
Unemployment claims

fell 38,000 to 326,000 at the end of the first week of October. It is not quite to the 312,000 realized in the first week of September, but at least it is going in the right direction.

Related Story:
Market Conditions
This morning's market conditions are shown below for the previous day for van, reefer, and flatbed. Areas in red are extremely tight.
Van Capacity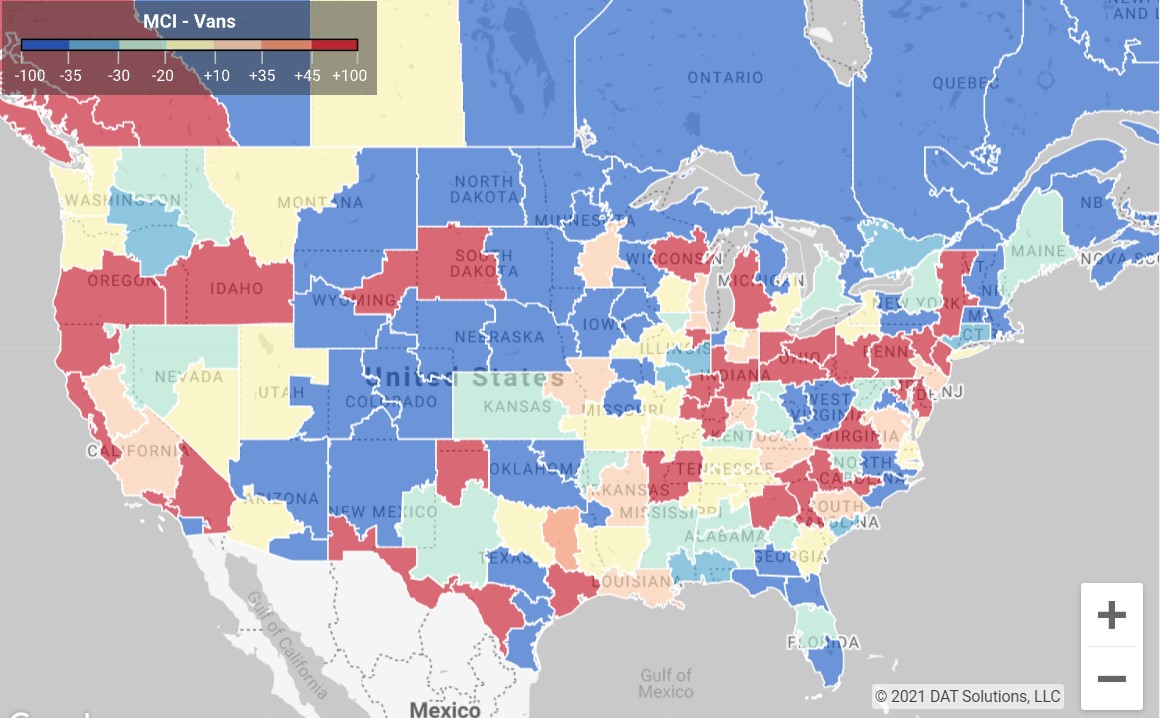 Reefer Capacity

Flatbed

---
Shippers rely on the relationships they have with their 3PLs to ensure a smooth continuation of service whenever capacity gets tight. We hope you will continue to count on Choptank for all your freight needs, whether it be dry van, reefer, truckload, LTL, intermodal or cross-border shipping.
We would love to hear from you
What do you think about the Choptank Transport Market Brief? Do you find it helpful? Is there additional information you would like us to include or is there information you don't find relevant? Send comments to: marketing@choptanktransport.com
Have a Question? Ask one of our Experts
Your sales representative or a member of our professional logistics team is ready to help, so give us a call! 800.568.2240. If this information was forwarded to you and you would like to receive it, sign up here.