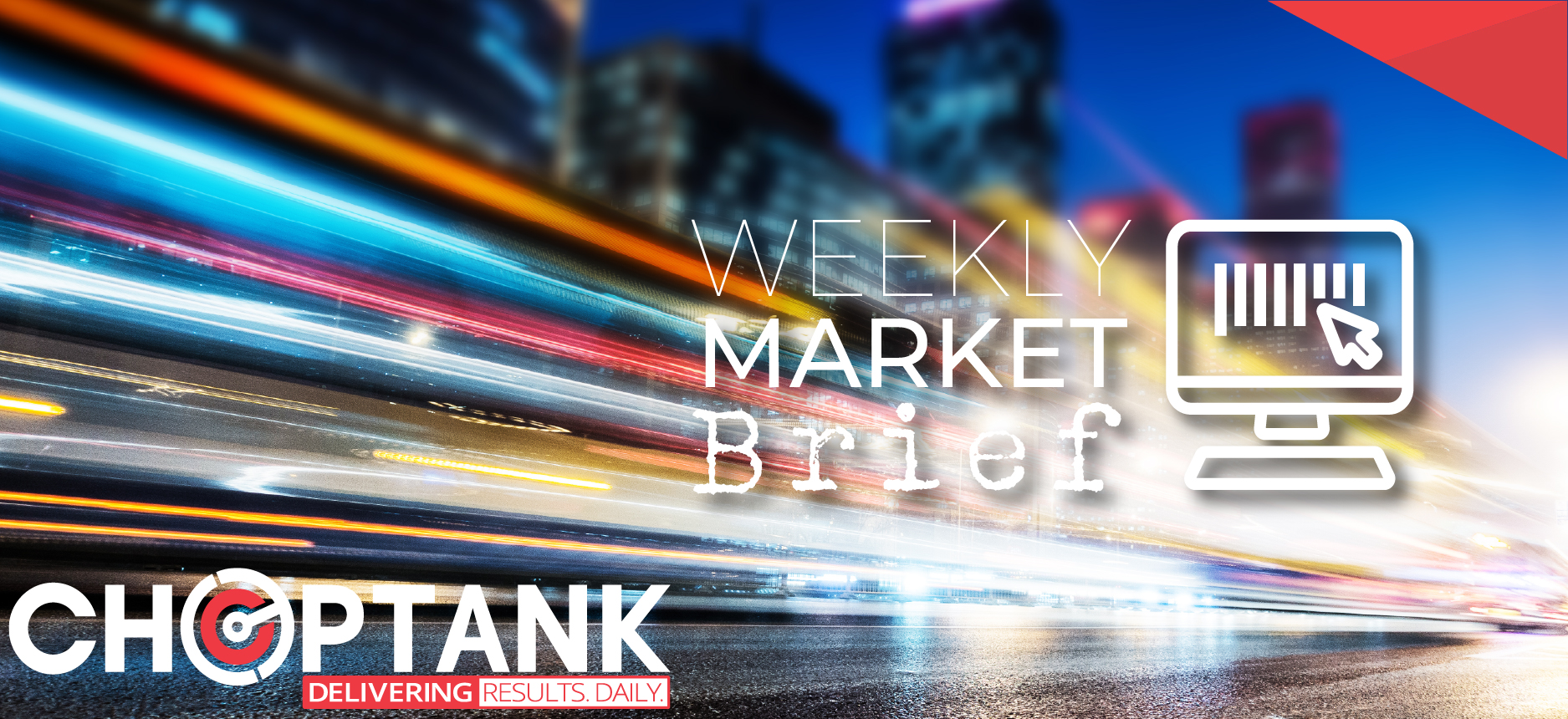 Q4 is Going to be a Push-Me Pull-You Holiday Season
Your Outlook For The Week Ahead



October 5,
2021
The Choptank Weekly Market Brief is offered exclusively to Choptank Transport customers to provide accurate, timely, and relevant freight market information. The contents of this brief are collected from reputable sources including DAT, Freightwaves/Sonar, Truckstop.com, the Department of Labor, the Department of Transportation, and other sources as cited throughout the brief.
We have all witnessed the unbelievable rise in volumes since the beginning of the pandemic. And now, here we are, entering the busiest Q3 holiday season in history. Chances are we have just seen the tip of the iceberg.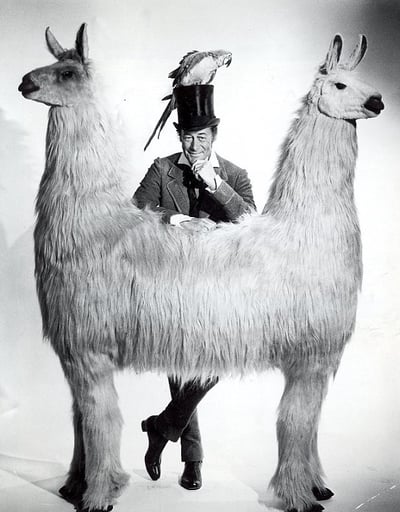 As reported in previous market briefs, retailers are pushing the Christmas season early. Just this weekend, holiday music could be heard in big box stores (I heard it in Lowe's) and across the country. Already, the numbers on the outbound tender volume index chart (see OTVI chart later in this report) for the past week are beginning to show an upward trajectory, and everyone is wondering ... just how far can supply lines be pushed?
But this may change. Soon, we may see volumes pulled down as reports of China's widespread power shortages are emerging. The timing could not be worse for them or us.
Winter is coming, so for the Chinese, limited power could mean an extremely expensive and long, cold winter. There already are reports that some companies are being forced to conserve power through officially sanctioned power reductions, which undoubtedly will also affect manufacturing output. For example, one factory that normally runs six days a week has been forced to run only four.
For Americans who are struggling with low inventories, what is in the pipeline may not be enough. Restocking may continue to suffer not just from supply chain bottlenecks, but from factory downtime in China due to the power constraints, followed by the Chinese New Year.
---
This week's video
Power shortages in China are taking their toll on Chinese citizens and their factories. Higher energy consumption due to higher production has caused a shortage of coal (and there have been cuts to imports from Australia and Mongolia). At the same time, the country is trying to meet carbon emission targets.
____________________________
Number of the Week

One ...
---
Insights from a CHOPTANK EXPERT
Topic: The Driver Shortage
"Implementing higher pay as a solution to the driver shortage does not address the big picture. A recent study conducted by Commercial Carrier Journal in September revealed that driver availability DECREASED 29% when reviewing 83% of fleets that had INCREASED their drivers' pay (sometimes more than once), during 2021. This suggests that pay is not the only consideration when addressing job satisfaction. Being able to spend more time with family and improving the quality of life is equally important.
If compensation isn't the silver bullet the industry has been looking for, maybe we need to address all the other issues that are part of life on the road, such as the treatment of drivers at understaffed facilities, parking issues, overregulation, and increased highway congestion."
- Geoff Turner, President & CEO Choptank Transport
---
What's Up in the Spot Market?
September 27 - October 3: Rates and load posts are up for van and reefer spot freight, but flatbed rates have decreased slightly from last month. Overall load posts went from +4.4 for the week of September 20-26 on the week-over-week column to +7.8 last week. National spot rates in the month of October saw both flatbed and reefer rates increase from the previous week by $0.03 per mile while dry van increased $0.02 per mile during the same time frame.
Source: DAT Solutions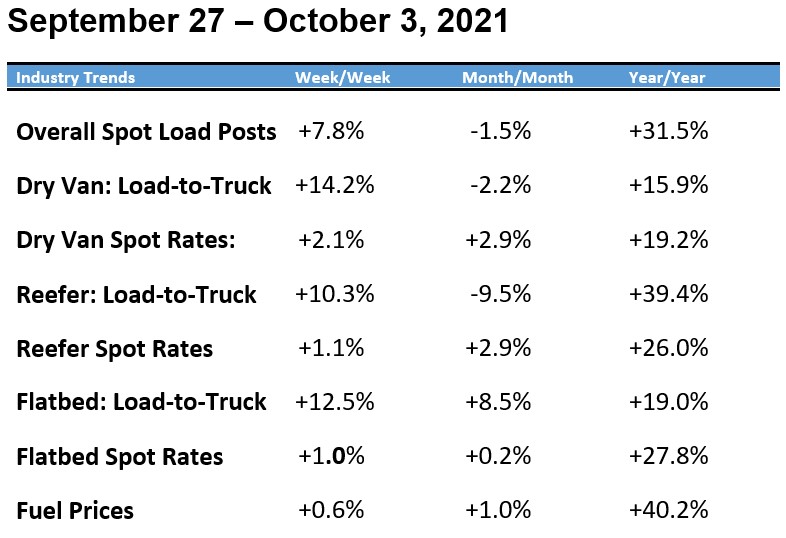 BIGGEST CHANGES IN THE MARKET


(Freightwaves/Sonar)
Markets with the largest daily increase in tender rejections. For shippers, these markets may be suddenly more difficult to find capacity.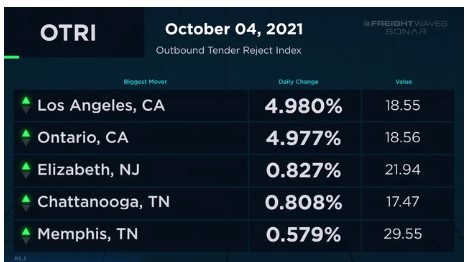 Markets with the largest daily increase in tender volumes. For shippers, these markets should be less difficult to find capacity.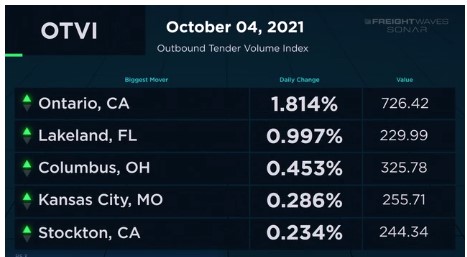 National Outbound Tender Volumes
Once again, the outbound tender volume index has gone over the 16,000 mark. It is unlikely it will dip again before year's end as the logjam of imports continues to make its way inland. In September, absolute volumes increased by 1.5%. According to Freightwaves, "The accepted tender levels are just off the all-time high established at the beginning of September, but are still nearly 8% above year-ago levels."
(Chart: Freightwaves/Sonar)
National Outbound Tender Rejections
National outbound tender rejections crept up to just over 22% last week but quickly fell back down to their previous mark of 21.78 on Friday, October 1. It is important to note that even though rejection rates are 400 basis points lower than this time last year, mainly due to contract rate adjustments, they are still far above 2019 rejection rates.
Reefer outbound tender rejections have continued to climb to 39.02% on a national level, with some areas significantly higher.
(Chart below: Freightwaves/Sonar) The blue line shows 2021 data, the green line is 2020 data and the red line is 2019.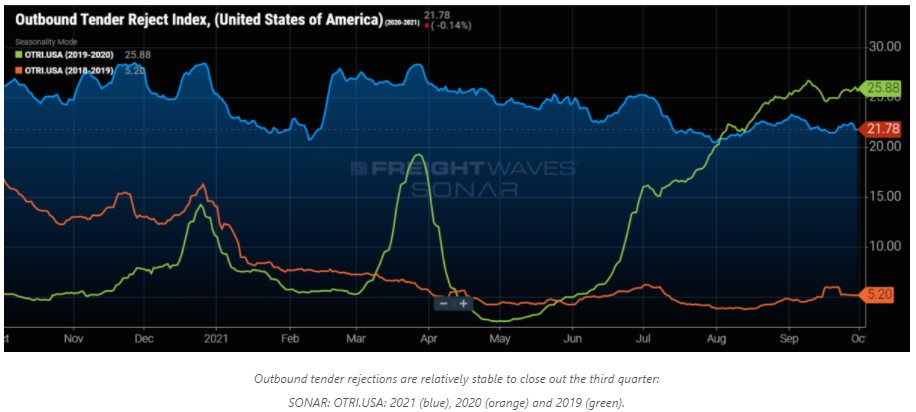 Who's Got the Power?
The DHL pricing power index remains at 75 as of October 1, indicating that negotiations are still in favor of carriers versus shippers.
The pricing power index is a weekly gauge put out by DHL that indicates who has more sway in negotiations when it comes to pricing and freight rates. (Source: Freightwaves)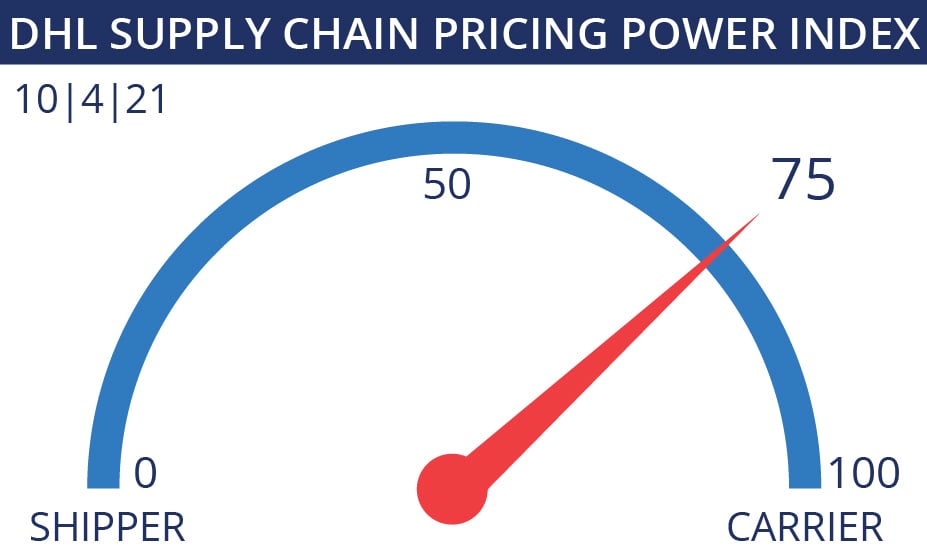 Rail/Intermodal News
With port volume showing no signs of slowing down, international intermodal rail is bottlenecked. Typically, lulls in freight volumes before peak season allow rail networks to recover, but this has not been the case this year. Freight that normally would travel from port to rail to inland destinations is now going by truck since delays of intermodal freight are inevitable.
Charts below: Freightwaves/Sonar. The blue line indicates 2021 intermodal containers coming into the United States. The green line is 2019-2020 and the red line follows 2018-2019.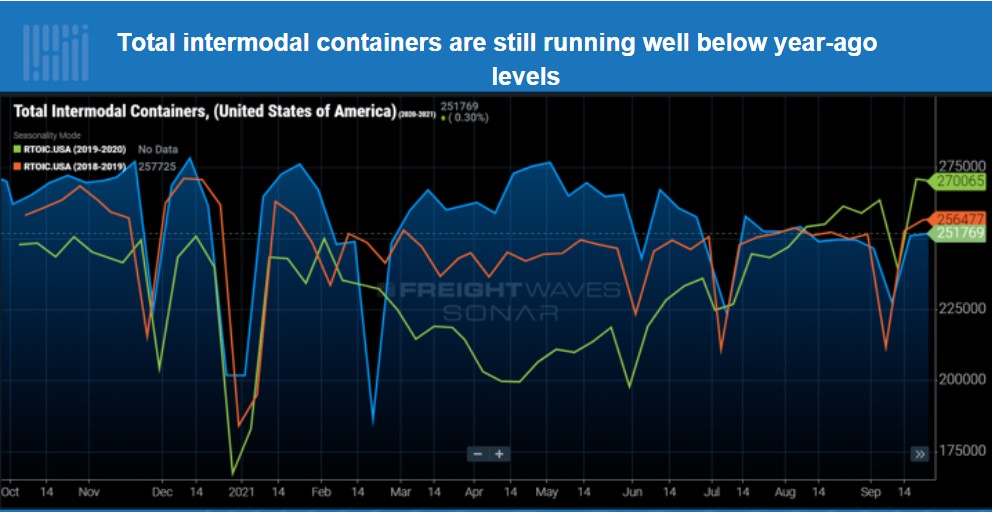 Market Conditions
This morning's market conditions are shown below for the previous day for van, reefer, and flatbed. Areas in red are extremely tight.
Van Capacity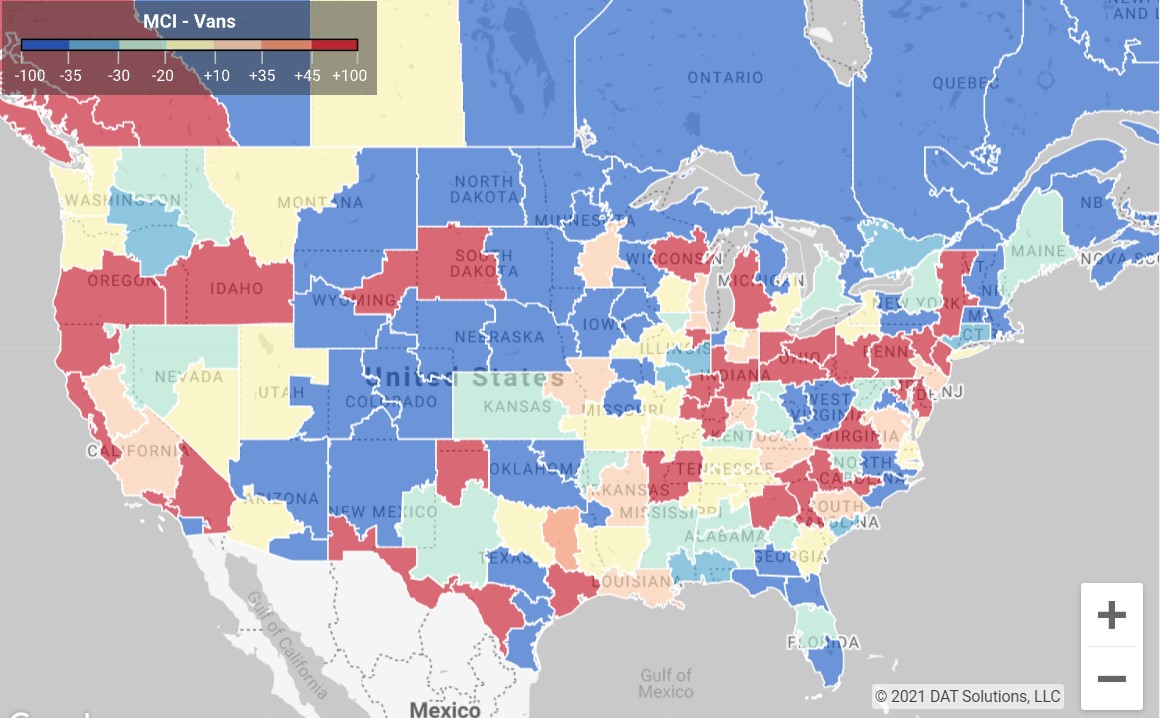 Reefer Capacity

Flatbed

Economic News
Inflation: The cost of goods and services rose significantly at the end of August, pushing inflation in the U.S to a 30-year high. The rate of inflation at the end of August, year-over-year was at 4.3%, a number we have not seen since 1991.
Why Americans can expect their heating bills to go up this year. Read more.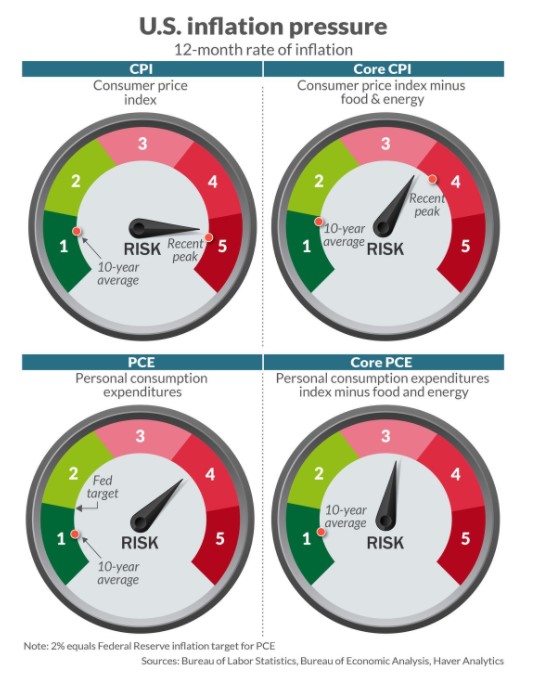 Employment: At the end of August, payroll (nonfarm) increased in 104 out of 389 metropolitan areas with the remaining 285 areas showing little change. The largest employment gains by percentage occurred in Kahului-Wailuku-Lahaina, Hawaii (+22.5 percent), Ocean City, New Jersey (+20.0 percent), and Atlantic City-Hammonton, New Jersey (+10.3 percent).
Chart: Source: U.S. Bureau of Labor Statistics. Click on the map to hover over an area to see the most recent employment change.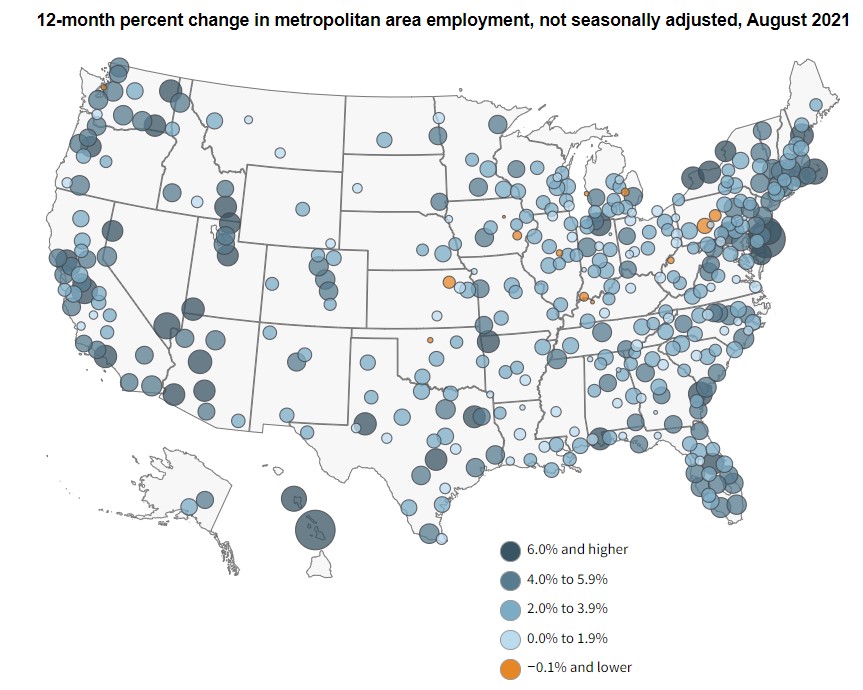 Shippers rely on the relationships they have with their 3PLs to ensure a smooth continuation of service whenever capacity gets tight. We hope you will continue to count on Choptank for all your freight needs, whether it be dry van, reefer, truckload, LTL, intermodal or cross-border shipping.
We would love to hear from you
What do you think about the Choptank Transport Market Brief? Do you find it helpful? Is there additional information you would like us to include or is there information you don't find relevant? Send comments to: marketing@choptanktransport.com
Have a Question? Ask one of our Experts
Your sales representative or a member of our professional logistics team is ready to help, so give us a call! 800.568.2240. If this information was forwarded to you and you would like to receive it, sign up here.