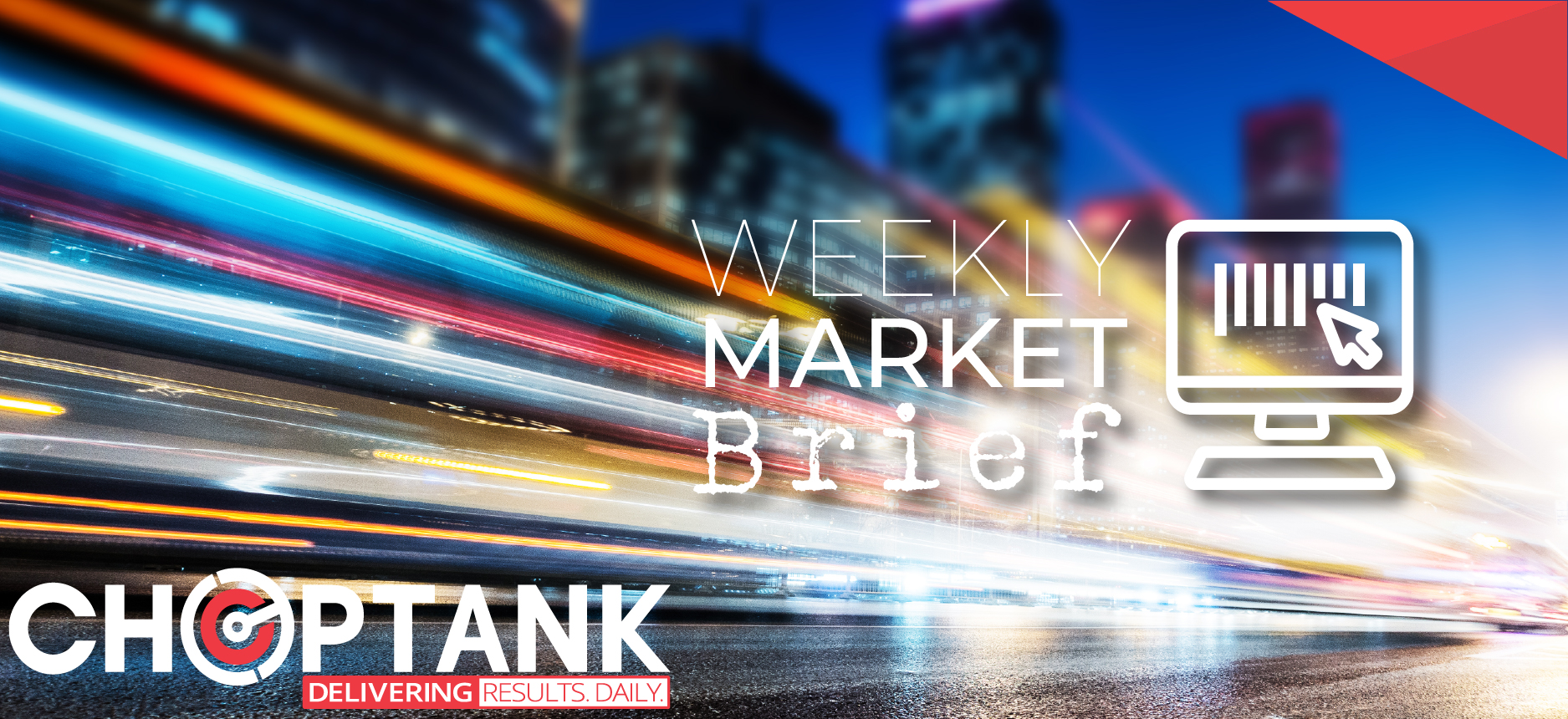 Leaves Are Not the Only Thing Falling This Season
Your Outlook For The Week Ahead



September 28,
2021
The Choptank Weekly Market Brief is offered exclusively to Choptank Transport customers to provide accurate, timely, and relevant freight market information. The contents of this brief are collected from reputable sources including DAT, Freightwaves/Sonar, Truckstop.com, the Department of Labor, the Department of Transportation, and other sources as cited throughout the brief.
Inventories in the United States are falling. According to Dr. Zac Rogers, Assistant Professor of Supply Chain Management at Colorado State University, the "August 2021 Logistics Managers Index Report" cites that inventories are falling despite a mad rush by manufacturers and retailers to restock. No need to panic, though. The decrease is minor (down in August [-2.6%] from July), with some commodities suffering more than others.
One recent and noticeable deficiency in inventory levels is paper products. Everything from mail-order catalogs to magazines and books, and yes... we are back to toilet paper and paper towels being in short supply. Some stores have even returned to rationing how much you can purchase.
So what is the answer to alleviating the congestion at the ports, one of the biggest contributing factors to low inventories? While some ports are trying to remedy "Containergeddon" (with and without the government's prodding), some shippers may be making it worse.
The Port of Long Beach, for example, is adding 24-hour gate operations four days a week, while the Port of Los Angeles seeks improvements by working on boosting existing efficiencies. On average, some 30% of trucking appointment slots for transferring cargo go unused each day, according to Gene Seroka, director of the Port of Los Angeles, in a Wall Street Journal article.
Shippers like Costco and Home Depot, who want to circumnavigate the whole mess, are contracting smaller vessels to move their containers, but some fear these smaller vessels may only compound the congestion.
Chart below: the-LMI.com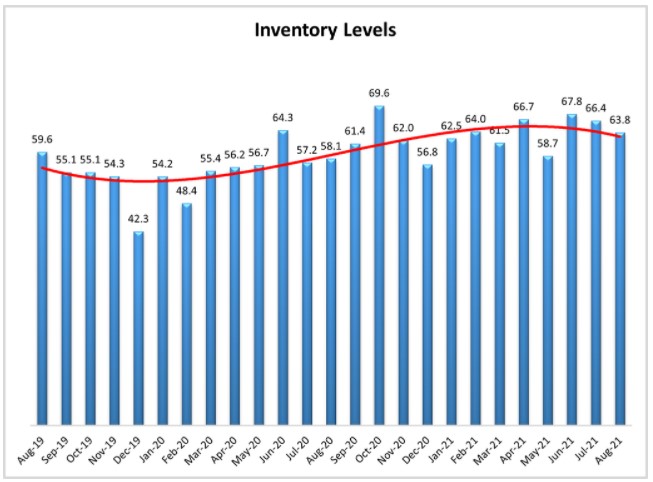 Insights from a CHOPTANK EXPERT
"OTR rates are up 25-30% Y/Y. We still are seeing weekly spot rate increases and a greater disparity between loads and trucks. Will rates continue to climb? Yes. There are five key factors that will determine when the rates will finally reach their ceiling.
PORT CONGESTION - Has port congestion subsided? Port congestion is a pivotal data point. As of Friday, there were 74 container vessels at berth off the LA/LB ports. The port of Long Beach has seen a 32% increase in processed cargo this past year.
DEMAND - Is demand is still increasing?
CAPACITY - Are transportation options decreasing?
LABOR SHORTAGES - Are labor shortages still impacting all of the supply chain?
RATES - Are high prices creating inefficiency, such as reducing length of haul and total miles?
As long as these 5 factors stay the course, rates will continue to rise."
- Steve Covey, Executive Vice President of Choptank Transport
---
This week's video
The proliferation of port problems affecting U.S. goods from China.
There are now more than 74 vessels anchored off of Long Beach and Los Angeles. (Video is 1 minute:47 seconds)
____________________________
Number of the Week

2.5 Million Metric Tons
Did you know there is a shortage of paper right now? Or so it seems. 2.5 million metric tons of North American printing and writing paper capacity — nearly one-fifth of 2019 levels — have disappeared since the beginning of last year. Paper mills are converting to cardboard production for e-commerce or shutting down altogether. Toilet paper and paper towels are in short supply again in some areas, with certain retailers limiting quantities as they did during the first wave of the pandemic.
More news on this: Costco Limits Paper Products, Water Due to Supply Chain Delays | Transport Topics (ttnews.com)
What's Up in the Spot Market?
September 20 - September 26: Seasonally speaking, dry van spot rates typically cool off in the fall, but this year they continue to be at all-time highs, and are now 14% higher year over year. Reefer rates are 18% higher and flatbed rates are 17% higher compared with last year at this same time.
Source: DAT Solutions



BIGGEST CHANGES IN THE MARKET


(Freightwaves/Sonar)
Markets with the largest daily increase in tender rejections. For shippers, these markets may be suddenly more difficult to find capacity.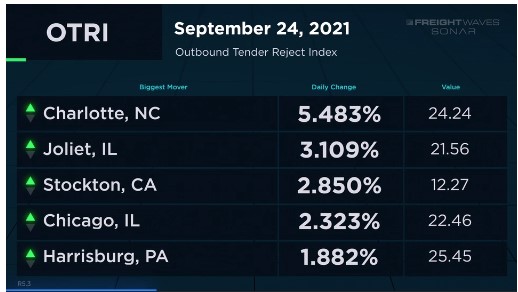 Markets with the largest daily increase in tender volumes. For shippers, these markets should be less difficult to find capacity.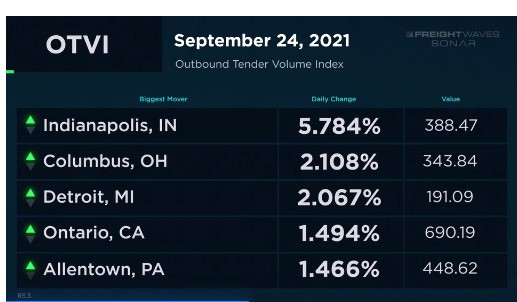 National Outbound Tender Volumes
Volumes remain extremely high but steady over the past few weeks, keeping at above 15,800 index points, with the exception of the typical Labor Day slump. There is more freight/demand than the supply chain infrastructure can handle, which continues to drive up rates and increase lead times across the country. According to Freightwaves, "...long-haul demand is starting to outpace shorter lengths of haul once again. The Long-haul Outbound Tender Volume Index (LOTVI) has increased 7% over the past month compared with the -3% for short-haul freight."
(Chart: Freightwaves/Sonar)
National Outbound Tender Rejections
National outbound tender rejections rose from 21.78 a week ago to just over 22% yesterday. Reefer outbound tender rejections are much higher, though, at 38.75%. For reefer shippers, capacity is especially tight in the Pacific Northwest, Southern California and the Midwest. Reefer rejections are soaring over 60% in the following markets as of Monday:

Rejections will most likely continue to rise this week as we get closer to the last few days of the month. Shippers should have anticipated slightly longer lead times for their freight during month-end. The chart below shows tender rejections in blue and tender volumes in green.
(Chart below: Freightwaves/Sonar)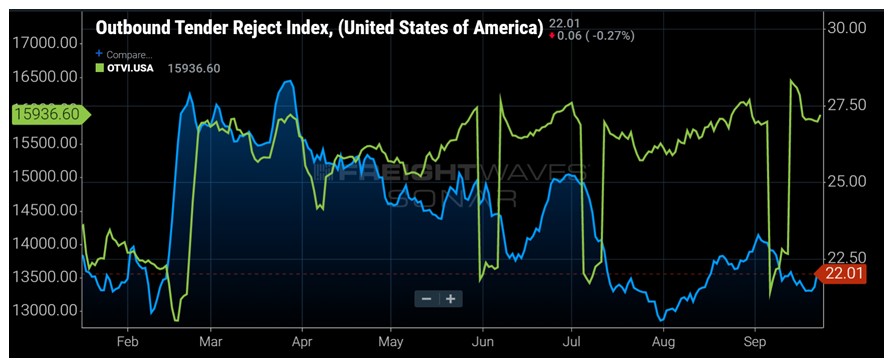 Who's Got the Power?
No updates have been posted to the DHL pricing power index since last week, so it remains at 75, indicating that negotiations are still in favor of carriers versus shippers.
The pricing power index is a weekly gauge put out by DHL that indicates who has more sway in negotiations when it comes to pricing and freight rates. (Source: Freightwaves)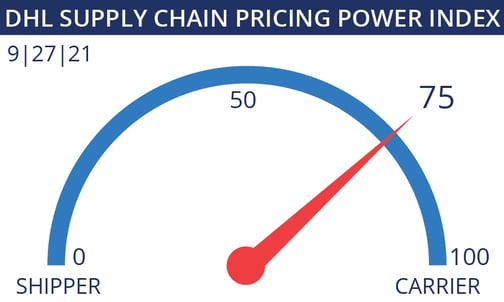 Infographic of the Week
With extraordinarily high freight volumes and capacity in short supply, being a Shipper of Choice has never been more important. Here are five ways you can attract and retain top-quality carriers.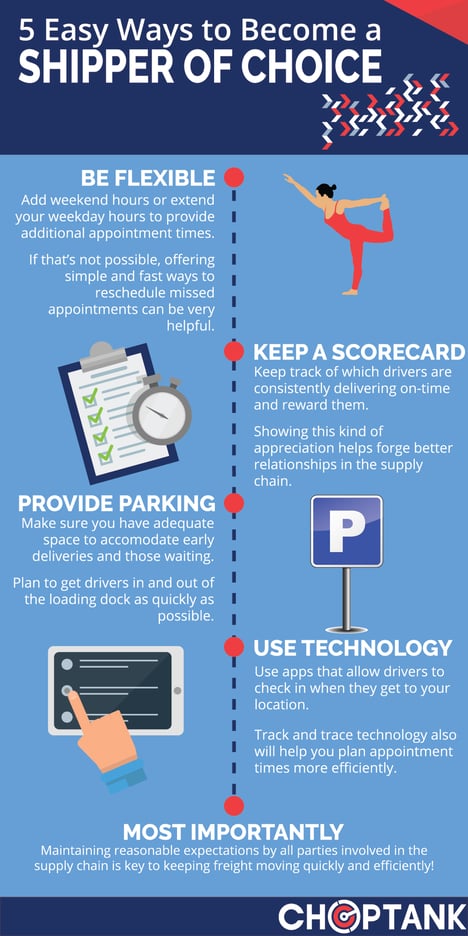 Rail/Intermodal News
With elevated freight volumes coming in from West Coast ports you would assume that rail/intermodal activity would be booming, but you would be wrong. There is so much congestion at the ports and the railyards that serve the ports, it has created an almost paralyzed system. Read more on this topic.
Freightwaves reports, "Due to network congestion, and despite plenty of demand, both international intermodal volume and domestic intermodal volume are below 2020 levels." Volumes may be down, but rates are up.

Charts below: Freightwaves/Sonar
Left side - compares international intermodal volumes from 2021 in blue to 2020 in purple. Right side - compares domestic intermodal volumes for 2021 in blue and 2020 in orange.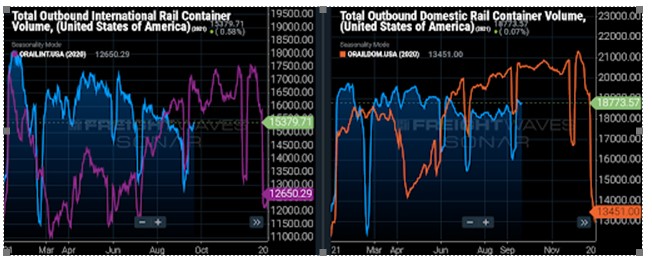 Market Conditions
This morning's market conditions are shown below for the previous day for van, reefer, and flatbed. Areas in red are extremely tight.
Van Capacity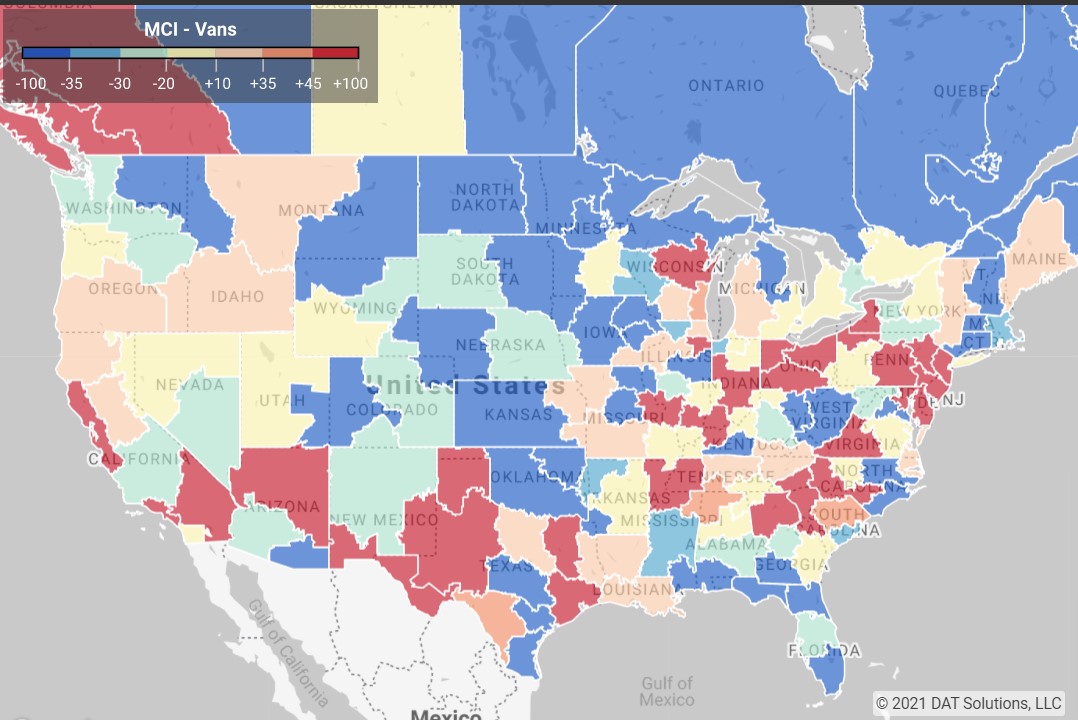 Reefer Capacity
Flatbed

Economic News
Initial jobless claims jumped unexpectedly over the past few weeks, and are now at 351,000. That number is up 16,000 from the prior week. According to the New York Post, "The country added only 235,000 jobs last month, falling way short of expectations and stoking concerns that the economic recovery is stalling out."
Chart: Transport Topics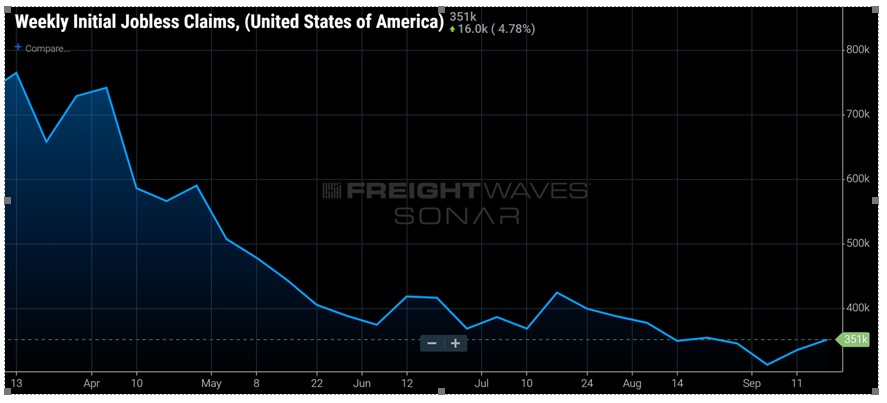 Charts below: U.S. Census Bureau Economic Indicators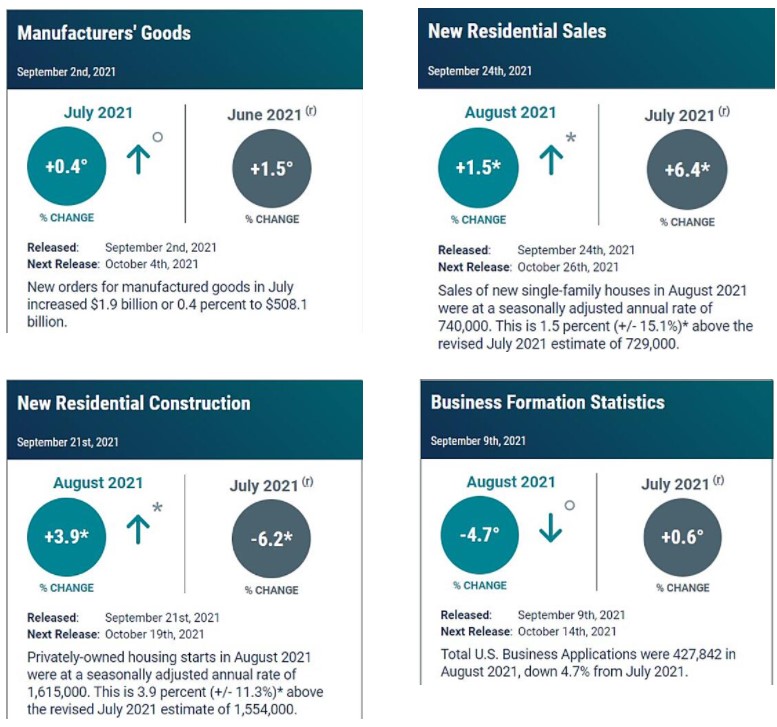 Fuel Prices
The national average price for diesel rose 2.1 cents to $3.406 a gallon, the first time it has eclipsed $3.40 in nearly seven years, according to Energy Information Administration data released Sept. 27. Diesel has crested to $3.40 a gallon. The last time the United States saw prices like that was in December of 2014. It now costs over a dollar more than it did just one year ago. The greatest rise in prices was in the Midwest, and the biggest drop was in the Rocky Mountain region.

Chart: Transport Topics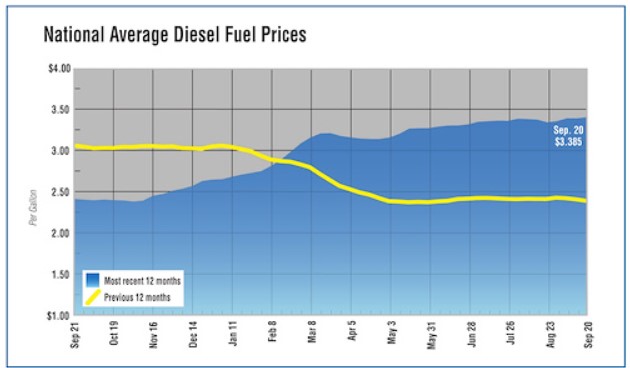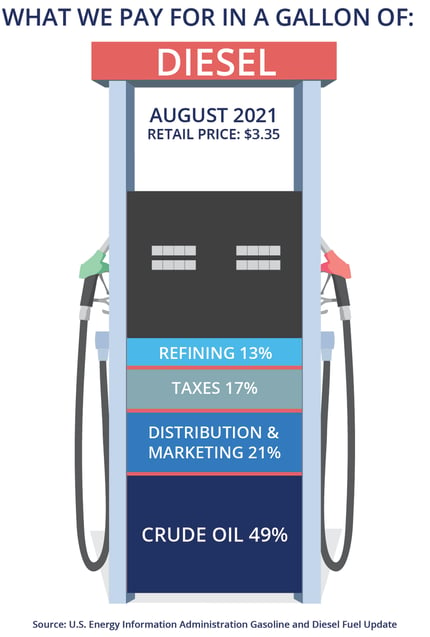 Shippers rely on the relationships they have with their 3PLs to ensure a smooth continuation of service whenever capacity gets tight. We hope you will continue to count on Choptank for all your freight needs, whether it be dry van, reefer, truckload, LTL, intermodal or cross-border shipping.
We would love to hear from you
What do you think about the Choptank Transport Market Brief? Do you find it helpful? Is there additional information you would like us to include or is there information you don't find relevant? Send comments to: marketing@choptanktransport.com
Have a Question? Ask one of our Experts
Your sales representative or a member of our professional logistics team is ready to help, so give us a call! 800.568.2240. If this information was forwarded to you and you would like to receive it, sign up here.