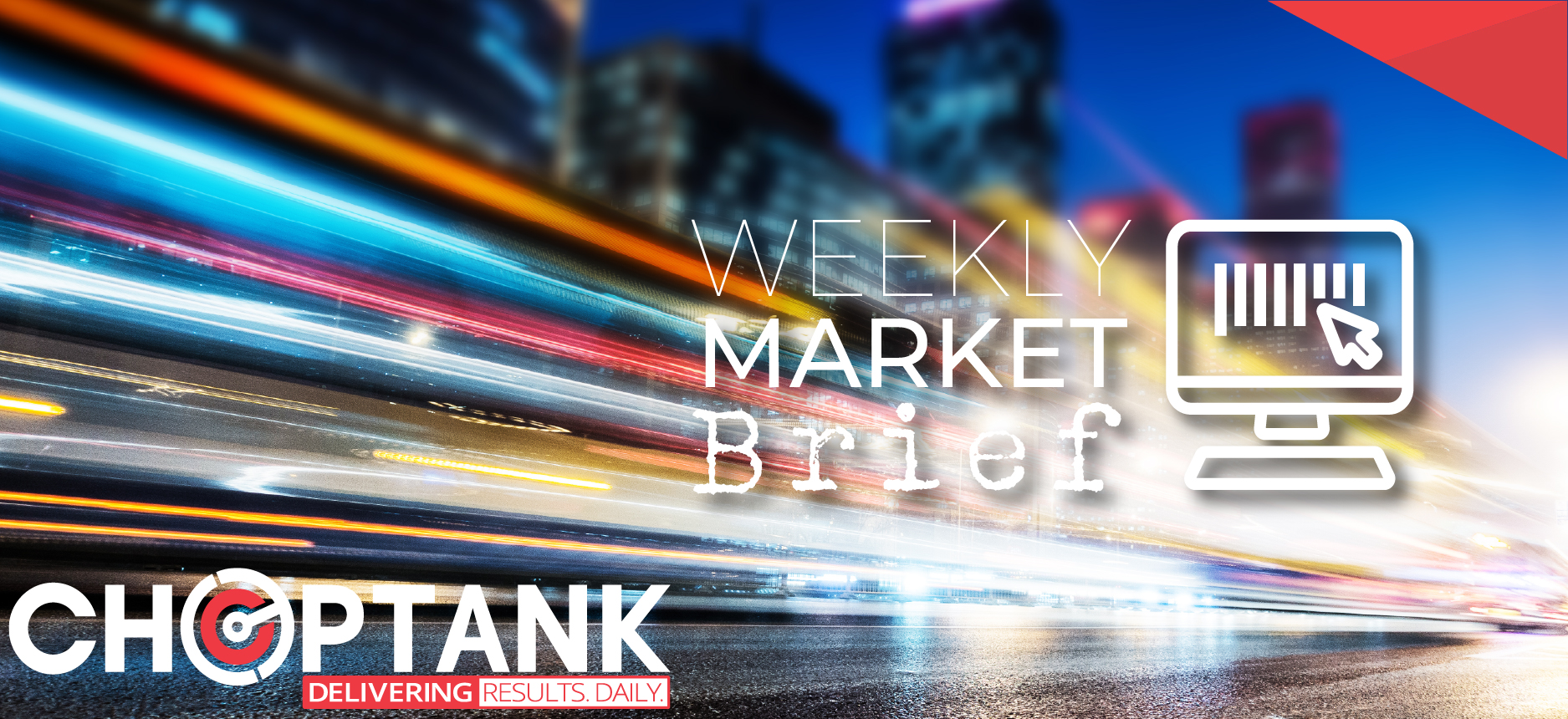 Miller Lite and Cat Food, Where Are You?
Your Outlook For The Week Ahead



September 21,
2021
The Choptank Weekly Market Brief is offered exclusively to Choptank Transport customers to provide accurate, timely, and relevant freight market information. The contents of this brief are collected from reputable sources including DAT, Freightwaves/Sonar, Truckstop.com, the Department of Labor, the Department of Transportation, and other sources as cited throughout the brief.
Never before have seen we seen such extended high volumes in the U.S. freight market. The question is, how long can it continue and how will we handle it all with growing port congestion, warehouses at maximum capacity, an overtaxed rail system and an overloaded truck market?
________________________
Speaking of the truckload market, this week is National Truck Driver Appreciation Week. This is a great time for shippers to say thank you to your carriers. Choptank Transport is sending out gift boxes to its top 50 carriers as well as serving coffee, bagels and donuts to its LTL carriers at its Preston, Maryland warehouse location this Saturday, September 18, 2021.
________________________
Regardless of whether you like grocery shopping or hate it, the occasional trip through the maze of too-many-choices is unavoidable. When the pandemic first hit, we were struck by the empty shelves of toilet paper and paper towels. Luckily it was an inconvenience that seemed to remedy itself fairly quickly, but now we are seeing new repercussions arise.
The latest casualty of shortages can be found in two distinct sections of the store: the alcohol aisle and the pet food aisle. In the past week, it seems that stores have had NO bottles of Miller Lite. In the grocery's pet food section, wet cat food is has been noticeably anemic for weeks.
So, like all unsolved mysteries, the place to go to find answers is the Internet. Let's look at your poor kitty's food first. Since the beginning of the pandemic, primary ingredients for most pet foods (corn, soy and meat) have soared between 8% - 20%, as cited by the Pet Food Institute. Add to that, pet ownership became a trend during the shutdown. According to an article in Reuters, "About 12.6 million U.S. households indicated they acquired a new pet from March to December 2020 ..." And then there are the supply chain issues.
Regarding beer, it isn't just Miller Lite bottles. All kinds of alcoholic beverages in bottles are in short supply. Some states, such as Pennsylvania, are even rationing sales of certain items. It is a shortage of glass bottles, not alcohol, that is to blame. The combination of a decrease in manufacturing due to labor shortages and again, bottlenecks (pun intended) in the supply chain.
As a result of new and ongoing shortages, companies are over-ordering, especially as the holidays approach, further straining the truckload, rail and intermodal markets.
---
The cost of shipping freight in the U.S. continued to rise in August as equipment and labor-capacity constraints persisted. A measure of freight rates jumped 26.6% from a year earlier, the sharpest increase since February 2006, based on the latest figures from Cass Information Systems. The gain followed a 23.8% increase in July and marked the third straight month of acceleration. - Bloomberg Business
---

This week's video
"Cheers" May Not Be Possible This Holiday if We Don't Have Any Glass Bottles
This video is from a St. Louis news station, but the glass bottle
shortage is a nationwide problem. (Video: 1 minute, 47 seconds)
____________________________
You may be paying more than you realize at the
grocery store these days.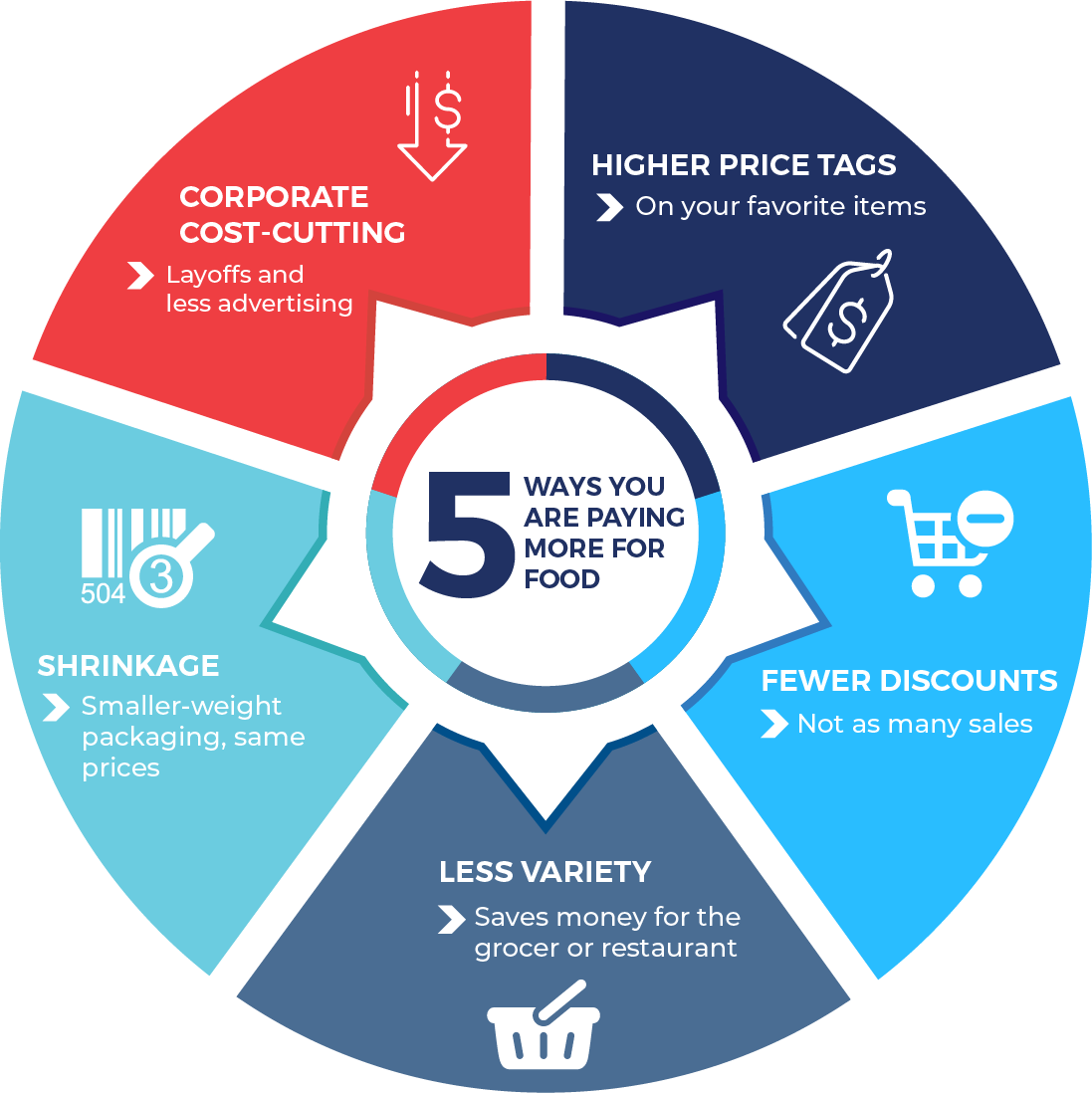 THIS HOLIDAY SEASON
Number of the Week

$1- $2 Billion
It is estimated that the artificial Christmas tree market is a one- to two-billion dollar industry. The American Christmas Tree Association estimates that 85% of American households had a fake tree in 2020, which is up from 46% in 1992. There is expected to be a shortage of artificial trees this year, and if you are lucky enough to find one, it will be more expensive than in past years.
What's Up in the Spot Market?
September 13 - September 19: High volumes continue to be the picture for the spot market. Dry van freight rates are holding steady on a national average but many high-trafficked areas are seeing double-digit increases, breaking previous records.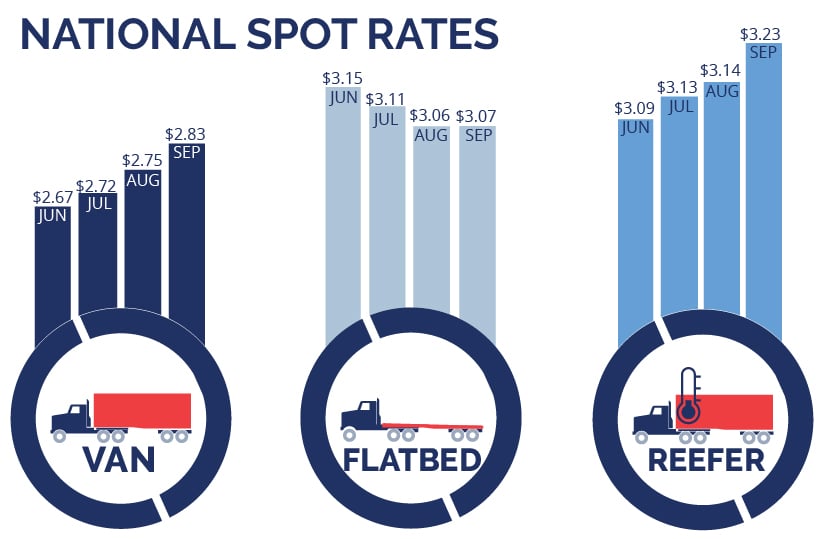 National Outbound Tender Volumes
Labor Day weekend and Hurricane Ida contributed to the dip you see in volumes during the second and third week of September. (Holidays always create a decline in volumes, as you can see on the chart from the July Fourth and Memorial Day holidays.) It didn't take volumes long to rebound though, surpassing 2020 volumes by more than 6%.
On the East Coast, volumes are spiking as some of the port freight gets rerouted to East versus West Coasts. Savannah has more than 20 vessels waiting at the port, while Elizabeth, New Jersey, has experienced a 15% increase in freight volumes. (Chart: Freightwaves/Sonar): Blue indicates 2021 volumes, orange 2020 and green 2019.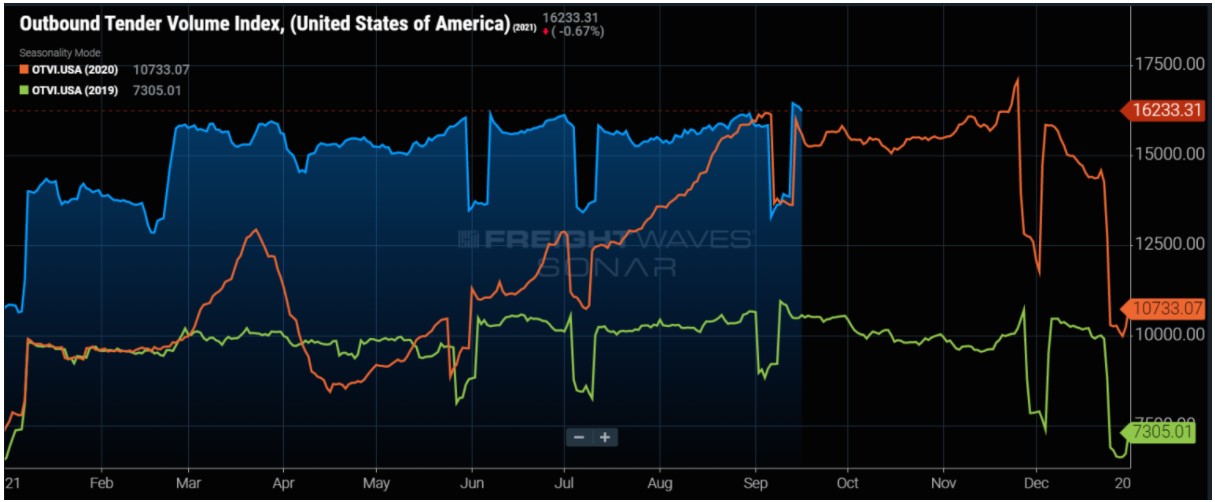 National Outbound Tender Rejections
The National Outbound Tender Rejection rate as of Friday was at 21.78, just below 22%. Rejections have been holding steady for the past few weeks after slowly declining from April highs. You can see the drastic difference between 2019 in orange and 2020 in blue.
(Charts below: Freightwaves/Sonar)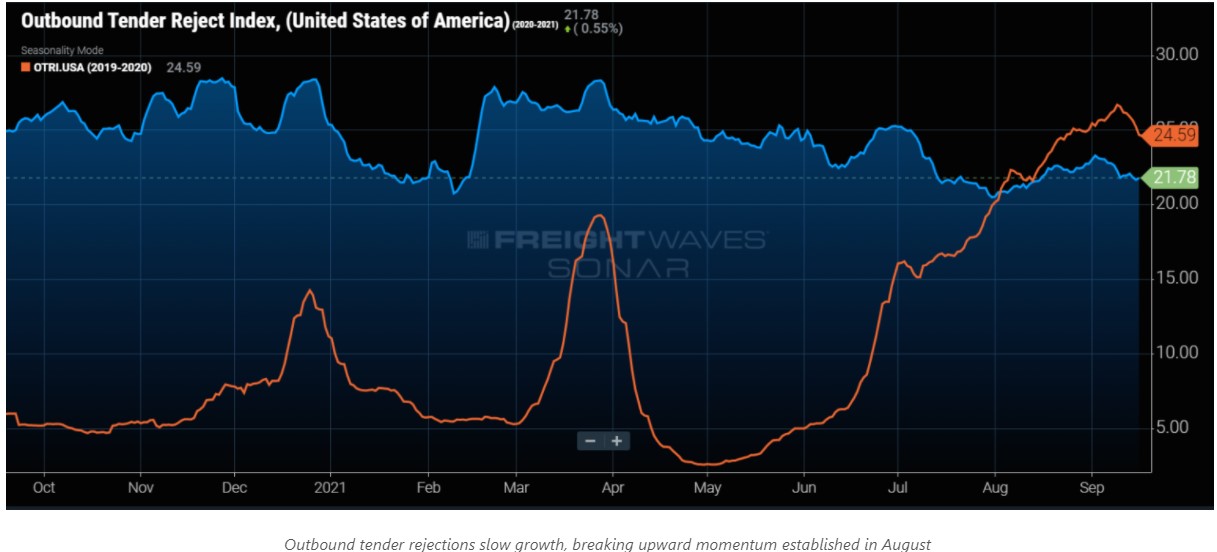 The chart below shows the Outbound Tender Rejection Index this past Friday by mode. The blue line shows dry van rejections, the orange indicates reefer, and the red is flatbed.

BIGGEST CHANGES IN THE MARKET


(Freightwaves/Sonar)
Markets with the largest daily increase in tender rejections. For shippers, these markets may be suddenly more difficult to find capacity.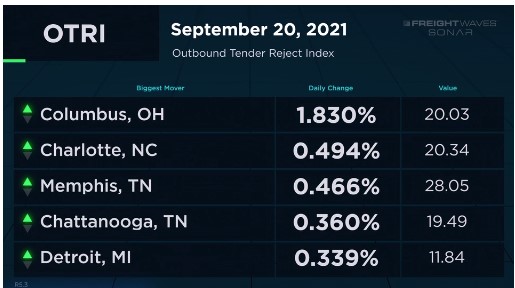 Markets with the largest daily increase in tender volumes. For shippers, these markets should be less difficult to find capacity.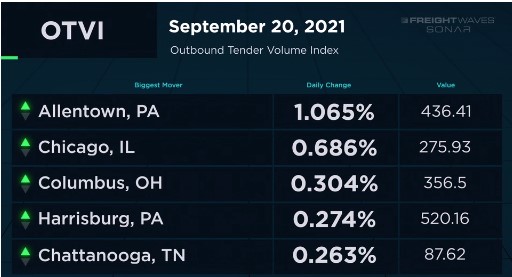 Rail/Intermodal News
There is more than one challenge for railroads right now, the first and foremost being sheer volume, which boils down mainly to port congestion. In addition, there are dray carrier shortages, chassis shortages, container shortages, intermodal terminal congestion, and astronomical detention and demurrage fees that are taking away much of the competitive advantages of intermodal.
https://www.ttnews.com/articles/iana-2021-massive-imbalances-plague-intermodal-industry
There are, however, still some pockets of savings to be found. Our intermodal team can help steer you in the right direction by providing the latest rates and possible savings when they become available. Contact intermodal@choptanktransport.com.
Economic News
In economic news, inflation slowed down slightly from July to August, but consumer pricing was 5.3% higher than last year. Gas prices went up 2.8% during the same time period, which was at a faster clip than the previous month. Restaurant and grocery prices both rose at the same rate of 0.4%.
Interestingly, the two grocery items that saw the biggest increases in cost were salad dressings (I personally noticed mayonnaise!) and bacon, up 4% and 3.3% respectively between July and August.
In the services industry, prices also are escalating. Fast food prices rose 9.7% between July and August! Does McDonald's even have a dollar menu anymore?
On September 16, initial jobless claims numbers came in at 332,000 versus the 320,000 that was expected, possibly due to a resurgence of COVID in many areas of the country.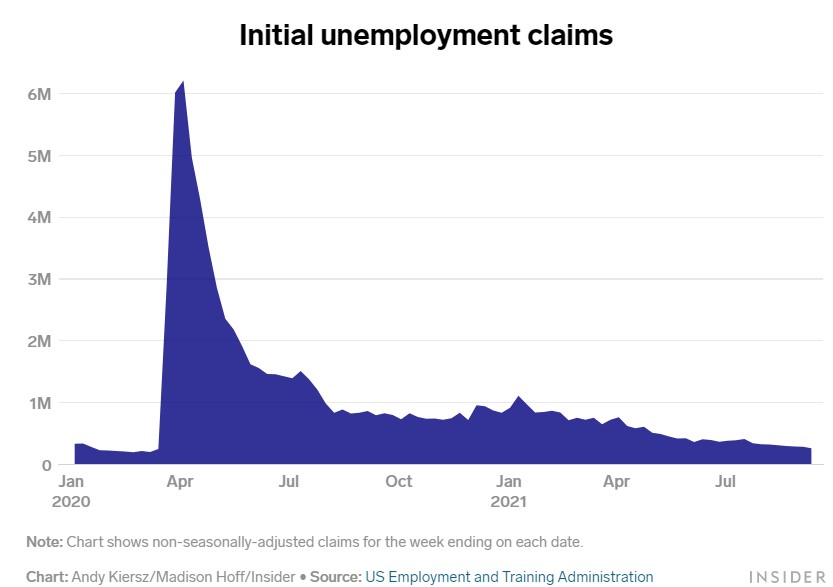 Market Conditions
This morning's market conditions are shown below for the previous day for van, reefer, and flatbed. Areas in red are extremely tight.
Van Capacity
Reefer Capacity
Flatbed

Who's Got the Power?
The DHL pricing power index retreated five points last week to wind up on 75, indicating that capacity may have eased off slightly.
The pricing power index is a weekly gauge put out by DHL that indicates who has more sway in negotiations when it comes to pricing and freight rates. (Source: Freightwaves)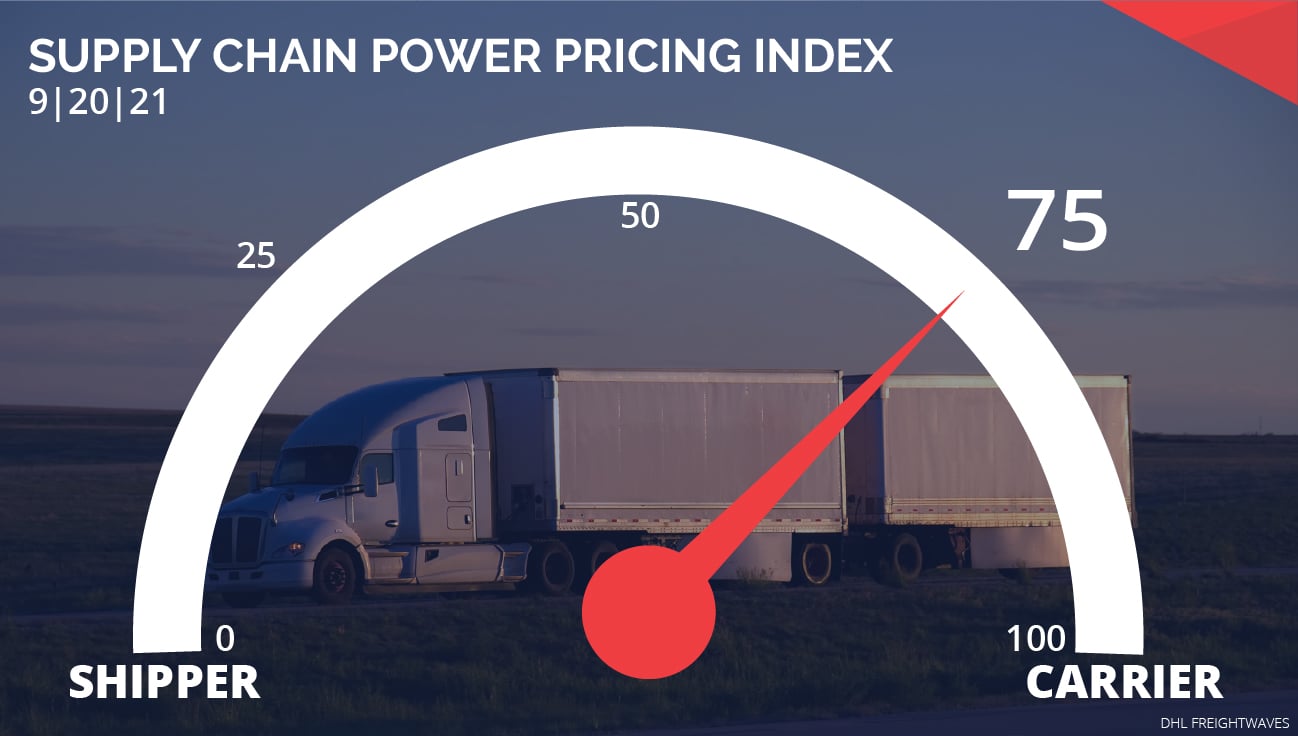 Shippers rely on the relationships they have with their 3PLs to ensure a smooth continuation of service whenever capacity gets tight. We hope you will continue to count on Choptank for all your freight needs, whether it be dry van, reefer, truckload, LTL, intermodal or cross-border shipping.
We would love to hear from you
What do you think about the Choptank Transport Market Brief? Do you find it helpful? Is there additional information you would like us to include or is there information you don't find relevant? Send comments to: marketing@choptanktransport.com
Have a Question? Ask one of our Experts
Your sales representative or a member of our professional logistics team is ready to help, so give us a call! 800.568.2240. If this information was forwarded to you and you would like to receive it, sign up here.