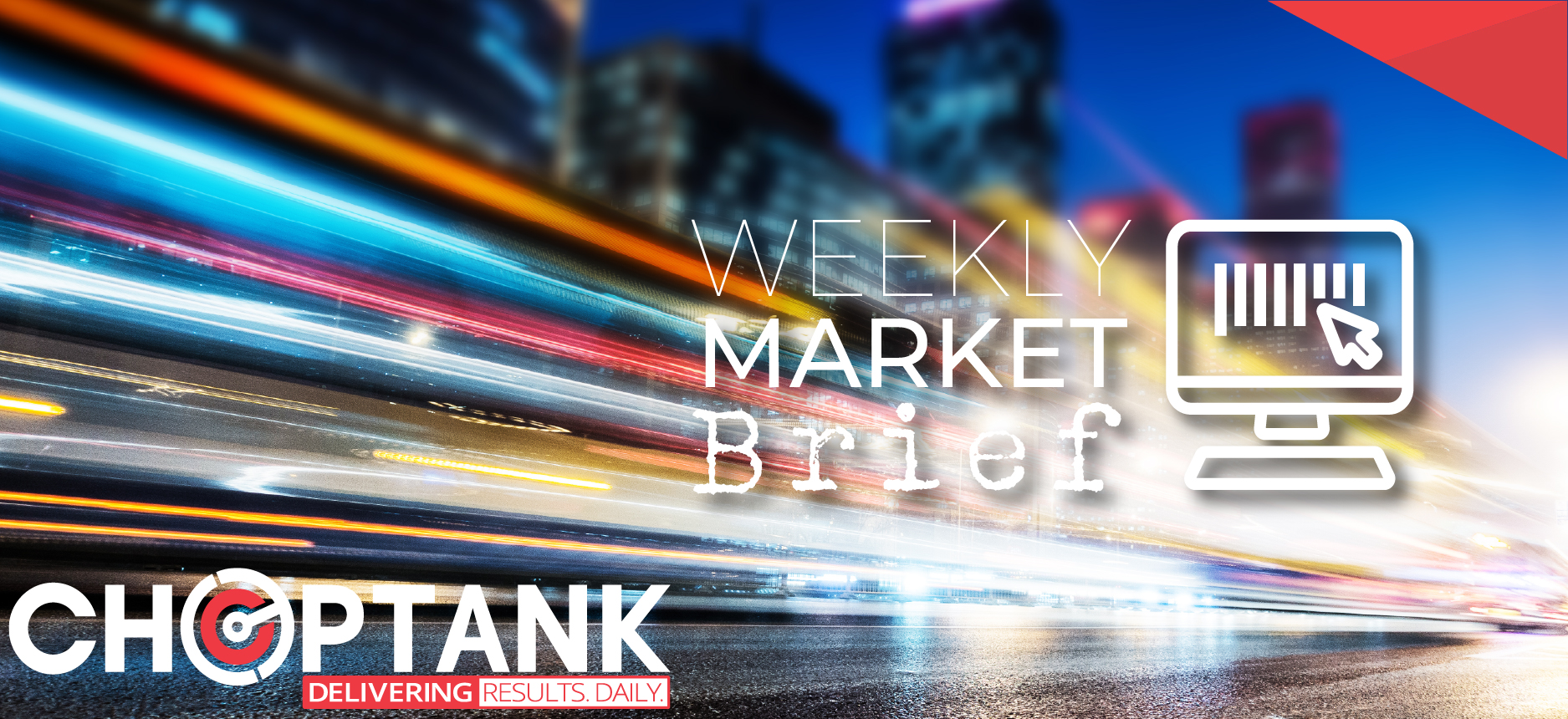 Freight Volumes Likely to Continue into Summer 2022 & It's Truck Driver Appreciation Week!
Your Outlook For The Week Ahead



September 14,
2021
The Choptank Weekly Market Brief is offered exclusively to Choptank Transport customers to provide accurate, timely, and relevant freight market information. The contents of this brief are collected from reputable sources including DAT, Freightwaves/Sonar, Truckstop.com, the Department of Labor, the Department of Transportation, and other sources as cited throughout the brief.
Never before have seen we seen such extended high volumes in the U.S. freight market. The question is, how long can it continue and how will we handle it all with growing port congestion, warehouses at maximum capacity, an overtaxed rail system and an overloaded truck market?
________________________
Speaking of the truckload market, this week is National Truck Driver Appreciation Week. This is a great time for shippers to say thank you to your carriers. Choptank Transport is sending out gift boxes to its top 50 carriers as well as serving coffee, bagels and donuts to its LTL carriers at its Preston, Maryland warehouse location this Saturday, September 18, 2021.
________________________
But back to the topic of freight volumes. Analysts are predicting that volumes over the next few weeks will remain steady, even as we saw some relief in capacity post Labor Day, as is usual. But, the tide could and may easily turn as we approach the end of September. It remains a volatile market with the potential of getting extremely intense as shippers become hot for their freight deliveries, needing time-sensitive loads and expedited shipments for the holidays "delivered yesterday." No doubt, rates are going to go up the closer we get to Thanksgiving, Christmas and New Years.
Add to that the Chinese New Year following our U.S. holiday surge, and it is likely that a backlog of shipments and dire need for replacement inventory will continue to be an issue. As Freightwaves market expert Henry Byers says, volumes will likely remain at these elevated levels until the summer of 2022.
___________________
Market Commentary from Dave Regulski, Choptank Transport, Vice President of Business Development
"At Choptank, we are seeing freight demand continue to be very high coming off the holiday week. Freight originating in the Northeast and Midwest is experiencing the most significant pricing volatility. Our freight lead time also is continuing to decrease which plays a significant role in rising costs. This overall market volatility is forecasted to remain through the end of the year and into '22."
___________________
Did you know Choptank was recently named a FourKites® Premier Carrier? That is a pretty special designation!

This week's video
Four Massive Container Cranes Squeeze Under the Chesapeake Bay Bridge with only 10 feet of clearance, adding capacity to Port of Baltimore.
Four enormous cranes made the amazing voyage without incident from China to the Port of Baltimore during the height of hurricane season. Each crane measures 450 feet tall and weighs about 1,740 tons – 25 feet taller and 190 tons heavier than the Port's first set of Neo-Panamax cranes that arrived in 2012. Once they arrived in the Bay, they had to navigate through the Chesapeake Bay Bridge and the Francis Scott Key Bridge. The cranes' maximum height on board the vessel was 176 feet tall. The Bay Bridge's tallest point is 186 feet high!
According to a press release put out by the Port of Baltimore on September 2, 2021, ""Baltimore is already one of the few ports on the East Coast capable of accommodating the world's largest container ships," MDOT Secretary Greg Slater said. "These new cranes will allow the Port to serve two ultra-large container ships simultaneously, boosting our capacity and giving us the opportunity to increase revenue and grow the jobs that help fuel Maryland's economy."
Number of the Week

$195K- $202K per day!
What's Up in the Spot Market?
September 6 - September 12: The national average spot rate this past week was up more than 30% from a year ago, jumping up 11 cents per mile to $3.60/mile. Both reefer and dry van spot rates are escalating, with reefer rates hitting an eye-popping $4.39/mile.

National Outbound Tender Volumes
National Outbound Tender Volumes (OTVI) dipped last week as is expected after a holiday. Volumes climbed steadily, however, 5% from the beginning of August until Hurricane Ida hit. Just before the storm, volumes were at a record high for 2021 and at their highest point since Thanksgiving of 2020.
The brief seasonal abatement is probably not going to last long. The growing backlog of maritime volumes will soon trickle down into the over-the-road market, once again elevating the OTVI, possibly into newly charted territory. (Chart: Freightwaves/Sonar)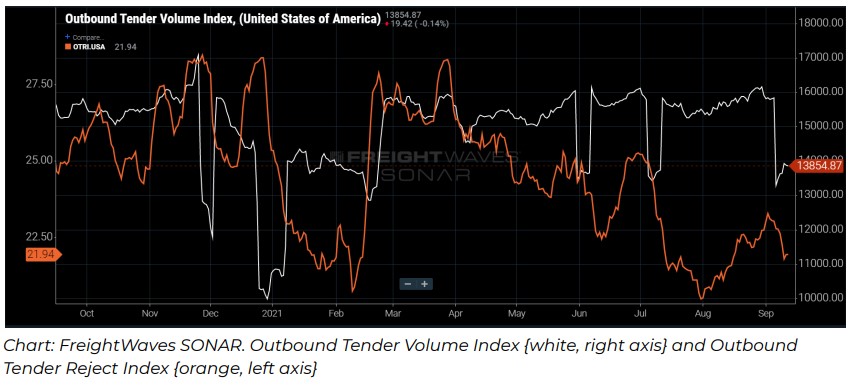 National Outbound Tender Rejections
Outbound Tender Rejections continue to hover around the 20%-25% mark, as they have for much of the year. As such, the high percentage of rejected freight continues to put pressure on rates. Rejections may start to fall this week, however, as drivers who tried to make it home for the Labor Day weekend to be with family are now back on the roads again, looking for freight.
The chart below shows National Outbound Tender Rejection rates this week. (Chart: Freightwaves/Sonar)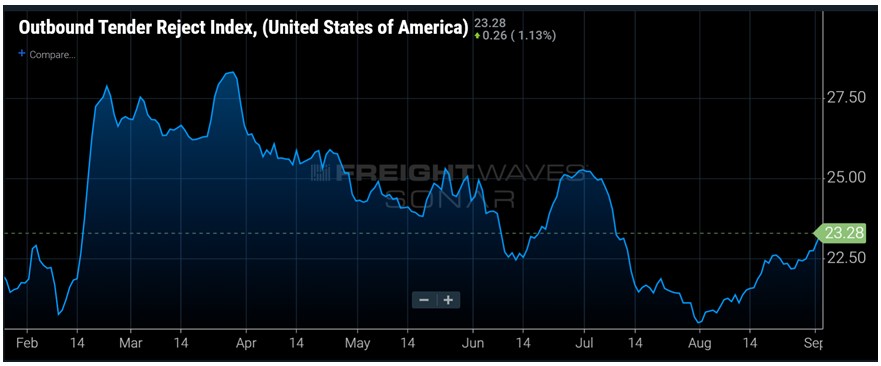 BIGGEST CHANGES IN THE MARKET


(Freightwaves/Sonar)
Markets with the largest daily increase in tender rejections. For shippers, these markets may be suddenly more difficult to find capacity.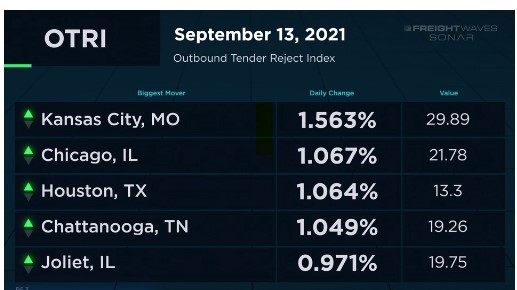 Markets with the largest daily increase in tender volumes. For shippers, these markets should be less difficult to find capacity.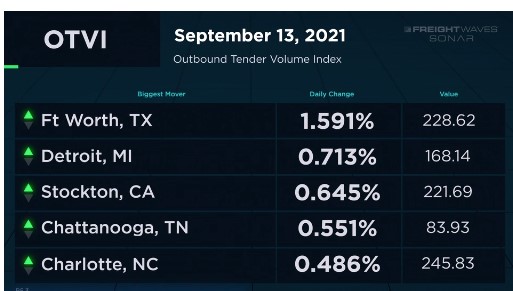 Rail/Intermodal News
In a LinkedIn post, the Los Angeles Transportation Club mentioned that not only is Union Pacific Railroad raising their surcharge to $5,000 per container for all shippers in Los Angeles, but they are also charging a new surcharge of $500 a container for excess loads in Dallas and Houston effective September 19, 2021. This is the fifth increase this year.
With no opportunity to catch up from the huge number of containers being offloaded at the ports over the last year, both domestic and international intermodal services are struggling to keep fluidity.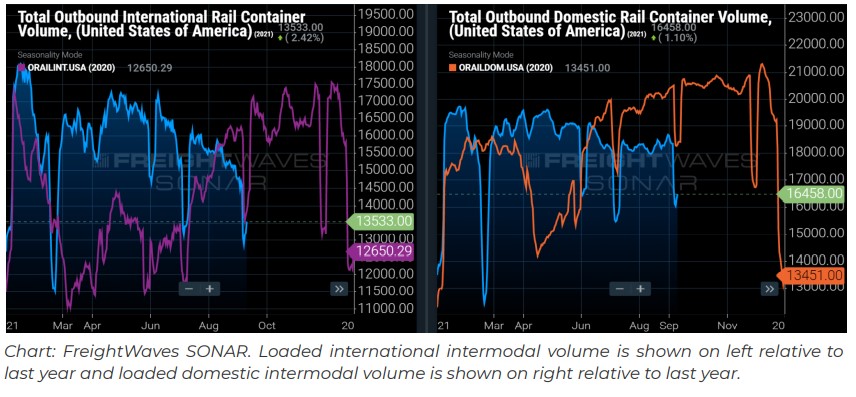 Employment News
As of September 4, initial jobless claims fell to 310,000, down from 345,000 the prior week. As demand for jobs remains high, employers are still struggling with the number of applicants. The overall unemployment rate in August for the U.S. economy was 5.2%.
If you look only at the transportation sector, unemployment fell significantly from this time a year ago but is stuck it seems from crossing back over to pre-pandemic numbers.
In August the unemployment rate in transportation was at 6.4%, whereas in 2019 (pre-pandemic), it was at 4.8%. (Chart Source: DC Velocity)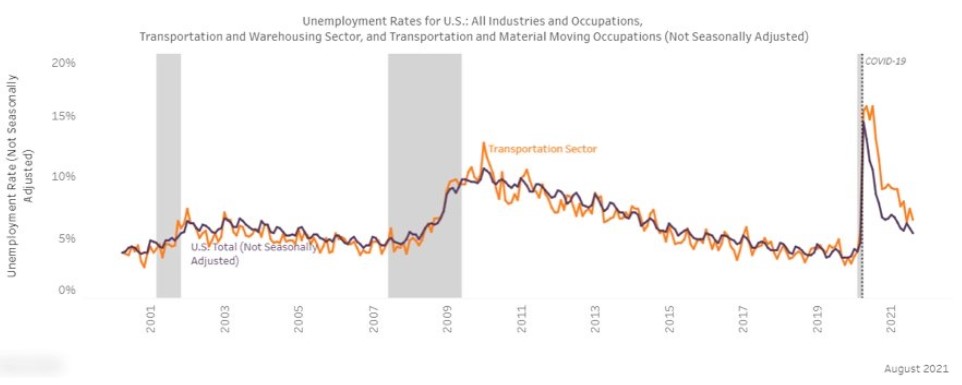 The two charts below show how foodservice and manufacturing are two sectors that have struggled with unemployment. Foodservice seems to have had a striking turnaround, however, in August.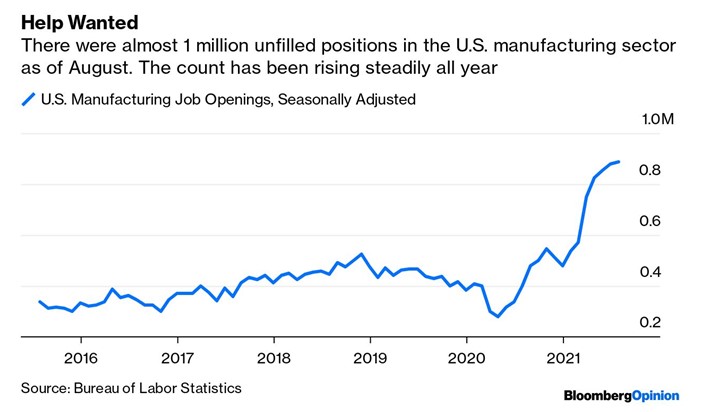 Market Conditions
This morning's market conditions are shown below for the previous day for van, reefer, and flatbed. Areas in red are extremely tight.
Van Capacity
Reefer Capacity
Flatbed

Who's Got the Power?
The DHL pricing power index remains at 80, giving carriers the upper hand in negotiations.
The pricing power index is a weekly gauge put out by DHL that indicates who has more sway in negotiations when it comes to pricing and freight rates. (Source: Freightwaves)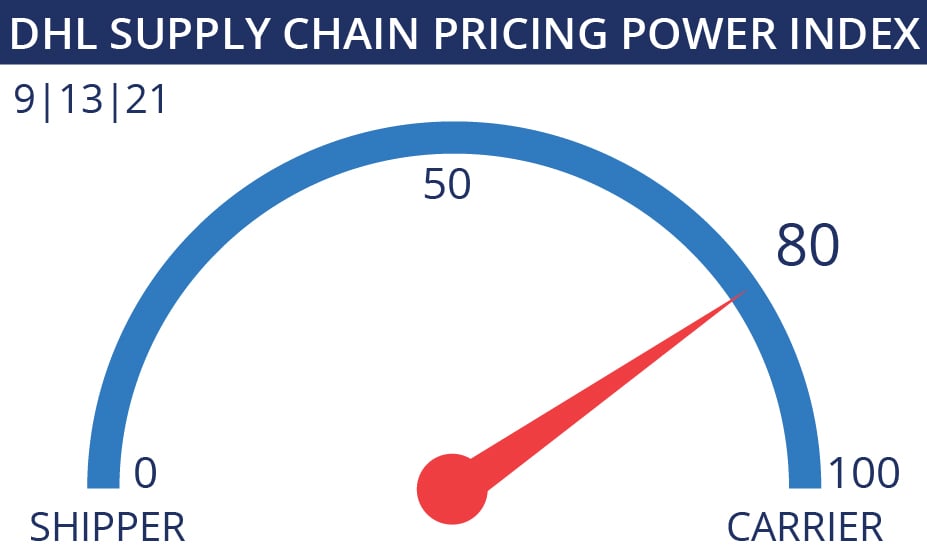 Shippers rely on the relationships they have with their 3PLs to ensure a smooth continuation of service whenever capacity gets tight. We hope you will continue to count on Choptank for all your freight needs, whether it be dry van, reefer, truckload, LTL, intermodal or cross-border shipping.
We would love to hear from you
What do you think about the Choptank Transport Market Brief? Do you find it helpful? Is there additional information you would like us to include or is there information you don't find relevant? Send comments to: marketing@choptanktransport.com
Have a Question? Ask one of our Experts
Your sales representative or a member of our professional logistics team is ready to help, so give us a call! 800.568.2240. If this information was forwarded to you and you would like to receive it, sign up here.