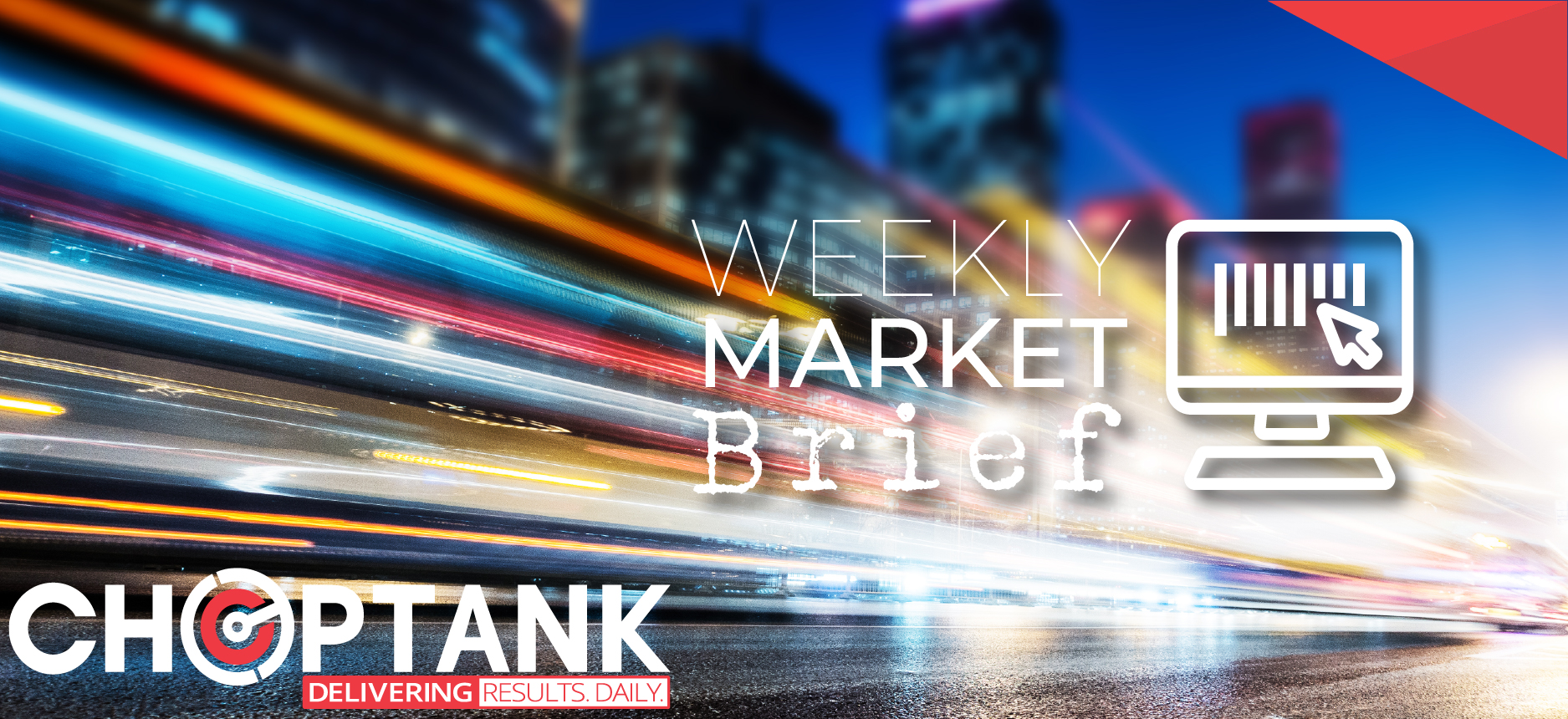 Spot Rates Hit New August Highs, Ida's Aftermath, and More ...
Your Outlook For The Week Ahead

September 7,
2021
The Choptank Weekly Market Brief is offered exclusively to Choptank Transport customers to provide accurate, timely, and relevant freight market information. The contents of this brief are collected from reputable sources including DAT, Freightwaves/Sonar, Truckstop.com, the Department of Labor, the Department of Transportation, and other sources as cited throughout the brief.
More people are going back to work, yet the latest overall available job numbers came in disappointingly low at 235,000. Recent manufacturing and order backlog indices are showing a lot of momentum going into 2022, suggesting a strong truck market beyond the holidays. Read more about these topics in our Employment and Manufacturing News sections below.
Spot rates soared last week (record-setting in August for both van and reefer rates) while load posts dipped as Hurricane Ida made her presence known. She was a devastating hurricane, and everyone knows that relief efforts are often closely tied to truckload capacity.
The after-effects of the F4 hurricane are still being felt in areas that were hardest hit in and around New Orleans. As of Monday, more than 550,000 people were still in the dark!
According to an article in Freightwaves, when a hurricane is forecasted to make landfall in the continental United States, FEMA begins its recovery efforts two to three days before the storm's arrival. Trucks continue to be sourced two to three weeks after the event to bring in needed supplies, and then later, to return unused supplies.
All told, FEMA may require three to five weeks of capacity relating to a major event such as Ida. (See Number of the Week below for how many trucks are currently being used for relief efforts.)
___________________
Commentary from Mike Barry, Choptank Transport, Director of Logistics
As expected, there were some challenges last week with deliveries to customers in and around New Orleans, but we were able to resolve them. Capacity continues to be a struggle in the Northeast, and Ida made it even more difficult. With a four-day workweek upon us, tight capacity will surely continue in both those areas.
___________________
Produce is winding down this time of year with volumes having decreased by 25% since their peak, (peak being the week before the Fourth of July). "To put those numbers into perspective, carriers hauled just under 14,000 fewer loads of produce last week compared to the 61,000 loads of produce hauled in the week leading up to Independence Day," says Dean Croke, DAT.
Tight reefer capacity is being reported by USDA in several markets:
Potatoes in San Luis Valley in Colorado

Cantaloupes and watermelons in Delaware and Maryland

Watermelons in southern Missouri, southwest Indiana, and southern Illinois

Sweet potatoes in eastern North Carolina
And lastly, we mentioned in an early market report that you may want to get your holiday shopping done early this year. Well, that includes Halloween shopping. Read the article link at the bottom of the market report that features the seasonal pop-up store "Spirit Halloween" and the ghastly struggles they have had with imports for the creepy-costume holiday.
Did you know Choptank was recently named a FourKites® Premier Carrier? That is a pretty special designation!

This week's video
Watch the tornado near Choptank Transport change from mere clouds to a funnel.
Several tornadoes touched down in Maryland as Ida passed through the state. Annapolis sustained severe damage to one of its main thoroughfares. Another twister touched down southeast of Baltimore City in the Edgemere area. Closer to home, a tornado touched down less than ten miles from ChoptankTransport's headquarters in Hurlock, Maryland!
Number of the Week

550,000
The number of customers who were still without power in Louisiana as of early Monday morning, according to PowerOutage.US.
What's Up in the Spot Market?
August 30 - September 5: Spot rates skyrocketed last week breaking previous August records for both van and reefer. Van rates hit $2.75/mile and reefer, $3.14/mile.
Rates jumped 18% for refrigerated trailers for inbound New Orleans right before Hurricane Ida hit (August 23 -29). Volumes typically surge just prior to the Labor Day holiday but add in the rush to get ahead of the weather from New Orleans to New York, and things were a bit crazy. This past week, however, the market seems to be letting off the gas a bit with week-over-week load posts and load-to-truck ratios normalizing for each equipment type.

National Outbound Tender Volumes
In its four-year history, the National Outbound Tender Volume index has only been higher once, and that was during the week leading up to Black Friday in 2020. Compared with a month ago, accepted tenders are up by 2%. Rejection rates, however, are much lower now than they were during the previous peak volume period. They are rebounding, however, as capacity tightens again, especially in the reefer markets. (Chart: Freightwaves/Sonar)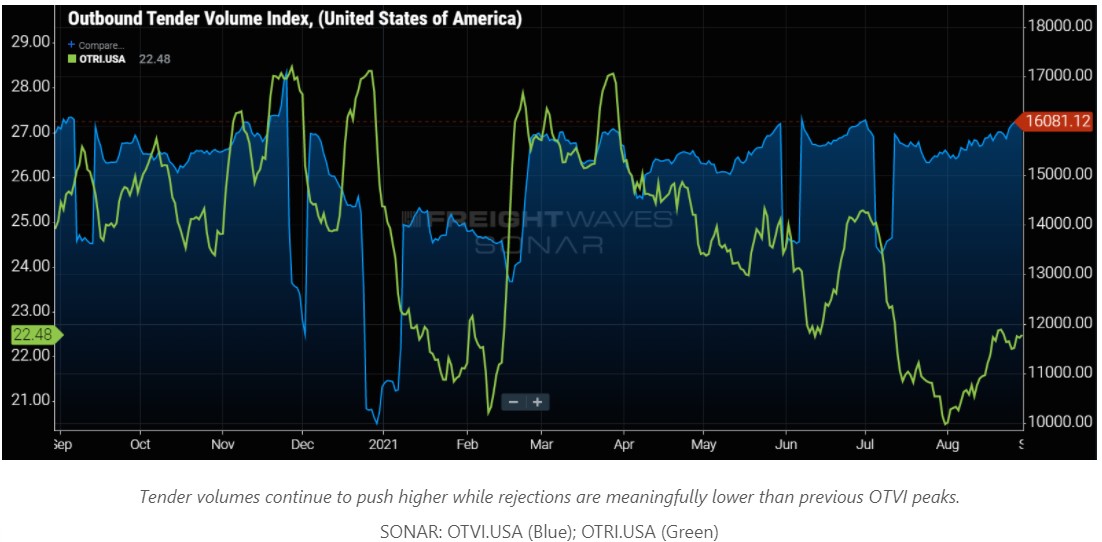 National Outbound Tender Rejections
Outbound Tender Rejections, which saw a definite decrease in July, climbed steadily for the first three weeks of August but have leveled off now as we close the first week of September.
All rejection rates, however, are not created equal. Tweener rejection rates (length-of-haul between 450-800 miles) have increased the most, tightening capacity for those runs. Long-haul rejections have increased the least. Here is the recent breakdown of rejections by length-of-haul.
Short-haul: rejections increased by 80 basis points (over 12 days).
Tweener: rejections increased more than 200 basis points over the last week.
Long-haul: rejections increased 26 basis points over the last week.
The chart below shows National Outbound Tender Rejection rates this week. (Chart: Freightwaves/Sonar)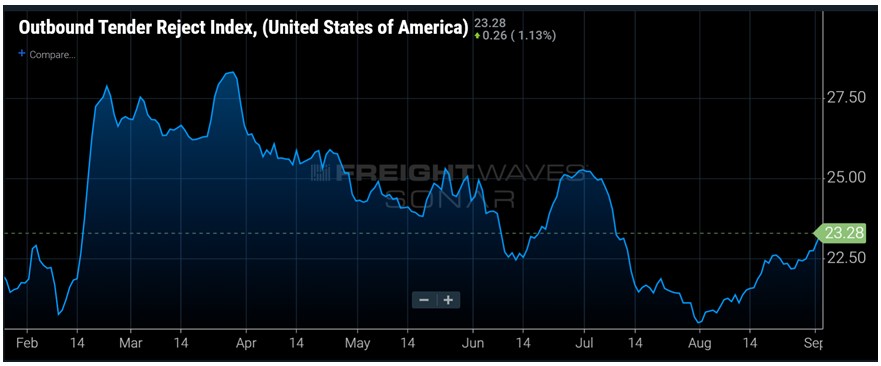 The chart below shows 2021 Outbound Tender Rejections compared with data over the previous three years. See color designations below chart. (Chart: Freightwaves/Sonar)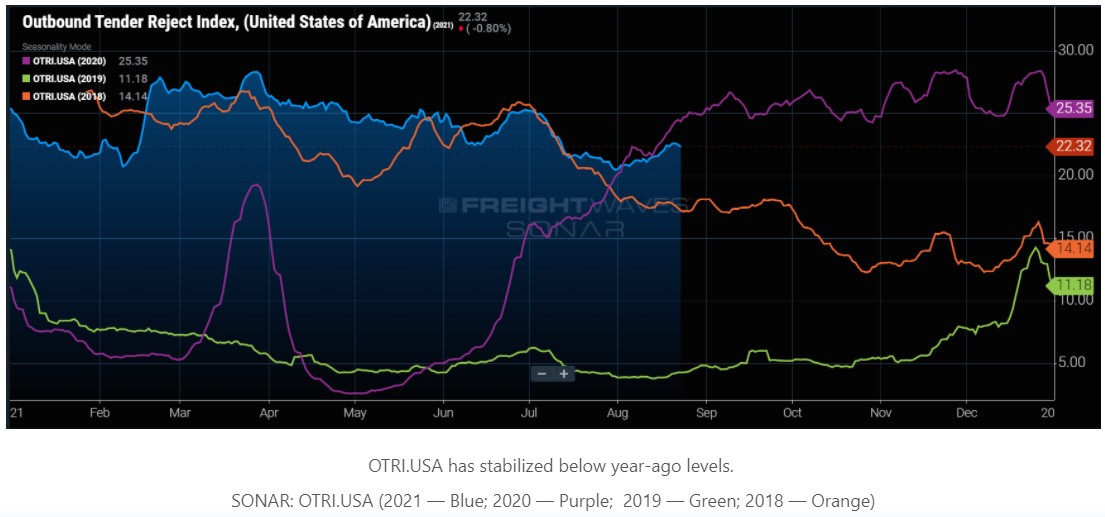 BIGGEST CHANGES IN THE MARKET


(Freightwaves/Sonar)
Markets with the largest daily increase in tender rejections. For shippers, these markets may be suddenly more difficult to find capacity.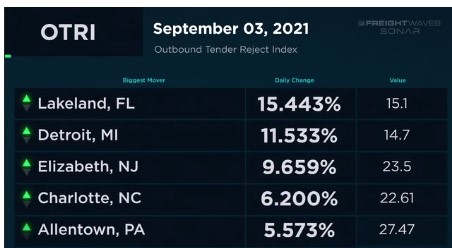 Markets with the largest daily increase in tender volumes. For shippers, these markets should be less difficult to find capacity.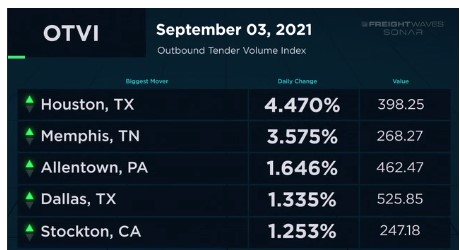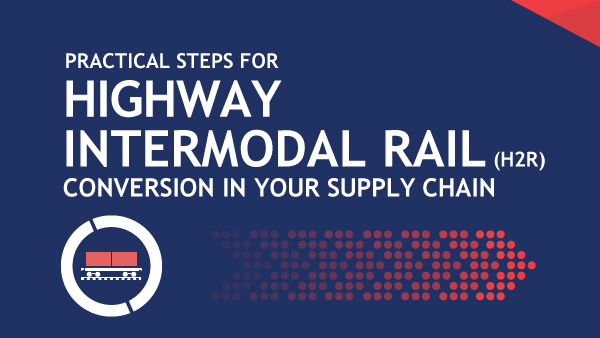 Download the Highway to Rail Guide Here
Rail/Intermodal News
In a Supplychain247 article, Senior Vice President John T. Gray of the Association of American Railroads (AAR), made the comment, "Rail traffic is navigating many of the same challenges plaguing other supply chain participants, including chassis and container shortages at ports; shortages of drayage truck drivers; port congestion; insufficient warehouse capacity at many locations; and now, weather problems in the Gulf. Faced with this, railroads are working hard, in cooperation with other stakeholders, to keep the national rail network fluid."
It is an up-and-down situation, according to the recent AAR report regarding rail carloads and intermodal volumes in August.
The AAR report cited that of the 20 carload categories tracked by commodity, 14 displayed annual gains. Included in this list were coal, crushed stone, sand and gravel, and metal products. Categories that indicated declines in carloads included grain (by 15,538 carloads!), auto parts, and farm products.
Annually, rail carloads are up 4.1%. Intermodal containers and trailers, however, are down 3.3%.
Other intermodal news:
Canadian Pacific Back in the Running Following STB's Ruling against Voting Trust in KCS-CN Merger | Railway-News
KCS shareholders in hot seat as CP sets deadline on merger offer - FreightWaves
Stakeholders detail worries, support on CSX plan to acquire Pan Am Railways - FreightWaves

Employment News
More people are returning to the workforce as extended unemployment benefits begin winding down. These benefits will cease at the end of next month. Only then may get an answer to the longtime debate as to whether or not the extended benefits have kept workers out of the workplace.
The current participation rate ("participation" defined as people who are willing and actively looking for employment) in the United States is at 61%, according to Freightwaves economist, Anthony Smith.
The number of new jobs in the U.S. reported on Friday for the month of August only registered 235,000, and was a disappointment to economists who expected higher numbers.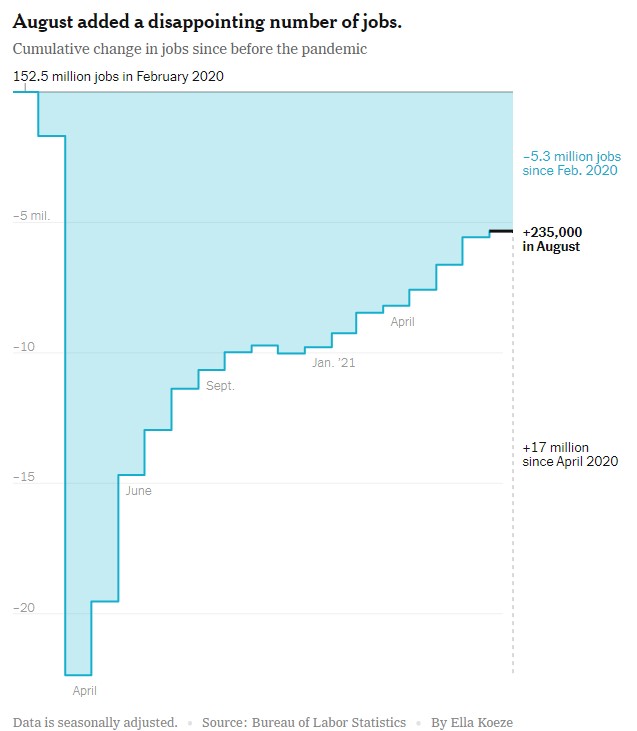 In August, 20,200 jobs were added in warehousing. The number of workers in the warehouse and storage sector is now 48,500 higher than it was at the end of 2020. Between June and August, job gains in this sector totaled 55,200.
The current number of U.S. rail jobs is 143,300, down 500 jobs since last month. The more concerning statistic, however, is the decline in rail jobs from a decade ago, which shows a deficit of 51,000 jobs.
Modern Shipper reports, "As for trucking, the industry gained 5,400 jobs on a seasonal basis to 1,498,500 jobs. That's still less than the 1,516,200 jobs that the Bureau of Labor Statistics reported for the trucking and transportation sector in March 2020, immediately before the pandemic hit."
Manufacturing
The two charts below show there is no concern for a lack of new orders in the manufacturing pipeline. The chart underneath "new orders" shows the high number of backlogged orders. 2022 is shaping up to be another robust freight year. (Charts: Freightwaves/Sonar)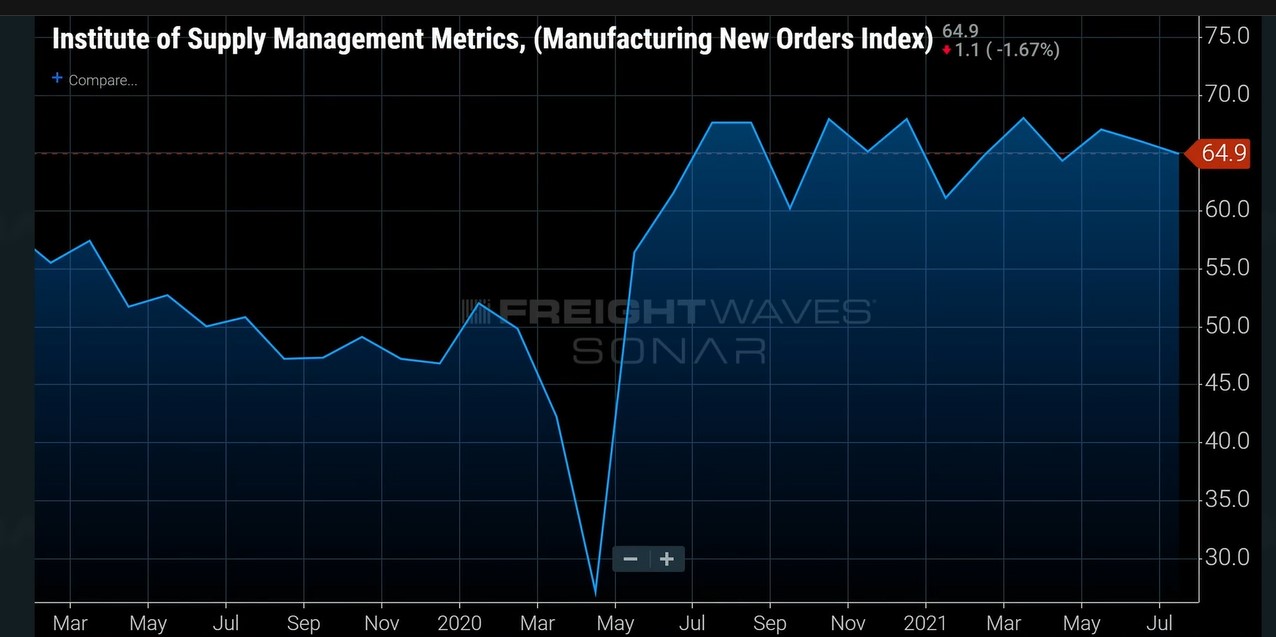 Market Conditions
This morning's market conditions are shown below for the previous day for van, reefer, and flatbed. Areas in red are extremely tight.
Van Capacity
Reefer Capacity
Flatbed

Who's Got the Power?
The DHL pricing power index increased another five points last week to hit 80, mainly due to Hurricane Ida and other capacity constraints.
The pricing power index is a weekly gauge put out by DHL that indicates who has more sway in negotiations when it comes to pricing and freight rates. (Source: Freightwaves)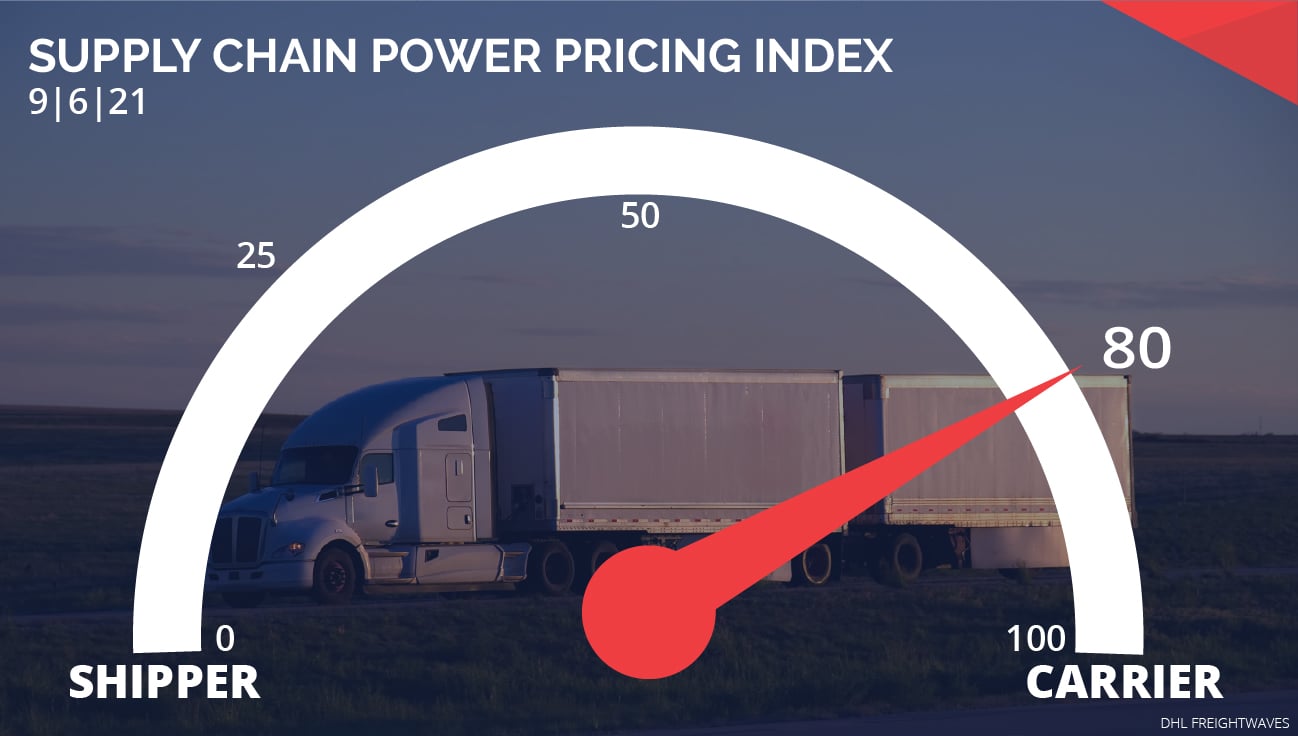 Shippers rely on the relationships they have with their 3PLs to ensure a smooth continuation of service whenever capacity gets tight. We hope you will continue to count on Choptank for all your freight needs, whether it be dry van, reefer, truckload, LTL, intermodal or cross-border shipping.
We would love to hear from you
What do you think about the Choptank Transport Market Brief? Do you find it helpful? Is there additional information you would like us to include or is there information you don't find relevant? Send comments to: marketing@choptanktransport.com
Have a Question? Ask one of our Experts
Your sales representative or a member of our professional logistics team is ready to help, so give us a call! 800.568.2240. If this information was forwarded to you and you would like to receive it, sign up here.