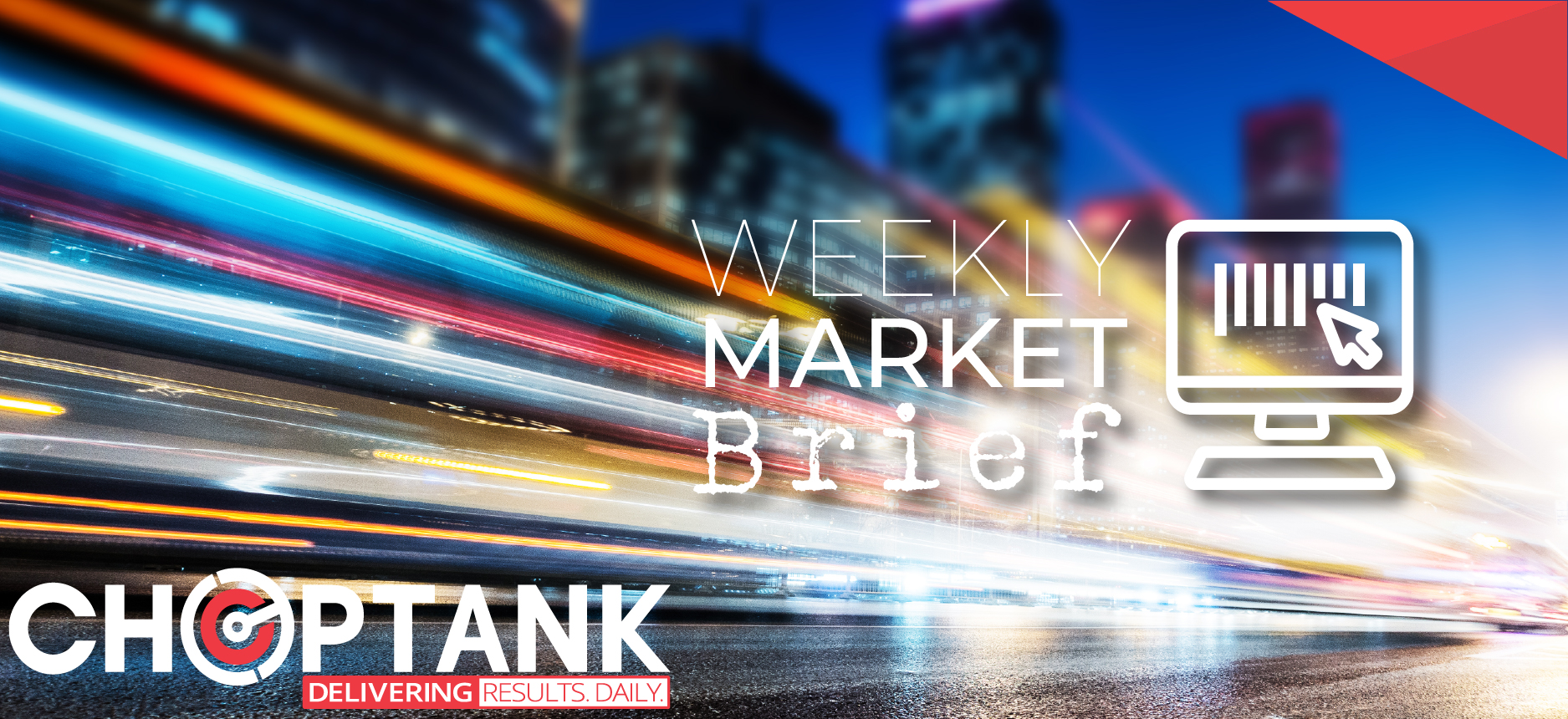 Steering Clear of Ida's Wake
Your Outlook For The Week Ahead

August 31,
2021
The Choptank Weekly Market Brief is offered exclusively to Choptank Transport customers to provide accurate, timely, and relevant freight market information. The contents of this brief are collected from reputable sources including DAT, Freightwaves/Sonar, Truckstop.com, the Department of Labor, the Department of Transportation, and other sources as cited throughout the brief.
Ida slammed into New Orleans as a Category 4 hurricane and remained so for four full hours. Reports of the powerful hurricane reversing the flow of the Mississippi River was startling, as was the report that 22 barges broke loose from anchor, creating the possibility of a collision with a levee and a potential disastrous outcome. Luckily, no further reports on that unfortunate event have been publicized.
After early assessment yesterday morning at the Port of New Orleans,

little damage was revealed

other than power outages and some minor wind damage. The New Orleans Terminal and Ports America were closed for containerized operations Monday, August 30, as well as Empire, Coastal Cargo, Gulf Stream Marine and Ports America for breakbulk operations. All in all, the situation at the ports could have been a lot worse.
Toppled Truck from Hurricane Ida in New Orleans
Not eveyone was as lucky as the ports.
(image is a video)
There are, however, still more than a million residents without power and estimates fall anywhere between two and six weeks before power will be fully restored. That means that capacity for relief efforts will be in high demand over the next few weeks. FEMA has its work cut out for it, as it may be hard to find carriers who are not already committed to shippers – shippers who have paid exceedingly high rates to secure reliable capacity and feel obligated to refrain from chasing higher rates.
But the storm is not over. Shippers and carriers can expect continued and widespread delays from a Category 4 hurricane from residual flooding and road closures. Carriers are steering clear of Ida's wake. Shippers can use this reference for current road closures due to flooding and downed trees and powerlines.

511LA| LA Traffic | Trip Planner | Road Conditions as it travels North in the U.S.
___________________
Did you know Choptank was recently named a FourKites® Premiere Carrier? That is a pretty special designation!

This week's video
YIKES! This is scary to watch.
Here is some terrifying footage of Hurricane Ida in the worst-hit part of Louisiana, Lafourche Parish. Watch the clip below or watch the full video.
Number of the Week

55 Million
That is the number of people in the path of Hurricane Ida who will experience some degree of Mother Nature's wrath, whether it be the storm's strong winds or the extensive rainfall expected to drench the country between now and Friday, from Louisiana to New York.
What's Up in the Spot Market?
August 23- August 29: Spot rates have been inching up week after week, with dry van contract rates reaching an all-time high. New Orleans spot market volumes for refrigerated trailers jumped 18%!


National Outbound Tender Rejections
The National Outbound Tender Volume index continues to escalate ahead of Labor Day. Volumes are now above the levels we saw preceding the Fourth of July, and only overshadowed by mid-late November 2020's Christmas holiday volumes.
There was a 4% volume increase compared with July, primarily due to an intensification of import freight. Accepted tender volumes are reaching new record levels, up 5% year-over-year.
The Freightwaves/Sonar charts below show outbound tender volumes broken down between van (left chart) and reefer (right chart). The red line on the van chart shows the rejection index, as does the yellow line on the reefer chart.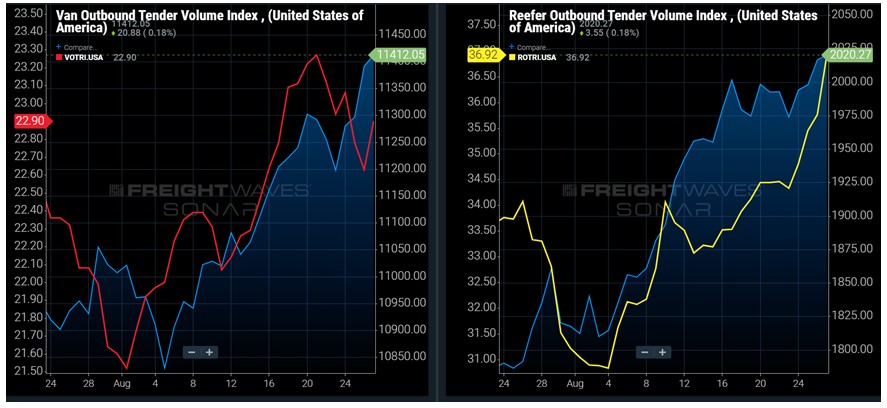 National Outbound Tender Volumes
Approximately one in every five loads is being rejected in the United States right now. The outbound tender rejection index is at 22%. A steady increase in rejection rates since the beginning of the month is a reflection of volumes on the rise. There is a particular rise in rejections in the Southeast due to Hurricane Ida. Interestingly, rejections overall are down 250 basis points year-over-year.
The Freightwaves/Sonar chart below shows the similarity between inbound tender rejections and outbound tender rejections in the New Orleans freight market on Sunday, just prior to Hurricane Ida's landfall. It is evident that carriers were quickly not willing to get in harm's way during the event as rejections escalated for both inbound and outbound.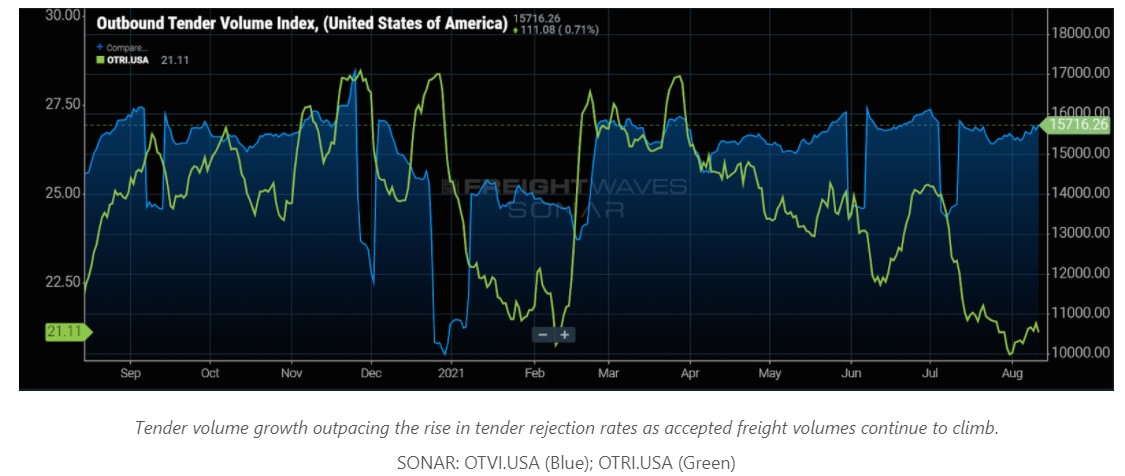 BIGGEST CHANGES IN THE MARKET


(Freightwaves/Sonar)
Markets with the largest daily increase in tender rejections. For shippers, these markets may be suddenly more difficult to find capacity.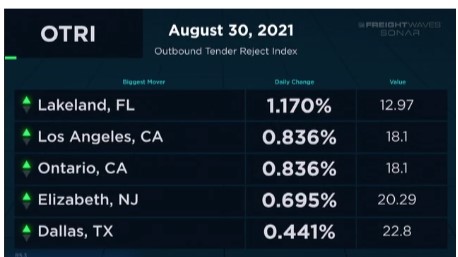 Markets with the largest daily increase in tender volumes. For shippers, these markets should be less difficult to find capacity.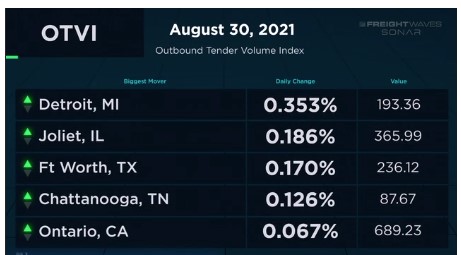 Maritime/Ocean Freight
There is still no relief at the ports, and vessels continue to cross the ocean knowing that once they arrive, they will be "parked" for days waiting to get into the ports to unload. As of this morning, there are currently 44 vessels waiting outside the ports of Long Beach and Los Angeles.
Rates for ocean containers from China to the United States are expected to climb even higher as capacity tightens with peak season around the corner. Increases of anywhere between 25% - 50% over the next several months are expected, according to an article Freightwaves.
"We do not expect freight rates to stabilize in the near term," according to Karsten Michaelis, head of ocean freight at DHL Global Forwarding Asia Pacific. "The combination of a year of disruption, lack of containers, port congestions and a shortage of vessels in the right positions is creating a situation where cargo demand far exceeds available capacity." -- Bloomberg Business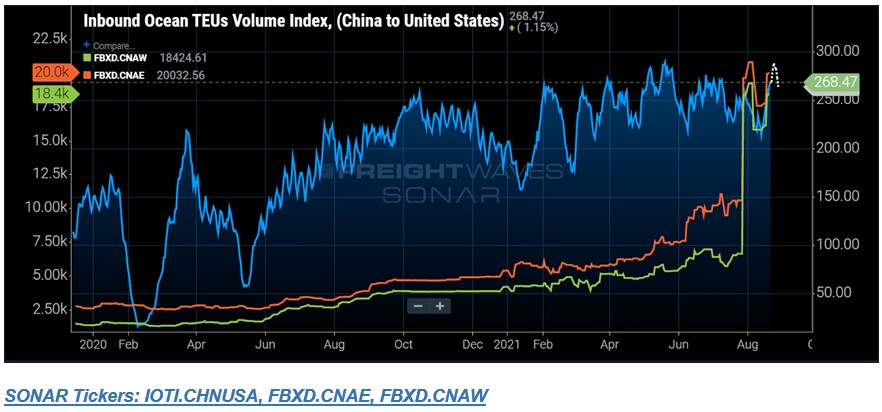 Economic News
According to the Department of Labor, seasonally adjusted initial claims came in at 348,000 for the week ending August 14, 2021. There was a decrease of 29,000 from the previous week's revised level. This is the lowest level for initial claims since March 14, 2020, when it was 256,000. The previous week's level was revised up by 2,000 from 375,000 to 377,000.

As expected, there was a slight easing in new orders this past week. Analysts believe we have reached our peak in orders and production, which is not a sign of a reduction in manufacturing, but more of a leveling off. Consumer spending also fell slightly in last month's report.
Below's chart shows the purchasing manager's index compared with flatbed outbound tender rejections, which tend to go hand-in-hand. You can see that although still at high levels, there has been a slight decrease in activity.

Thomas, one of the largest online sourcing platforms, recently released its Q2 report, showing the top categories for growth last quarter. For contract manufacturing of food, Thomas reported, "Still reeling from the impacts of COVID-19 and scrambling to address continued, long-term disruptions, the food supply chain has had a tumultuous first half of 2021. We expect related categories, specifically Food Contract Manufacturing, to see sustained sourcing growth over Q3 of 8% - 11%."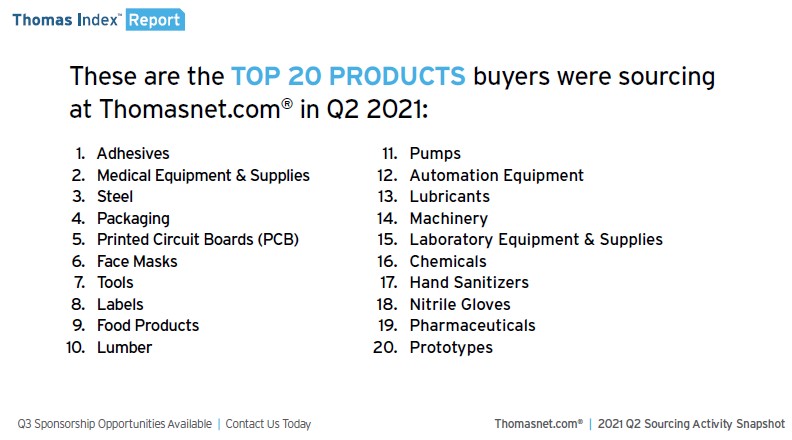 Market Conditions
This morning's market conditions are shown below for the previous day for van, reefer, and flatbed. Areas in red are extremely tight.
Van Capacity

Reefer Capacity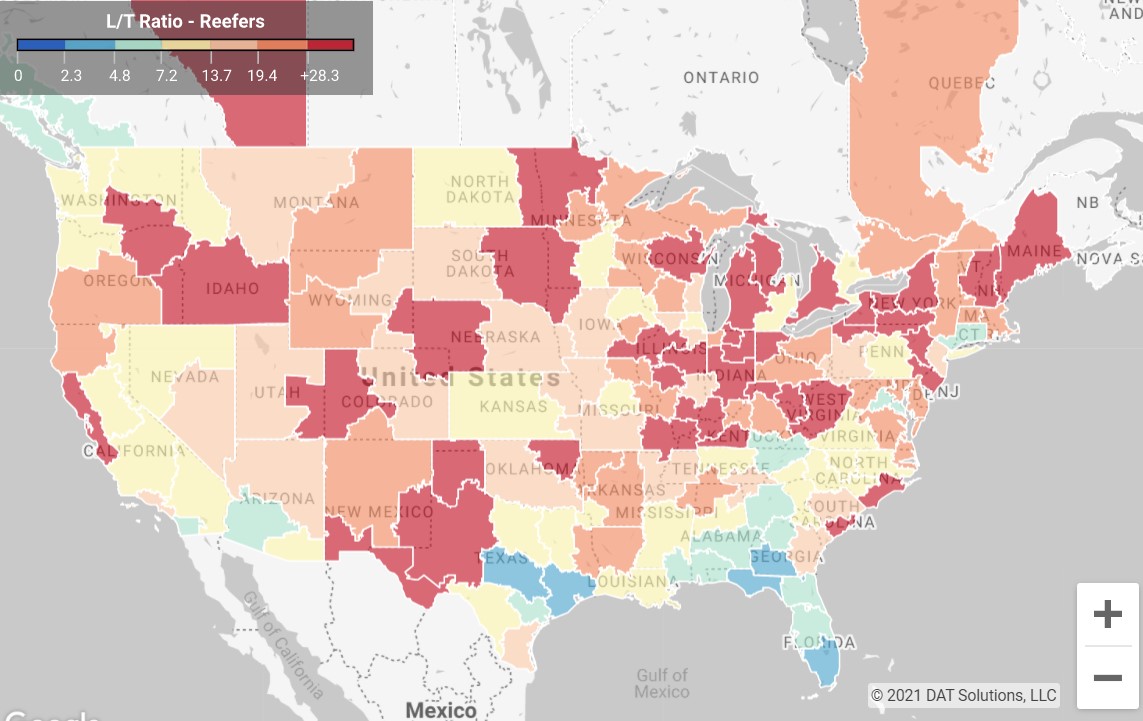 Flatbed

Who's Got the Power?
The DHL pricing power index inched up to 75 last week for the first time since August 9 and has remained there since.
The pricing power index is a weekly gauge put out by DHL that indicates who has more sway in negotiations when it comes to pricing and freight rates. (Source: Freightwaves)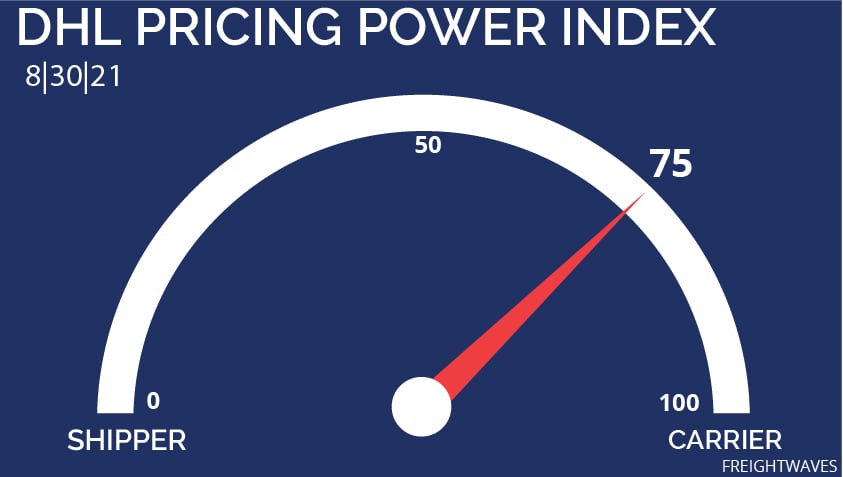 Shippers rely on the relationships they have with their 3PLs to ensure a smooth continuation of service whenever capacity gets tight. We hope you will continue to count on Choptank for all your freight needs, whether it be dry van, reefer, truckload, LTL, intermodal or cross-border shipping.
We would love to hear from you
What do you think about the Choptank Transport Market Brief? Do you find it helpful? Is there additional information you would like us to include or is there information you don't find relevant? Send comments to: marketing@choptanktransport.com
Have a Question? Ask one of our Experts
Your sales representative or a member of our professional logistics team is ready to help, so give us a call! 800.568.2240. If this information was forwarded to you and you would like to receive it, sign up here.