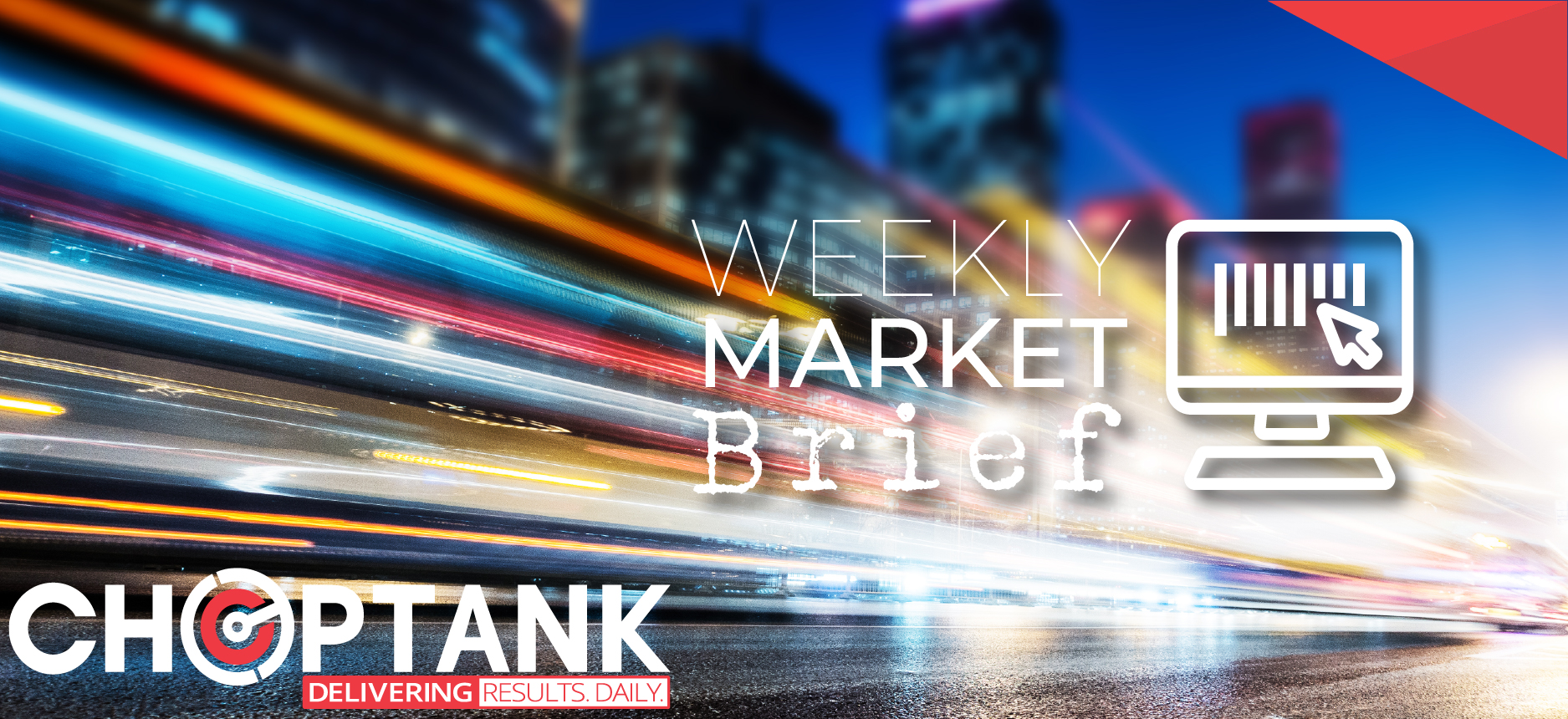 Is This Our "Uh-Oh" Moment?
Your Outlook For The Week Ahead
Aug 17,
2021
The Choptank Weekly Market Brief is offered exclusively to Choptank Transport customers to provide accurate, timely, and relevant freight market information. The contents of this brief are collected from reputable sources including DAT, Freightwaves/Sonar, Truckstop.com, the Department of Labor, the Department of Transportation, and other sources as cited throughout the brief.
Normal [ˈnôrməl], ADJECTIVE, conforming to a standard; usual, typical, or expected.
When does a trend cease being a trend, and transition into something we would consider "normal?" We may be looking at a freight market over the last year that has made that transition. Constant supply chain disruptions have created, in a way, a state of normalcy.
The first hurdle shippers faced last year was the onset of Covid-19 and the Chinese New Year. Let's just get past the 2020 Chinese New Year and things will improve, was the mindset. Then shippers were thinking if we can just get past summer's unprecedented peak season, things will get better. Now everyone is saying uh-oh! as we stare down the barrel of an already chocked freight market with an upcoming holiday season that could reach epic proportions in sheer volume and capacity constraints.
And there is potential to make matters even worse with the unexpected closure by the port of Ningbo, China. This could create another whiplash effect such as the one we experienced with the Yantian port closure in May. Freight stalls out when things shut down but then comes back at even higher levels when the ports open up again.
With shippers already ordering holiday inventory early in anticipation of additional possible delays (let us not forget hurricane season) and port closures, we could be in for a rough third and fourth quarter in 2021. As a point of reference, the port of Ningbo processed 40,000 shipments from August 1-13 in 2019 versus 52,000 shipments in 2021 during the same time.
Reportedly, it was a single case of Covid-19 that set into motion the country's "zero-tolerance" policy shut down 25% of Ningbo's operations. Twenty-five percent may not sound like much, but Ningbo is the world's third-largest port with Walmart and JC Penny as just two of the ports' major customers.
CVSA Brake Safety Week Next Week
The Commerical Vehicle Safety Administration will be paying special attention to commercial carrier's brake systems next week, from August 22-28. Any brake violations found by law enforcement agencies during these inspections will result in the vehicle's removal from the road until the problem is fixed. According to the Federal Motor Carrier Safety Administration, "brake system" was the third most cited vehicle-related factor in fatal commercial vehicle and passenger vehicle crashes.
Did you know Choptank was recently named a FourKites® Premiere Carrier? That is a pretty special designation!

This week's video
I-70 Mudslide in Colorado - Slow Going for Commercial Carriers

I-70 has reopened, but with only one lane. Drivers should expect top speeds as low as 35 mph along some stretches of I-70 as cleanup continues.
Number of the Week

155,300
The U.S. has the longest railroad in the world, with 155,300 miles of track. The second-longest rail network is in China, with 62,100 miles of railroad.
---------------------------------------------------
What's Up in the Spot Market?
August 9 - August 15: Spot rates are hitting new all-time highs for both reefer and van shipments. The ports are jammed up again with ships at anchor on the West Coast rivaling the record-breaking vessel traffic in February.


National Outbound Tender Rejections
The blue line on the chart below (left) shows the van outbound tender rejection index compared with the green line, which shows the van outbound tender volume index.
The chart on the right shows the reefer outbound tender rejection index in blue, compared with reefer outbound tender volumes in orange. You can clearly see that volumes continue to grow at unprecedented levels. Dry van rejections stayed relatively stable, hovering between 21.50% and 22.50% this past week. (Chart: Courtesy Freightwaves/Sonar)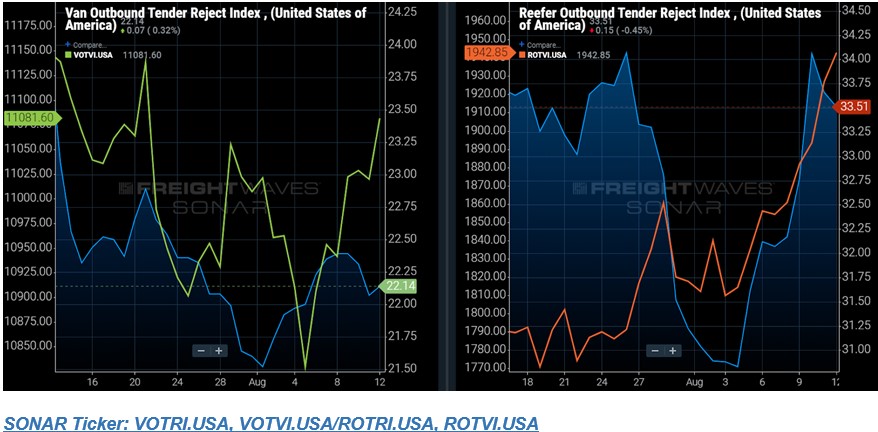 National Outbound Tender Volumes
In the past week, national outbound tender volumes increased only marginally to 11,081 index points, and appear to be holding steady while maintaining levels that continue to show an accelerated rate of activity in the market. Reefer volumes ticked up to 1,942.85 index points.

BIGGEST CHANGES IN THE MARKET


(Freightwaves/Sonar)
Markets with the largest daily increase in tender rejections. For shippers, these markets may be suddenly more difficult to find capacity.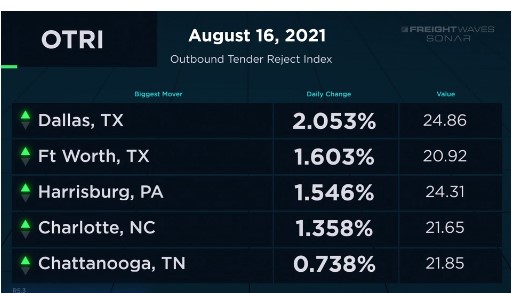 Markets with the largest daily increase in tender volumes. For shippers, these markets should be less difficult to find capacity.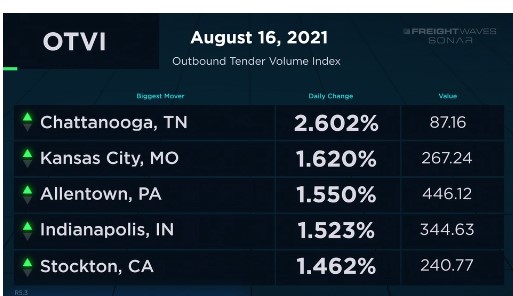 Rail
Intermodal spot rates saw a sharp increase last week. Declining service has resulted in a decline in volumes, especially with higher spots rates contributing to the problem. As intermodal fails to keep up with domestic truckload, it has become a less attractive option to over-the-road shipping.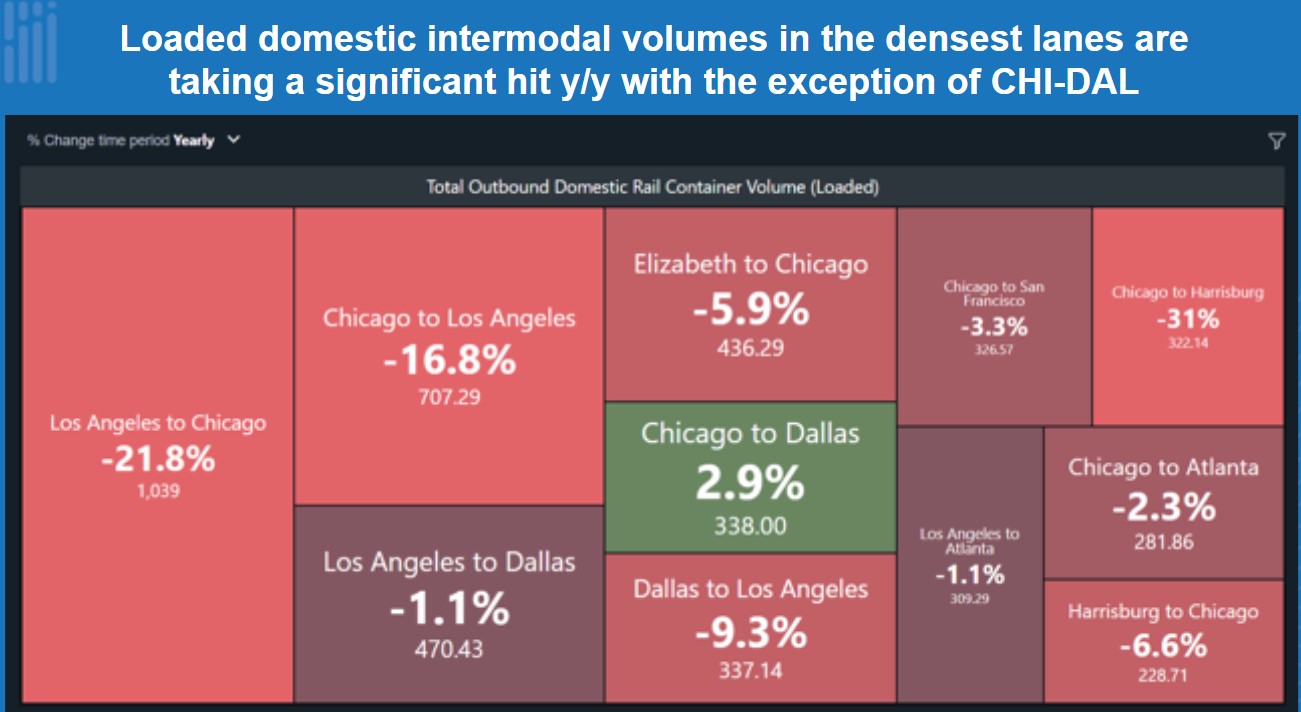 Economic News
As of June, order volumes have grown from manufacturers to double what they were for the first quarter of 2020, according to data from Lanng's company, Tradeshift. That is an increase of almost 138%. Invoices, on the other hand, have fallen nearly 12% in the same time frame.
This combination of growth in demand and supply chain disruptions has created a huge backlog in orders, as the chart below illustrates.
An article in Supply Chain Dive reported, "One of the companies that have been dealing with an uptick in demand is Winnebago, which has seen its backlog grow from just under 3,000 in its motorhome segment in February to more than 18,000 in May."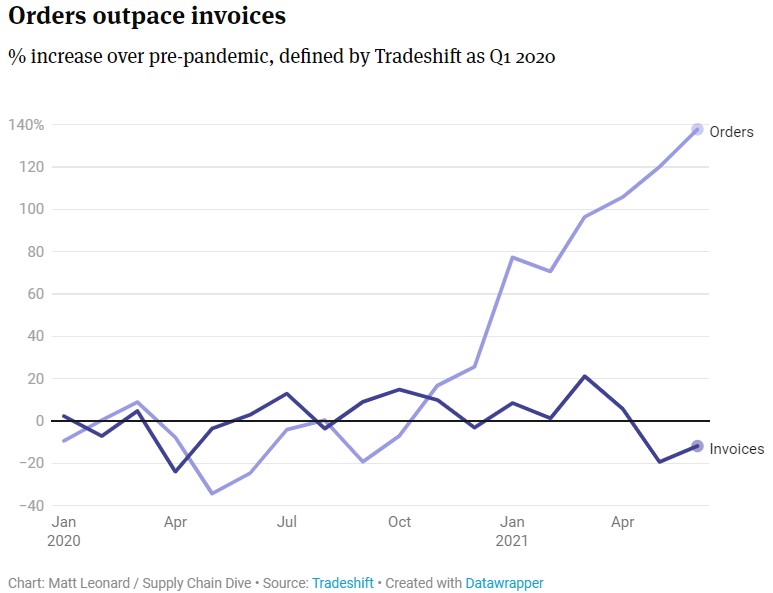 Consumer Sentiment
The Wall Street Journal polled a group of economists regarding consumer sentiment in August and the expectation was a reading of 81.3, however, the University of Michigan's gauge of consumer sentiment came out much lower, to a preliminary August reading of 70.2, significantly down from their July number of 81.2.
According to the University of Michigan report, "It is the lowest sentiment reading since December 2011, below any level at the beginning of the pandemic last year."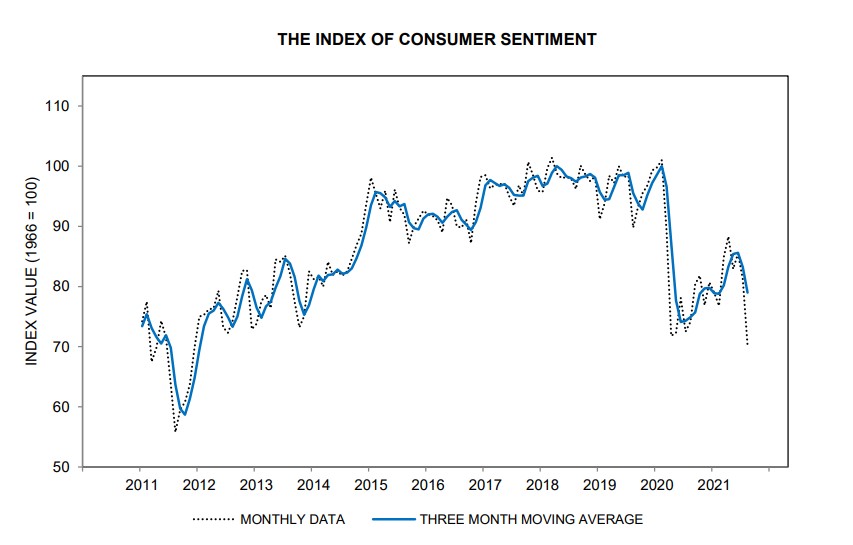 Market Conditions
This morning's market conditions are shown below for the previous day for van, reefer, and flatbed. Areas in red are extremely tight.
Van Capacity

Reefer Capacity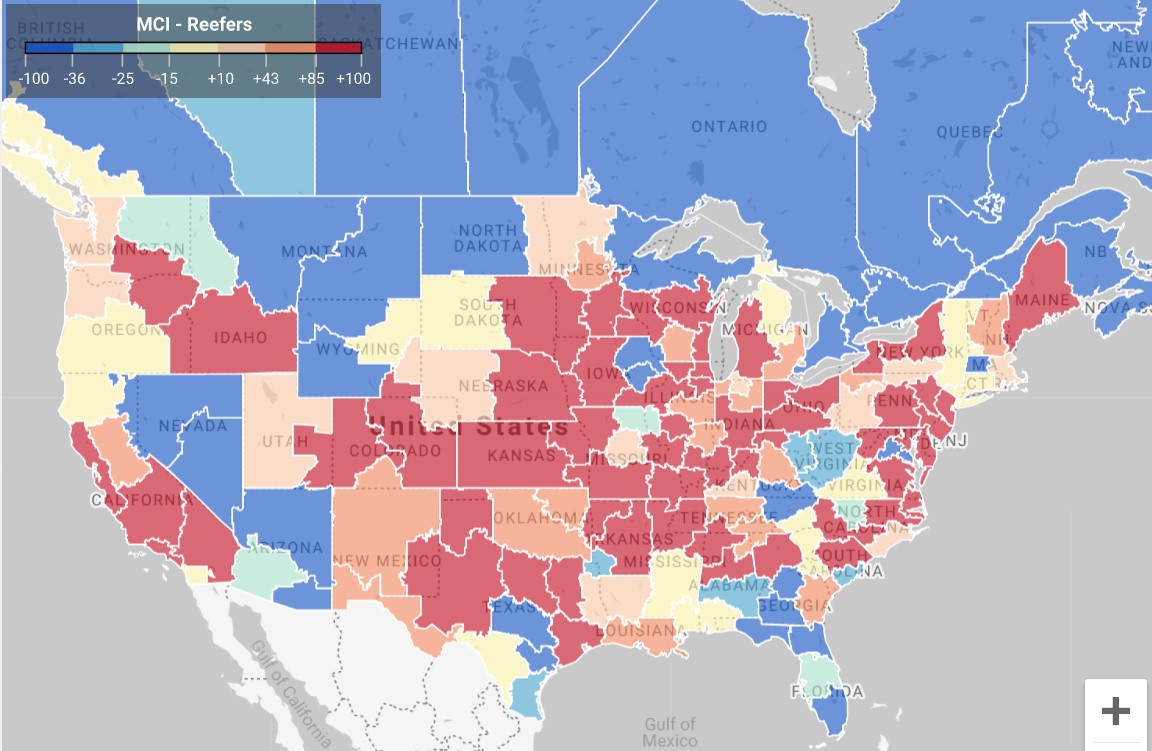 Who's Got the Power?
There has been no change in the DHL pricing power index since August 9, 2021. Carriers still have the advantage with tight capacity and extremely high freight volumes.
The pricing power index is a weekly gauge put out by DHL that indicates who has more sway in negotiations when it comes to pricing and freight rates. (Source: Freightwaves)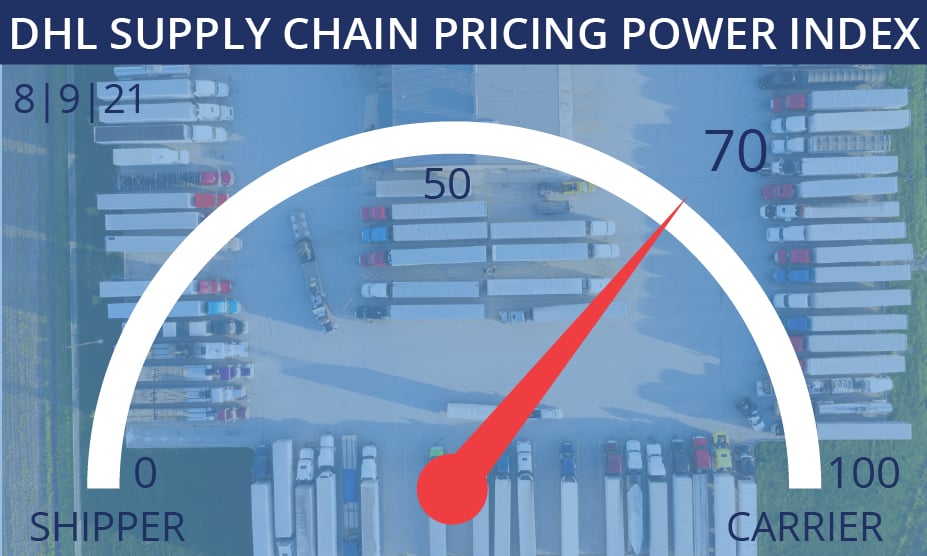 Shippers rely on the relationships they have with their 3PLs to ensure a smooth continuation of service whenever capacity gets tight. We hope you will continue to count on Choptank for all your freight needs, whether it be dry van, reefer, truckload, LTL, intermodal or cross-border shipping.
We would love to hear from you
What do you think about the Choptank Transport Market Brief? Do you find it helpful? Is there additional information you would like us to include or is there information you don't find relevant? Send comments to: marketing@choptanktransport.com
Have a Question? Ask one of our Experts
Your sales representative or a member of our professional logistics team is ready to help, so give us a call! 800.568.2240. If this information was forwarded to you and you would like to receive it, sign up here.