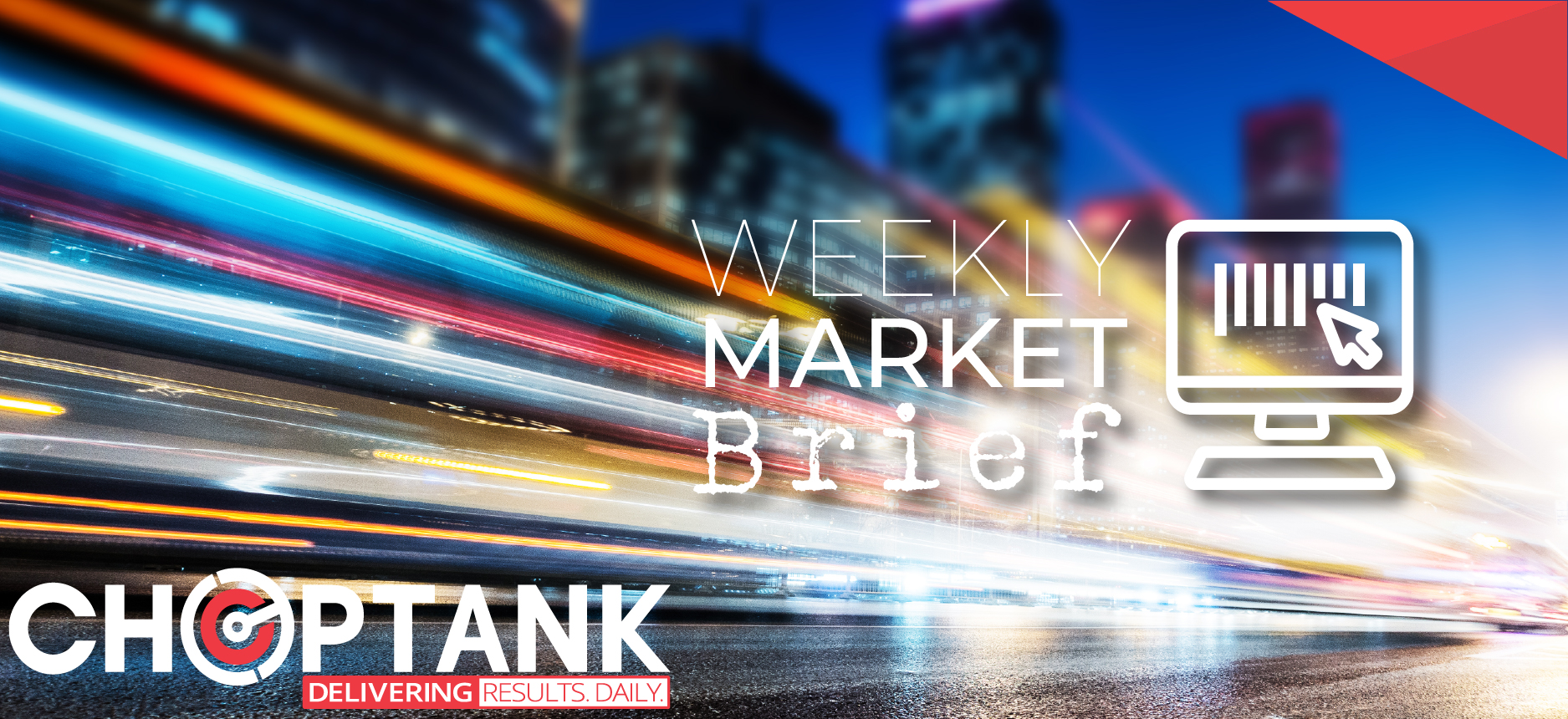 Economy Still Strong, Fuel Costs Rising
Your Outlook For The Week Ahead
Aug 10, 2021
The Choptank Weekly Market Brief is offered exclusively to Choptank Transport customers to provide accurate, timely, and relevant freight market information. The contents of this brief are collected from reputable sources including DAT, Freightwaves/Sonar, Truckstop.com, the Department of Labor, the Department of Transportation, and other sources as cited throughout the brief.
It is a good thing that container ship captains are more cool-headed than Russell Crowe in the movie "Unhinged," but you know they must be feeling a similar kind of road rage on the seas in the current port logjam situation. Adding to the frustration is the realization that there is no immediate solution to the problem. The maritime backlog will be a force to be reckoned with well into the first quarter of 2022 ... or will it be? There is a new problem arising in China, and it is affecting us here at home too. Read more in our Ports section below.
This Week's Shout-Out
Here is a shout-out to Choptank's port and drayage team members who deserve a high-five this month. They are busier than ever handling oversized and overweight loads out of the ports, with many on "hot rush" status. Just a heads-up, we are finding capacity in this crazy market.
Diesel Prices
The cost of diesel has gone up a whopping 38.5% since November. In July, prices surpassed $3.30 per gallon, the highest since 2018. As recently as four days ago, in Pittstown Township, Pennsylvania, diesel was at $4.00 per gallon.
(Chart Source: Transport Topics, August 9-16 edition - Blue shading shows the current 12 months, yellow line shows the previous twelve months.)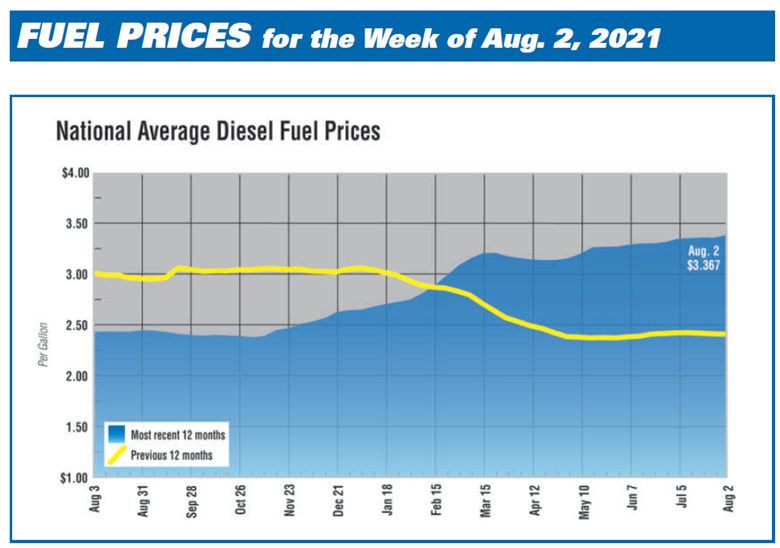 This week's video
Two of the Fastest Shipping Giants Faceoff
Amazon vs. Alibaba in a Race for Speediest Service
Number of the Week


904,670
"U.S. railroads originated 904,670 carloads in July 2021, up 6.6 percent, or 55,969 carloads, from July 2020." - Association of American Railroads
Read more in our Rail section below.
---------------------------------------------------
What's Up in the Spot Market?
August 2 - August 8: Contract rates have risen by 8% since May, and both spot and contract rates have never been higher. Spot freight volume is 30% above last year at this time. According to Freightwaves, "Of the 100 spot market lane pairings available in SONAR, just over half were positive week-over-week. There aren't many catalysts pointing toward meaningfully lower spot or contract rates anytime soon."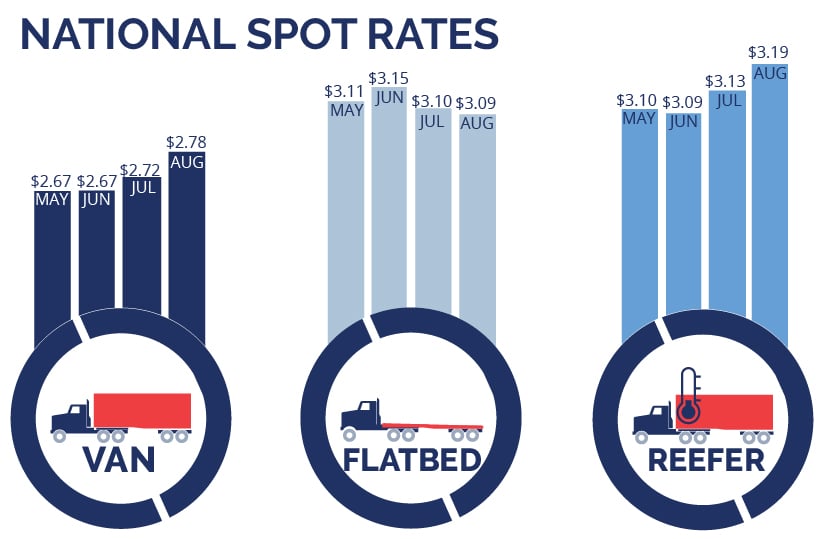 National Outbound Tender Rejections
National outbound tender rejection rates have been trending downward for all three equipment types, but most significantly for dry van freight. This weekend, however, reefer rejections bucked the trend by charting an increase from 30.38% to 32.07% following a slight uptick in reefer volumes.
The chart below shows the rejection rate index for dry van in blue, reefer in green, and flatbed in orange.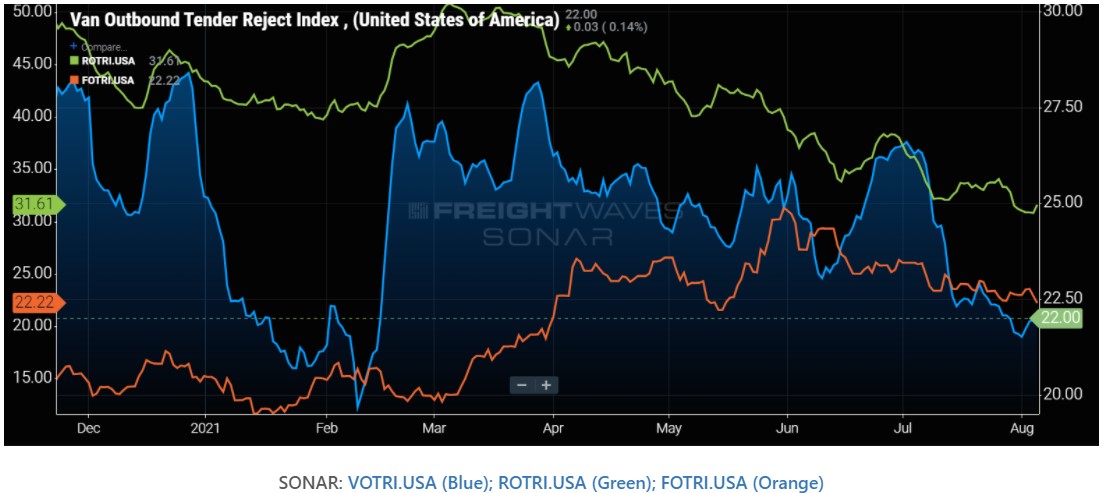 It is interesting to note that there is usually a direct correlation between rejection rates and spot rates, but in the last few weeks, the numbers show a surprisingly different picture.
In the chart below, you can see a clear split between van rejections in blue and spot rates in green. Part of the reason is that contract rates have gone up and more freight is being accepted in the contract market, thus fewer rejections. Spot rates keep climbing because capacity continues to be an issue.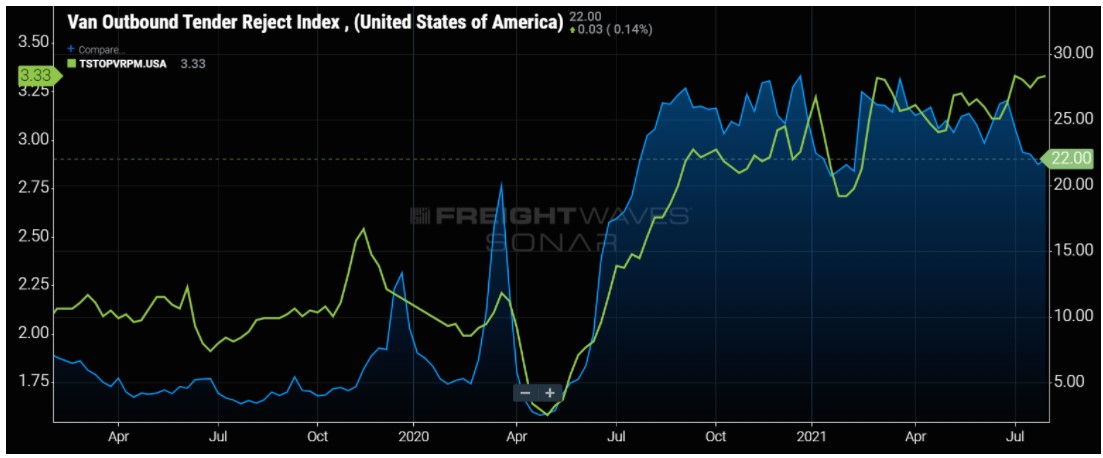 BIGGEST CHANGES IN THE MARKET


(Freightwaves/Sonar)
Markets with the largest daily increase in tender rejections. For shippers, these markets may be suddenly more difficult to find capacity.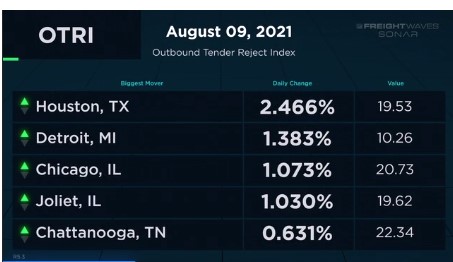 Markets with the largest daily increase in tender volumes. For shippers, these markets should be less difficult to find capacity.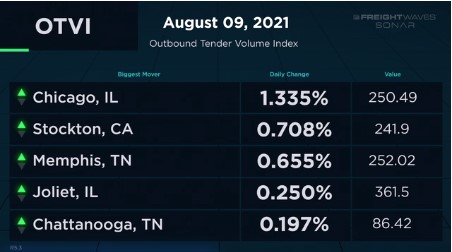 National Outbound Tender Volumes
If the trajectory stays the same, it appears that for the first time this year, the outbound tender volume index is going to collide with last year's September volumes. That will bring us around to a full 12 months of extreme demand with not enough capacity to handle the volume.
So how much more freight is there compared with the added capacity that has been touted in the news? The for-hire truck market has grown a mere 2.6% year-to-date, while the outbound tender volume index has expanded more than 12%. It will be interesting to see what happens this fall when peak season pushes the industry to its limits, and maybe beyond.

TENDER VOLUMES this year compared with the last three years
Ports
Some troubling headlines have appeared in the news recently regarding the resurgence of the coronavirus in Southeast Asia. Yes, U.S. cases are spiking in some areas too, but not on the same scale as overseas. Argus Media reported on Monday, August 2, "China is dealing with the most challenging COVID-19 outbreak since the coronavirus first emerged earlier last year."
This new wave of the virus is affecting large segments of the population, hitting manufacturing plants in the garment districts, the automotive and electronics industries, and many other factories that produce goods slated for export.
There are even new Covid-related restrictions on vessels coming into some ports. With the possibility of widespread lockdowns again in China (something unlikely to happen in the United States again), we could see exacerbated supply chain disruptions as we approach the busy holiday season.
How much does a 40-foot container cost these days? See the chart below.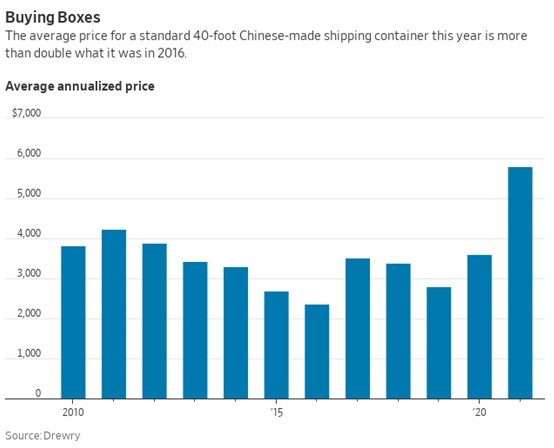 Rail
According to the Association of American Railroads (AAR) end-of-the-month report, "U.S. railroads originated 1,066,169 containers and trailers in July 2021, up 1.5 percent, or 15,450 units, from the same month last year. Combined U.S. carload and intermodal originations in July 2021 were 1,970,839, up 3.8 percent, or 71,419 carloads and intermodal units from July 2020."
While carload volumes grew by 6.6% year-over-year, the increase was less than expected relative to the previous month's increases, the cause of which AAR attributes to a severe drop in grain exports, combined with a stagnant automobile manufacturing climate due to semiconductor chip shortages.
Economic News
According to data from the Institute of Supply Management, the U.S. economy is chugging along at a favorable pace. Anything above 50% on the chart below is growth, and any indices below 50% are an indication that the economy is contracting.

Employment
And here is some more good news. In July, the U.S. job market saw its biggest increase in employment in almost a year. Jobless claims fell to 385,000 last week, adding further reassurance to the positive mojo regarding the country's economic recovery. The Wall Street Journal also reports that the unemployment rate in the U.S. just dropped to its lowest level since the pandemic began. Still, the reality is that there are 5.7 million Americans who remain unemployed compared with pre-pandemic numbers.
Market Conditions
This morning's market conditions are shown below for the previous day for van, reefer and flatbed. Areas in red are extremely tight.
Van Capacity

Reefer Capacity
Who's Got the Power?
Carriers still have the advantage with tight capacity and extremely high freight volumes.
The pricing power index is a weekly gauge put out by DHL that indicates who has more sway in negotiations when it comes to pricing and freight rates. (Source: Freightwaves)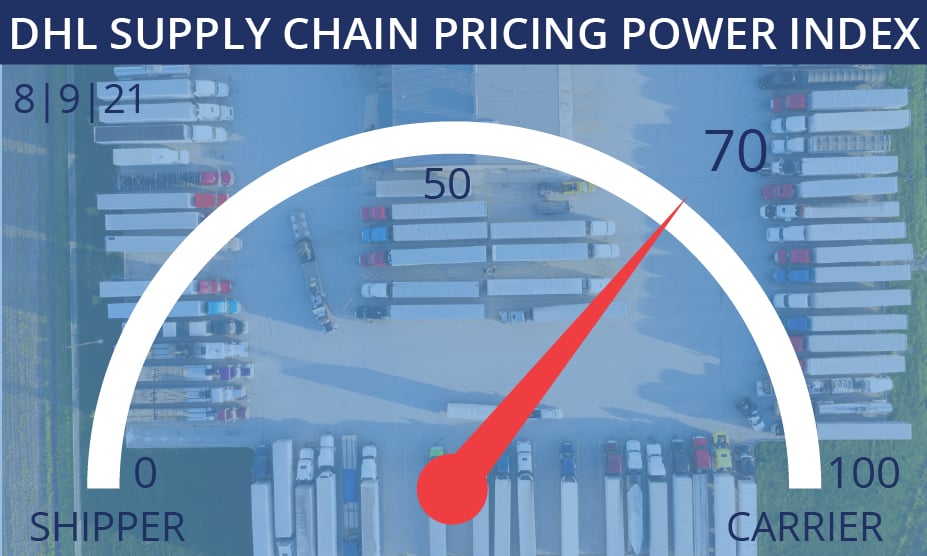 Shippers rely on the relationships they have with their 3PLs to ensure a smooth continuation of service whenever capacity gets tight. We hope you will continue to count on Choptank for all your freight needs, whether it be dry van, reefer, truckload, LTL, intermodal or cross-border shipping.
We would love to hear from you
What do you think about the Choptank Transport Market Brief? Do you find it helpful? Is there additional information you would like us to include or is there information you don't find relevant? Send comments to: marketing@choptanktransport.com
Have a Question? Ask one of our Experts
Your sales representative or a member of our professional logistics team is ready to help, so give us a call! 800.568.2240. If this information was forwarded to you and you would like to receive it, sign up here.