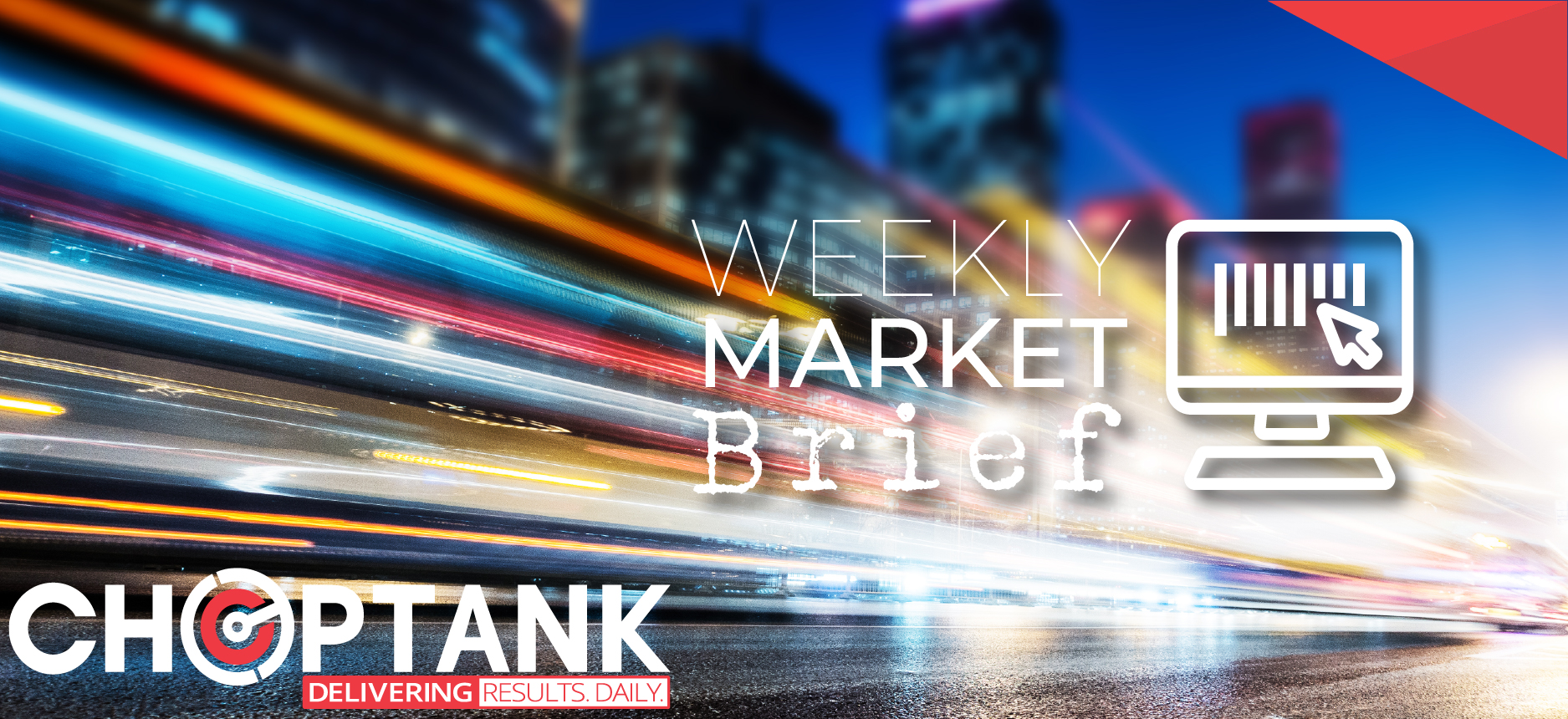 'Just in Time For the Holidays' is No Longer a Viable Strategy
Your Outlook For The Week Ahead
Aug 3, 2021
The Choptank Weekly Market Brief is offered exclusively to Choptank Transport customers to provide accurate, timely, and relevant freight market information. The contents of this brief are collected from reputable sources including DAT, Freightwaves/Sonar, Truckstop.com, the Department of Labor, the Department of Transportation, and other sources as cited throughout the brief.
Someone must have hit the pause button on the freight market this past week with few significant changes; the same high volumes, high rates and squeezed capacity. Looking ahead, however, we see a different picture.
This year's holiday freight will need nothing less than the magic train from Warner Brother's Polar Express to get goods from Santa's workshop to the average household in time for Christmas. We are already facing backlogs at U.S. ports, delays at Asian ports, and record-breaking freight volumes Iong before peak season.
So what happens when peak season arrives? How will the supply chain handle it all? Just-in-time strategies are no longer an option. Today's shippers must implement more strategic, extremely advanced planning as their best bet for success.
Walmart is a good example of a company that is adept at planning ahead and being flexible. A story in American Shipper, Warning: Book now or 'Christmas may be canceled', looks at several different Walmart strategies.
A quote from the article reads, "Traditionally, we would have a shipment from China to a U.S. Midwest distribution center completed in 25 to 28 days," explained Alan Baer, president of OL USA. "Now that same delivery can take upwards of 50 to 70 days. Delivery can be double or even triple the time. This is unfortunate for importers. That extra time costs money for the average importer who has a set window to sell their product."
How Specialty Services are Affected
More and more, shippers who use specialty services such as dry LTL, intermodal, and port/drayage are affected by the widespread port congestion, shortages of chassis, and modified schedules at some railyards. Adding extra pallets and extra weight to LTL shipments has become commonplace as shippers become even more pressed to get freight moved in such a tight market.
As a result, 3PLs are forced now to add a week or two to almost all dry LTL and intermodal transits. If you use specialty services, expect to see continued delays and extended transit times as we draw closer to the fourth quarter, and plan ahead as much as possible.
This week's video
Are Ocean Vessels Getting Too Big?
Watch the 3-minute excerpt video below or go to YouTube to watch full video
Number of the Week

23,964
When the first commercial container vessels hit the oceans in the 1950s, the average ship could hold 58 containers. Today's mega-ships can hold 23,964 containers! These ships are so big that hundreds of containers go overboard each year due to rough seas. Are we making these boats too big?
What's Up in the Spot Market?
July 26 - August 1: Reefer rates typically start declining this time of year, directly following the July 4 holiday, but of course, this year has been different. Rates have changed little since the beginning of May as demand is strong for equipment and volumes remain high.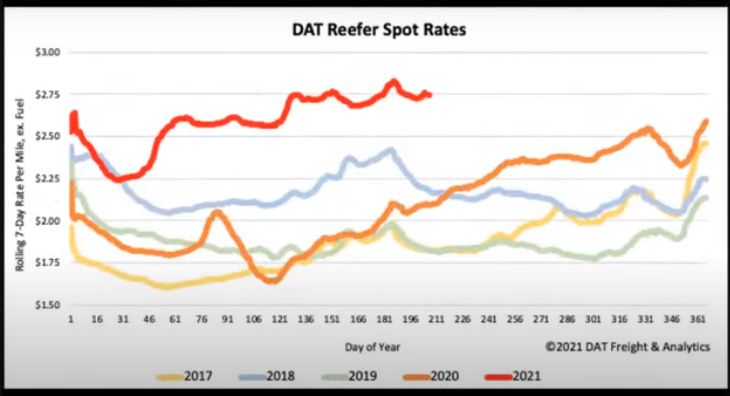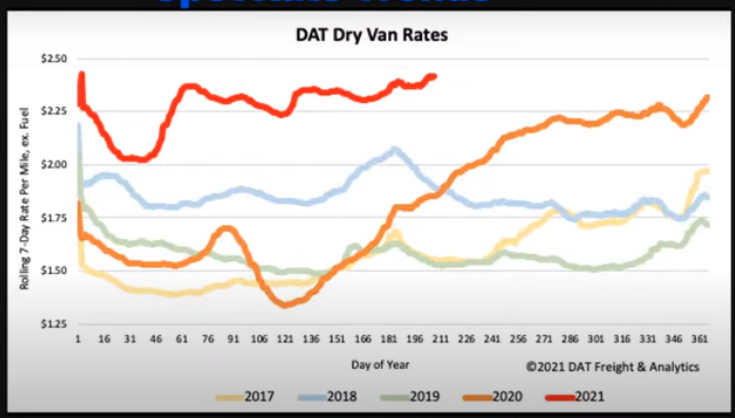 National Outbound Tender Rejections
Although the national outbound tender rejection index is showing that 31.22% of all reefer freight is being rejected, some areas are experiencing much higher rejection rates.

Little Rock, Sioux Falls, Joplin, Omaha, Des Moines, Fayetteville, Kansas City, Jefferson City, Columbia, Savannah, and Tifton markets are all seeing over 55% rejections. Rejections of over 40% are found in the Tulsa, Fort Wayne, Houston, Chattanooga, Indianapolis, Rock Island, Twin Falls and Memphis markets.
BIGGEST CHANGES IN THE MARKET

(Freightwaves/Sonar)
Markets with the largest daily increase in tender rejections. For shippers, these markets may be suddenly more difficult to find capacity.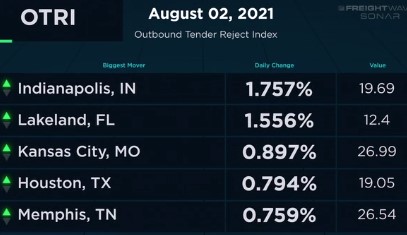 Markets with the largest daily
increase
in tender volumes.
For shippers, these markets should be less difficult to find capacity.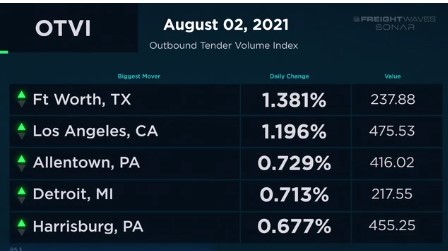 National Outbound Tender Volumes
In the past week, overall accepted tender volumes hit a new high, while tender rejections did the opposite and hit the lowest level in five months. Import volumes are far above last year, and, although capacity is being added to the market, there is still a significant shortage of equipment to handle this year's surge in volume.
This week, the current largest truckload reefer markets by volume are Ontario, Atlanta, Joliet, Fresno, Fort Worth, Allentown, Lakeland, Indianapolis, Harrisburg, and Pendleton markets.
TENDER VOLUMES compared with rejections, 12-month snapshot (Freightwaves/Sonar)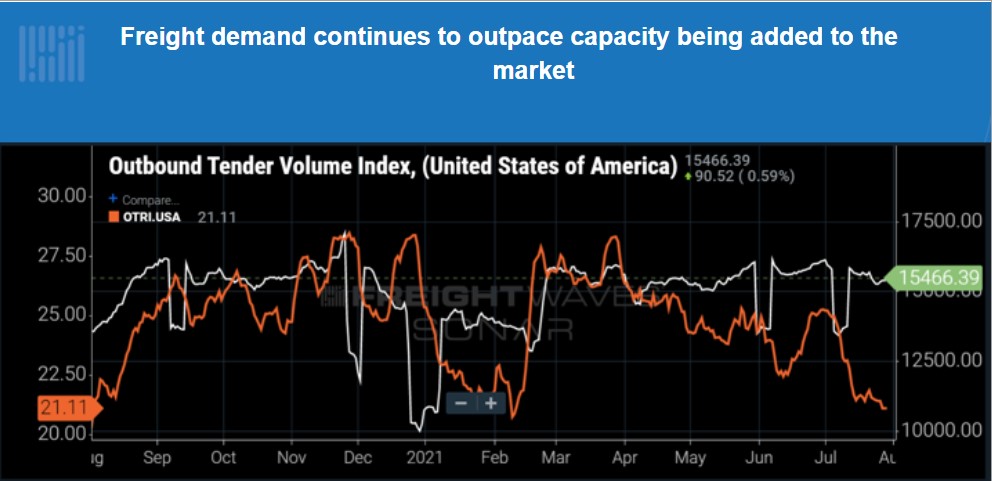 Ports/Intermodal/Rail
The situation at the ports remains critical as logjams and a shortage of chassis are making it difficult to transport goods. Shippers utilizing different ports that are less busy and adjusting the timing for new inventory arrival may run into fewer problems. With peak season only a few months away, the situation does not look like it will ease anytime this year.
Intermodal rejections out of Chicago (Freightwaves/Sonar)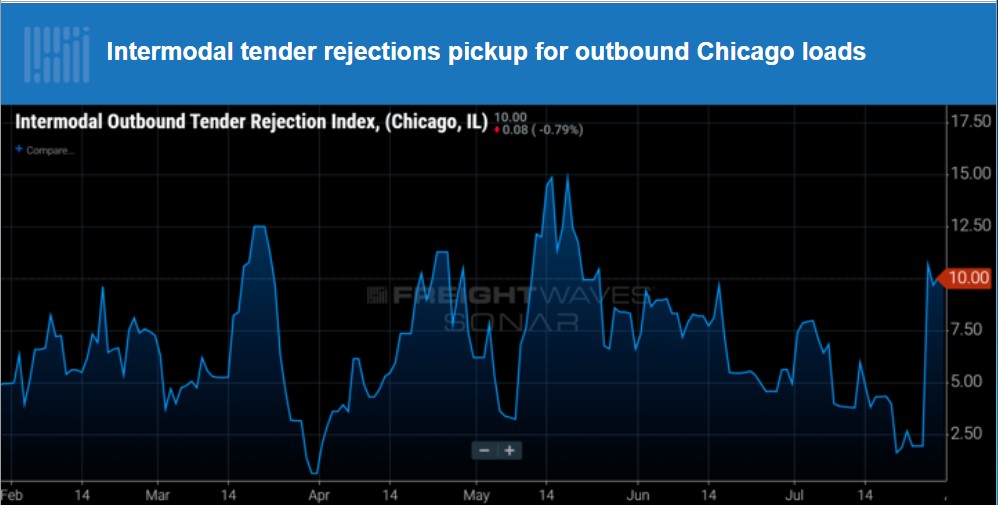 What's New in the Economy?
Infrastructure Bill:
Interested in the new infrastructure bill? A recent article in The Packer featured an itemization of the $1.2 trillion dollar bill and exactly what it covers. The top-dollar portion of the bill is $110 billion allocated for roads, bridges, and major projects, $40 billion of which is new funding for bridge repair, replacement, and rehabilitation and $17.5 billion for major projects.
With so many U.S. bridges in disrepair, these measures will be important to avoid major disruptions like the I-40 Hernando de Soto Bridge that connects Memphis with eastern Arkansas. It was shut down on May 11 after a structural defect was found and is only now scheduled to partially reopen on August 2.
Auto Inventories
:
A story from Bloomberg reports that inventories of U.S. autos are at their lowest levels since 1967! In May, there were 187K units on dealers' car lots. That pales in comparison to the 678K of inventory at the same time just a few years ago. "Motor vehicles made up about half of the total decline in U.S. inventories in the second quarter, as estimated by Barclays."
As mentioned in an earlier market report, used cars are going for top dollar. Dealer Markup On Mitsubishi Mirage Shows How Bad The Market Is (jalopnik.com).
Housing:
New home sales dropped by 6.6% from the previous month to a 14-month low, according to Reuters. Building costs are higher, and many supplies are still hard to get. Delays and costs may be contributing to people thinking twice before building that dream home. The good news is that the median price for a house rose to $361,800. That is a 6.1% increase from a year ago.
Existing homes sales rose in June to 1.4% from May to a seasonally adjusted annual rate of 5.86 million units, the National Association of Realtors said Thursday. That's just under the 5.9 million annual rate economists were expecting, according to FactSet.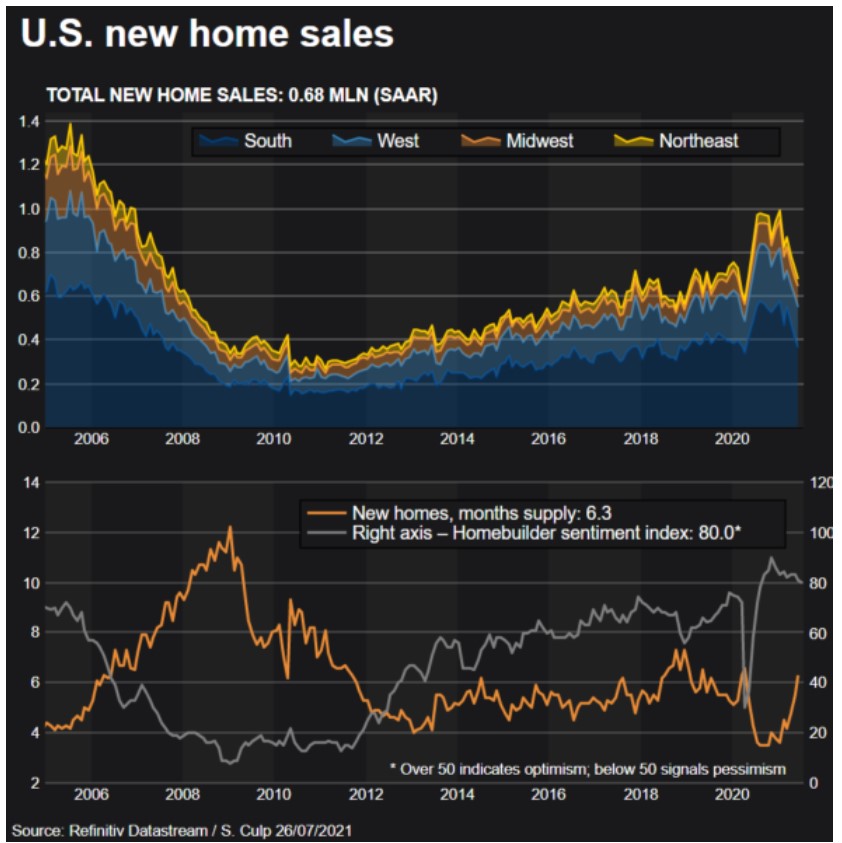 Market Conditions
This morning's market conditions are shown below for the previous day for van, reefer and flatbed. Areas in red are extremely tight.
Van Capacity

Reefer Capacity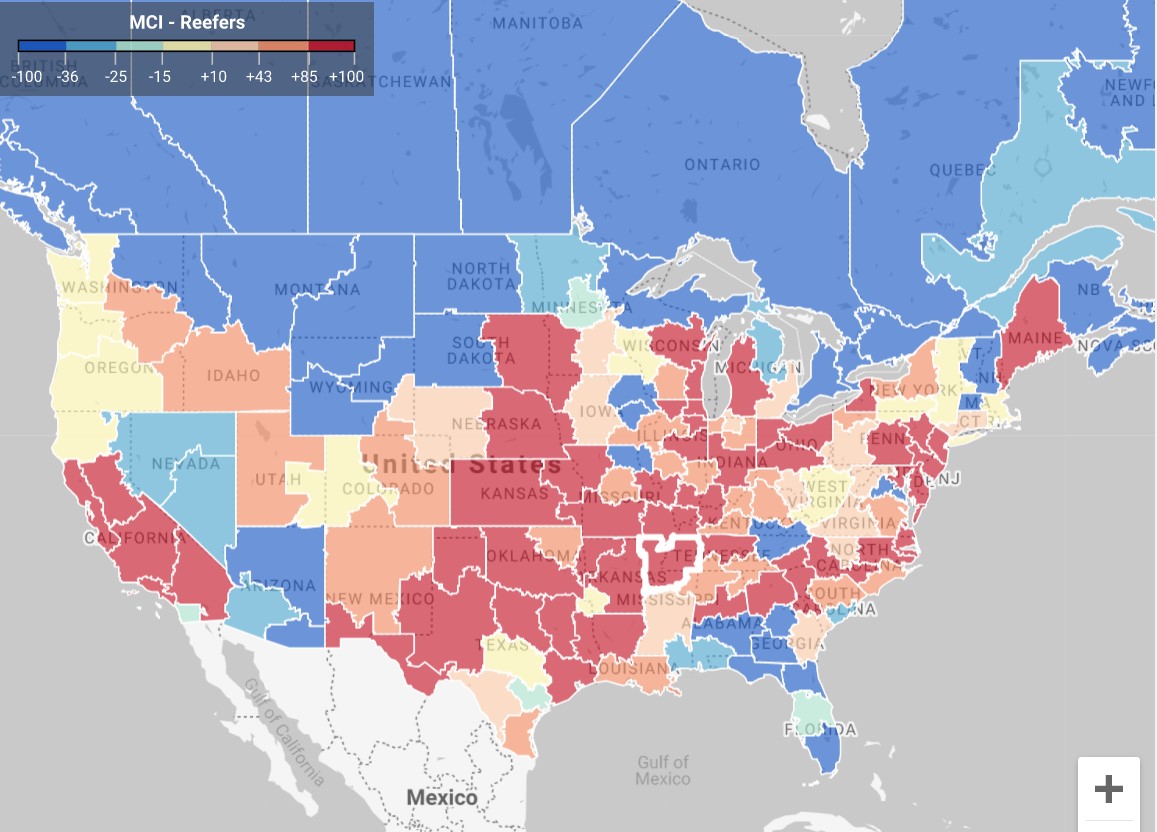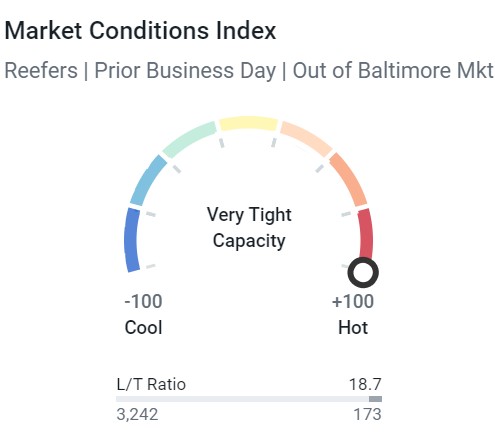 Who's Got the Power?
No change reported again this week. Carriers still have the advantage with tight capacity and extremely high freight volumes.
The pricing power index is a weekly gauge put out by DHL that indicates who has more sway in negotiations when it comes to pricing and freight rates. (Source: Freightwaves)
Shippers rely on the relationships they have with their 3PLs to ensure a smooth continuation of service whenever capacity gets tight. We hope you will continue to count on Choptank for all your freight needs, whether it be dry van, reefer, truckload, LTL, intermodal or cross-border shipping.
We would love to hear from you
What do you think about the Choptank Transport Market Brief? Do you find it helpful? Is there additional information you would like us to include or is there information you don't find relevant? Send comments to: marketing@choptanktransport.com
Have a Question? Ask one of our Experts
Your sales representative or a member of our professional logistics team is ready to help, so give us a call! 800.568.2240. If this information was forwarded to you and you would like to receive it, sign up here.