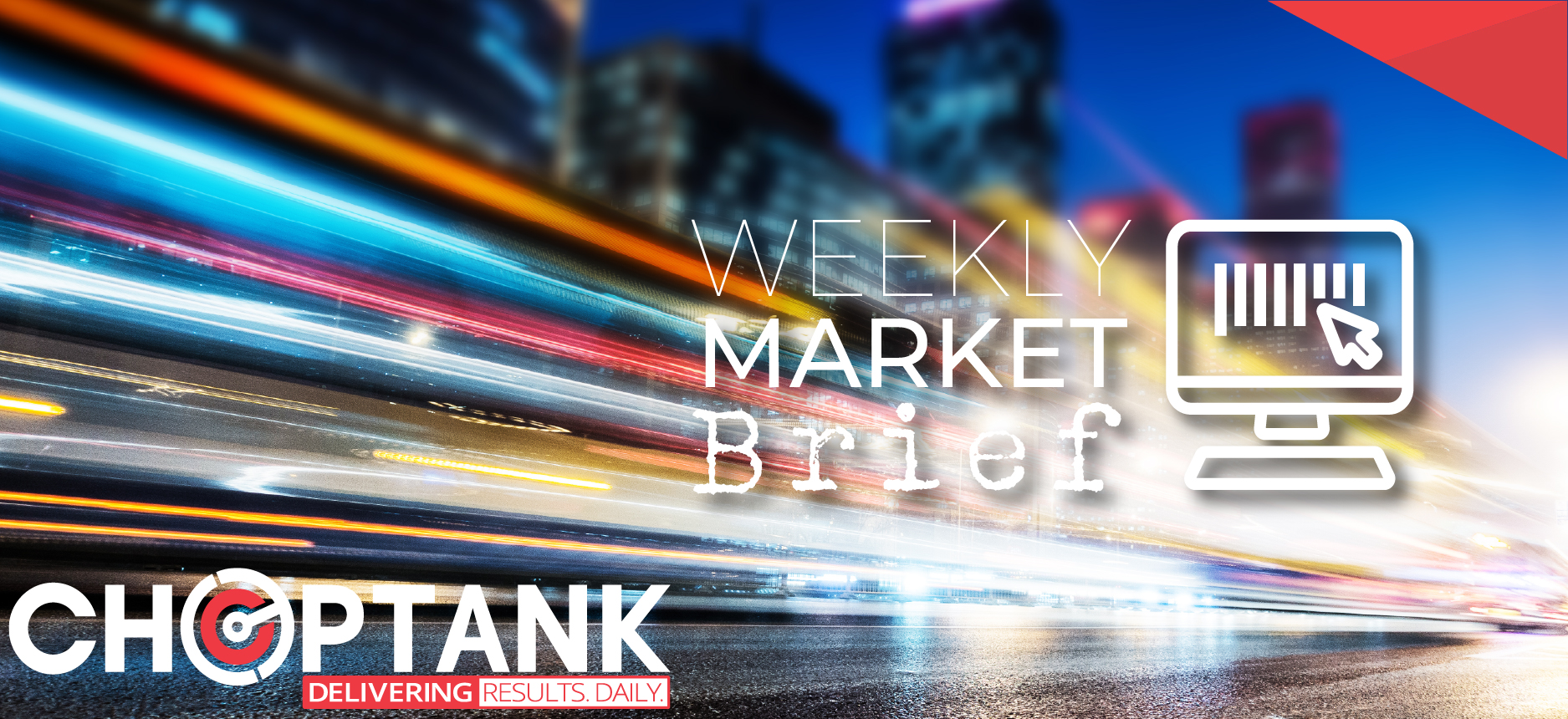 Volumes Aren't Slowing, But Rejections Take a Breather
Your Outlook For The Week Ahead
The Choptank Weekly Market Brief is offered exclusively to Choptank Transport customers to provide accurate, timely and relevant freight market information. The contents of this brief are collected from reputable sources including DAT, Freightwaves/Sonar, Truckstop.com, the Department of Labor, the Department of Transportation, and other sources as cited throughout the brief.
Even though rates have inched down marginally since the Fourth of July holiday, the demand for trucks has not budged a bit. Capacity is still tight, and the return to normal seasonality that we began to see last week will not be long-lived as we continue to experience historic-level volumes. Chart #6 in this report illustrates the situation perfectly. So what is ahead?
This week, rates for van and reefer freight are expected to continue to soften slightly, but rejections continue to fall (see Outbound Tender Rejection charts #1 and #2 below). That means shippers will have only a short time to leverage negotiations while rates dip slightly as we approach the end-of-July lull, especially if lead times are reasonable and tenders are submitted early.
It won't be long, though, before we get into the back-to-school and pre-holiday shipping seasons when volumes start ramping back up and capacity once again is pushed to its limits. Shippers using data-driven technology to streamline their supply chain will be oh-so grateful this fall when trucks become extremely hard to find. Are you signed up for ORBIT TI yet?
Who's Got the Power?
The needle moved on the pricing power gauge from 75 to 70 last week, loosening the reins slightly from the carrier's tight grip as added capacity entered the market. Still, the carriers hold most of the negotiating power as freight volumes continue to be elevated and the number of trucks cannot keep up.
The pricing power index is a weekly gauge put out by DHL that indicates who has more sway in negotiations when it comes to pricing and freight rates. (Source: Freightwaves)
This week's video
Real-Time Visibility at Your Fingertips: Orbit TI
Data-driven technology is the future of supply chain management. Your Choptank sales representative can show you the benefits of Orbit TI, our advanced transportation intelligence solution. It is free and it is easy to use. Request a quick demo!
Number of the Week
7,332,067
... is the number of intermodal shipments handled by U.S. railroads in the first half of 2021, 17.8% more than the same period last year and 5.9% more than the first six months of 2019, according to the Association of American Railroads. -
The Wall Street Journal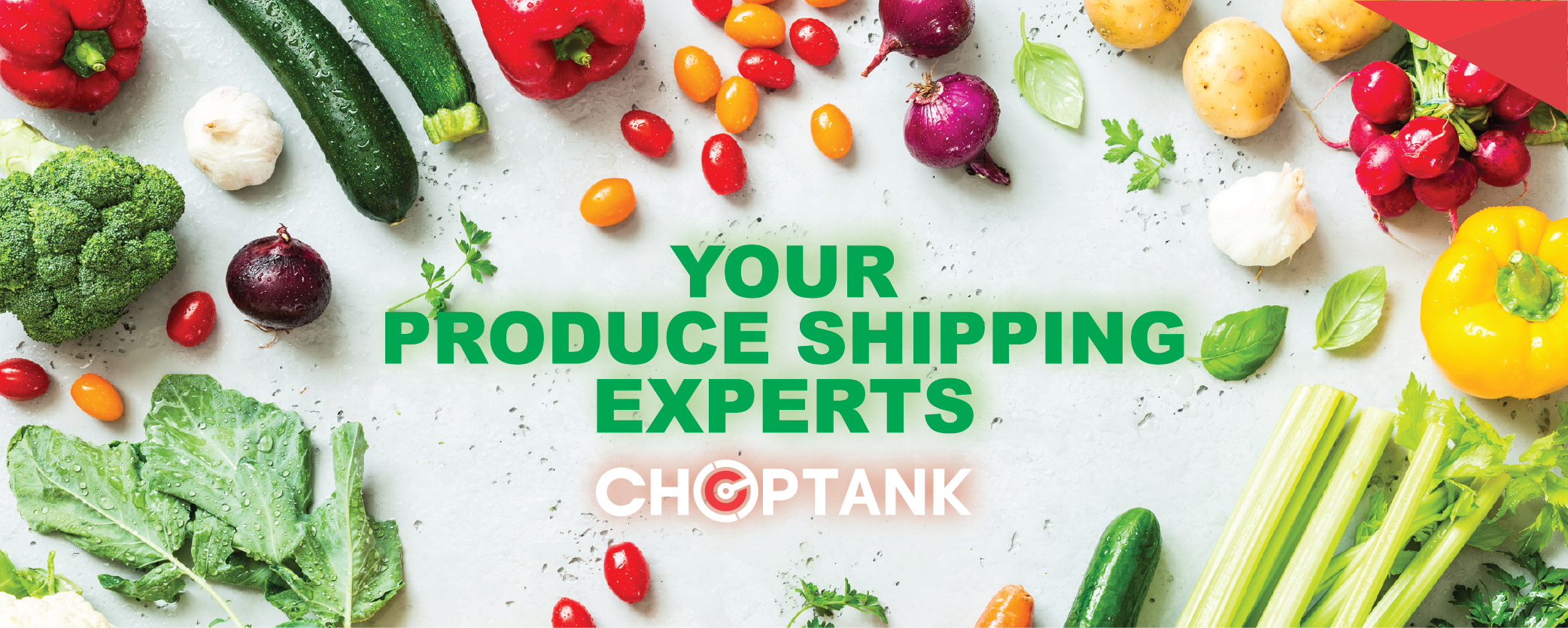 What's Up in the Spot Market?
July 12 - July 18: Load posts on the spot market were up by 11.5% for all equipment types last week, while rates remained fairly flat. Capacity loosened as 18% more trucks were posted than in the previous week. Load-to-truck ratios were down for all three types of equipment: dry van, reefer and flatbed.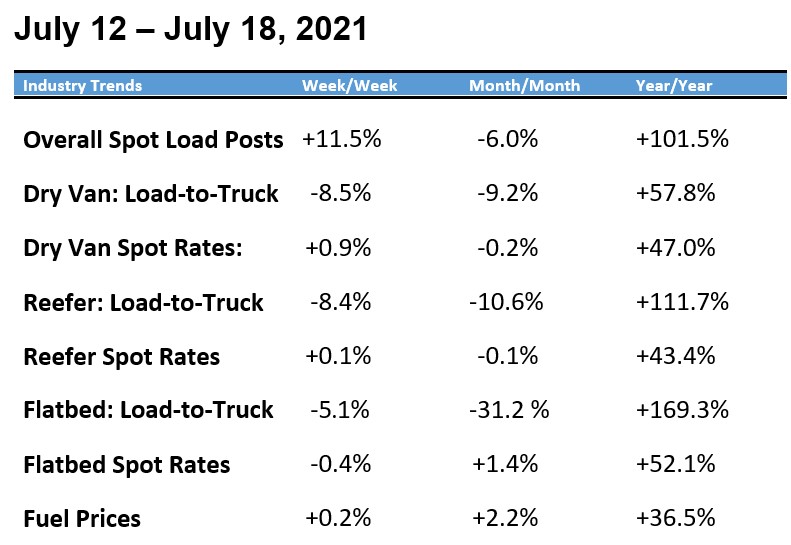 National Outbound Tender Rejections
Reefer tender rejections have just started to show signs of trending back up over the past five days to 33.63%, whereas the overall national average for rejections hit their lowest level in five months. On a national level, carriers are rejecting 22% of all loads.
According to a startling statistic from Freightwaves, "Year-to-date, the for-hire market has grown 2.6%, while OTVI has expanded more than 12%. Calling the issue a driver shortage is simplistic and misguided; carriers are trying to respond, but there is simply too much demand to match capacity."
Chart #1: TENDER REJECTIONS - By Year
2021 (blue,) 2020 (green), 2019 (red). Shippers will note that because volumes are so much higher this year, so are rejection rates. You can also see that we are headed for more tightening of capacity, which always accompanies the back-to-school and pre-holiday season.

Chart #2: TENDER REJECTIONS - By Equipment Type
Flatbed (green line) vs. Reefer (red line) vs. van (blue line). This chart shows you the disparity between reefer rejections and flatbed rejections. Reefer rejections are much higher.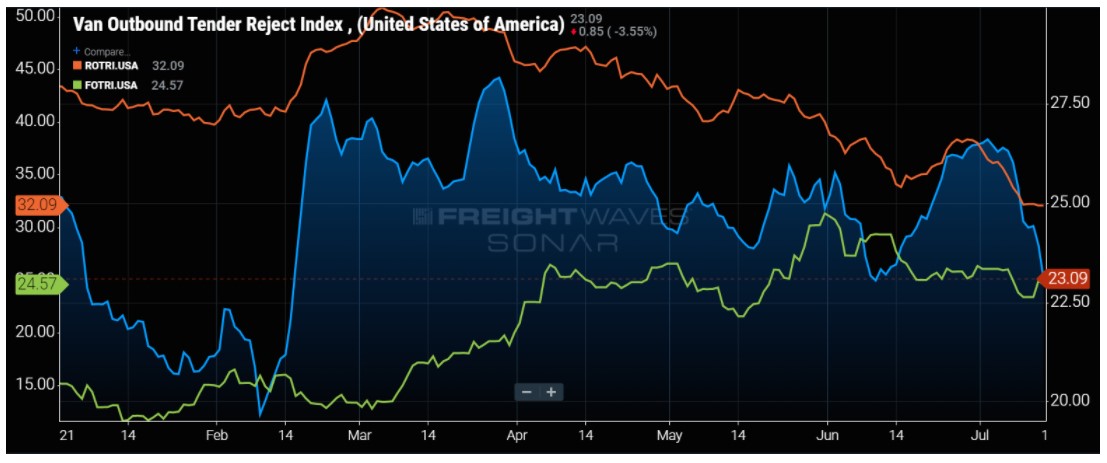 BIGGEST CHANGE IN MARKETS
Chart #3: TENDER REJECTIONS - Markets with the largest daily increase in tender rejections. For shippers, these markets may be suddenly more difficult to find capacity.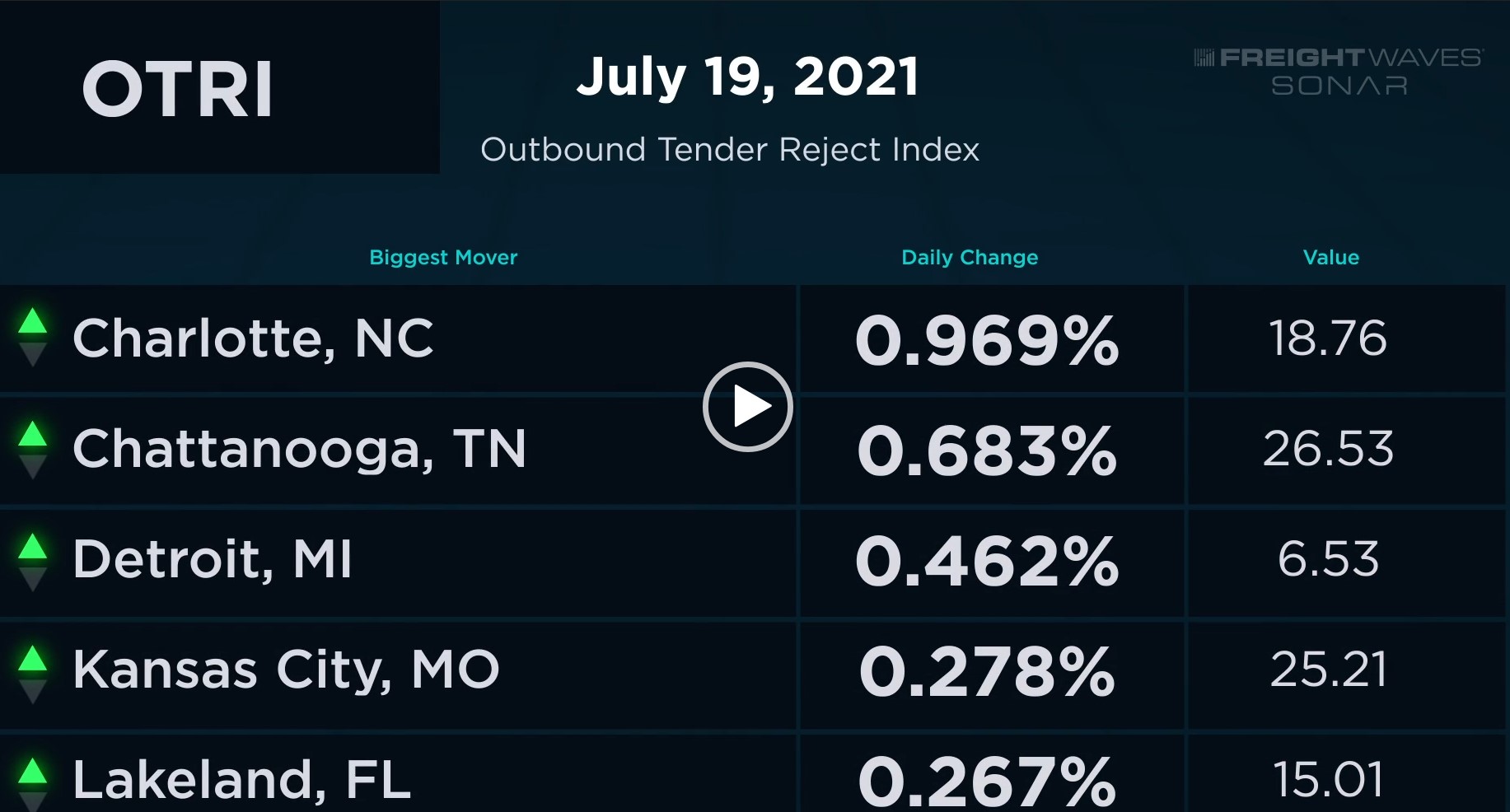 Chart #4: TENDER REJECTIONS - Markets with the largest daily decrease in tender rejections. For shippers, these markets should be less difficult to find capacity.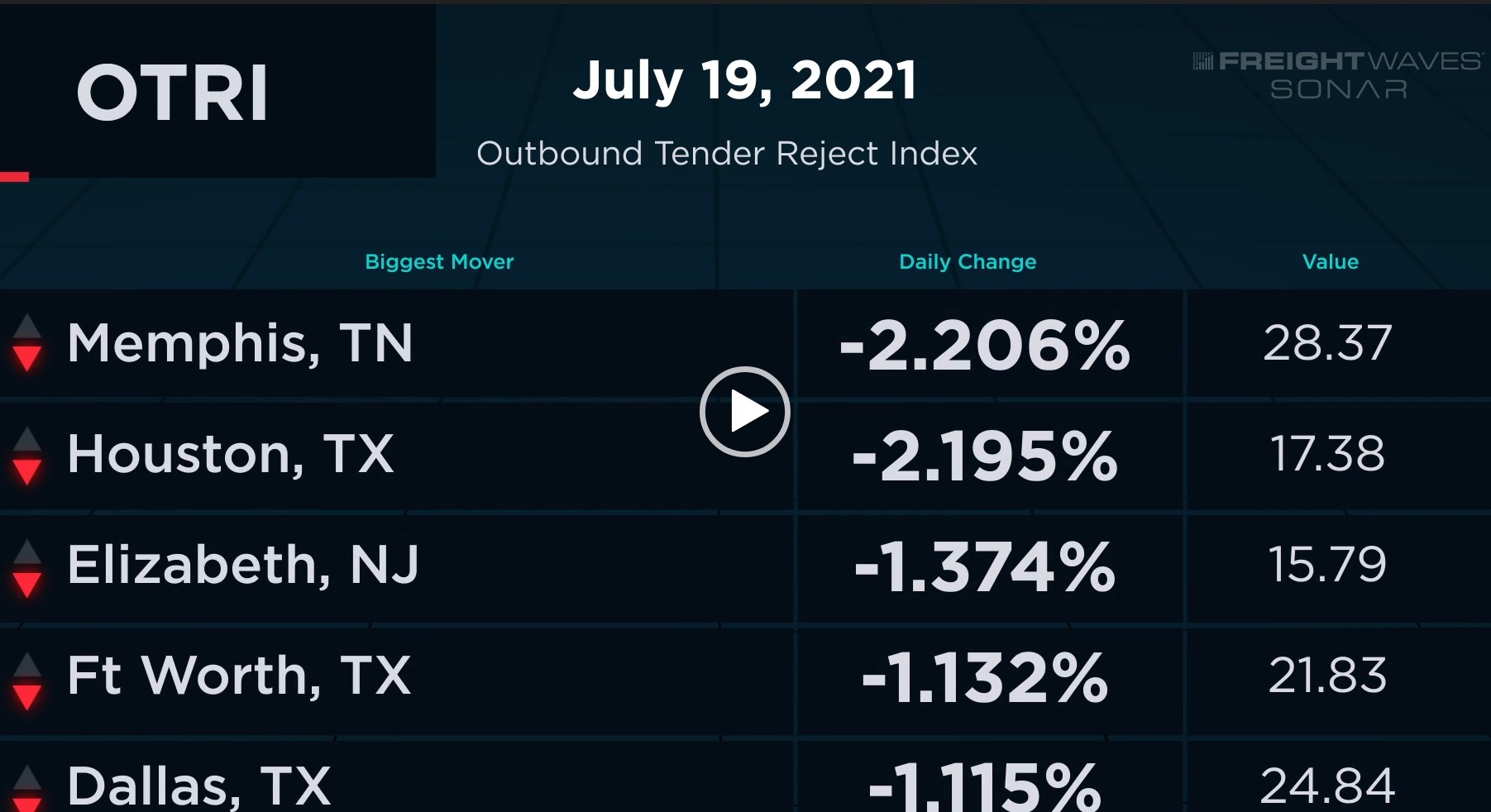 National Outbound Tender Volumes
Accepted tender volumes have never been as high as they are right now, mainly because contract rates have been adjusted to be more aligned with spot rates. This has resulted in less rejected freight.
To have tender volumes this high when when we are not even close to approaching peak season bodes well for a busy Q3 and Q4 freight market. And we cannot forget, the ports are still jammed full of containers ready to move a backlog of goods by truck or rail to their destinations throughout the country.
Chart #5: TENDER VOLUMES - By Year
2021 (blue), 2020 (green), 2019 (red), 2018 (purple)

Chart #6: TENDER VOLUMES in this chart are compared with Outbound Tender Rejections. You can clearly see that volumes are up (green arrow) and rejections down (red arrow). Notice the All-Time-High marker at 17,000 that occurred during Black Friday and Cyber Monday of 2020. Tender volumes are currently at 15,754, still very high.
Volumes (blue), Rejections (orange)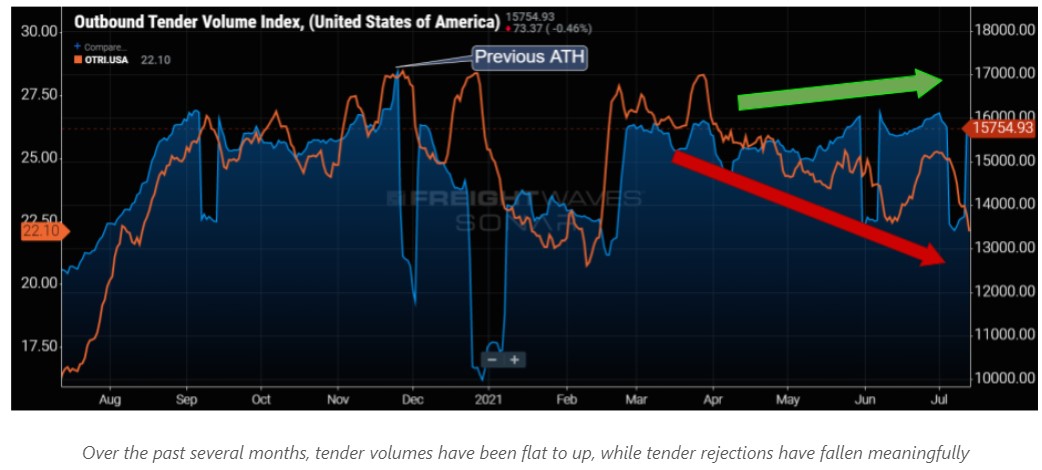 Intermodal/Rail
It seems that intermodal customers are launching their fair share of complaints as service becomes increasingly compromised from the continuation of pandemic-related issues. Terminals are still experiencing labor shortages and certain restrictions that are affecting loading and unloading times causing significant shortages of chassis and drayage capacity.
It has been such an issue that Union Pacific has stopped receiving containers from West Coast ports to its Chicago Global IV terminal for an entire week in hopes of clearing out the bottleneck. (See story link at bottom of this report.)
Chart #7- Intermodal rejections out of Los Angeles. As you can see from the chart below, rejection rates coming out of Los Angeles are extremely high.

Chart #8: ELEVEN DENSEST U.S. INTERMODAL LANES

Employment / Jobless Claims
The Wall Street Journal reports, "...factories overall were operating at just 75.5% of capacity last month. That supposedly leaves plenty of room to grow. But production is having a hard time shifting into high gear because materials shortages and bottlenecks in transportation networks are bogging down supply chains. Those constraints should dissipate over time, and eventually, that's likely to drive a new flood of finished products into shipping networks."
Weekly initial jobless claims are down to 360,000 as of last week, another pandemic-era low, and continuous claims fell to 3.3 million.
Chart #9: MANUFACTURING JOB OPENINGS BY WEEK IN 2021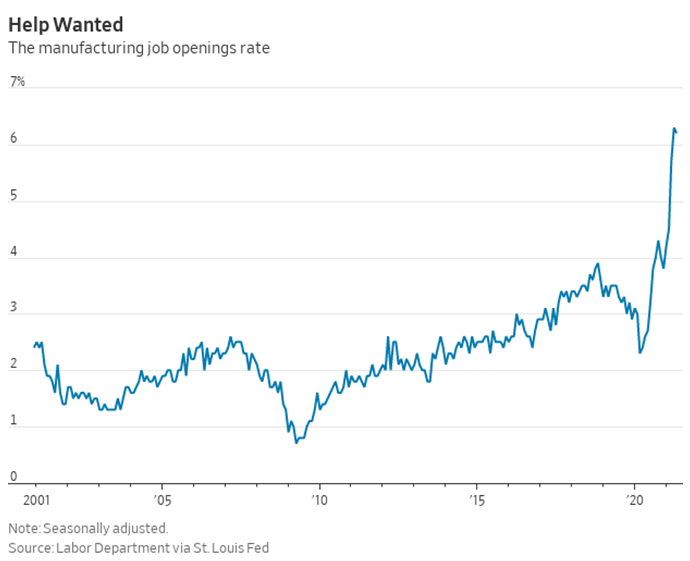 Market Conditions
This morning's market conditions are shown below for the previous day for van, reefer and flatbed. Areas in red are extremely tight.
Van Capacity
Dry van capacity has loosened quite a bit since last week. Some markets, such as Ontario, California, are still seeing super-tight capacity (6,895 to 1,109 load to truck ratio).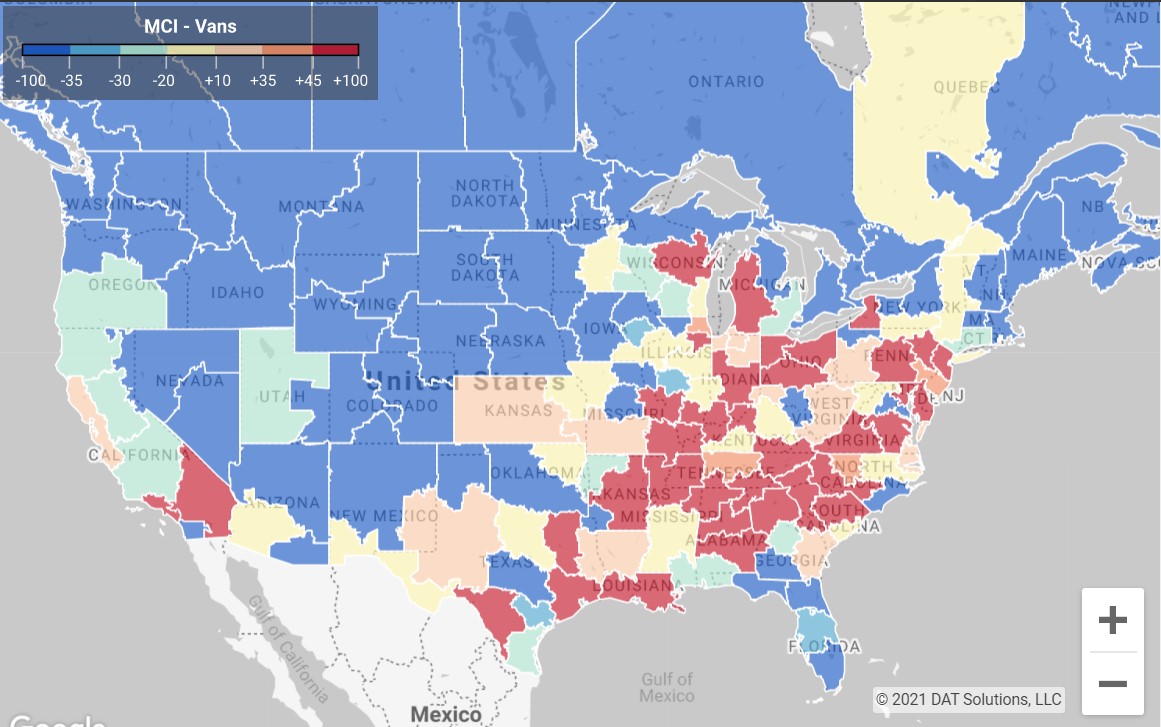 Reefer Capacity
Reefer capacity, although tighter than van, is also seeing a loosening of capacity. Richmond (1,492 to 64), and Raliegh (2,452 to 83) markets, for example, are especially tight right now.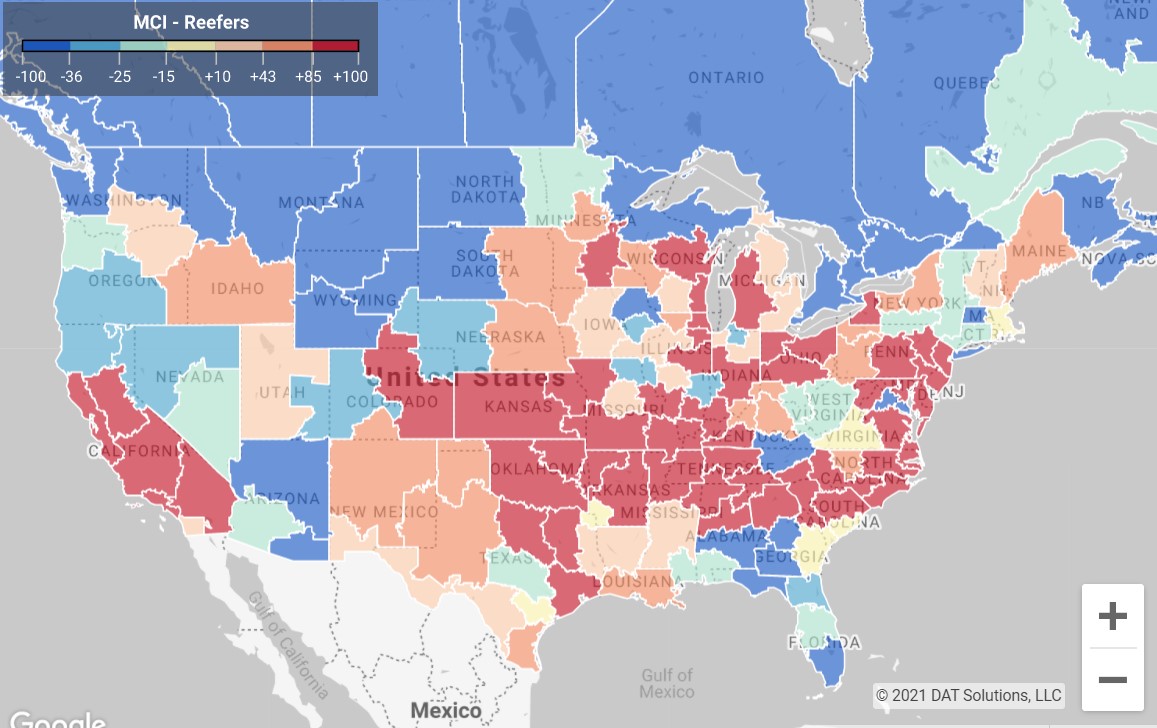 Shippers rely on the relationships they have with their 3PLs to ensure a smooth continuation of service whenever capacity gets tight. We hope you will continue to count on Choptank for all your freight needs, whether it be dry van, reefer, truckload, LTL, intermodal or cross-border shipping.
We would love to hear from you
What do you think about the Choptank Transport Market Brief? Do you find it helpful? Is there additional information you would like us to include or is there information you don't find relevant? Send comments to: marketing@choptanktransport.com
Have a Question? Ask one of our Experts
Your sales representative or a member of our professional logistics team is ready to help, so give us a call! 800.568.2240. If this information was forwarded to you and you would like to receive it, sign up here.