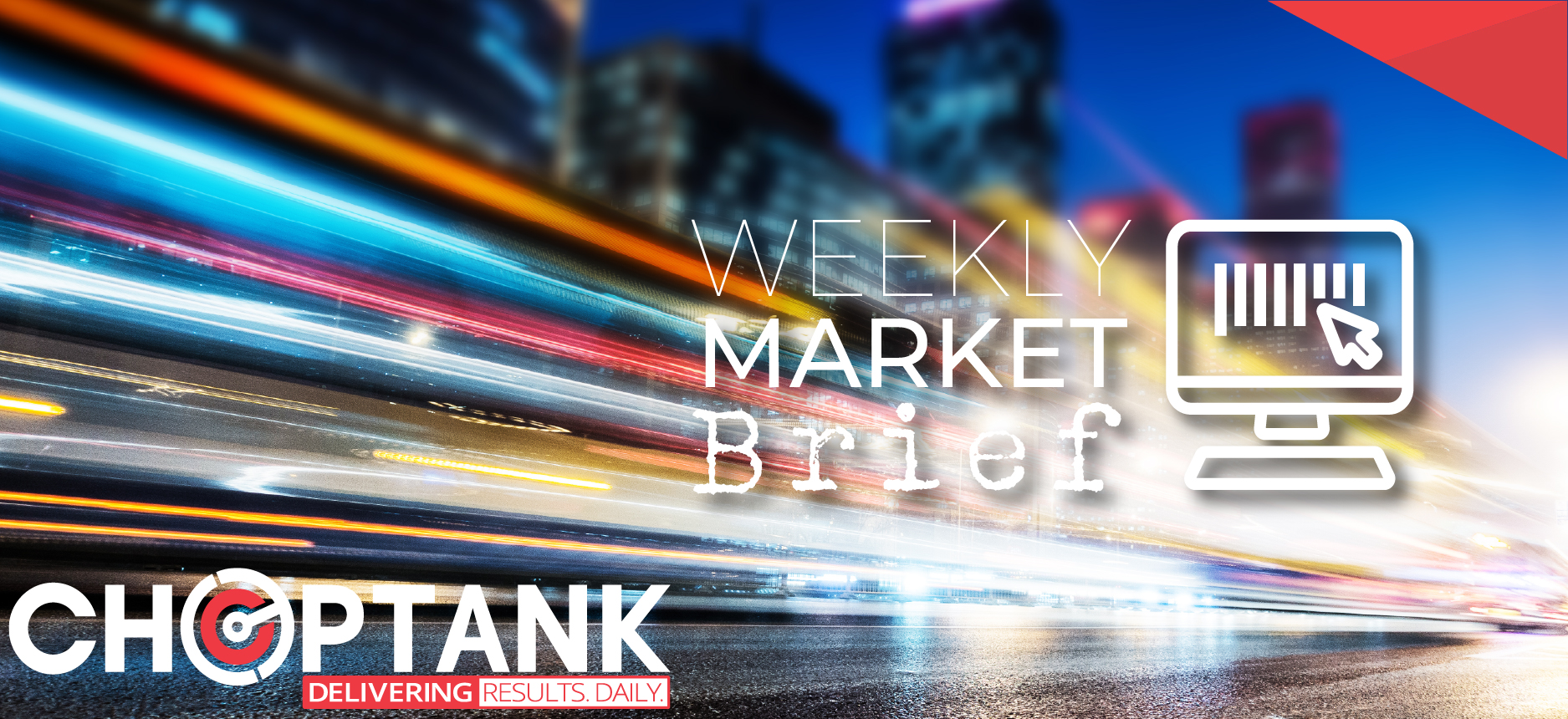 Why Shipping Rates May Face Double Trouble
July 6, 2021
The Choptank Weekly Market Brief is offered exclusively to Choptank Transport customers to provide accurate, timely and relevant freight market information. The contents of this brief are collected from reputable sources including DAT, Freightwaves/Sonar, Truckstop.com, the Department of Labor, the Department of Transportation, and other sources as cited throughout the brief.
Recently published FMCSA data from the Drug and Alcohol Clearing House program reminds us why there is such a collosal problem surrounding the driver shortage. The numbers suggest that a program designed to keep America's roads safe also may be a major contributor to skyrocketing rates and anemic truck capacity.
According to President and CEO Chris Spear of the American Trucking Association, 60,800 additional drivers are needed to handle the current amount of available freight in the United States. It just so happens that the Drug and Alcohol Clearing House legislation has taken more than 60,000 drivers off the road for violations. Yes, the program is taking at-risk drivers off the road, which is a good thing, but at a cost to the industry.
It should be noted that 22% of drivers with violations have started the Return-to-Duty process, which is great news from a safety standpoint, but is little consolation since these drivers are still not driving. Read the full report.
To add insult to injury for shippers, there is another potential cost increase that looms large. New legislation just passed by the House of Representatives on July 1 would require motor carriers to have $2 million in auto liability insurance. (The current required liability insurance for carrriers is $750,000.) The bill is now on its way to the Senate. If greenlighted, these higher costs undoubtedly will be passed on to shippers, and ultimately consumers.
________________________
Despite widespread reports of fireworks shortages, all the big city venues did their part to keep the Fourth of July tradition alive with dazzling and boisterous displays of patriotism. The exceptions to the rule were the fireworks retailers.
According Julie L. Heckman, Executive Director of the American Pyrotechnical Association, "Approximately 30% of the consumer fireworks needed for this Independence Day either didn't make it out of China, are sitting on ocean vessels in the Pacific Ocean waiting to berth at the ports, or they've been sitting at the West Coast ports of Los Angeles and Long Beach for 9-12 weeks waiting to be put on the rail."
_______________
This week's video
Freight Fright
Why Are Freight Rates So Stinkin' High Right Now?
Number of the Week
82%
According to the FMCSA, positive drug tests account for 82% of the
total Drug and Alcohol Clearing House violations. The top four drugs were: marijuana, which accounted for 42,534 postive tests; cocaine metabolite, 11,297; methamphetamine, 7,371; and amphetamine, 7,100.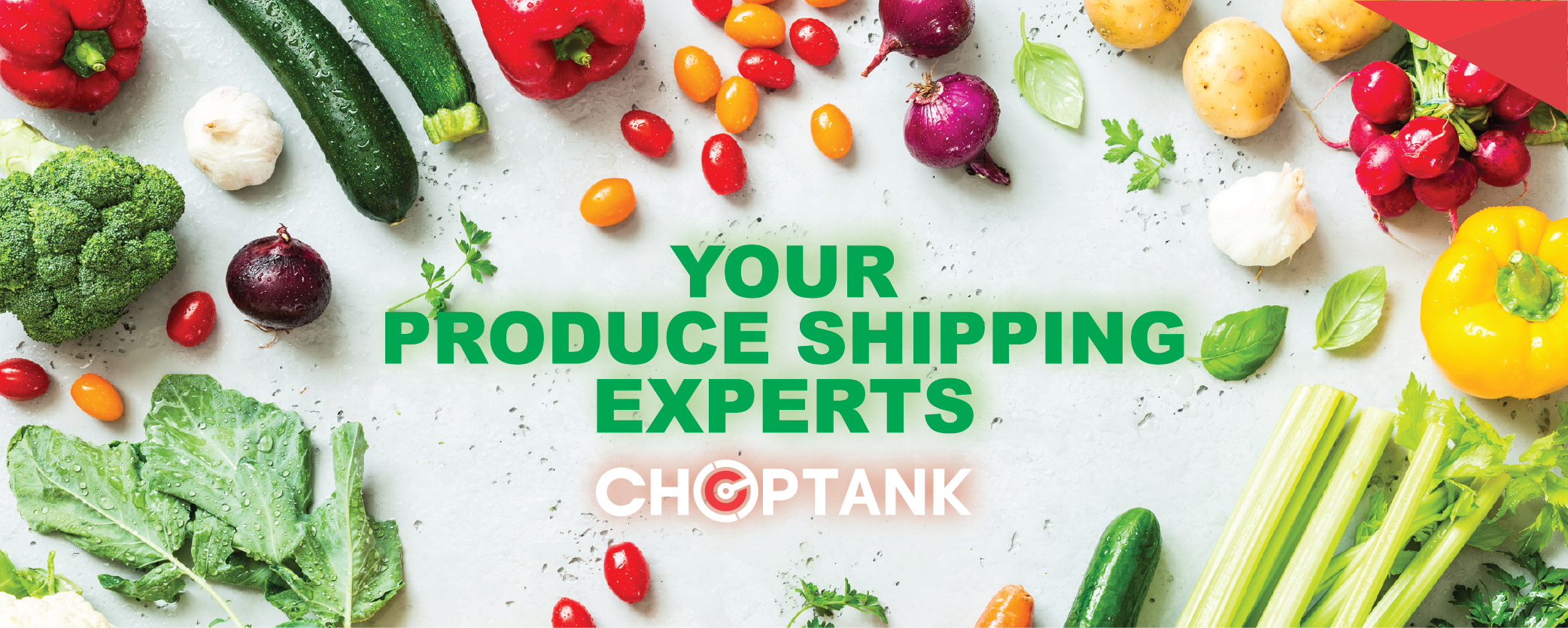 Who's Got the Power?
There is no change in the Power Pricing Index from last week.
The pricing power index is a weekly gauge put out by DHL that indicates who has more sway in negotiations when it comes to pricing and freight rates. (Source: Freightwaves)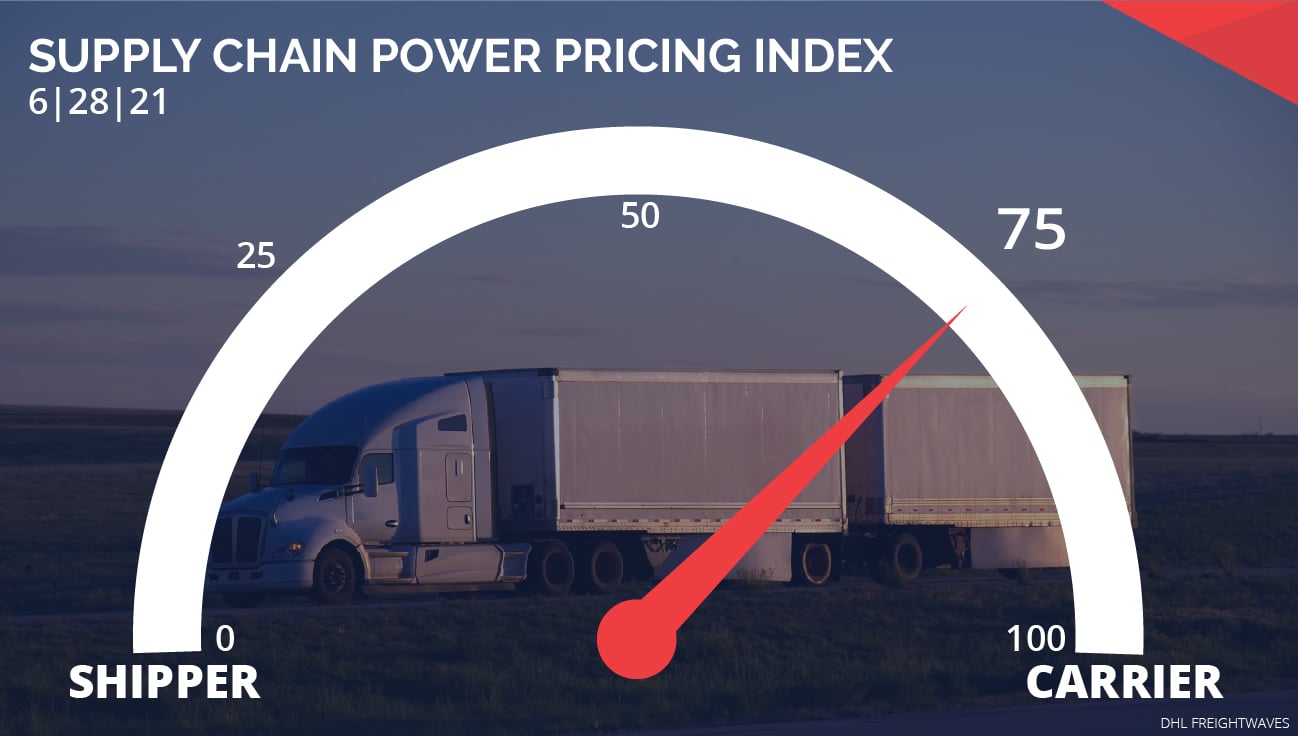 What's Up in the Spot Market?
June 28 - July 4: Although overall spot load posts were down week-over-week, dry van and reefer load-to-truck ratios were slightly up. Flatbed saw a noteworthy dip as construction for new houses has waned with higher prices and material shortages.

National Outbound Tender Rejections
Following a recent downward trend in rejection rates, the Fourth of July brought on the traditional spike that is expected the week preceding the holiday. Now that we are past the holiday, rejection rates should settle back down. Experts' opinions agree that rejection rates most likely have seen their peak at 28%.
Chart Below: (Source: Freightwaves/Sonar) The National Outbound Tender Rejection Rate as of July 4, 2021 is at 25.21%.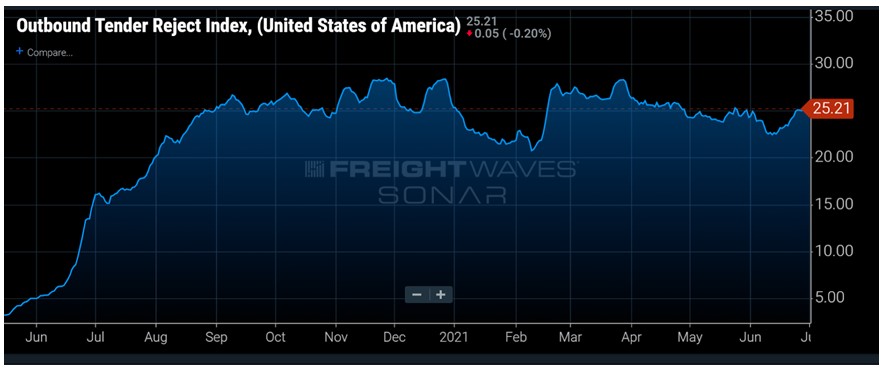 Of note are two behemoths in the freight market seeing extremely high rejection rates: Atlanta and Dallas, both of which are experiencing record-breaking imports over the past several months.
According to Freightwaves data, "The two markets' outbound tender rejection rates blew past their peak values of the previous year. Atlanta topped out at 28.5% on Nov. 21, while Dallas peaked at around 28.2% after the polar vortex event in February. Dallas' outbound rejection rate was at 30% on Thursday, while Atlanta peaked at around 31.2% on June 25."
The tight capacity is most likely due to record imports making their way through the Houston and Savannah ports.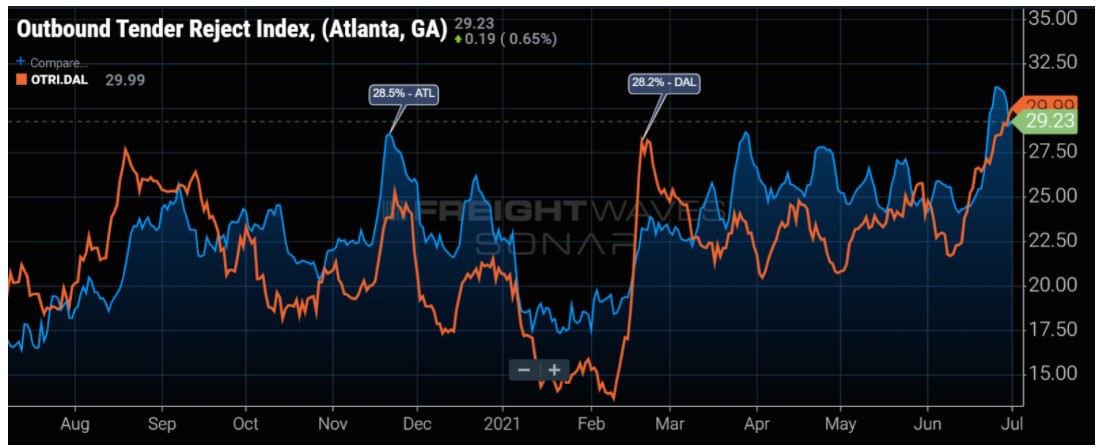 Biggest Increases in Rejections
(chart: Freightwaves.com, July 2, 2021)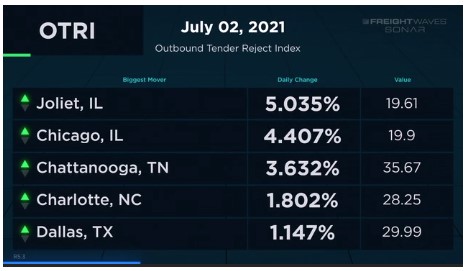 National Outbound Tender Volumes
The chart below shows national outbound tender volumes in orange and lead times in blue. Volumes continue to be extraordinarily high, and as expected, lead times spiked (to 2.915 days) in front of the Fourth of July holiday.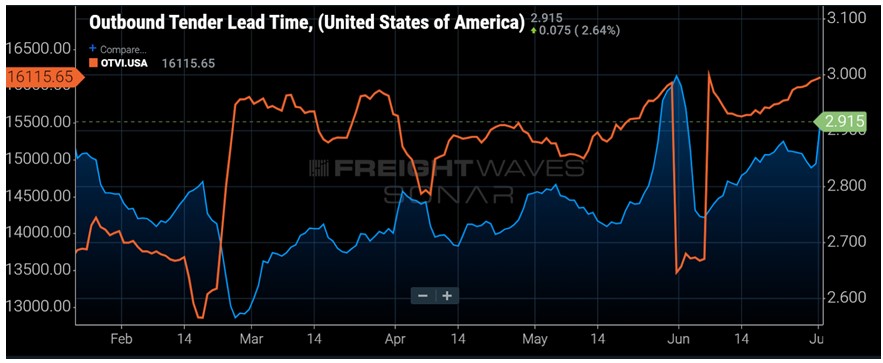 Biggest Increases in Volumes (chart: Freightwaves.com, July 2, 2021)


Ocean/Port News
As the United States recovers from the pandemic and gets back to business as usual, many other parts of the globe that we depend on for imports are dealing with the new Delta variant of the COVID-19 virus.
Malaysia, a country that exports a lot of furniture, has been on lockdown since early June with an extension date just announced. Bangledesh began a nationwide lockdown on July 1, and according to the Red Cross, Indonesia is on the edge of catastrophe. Thailand also is recording record numbers of infections and deaths.
Yantian, one of China's three busiest ports, had to shut down due to the virus's spread for three weeks in June, and the repercussions are still being felt.
The added disruption has led to astronomical shipping costs and extraordinarily poor levels of service. Some cargo owners are being offered rates of more than $20,000 in last-minute deals.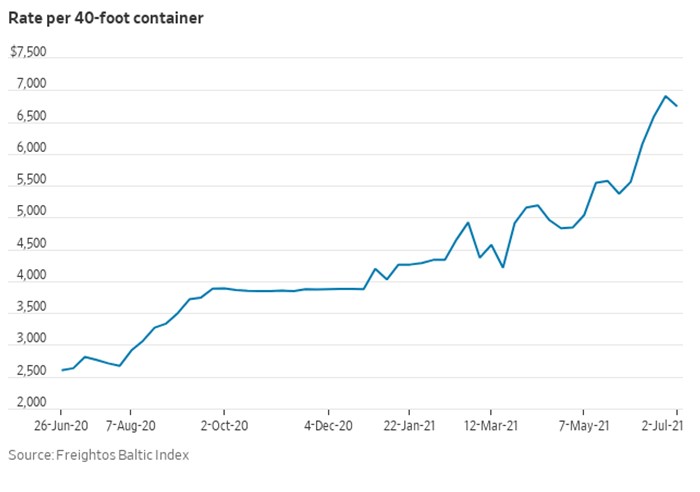 Economic News
The Institute for Supply Management reported that the manufacturing sector is still chugging along at a moderate pace as it maintains its 13th consecutive month of growth. New order levels are robust as inventories still lag, so there are few concerns that things will slack off anytime soon. Raw materials are still creating delays in production and slowing down what could be a phenomenal rate of economic growth.
June's Purchasing Manger's Index came in at 60.6%, which is a slight decline from May, but still above 50, the golden marker that signifies growth.
The big news is the prices index, which grew by more than 92.% -- the highest level since 1979.
Chart below: (Source Institute for Supply Management)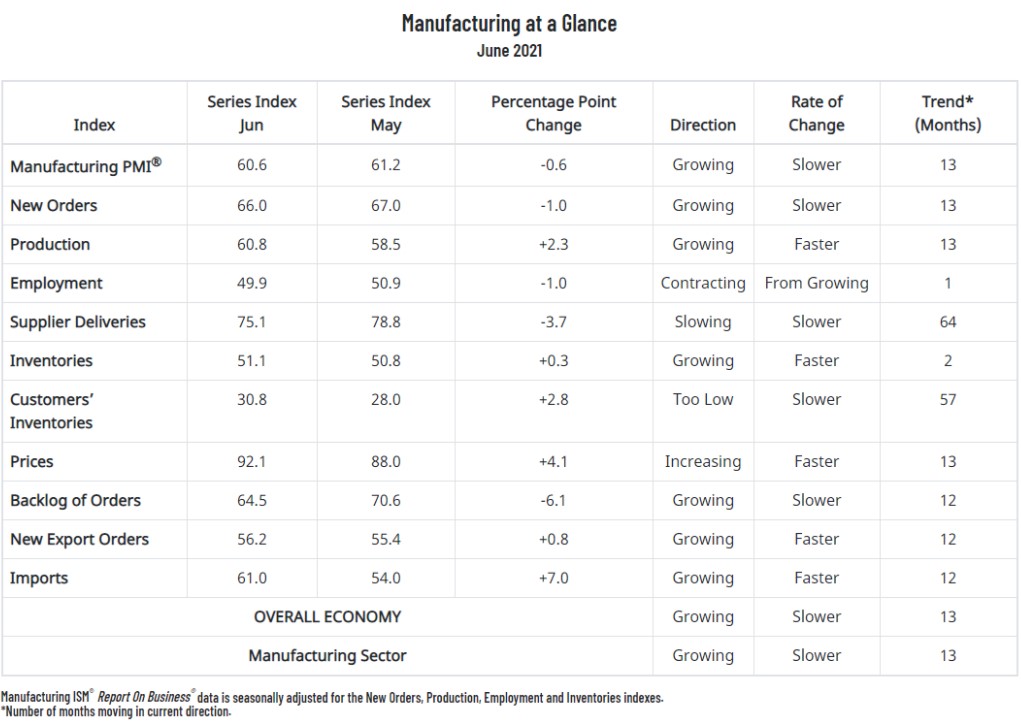 Economy Continued: Housing
The explosive market for new and existing home sales has cooled off a bit in recent weeks. The high cost of lumber and other building materials, along with stringent loan criteria and lack of available existing home inventories, has derailed the hot real estate market.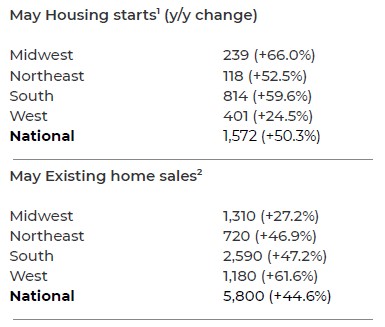 Employment/Jobless Claims
Initial jobless claims hit another pandemic low, reporting in at 364,000, a drop of 51,000 claims. This is the lowest number since March 2020 when the pandemic kicked in full force. Continuing claims, however, increased by 56,000, meaning 3.469 million Americans are still expecting receipt of benefits.
---
A shortage of willing workers is hampering hiring. Manufacturers said they were experiencing "difficulty in hiring and retaining direct labor," the Institute for Supply Management (ISM) said in its survey of national factory activity, noting that these challenges "across the entire value chain continue to be the major obstacles to increasing growth."
One respondent in primary metals said "the lack of labor is killing us." - Reuters
---

Market Conditions
This morning's market conditions are shown below for the previous day for van, reefer, and flatbed. Areas in red are extremely tight.
Van Capacity
Van capacity is experiencing tight capacity similar to reefer in the Southeastern part of the country and along the West Coast. Fort Worth and Dallas are both hot markets. Savannah is experiencing tight capacity due to the continued influx of port activity with a load-to-truck ratio of 2,732/210.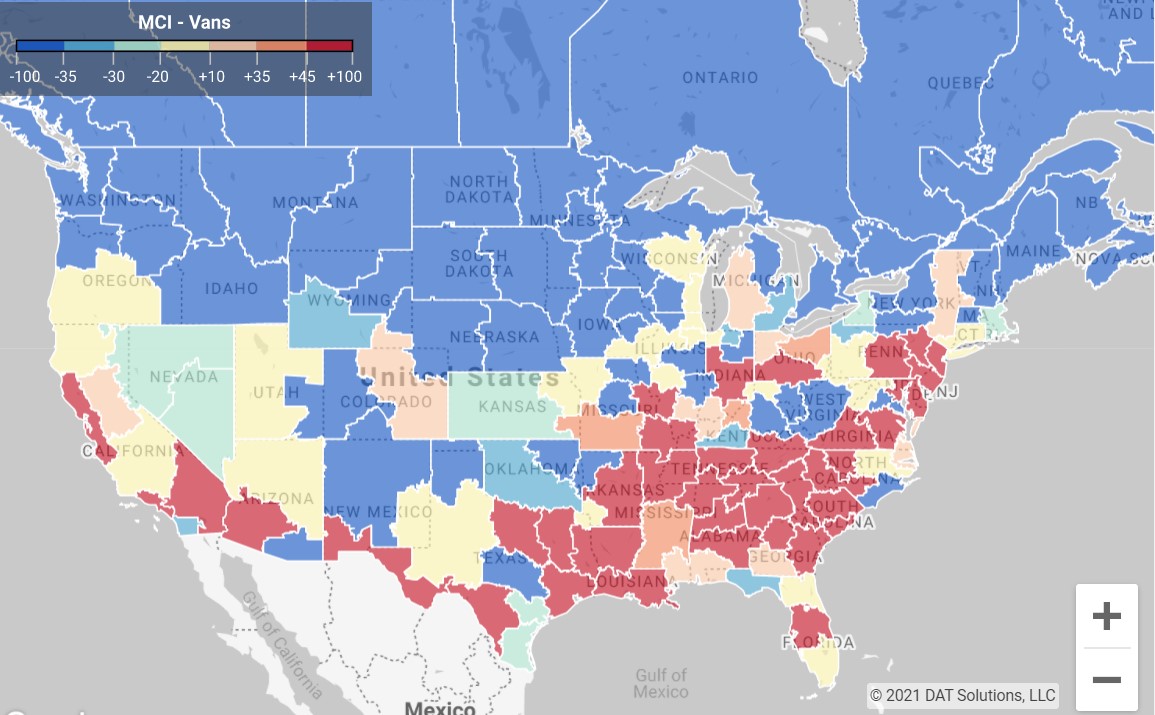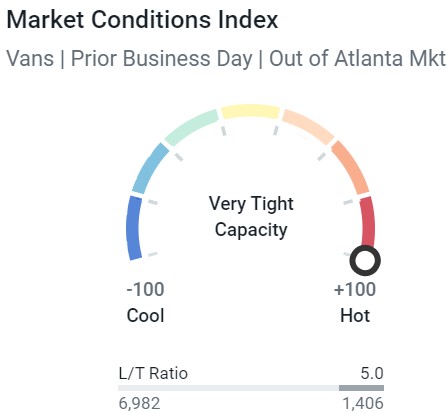 Reefer Capacity
Reefer capacity remains tight in the Southeast. On the West Coast, Fresno is one market seeing extreme activity, with a load-to-truck ratio of 5,463/506. Lakeland, FL, is tight at 1,676/186. Green Bay and Grand Rapids are equally hot markets.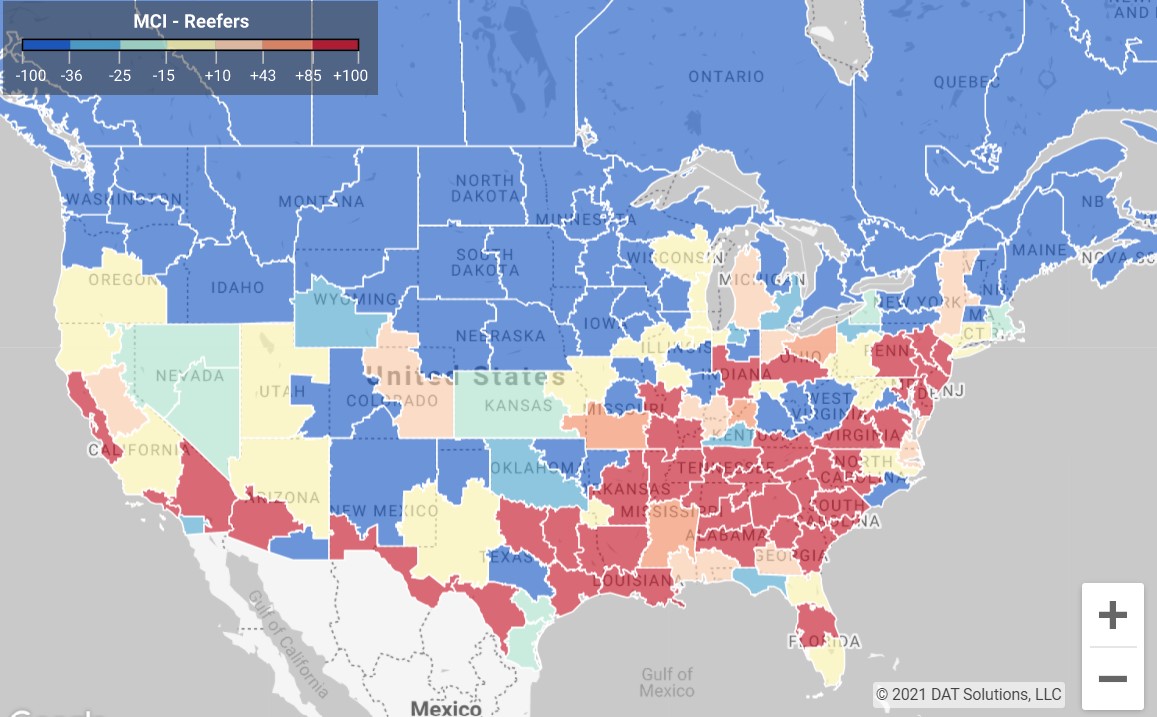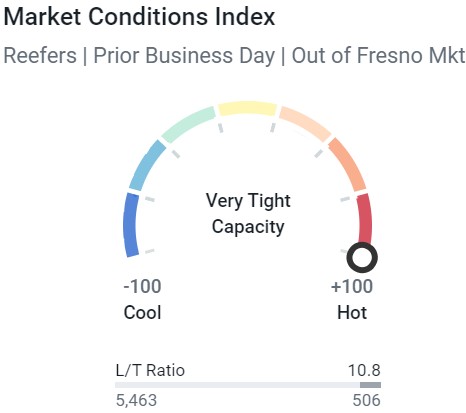 Flatbed Capacity
The flatbed capacity has eased off a little in the last week although equipment is always in high demand.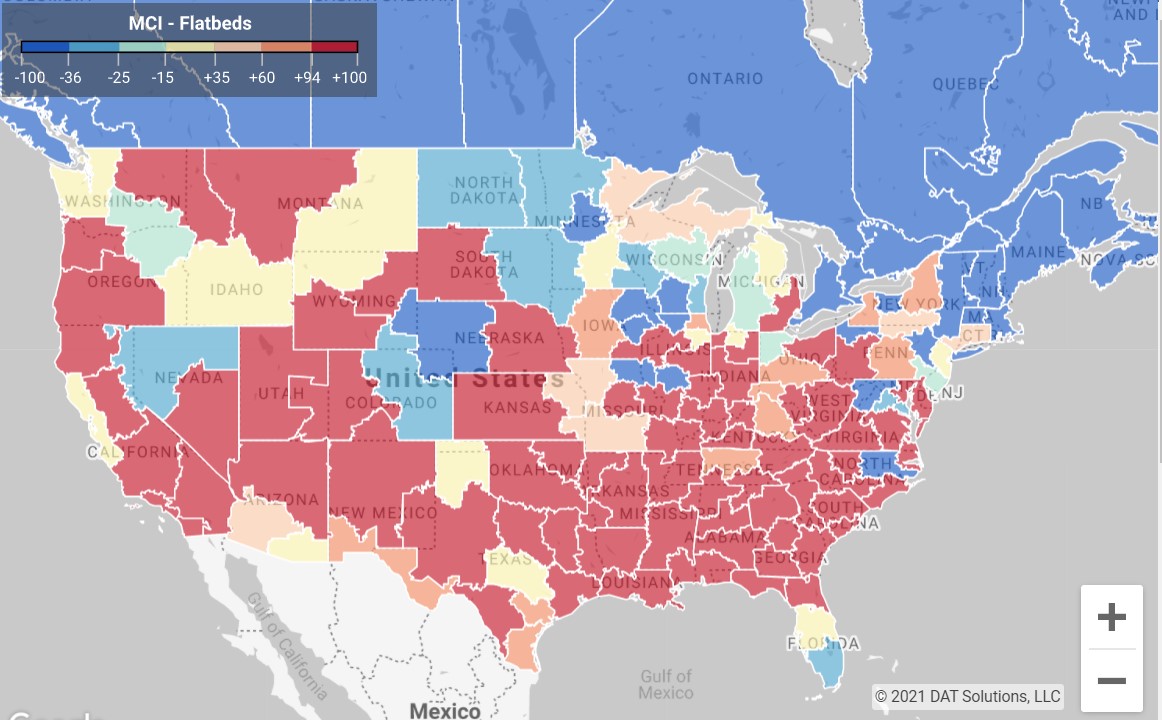 Shippers rely on the relationships they have with their 3PLs to ensure a smooth continuation of service whenever capacity gets tight. We hope you will continue to count on Choptank for all your freight needs, whether it be dry van, reefer, truckload, LTL, intermodal or cross-border shipping.
We would love to hear from you
What do you think about the Choptank Transport Market Brief? Do you find it helpful? Is there additional information you would like us to include or is there information you don't find relevant? Send comments to: marketing@choptanktransport.com
Have a Question? Ask one of our Experts
Your sales representative or a member of our professional logistics team is ready to help, so give us a call! 800.568.2240. If this information was forwarded to you and you would like to receive it, sign up here.