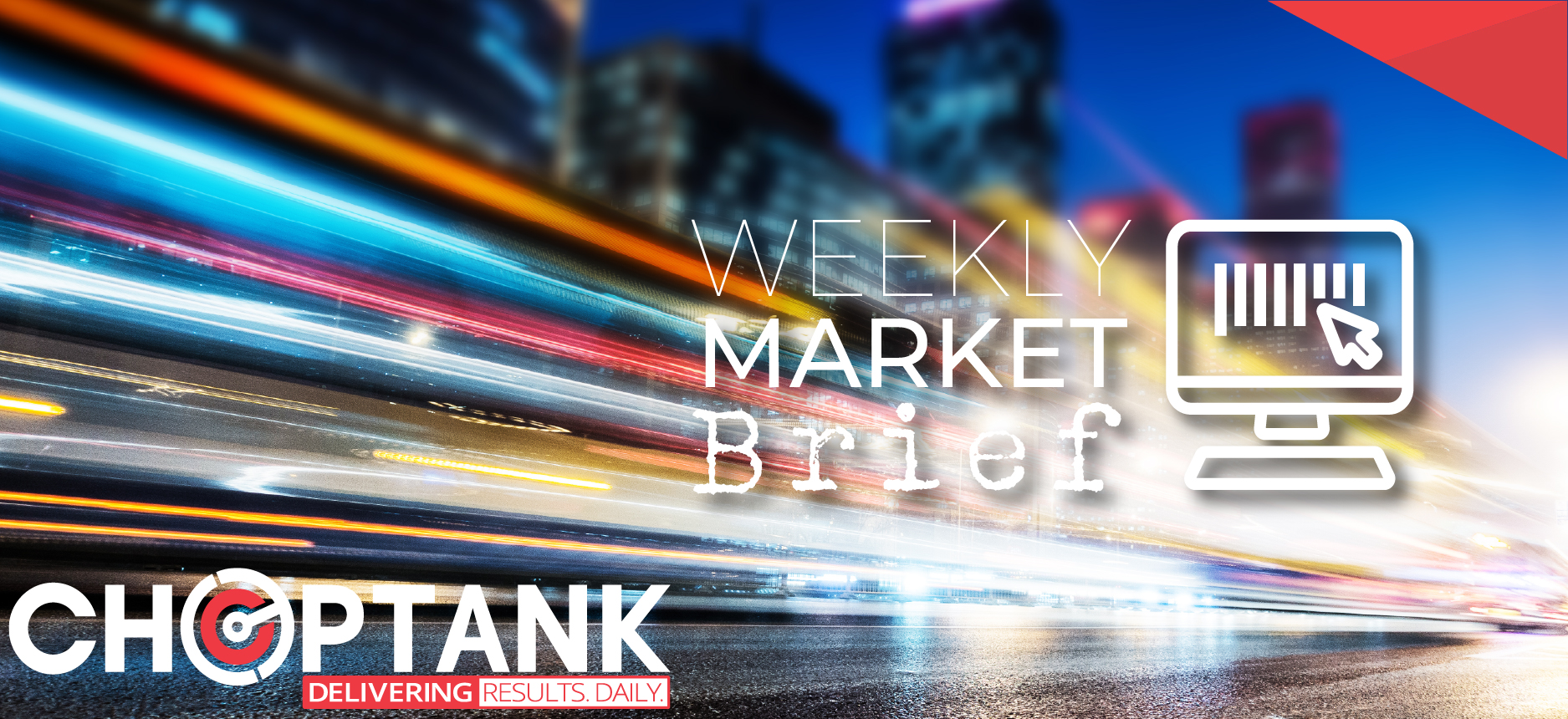 From Scorching Temps to The Ice Road, a Record-Setting Week
June 29, 2021
The Choptank Weekly Market Brief is offered exclusively to Choptank Transport customers to provide accurate, timely and relevant freight market information. The contents of this brief are collected from reputable sources including DAT, Freightwaves/Sonar, Truckstop.com, the Department of Labor, the Department of Transportation, and other sources as cited throughout the brief.
It has been a week of record-setting events. Imports out of the Seattle market have reached an all-time high, with the port's popularity growing as an alternative to congested Los Angeles/Long Beach. Atlanta outbound rejection rates also have hit all-time highs, creeping up over 31% by the end of last week. And shipping costs from China to the United States also hit record highs, as covered in the Ocean/Port section of this market brief.
The record-breaking numbers go beyond just logistics phenomena. A blistering heat wave across the Northwest is roasting Oregon and Washington state, producing unheard-of temperatures, such as Saturday's record-setting 112 degrees in Portland.
________________________
In other news, remember a few weeks ago we reported that FedEx was weeding out 1,400 unprofitable customers/lanes from the company's pipeline with little to no notice? Well, it apparently made some big customers really angry--so much so that FedEx is backpedaling and reversing its decision.
And just for fun, this weekend's TOP-WATCHED MOVIE ON NETFLIX was one that should resonate with big-rig lovers everywhere. Starring tough-guy icon Liam Neeson, The Ice Road is a non-stop, edge-of-your-seat trucker flick that delivers the goods for anyone looking for an action-packed evening. Any movie that has Neeson saying, "Now I'm angry!" you know has to be good! There are three very cool trucks (the film was actually criticized for being one long ad for Kenworth trucks) and tons of nail-biting moments. Was it realistic? Not even a little bit. But entertaining? Heck yeah!
_______________
This week's video
The Ice Road movie is truck-driving entertainment at its best! (Film clip courtesy of Netflix "Cracking the Ice" starring Liam Neeson, Laurence Fishburne, and Amber Midthunder.)
Number of the Week
$7.5 Billion
According to DAT, $7.5 billion is the amount of money The National Retail Federation says it expects Americans to spend on food items this year. July 4th alone accounts for an estimated 72,000 truckloads. (That includes a billion pounds of meat, 68 million cases of beer and 2,500 truckloads of fireworks shipped in June.)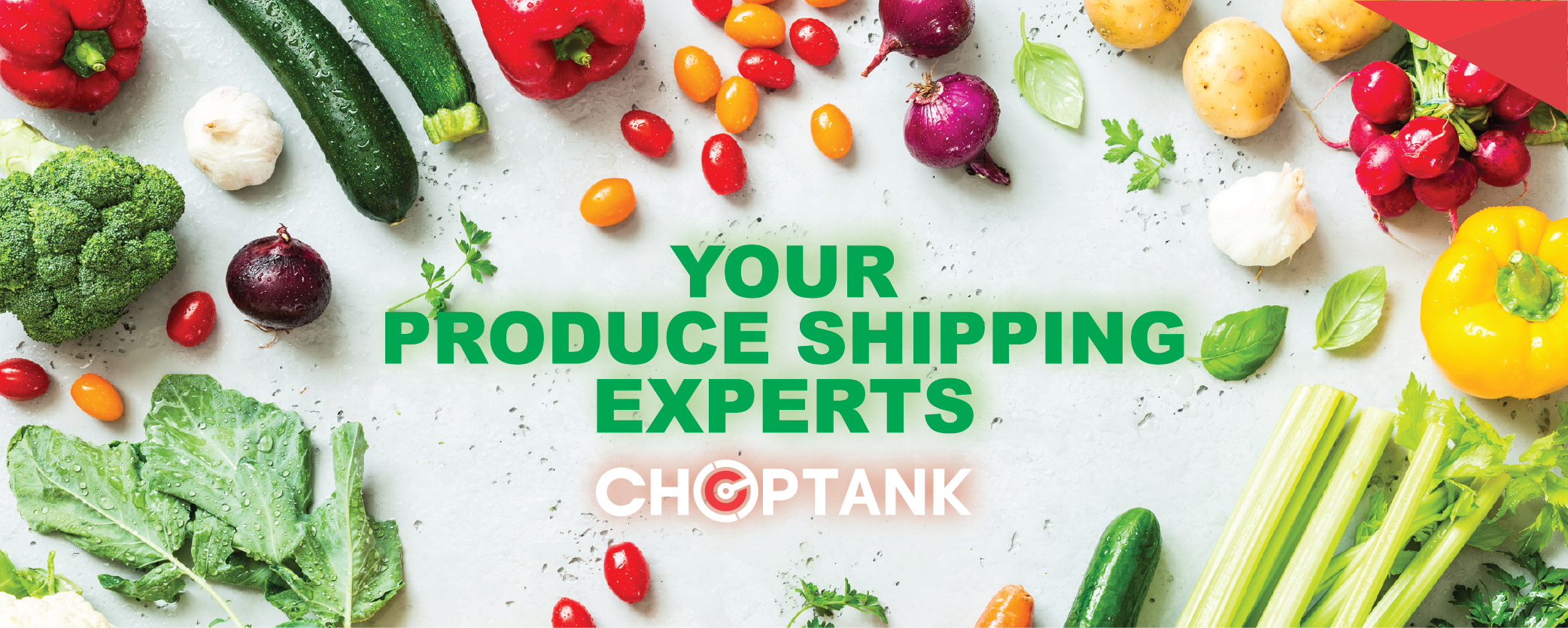 Produce Shipping Update
California: Summer Produce is in Full-Swing!
Central California: More product shifts coming to the region!
Tomatoes coming out strong.
Southern California: Onions moving.
Melons still shipping.
Northwest
Washington: Should start to ease on capacity and rates.
Idaho potatoes: Capacity already tightening for pre-holiday supplies.
Southwest
Arizona: Nogales starting to wane.
Yuma: melons active until moving to California by the 4th.
The Phoenix market is especially challenging right now.
Texas: Due to freight favorability versus West Coast, the Valley may be consistent shipping spot throughout summer. West Texas demand is maintaining capacity tightness. El Paso and Tucson decrease in demand, creating better onion rates. Potato shift from Colorado coming soon.
Southeast
Florida: Inbound becoming more challenging.
Georgia: Seeing a huge push to get everything out by the 4th. Post-holiday capacity should be favorable.
North Carolina: Volume shipping still strong.
South Carolina: Tomato shipping coming to a close as it shifts up the coast.
Arkansas: Tomatoes starting.
Who's Got the Power?
The DHL pricing power index has risen to 75 in favor of carriers as we get closer to the 4th of July holiday and capacity tightens.
The pricing power index is a weekly gauge put out by DHL that indicates who has more sway in negotiations when it comes to pricing and freight rates. (Source: Freightwaves)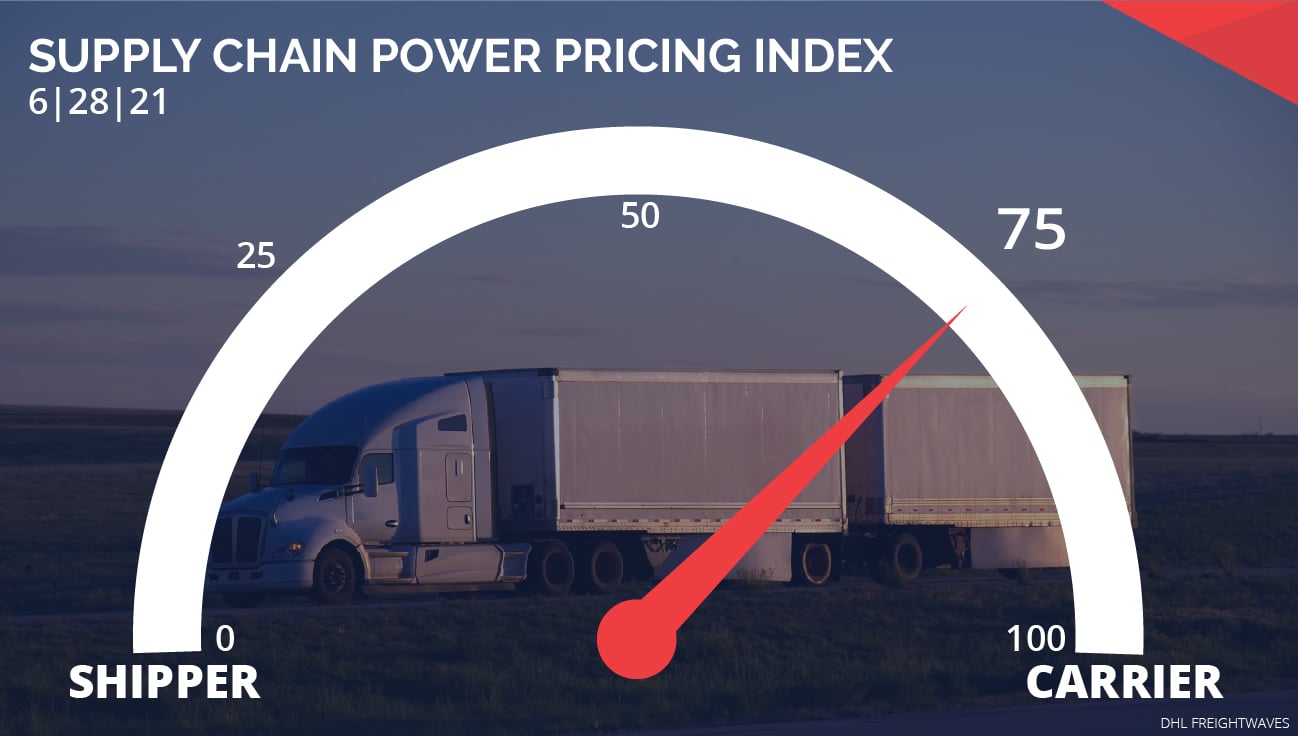 What's Up in the Spot Market?
June 21 - June 27: Load posts for both dry van and reefer have increased on the spot market as we approach the July 4 holiday. Rates too, have increased. Flatbed load-to-truck posts have declined, however, and their rates have held steady, with only a slight increase.


National Outbound Tender Rejections
As expected, national outbound tender rejections for both dry van and reefer freight have started climbing again as we approach the upcoming holiday. On Sunday, overall dry van rejections increased to 26.16% and reefer rejections shifted upward to 37.38%. On Monday, reefer rejections increased even more to 38.36%. Rates will follow suit up until the weekend as drivers want to return home. Remember that most receivers will be closed on Monday, so plan this week accordingly.
Biggest Increases in Rejections
(chart: Freightwaves.com)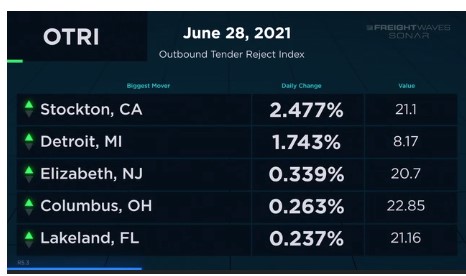 Chart Below: (Source: Freightwaves/Sonar) The image below shows tender rejections from early last week, which have increased for both equipment types as we approach July 4th, as shown in the bottom chart, which also shows the last two years' data.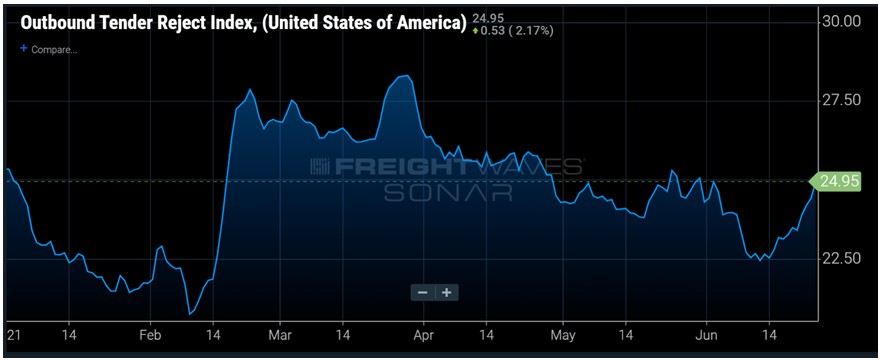 National Outbound Tender Volumes
The national outbound tender volume index is higher than it has been in the past 12 months, with the exception of the week just before Thanksgiving/Black Friday. Volumes have been rising since the end of May, although rejection rates dipped quite a bit. Closing in on July 4th, rejection rates are on the rise again.
The chart below (Freightwaves/Sonar) shows that van shipments are the predominant driver of volumes. Reefer volumes have declined 25% from their all-time high in February and an additional 10.5% since Memorial Day. Van volumes are in blue, reefer volumes in green.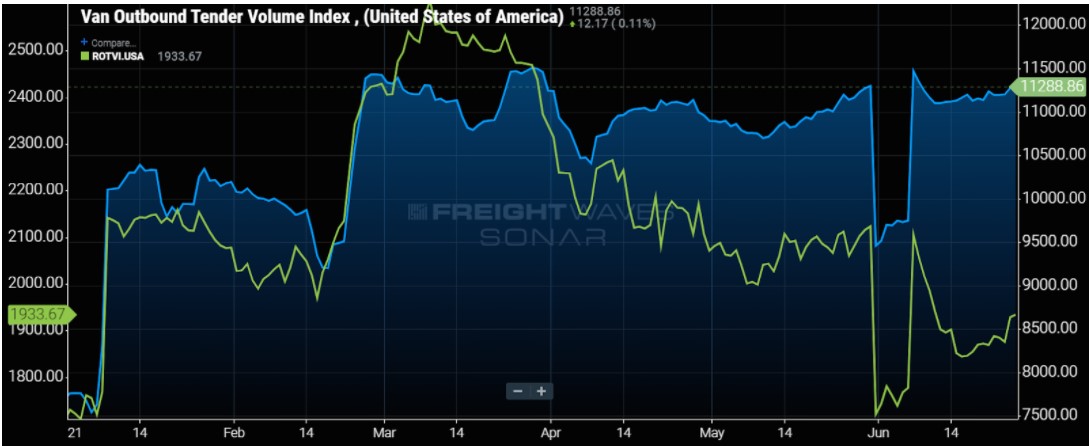 Biggest Increases in Volumes (chart: Freightwaves.com)

Ocean/Port News
Congestion at the ports has not gotten any better. According to American Shipper, "Vessel and port congestion continue to keep vessels waiting in line and unable to meet their anticipated schedules, reducing total vessel capacity across many of the largest trade lanes for U.S. importers. Some of these vessels are still waiting as long as 45 to 50 days to be unloaded."
The backlog in China is no better. See the chart below that shows upward of 50 vessels waiting to get into the port of Yantian and 67 additional ships waiting to get berthing windows into Nansha and Shekou. (Chart: Supply Chain Dive)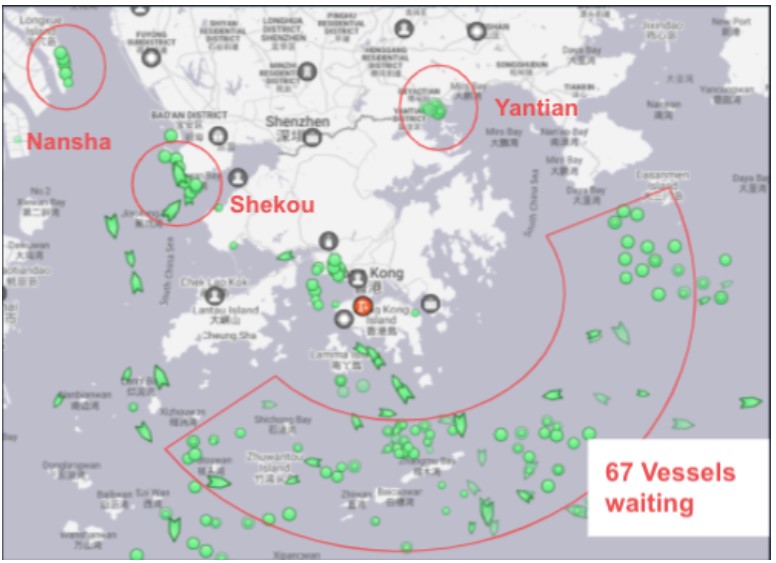 In the past two weeks, the average rate for a 40-foot container from China to the United States going to either the East coast or the West Coast, has set a new record high. The current average rate from China to the North American East Coast is currently $6,970. These rates most likely will go higher, with some analysts saying they could increase as much as 50-75% at peak season.
The chart below shows TEUs (20-ft containers) and not FEUs (40-ft containers), but still gives an indication of the high volumes. The orange line indicates China to America's East Coast ports, and purple is China to America's West Coast ports. The FBXD abbreviation stands for Feightos Baltic Daily Index. (Chart: Freightwaves Sonar)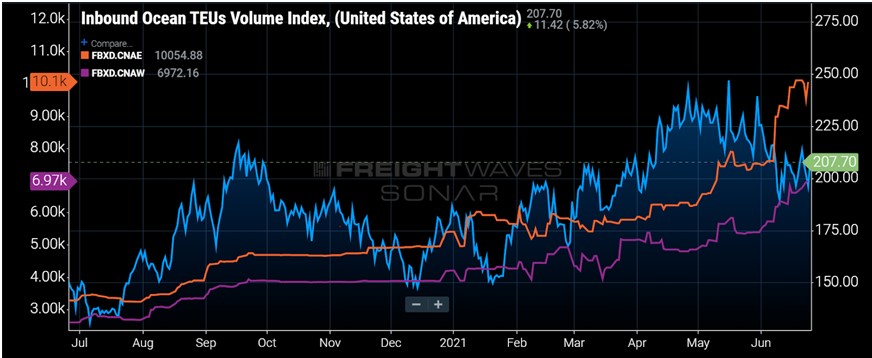 Economic News
The home-buying craze may be over, as sales of existing homes declined for the fourth consecutive month. In May 2020, home sales, as reported by the National Association of Realtors, were up almost 45%, even though that is a year-over-year comparison (not taking into account that COVID was in full swing).
Analysts attribute the slowdown to a shortage of existing homes as well as unattainable price increases that many new home buyers cannot afford.
"We are approaching the critical summer season, when the volume of real estate sales reaches its peak during a typical year. With four consecutive monthly declines in existing home sales, May's sales activity points to a potential moderation in growth for the remainder of 2021," said George Ratiu, senior economist at Realtor.com. (MarketWatch.Com)
On the manufacturing front, demand remains strong, although shortages of raw materials still plague the industry. Despite the challenges, growth continued during the second quarter. (Chart: Freightwaves Sonar)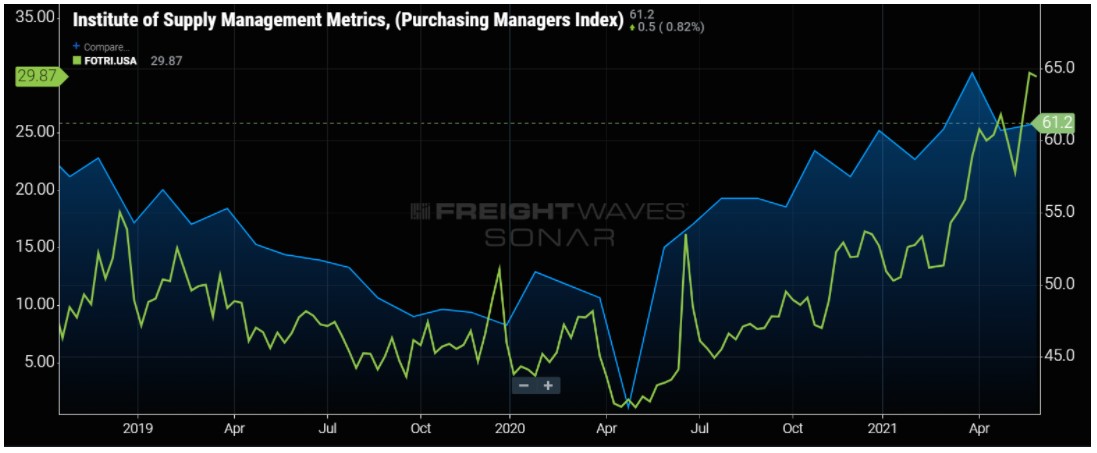 Employment/Jobless Claims
Gains could be seen in the job market as claims, although flat, have been producing a declining trend, while hiring numbers are on the increase.
According to The Wall Street Journal, "Weekly claims totals are down more than 40% from the 742,000 total posted the week ended April 3.
'The overall trend is in the right direction,' said Jordan van Rijn, senior economist at the Credit Union National Association. 'Right now, there's a lot of demand for labor out there and it's the workers that are a little more in the driver's seat,' he added."
Read more... U.S. jobless claims dropping faster in states ending federal benefit (msn.com)
Market Conditions
This morning's market conditions are shown below for the previous day for van, reefer, and flatbed. Areas in red are extremely tight.
Van Capacity
The Memphis market is extremely hot right now for dry van capacity, with a load-to-truck ratio of 8,055/745. Savannah, Columbia, and other Southeastern markets are also very tight.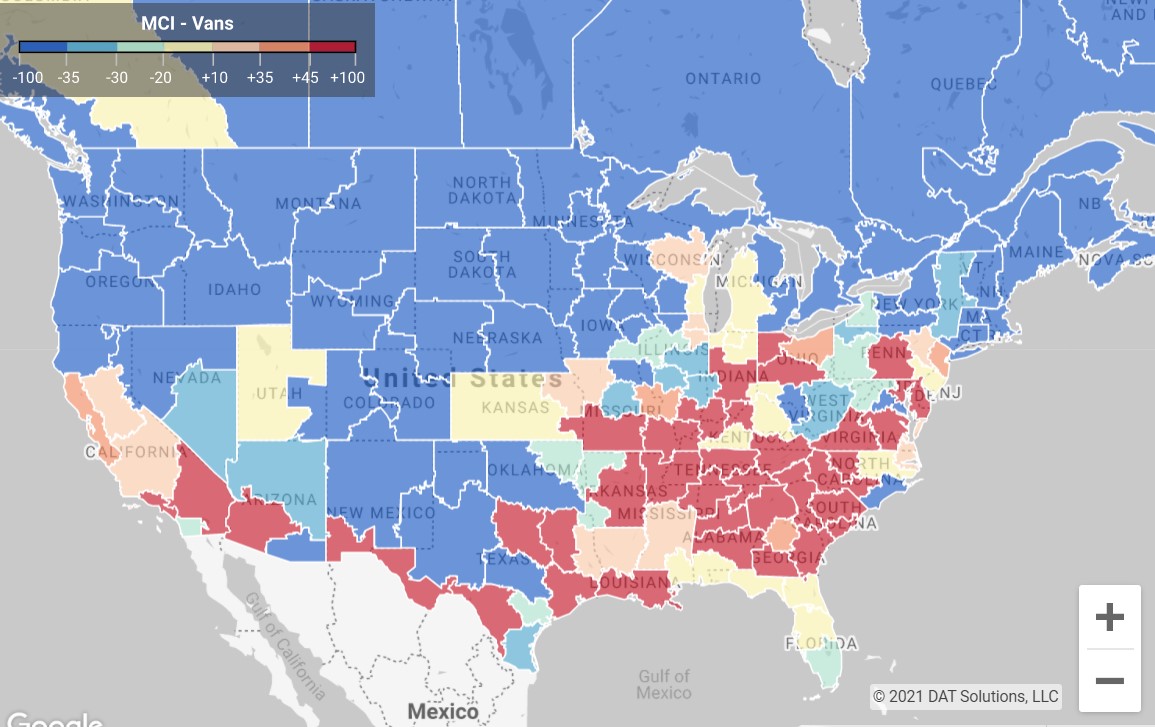 Reefer Capacity
The Savannah area is creating a challenge for the reefer market as well, with a load-to-truck ratio of 3,269/57, no doubt from the influx of port freight. The Philadelphia region is also tight with a load-to-truck ratio of 3,311/278.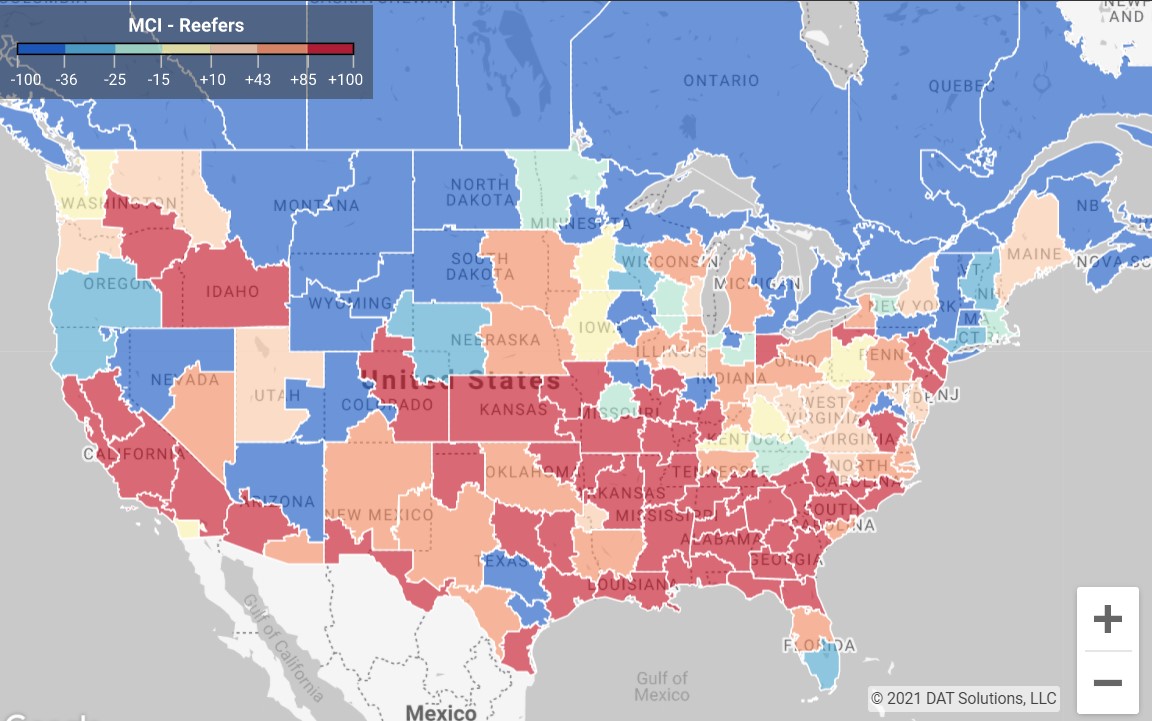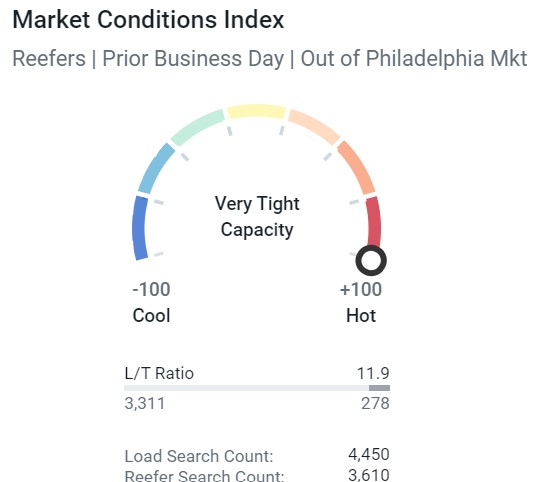 Flatbed Capacity
The flatbed capacity is still experiencing strained capacity with little signs of easing.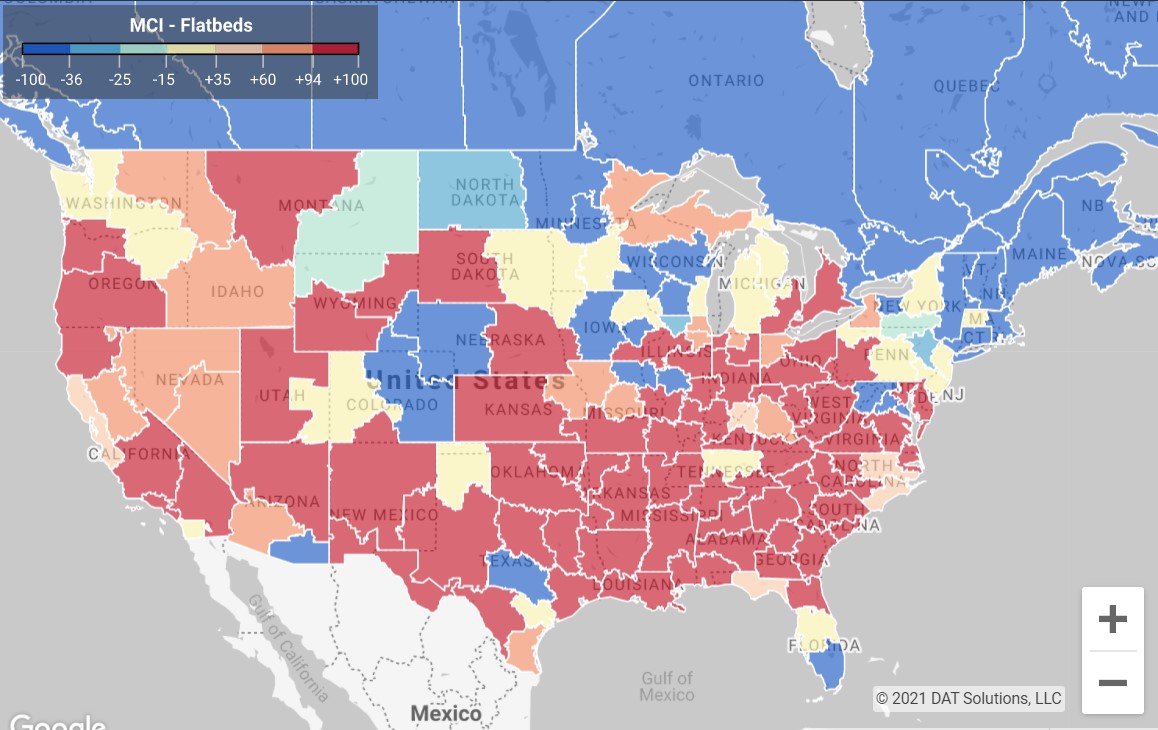 Shippers rely on the relationships they have with their 3PLs to ensure a smooth continuation of service whenever capacity gets tight. We hope you will continue to count on Choptank for all your freight needs, whether it be dry van, reefer, truckload, LTL, intermodal or cross-border shipping.
We would love to hear from you
What do you think about the Choptank Transport Market Brief? Do you find it helpful? Is there additional information you would like us to include or is there information you don't find relevant? Send comments to: marketing@choptanktransport.com
Have a Question? Ask one of our Experts
Your sales representative or a member of our professional logistics team is ready to help, so give us a call! 800.568.2240. If this information was forwarded to you and you would like to receive it, sign up here.