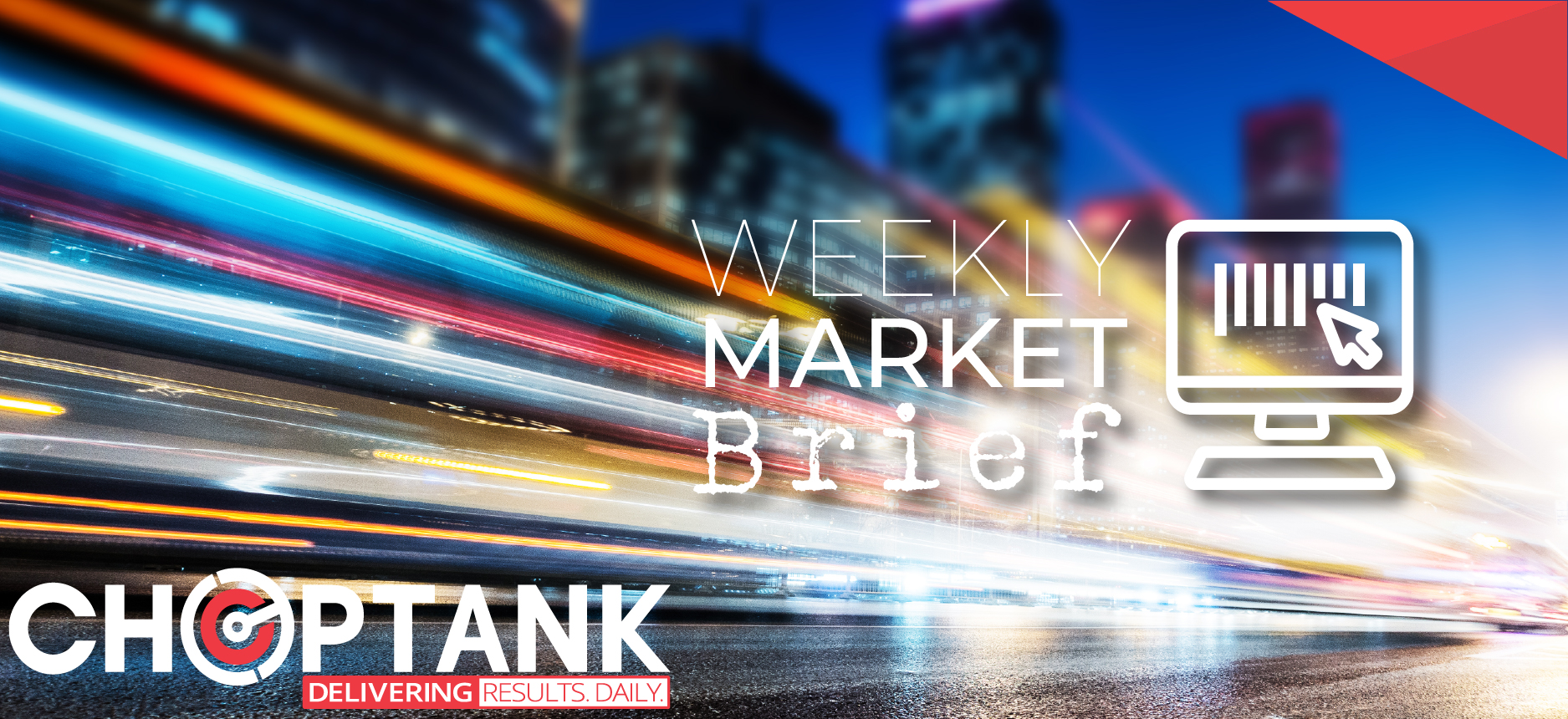 June Brings National Logistics Day and National Mango Month
June 15, 2021
The Choptank Weekly Market Brief is offered exclusively to Choptank Transport customers to provide accurate, timely and relevant freight market information. The contents of this brief are collected from reputable sources including DAT, Freightwaves/Sonar, Truckstop.com, the Department of Labor, the Department of Transportation, and other sources as cited throughout the brief.
What? You've never heard of National Logistics Day? Well, don't feel bad; you are not alone. A relatively new national holiday, it was conceived in 2019 in hopes of bringing awareness to the 3PL industry's $214 billion dollar impact on the U.S. economy. June 28 is the big day, so mark your calendar.
As remarkable as the industry is, before the pandemic, most people gave little thought to the world of freight brokerages and the supply chain, but that is certainly no longer true. COVID-19 thrust the essential nature of our industry into the spotlight.
And so the Transportation Intermediaries Association (TIA) is celebrating this year with a big splash, trying to get the folks in Washington to recognize and approve it as a national day of observance. The TIA's website even features a letter of support from Pennsylvania Governor Tom Wolf, who states, "The logistics industry plays a critical role in being an economic driver of the commonwealth's growth and prosperity. As Governor . . . I am pleased to offer my unwavering support of National Logistics Day."
TIA President and CEO Anne Reinke said in a recent interview that the 3PL industry is seeing 9% growth year-over-year, with 4,000 more brokers in the United States than last year at this time.
__________________________
June is also National Mango Month. (Who really eats mangoes?) According to Dean Croke's blog from DAT, "For the eight-week period ending mid-June, mango shipments should be about 27 million boxes, which is four million more boxes than the 23 million in the same period last year. In truckload terms that's the equivalent of just under 6,000 full loads of the exotic fruit."
This is the time of year that mango shipments move away from shipping out of Central America and start coming from Mexico, where more than 65% of our imported mangoes are produced. That means that the McAllen and Tucson markets are about to heat up with massive mango shipments.
Need a good mango recipe? Try this one for mango salsa!
_______________
This week's video
Join us in celebrating National Logistics Day!
Number of the Week
$2 million/day
The amount of money it is costing the trucking industry due to the continued closure of the I-40 bridge over the Mississippi River/Memphis area.
---

NEW! Produce Update
California: Kicking into summer mode!
Central California: Watch for increasing supplies, sales, and demand.

Southern California: Onions are moving.

San Diego: San Diego is back in the mix; capacity demand is high.
Northwest
Washington: Should start to ease on capacity and rates.

Idaho potatoes: Capacity easing was short-lived and is back to capacity-challenged.
Southwest
Arizona: Capacity still tight.

Yuma: melons active until moving to California by the 4th.

The Phoenix market is especially challenging right now.

New Mexico: Still a very hot market, although capacity and rates eased temporarily, it is back to crunch time.

Texas: Expect fluidity with product crossing the border could mean volume continuation.
Southeast
Georgia: Watch for a huge push to "clean everything up" by the 4th.

North Carolina: Capacity and rates are swinging with the supply/demand shift.

South Carolina: Coastal tomatoes shipping in volume.

East Tennessee: Tomatoes starting in the next week or two.
What's Up in the Spot Market?
June 14 - June 20: Another week of national average spot rates moving very little week-over-week for all three equipment types. Load-to-truck ratios, on the other hand, have increased whereas flatbed load-to-truck ratios have declined more than 10%.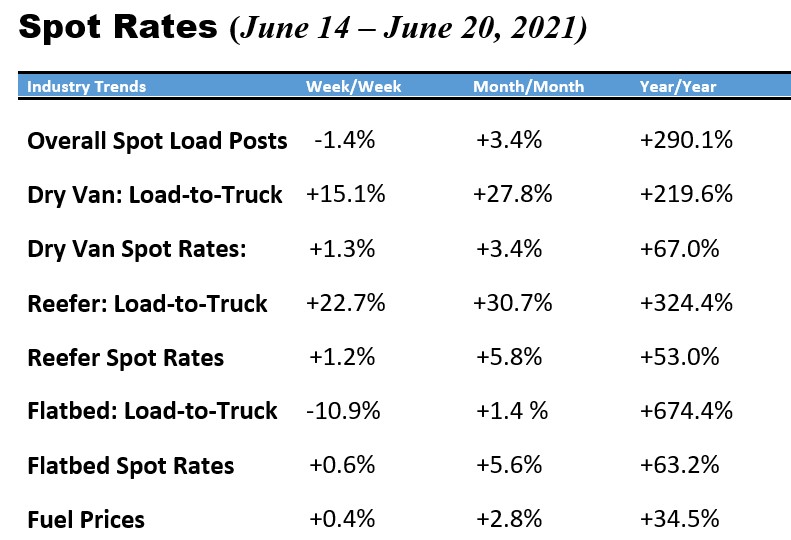 National Outbound Tender Rejections
As the end of the month and the end of the quarter approach, rejection rates should increase along with spot rates. Rejection rates for reefer outbound on a national level have just seen an increase to 35.05 and should continue to escalate up until month's end.
As of June 21, some markets are experiencing reefer rejection rates this week above 50%, such as Little Rock, Savannah, Indianapolis, Kansas City, Bowling Green, Memphis, Tifton, Joplin, Omaha, and Tulsa markets.
Markets that are seeing more than 40% rejection rates are the Fort Wayne, Cedar Rapids, Ontario, Los Angeles, Columbia, Twin Falls, Fort Worth, Dallas, and Houston markets.
The areas with the biggest decreases in rejections at the end of last week were Detroit, MI, Houston, TX, and Memphis, TN.
Chart Below: (Source: Freightwaves/Sonar) The image below tracks tender rejections for the last four years. 2021 is blue, 2020 red, 2019, green, and 2018 in purple.
Weighted Tender Rejections
The chart below shows the weekly change in rejection rates as of Monday, June 21, in some of the largest markets, with the top right showing the biggest increase in rejections in the Dallas, TX, market and the biggest loosening on the bottom right, in the Denver, CO, market.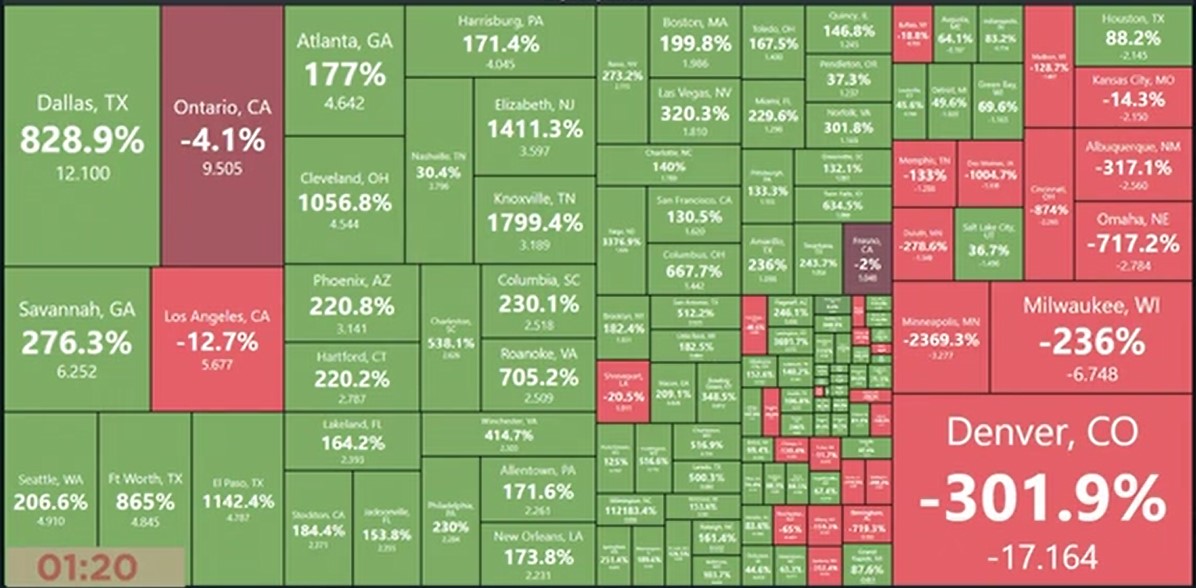 National Outbound Tender Volumes
Volumes and lead times both remain extraordinarily high as rejection rates tick upward, after seeing a brief decline. Import volumes from the Southeastern ports are beginning to flow into the truck market, tightening capacity further. Ontario, CA, is at historic volume levels and Atlanta, GA, also is seeing extremely high volumes.
The greatest increases in volumes: As of June 17, the biggest increases in volume have been Houston, TX, Stockton, CA, Detroit, MI, and Chicago, IL.
The biggest decreases in volume: at the end of last week were in Los Angeles, CA, Chattanooga, TN, Charlotte, NC, Joliet, IL, and Memphis, TN.
Chart Below: (Source: Freightwaves/Sonar) The image below displays outbound tender volumes in blue compared with the last three years.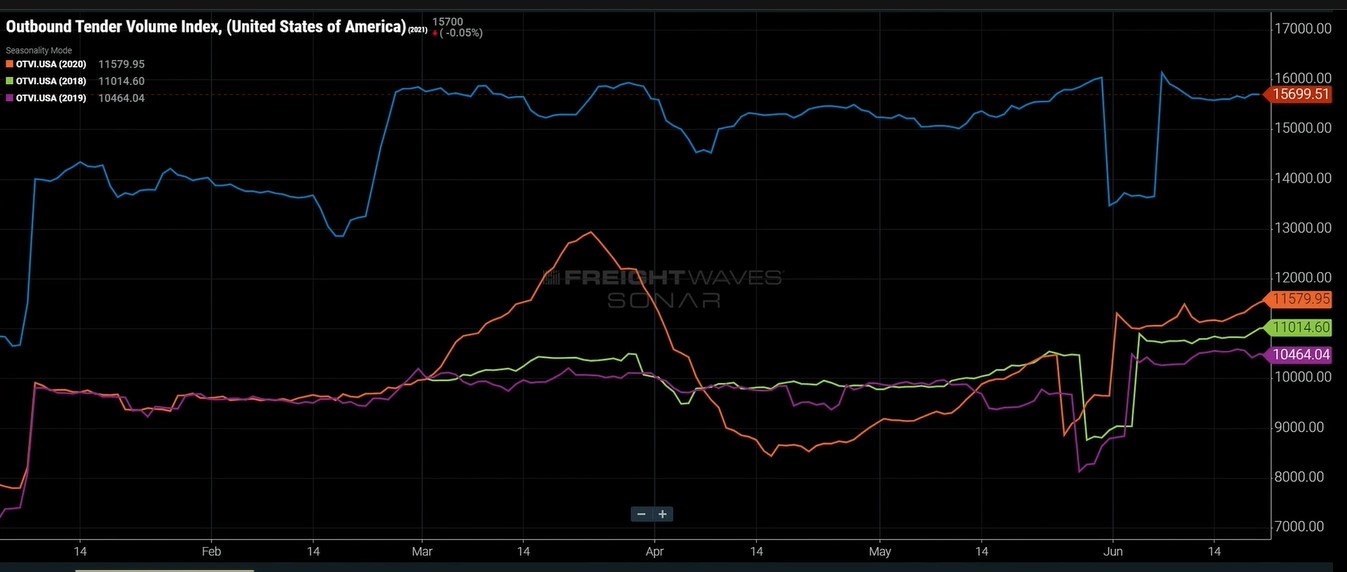 Lead Times
As volumes remain high and rejection rates increase, so do lead times. On a national level, reefer lead times currently sit at 3.99 days, whereas van lead times are slightly lower at 2.67. Some areas, like Atlanta, should extend their lead times to 4.5 days as the market is already showing signs of tightening up as we approach the Fourth of July holiday.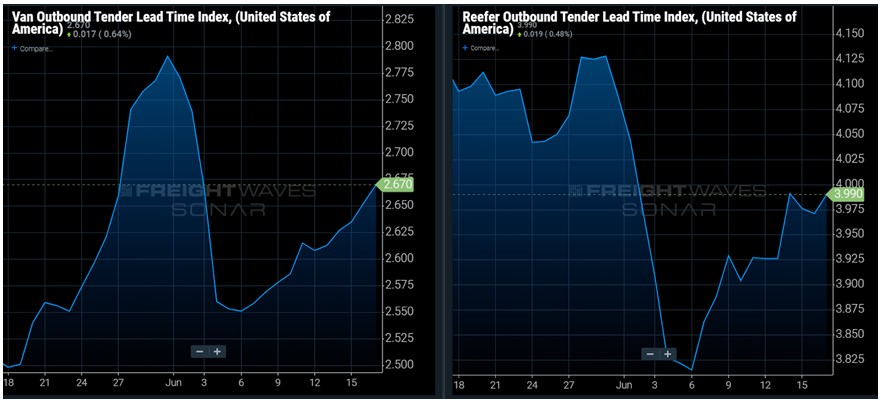 Intermodal Rail
Intermodal volume has remained high this month, up 22.8% year-over-year, for the past week. This exceeds even 2018 bull-market levels when freight was plentiful for all modes of transport.
Intermodal container shortages, however, continue to hamper domestic rail capacity since ocean capacity is so limited and returned containers are being delayed overseas.
Freightwaves Sonar Monthly Report explains, "The chart below shows the intermodal savings rate (blue line), graphed against U.S. tender rejections (green line). The intermodal savings rate is the difference between truckload contract rates and intermodal contract rates on freight movements that have the same three-digit origin and destination and that were moved on the same day."
The current savings index shows 21.39% while the national outbound tender rejection rate is at 24.43%.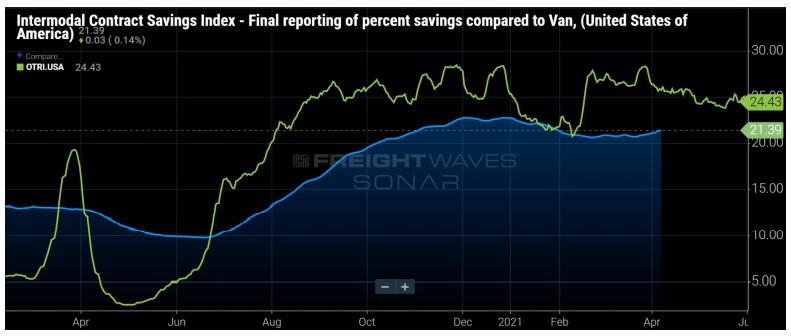 Economic News
Our economy is seeing a shift from exclusively buying goods to purchasing services again. The services sector accounts for approximately 70% of the U.S. economy in any given year. In 2020, however, just about all service-related businesses came to a virtual standstill. Instead, Americans decided to buy things with their disposable income because they couldn't spend it on services such as entertainment, travel, or dining.
But things are changing, as is evident from the chart below that shows a significant increase in air travel this year. The blue line is 2021 and clearly indicates that people are flying again.
And it is no wonder. July is the second-largest vacation month, only behind the week between Christmas and New Year's Day, so expect that blue line to continue to travel upward. Will people continue to buy "things" once services make a full recovery, or will they keep the supply chain on its toes with continued high demand for goods? (Chart: Kevin Hill / Katelyn Murphy, Freightwaves)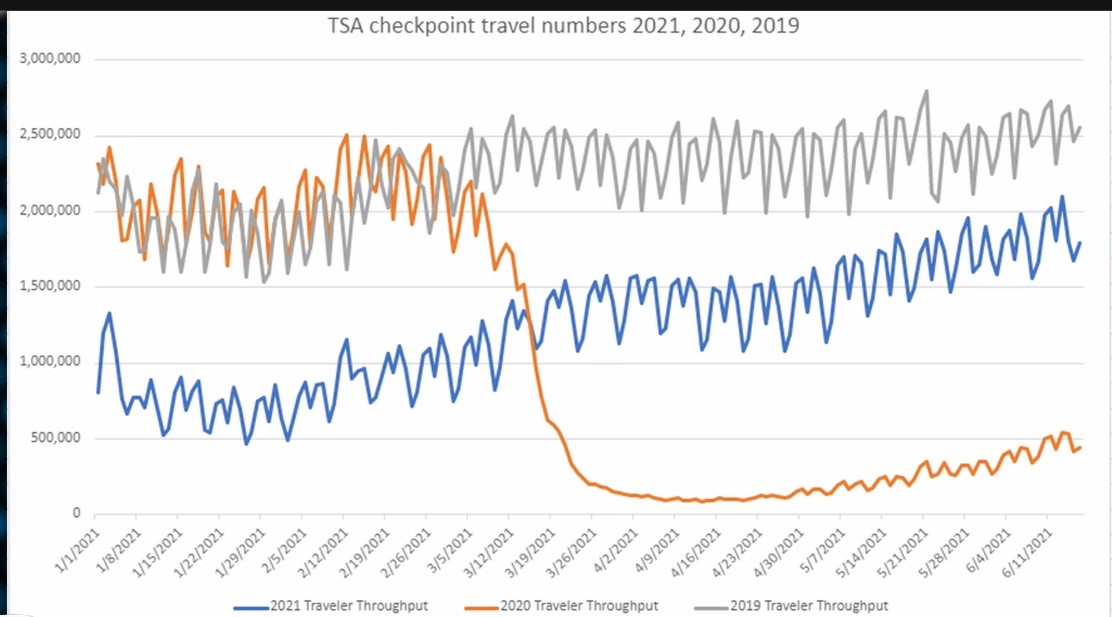 Services versus Durable Goods
The chart below shows the non-manufacturing index, which refers specifically to the services sector as opposed to the ISM's manufacturing index. Everything from airports to hotels to restaurants is seeing a sudden surge of pent-up demand. Jobs in these fields are plentiful. (Chart: Freightwaves/Sonar)

Employment/Jobless Claims
In an unexpected turn of events, the Department of Labor reported initial jobless claims rose the week of June 7. Unemployment insurance filings went from 375,000 the week prior to 412,000. This was a surprise as many states are doing away with the federal increased weekly unemployment benefits.
The report reveals that two states were mainly responsible for the increase-- Pennsylvania, which increased by 21,590, and California, which rose by 15,712.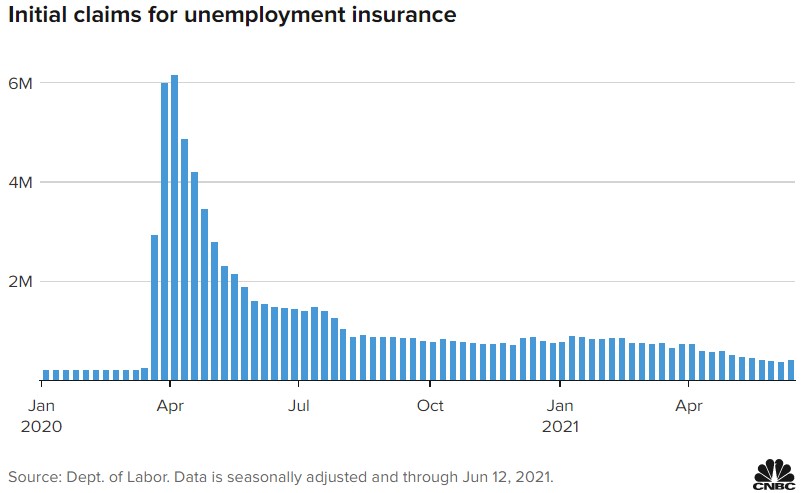 Continuing Claims
Unlike initial jobless claims, continuing claims changed little and are hovering around the 3.52 million mark. That may sound high, but one year ago, that number was 18 million.

Market Conditions
This morning's market conditions are shown below for the previous day for van, reefer, and flatbed. Areas in red are extremely tight.
Van Capacity
Dry van capacity is very tight out of Houston, TX where the load-to-truck ratio is 11,598/906. Also, Ontario, CA with 10,535/1,005 and Atlanta, GA showing a load-to-truck ratio of 10,966/1,832.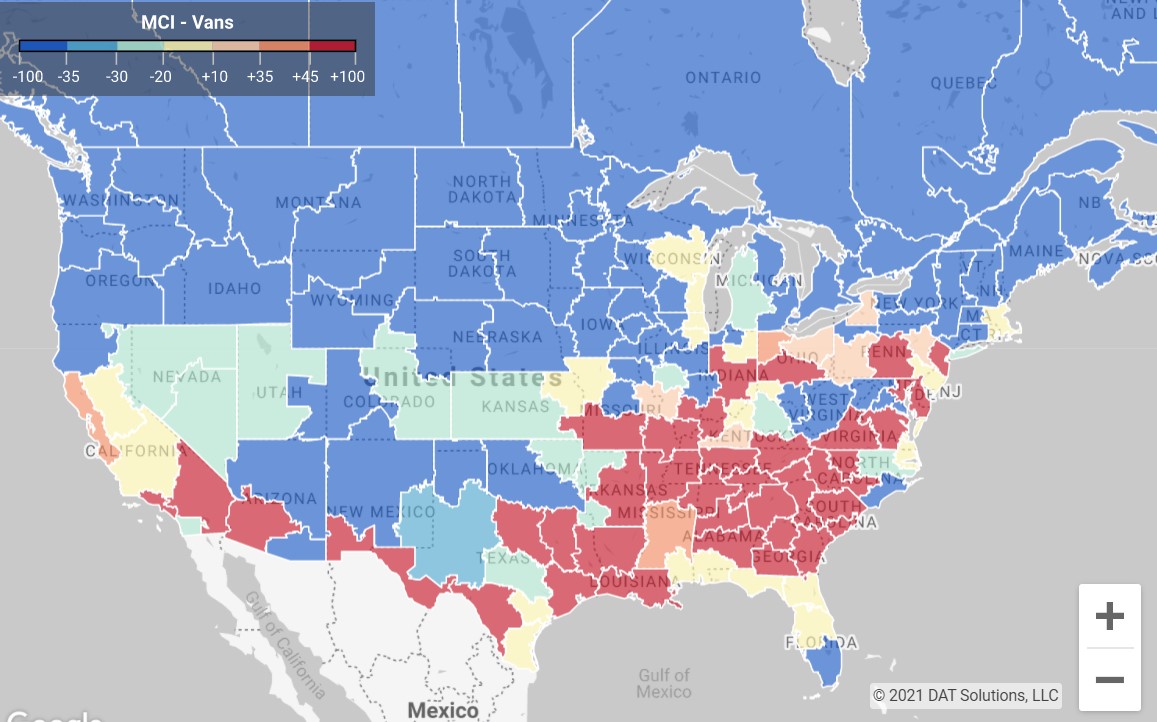 Reefer Capacity
Reefer capacity shortages are showing up in McAllen, TX where the load-to-truck ratio is 3,919/128 and Savannah due to an influx of imports, making the load-to-truck ratio 2,915/27.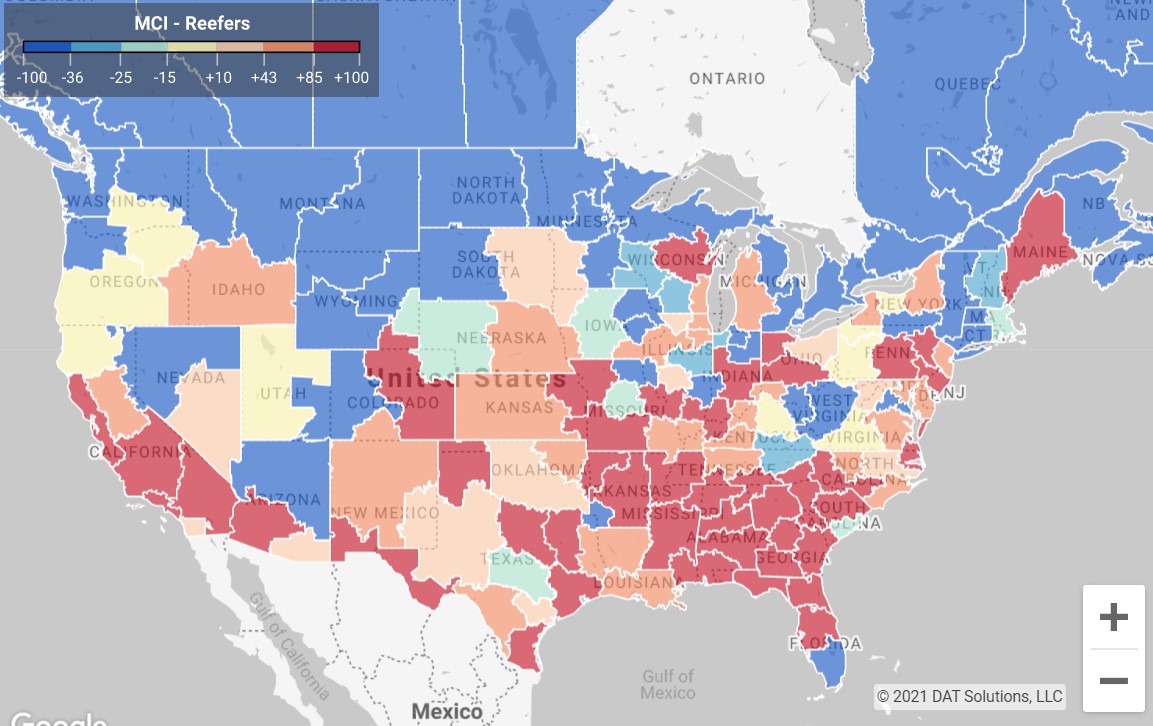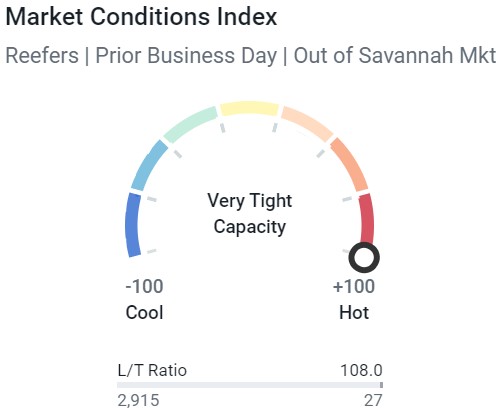 Flatbed Capacity
The flatbed capacity map seems to be continually and overwhelmingly red. There simply is not enough equipment to cover the amount of freight that is moving across the country.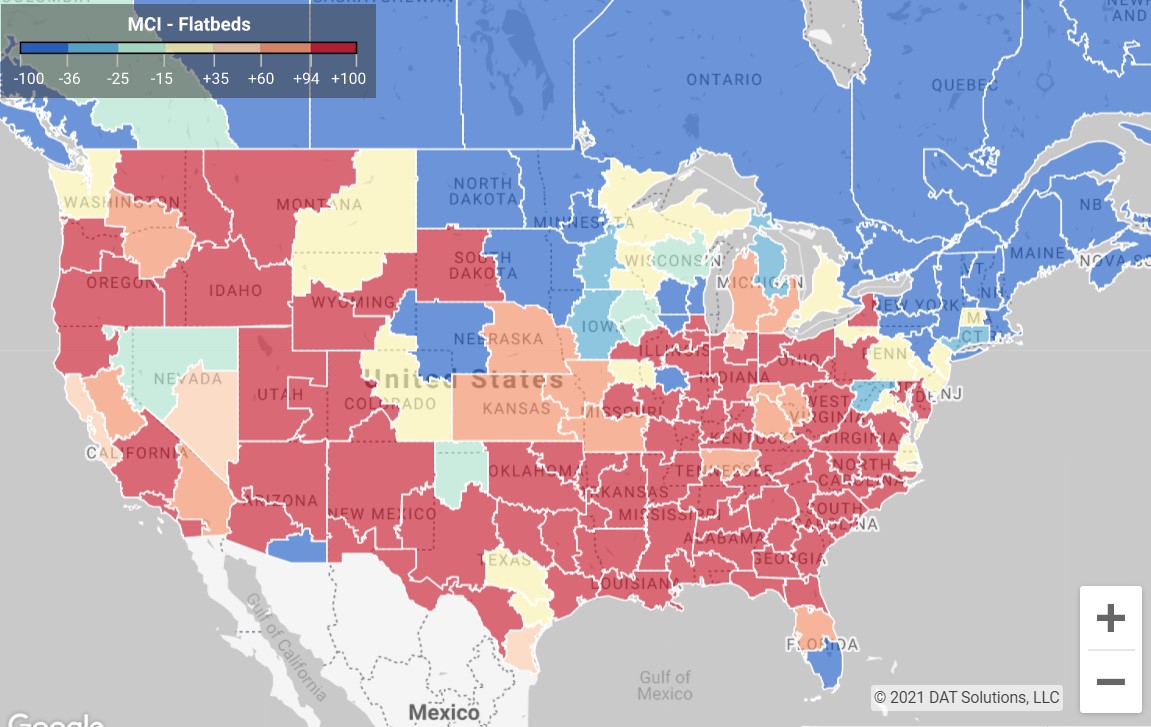 Shippers rely on the relationships they have with their 3PLs to ensure a smooth continuation of service whenever capacity gets tight. We hope you will continue to count on Choptank for all your freight needs, whether it be van, reefer, truckload, LTL, intermodal or cross-border shipping.
We would love to hear from you
What do you think about the Choptank Transport Market Brief? Do you find it helpful? Is there additional information you would like us to include or is there information you don't find relevant? Send comments to: marketing@choptanktransport.com
Have a Question? Ask one of our Experts
Your sales representative or a member of our professional logistics team is ready to help, so give us a call! 800.568.2240. If this information was forwarded to you and you would like to receive it, sign up here.