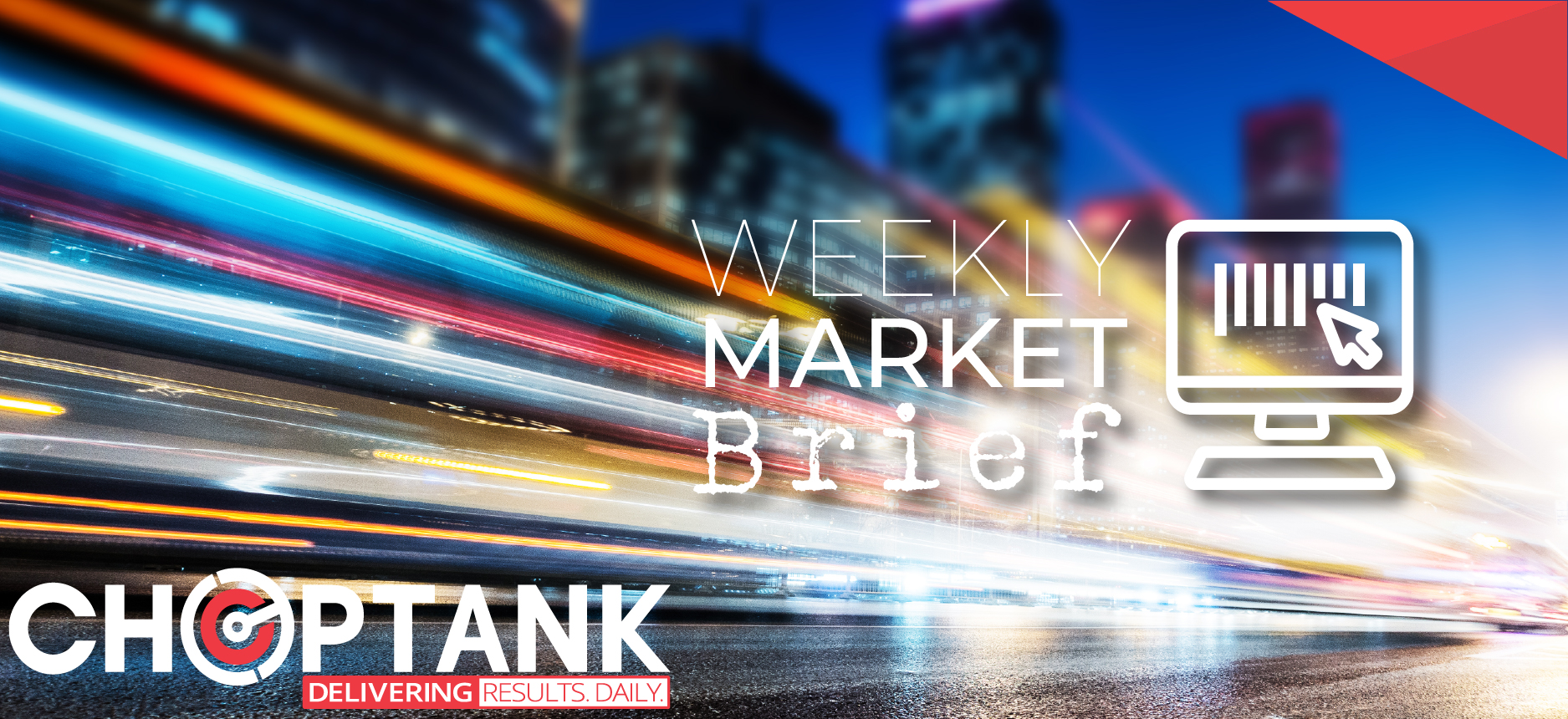 LTL Capacity Just Got a Whole Lot Tighter
June 15, 2021
The Choptank Weekly Market Brief is offered exclusively to Choptank Transport customers to provide accurate, timely and relevant freight market information. The contents of this brief are collected from reputable sources including DAT, Freightwaves/Sonar, Truckstop.com, the Department of Labor, the Department of Transportation, and other sources as cited throughout the brief.
A couple of weird things happened this week. I have to mention, of course, the whale that swallowed the lobster diver. Talk about a logistical nightmare. How does one extricate oneself from the throat of a humpback? It is a real-life Jonah story and no doubt, the diver will have stories to pass down for generations to come.
The other bizarre thing that happened recently was a sudden announcement from FedEx. If you ship less-than-truckload (LTL) freight, you already may have heard the news: Capacity for LTL shipments is about to get a whole lot tighter.
On Friday afternoon, with no advance notice, FedEx gave walking papers to 1,400 LTL customers saying it would no longer be servicing those accounts, at least until further notice.
Anyone following the freight market knows that volumes have been soaring for months, and the transportation industry is having trouble keeping up. Carriers now have the luxury of deciding what freight they want to accept and what freight they want to reject, especially in the LTL marketplace where profitability can often be slim to none.
The practice of weeding out customers that provide little to no profit is not new. It is a necessary practice for businesses to remain viable, but what is different about this instance is that there was virtually no notice. Friday afternoon, customers were told there would be no Monday pickups. That is less than a single business day.
However, FedEx is certainly not the only game in town. There are other LTL carriers--Choptank Transport being one of them. Choptank handles cold LTL and dry LTL with dedicated logistics teams for both services. If you are in need of an LTL quote, just click on the graphic below.

_______________
This week's video
Why There Are So Many Shortages
Is COVID-19 Responsible? Well, yes and no.
Just a heads-up: This video is 20 minutes long, but it clearly explains the fragility of our global supply chain.
Number of the Week
$6,341.00
A 40-foot container coming to the United States from Yantian, China, now costs US$6,341 to transport, up 63% since the start of 2021, and triple what it was in 2020.
---
What's Up in the Spot Market?
June 7 - June 13 - The national average spot rates for this month have flattened out with very little movement since last week, although overall loads are up. Dry van load-to-truck ratios declined a little more than 5%, whereas reefer load-to-truck ratios increased by 6.4% week-over-week.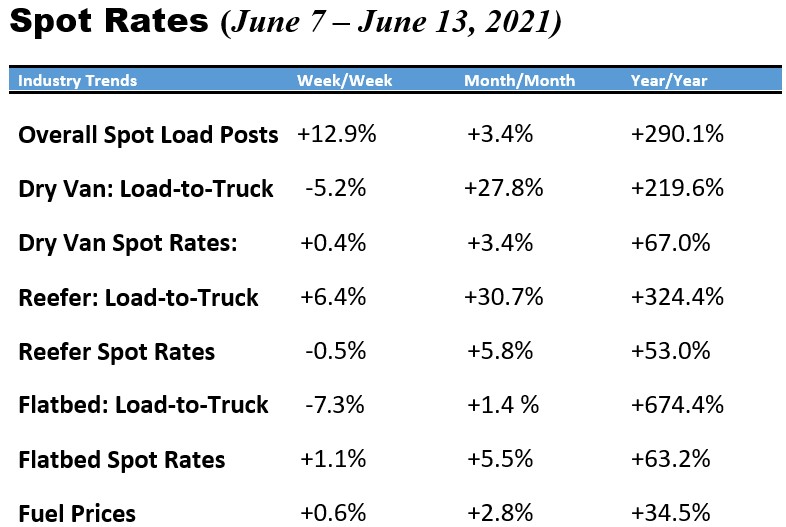 National Outbound Tender Rejections
Both van and reefer rejection rates dipped last week, coming in at below 23%, which the market has not seen since February. This suggests a possible stabilizing of the market, although rejection rates are still far above "normal." Contract rates increased 8% in May. Accepted volumes also increased by 7% from early May. Even though an 8% increase sounds substantial, the higher accepted volumes kept some freight out of the spot market where shippers can pay up to 30% more for on-demand services.
Freightwaves reports, "Shippers should expect rejection rates to slowly trend down next week, but the trend will be short-lived as we approach the end of the month."
Areas with the most volatility in rejections: As of Monday, June 14, the biggest daily increases in rejection rates were Houston, TX; Columbus, OH; Lakeland, FL; Los Angeles, CA; Ontario, CA.
The areas with the biggest decreases in rejections were Stockton, CA, and Detroit, MI
Chart Below: (Source: Freightwaves/Sonar) The image below tracks the last 12 months of national outbound tender rejections.

National Outbound Tender Volumes
Outbound tender volumes took a dip to 15,727 last week (even lower than the chart shows below) as tender rejections fell to 22.54%. Even though volumes and rejections showing a downward trend, overall volumes are still extraordinarily high.
The greatest increases in volumes as of Monday, June 14, were in the following markets: Charlotte, NC; Joliet, IL; Los Angeles, CA; Chattanooga, TN; Ft Worth, TX.
The biggest decreases in volume were in Memphis, TN; Indianapolis, IN; Allentown, PA; Stockton, CA; Dallas, TX.
Chart Below: (Source: Freightwaves/Sonar) The image below displays outbound tender volumes for the last 12 months, with holiday dips clearly visible.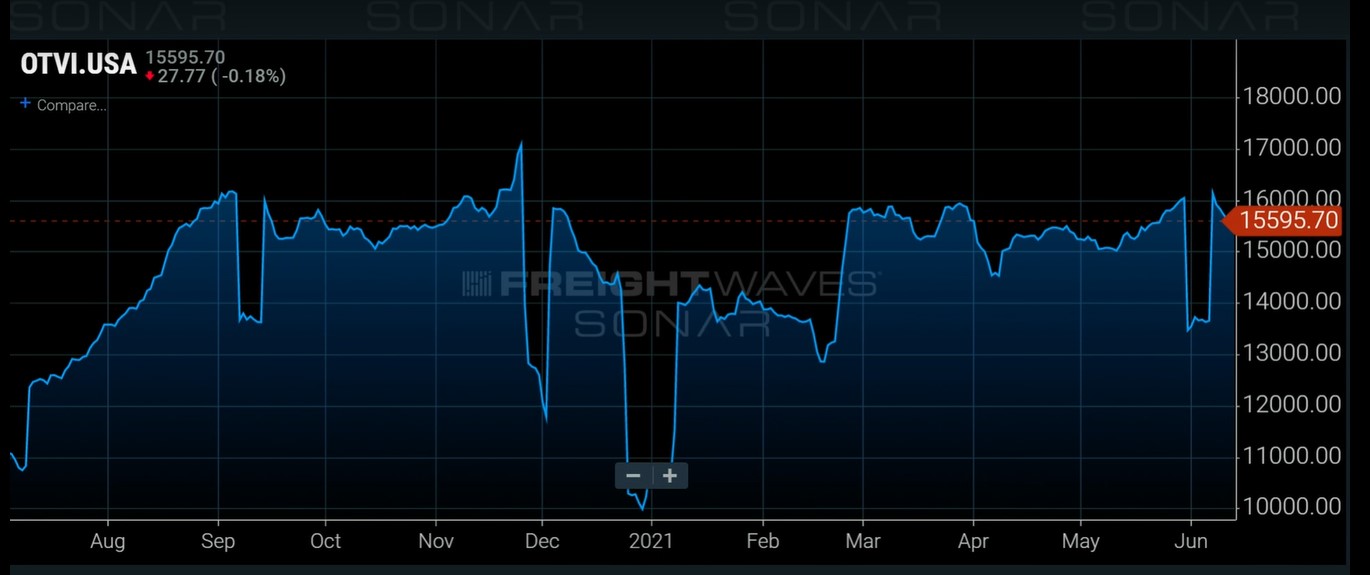 Intermodal/Rail
According to Intek, the domestic intermodal spot rate index for the week of June 7 indicated the following:
Up 0.3% from prior week.
Down 2.4% from 90 days ago.
Up 62.9% from prior year.
Intermodal Volume by Region
United States: 18.7%

Canada: 13.7%

Mexico: 1.3%
Intermodal Volume by Equipment Type
Container: 16.3%

Trailer: 24.2%
Comparison of Truckload to Intermodal Spot Rate
The national truckload spot rate increased 1.1% last week, as reported by the DAT Trendline Report. Domestic 53-foot intermodal spot rates decreased 0.3% (on a weighted average mileage basis) from the prior week.
Ocean Freight
Ocean freight spot rates keep accelerating, and there is no sign of slowing. Port congestion is no longer just a West Coast dilemma; a new logjam is happening in Asia as well.
Yantian, one of China's largest southern ports, is dealing with a new COVID outbreak causing the busy port to be temporarily sidelined, waiting to unload 160,000 containers. Taiwan and Thailand also are experiencing another wave of virus outbreaks.
According to the article in American Shipper, "In general, lead times to get containers onto ships in Asia are lengthening. According to a panelist on the Cowen call, 'Historically, space on vessels is booked around two weeks in advance [but it is now taking] four to six weeks and sometimes up to eight weeks.'"
According to Flexport, "Capacity constraints along with limitations at both origin and destination continue to push out transit times across all lanes." It characterized the cargo-space situation on the trans-Pacific as "critical."
The situation has become so dire that some retailers have hired their own private cargo ships. Home Depot, for example, has contracted a private vessel for its own use. Read the story.

Economic News
Consumer packaged goods (CPG) are hyper-exposed to inflation because the ingredients they use are often agricultural ones (mainly corn-based). These base-products have seen a rise in costs over the last 12 months. In addition, transportation and packaging costs are increasing. Labor shortages too are becoming a serious problem in the manufacturing industry.
In a recent Freightwaves Passport research report, the J. M. Smucker Company reveals the inflationary pressures many CPG companies are having to deal with.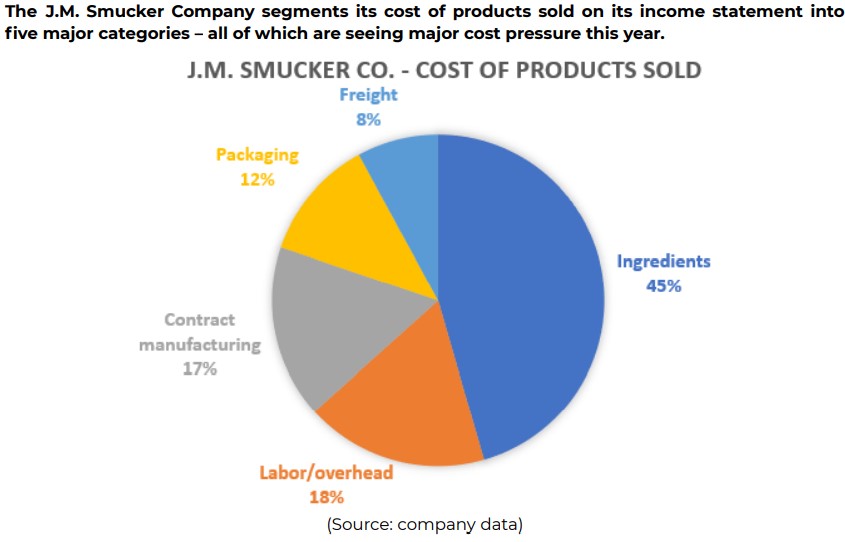 According to the Institute of Supply Management Metrics, the Manufacturing Customers' Inventory Index shown below is at a historic low.
(Chart: Freightwaves/Sonar)

Employment/Jobless Claims
According to a June 5 report, initial jobless claims fell for the sixth straight week to another pandemic low of 376,000. This is not too far off from what some would consider "normal" levels, or at least within sight of pre-pandemic numbers. Just before the pandemic sent claims sky-high, initial jobless claims were hovering around the 200,000 mark.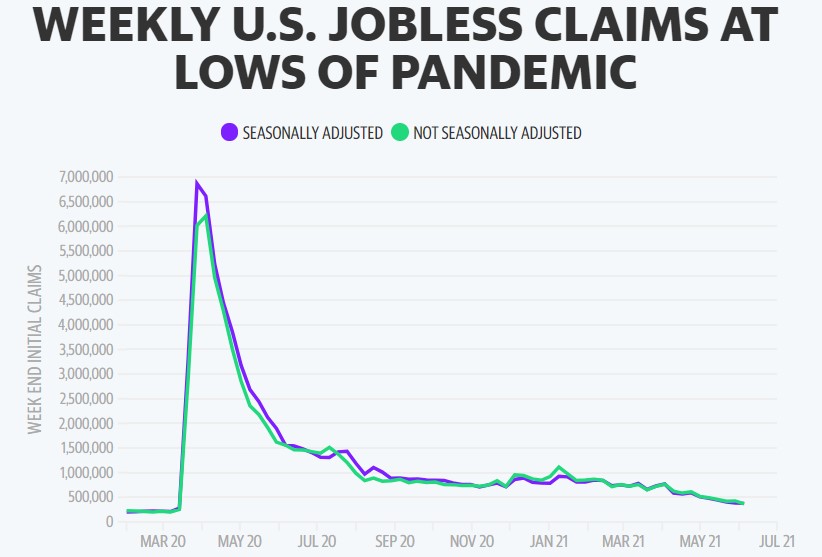 Source: U.S. Dept of Labor
Market Conditions
This morning's market conditions are shown below for the previous day for van, reefer, and flatbed. Areas in red are extremely tight.
Van Capacity
Houston, Little Rock, Atlanta, and Memphis are just a few markets experiencing very tight capacity this week. Houston's load-to-truck ratio is 9,806/959, Charlotte: 5,827/977, and Atlanta:10,890/1,798.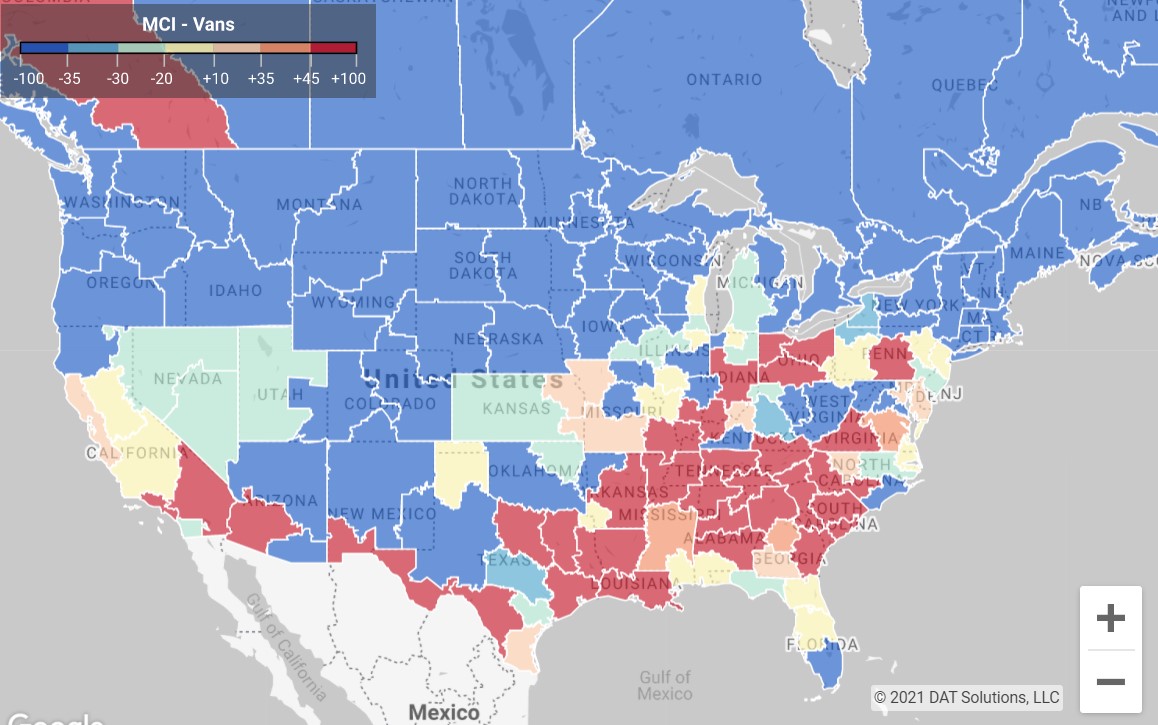 Reefer Capacity
Reefer capacity shortages are widespread across the United States with areas like San Francisco: 3,048/147, New Orleans: 1,899/56, Kansas City: 2,112/151, and Albuquerque: 1,067/25 showing significant truck deficits.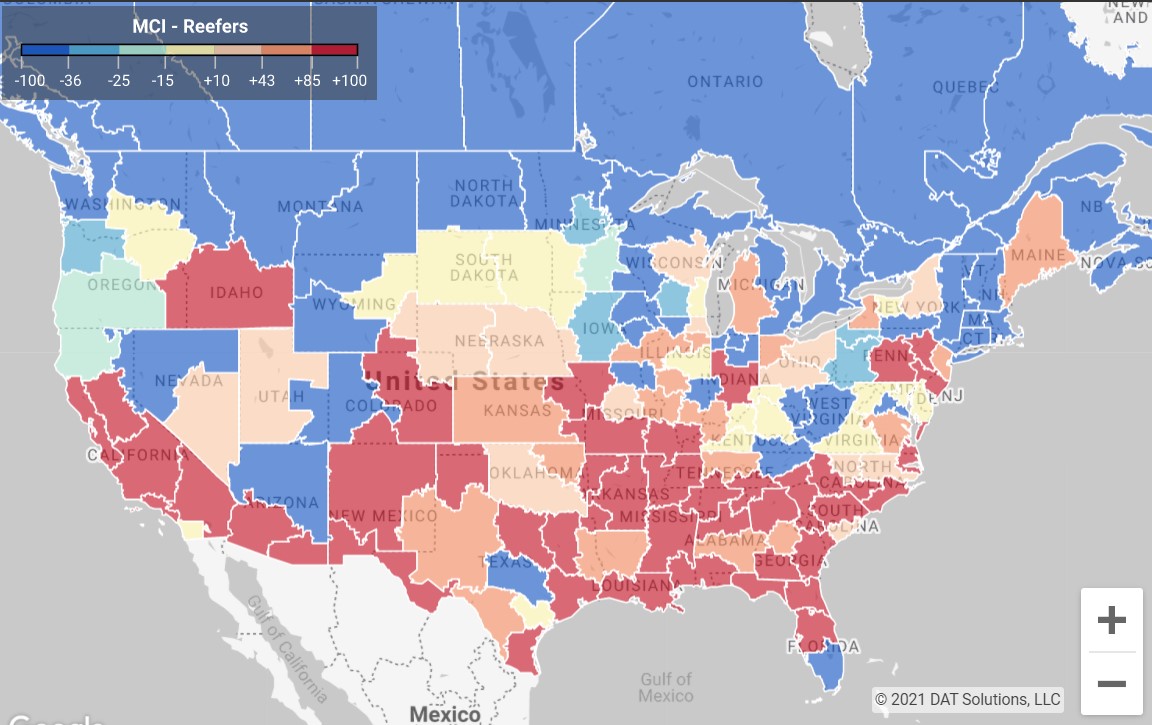 Flatbed Capacity
Flatbed capacity continues to be constrained across most of the country. Areas that are especially tight this week are Houston: 17,849/256, Savannah: 14,239/40, Montgomery: 10,315/28, Medford: 7,372/21, and Cleveland: 9,704/152.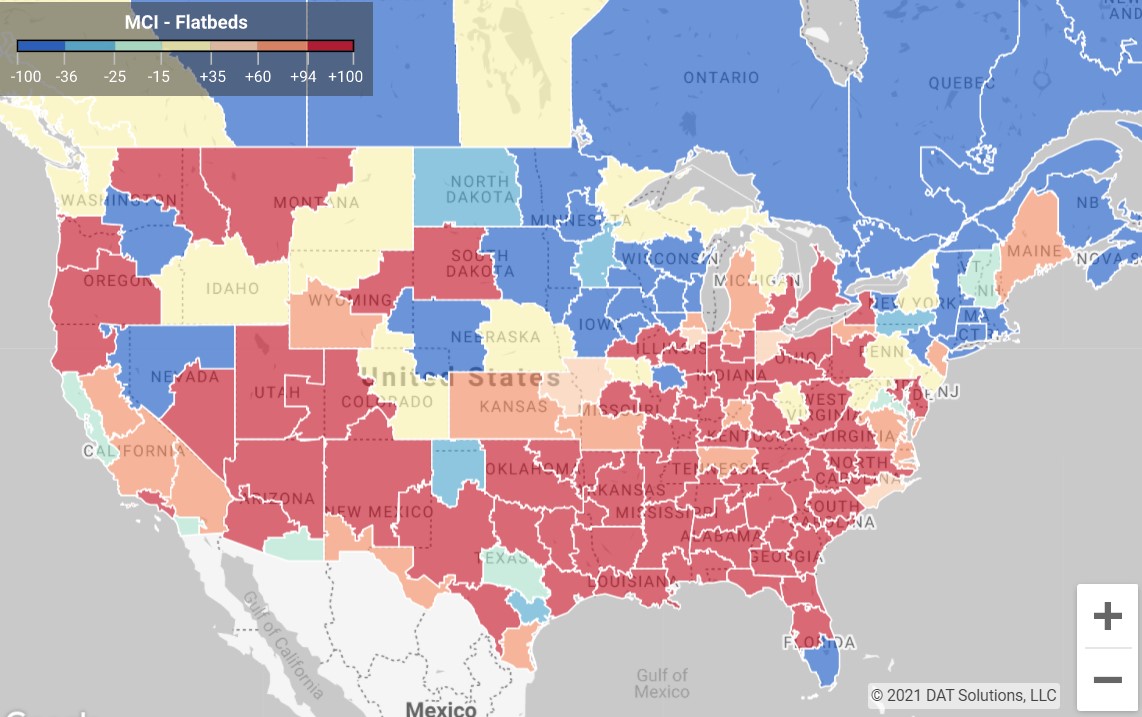 Shippers rely on the relationships they have with their 3PLs to ensure a smooth continuation of service whenever capacity gets tight. We hope you will continue to count on Choptank for all your freight needs, whether it be van, reefer, truckload, LTL, intermodal or cross-border shipping.
We would love to hear from you
What do you think about the Choptank Transport Market Brief? Do you find it helpful? Is there additional information you would like us to include or is there information you don't find relevant? Send comments to: marketing@choptanktransport.com
Have a Question? Ask one of our Experts
Your sales representative or a member of our professional logistics team is ready to help, so give us a call! 800.568.2240. If this information was forwarded to you and you would like to receive it, sign up here.