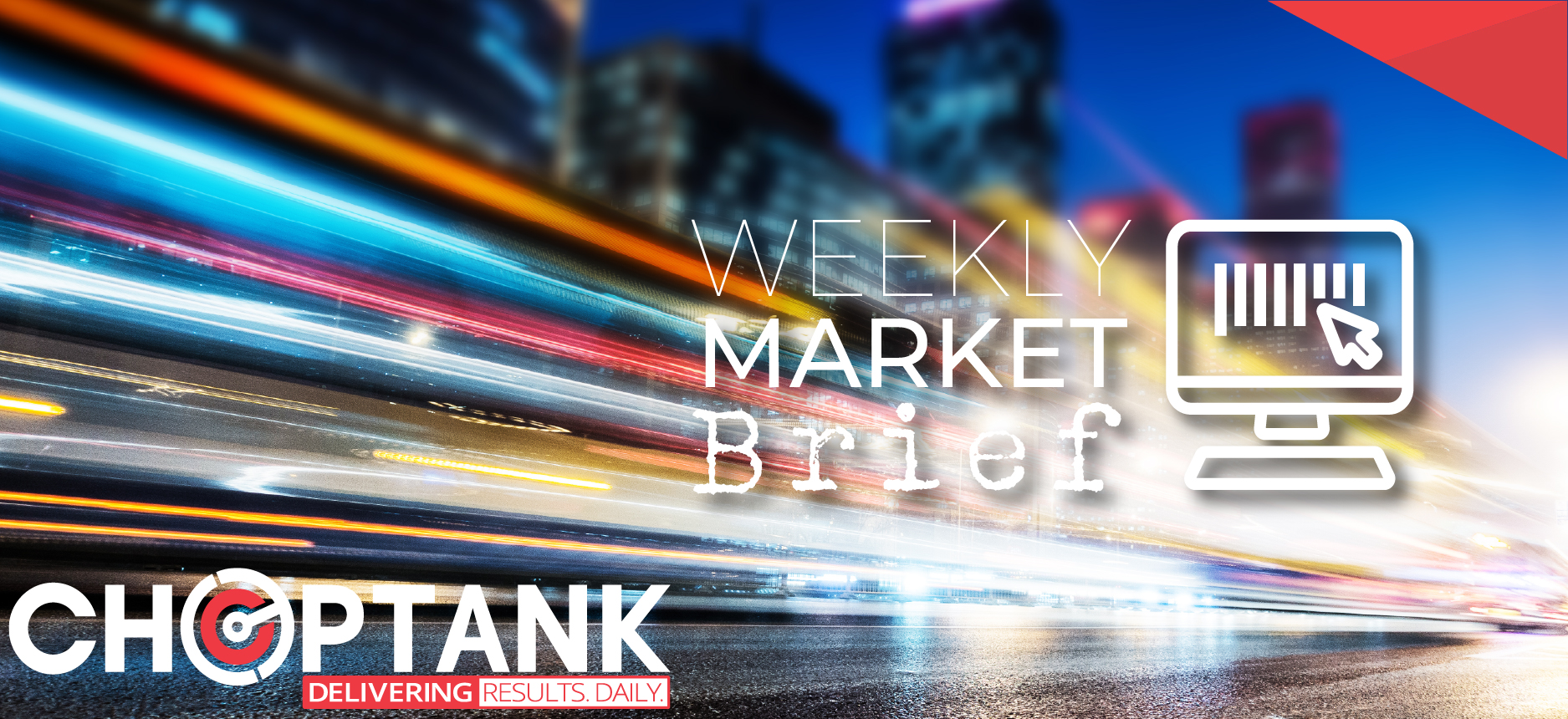 Hurricanes, Cyberattacks, and the 'Network of Connectivity'
June 8, 2021
The Choptank Weekly Market Brief is offered exclusively to Choptank Transport customers to provide accurate, timely and relevant freight market information. The contents of this brief are collected from reputable sources including DAT, Freightwaves/Sonar, Truckstop.com, the Department of Labor, the Department of Transportation, and other sources as cited throughout the brief.
What do the Colonial Pipeline cyberattack and hurricane season have in common? They both mark an era that suggests great vulnerability in our aging energy infrastructure.
Hurricane season began June 1, and after the fluky ice storms and an extreme cold snap in February, it thrust the Southern United States into an energy crisis of epic proportions. More than 4.5 million businesses and residences in Texas and neighboring states were without power. The massive failure of an energy grid of that size was a wake-up call for the country.
Several weeks ago, the disruption caused by the ransomware cyberattacks on the Colonial pipeline also affected millions of people.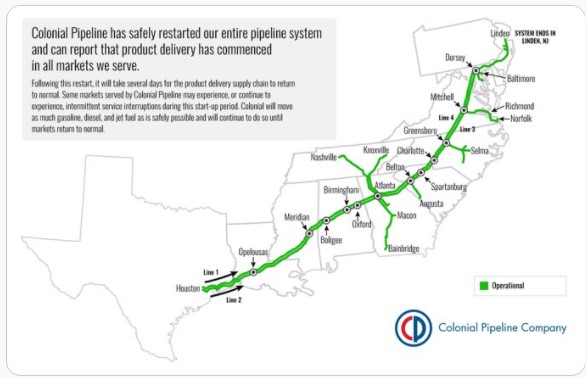 And speaking of cyberattacks, just three weeks after the pipeline incident, JBS SA, the world's largest meatpacker, had to temporarily shut down its U.S. and Australian operations due to a cyberattack. Although the issue was short-lived, CNBC reported, "The disruption quickly had an impact on Tuesday, industry analysts said. U.S. meatpackers slaughtered 22% fewer cattle than a week earlier and 18% than a year earlier, according to estimates from the U.S. Department of Agriculture. Pork processing was also down."
The article went on to note, "The supply chains, logistics, and transportation that keep our society moving are especially vulnerable to ransomware, where attacks on chokepoints can have outsized effects and encourage hasty payments," said threat researcher John Hultquist of security company FireEye.
As populations rise, our network of connectivity on this planet becomes a larger factor every year. Those of us in the supply chain are especially aware of how one hiccup along the way can have deleterious effects all down the line.
_______________
This week's video
How Vulnerable Are We to Cyberattacks?
Cyberattack disruptions are on the rise.
Transportation networks are just as at-risk as energy platforms and can cause further strain on the global supply chain.
Number of the Week
$4.2 Billion
The growing threat of cyberattacks is alarming. $4.2 billion is the number of estimated U.S. internet crime losses in 2020, resulting in 791,790 complaints--an increase of more than 300,000 from 2019. - FBI 2020 Internet Crime Report
---
What's Up in the Spot Market?
May 31 - June 6 - The national average van spot rate for this month is up to $2.72/mile. Reefer rates increased to $3.13/mile. Flatbed spot rates are still around $3.14/mile. Volumes have declined for the fifth straight week. Overall truckload demand, however, is slowly increasing.


National Outbound Tender Rejections
Reefer rejection rates historically start to increase the second week of June. Last week, reefer rejections decreased, slipping down to 38.12% (which we haven't seen since September 2020) while van rejections increased to 25.47%. But don't expect the lower rejections to stick around for long. As produce heats up along with the weather, so do the reefer rejection rates ahead of the July 4th holiday.
Freightwaves reported on June 7 that "Shippers in the Little Rock, Omaha, Bowling Green, Des Moines, Fayetteville, Nashville, Kansas City, Joplin and Tulsa markets are struggling with reefer rejection rates over 60%, and rates are over 50% in the Savannah, Indianapolis, Fort Wayne, Tifton, Jacksonville, Houston, Ontario and Los Angeles markets."
Areas with the most volatility in rejections: As of Monday, June 7, the biggest daily increases in rejection rates were Houston, TX (15.462%), Memphis, TN (3.665%), Atlanta, GA (2.558%) and Indianapolis, IN (1.231%).
The areas with the biggest decreases in rejections were: Columbus, OH (-7.772%), Elizabeth, NJ (-6.602%), Stockton, CA (-5.848%), and Fort Worth, TX (-4.884%).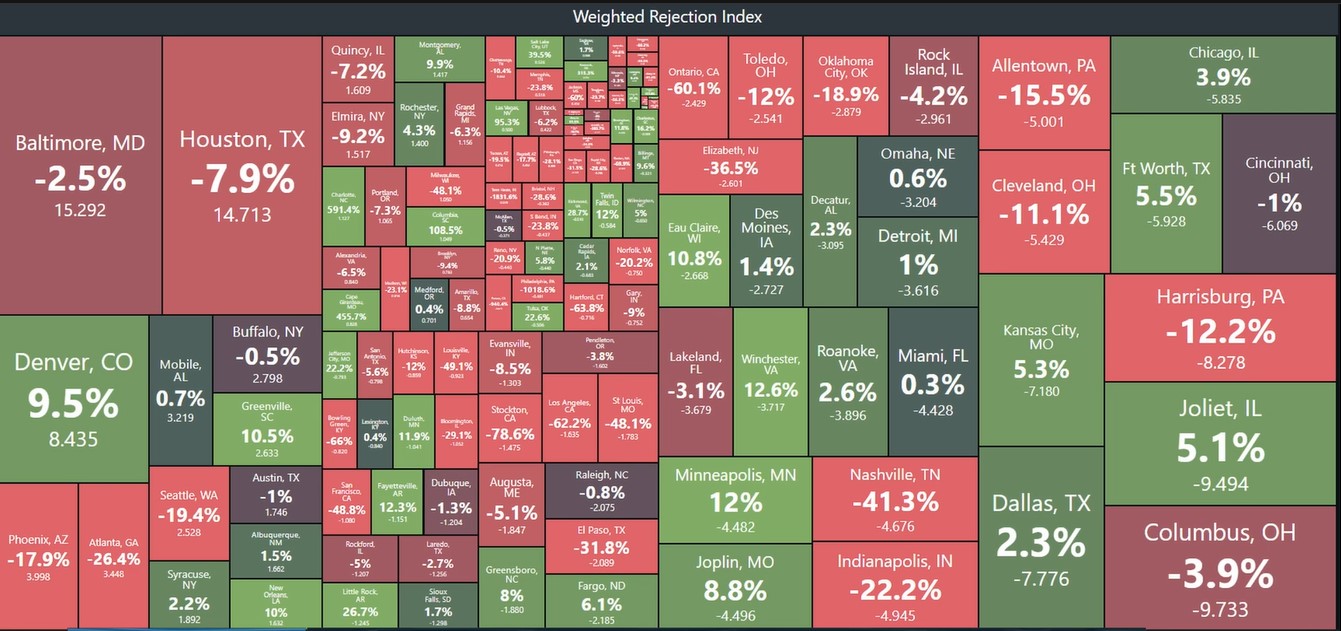 Chart Below: (Source: Freightwaves/Sonar) The image below shows national outbound tender rejections in blue for 2021 compared with the yellow line of 2020.

National Outbound Tender Volumes
The chart below may look a little alarming but it is the normal holiday dip typical of the Memorial Day weekend. Outbound tender volumes are expected to rise back up throughout the month. Shippers should work toward getting as much freight out the door as early as possible to avoid June's month-end rush at a time when some produce harvests begin to reach peak harvest and trucks are scarce.
The greatest increases in volumes as of Monday, June 7, were in the following markets: Detriot, MI (3.957%), Houston, TX (3.048%), Columbus, OH (2.587%), and Stockton, CA (1.586%).
The biggest decreases in volume were in Fort Worth, TX (4.480%), Kansas City, MO (-3.649%), Chattanooga, TN (-3.605%), and Elizabeth, NJ (-2.926%).
Chart Below: (Source: Freightwaves/Sonar) The image below shows the Memorial Day dip in volume, similar to (but not as severe as) Christmas day in December 2020. A strong rebound is expected this week with volume increasing until the 4th of July holiday.

Intermodal/Rail
Even with capacity constraints, U.S. rail traffic was reportedly up 28% in May.
Volumes for rail produced 2.12 million carloads and intermodal units. Intermodal units were up 1.15 million containers and trailers, up 26.2%.
According to the American Association of Railroads Senior Vice President John T Gray, May's intermodal carloads were the highest since October 2019. Also, volumes between January and May of this year have been the best period ever for U.S. railroads for the same time frame.
For the first five months of the year, U.S. carload volumes were up 7.3% to 4.83 million carloads, while intermodal traffic gained 19.2% year-over-year to 957,198 units.
Ocean Freight
The dire situation earlier this year at U.S. ports is reportedly improving but there are still problems that will keep freight delayed, such as insufficient warehousing space, container shortages, and aging chassis. Vessels are still waiting offshore, and Oakland now takes the title for being the busiest California port, surpassing Long Beach/Los Angeles.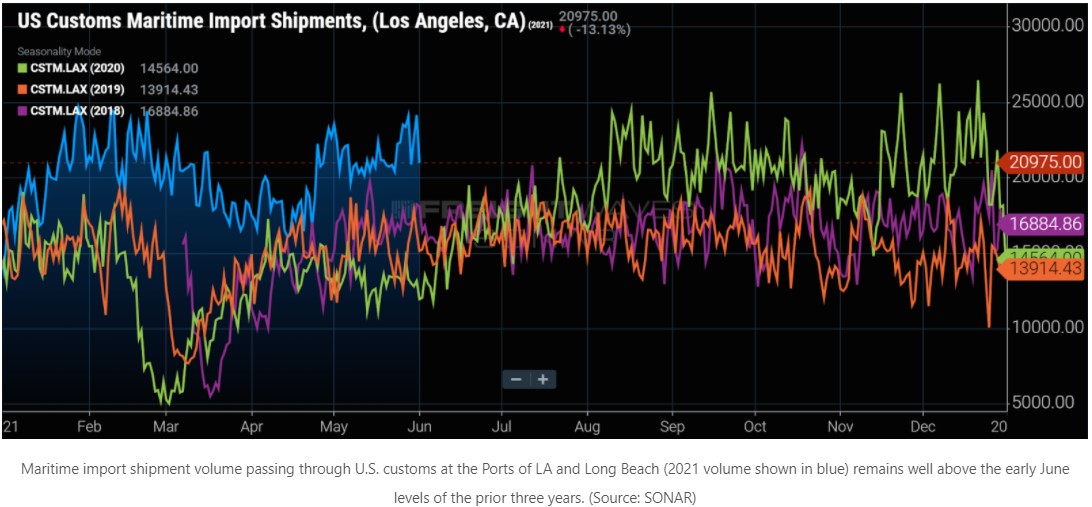 Economic News: Manufacturing & Inventories
As reported in an earlier Choptank market brief, the Institute of Supply Chain Management manufacturing report for May showed the Purchasing Manager's Index (PMI) at 61.2%. Anything over 50 is a sign of a growth economy.
Despite the good PMI news, retail inventories are still having trouble keeping up with demand. There are headwinds. For example, Dollar Tree faces staggering import costs and even as manufacturing surges, shortages may persist. The chart below shows that restocking woes are far from over for many large chain stores.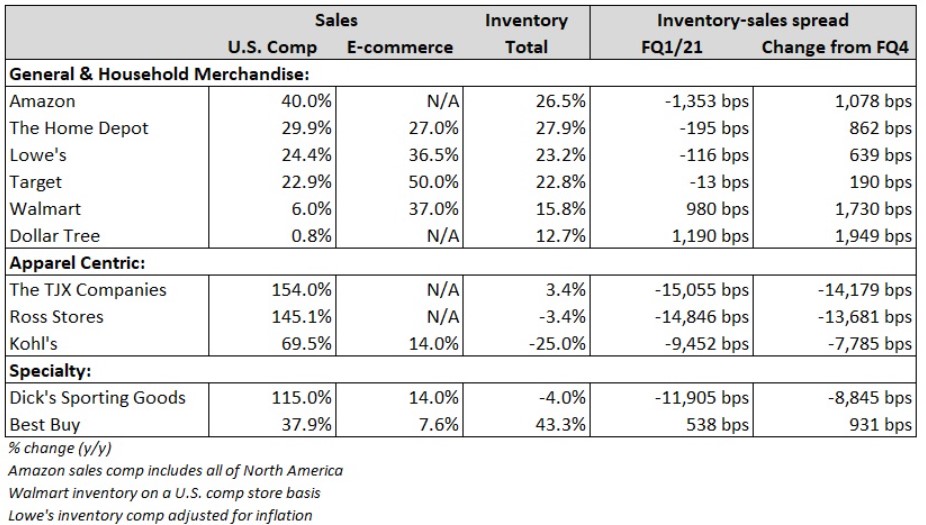 Employment/Jobless Claims
Jobless claims fell below 400,000 last week, another pandemic low. May reports show that the U.S. added 674,000 new positions for the month, according to the median estimate of economists at Bloomberg. Many of these jobs are in the services industry. This was not quite up to expectations, but it is still positive momentum.
There are varying official numbers regarding new jobs. For example, "According to a separate report by ADP Research Institute on Thursday, U.S. companies added 978,000 private payroll jobs in May, the most in nearly a year." Market Conditions.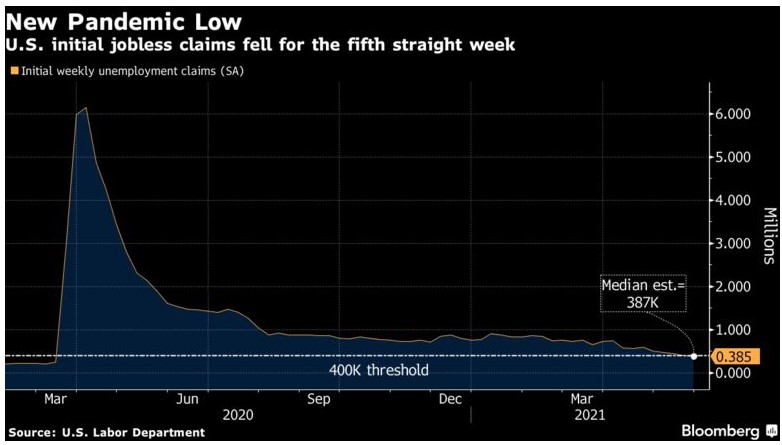 Market Conditions
This morning's market conditions are shown below for the previous day for van, reefer, and flatbed. Areas in red are extremely tight.
Van Capacity
Van capacity is still tight in the Southeastern part of the United States and in Southern California. The current load-to-truck ratio in Charlotte, NC, is 5275/1053; Greenville, SC, 5226/1508; Atlanta, GA, 11,480/1911; Ontario, CA, 9899/1069; and Memphis, TN, 7136/743.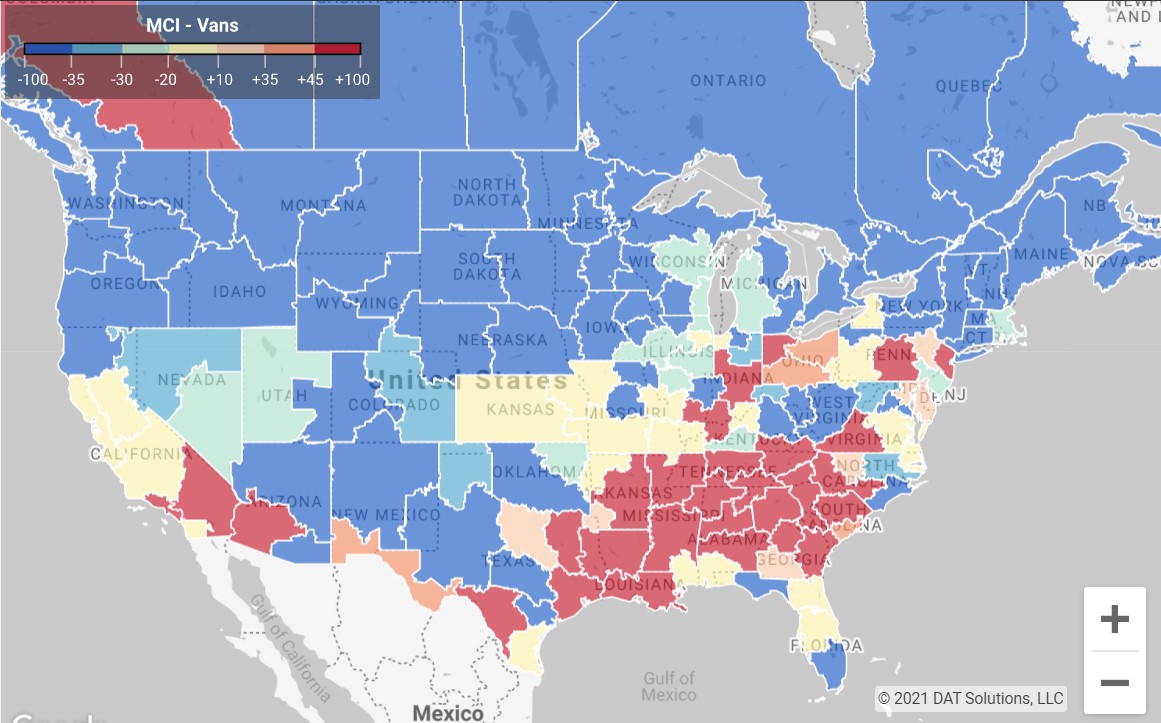 Reefer Capacity
Tight reefer capacity is evident along the California coast, the Southern U.S., and most of Florida. Twin Falls, ID, is also showing tight capacity with a load-to-truck ratio of 2040/105.
Flatbed Capacity
Flatbed capacity continues to be tight across the entire United States, week-over-week, and still no signs of loosening up.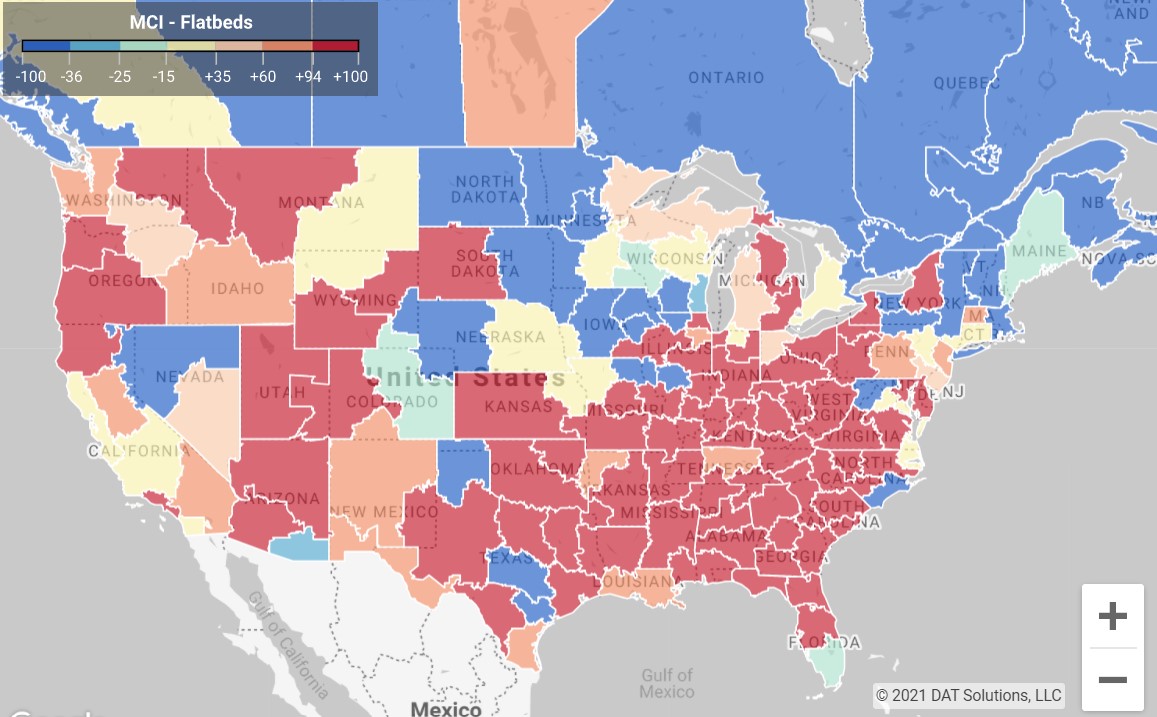 Who's Got the Power?
The needle is not moving on the DHL pricing power index as it remains at 70.
The pricing power index is a weekly gauge put out by DHL that indicates who has more sway in negotiations when it comes to pricing and freight rates. (Source: Freightwaves)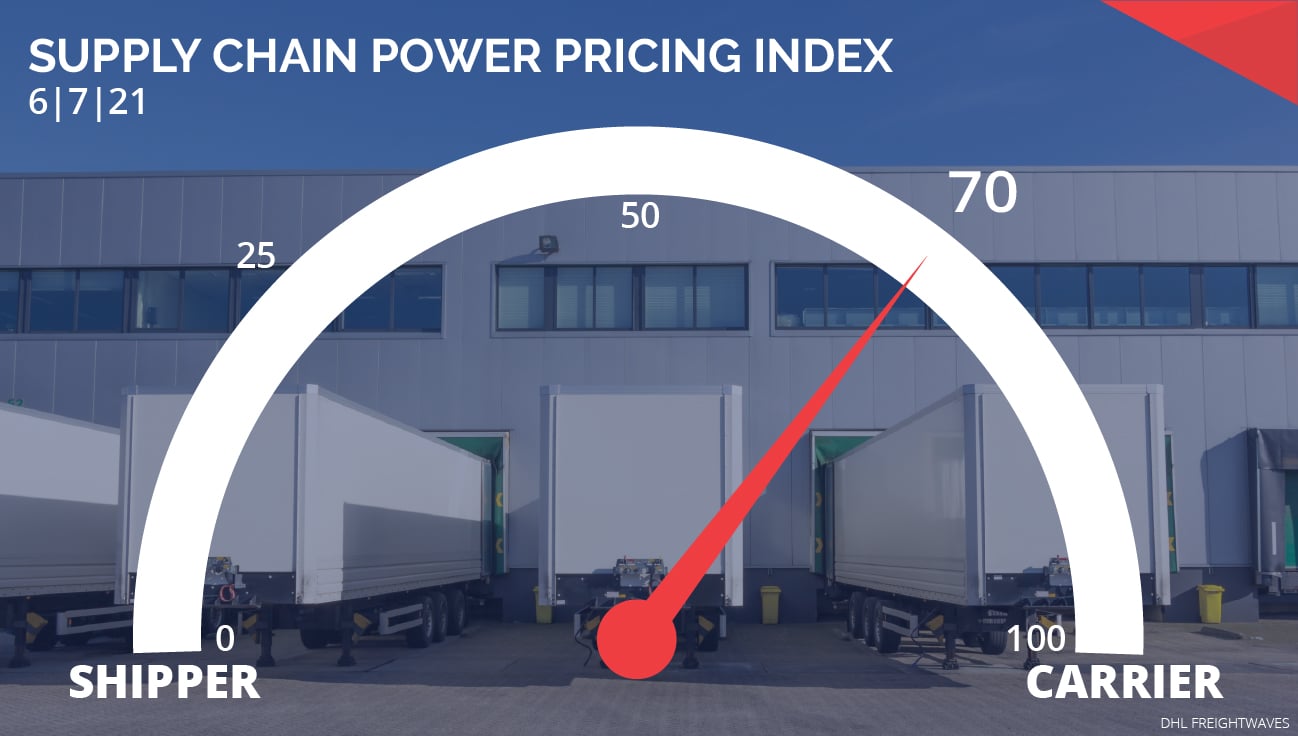 Shippers rely on the relationships they have with their 3PLs to ensure a smooth continuation of service whenever capacity gets tight. We hope you will continue to count on Choptank for all your freight needs, whether it be van, reefer, truckload, LTL, intermodal or cross-border shipping.
We would love to hear from you
What do you think about the Choptank Transport Market Brief? Do you find it helpful? Is there additional information you would like us to include or is there information you don't find relevant? Send comments to: marketing@choptanktransport.com
Have a Question? Ask one of our Experts
Your sales representative or a member of our professional logistics team is ready to help, so give us a call! 800.568.2240. If this information was forwarded to you and you would like to receive it, sign up here.