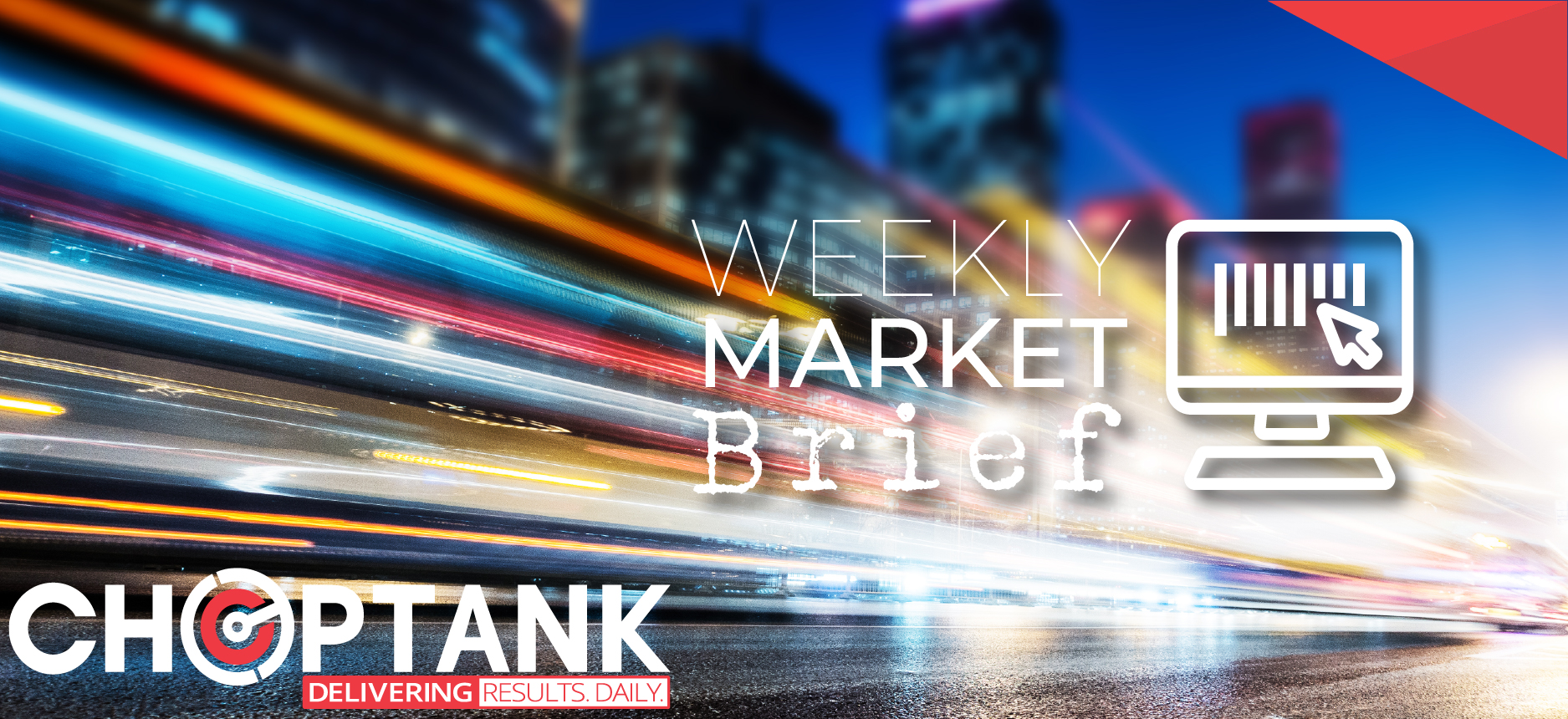 Memorial Day Weekend a Bust, Weather-wise, but Cherry Season Is Here!
June 1, 2021
The Choptank Weekly Market Brief is offered exclusively to Choptank Transport customers to provide accurate, timely and relevant freight market information. The contents of this brief are collected from reputable sources including DAT, Freightwaves/Sonar, Truckstop.com, the Department of Labor, the Department of Transportation, and other sources as cited throughout the brief.
For most of us, the weather this past holiday weekend dashed plans for outdoor fun and barbecues, but Monday, the actual holiday, brought plenty of sunshine, blue skies and low humidity. We'll take it!
The last few weeks in spring always bring the excitement of local produce up and down the East Coast. There is nothing like savoring a fresh strawberry picked right out of the field at peak season, which in the Mid-Atlantic is early May. Next come blueberries, making their trek up the coast, working their way up from Florida to North Carolina to New Jersey, finally petering out in New England at the end of the season.
On the West Coast, cherries are ready to harvest in California in early May, and they make their way up to the Northwest into Oregon and Washington beginning June 1. Here are a few little-known facts about those succulent little dark red orbs:
Cherries in the United States are harvested in a 12-week period.
Most cherries are picked, packed

and

delivered within two days!
The 2021 harvest is expected to be up by 20% over last year with an average of 900 truckloads shipping every week.
70% of cherries are grown in Washington State, 18% in California, and 7% in Oregon.
Produce season is upon us, and shippers can expect to feel the constraints of tighter reefer capacity as summer approaches.
_______________
This week's video
Amazing Freight Move
Did you know Choptank does overweight and oversized loads? For more information, contact our Heavy Haul division. (We did not assist with this shipment in the video, but it is pretty miraculous to watch!)
Number of the Week
1.7 Million
Air traffic is up! Did you know that since January, airline traffic has more than doubled?
1.7 million is the average number of people each day who took a flight in the past week, which is a post-pandemic record, according to Transportation Security Administration data. Passenger levels were still 30% below the same period in May 2019. Read more.
---
What's Up in the Spot Market?
The week of May 17 saw a drop in spot volume, with load posts declining by 8% in the top ten dry van markets as capacity leveled off and spot rates remained relatively flat. Last week's overall spot volumes were also down slightly from the prior week, which is unusual the week before Memorial Day weekend, when shippers typically push freight out the door prior to the holiday and before month's end.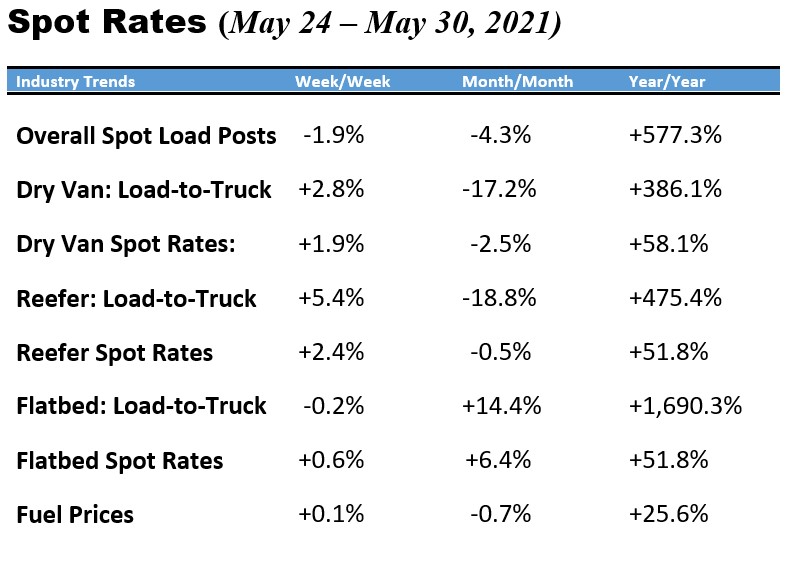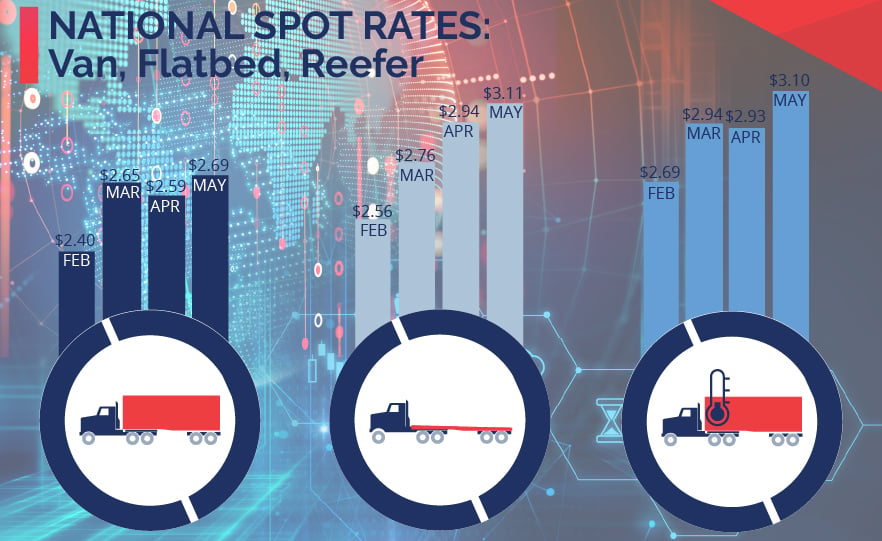 National Outbound Tender Rejections
Dry van outbound tender rejections fell to 25.02% on Friday after peaking last week at 25.94%. It is anticipated that spot rates will continue to fall during the first week of June, then start their ascent as the month goes on and demand increases as we get closer to the Fourth of July holiday.
Areas with the most volatility in rejections: As of Sunday, May 31, the biggest daily increases in rejection rates were Stockton, CA (4.518%), Detroit, MI (3.633%), Ft. Worth, TX (3.555%), Harrisburgh, PA (3.244%) and Dallas, TX (2.651%). The biggest decreases were Memphis, TN, Lakeland, FL, Atlanta, GA, and Charlotte, NC.
Chart Below: (Source: Freightwaves/Sonar) The image below shows volumes for both van and reefer in blue for 2021, green shows 2020, and orange tracks 2019.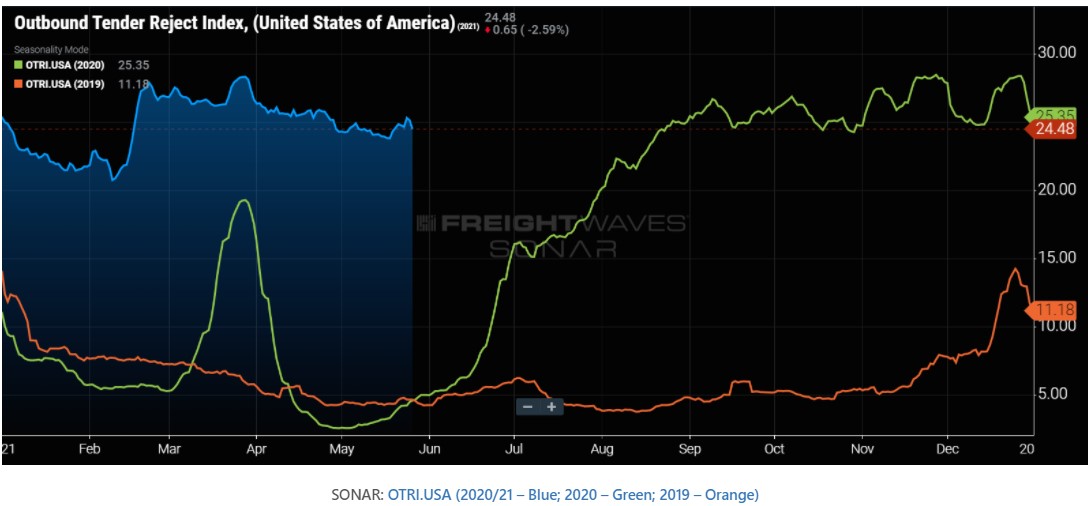 Outbound Tender Volumes (van)
Outbound tender volumes rose ahead of the Memorial Day weekend for dry van but held flat for reefer. Overall volumes fell down slightly toward the end of the week. The greatest increases in volumes as of Sunday, May 31, were found in Ft Worth, TX (7.784%), Chattanooga, TN (4.106%), Joliet, IL (3.021%), Los Angeles, CA (2.772%), and Kansas City, MO (2.679%). The biggest declines in volume were found in Detroit, MI (-3.877%), Stockton, CA (-1.568%), Chicago, IL (-1.521%), and Columbus, OH (-0.811%).
Chart Below: (Source: Freightwaves/Sonar) The image below shows volumes for both van and reefer in blue for 2021, green 2020, orange 2019, and purple 2018.

Chart Below: (Source: Freightwaves/Sonar) The chart shows the nationwide difference between dry van volumes in blue and reefer volumes in green.

Ocean Freight
American Shipper reported that on May 26, there were approximately ten ships off the Port of Oakland in the San Francisco Bay waiting to offload containers, but the image on the right shows the bigger picture, with 15 to 20 additional ships hovering out in the Pacific waiting to enter the Bay area. (Image: American Shipper)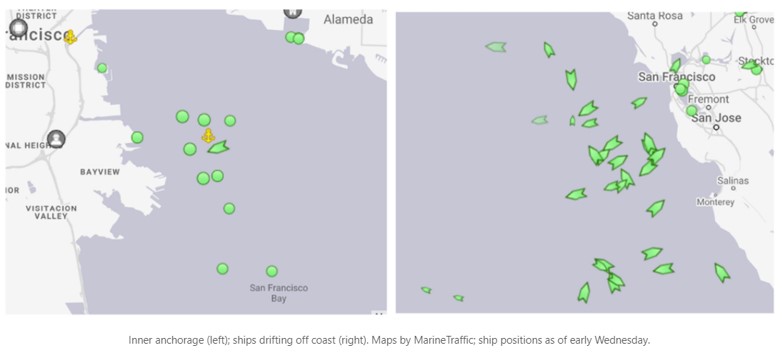 The Economy
The median price for a new house sold in the month of April, according to the Commerce Department, was $372,400. The median price for an existing home during that same time came in at $341,600, a jump of 19.1% as reported by the National Association of Realtors last week. The availability of existing homes in March sank by 28.2% compared with last year in March.
Due to rising costs of home building, single-family home construction declined by 4% in April; however, Dean Croke's article in DAT points out, "The U.S. still built 408,000 more single-family homes in April compared to April last year. So while demand remains strong in the flatbed sector, April's numbers suggest there may be some headwinds down the road."
Retail sales are going through the roof, despite concerns about inflation. People have money in their pockets, and stores that didn't go bankrupt are opening back up. For example, The Wall Street Journal notes that Dick's Sporting Goods "reported sales in the quarter ended May 1 more than doubled from a year ago when stores temporarily closed and jumped 52% from the same period in 2019." The chart below shows just how much the retail market is growing.
Employment / Jobless Claims
It is like a broken record. Yes, initial jobless claims fell again last week from 444,000 the prior week to 406,000, as reported by the Department of Labor this past Thursday. Close to 10 million people are currently unemployed with job openings at an all-time high of 8.1 million.

Market Conditions
This morning's market conditions are shown below for the previous day for van, reefer, and flatbed. Areas in red are extremely tight.
Van Capacity
Van capacity has not changed much since last week. It is still tight in the Southeastern part of the United States and in Southern California. The current load-to-truck ratio in Roanoke, VA, is not as tight this week at 1,670/351 compared with 3,780/253 from last week's report.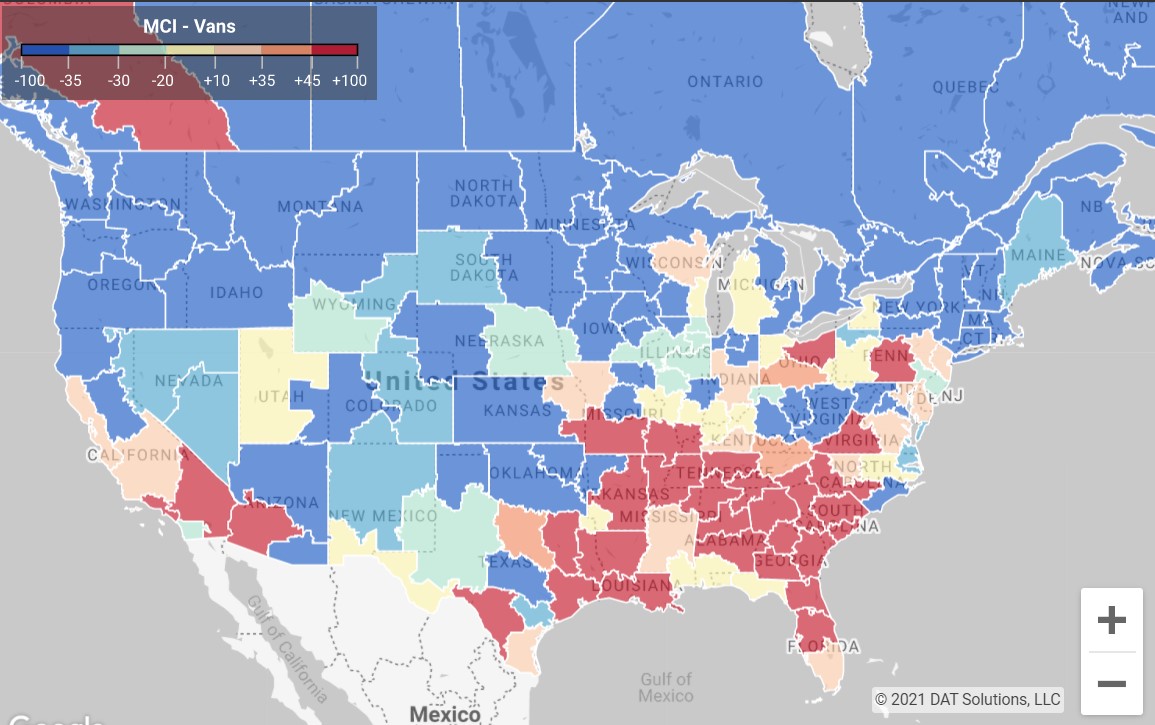 Reefer Capacity
Tight reefer capacity is hugging the bottom quarter of the country from lower California to the southern half of North Carolina. The Tifton, GA market is extremely tight from yesterday's map with a load-to-truck ratio of 2,184/55.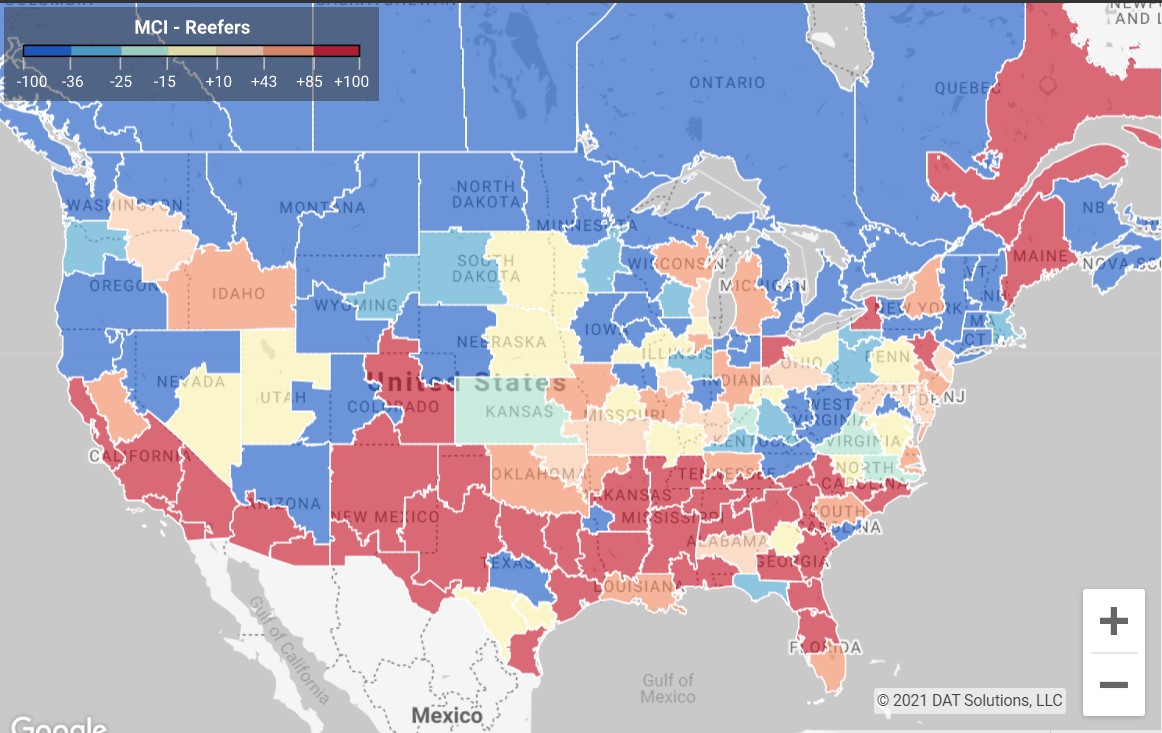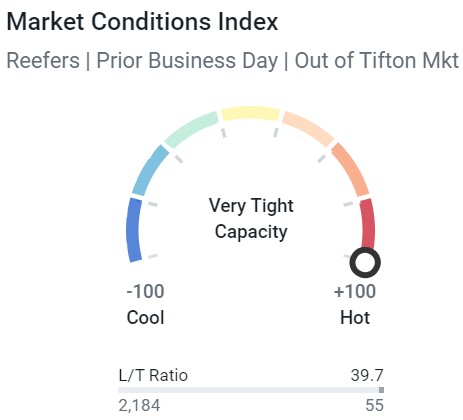 Flatbed Capacity
Flatbed capacity continues to be tight across the entire United States, week-over-week, and still no signs of loosening up.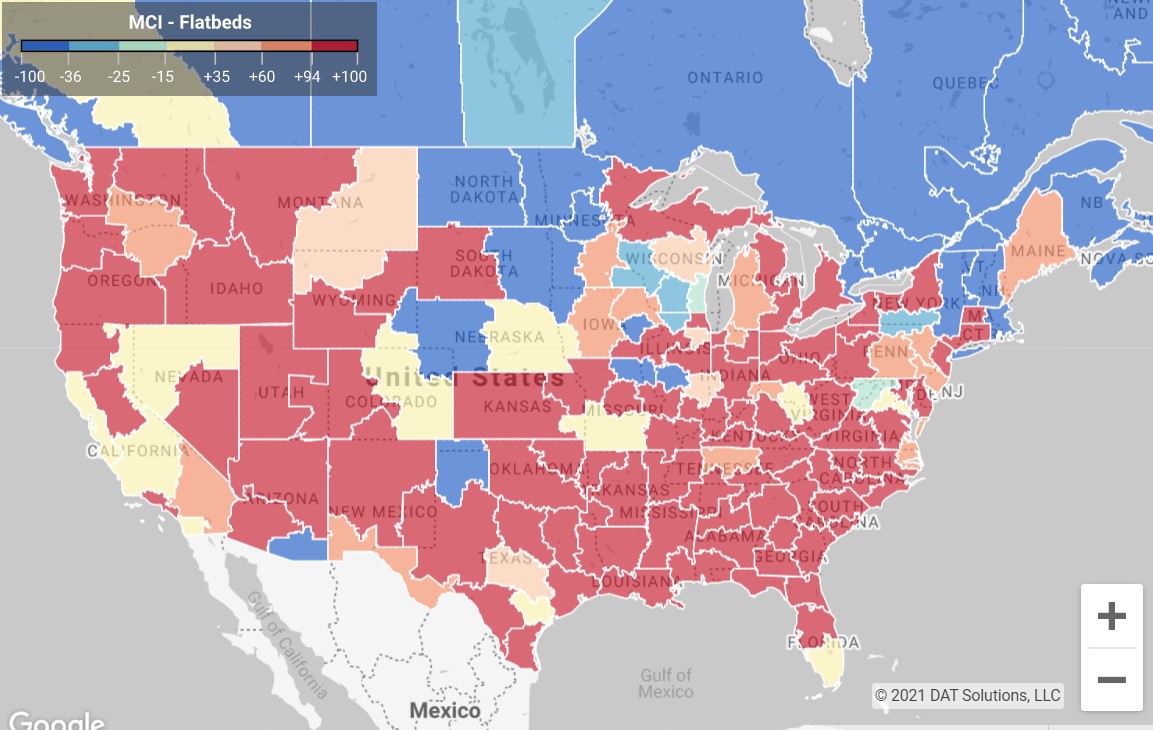 Who's Got the Power?
As capacity opened up a little over the last two weeks, the DHL pricing power index fell back down from 75 to 70.
The pricing power index is a weekly gauge put out by DHL that indicates who has more sway in negotiations when it comes to pricing and freight rates. (Source: Freightwaves)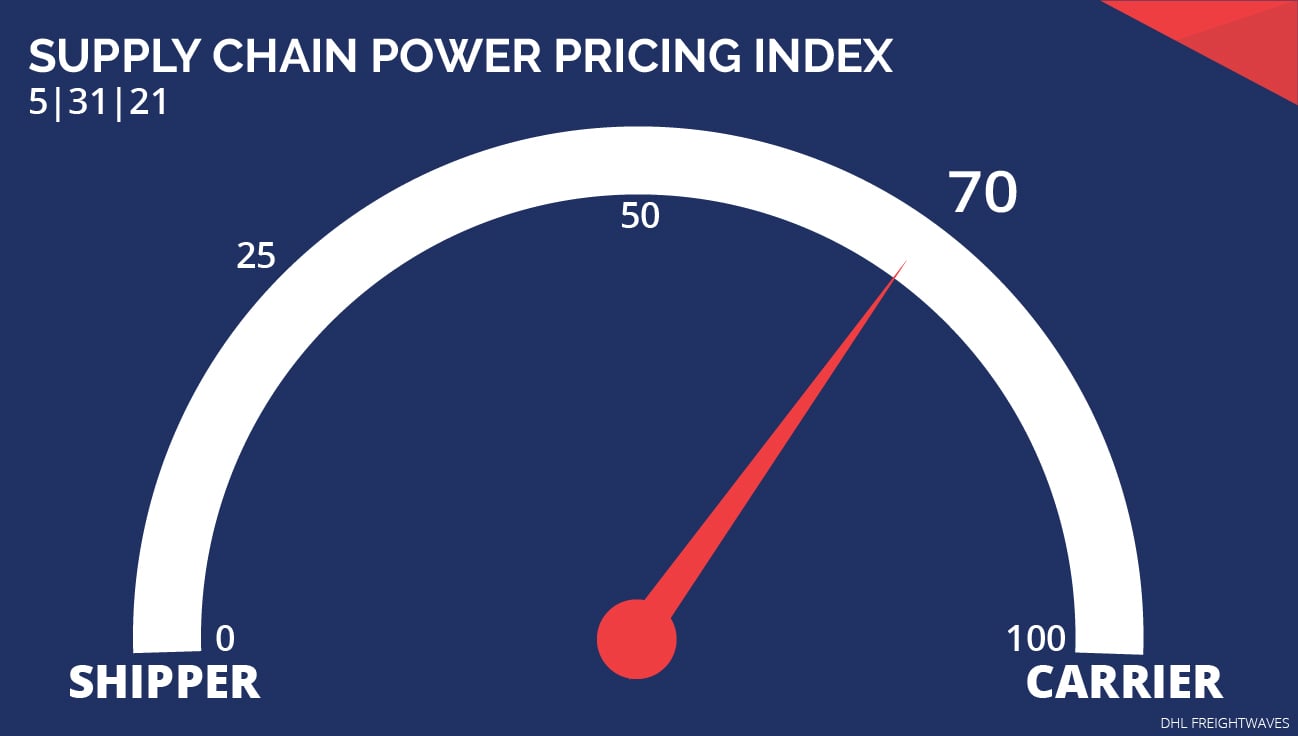 Shippers rely on the relationships they have with their 3PLs to ensure a smooth continuation of service whenever capacity gets tight. We hope you will continue to count on Choptank for all your freight needs, whether it be van, reefer, truckload, LTL, intermodal or cross-border shipping.
We would love to hear from you
What do you think about the Choptank Transport Market Brief? Do you find it helpful? Is there additional information you would like us to include or is there information you don't find relevant? Send comments to: marketing@choptanktransport.com
Have a Question? Ask one of our Experts
Your sales representative or a member of our professional logistics team is ready to help, so give us a call! 800.568.2240. If this information was forwarded to you and you would like to receive it, sign up here.