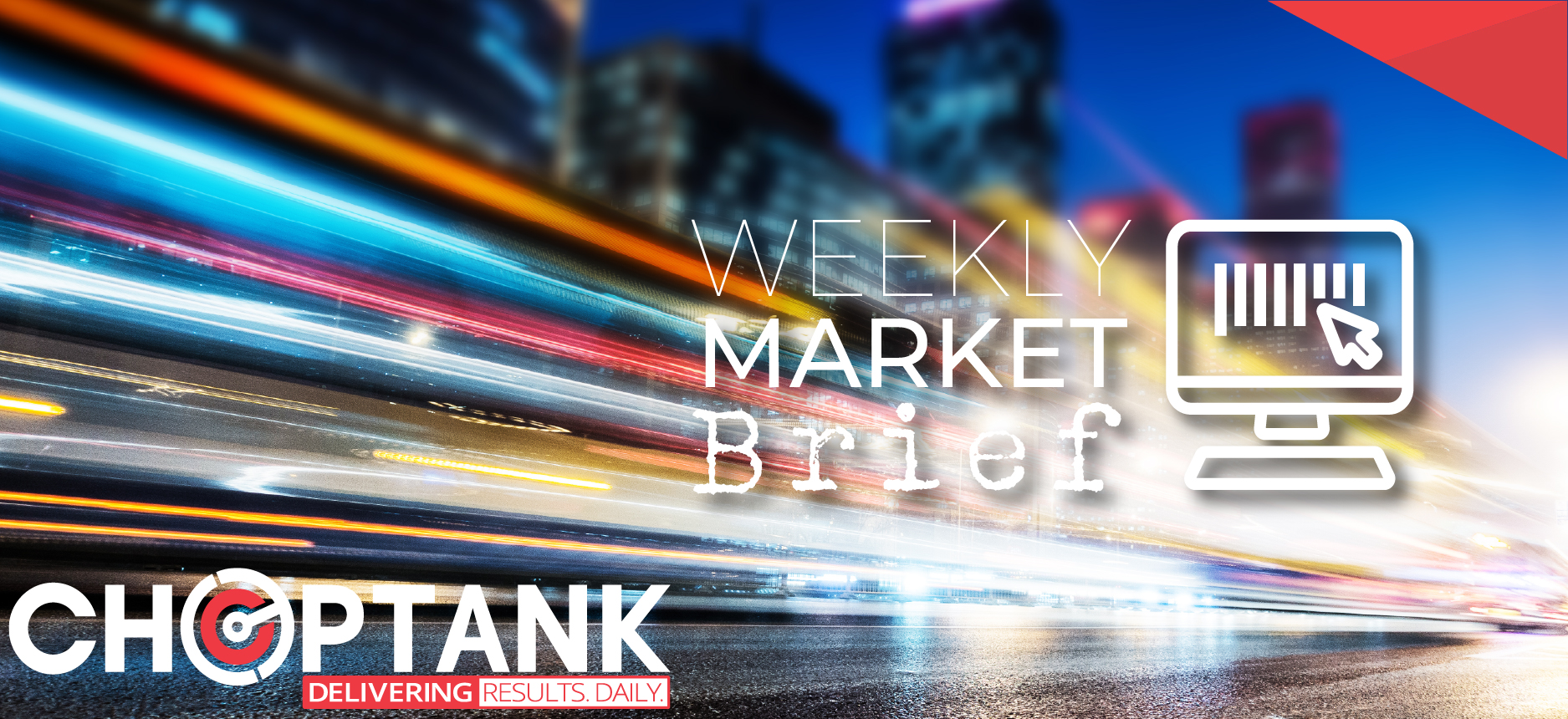 Capacity Tightens for Memorial Day; U.S. Ag Exports Being Ditched for Empty Containers
May 25 2021
The Choptank Weekly Market Brief is offered exclusively to Choptank Transport customers to provide accurate, timely and relevant freight market information. The contents of this brief are collected from reputable sources including DAT, Freightwaves/Sonar, Truckstop.com, the Department of Labor, the Department of Transportation, and other sources as cited throughout the brief.
After a brief decline last week in reefer and dry van volumes, shippers can expect capacity this week to be very tight as Memorial Day weekend approaches and last-minute shipments are pushed out the door.
Did you know?
We have all felt the effects of the pandemic on the supply chain, from trucking to air, from rail to ocean. One segment of ocean transport that has been hit especially hard is the agricultural sector. When it comes to U.S. agricultural exports, the problem has grown to disastrous levels, and it is the American farmer who is paying the price.
The container shortage has been around for months. What most people don't know is that in the frenzy to get imports from China processed at the ports, mainly West Coast ports, containers are not being reloaded with exports. Instead, they are being rushed back on board ships ... empty, heading back to Asia.
Why? Because ocean carriers can make as much as $6,000 to $14,000 per container of imports from Asia to the States. Companies shipping consumer goods are willing to pay far higher prices for ocean transit than shippers of agricultural goods -- goods that may not be ready and waiting for loading. The faster they can get their cargo unloaded and heading back to Asia, the more profitable it is.
That leaves American farmers in the lurch. This is the busiest time of year for exporting U.S. agricultural goods. Soybeans and hay are the two biggest exports, but there is also cotton, beef, and processed foods. Most of the freight is not located near the ports, so there is travel time involved to get them to their port of call, and importers are not willing to wait. If the shipment is late getting to the port, there are steep penalties. These penalties, or detention fees, often are costing U.S. exporters more than the original freight charges, putting many at risk of financial hardship.
Truck Tonnage Report
The American Trucking Association reported May 18 that truck tonnage in April increased 6.9% (seasonally adjusted) year-over-year. Compared with March, however, tonnage declined 0.3%
Truck Tonnage Chart Source: PR Newswire & Transport Topics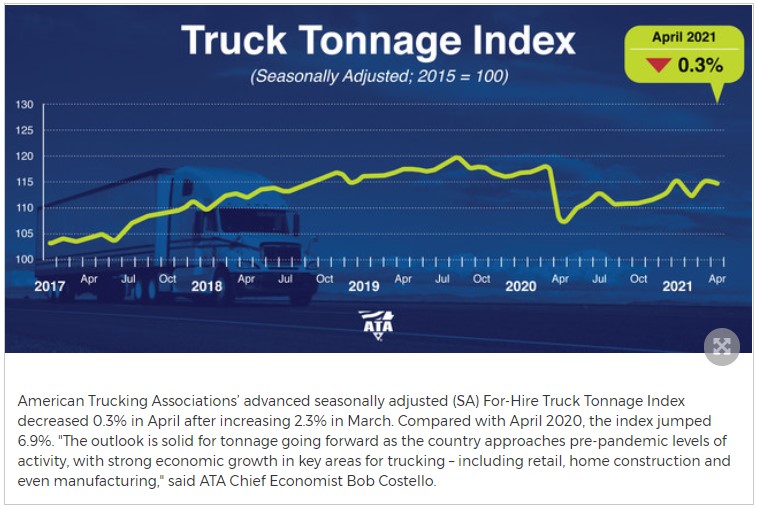 _______________
This week's video
May Freight Market Update
This TCI Business Capital mid-May freight report gives a good
overview of the current state of the industry.
Number of the Week
54%
A new Axios/Ipsos poll shows 54% of Americans say they have gone out to eat in the past week – a six-point increase from last wave, and the first time this number has crossed above 50%. See the full report
---
What's Up in the Spot Market?
Reefer rates in the spot market leveled off last week as load-to-truck ratios improved across the board. Reefer rates are still much higher compared with last year's $0.94/mile, and even compared with 2018's bull market at $0.63/mile. Dry van rates did not move much last week, staying fairly flat in comparison to the week before which was affected by the CVSA roadchecks. They are still $1.02/mile higher than last year.
Load-to-truck ratios fell substantially last week by 35% for both dry van and reefer. Flatbed load-to-truck ratios eased up a little over 10% but it remains a very tight market.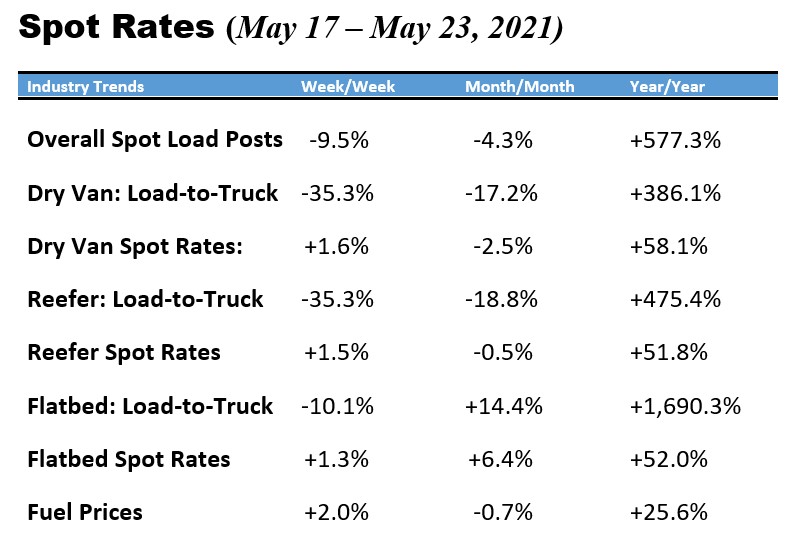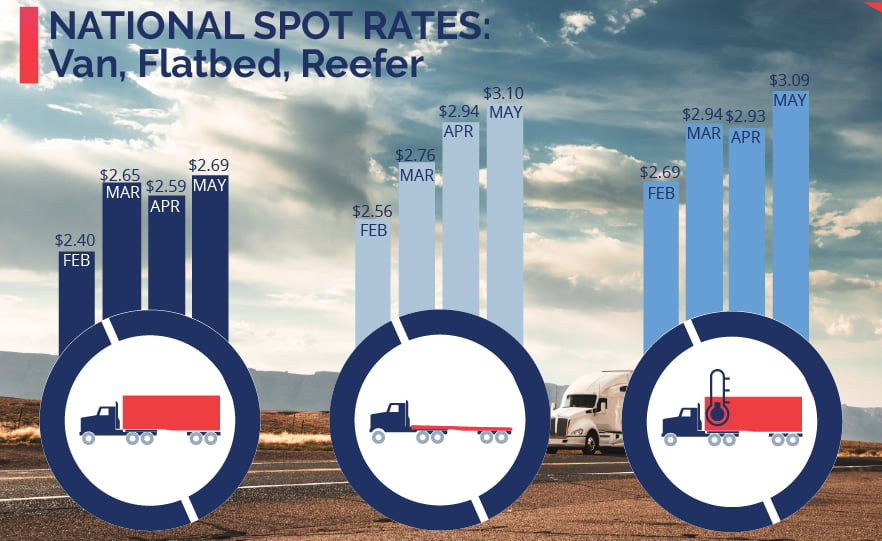 Dry Van Actual Spot Rates and Forecast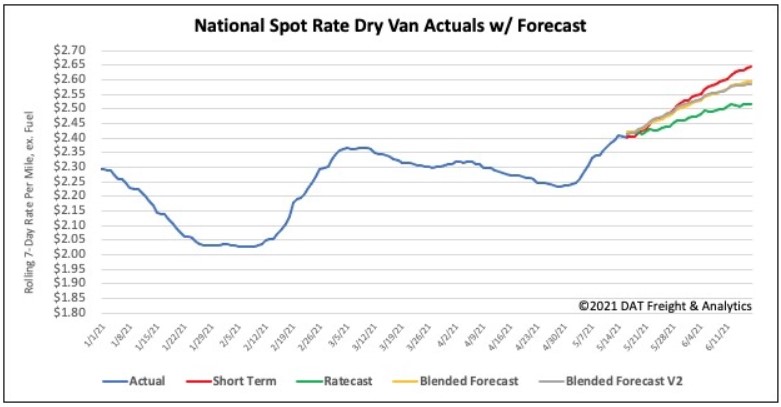 Reefer Actual Spot Rates with Forecast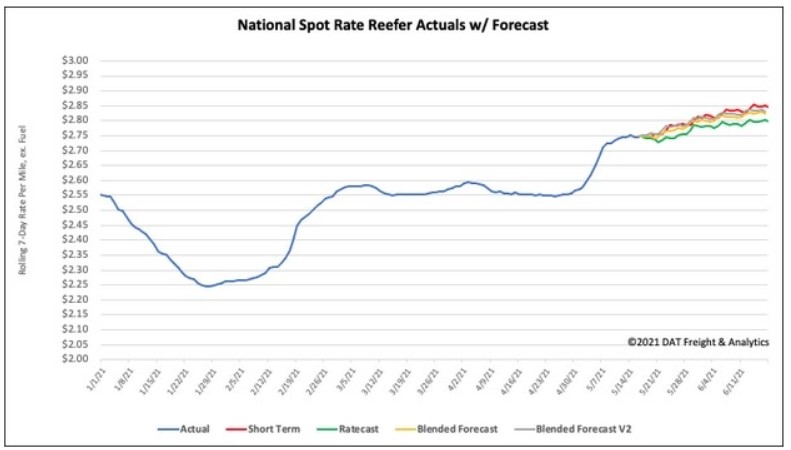 How to interpret the rate forecast:
Ratecast: DAT's core forecasting model

Short-Term Scenario: Formerly the pessimistic model that focuses on a more near-term historical dataset

Blended Scenario: More heavily weighted toward the longer-term models
Blended Scenario v2: More heavily weighted toward the shorter-term models
National Outbound Tender Rejections
Volumes seem to be slowing a bit even though demand remains high and port volume is still driving freight across the country. Van rejections bumped slightly up toward the end of last week but reefer rejections went in the opposite direction, minimally declining over the weekend to 42.04%.
The Midwest and West Coast are experiencing the tightest reefer capacity in the country right now. Markets such as Little Rock, AR, Omaha, NE, Sioux Falls, ID, and Des Moines, IA, are dealing with 70% rejection rates, with Fayetteville, NC, Savannah, GA, and Columbia, SC, not far behind. Rates and volumes will increase as we close in on Memorial Day weekend.
Chart Below: National outbound tender rejections comparing van and reefer side-by-side, this year with 2020, 2019, and 2018 data. (Source: Freightwaves/Sonar)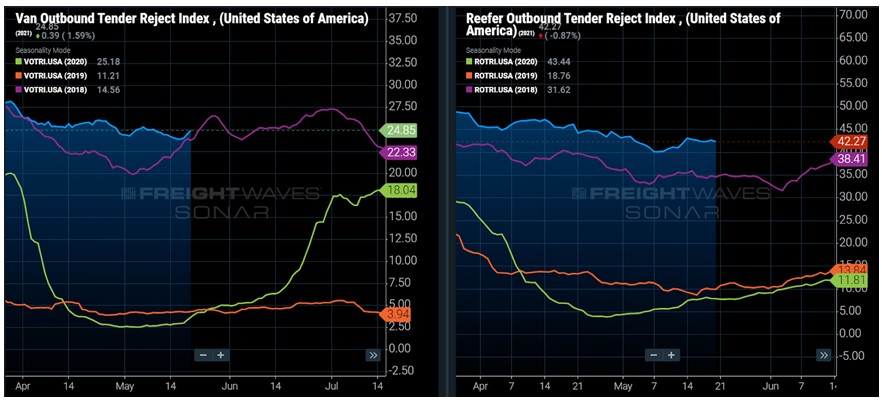 Outbound Tender Volumes (van)
The chart below shows van outbound tender volumes compared with personal consumption expenditures over the past two years. It is interesting how they mirror one another.

The outbound tender volume chart below from May 18, 2020, shows a slight uptick in volumes, however, over the last seven days those numbers have declined slightly. With Memorial Day weekend coming up, that is about to change. Capacity is expected to be very tight for the rest of the week.

Intermodal
Rates are rising in the intermodal arena. Both Hub Group and J.B. Hunt are reporting double-digit contract rate increases in addition to delays brought on by rail inefficiencies. Costs are also rising as the imbalanced network continues to grow. There is an increase in empty container backhauls creating too much capacity in those lanes. The imbalance is evident in the chart below. (Dallas to Los Angeles versus Chicago to Los Angeles).
Source: Freightwaves/Sonar

Ocean Freight
The Port of Oakland has the highest backlog of container ships currently waiting off the coast, with 20 ships offshore and eight more waiting patiently in the bay. Long Beach and Los Angeles both have 15-20 ships waiting any given day.
East Coast ports also have ships off-shore awaiting processing, from Savannah, GA (6-8), to New York/New Jersey (2-3), and Charleston, SC (2-3).

The Economy
The housing market is finally cooling down as housing starts declined in April due to exorbitant lumber costs and expensive labor. Existing-homes sales also fell in April by 2.7% compared with March, as inventory dwindles and houses become extremely costly.
A new report on the consumer goods packaging (CGP) market by Mckinsey & Company reveals that the CGP industry saw intense growth during the pandemic. It experienced more growth in 2020 than it had in the four years from 2016 to 2019.
CGP saw substantial increases in wage and labor costs, anywhere from 5% to 20%, as well as supply chain expenditures, which grew by a startling 50%. Warehousing costs also rose. Raw material costs, surprisingly, remained stable in 2020, but may likely change in 2021. Read more about it here.

Employment / Jobless Claims
Falling yet again, initial jobless claims decreased another 29,000 to 444,000 in recent weeks, down from 473,000 the week of May 8. The states with the biggest decrease in jobless claims were Kentucky, Georgia, and Texas.
Job openings continue to increase across the country. Robust consumer spending continues with renewed brick-and-mortar shopping gaining steam as a result of COVID-19 restrictions receding.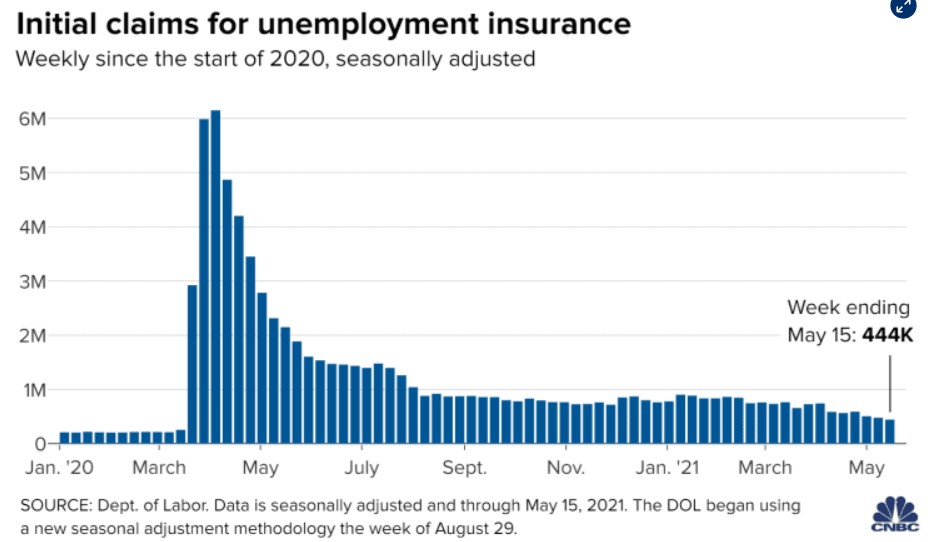 Market Conditions
This morning's market conditions are shown below for the previous day for van, reefer, and flatbed. Areas in red are extremely tight.
Van Capacity
Van capacity remains tight in the Southeastern part of the United States and in Southern California. The current load-to-truck ratio in Roanoke, VA, for example, is extremely tight at 3,780/253.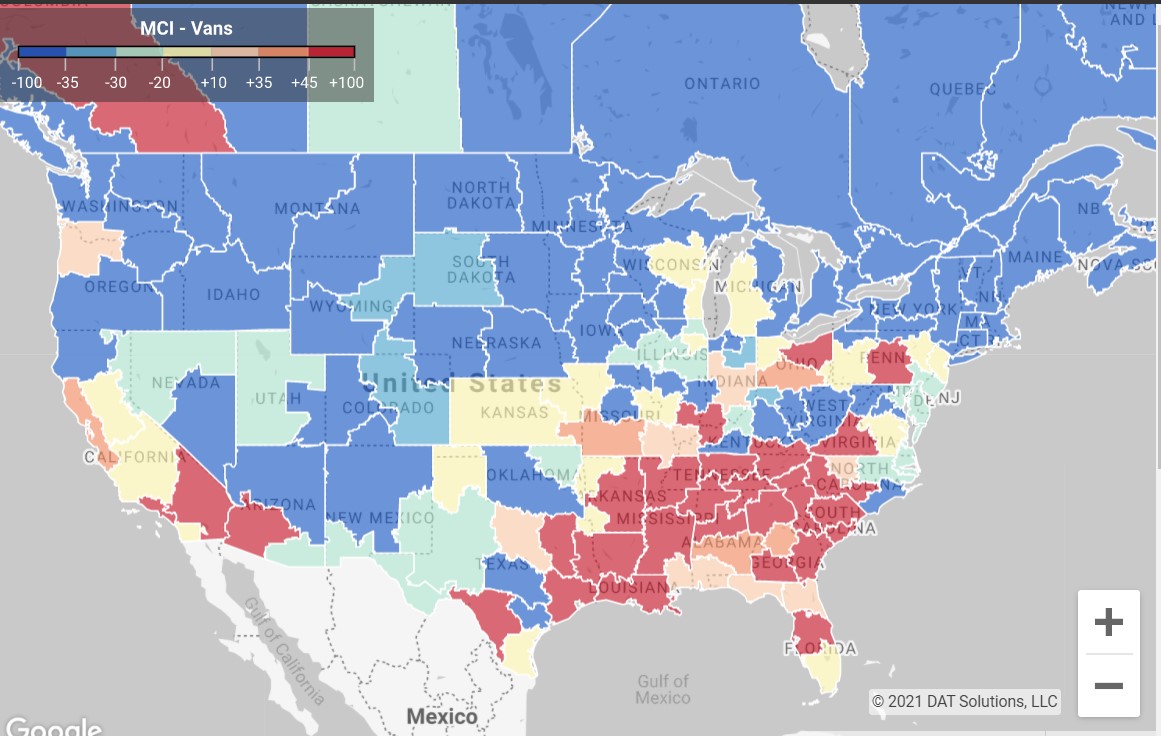 Reefer Capacity
Tight reefer capacity is more spread out across the country than van, although the Southeast shows clusters of truck shortages. The Denver market is extremely tight this morning with a load-to-truck ratio of 2,533/250.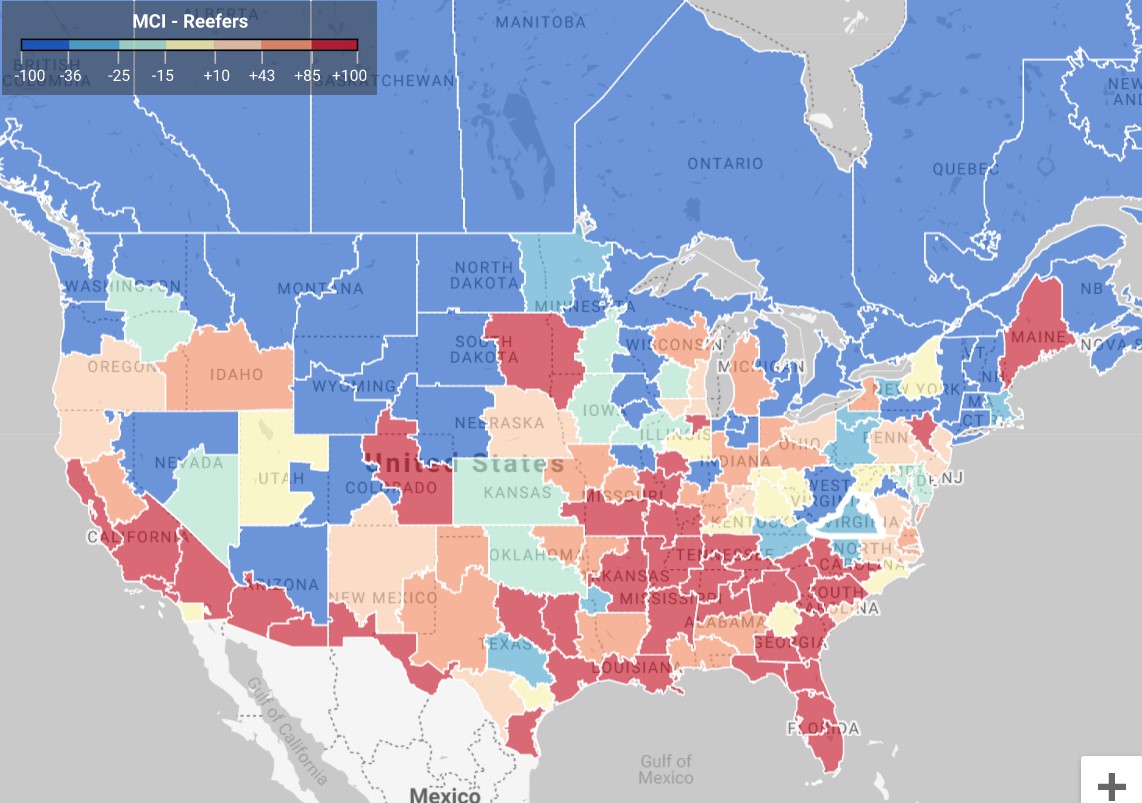 Flatbed Capacity
Flatbed capacity has remained tight across the entire United States, week-over-week, with no signs of abating.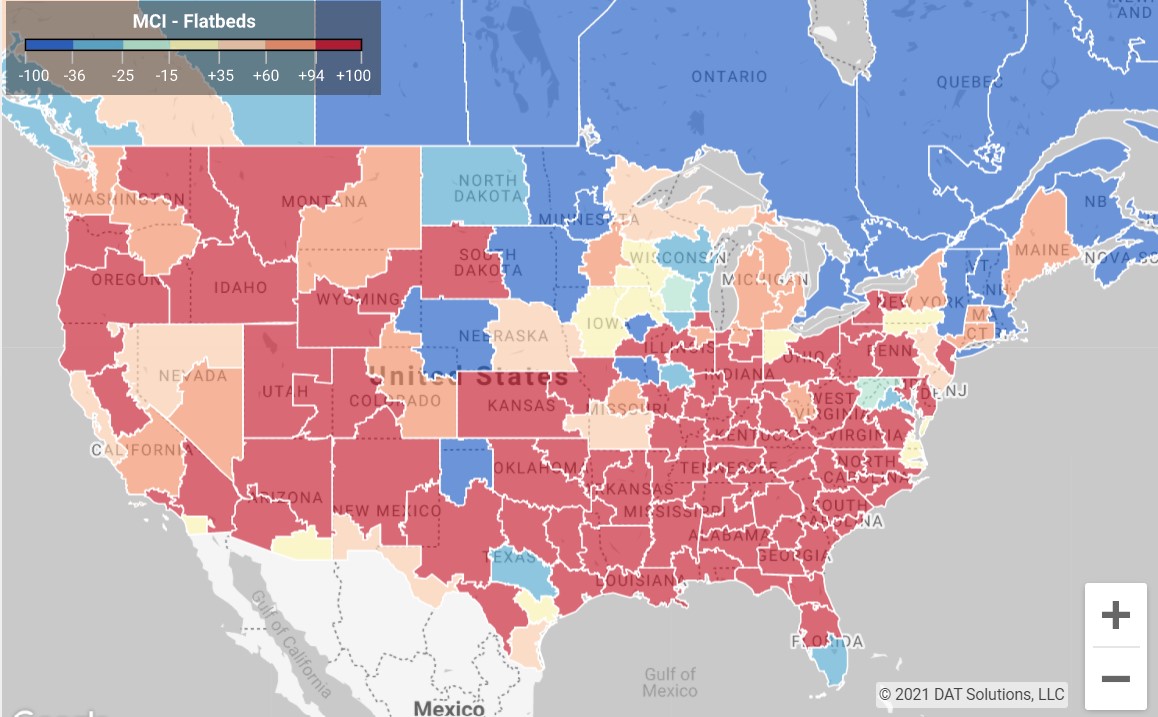 Who's Got the Power?
This week's DHL pricing power index increases to 75 from 70, still favoring carriers.
The pricing power index is a weekly gauge put out by DHL that indicates who has more sway in negotiations when it comes to pricing and freight rates. (Source: Freightwaves)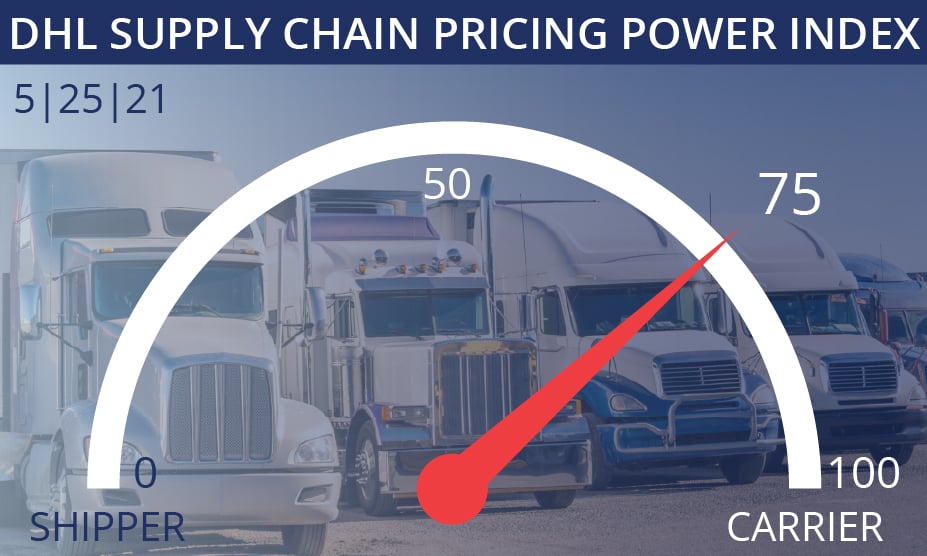 Shippers rely on the relationships they have with their 3PLs to ensure a smooth continuation of service whenever capacity gets tight. We hope you will continue to count on Choptank for all your freight needs, whether it be van, reefer, truckload, LTL, intermodal or cross-border shipping.
We would love to hear from you
What do you think about the Choptank Transport Market Brief? Do you find it helpful? Is there additional information you would like us to include or is there information you don't find relevant? Send comments to: marketing@choptanktransport.com
Have a Question? Ask one of our Experts
Your sales representative or a member of our professional logistics team is ready to help, so give us a call! 800.568.2240. If this information was forwarded to you and you would like to receive it, sign up here.