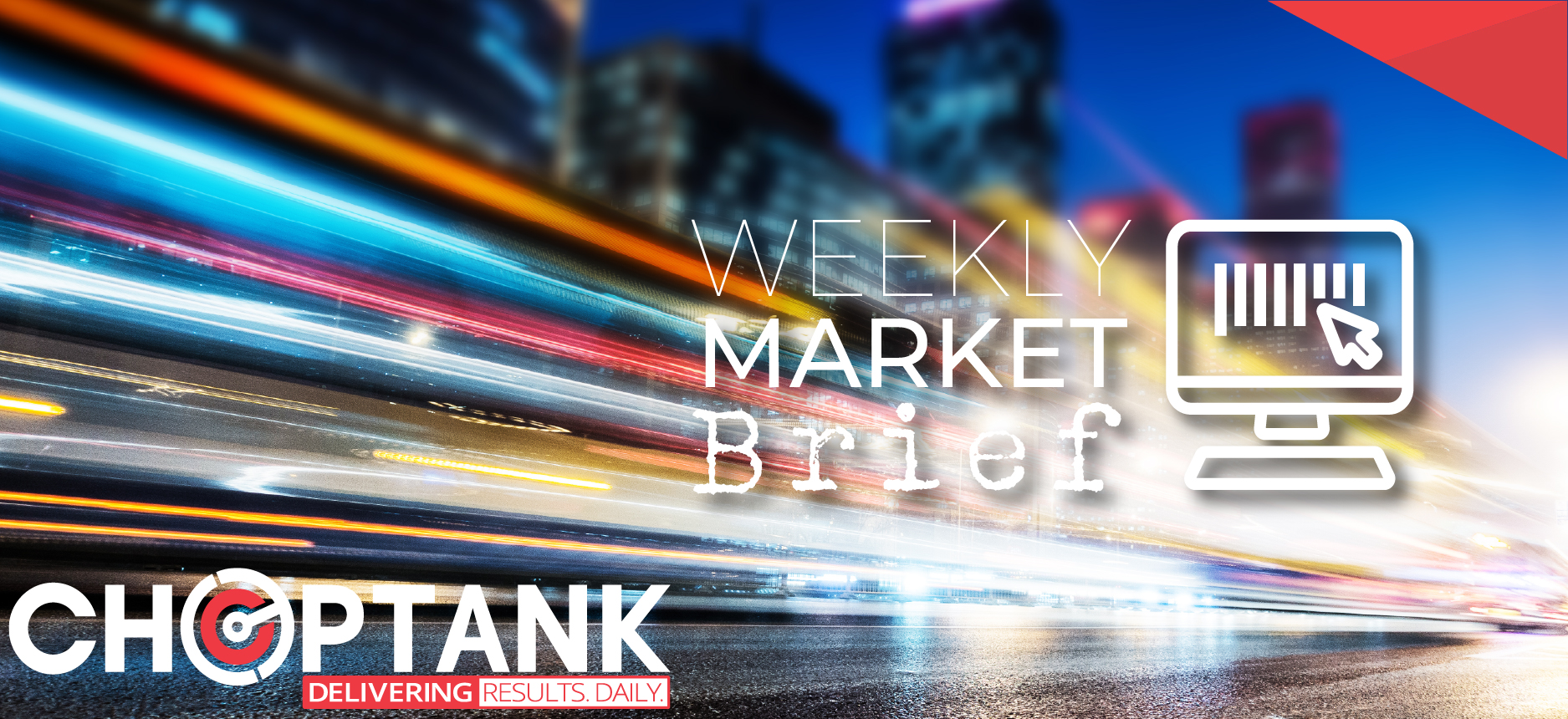 The Bullwhip Effect - Why Supply Chains Are So Stretched
May 18, 2021
The Choptank Weekly Market Brief is offered exclusively to Choptank Transport customers to provide accurate, timely and relevant freight market information. The contents of this brief are collected from reputable sources including DAT, Freightwaves/Sonar, Truckstop.com, the Department of Labor, the Department of Transportation, and other sources as cited throughout the brief.
Experts say we are once again experiencing the Bullwhip Effect, a term defined by the Chartered Institute of Procurement and Supply as, "the demand distortion that travels upstream in the supply chain from the retailer through to the wholesaler and manufacturer due to the variance of orders which may be larger than that of sales."
It is a supply chain debacle. Not only are consumers shipping more things than ever before in human history, but some manufacturers are showing signs of the hoarding mentality reminiscent of the early 2020 rush on two-ply.
It seems that everything is in short supply these days, things like lumber, semiconductors, and container ships. Manufacturers are not only acquiescing to higher prices, they are overordering to ensure they don't run out of products. Resupplying is paramount these days, and if there is an opportunity to make a little more of whatever is needed, well heck, let's do it! After all, if there is one thing Americans will not tolerate, it is running out ... of anything ... ever.
According to a Bloomberg article, here are just a few things the global economy is short on: "Copper, iron ore and steel. Corn, coffee, wheat, and soybeans. Lumber, semiconductors, plastic, and cardboard for packaging." With so much demand, it is not surprising the supply chain is in a constant state of apoplexy.
To make things more complicated, unexpected roadblocks keep popping up, timed just far enough apart so that whenever we start recovering from one, up pops another. The industry is still dealing with the effects of the Suez Canal/Ever Given disaster, and then a cyberattack on one of America's largest oil pipelines (5,500 miles) has driven gas and diesel prices higher from Texas to New Jersey. Late last week we heard the news that we have a critical bridge closure on a highway that is used by the fourth-largest port in the United States – completely out of commission. See the video below for details.
_______________
This week's video
I-40's Bridge Closure's Impact on the Supply Chain
A crack on the Hernando DeSoto Bridge in Tennessee is not only stopping car and truck traffic, but barge traffic as well on the Mississippi River underneath. Memphis is the fourth-largest U.S. port and the nation's third heaviest intermodal freight corridor. Memphis also has more than 400 trucking companies operating out of it. The bridge may take as long as two months to fix.
Number of the Week
771
The number of barges stuck on the Mississippi River due to the Hernando DeSoto Bridge crack and closure on Thursday of last week.
---
What's Up in the Spot Market?
The chart below is from an article in The Packer about produce shipping and spot rate pressure building up prior to the Fourth of July holiday. The chart shows the escalating prices over the past eight weeks for various high-volume produce shipping lanes across the country.
According to DAT, reefer and dry van spot rates have receded a little after the Mother's Day rush. Load-to-truck ratios fell much more drastically for reefer than dry van, but flatbed rates are breaking records at $0.11/mile higher than contract rates.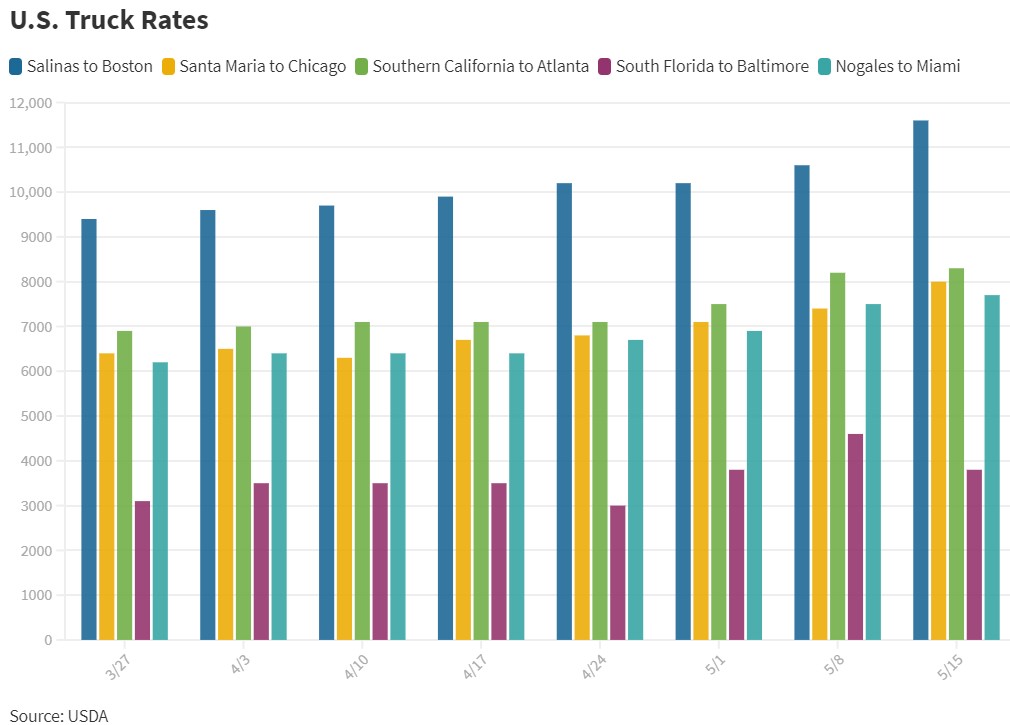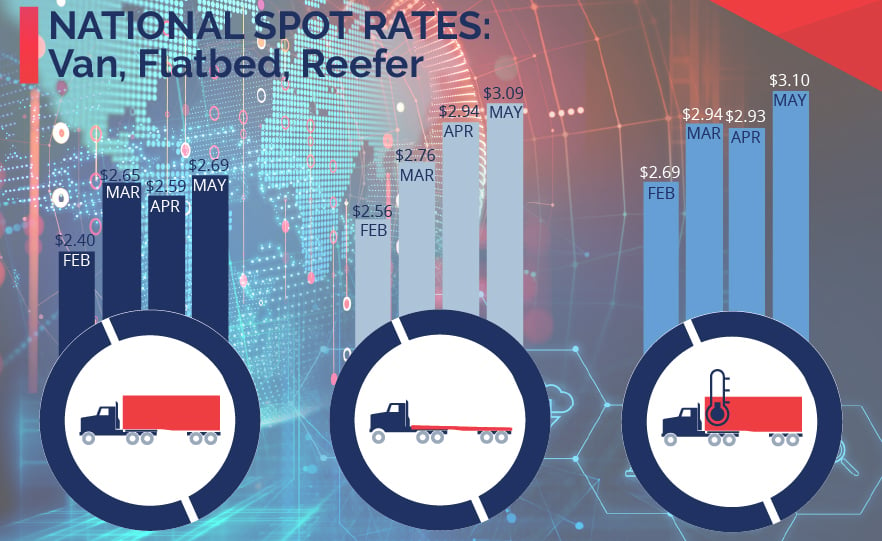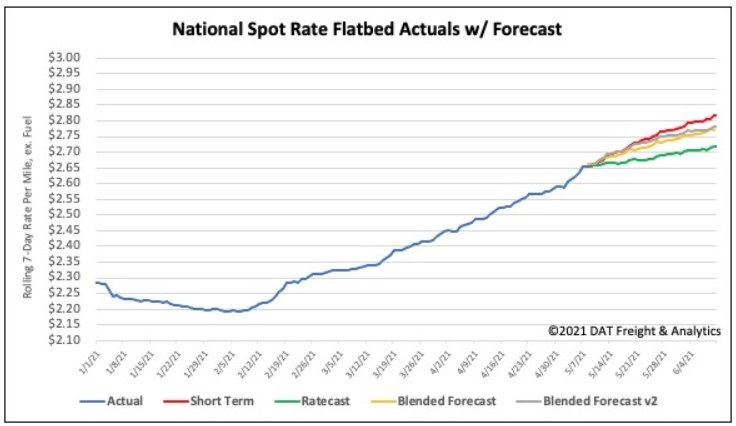 How to interpret the rate forecast:
Ratecast: DAT's core forecasting model

Short-Term Scenario: Formerly the pessimistic model that focuses on a more near-term historical dataset

Blended Scenario: More heavily weighted toward the longer-term models
Blended Scenario v2: More heavily weighted toward the shorter-term models
Cass Freight Index
The Cass Freight Index showed an increase of 27.6% for North American freight shipments year-over-year. The growth revealed a new record, outdoing the 2008-2009 recession; however, it should be noted that this percentage increase was largely due to the pandemic shutdown during this same time last year.
What is the Cass Freight Index? "The index includes all domestic freight modes and is derived from more than 33 million invoices and more than $26 billion in spend processed by Cass annually on behalf of its client base of hundreds of large shippers. These companies represent a broad sampling of industries including consumer packaged goods, food, automotive, chemical, medical/pharma, OEM, retail and heavy equipment."
The linehaul index below is a "measure of market fluctuations in per-mile truckload linehaul rates, independent of additional cost components such as fuel and accessorials." This data provides a different way to view what is going on in the freight market.

National Outbound Tender Rejections
Although trending downward slightly, national outbound rejection rates are still elevated at just under a quarter of all freight being rejected. Dry van rejections dipped 1% to 24.375 last week, while reefer rejection rates saw an increase to 41.92%
Areas with the most volatility in rejections: According to Freightwaves, "The Duluth, Omaha, North Platte, Spokane, Shreveport, Fort Wayne, and Portland markets had the highest numerical increases in rejection rates from the prior week, and the Amarillo, Lubbock, Rapid City, Oklahoma City, Sioux Falls, and Knoxville markets had the largest decreases in rejection rates. Shippers are currently experiencing the highest rejection rates in the Duluth, Cedar Rapids, Mobile, Des Moines, Fayetteville, and Dubuque markets with rejection rates averaging over 48%."
Chart Below: National outbound tender rejections comparing this year with last year's data. The green line shows 2020 stats and the blue line is this year's data. (Source: Freightwaves/Sonar)

Intermodal
Rail volume trends have stayed just a little over the seasonal average for this time of year. The drastic year-over-year increase you see in Q2 of 2021 is due to the extraordinarily low numbers from COVID-19's shutdowns last year. The strength in this year's numbers is largely due to a continued robust retail economy combined with non-stop port backlogs that are showing no sign of letting up anytime soon.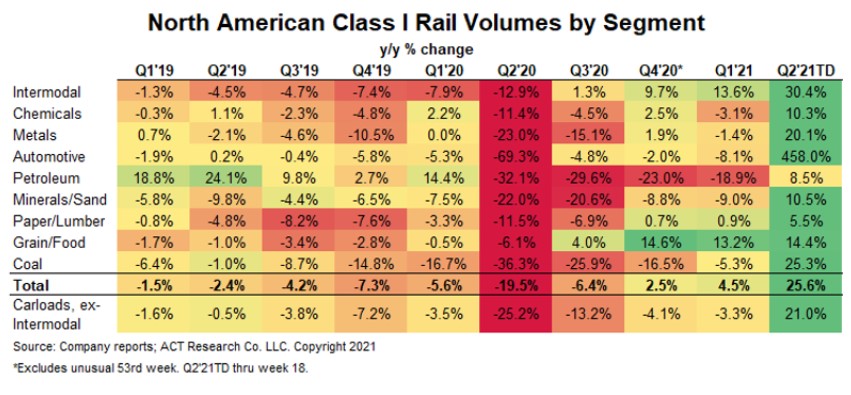 Chart Below: Both International Rail and Domestic Rail are showing similar trends are highly elevated from last year's data. The white line is 2021 data. (Source: Freightwaves)

The Economy
As mentioned in last week's market brief, inflation is top of mind for Americans these days. The government has distributed almost $6 trillion in pandemic relief, and it is estimated that the population is about one-third vaccinated.
This surge in the average Americans' income combined with more people getting out and spending continues to create a demand for goods that has challenged the supply chain and is hastening inflation. A CNBC article reported, "The government reported on Wednesday that consumer prices increased by the most in nearly 12 years in April."
The cost of transportation, warehousing, and inventories are getting close to reaching all-time highs too. The LMI chart below shows the steady cost increases since things bottomed out in March 2020, showing a quick rebound over the rest of the year and into 2021. (Charts Source: Institute of Supply Chain Management)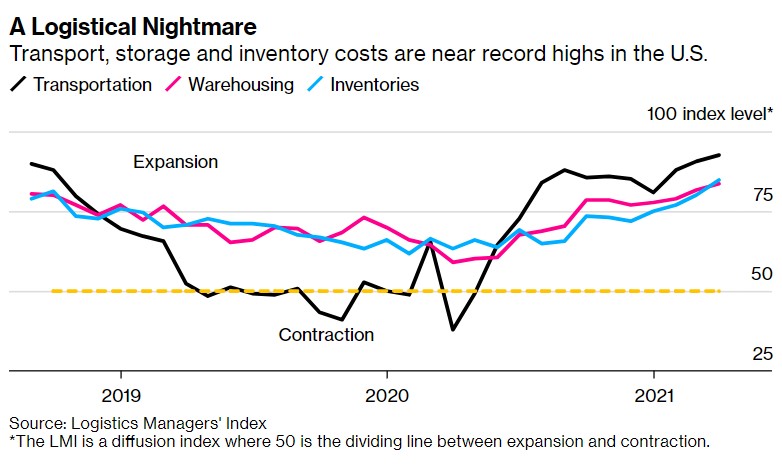 Truck Driving Shortage Still Plagues the Industry
A lack of truck drivers remains one of the industry's most fundamental challenges. The driver shortage became even worse during the pandemic with driving school closures, the Drug and Alcohol Clearinghouse ruling that took thousands off the road, and more drivers retiring than entering the workforce. (Chart Source: ACT Research Co.)

Consumer Sentiment: Home Purchasing
Although the housing market has seen some encouraging growth over the last several months, sentiment has declined slightly in recent weeks with fears of inflation, significant price increases, and constricted availability of lumber and other building supplies for new home construction.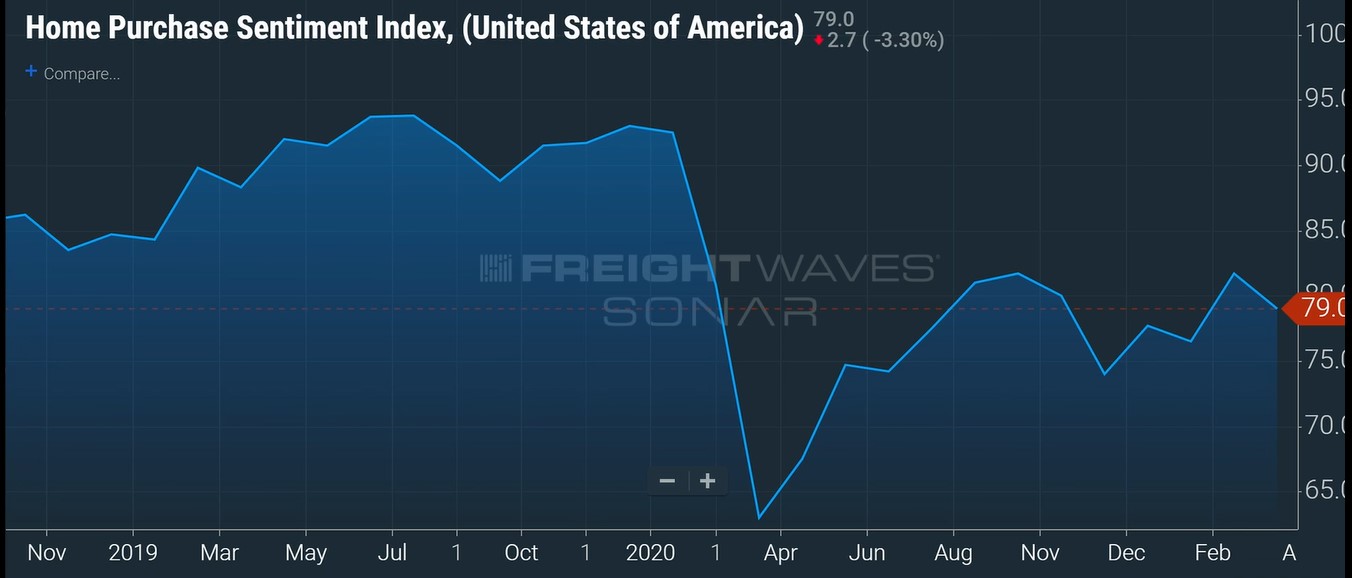 Employment
For the week ending May 8, jobless claims came in lower than expected at 473,000, down from 498,000 the previous week. Companies are still working hard to attract labor with job openings at a record 8.1 million versus almost 10 million unemployed. The government reported that in March, it added 770,000 jobs to the economy, with an additional 266,000 in April.
Market Conditions
This morning's market conditions are shown below for the previous day for van, reefer, and flatbed. Areas in red are extremely tight.
Van Capacity
Van capacity continues to loosen across the United States but certainly still has hot spots of tight capacity. The Memphis, TN market, for example, has a current load-to-truck ratio of 9,081/594 as shown in the chart below. Other red hot markets include: Laredo, TX 5376/382, Ontario, CA 7,163/1004, Phoenix, AZ 4,097/525 and Cleveland, OH 5,801/795.
Reefer Capacity
Reefer capacity loosened up more than van this week after the Mother's Day rush on flowers. Still, almost all of Florida and much of California are experiencing a tight reefer market as seasonal produce makes its way across the country. In addition to the Buffalo market shown below, here are some other tight capacity reefer markets: San Francisco, CA 2,371/271, Miami, FL 3,608/368, Lakeland, FL 5,821/409, McAllen, TX 2597/157, Ontario, CA 4,600/347 and Cleveland, OH 5,801/795.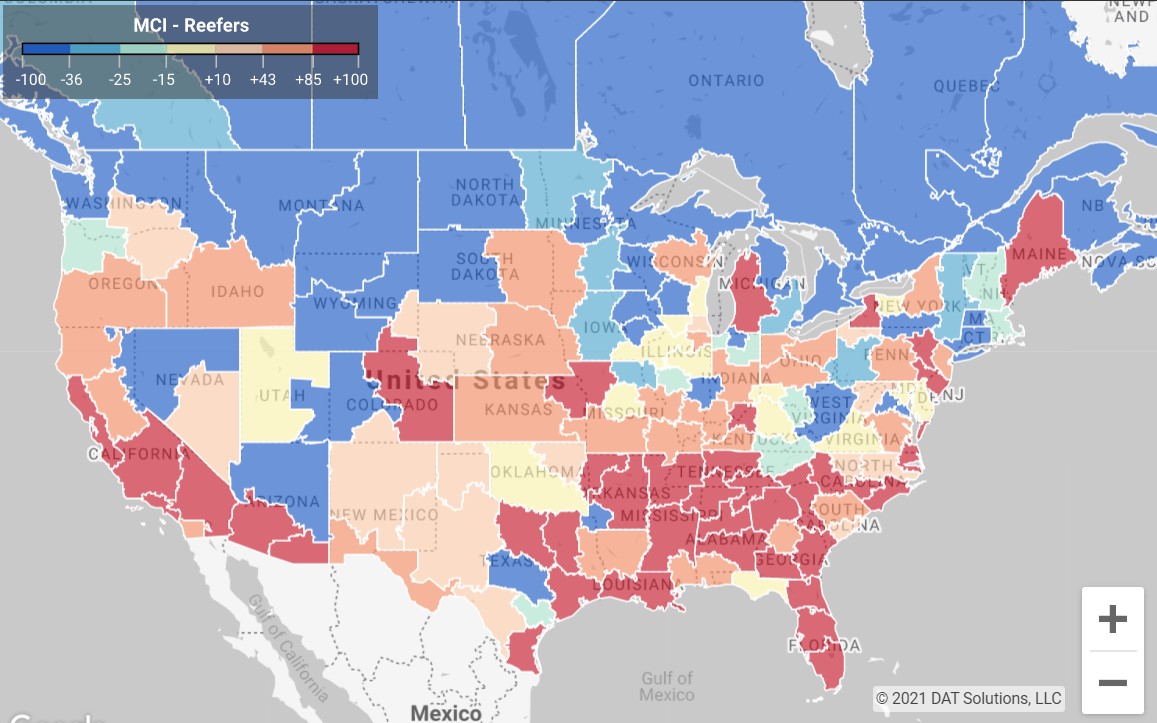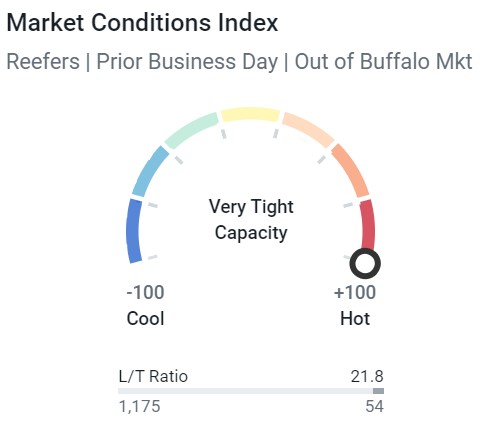 Flatbed Capacity
Flatbed capacity remains tight throughout the country. Medford, OR is still extremely tight, reporting last week with a load-to-truck ratio of 8,158/18, is now showing this morning at 9,109/15!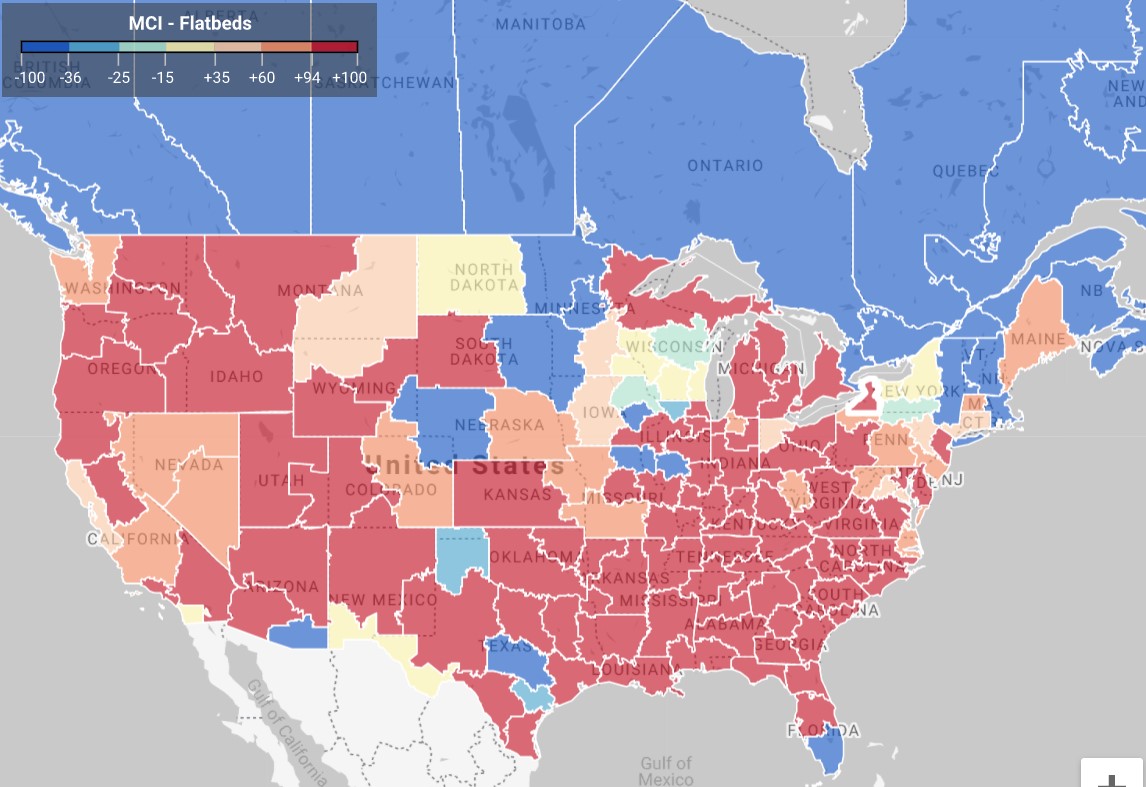 Shippers rely on the relationships they have with their 3PLs to ensure a smooth continuation of service whenever capacity gets tight. We hope you will continue to count on Choptank for all your freight needs, whether it be van, reefer, truckload, LTL, intermodal or cross-border shipping.
We would love to hear from you
What do you think about the Choptank Transport Market Brief? Do you find it helpful? Is there additional information you would like us to include or is there information you don't find relevant? Send comments to: marketing@choptanktransport.com
Have a Question? Ask one of our Experts
Your sales representative or a member of our professional logistics team is ready to help, so give us a call! 800.568.2240. If this information was forwarded to you and you would like to receive it, sign up here.