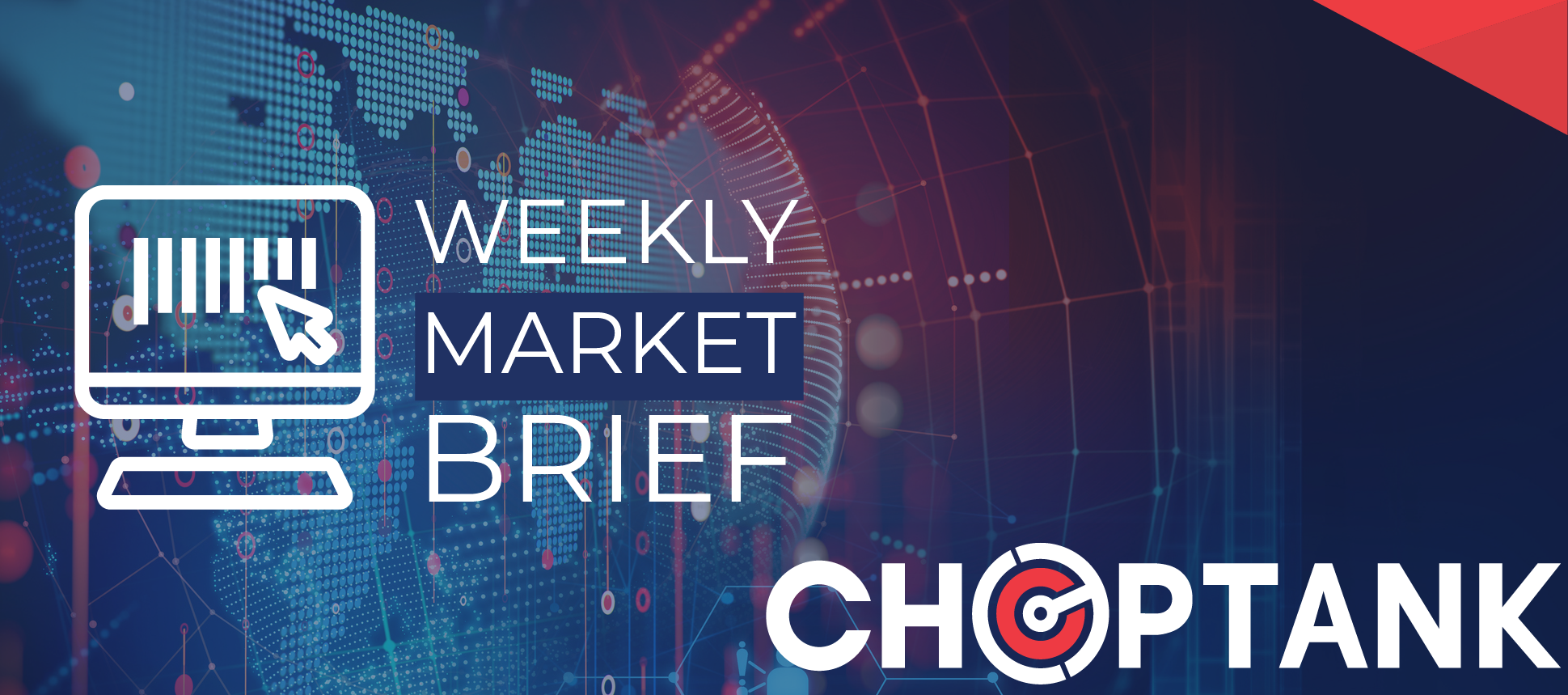 Meaningful Market Shifts or Typical Freight Market Swings?
April 13, 2021
The Choptank Weekly Market Brief is offered exclusively to Choptank Transport customers to provide accurate, timely and relevant freight market information. The contents of this brief are collected from reputable sources including DAT, Freightwaves/Sonar, Truckstop.com, the Department of Labor, the Department of Transportation, and other sources as cited throughout the brief.
Like the painted horses on a merry-go-round, the freight market is up and down these days. It can be difficult to interpret the most recent changes because what may seem like the beginning of an impactful trend maybe just a correction to an imbalanced market. This is true of volumes and rates, and also of the popularity between the contract and spot markets.
For example, truck tonnage fell 4.5% in February following an unexpectedly strong January, when it increased by 1.8%. Is this a trend or just a correction to an over-exuberant previous month? Outbound tender volumes and rejection rates are down in many places throughout the United States this past week. Is it a foreshadowing of a slowdown, or just a brief lull before produce kicks in full swing? Most likely it is the latter, but only time will tell.
It is interesting to note that the typical division between contract rates and spot rates is around 85/15, favoring contract rates. In 2020 that split slowly morphed into a 75/25 ratio. The change was due to an erratic shift in supply and demand along with a pronounced driver shortage. According to DAT, "by the end of February 2021, the dry van contract volume index was down 30% y/y while the spot volume index increased 18%."
Contract rates are rising and getting closer to spot rates. Spot rates continue to be elevated and are expected to stay this way at least through the end of Q2. The chart below shows dry van volumes - spot versus contract from 2015 to 2021. (Chart courtesy of DAT.)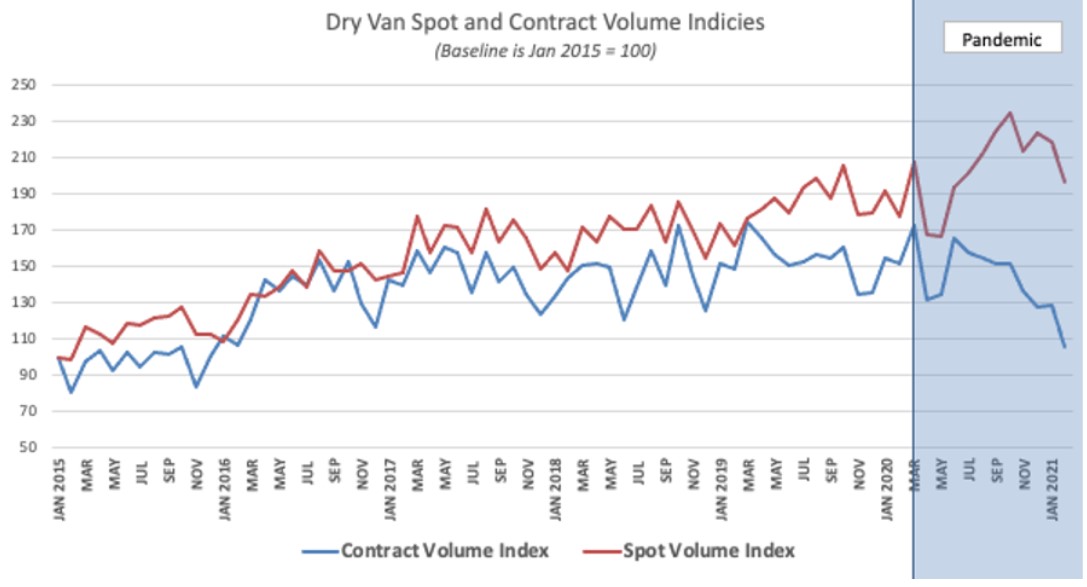 _________________________
Heads up to shippers: The Commercial Vehicle Safety Administration (CVSA) road checks are scheduled for May 4-6, so be prepared for some carriers to stay off the road those three days. Give yourself plenty of time to get things off the docks and on their way before the road checks begin.
This week's video

- Beltway Donuts

You never know what kind of traffic jam may delay your freight. Last week, it could have been D.C. Beltway, inconsiderate donut drivers.
See additional news coverage here
Number of the Week
$3.83 Million
. . . the dollar amount associated with reported stolen cargo in March 2021
- CargoNet
What's Up in the Spot Market?
Overall load posts on the spot market continue to rise. Van spot rates were up marginally last week whereas reefer volumes were down. Overall rates are staying at around 30% higher than during the same week last year.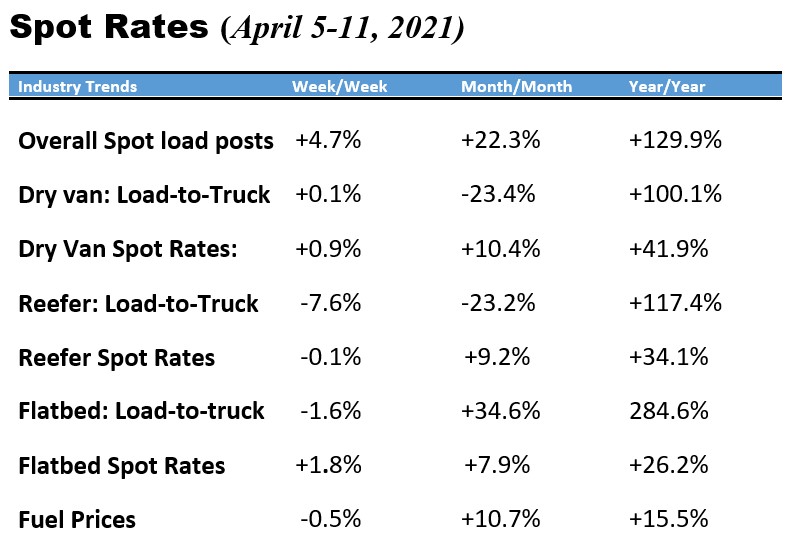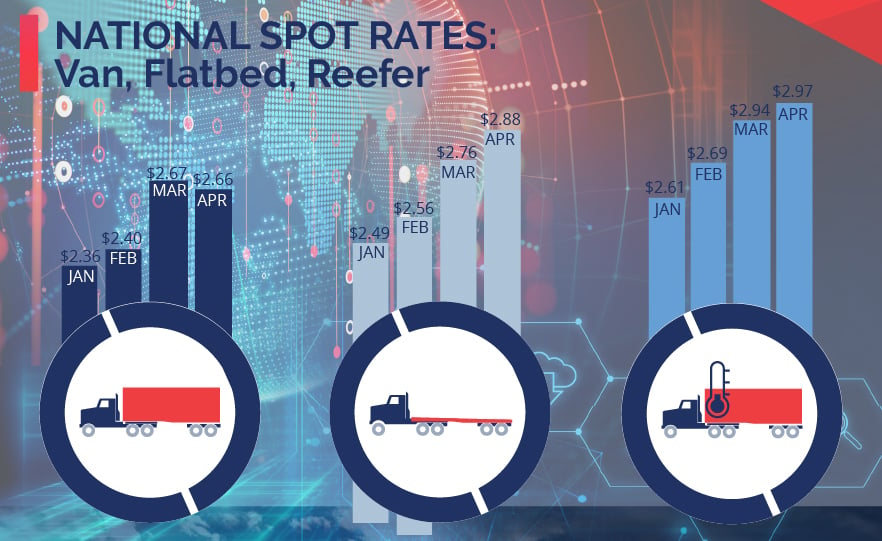 Spot Rates Forecast
DAT reports that dry van spot rates continued to climb last week, increasing $0.03/mile to end the week at $2.39/mile, excluding fuel.
Ratecast: DAT's core forecasting model
Short-Term Scenario: Formerly the pessimistic model that focuses on a more near-term historical dataset.
Blended Scenario: More heavily weighted toward the longer-term models.
Blended Scenario v2: More heavily weighted towards the shorter-term models.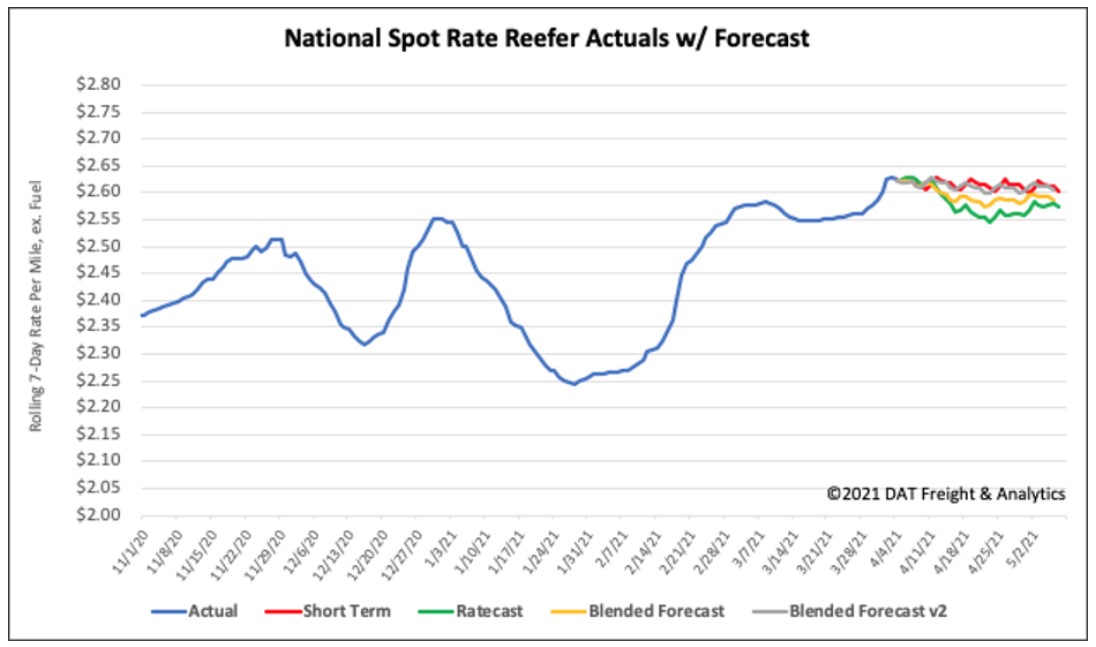 Outbound Tender Volumes
Don't let the downward slide on the graph below fool you. Volumes have fallen 10% since April 1, but this is most likely an abbreviated version of the dip we typically see every January. (There was no dip in January this year.)
Too many drivers are in favor of volumes climbing back up to support this trend for very long. People are spending more on goods with additional stimulus money (and now services too as cases of the virus subside). Inventories are low and port freight keeps coming in, and then, of course, there is produce season.
Areas with most significant changes in volumes: This morning the ports of Savannah and Elizabeth are showing a strong increase in volumes. The biggest daily market increases this past week were Miami (7.56%), Houston (6.64%) and Chicago (1.04%). The markets with the largest declines this week were Savannah, Georgia (-8.73%), Cleveland (-6.07%) and Ontario, California (-5.10%).
Chart Below: National outbound tender volume with this year's data in blue compared with the previous three years in purple, green, and orange. (Source: Freightwaves/Sonar)
Chart Below: National outbound tender rejections with this year's data in blue compared with the previous three year's data in orange, green and purple. (Source: Freightwaves/Sonar)

Outbound Tender Rejections
Outbound tender rejections are still high on a national level but have come down from their peak of 30% to 25.8%, far exceeding 2020 levels. Reefer capacity is squeezed almost as tight as it has ever been at 46%--meaning almost half of all reefer loads are being rejected.
Areas with most significant changes in rejections: The biggest daily increases in rejections this past Friday were Detroit (8.55%), Stockton (3.53%), Indianapolis (1.96%), and Los Angeles (1.866%). The most significant decreases in rejections go to Charlotte (-6.55%), Chattanooga (-4.15%), Lakeland (-2.31%), and Kansas City (-1.60%).
Chart Below: National outbound tender rejections with this year's data in blue compared with the previous three years in orange, green, and purple.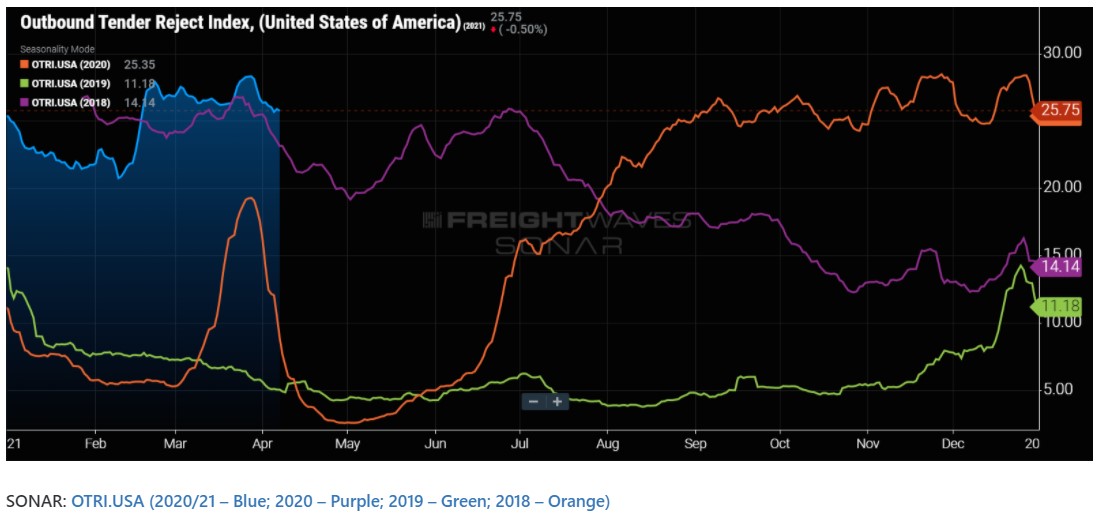 Economy
The housing market is going great guns, and it is a seller's market. According to Redfin's astounding statistic, almost half of all houses are selling in less than a week from going on the market. In addition, the average home in the United States is garnering more than its listing price.
With the dwindling number of existing homes for sale, builders are going into overdrive to put up new houses and are getting top dollar for building supplies as shipping, labor, and material costs are rising.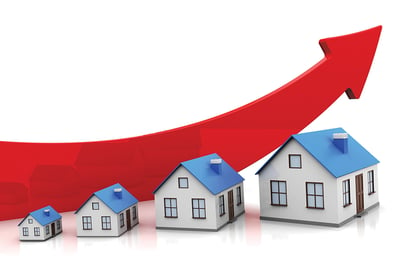 Employment
Reports are showing that the job market is recovering much faster than many economists expected,especially in the services industry, and there seems to be a shortage of talent. Restaurants such as Applebee's and Olive Garden are increasing wages regardless of whether or not you are a bottle washer or wait staff (tips or no tips). Fast food restaurants like Arby's are even offering a referral bonus of $500. According to one food-conglomerate executive, the dining-out industry is busier than ever.
Logistics Management Magazine confirms this finding, reporting that March saw an 8.4% increase over February in the services industry. This statistic represents the tenth consecutive month of positive growth in that sector.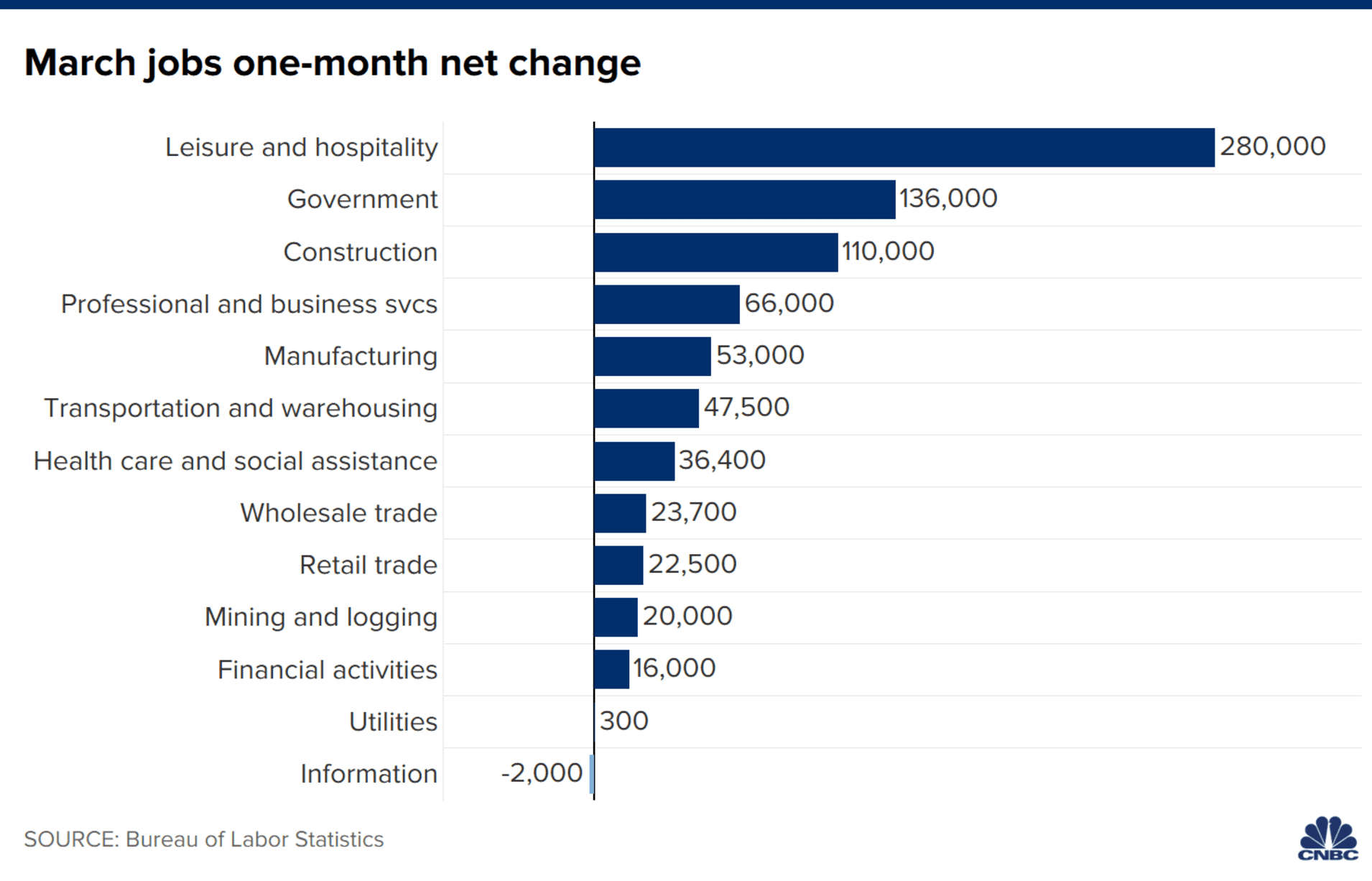 Market Conditions
This morning's market conditions are shown below for the previous day for van, reefer and flatbed. Areas in red are extremely tight.
Van Capacity
Van capacity is seeing relief in some areas but remains tight in many of the top markets. Atlanta, as shown in the chart below the national map, is experiencing extremely tight capacity this morning with a load-to-truck ratio of 10,767 to 1,889. Other areas where trucks may be hard to find include Harrisburg and Allentown in the Pennsylvania markets, and Columbus, Ohio, just to name a few.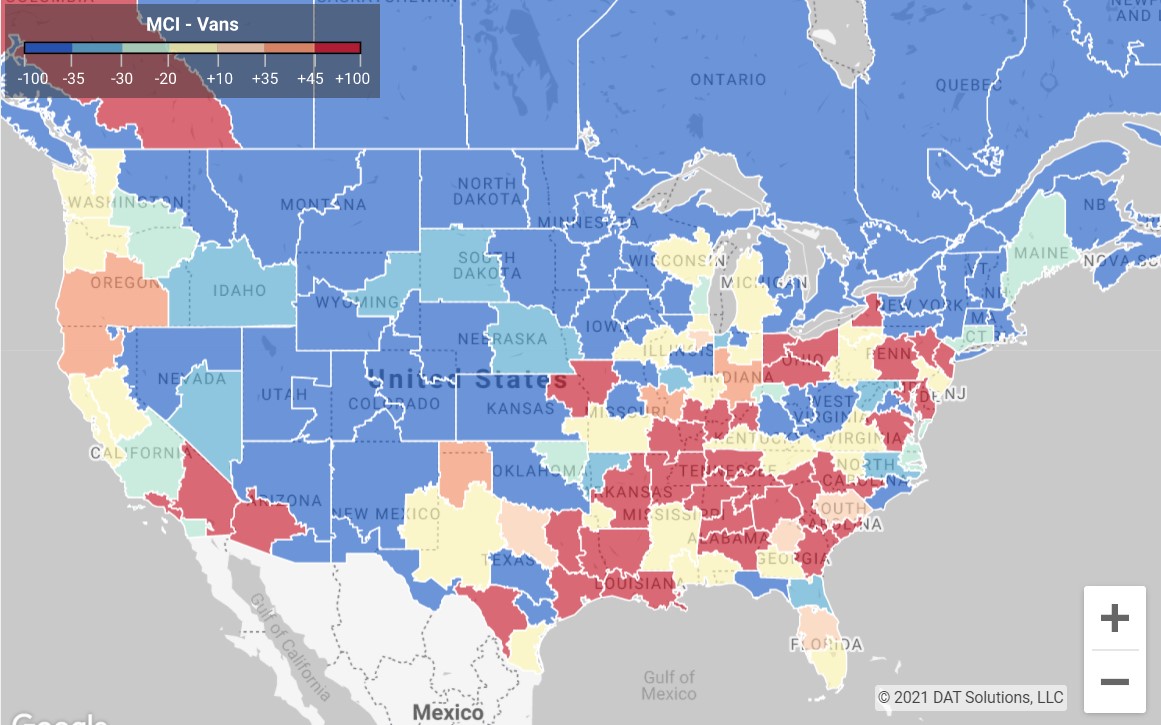 Reefer Capacity
Reefer capacity is a also a mixed bag this morning with tight capacity in certain areas. The Dallas market, as shown below the national map, is extremely tight with a load-to-truck ratio of 3,178 to 325. Other capacity-tight areas are Lakeland and Miami in Florida, Twin Falls, Idaho, Fresno and Ontario in California, and Tucson, Arizona.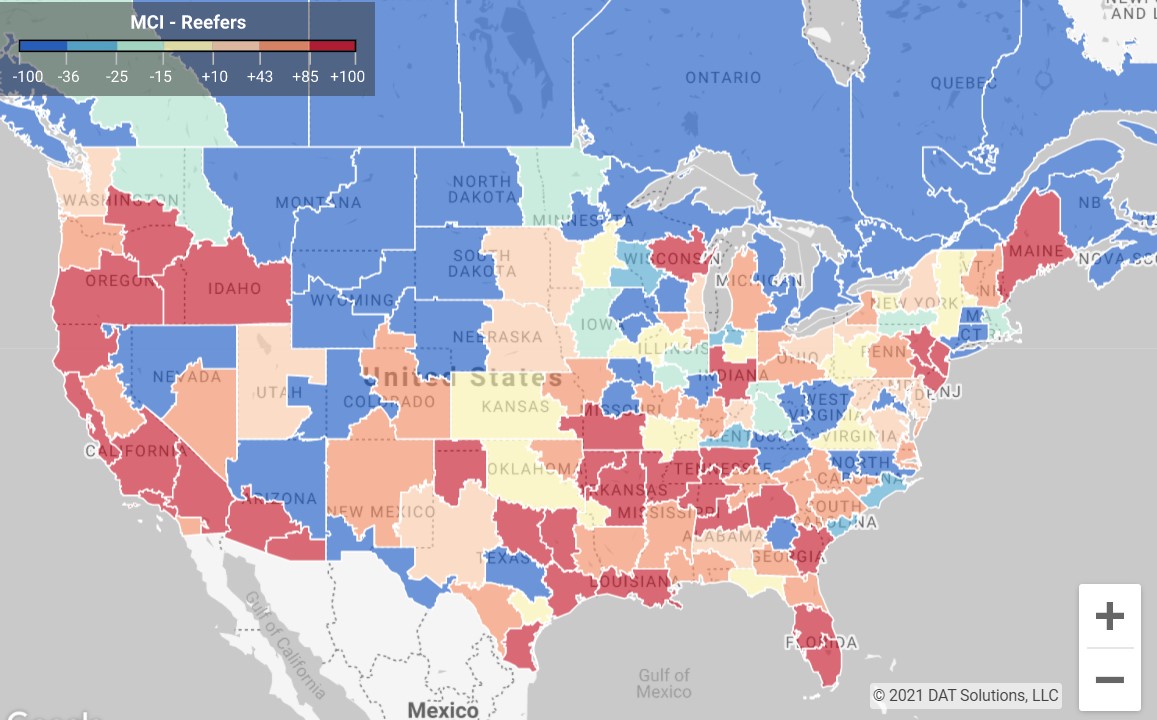 Flatbed Capacity
Flatbed capacity remains tight as new home building continues to rise and the industrial sector gets back into swing with increased vaccinations. Flatbed spot rates were up 1.8% last week whereas load-to-truck ratio was down 1.6%, with year-over-year load posts at 284.6% higher-- it is no wonder with COVID-19 disrupting the market in April 2020.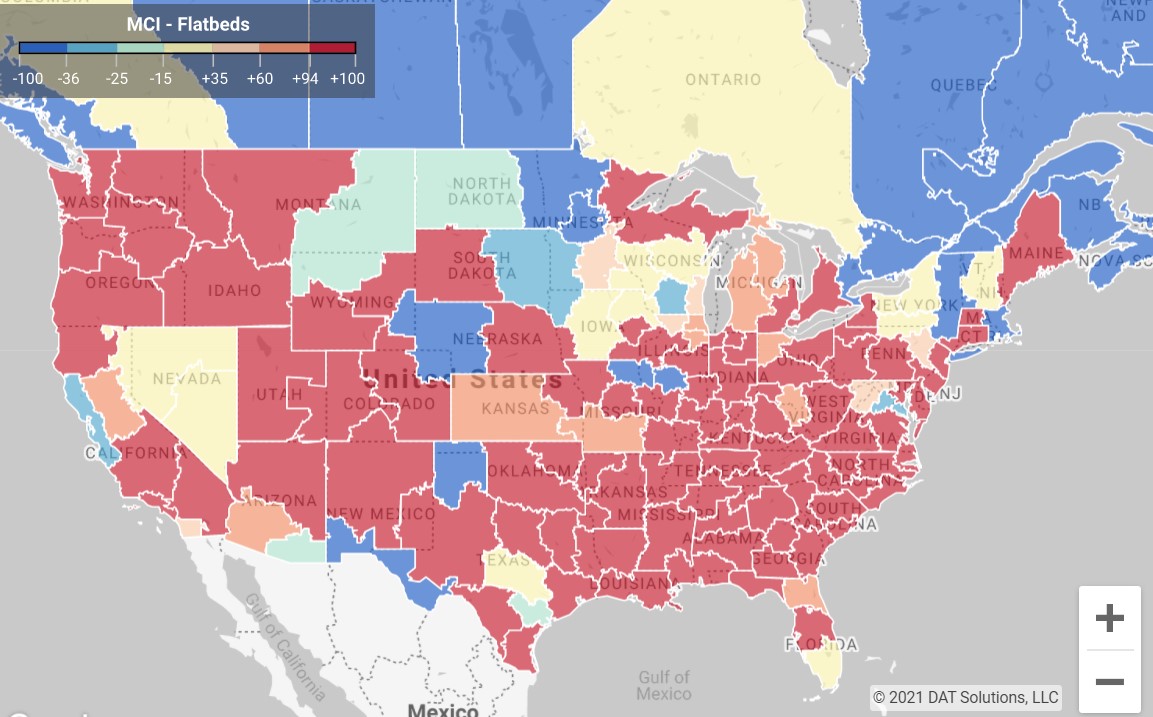 Who's Got the Power?
The DHL Pricing Power Index gauge doesn't seem to want to budge at 75. The index is still favoring the carriers in this high-volume, short-capacity market.
The pricing power index is a weekly gauge put out by DHL that indicates who has more sway in negotiations when it comes to pricing and freight rates. (Source: Freightwaves)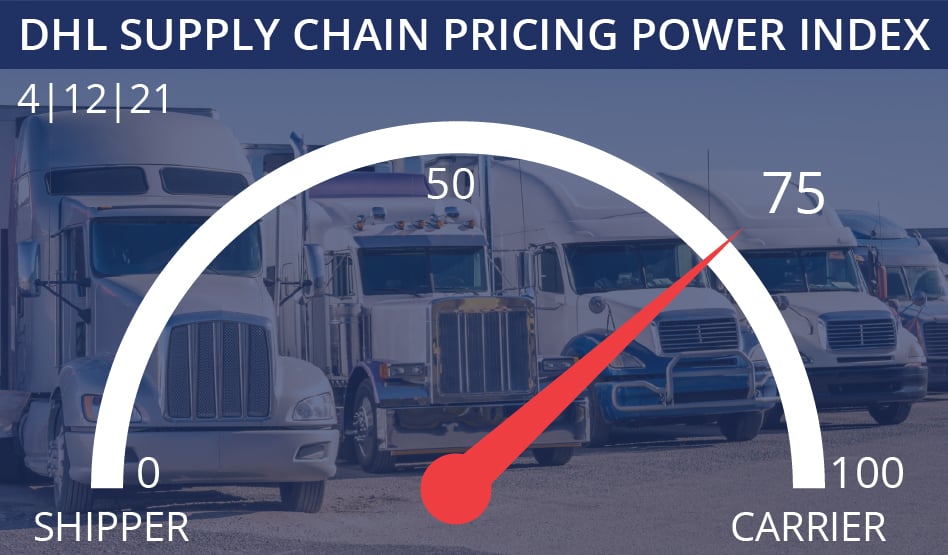 Shippers rely on the relationships they have with their 3PLs to ensure a smooth continuation of service whenever capacity gets tight. We hope you will continue to count on Choptank for all your freight needs, whether it be van, reefer, truckload, LTL, intermodal or cross-border shipping.
We would love to hear from you
What do you think about the Choptank Transport Market Brief? Do you find it helpful? Is there additional information you would like us to include or is there information you don't find relevant? Send comments to: marketing@choptanktransport.com
Have a Question? Ask one of our Experts
Your sales representative or a member of our professional logistics team is ready to help, so give us a call! 800.568.2240. If this information was forwarded to you and you would like to receive it, sign up here.