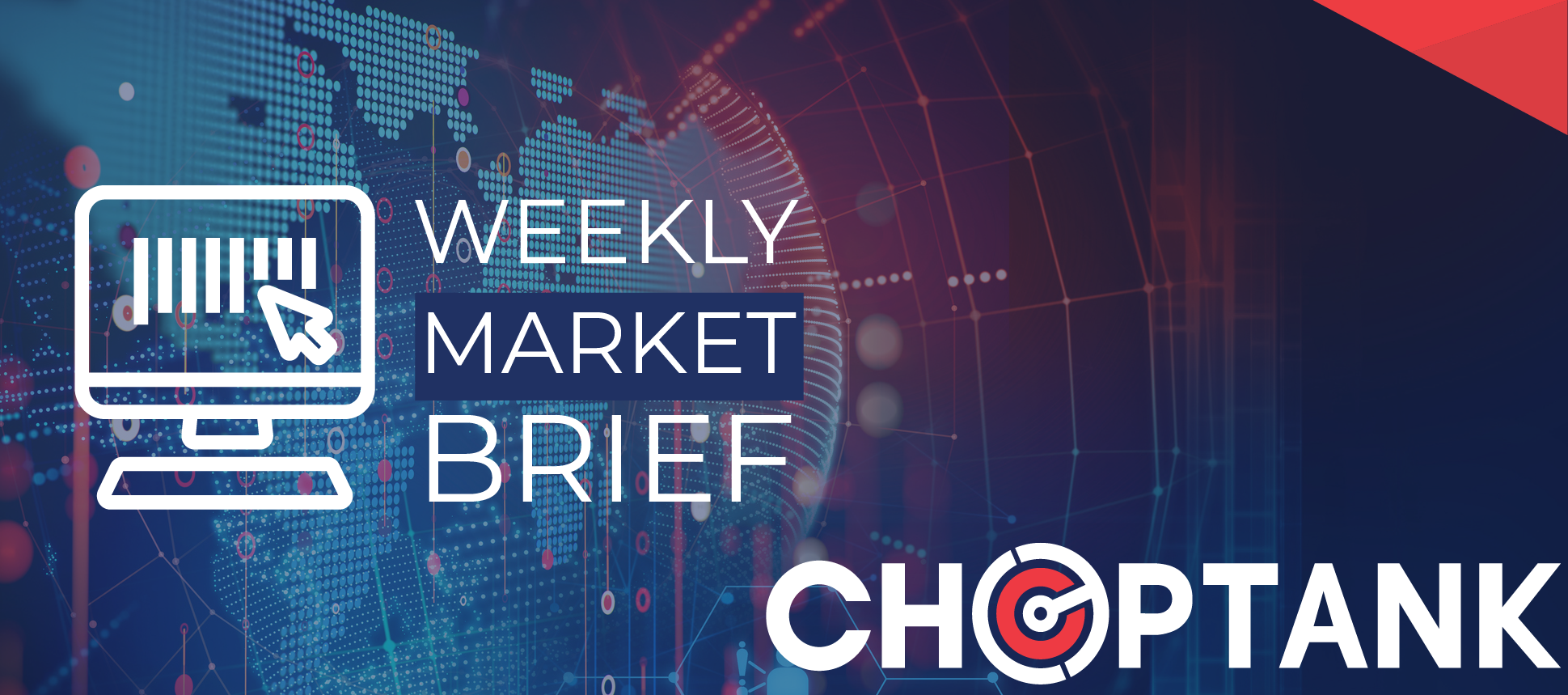 Robust Q1 Freight Market Segues Into Produce Season
April 6, 2021
The Choptank Weekly Market Brief is offered exclusively to Choptank Transport customers to provide accurate, timely and relevant freight market information. The contents of this brief are collected from reputable sources including DAT, Freightwaves/Sonar, Truckstop.com, the Department of Labor, the Department of Transportation, and other sources as cited throughout the brief.
What does a post-pandemic 3PL world look like? An interesting article by Gary Franz last week in DC Velocity addressed this very topic. Choptank President & CEO Geoff Turner points out in the article that carriers are stressed beyond any conditions they have experienced before, dealing with a strict regulatory environment, astronomical insurance premiums, and rising maintenance and fuel costs.
"Drivers cost more, and there are fewer of them," he notes. "Every possible cost scenario is increasing [for carriers]. No way can they operate profitably without passing along these costs to shippers."
The article goes on to say that Turner's team does its best to explain these realities to shippers. "But they have to realize at the end of the day," Turner says, "that without profitable carriers—and drivers who are adequately compensated for their work and their time—freight will sit on the docks."
Understanding why rates are increasing does not make the situation a less bitter pill for shippers, but they should know that 3PLs like Choptank work diligently to negotiate the best possible rates with carriers on their behalf.
_________________________
Heads up to shippers: The Commercial Vehicle Safety Administration (CVSA) road checks are scheduled for May 4-6, so be prepared for some carriers to stay off the road those three days. Give yourself plenty of time to get things off the docks and on their way before the road checks begin.
This week's video
See how this driver's excellent driving skills saved his big rig
from a windborne catastrophe.
Number of the Week
422%
Class 8 truck orders were up 422% from March 2020.
Demand continues to rise this March by about 40,000 orders.
- ACT Research report
What's Up in the Spot Market?
All the numbers on the chart below are up slightly this week, except the fuel pricing. Flatbed spot rates are higher than contract rates for the first time since 2018. Capacity for reefer and flatbed freight remains very tight and volumes have increased for a third consecutive week.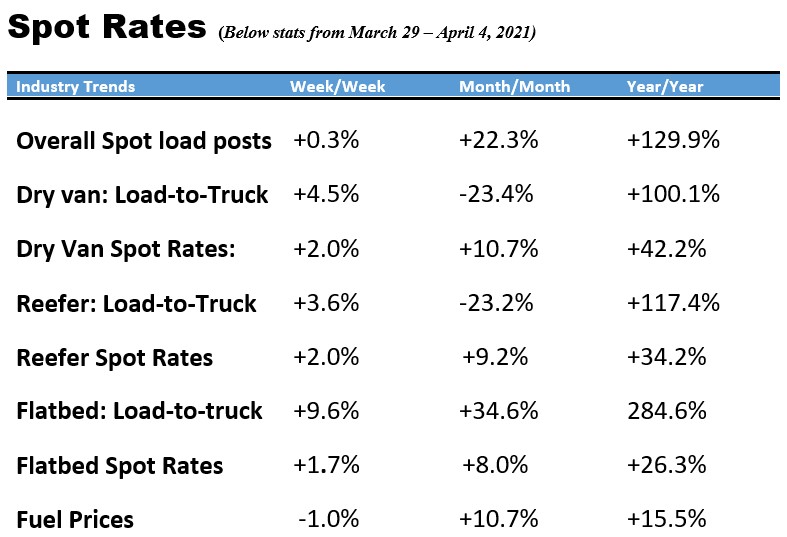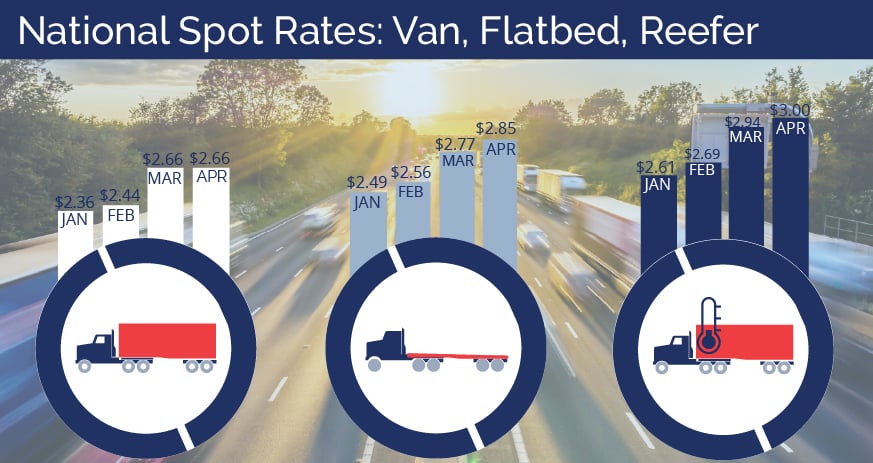 Outbound Volumes
It is anything but a usual day at the office for freight brokers as American consumers continue to spend on goods more than services. Volumes are still extremely elevated, although we saw a slight dip in the national outbound tender index yesterday (-0.156%).
The first quarter's robust freight market is seguing into produce season without a pause. And yes, things are opening back up, but the pandemic is not over by any means, and people are still in buying mode.
Ports are still dealing with a deluge of incoming containers from overseas.The Port Report, produced by the National Retail Federation and Hackett Associates, is calling for imports to "set records now into the summer" as consumers keep spending, spending, and spending.
Areas with most significant changes in volumes: The biggest daily market changes in volumes were found in Detroit yesterday, with an increase of 32.32% from the previous day. Houston volumes were up by 5.677% and Indianapolis, up 3.89%. The largest daily decreases in volumes yesterday were found in Joliet, IL, at -2.83%, Atlanta at -2.803, and Ontario at -2.573%.
Chart Below: National outbound tender volume with this year's data in blue compared with the previous three years in purple, green, and orange. (Source: Freightwaves/Sonar)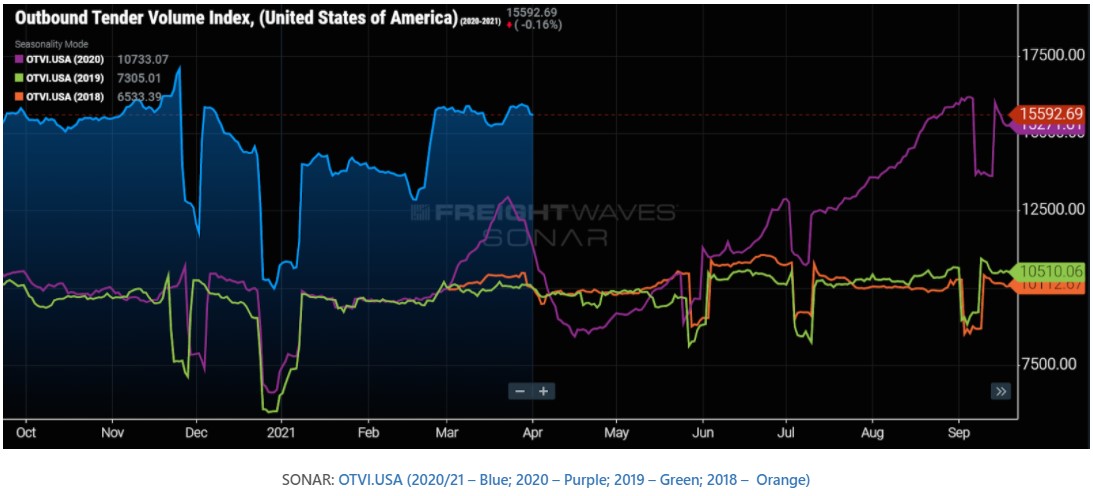 Outbound Tender Rejection
The outbound tender rejection index has fallen 1.089% on the national scale, although it is still very high compared with previous years. The decline in rejections was anticipated, however, after the month-end rush to get things out the door for Q1.
Reefer rejections are on the brink of another all-time high at 45.63%. Once the produce season hits in earnest, the market will get even tighter. There is little reprieve in sight for anyone hoping for improved capacity.
Areas with most significant changes in rejections: The biggest daily increases in rejections yesterday were in Lakeland, FL, at 6.08% and Houston at 4.00%. The largest daily decreases in rejection rates were Detroit at -21.037% and Ontario at -3.388%
Chart Below: National outbound tender rejections with this year's data in blue compared with the previous three year's data in orange, green and purple. (Source: Freightwaves/Sonar)
Economy
According to The Wall Street Journal, the industrial sector is positioned to have assembly lines running at full tilt through the second quarter. "The Institute for Supply Management's measure of U.S. factory activity hit its highest level last month since 1983, rising to 64.7 in March." New orders are up sharply, and inventories are still very low.
Auto sales are making a fast recovery. For the first quarter of 2021, overall U.S. sales rose 11.3% and, despite snags in parts availability and supply constraints, these are numbers somewhat resemble pre-pandemic sales. Inventories are still low (26% lower in February y/y) at most dealerships, and the chip shortage may affect this momentum in the months ahead.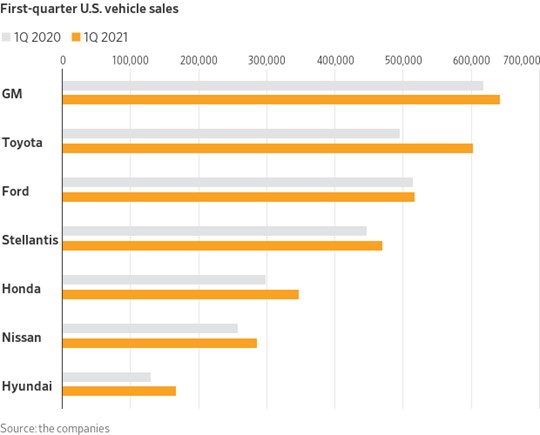 Newly built, single-family homes fell 18.2% in February, the lowest level since May of last year. This is partially due to delayed materials shortages. The number of existing homes for sale is declining. As of the end of February, housing inventory remained at a record low of 1.03 million units, down by 29.5% year-over-year, which is a record drop.
Warmer weather, increased vaccinations, and the third round of stimulus checks are keeping consumer sentiment high. According to the Bank of America chart below, furniture, online electronics, and clothing are the big winners.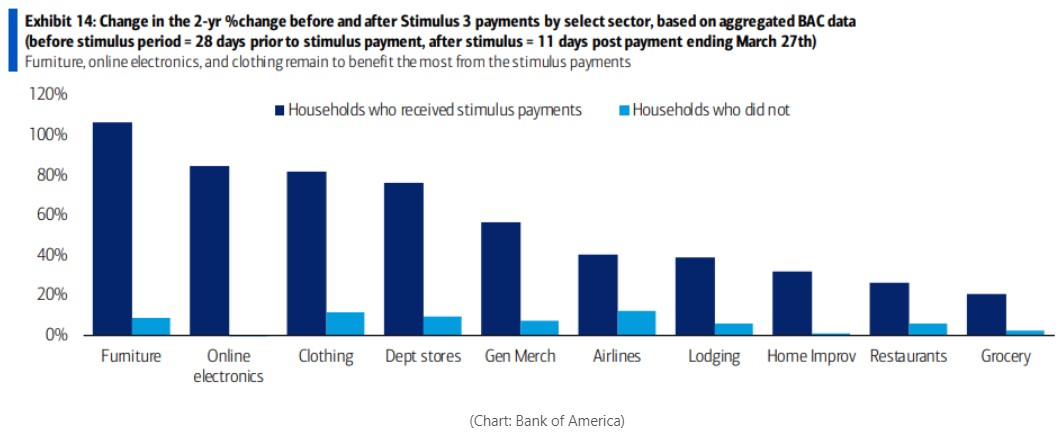 Market Conditions
This morning's market conditions are shown below for the previous day for van, reefer and flatbed. Areas in red are extremely tight.
Van Capacity
Van capacity is extremely tight in areas of the Northeast, South, West Coast. Houston's load-to-truck ratio is 9,462 to 891. Laredo is down only slightly from last week at 5,101 to 323. Ontario is still dealing with heavy imports with load-to truck ratios at 6,493 to 1,058 and in the East, Harrisburg's load-to-truck ratio is at 4,829 to 733.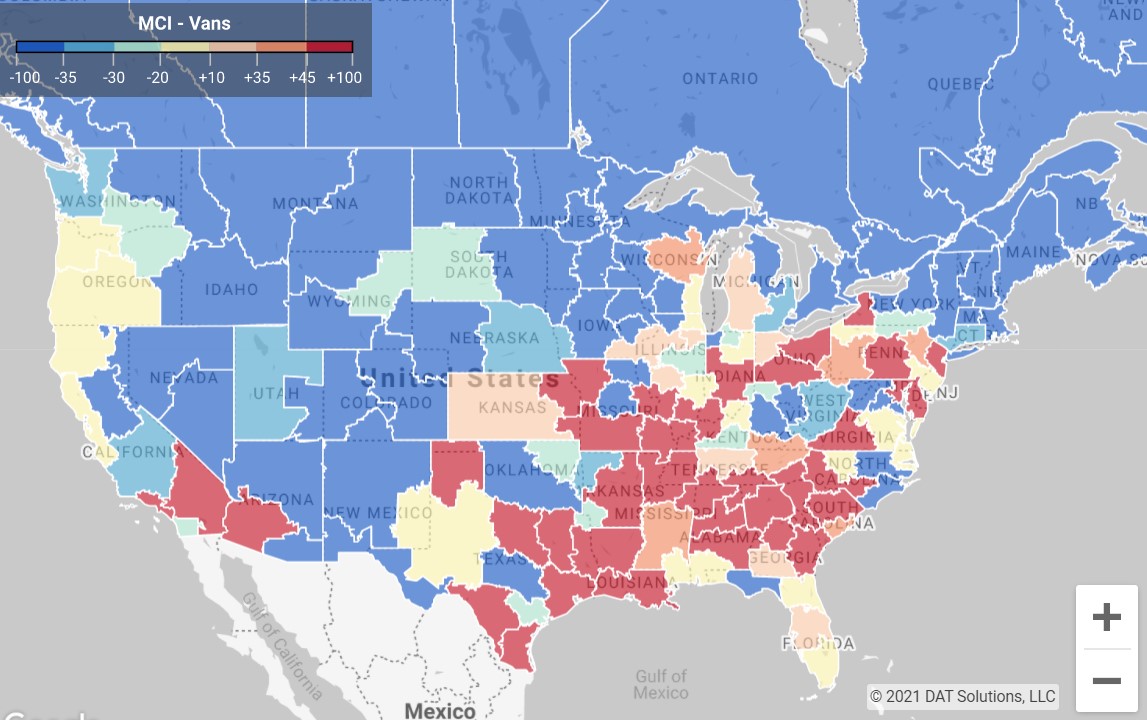 Reefer Capacity
Reefer capacity remains tight in many markets across the United States. Miami's load-to-truck ratio last week was at 5,554 to 251 and this week it is at 5359 to 374, so only a slight improvement. The Philadelphia market, as shown in the chart below the national map, is very tight at 2,573 to 410. Elizabeth, NJ is showing 3,271 to 708.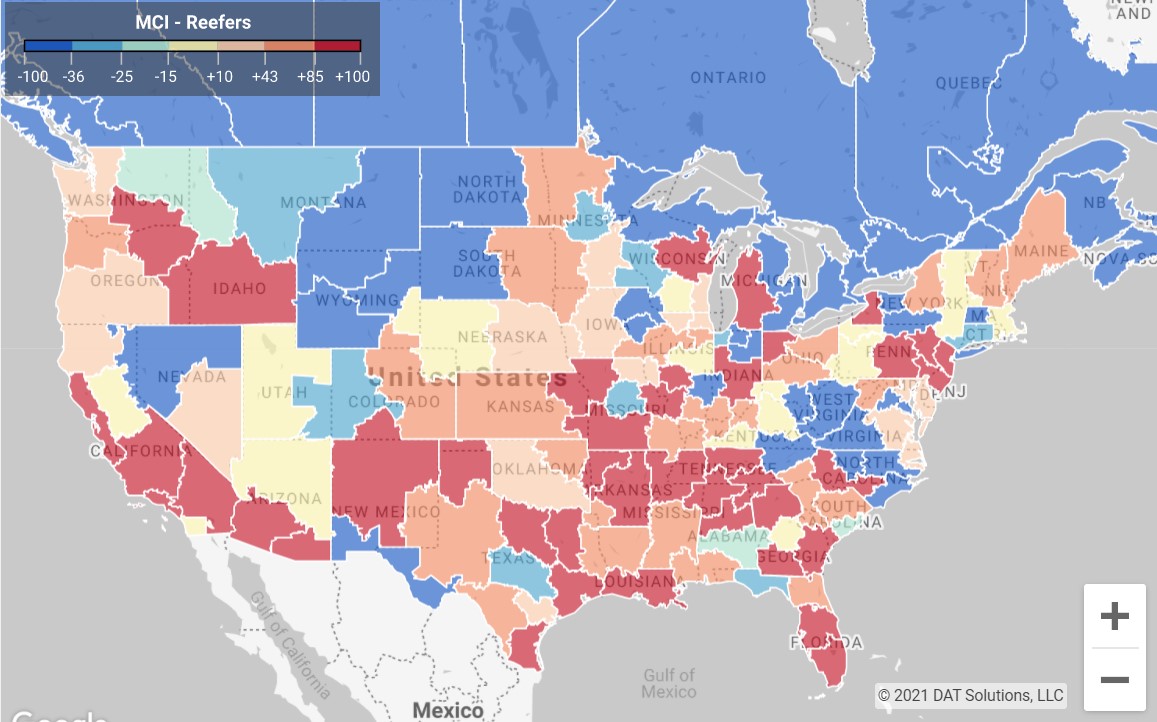 Flatbed Capacity
There is little change from last week in flatbed demand, and it continues to be a strong market with very tight capacity across most of the United States. Medford, OR is just one area showing an enormous lack of equipment with a load-to-truck ratio of 8,367 to 17.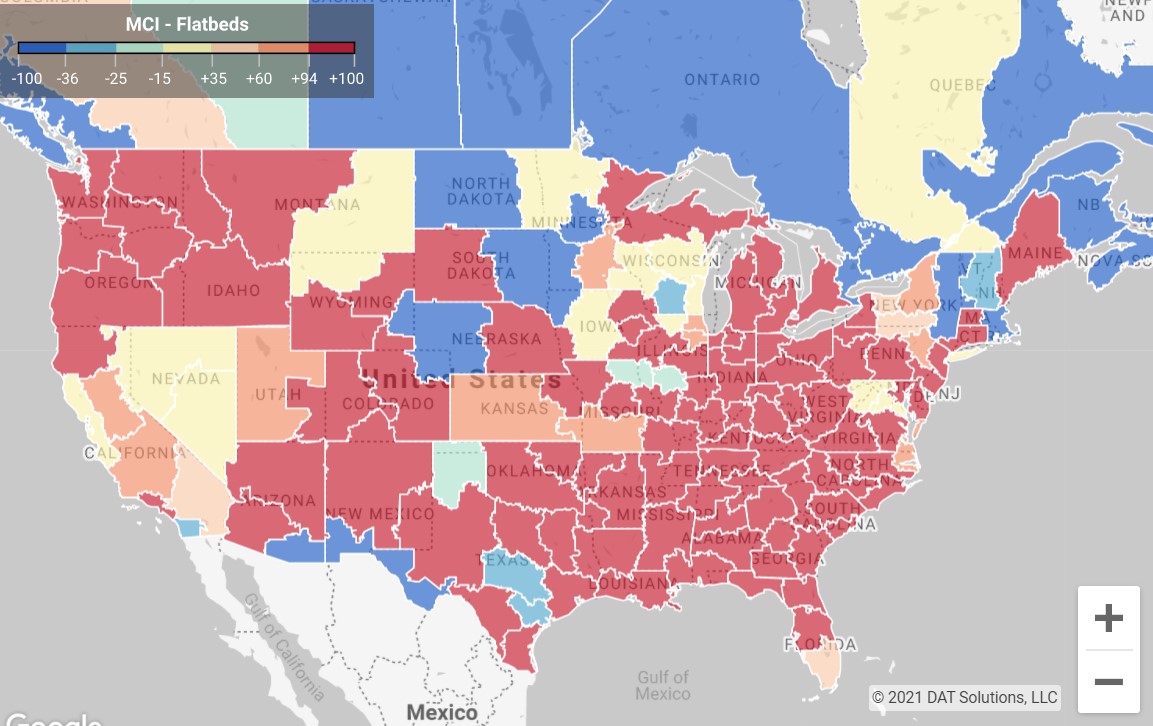 Who's Got the Power?
The DHL Pricing Power Index gauge fell back down a notch to 75 as capacity and volumes lowered slightly after the busy month-end push at the end of March.
The pricing power index is a weekly gauge put out by DHL that indicates who has more sway in negotiations when it comes to pricing and freight rates. (Source: Freightwaves)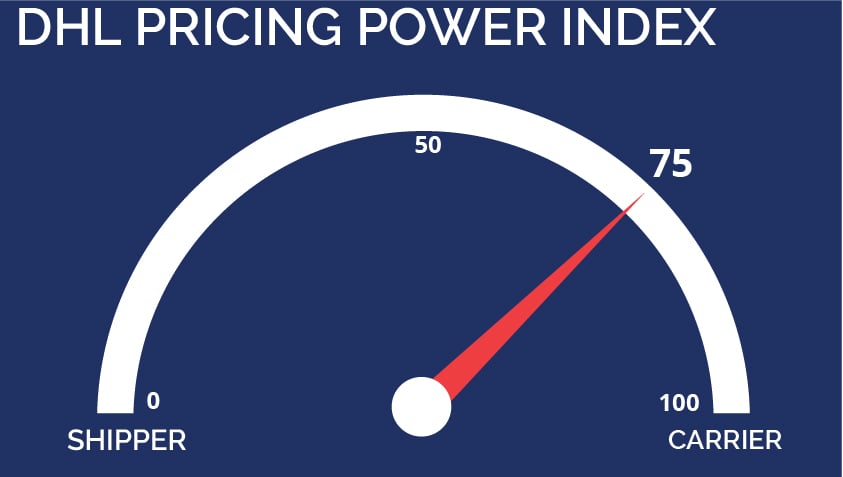 Shippers rely on the relationships they have with their 3PLs to ensure a smooth continuation of service whenever capacity gets tight. We hope you will continue to count on Choptank for all your freight needs, whether it be van, reefer, truckload, LTL, intermodal or cross-border shipping.
We would love to hear from you
What do you think about the Choptank Transport Market Brief? Do you find it helpful? Is there additional information you would like us to include or is there information you don't find relevant? Send comments to: marketing@choptanktransport.com
Have a Question? Ask one of our Experts
Your sales representative or a member of our professional logistics team is ready to help, so give us a call! 800.568.2240. If this information was forwarded to you and you would like to receive it, sign up here.